Mister Donut x Pokemon Christmas Collaboration 2022
Mister Donut Japan releases a Christmas version of their Pokémon collection!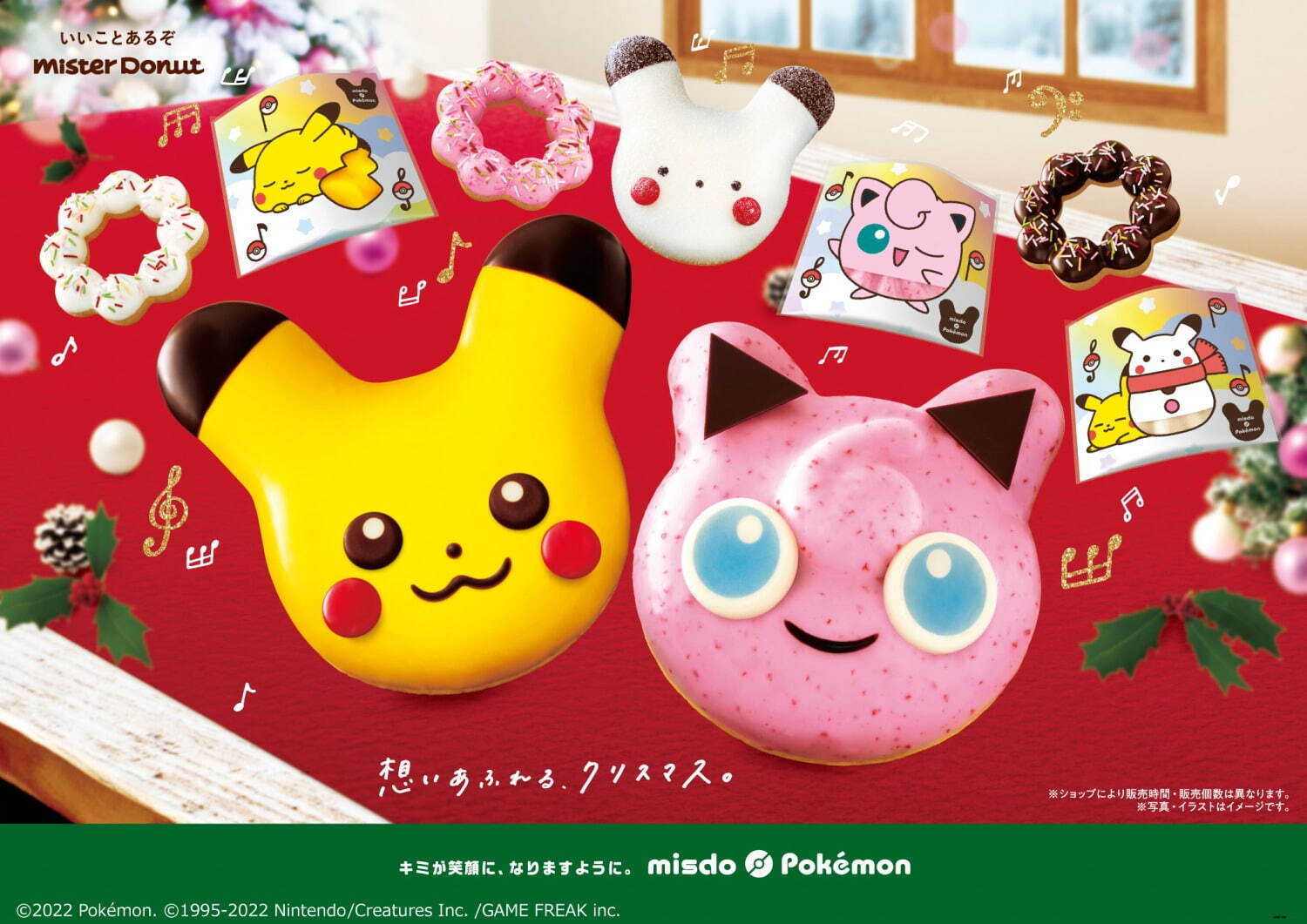 The collaboration between the largest doughnut chains in the world Mister Donut(ミスタードーナツ) a.k.a Misdo and the worldwide famous video game Pokemon is have been highly popular in Japan since its first launch. The Mister Donuts and Pokemon collaboration has become a yearly classic and especially the doughnut with the face of Pikachu, Ash's charismatic and inseparable companion, is a top seller.
In winter 2022, Mister Donut launches a new Pokemon Christmas edition collaboration. The featured collaboration doughnut is the new "Pikachu Snowman Doughnut," which is their classic Pikachu-shape donut inspired by a snowman. The fluffy texture of the yeast dough is filled with whipped cream and coated with white chocolate. The doughnut is covered in snow with glitter toppings, making it a perfect match for the Christmas season!
The Mister Donut time-limited "Mister Donut Pokémon Christmas Collection 2022" will be available at Mister Donut stores across Japan from November 9th till late of December. The collaborations between Pokémon and Mister Donut are really popular and the goods are sold out very quickly, so I recommend you to run to your nearest Misdo store and enjoy the "Mister Donut Pokémon Christmas Collection 2022" that can only be found this time of the year!
!! Latest News !!
Starting December 1, 2022, Thursday, Mister Donut is introducing a new Jigglypuff-shape donut to its series of donuts featuring Pokémon. The new Jigglypuff donut will be running through late December.
Takeout: 291 yen
Eat-in: 297 yen
Takeout: 194 yen
Eat-in: 198 yen
Takeout: 172 yen
Eat-in: 176 yen
-Mister Donut Pokémon Christmas Goods 2022
The lineup will also include limited edition Christmas Collection merchandise. Like the doughnuts, the merchandise feature the popular Pikachu and Jigglypuff with original illustrations made only for the collaboration.
The special goods cannot be purchased separately but with two different sets. One set includes 2 Misdo Pokémon doughnuts, 2 Misdo Christmas doughnuts, 1 blanket or pair of glasses and an original paper bag/box for 1,468 yen (1,450 yen take-out) and the other set includes 1 Misdo Pokémon doughnut, 1 tapioca drink or fruit tea, 1 blanket or pair of glasses and an original paper bag/box for 1,516 yen (1,500 yen take-out).
-Limited-time Pokemon decorated store in Takadanobaba
The Mister Donut store located at Takadanobaba Toyama Exit have decorated the interior with Pokemon motifs. The exterior is designed with the first three partners in Pokémon Scarlett and Violet as well as a Monster Ball. In the back visitors will find sofas, chairs, and lights made of several hundred Pokemon stuffed animals. These are not just objects, but you can actually sit or lie down on them, and even enjoy taking pictures with your donuts!
Mister Donut (website): https://www.misterdonut.jp
Excited?? If you are fan of Pokémon living or planning to visit Japan for 2022 Winter season, check out these articles too!
▽Related Articles▽
▼Editor's Picks▼
---