Japan's 3 Biggest Festivals in April 2021
3 Biggest Traditional Festivals in Japan in April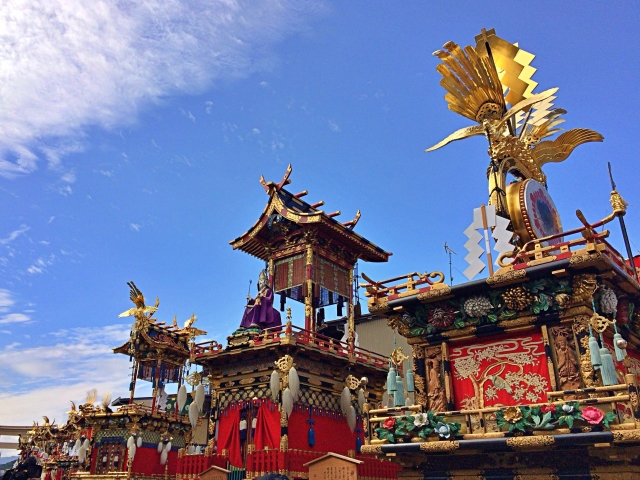 2021 festival season is kicking off this month! Introducing 3 biggest traditional festivals in Japan!
---
-Kanamara Festival, Kanagawa prefecture
Date: early April <<Cancelled due to coronavirus>>
Kamanara Festival (かなまら祭り) is held at Kanayama Shrine in Kawasaki city, known as one of the most unique and bizarre festivals in the world. It's also called "Festival of the Steel Phallus" and the main theme of the event, phallus, is reflected in illustrations, candy, carved vegetables, decorations, and a mikoshi parade. The festival has been welcoming more and more visitors every year and becoming one of the most popular spring events in Japan!
Access: 2 mins walk from Kawasakidaishi station (Keikyu line)
-Inuyama Festival, Aichi prefecture
Date: early April <<Cancelled due to coronavirus>>
Inuyama Festival (犬山祭) is held on the first weekend of April every year since 1635 at Inuyama city, Aichi prefecture. The highlight of this festival is the parade across the city by 13 gigantic, three-storied floats with the sound of Japanese flutes and drums. At night, every float is lit by 365 Japanese lanterns. Usually the festival can be enjoyed with the view of fully blooming cherry blossoms and it's one of the most picturesque scenery of spring in Japan.
Access: Inuyama Station (Nagoya Tetsudo)
-Takayama Festival, Gifu prefecture
Date: 14th-15th April, 2021
Takayama Festival (高山祭) is held at the popular historic town in Japan Alps, Takayama city, Gifu Prefecture. It's considered as one of three most beautiful festivals in Japan along with Kyoto's Gion Matsuri and the Saitama's Chichibu Yomatsuri. Takayama Festival is held twice a year in spring and autumn, and attracts a large number of visitors. The festival is known for traditional floats decorated with traditional and vivid design with marionettes. Usually the festival is held at the same season of cherry blossoms in this area, and the spectacular view can be enjoyed.
Access: 15 mins walk from JR Takayama station
---
Looking for more information about spring in Japan? Then you may wanna check out these articles, too!
▽ Related Articles▽
▼Editor's Picks▼
---