Japanese Recipe: How to Make Japanese Oyakodon
Prepare authentic homemade Japanese food quickly and easily with this recipe!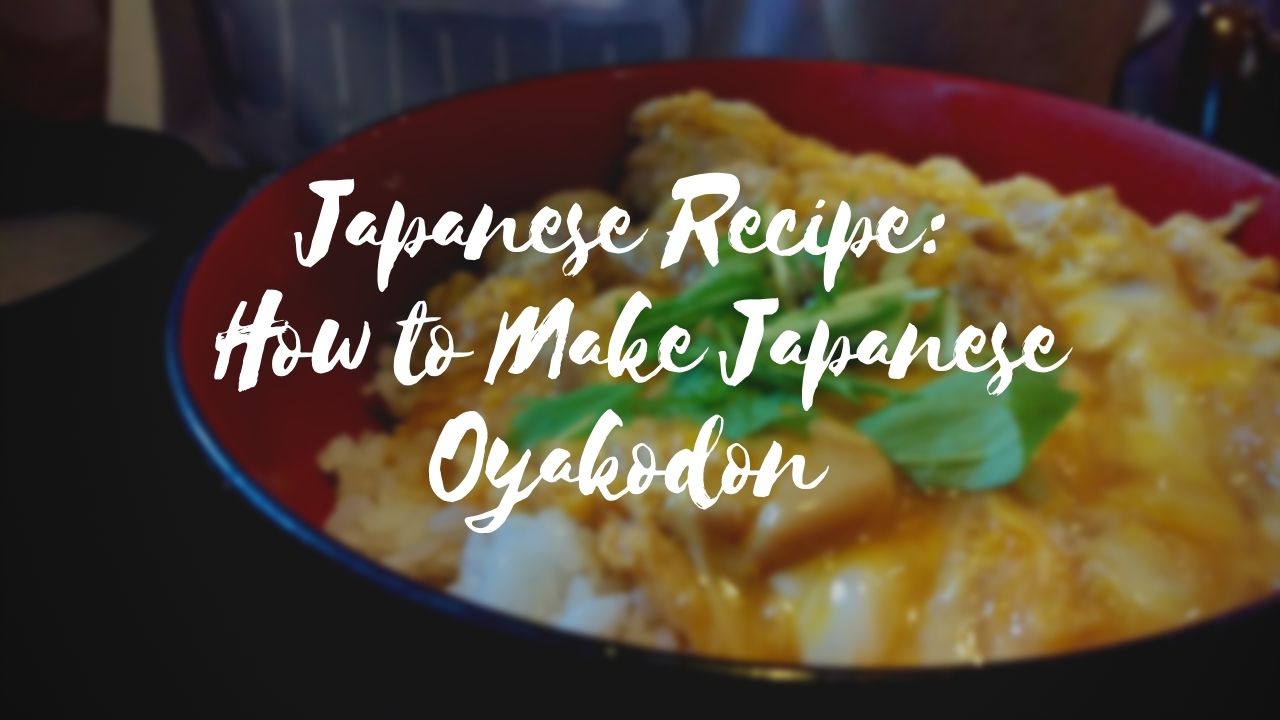 Tired of always cooking the same thing and looking for new ideas? Do you miss Japanese food but are currently unable to visit Japan? Don't worry! Today I will show you the recipe for oyakodon, one of the most authentic and traditional dishes in Japan so that you can taste Japan from your home. The oyakodon is a type of donburi. Although donburi (丼) literally means bowl, nowadays it's known as donburi to a typical dish from Japan which is sometimes translated as "rice bowl dish". It consists of a base of boiled white rice put in a bowl and then meat, fish, vegetables or other ingredients are added on top.
Some of the most popular donburi are the katsudon ( rice and deep fried breaded pork cutlet) or the gyudon (rice thin sliced beef meat). As you can see or imagine, donburi is abbreviated to don and is added at the end. At the beginning a word is added that refers to what is on the plate, so if you know Japanese only with the norme it is easy to know what it consists of. For example the gydon (牛丼) has the kanji for cow (牛) and in katsudon(カツ丼), katsu means pork cutlet. But for those who know Japanese and see the kanji for oyakodon (親子丼) for the first time they may be surprised and very confused. And is that oyakodon means "father and son", since it's made of chicken meat and eggs. Personally, I have always thought that it's a somewhat macabre name. Don't you think?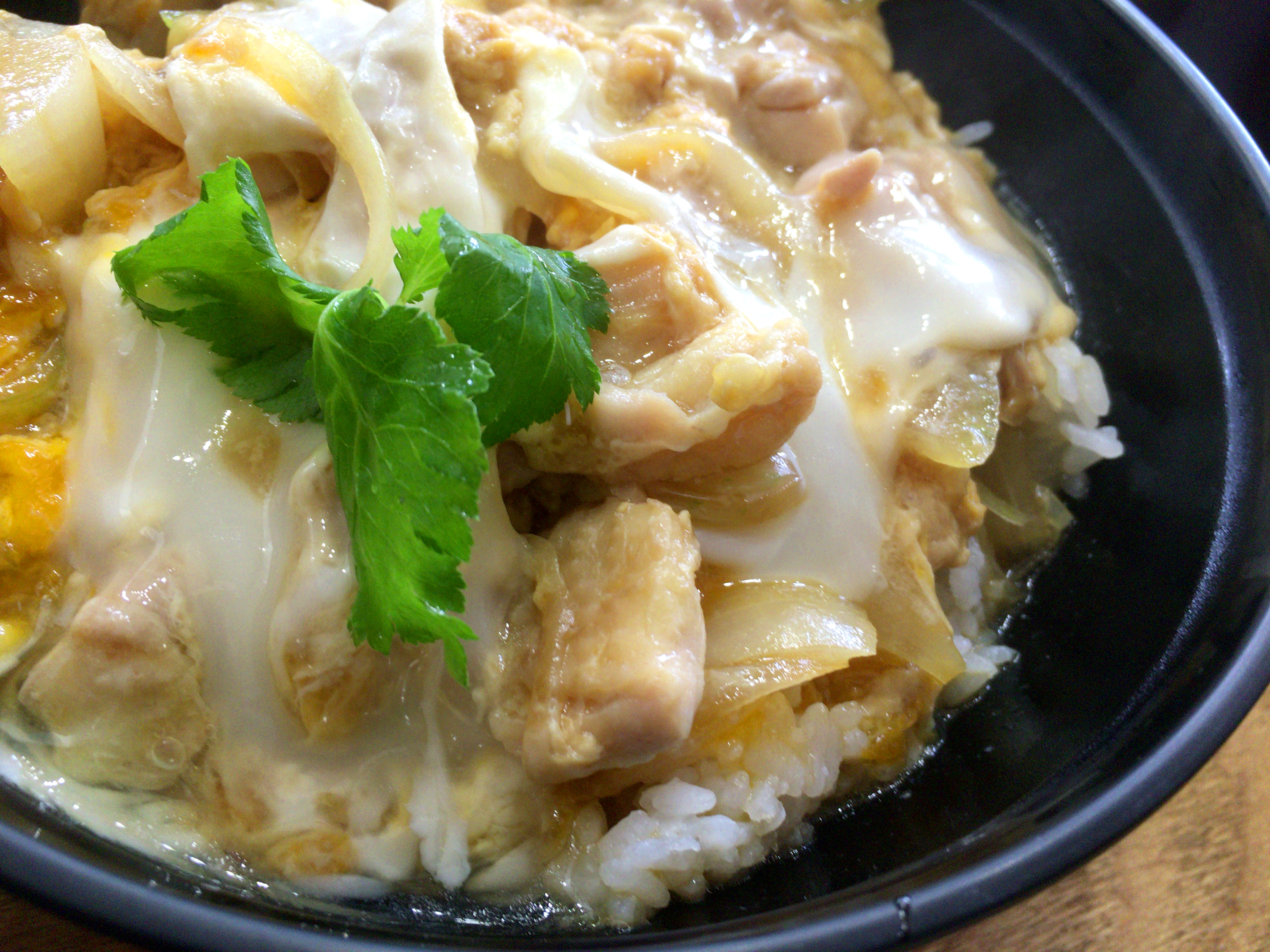 The recipe that I'm going to bring you today is perhaps not the typical one found in other blogs or cookbooks, nor is it the perfect or "official" way to prepare oyakodon. But it's the homemade recipe that my Japanese roommate taught me. Although there may be an official way to make oyakodon in restaurants, in the end it's a meal that many Japanese prepare at home, and as it usually happens with this type of dish, each family prepares it in their own way. Surely in your countries there are also these kinds of dishes, right? Although the ingredients are usually the same, there are variations in the way of preparing it depending on each family.
Perhaps it's not the fanciest recipe, but I have preferred to use this one instead of one more similar to the 'official' one because I think it's more authentic and homemade, since it's the way in which the Japanese prepare it in their own homes, and not in restaurants. Are u ready? So let's cook!
Ingredients for 4 people:
200g chicken thighs/breasts
2 eggs
1 onion
1 spring or green onion (or parsley)
500g cooked white rice
4 tablespoon (15 ml) tsuyu sauce (mentsuyu)
4 tablespoon (15 ml) mirin
Optional: cooking sake (Japanese rice wine)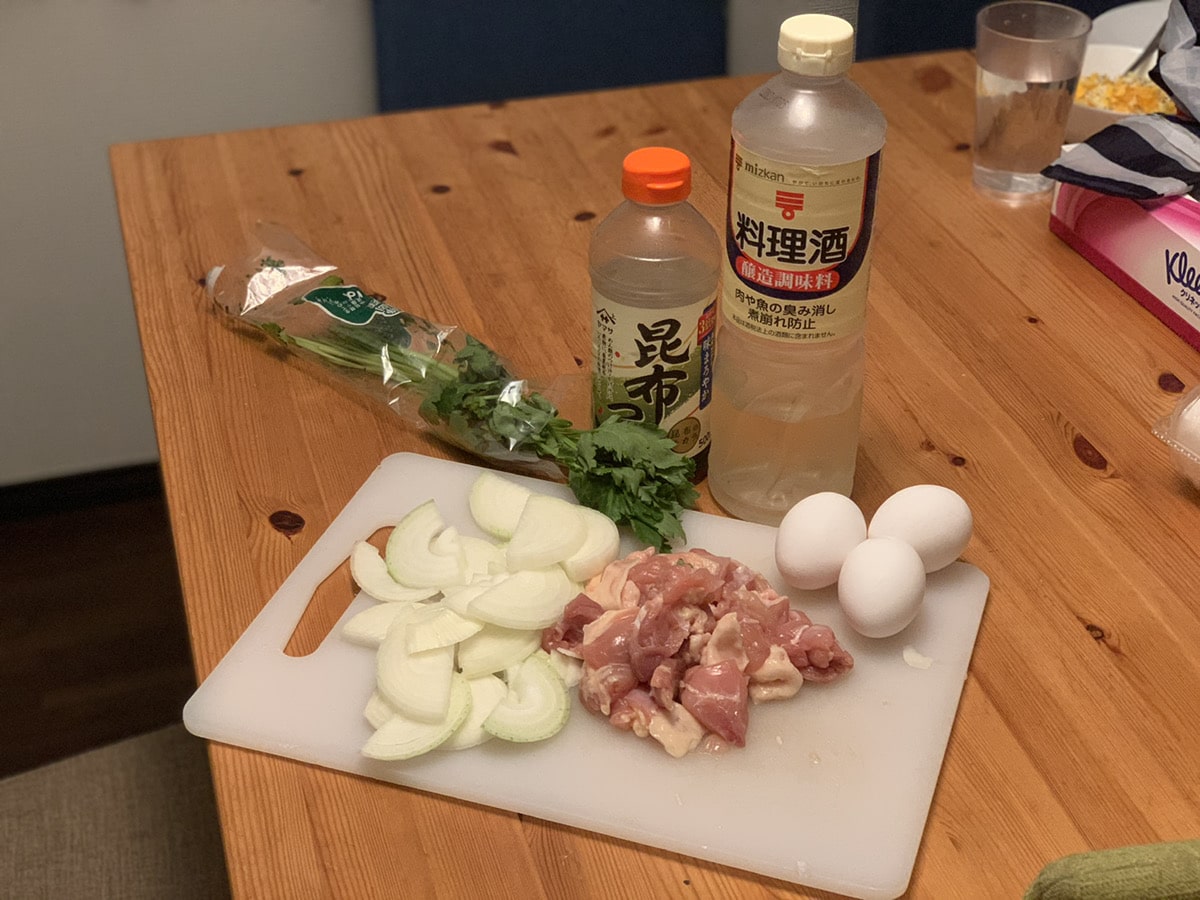 If you live outside of Japan, you may find it difficult to find the last two ingredients. In that case, you can replace them with the following:
3 tablespoon (12 ml) soy sauce
a stick of dashinomoto powder
3 tablespoon of sugar
water
Preparation:
Wash the rice several times until the starch is removed.
Start boiling the rice. While it's boiling we'll start doing the other steps, but we will need to check it regularly to make sure it doesn't overcook. If you have a rice cooker, this step will be easier.
Mix the mirin, the tsuyu sauce and the sake in a bowl or container and pour it into the pan. Leave it for 1-2 minutes (just to let the smell of the sake go). Or if you don't have these ingredients, add the soy sauce, the dashinomoto powder, sugar and water (you have to dissolve the sugar before pouring the mixture into the pan).
Cut the chicken and onion and put it in the pan (I recommend cutting the onion into thin half slices). Turn on the heat to medium-low heat and wait until the chicken is done (10-12 minutes). Some people add the onion first and bring it to a boil and then add the chicken.
Put the eggs in a glass or bowl and beat them. Add the beaten eggs to the pan along with the other things and stir it. This is perhaps the hardest part to do correctly. Instead of putting it all in at once, you have to pour it in 3-4 times. First you add a little and wait for this to be done, and then you do another little, and so on up to four times. Cover the pan and wait.
Add the green onion (or parsley) on the top right before removing from the heat.
Put the amount you want to eat of boiled white rice in a bowl, then pour the chicken and egg on top.
And finished and ready to eat! Quick and easy, right? 😉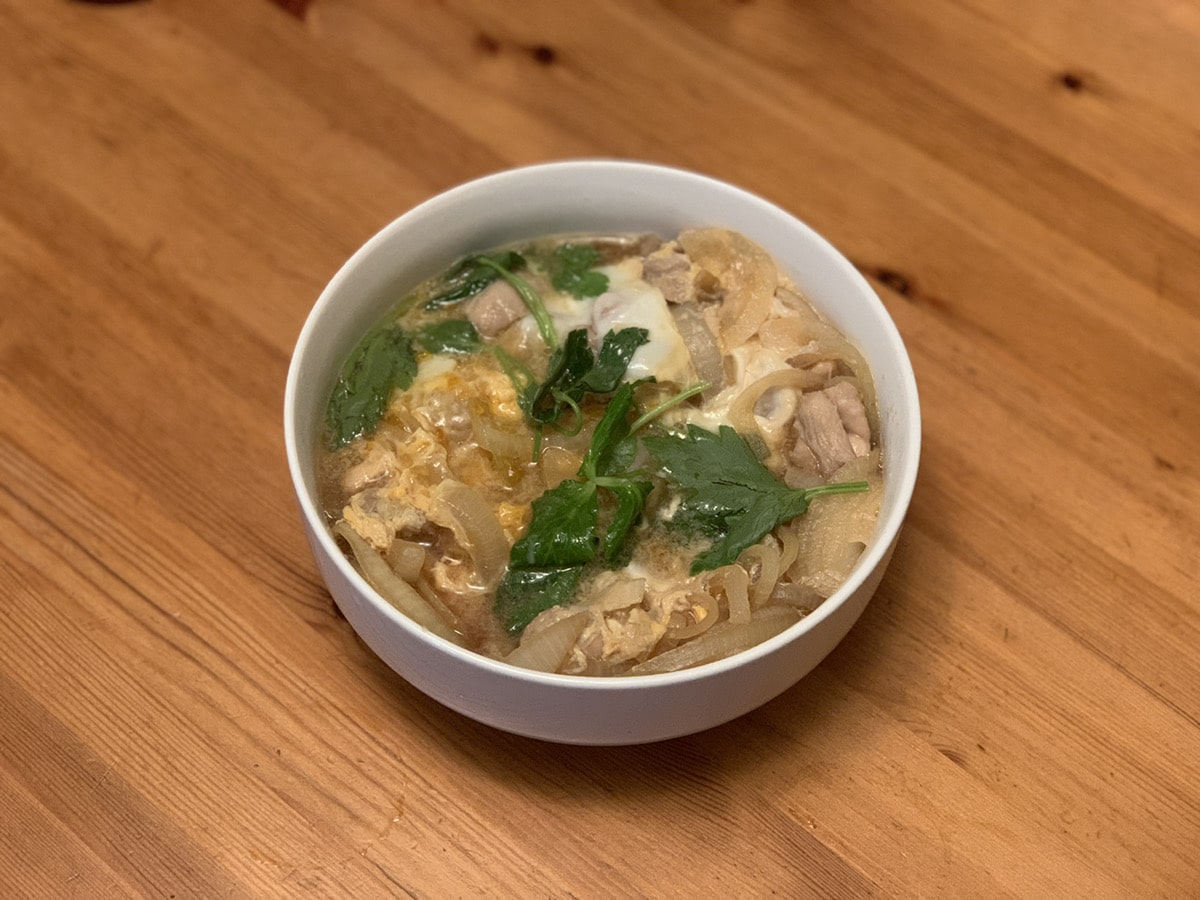 What did you think of this dish and the homemade recipe of my roomie? He made it for us the first day and we loved it! Get out of the monotony preparing something different and delicious but that will not take a lot of time to prepare. And if you prepare this Japanese dish, I will be very happy if you send me a photo with your creations! My roommate too 🙂
For more recipes or information about Japanese food and dishes, I recommend you read these articles as well 🙂
▽Related Articles ▽
▼Editor's Picks▼
---