CureBell: Support for Japanese OTC Medicine Selection
Easy to use online self-medication asistance in Japan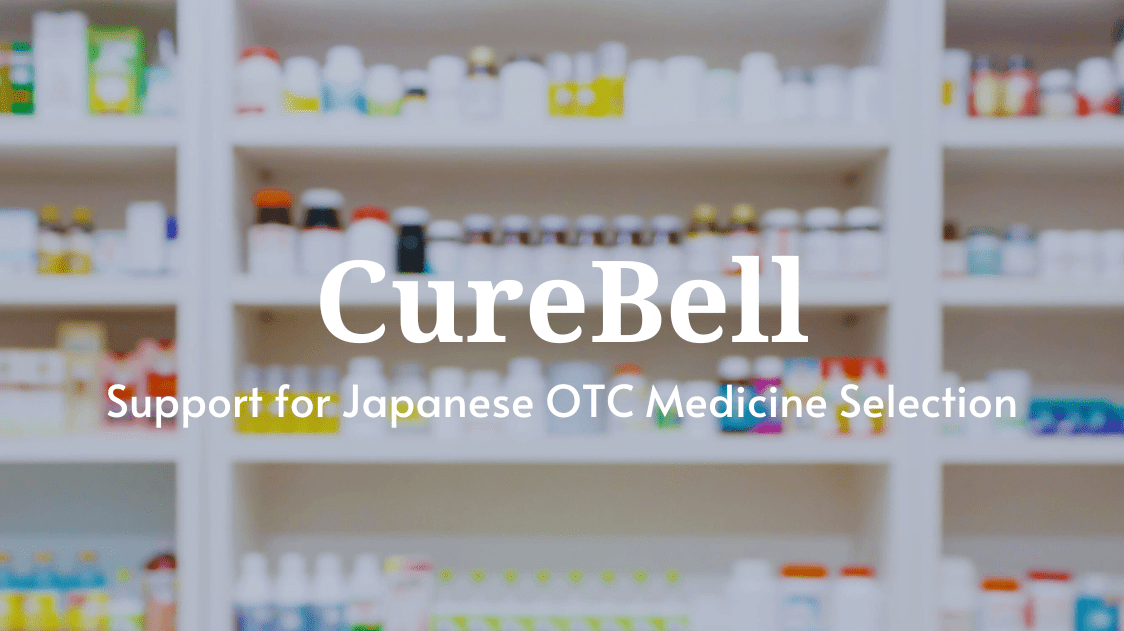 We all know the importance of over-the-counter (OTC) medication in helping you during pinch times. This is especially true when you live (or are traveling) in a foreign country with a foreign language such as Japan. If you live in Japan, you might have the go-to medicine when it comes to certain symptoms such as headache or stomach pain.
However, there are many medicines out on the market and many of these treat the same symptoms. Because of this, you might have had the following concerns even if you live in Japan.
Is the medicine that you chose the best option for you to take?
What if you have a symptom that you've never had before and are not sure what medicine to purchase? Sometimes you can't ask the pharmacy employee because he/she is too busy attending to other clients.
What if you want to purchase a medicine online, but are not sure about it?
Wouldn't it be great if there was a way to list, check, and compare different OTC medicine depending on your situation? Well, there is actually a website in Japan that can do just that.
CureBell is an online support tool for self-medication in Japan. In this article, I will introduce to you this website that can make things much easier for international visitors in Japan regarding medication.
---
CureBell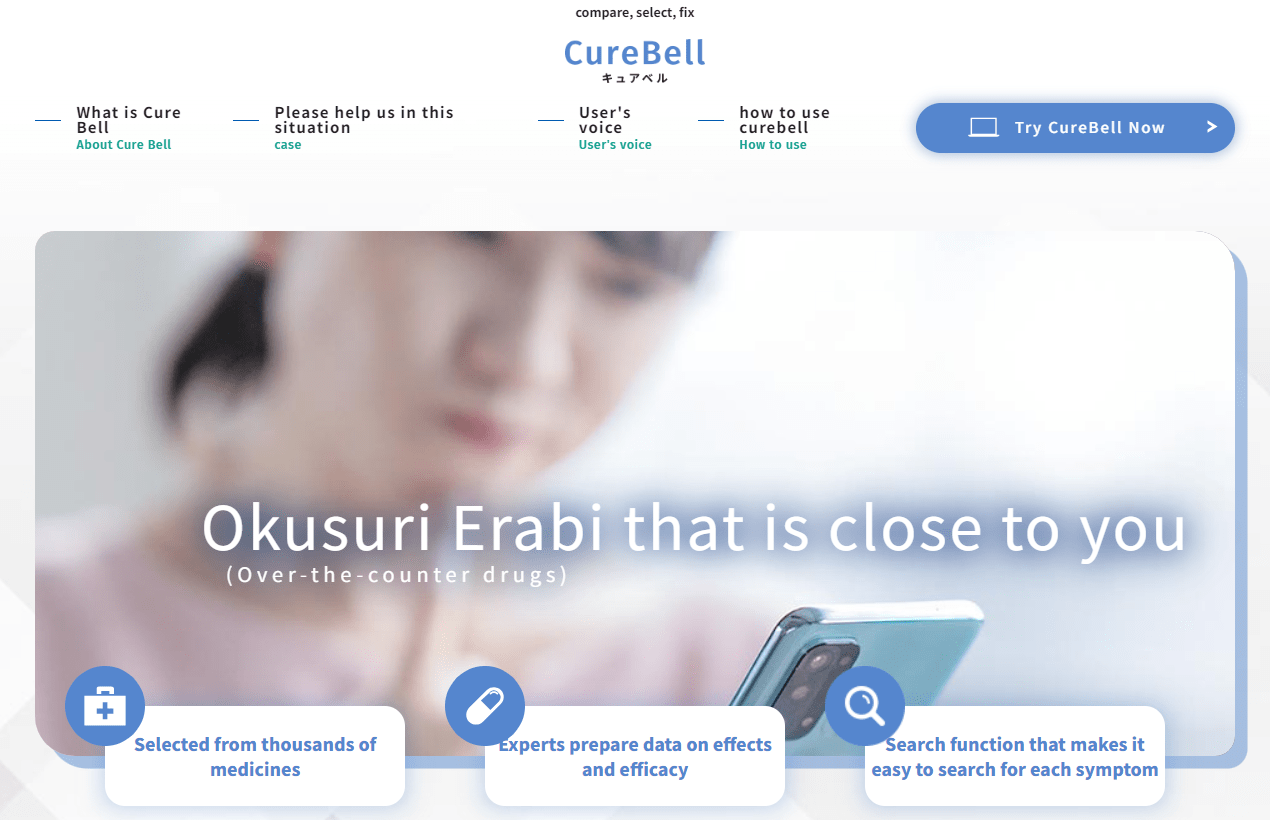 What is CureBell?
As I mentioned in the introduction, CureBell is an easy-to-use, online support tool for selecting OTC medicine in Japan. There are three strong points that CureBell offers in its service which are the following.
1. The medication shown in the CureBell database have been meticulously selected from thousands of medications. This selection is based on current bestsellers and corresponding symptoms.
2. The data on the effects and efficacy shown on CureBell is prepared by experts. Basic medication information, as well as details about medications that shouldn't be taken together and individuals who shouldn't take them, are provided.
3. CureBell provides user-friendly search functionality for specific symptoms or preferences. You can easily search and compare candidate medications for your symptoms, and choose the perfect medication for yourself.
CureBell was created by WillBase Inc. which is a company that provides sales support for drugstores, pharmacies, and other retail companies. The medicine search and selection engine used in CureBell is the same as the pharmaceutical counseling tools provided for businesses, which is utilized by over 1,000 drugstores and pharmacies, as well as more than 1,000 pharmacists and registered sellers.
The idea of creating CureBell came from the wish to make easier and more efficient OTC medicine purchases in Japan. Making this possible can save you money for going to a hospital or clinic instead.
▶︎Click here to go to CureBell's official website
*Note: Although the multilanguage function of the website is still in work, you can use the Google Translate option if you open the website using Google Chrome.
How to use CureBell?
CureBell is really simple to use. You just need to follow a few simple steps to find the OTC medicine you need.
First, you go to the CureBell home site and select the type of search you want to make. You can make a search based on the type of medicine, by body part, herbal medication, or by product name. In most cases, you may want to select the "search based on the type of medicine".
In the case that you selected "search based on the type of medicine", then you choose the type of medicine. There's a wide variety of options such as cold medicine, antipyretic analgesic, cough and sore throat medicine, etc. Then you choose the types of symptoms that you have. This section will vary depending on what you chose for "type of medicine". Then you click on the search button to get your results (you can narrow down the list by selecting "Discerning condition" and/or "Search exclusion criteria" to input additional options).
After you get the final list, you just click on the medicines that interest you to see the details.
Useful Features
The website also offers some useful functions such as the "Favorite" button and the "Search nearby drugstore" button.
The Favorite button allows you to save the information about medicine that you don't want to forget about (maybe because it worked well before or because you would like to try it in the future). You can check all the medicines that you've saved before by tapping (clicking) on the orange flag button shown in the images above.
Then there is the Search nearby drugstore button. Right next to the favorite button is a blue icon with a medicine box, as shown in the images above. When you tap (click) on this button, a map with nearby drugstores will appear. This is especially useful for travelers who are not very aware of where to find the nearest drugstore.
▶Click here to go to CureBell's official website
The importance of Over-the-counter medicine in Japan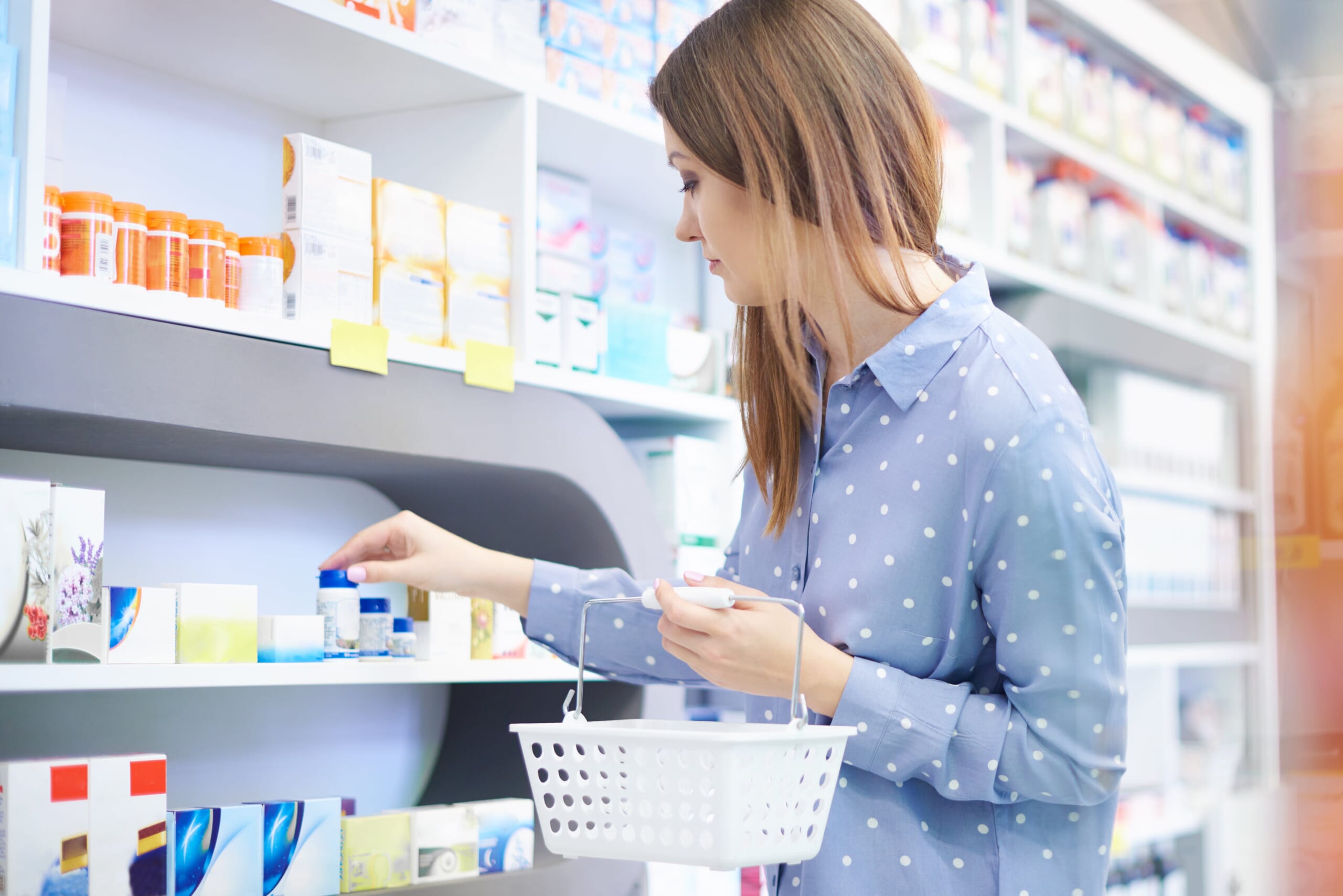 The importance of OTC medicine has a lot to do with the importance of "self-medication". According to the WHO, self-medication is "the use of medicinal products to treat self-diagnosed disorders or symptoms, or the intermittent or continued use of a medication prescribed for chronic or recurring diseases or symptoms." This means that purchasing OTC medicine in order to prevent or treat medical problems is a way of self-medication.
This is especially important if you take into account the fact that people's life spans as well as the population of elderly are increasing in Japan. This means that the risk for lifestyle diseases becomes more common, thus being able to treat some symptoms with OTC medicine becomes important to prevent overflowing the hospitals.
By implementing CureBell into the idea of self-medication, the process of choosing medication for your symptoms will become much easier and more efficient. This will make things easier not only for locals but for international travelers as well.
Where can you purchase over-the-counter medicine in Japan?
Now that we know the importance of OTC medicine, the next thing to know is where to purchase medicine in Japan. Medicine can be purchased in Japan mainly at drug stores or at online shops.
Drug stores are pretty abundant in numbers in Japan (over 60,000 nationwide), so it shouldn't be difficult to find one. You may find some medicine at convenience stores too, but it will be very basic products. You can also find Japanese medicine at online stores for those living in Japan.
Make sure to check with CureBell before you purchase your medicine at any of these locations.
▶Click here to go to CureBell's official website
---
I hope this article was helpful to you. As I previously mentioned, CureBell is still under development when it comes to multilanguage functionality. However, seeing how this online tool function brings hope to international visitors or residents in Japan who have trouble with the Japanese language. Because getting sick during your trip to Japan is something you want to avoid at all costs.
▽Subscribe to our free news magazine!▽

For more information about medication in Japan, check our other articles below.
▽Related Articles▽
▼Editor's Picks▼
---