Chainsaw Man Cafe in Spring 2023
Chainsaw Man Cafe 2023 to Open in Tokyo, Osaka and Nagoya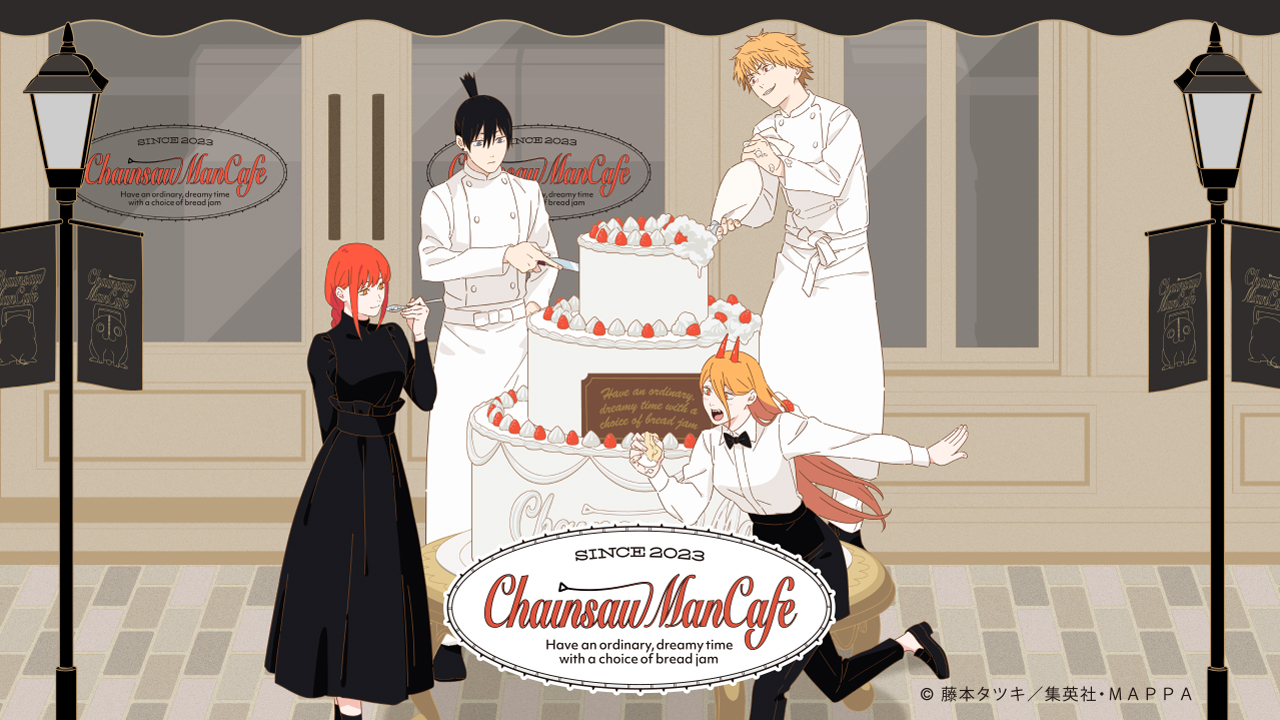 Chainsaw Man is a manga series written and illustrated by Tatsuki Fujimoto and one of the hottest manga and anime series worldwide now. It was first serialized in December 2018 in Weekly Shonen Jump and in October 2022 the anime adaptation was released on TV, produced by the renowned animation studio MAPPA. Especially since it has started airing it received a great response.
To date, a collaboration limited-themed cafe and an exhibition have already been launched. Now a new Chainsaw Man Cafe will open for a limited time in Tokyo, Osaka, and Nagoya starting February 2, 2023 (Thursday). This time the concept of the cafe is a luxurious patisserie and they made a special illustration with the main characters dressed as patisserie chefs.
Collaboration cafes based on popular anime series have become a trend in Japan recently and are also one of the most popular tourist attractions among international tourists. Whether you are living in Japan or coming for tourism, if you are a fan of the serie and you're going to be in one of the cities, don't miss this unique chance!
The Chainsaw Man themed cafe Spring 2023 offers 13 unique foods, desserts and drinks inspired by the main and side characters of the serie including Denji, Makima, Power and Pochita. There are also items with exclusive designs that can only be buy in the cafe. Do you want to take a look at what the cafe offers? Let's go!
Food
Even if the theme is a luxurious patisserie, the menu also offers salad dishes perfects for lunch or dinner. Of particular note is the fluffy omelette rice topped with three different sauces, just like Denji created the "strongest bread" by spreading his favorite jam on toast. The tomato sauce, cream sauce and shrimp sauce can all be mixed together to create a United Stated-style sauce.
△Left to right△
The best of Denji! Omelette Ricee: 1,400 yen
Makima Late afternoon Pan Quiche: 1,400 yen
△Left to right△
Aki Hayakawa "Kon" Beef Toastie.: 1,400 yen
Power Croquette Hammer Short Pasta: 1,400 yen
Desserts
The dessert menu include a super cute pumpkin pudding parfait with the image of Pochita and a cake inspired by the cakes made by Denji and his friends. The chocolates included are random, so visitors will have to wait and see which will come! A chocolate cake with the image of a chainsaw man who stands up after a battle and a mont-blanc featuring motifs of various demons are also available!
△Left to right△
Chainsaw Man Cake: 1,200 yen
Pochita Pudding Parfait: 900 yen
△Left to right△
Devil's Mont Blance: 1,300 yen
Chainsaw Man Chocolate Cake after the battle: 1,500 yen
Drinks
In addition to the food and dessert menu the Chainsaw Man cafe also offers special drinks inspired in the anime, such as the Enchanted Berry Cafe Latte based on the uniform of Devil Hunter Makima. Also the Brat Orange Soda represents the blood demon Power with chili pepper and vanilla ice cream and the Black Coffee is influenced by Devil Hunter Aki Hayakawa's morning routine.
△Left to right△
Makima Enchanted Berry Cafe Latte: 600 yen
Power Bloody orange soda: 800 yen
△Left to right△
Denji Apple Tea: 900 yen
Aki Hayakawa Family Black Coffee: 800 yen
Hot Tea with choice of Jam: 900 yen
Goods
Moreover original goods featuring illustrations of popular characters will be available at the store! The collection includes can badges, acrylic key holders, sticker sets and other items with a unique design of the characters created only for this cafe, so is a must-buy for fans
△Left to right△
Can badge (4 designs): 500 yen
Acrylic Key Holder (4 designs): 650 yen
Mini Acrylic Key Chain (7 designs): 650 yen
△Left to right△
Acrylic Stand (4 designs): 1,200 yen
Clear File Set: 800 yen
Trading Button Badge: 450 yen
△Left to right△
Matte Sticker Set: 900 yen
Mug: 1,550 yen
Muddler with Charm: 950 yen
---
<<Chainsaw Man Cafe>>
-TOKYO
Location: BOX cafe&space GEMS Shibuya
Date: 2 February to 2 April 2023
Hours: 11:00~21:20
-OSAKA
Location: BOX cafe&space Tennoji Mio
Date: 22 February to 2 April 2023
Hours: 11:20~21:40
-NAGOYA
Location: kawara CAFE&KITCHEN Nagoya Parco
Date: 2 February to 12 March 2023
Hours: 11:15~19:55
Reservations starts from January 18, 2023 (Wed.). The reservation fee is 660 yen and comes with exclusive benefits. For more information, check the official website!
Official Website: https://csm-cafe.jp/
---
For more info about themed cafes or special events in Japan this Spring or best things to do in Tokyo, Osaka and Nagoya check out these articles below!
▽Related Articles▽
▼Editor's Picks▼
---