Cardcaptor Sakura Cafe "Colorful à la mode" is Opening in Japan
Cardcaptor Sakura Clear Card Cafe 2021-2022 to Open in Tokyo, Osaka and Nagoya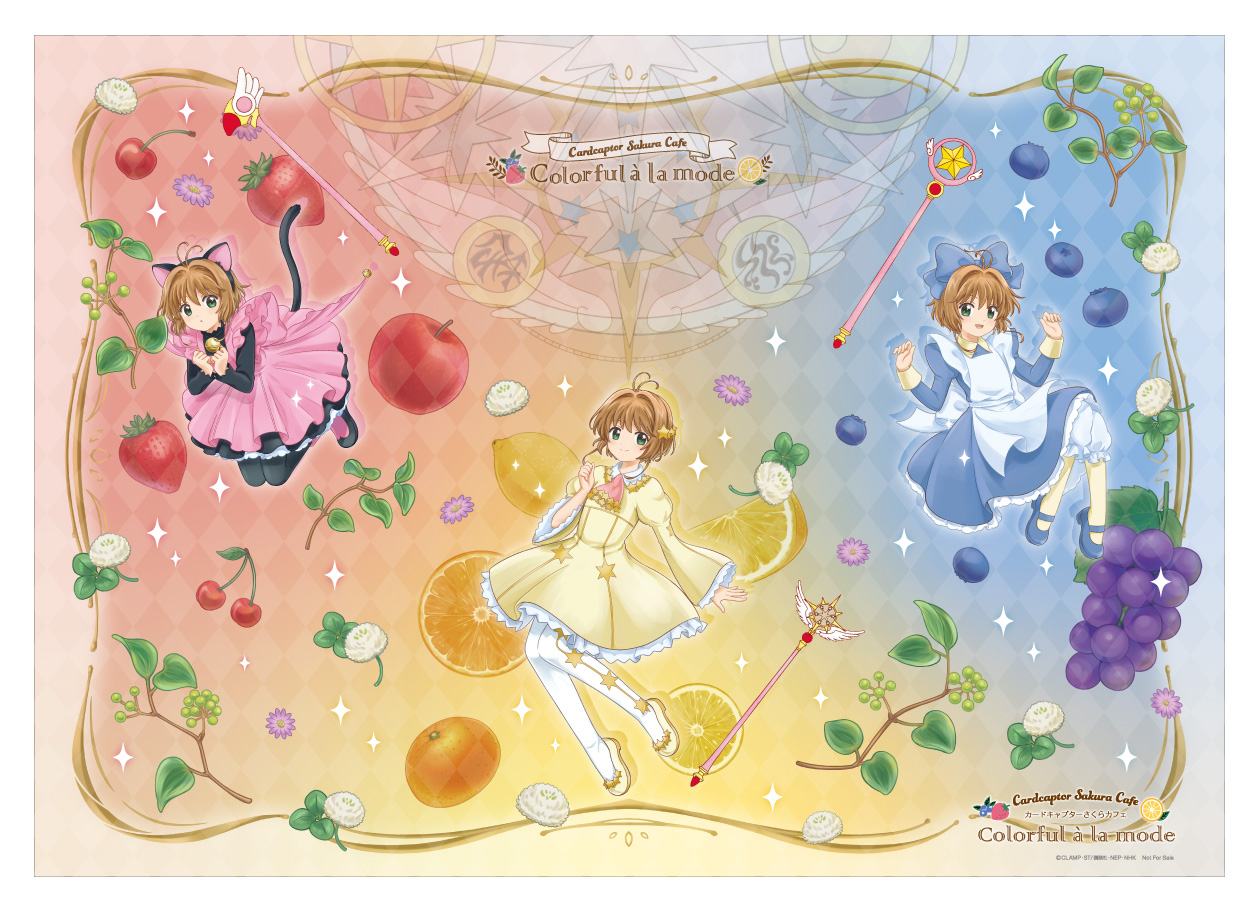 The new Cardcaptor Sakura Clear Card saga was released in manga in 2016, and its anime version arrived in 2018. In this new adventure Syaoran finally returns from Hong Kong to be with Sakura, but then strange things start to happen. At the same time, new characters appear, such as Akiho Shinomoto, a new transfer student, and her butler and guardian Yuna D. Kaito.
Since the release of the new season of one of the CLAMP most world-famous work, Cardcaptor Sakura fans haven't stopped receiving good news. Thematic collaboration cafes, bags, clothes, etc. There is always somewhere to go or something to buy related to Cardcaptor Sakura. Recently it has been announced a limited-time themed cafe with a unique collaboration menu that reproduces the world of "Cardcaptor Sakura Clear Card". The concept of the cafe is ~Colorful à la mode~ and have originals designs created by the illustrator "Etoile et Griotte".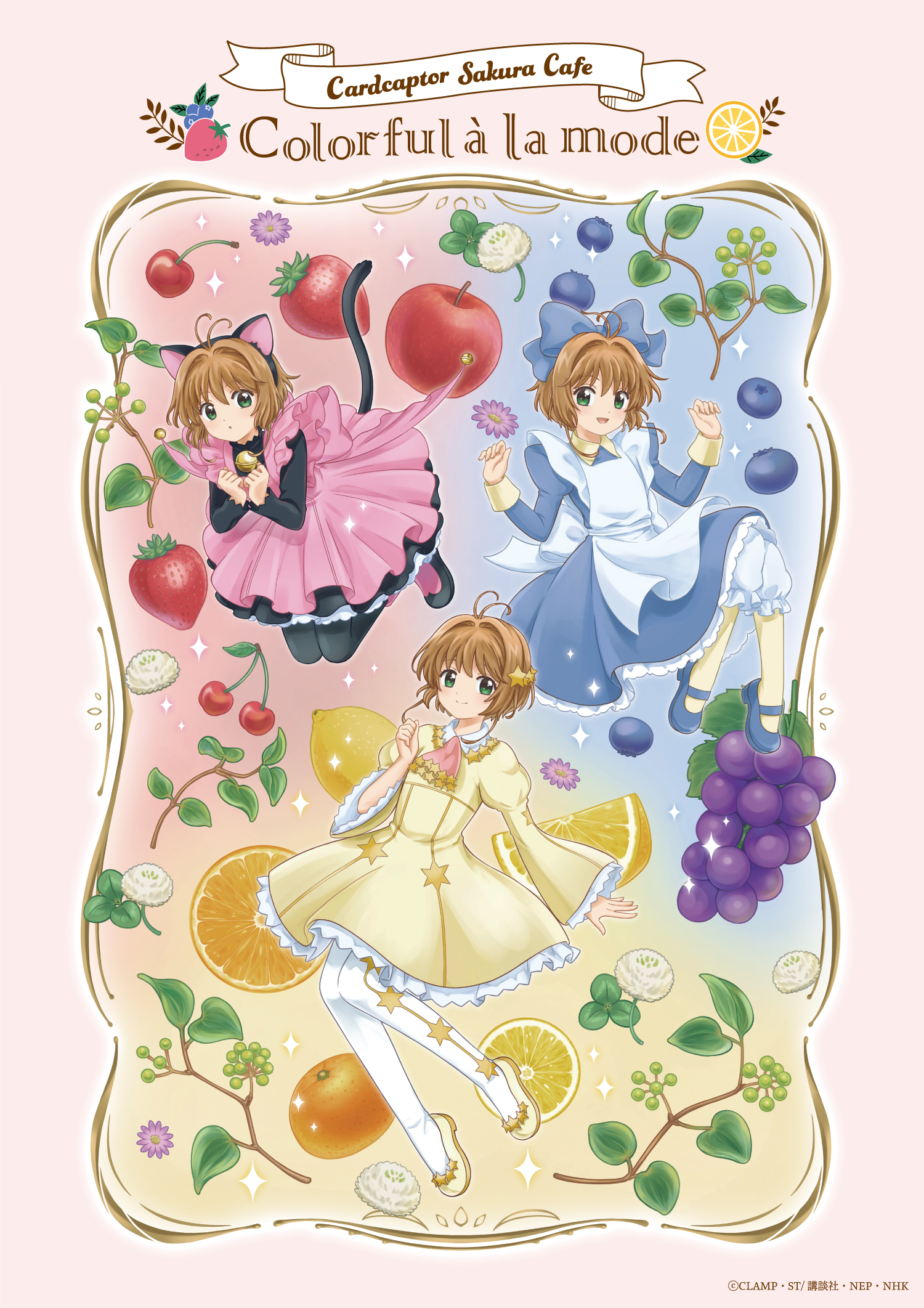 The new Cardcaptor Sakura theme cafe " ~Colorful à la mode~" is opening in Tokyo this autumn/winter. The cafe would be located in the TOKYO PARADE goods&cafe, in the 6F of Parco Shibuya, opening on November 13! It's planned that in spring 2022 the cafe will also be held in Nagoya and Osaka, but details haven't yet been announced.
Inside the Cafe Menu, you'll find fun tribute foods, desserts and drinks inspired by Cardcaptor Sakura characters' favourite food, Sakura's dresses and much more. Wanna know more about what the cafe offers? Keep reading 'til the end!
Food & Drink Menu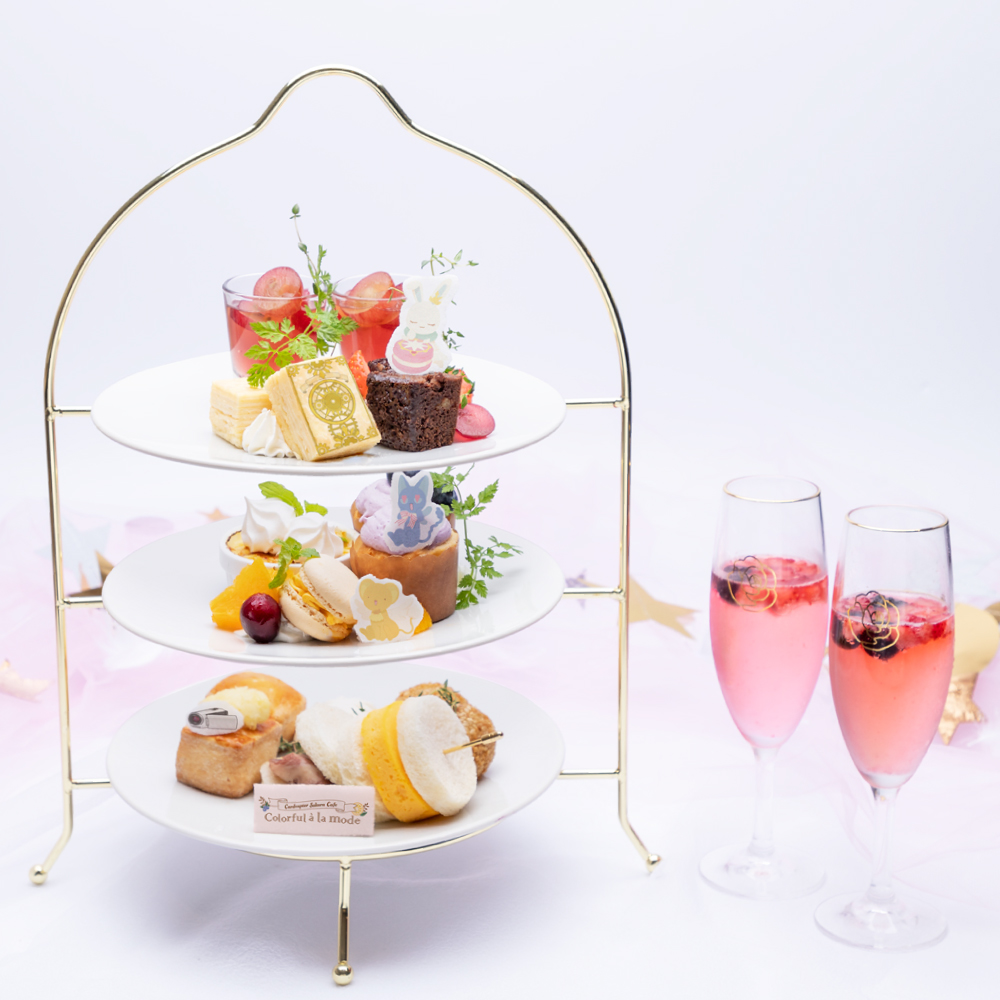 Afternoon tea with Sakura set: 3,960 yens (tax included)*
*For two people
Down: Scone, mini meat bun, sesame dumpling, roasted egg sandwich, roast beef sandwich.
Middle: Macaroons, cupcakes, creme brûlée.
Up: Mille crêpes, grape jelly, gateau chocolate.
Sakura doll cake: 1,650 yens (tax included)
Pink dress: Strawberry
Yellow dress: Macaroons, cupcakes, creme brûlée.
Blue dress: Mille crêpes, grape jelly, gateau chocolate.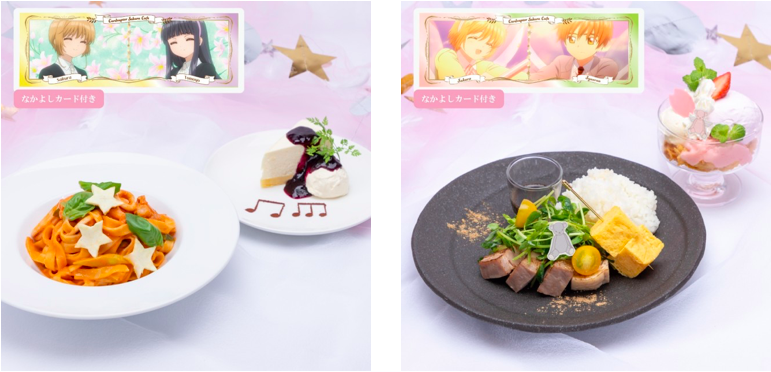 Left:
Sakura and Tomoyo's Friendship Pasta Set: 2,200 yens
Right:
Sakura and Syaoran Li's Plate Set: 2,200 yens
Left:
Kero-chan's cream gnocchi: 1,430 yens
Right:
Yuna D. Kaito's roll cake: 1,430 yens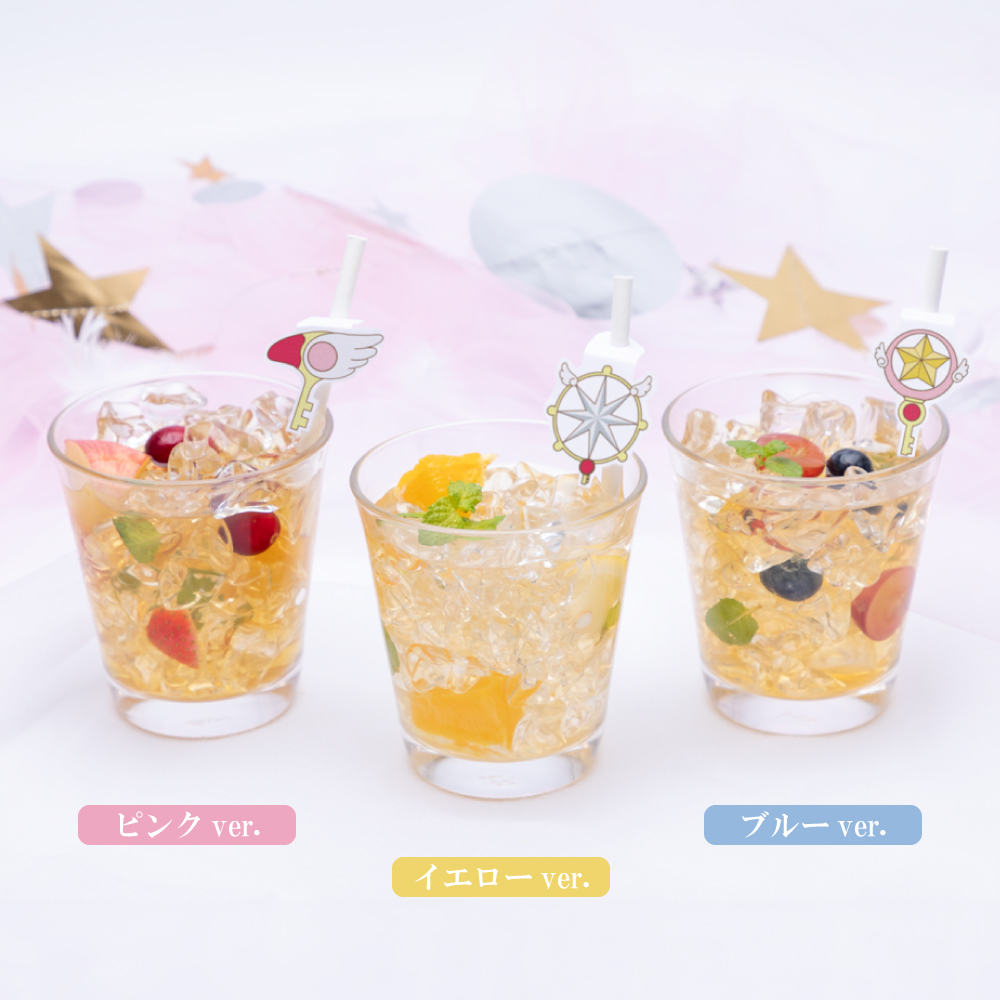 Sakura Fruit Tea Soda : 990 yens (tax included)
Left:
Syaoran Li's White Chocolate Matcha Drink: 880 yens
Right:
Hot tea * with character sugar: 880 yens
As I said before the cafe will be also offering an original merchandise such as hand towels, clear holders, key chains, stainless bottle, stickers, pouches and more which are all exclusively sold at the cafe store. Some of the merchandise is really cool, like the cutlery set or the cherry earrings!
Original Merchandise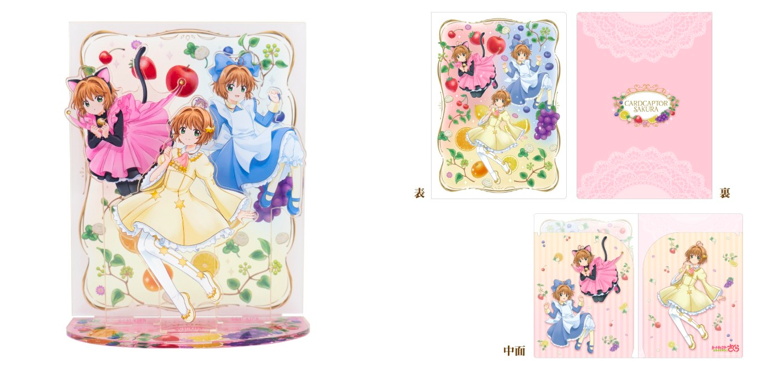 Left:
Acrylic diorama stand: 3,080 yens
Right:
Clear holder: 770 yens
Left:
Key chain: 880 yens
Right:
Heart tin badge: 550 yens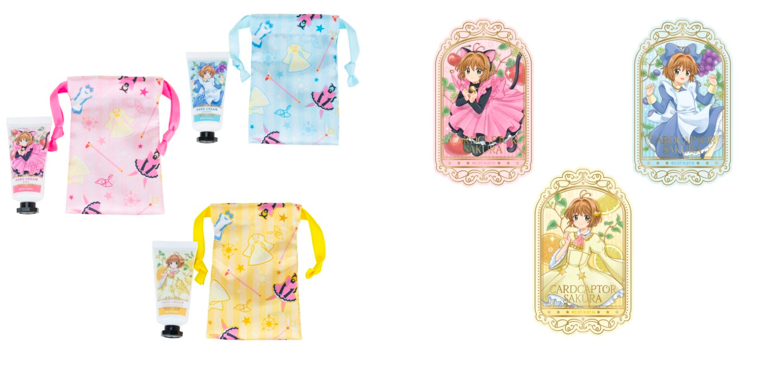 Left:
Hand cream & mini bag set: 2,420 yens
Right:
Stickers: 550 yens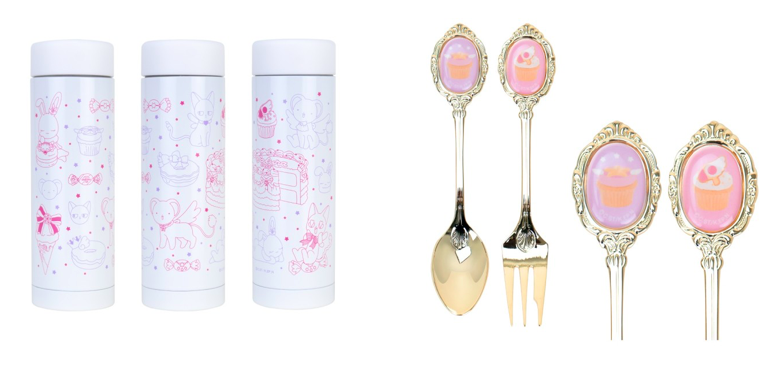 Left:
Stainless bottle: 2,750 yens
Right:
Cutlery set: 2,200 yens
Left:
Stock container Set of 2: 1,760 yens
Right:
Mini towel: 1,650 yens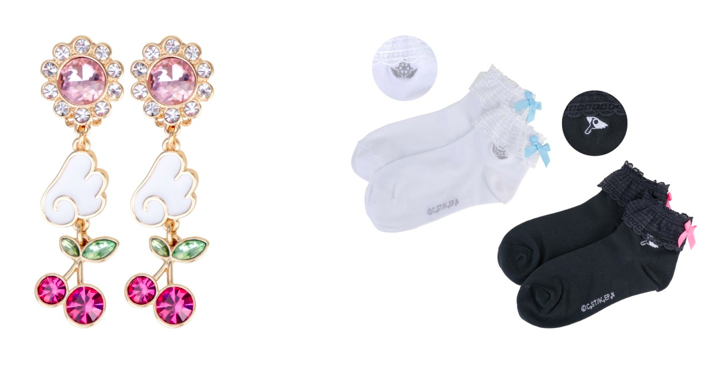 Left:
Cherry earrings: 2,200 yens
Right:
socks with lace: 1,980 yens
Moreover, an original placemats will be given to every costumer at the cafe and when you order a drink you'll get one of original coasters (from 13 designs), both are chosen randomly.
<< Cardcaptor Sakura Cafe>>
Location: TOKYO PARADE goods&cafeShibuya Parco (6F)
Map: https://goo.gl/maps/H1rMN67sSu1bzDer9
Date: 13 November 2021 to 10 January 2022
Hours: 11:00~20:00 (Last Order FOOD 19:00/DRINK 19:3)
Official Website: https://cafe.parco.jp/parade/detail/?id=7203
If you are around Tokyo in this autumn/winter, take a chance to visit Cardcaptor Sakura Cafe and enjoy the cutest themed food and drinks🤩 For more info about themed cafes or special events in Japan this autumn/winter, check out these articles below, too!
▽ Related Articles ▽
▼ Editor's Picks ▼
---