Best Sakura Afternoon Tea in Tokyo 2022
Best Cherry Blossom Afternoon Tea in Tokyo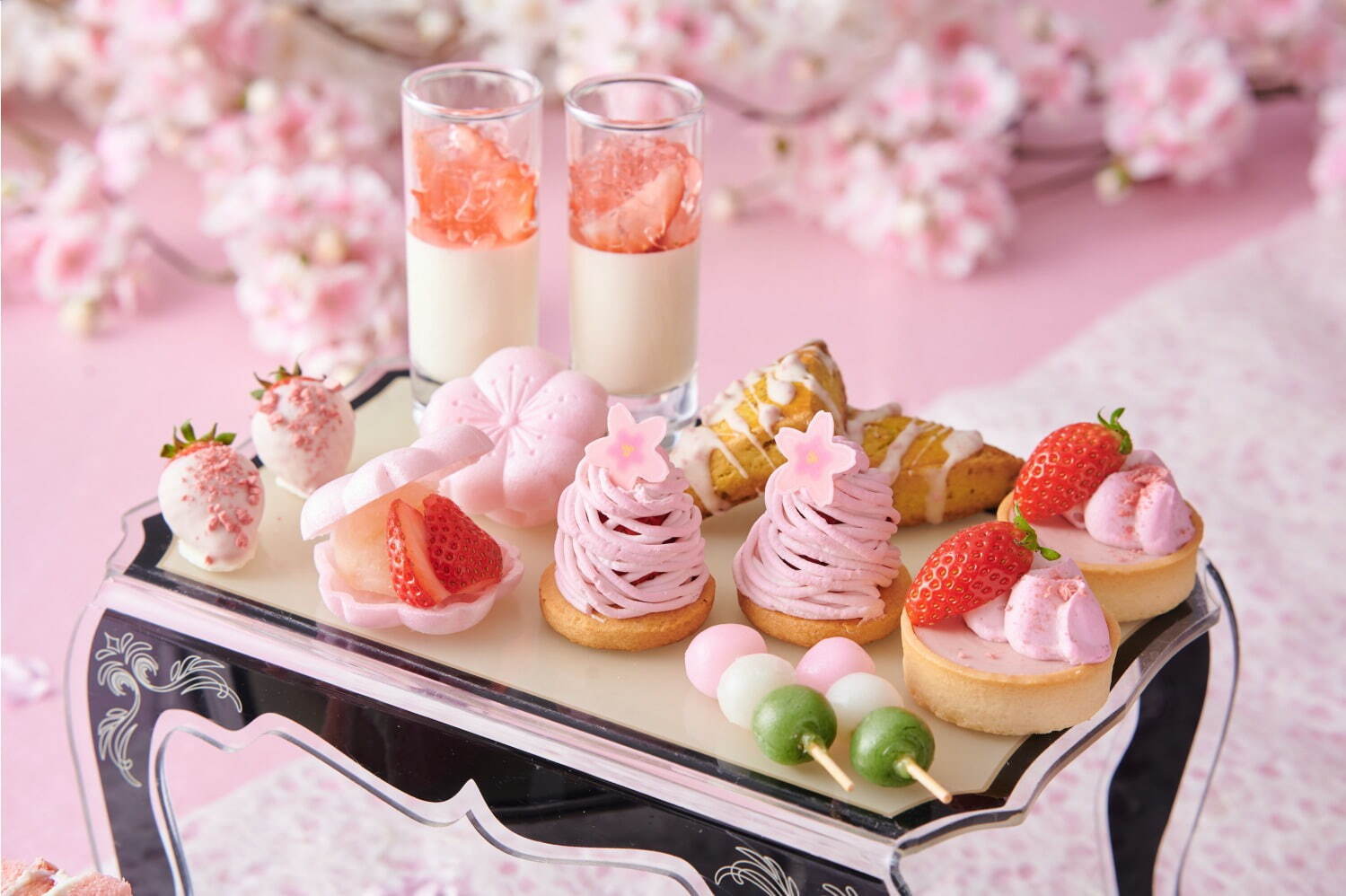 After more than 4 years living in Tokyo last year I discovered a different and delicious way to enjoy the cherry blossoms, the afternoon tea with sakura themed food and drinks. Spring is the most popular season in Japan for the famous and loved by all Japanese cherry blossoms and numerous Japanese brands, shops and restaurants release sakura themed products for a limited time so you can enjoy cherry blossoms in several ways. Recently the latest trend especially in Tokyo are the Sakura/Spring afternoon tea.
Today I'd like to show you some of the best Sakura afternoon tea spots taking place in Tokyo this spring 2022. For those who are in Tokyo in this season, I really recommend have this experience that it's only available this time of the year at least once in a lifetime! Treat yourself with fancy as well as delicious cherry blossom afternoon tea.
THE STRINGS OMOTESANDOH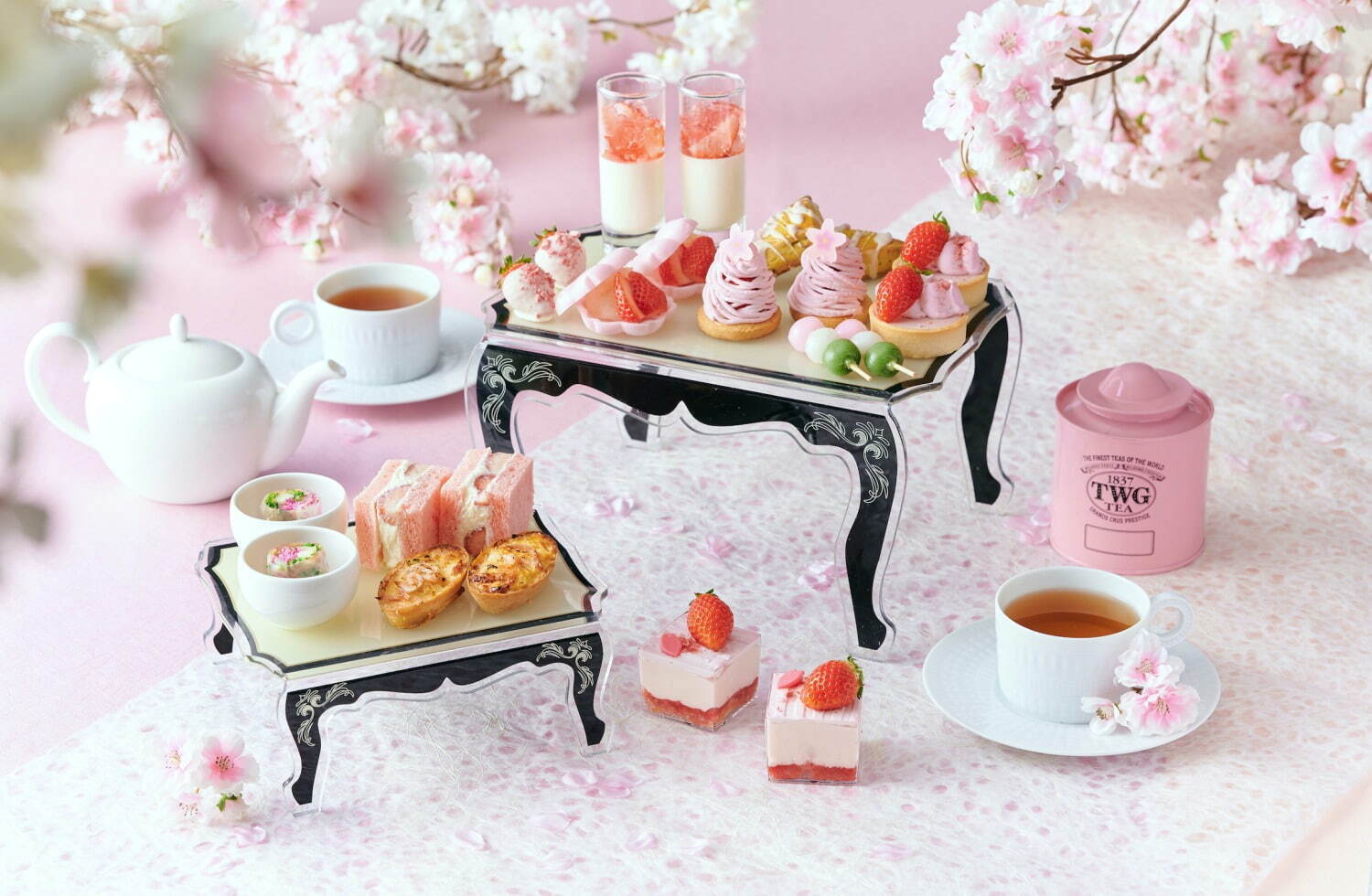 The Strings Omotesando is popular for its various themed afternoon teas that change its appearance according to the changing seasons at their Cafe & Dining ZelkovA. This time they will offer a limited-time afternoon tea set "Sakura & Strawberry Afternoon Tea" for a limited time from March 3rd (Thursday) to April 26th (Tuesday), 2022.
You can enjoy a spring-scented afternoon tea that uses abundantly sweet strawberries and elegantly scented cherry blossoms sweets for the cherry blossom season with 16 types of tea, herbal tea, standard coffee, cafe latte, and more from TWG tea.
Offer time: 11:30-Last entry 18:00 (2 hours, Last order: 30 minutes before)
Price:
・ Strawberry Afternoon Tea 4,980 yen
・ Luxury Afternoon Tea-Sakura & Strawberry 6,670 yen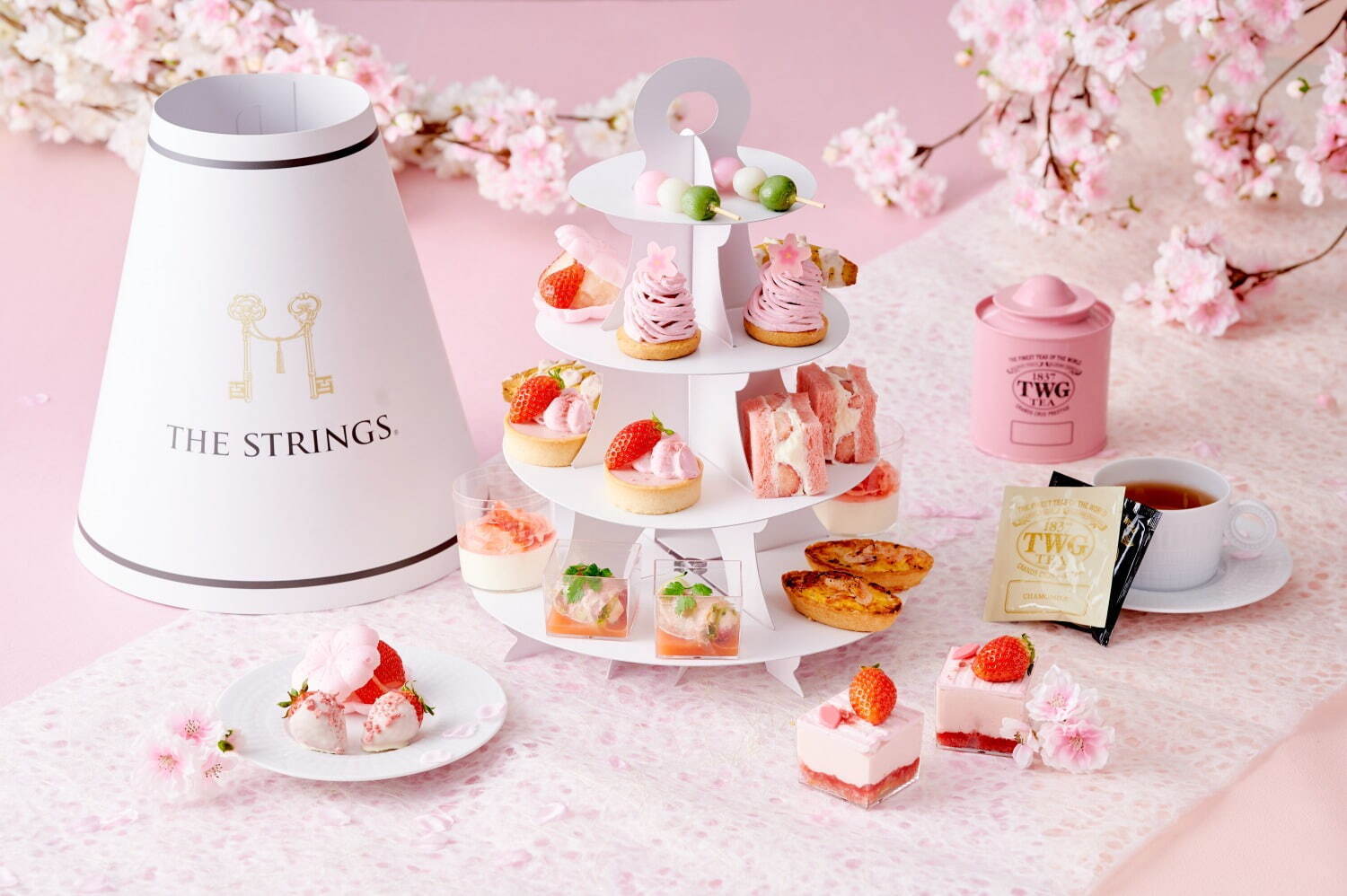 For those who want enjoy this afternoon tea but aren't feeling like going out too much, they have a take out option! It costs 8,000 yen for two people.
HAUTE COUTURE CAFE
The trendy and photo-worthy Haute Couture Cafe located at the fashionable and calmed neighborhood of Nakameguro has one of the cutest spring afternoon tea in Tokyo. Their "Strawberry cherry blossom Afternoon tea" is highly popular and as the place is small (only 19 seats) it gets fully booked easily.
From March 2nd to April 24th in Haute Couture Cafe you don't only enjoy the beauty of the cherry blossom in super cute and delicious themed food and drinks but also with the design of the store interior, full of cherry blossoms in full bloom. And if you go during the cherry blossom season, you can see the real cherry blossoms in full bloom from the large windows!
Offer time: 11:00-13:00/ 13:30-15:30/ 16:00-18:00/ 18:30-20:30
Price: Starting From 4,200 yen to 5,100 yen
Keio Plaza Hotel Tokyo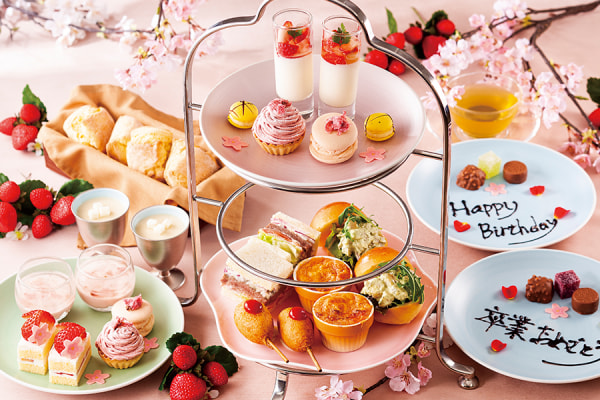 Located in the heart of Tokyo's Shinjuku district, Keio Group's Keio Plaza luxury hotel offers a spring afternoon cafe in its Sky Lounge, Aurora. Its Strawberry x Sakura Afternoon Tea will be available throughout the month of March 2022, and reservations are being accepted until 9 a.m. that same day.
Indulge yourself and have a different kind of day with delicious cherry blossom-inspired sweets lined up on a three-tiered cake stand and more than 30 types of drinks while marveling at a superb view overlooking the city center under the blue sky from 160 meters above the ground.
Offer time: 13:00-15:00
Price:
・ 6,000 yen plan: A small gift from L'Occitane + My Decoration Plate
・5,500 yen plan: A glass of sparkling wine included
Four Seasons Hotel Tokyo Otemachi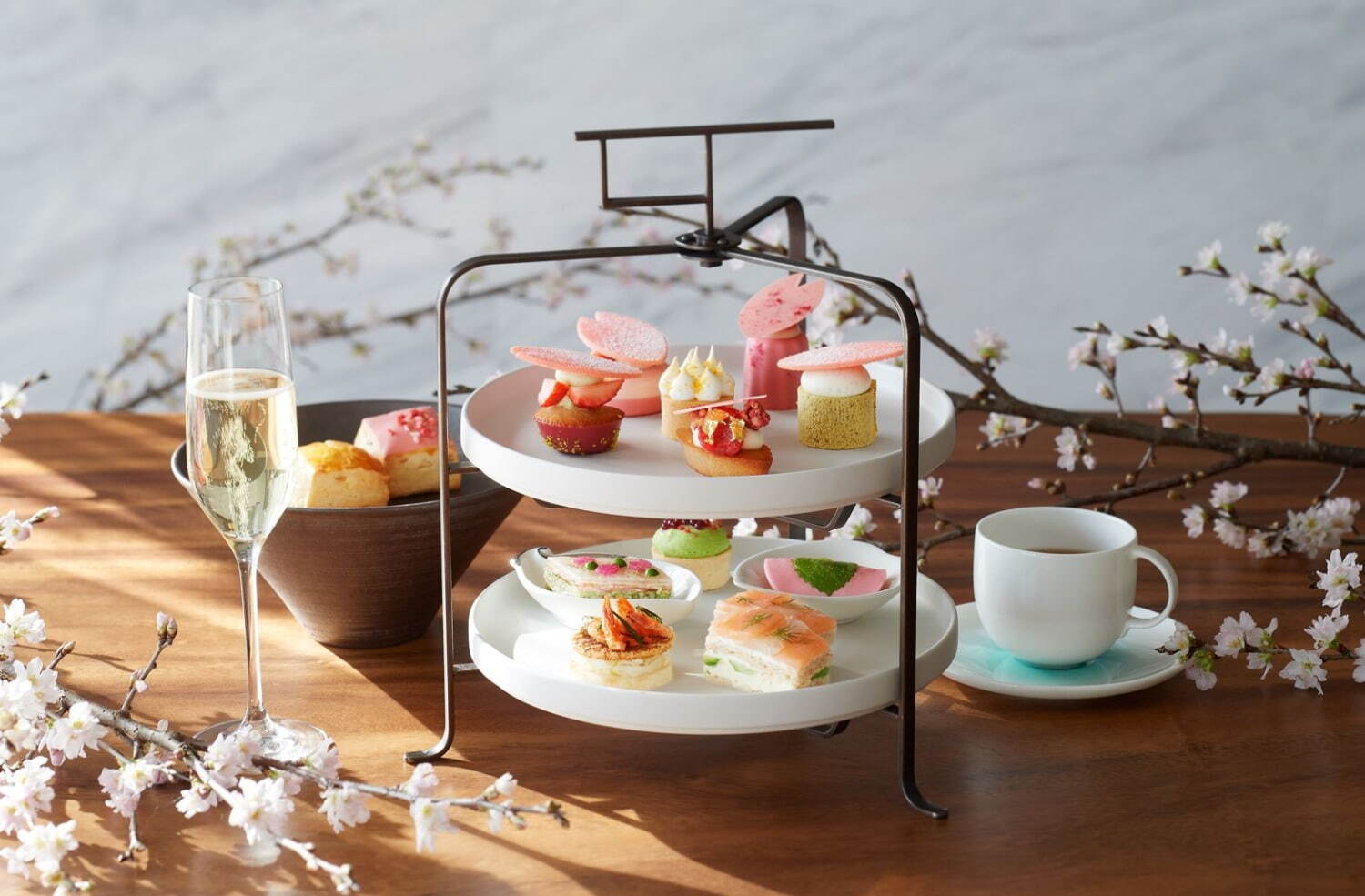 Four Seasons Hotel Tokyo Otemachi is offering an afternoon tea of cherry blossoms for a limited time at "The Lounge" on the 39th floor. You can enjoy the afternoon tea "Spring in full bloom" from March 1st (Tuesday) to April 30th (Saturday), 2022.
The seven sweets of interest are decorated with "petal" -shaped chocolates several types of coffee and tea, including Japanese tea and iced tea. In addition for an extra 2,600 yen you can also have a special cherry blossom cocktail or a sakura "Flower Tea".
Offer time: 11:00-13:00/13:30-15:30/16:00-18:00 (Drink last order is 30 minutes before the end time)
Price: 8,800 yen
* Additional 1,000 yen for pairing with premium Japanese tea.
SALONE VENDREDI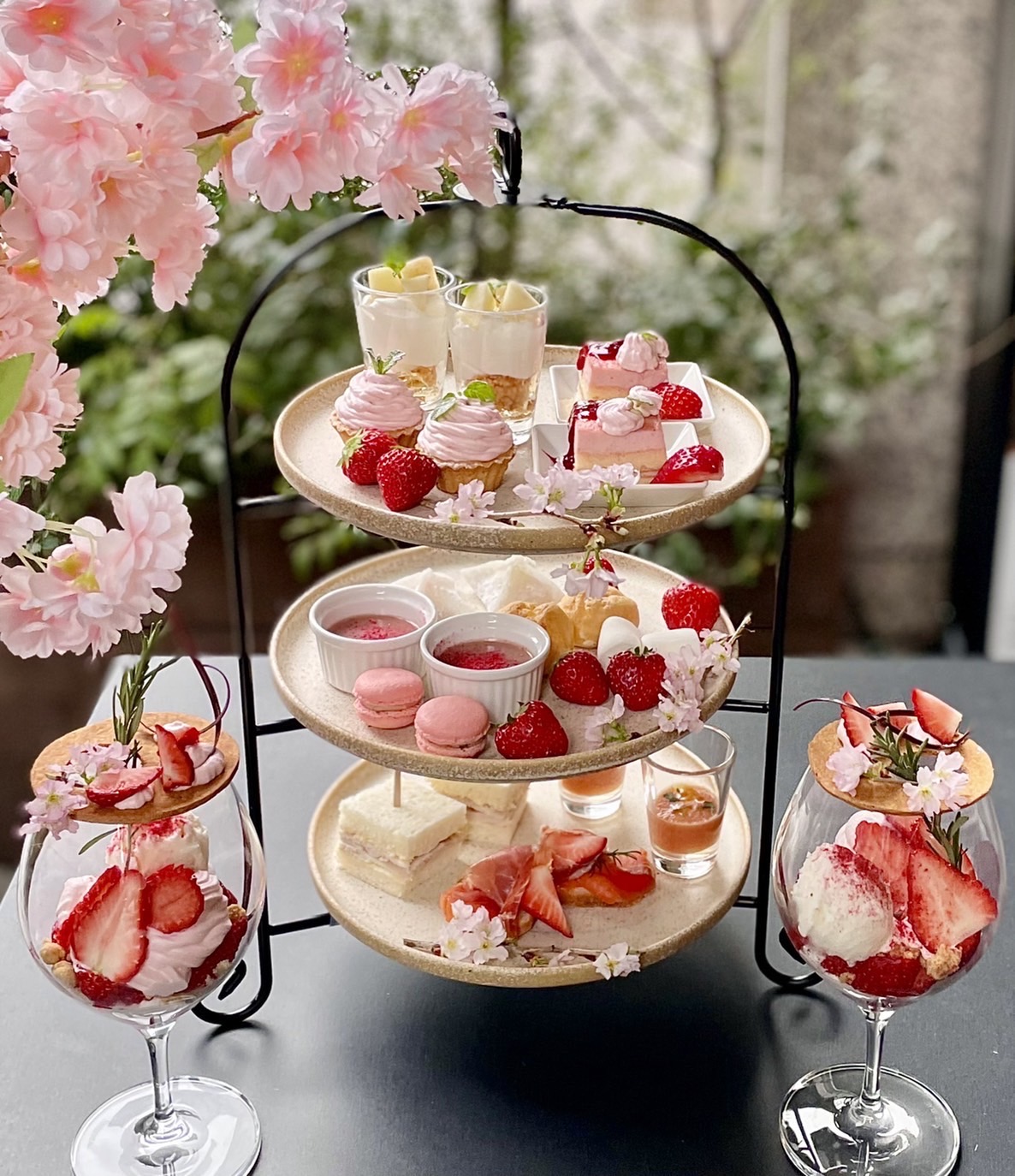 "Sakura and Strawberry Afternoon Tea" is an elegant and fancy spring-colored afternoon tea offer at the salon restaurant "Salone Vandoldi" in Nihonbashi from March 3 (Thursday) to the end of April.
The Salone Vandoldi spring afternoon tea is supervised by the food journalist Takami Iwatani, who has more than 80,000 followers on Instagram and eats 2000 sweets a year! Taste the flavor of spring eating a whole strawberry Mont Blanc, strawberry daifuku, cherry macaroons and more.
Offer time: 12:00-18:00
Price: 6,000 yen
Roppongi Hills Observatory
Sakura-themed afternoon tea with Tokyo Tower views! Roppongi Hills Observatory, one of the top viewpoints in Tokyo is holding a spring cherry-blossom viewing event called "Cherry Blossom Viewing in the Sky 2022 ~ Cherry Blossom Viewing at Sky Deck ~" from March 19th (Sat) to April 7th (Thursday), 2022.
The roof top observation (270 m) offers a panoramic view of Tokyo city including Tokyo Tower and Tokyo Skytree, and it's often called "the most romantic place in Tokyo". During spring you can enjoy viewing the cherry blossom "from the sky" in various parts of Tokyo such as the Aoyama Cemetery's cherry blossom crossroads, Yoyogi Park, and Shinjuku Gyoen National Garden.
After seeing the cherry blossom you can go to the restaurant "THE SUN & THE MOON" located on 52nd floor and have a limited-time spring menu, including a sakura themed afternoon tea set "2022 STRAWBERRY AfterMOON Tea -SAKURA-".
Offer time: 11:00-17:00
Price:
・ 5,500 yen (10% service charge on weekends and holidays)
* A seat charge of 1,000 yen (per person) will be charged for seats near the window.
* Separate VIEW CHARGE: 500 yen / person will be charged.
(Those who have an admission ticket to the 52nd and 53rd floors will not be charged)
Hotel New Grand Yokohama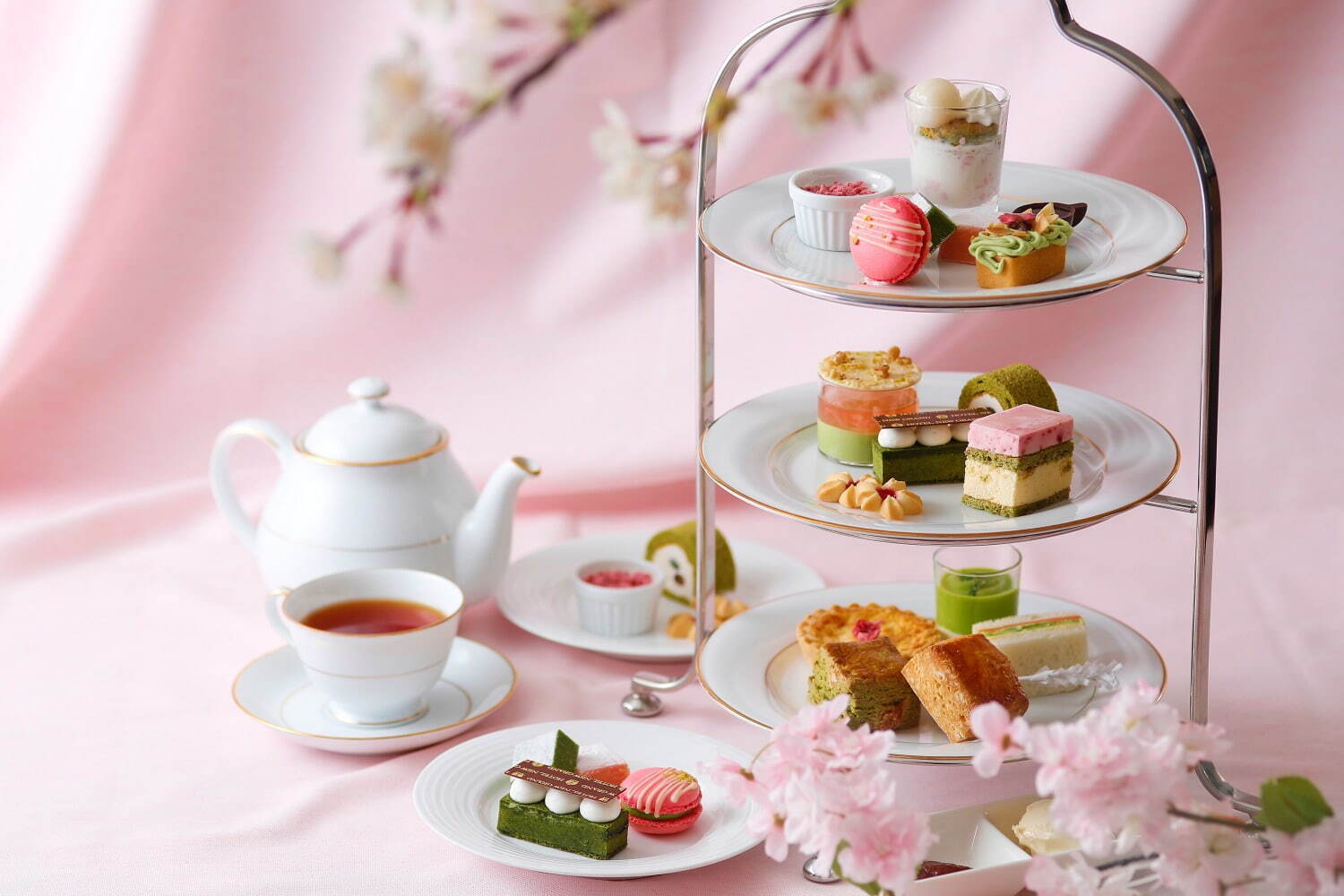 It's not Tokyo but near. Hotel New Grand, one of the best hotels in Yokohama offers a " Matcha x Sakura Spring Afternoon Tea set" at the lobby lounge "La Terrace" from March 1st (Tuesday) to April 30th (Saturday), 2022.
A combination of elegant matcha sweets as Uji matcha mont blanc with pink sakura-like desserts, such a cherry mousse or brown sugar and shiratama.
Offer time: 12:00-20: 00 (Last order: 19: 30)
Price: 5,808 yen
* One cup of "Sakura Cocktail" or "Non-alcoholic Cocktail" will be served after 17:00.
SHIBUYA STREAM EXCEL HOTEL TOKYU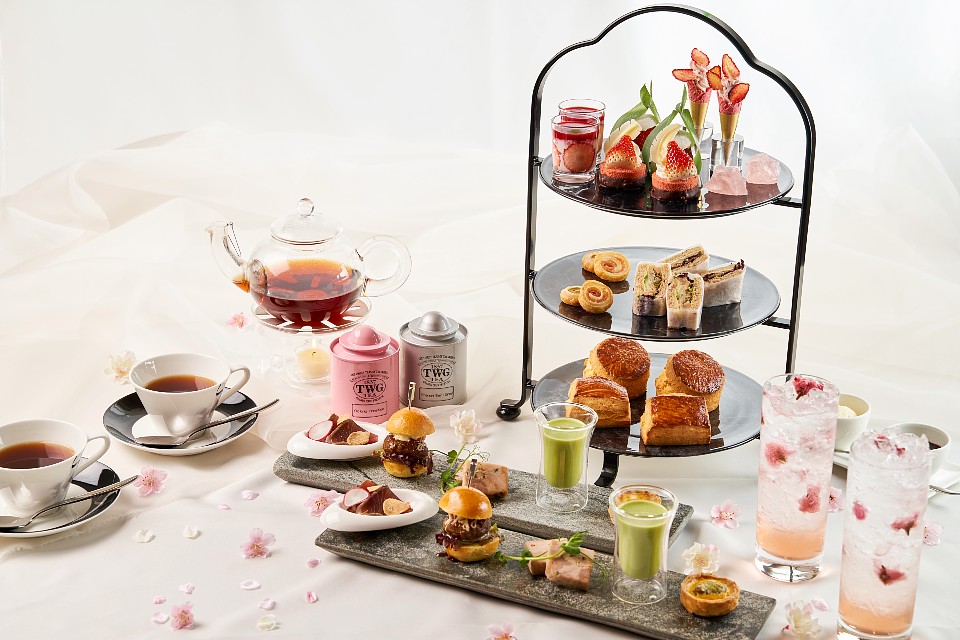 Afternoon tea "TORRENT Spring Afternoon Tea" will be available at Shibuya Stream Excel Hotel Tokyu from April 1 (Friday) until May 31 (Tuesday), 2022. The Bar & Dining "TORRENT" at the Shibuya Stream Excel Hotel Tokyu changes its afternoon tea appearance every season and is very popular.
For Spring when the weather gets warmer and colors start to bloom, they use seasonal ingredients and colors such as red, pink and green to create artistic dishes that are unique in Shibuya to make their customers enjoy the harmony of this season.
Offer time: 11:40-13: 45/ 14:30-16:30
Price: 4,000 yen (4,400 on weekends and holidays)
Afternoon Tea TEAROOM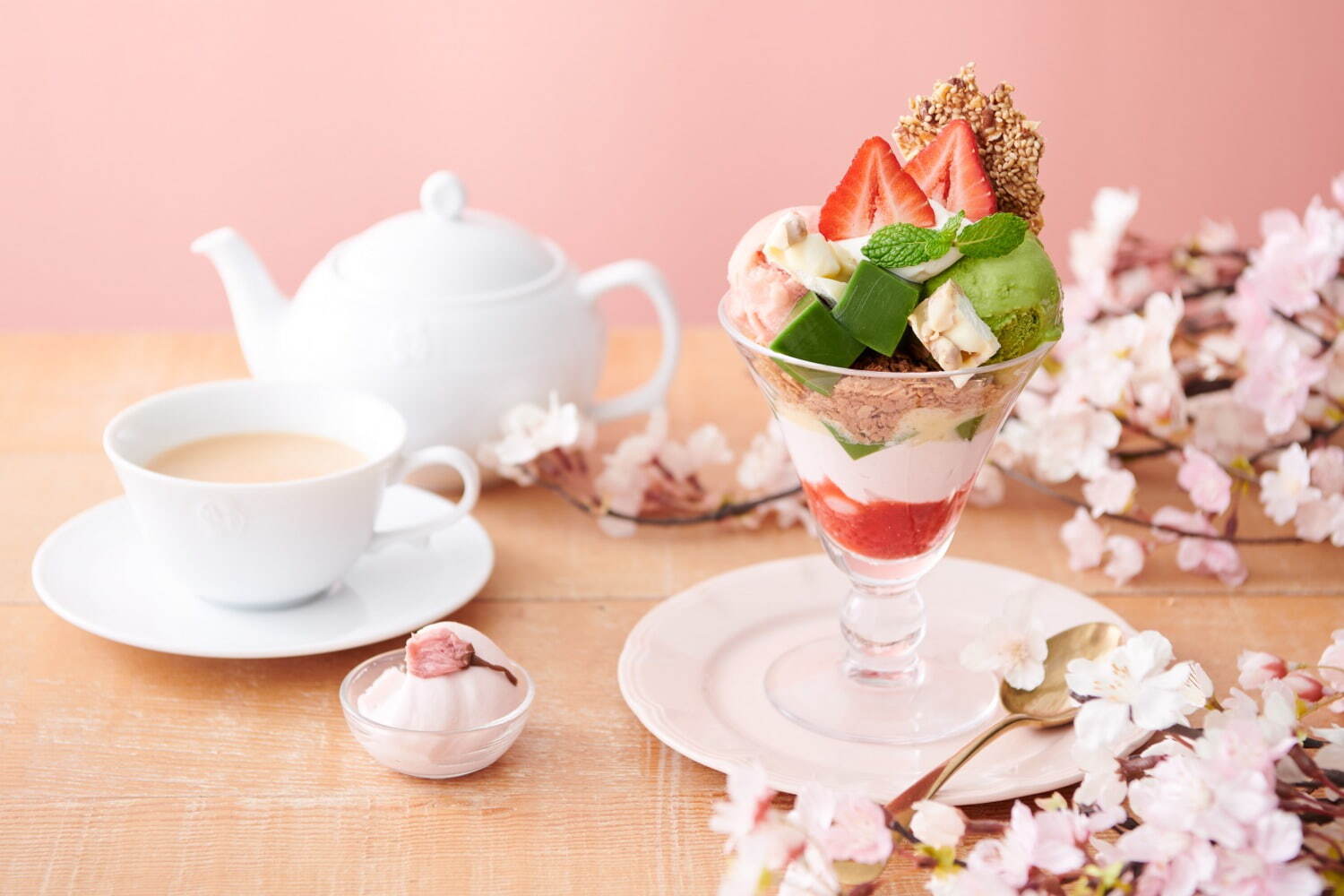 Afternoon Tea TEAROOM was launched in 1981 with an aim to produce relaxing time through the enjoyment of the English afternoon tea culture. They have several stores in Tokyo and nearby. From March 3 (Thursday) until April 27 (Wednesday), 2022 they are going to be offering a spring limited-time sweets and tea with the theme "Find Happy Moments".
One of the top products is "Strawberry and Matcha Parfait", a combination of strawberry, matcha jelly, cherry whipped cream, strawberry gelato, matcha ice cream and strawberry sauce.
The concept isn't exactly like the food and sweets tray of the typical afternoon cafe, but their products are very good and it's a good option for those who don't want to spend so much money or can't eat so many sweets.
Hotel Gajoen Tokyo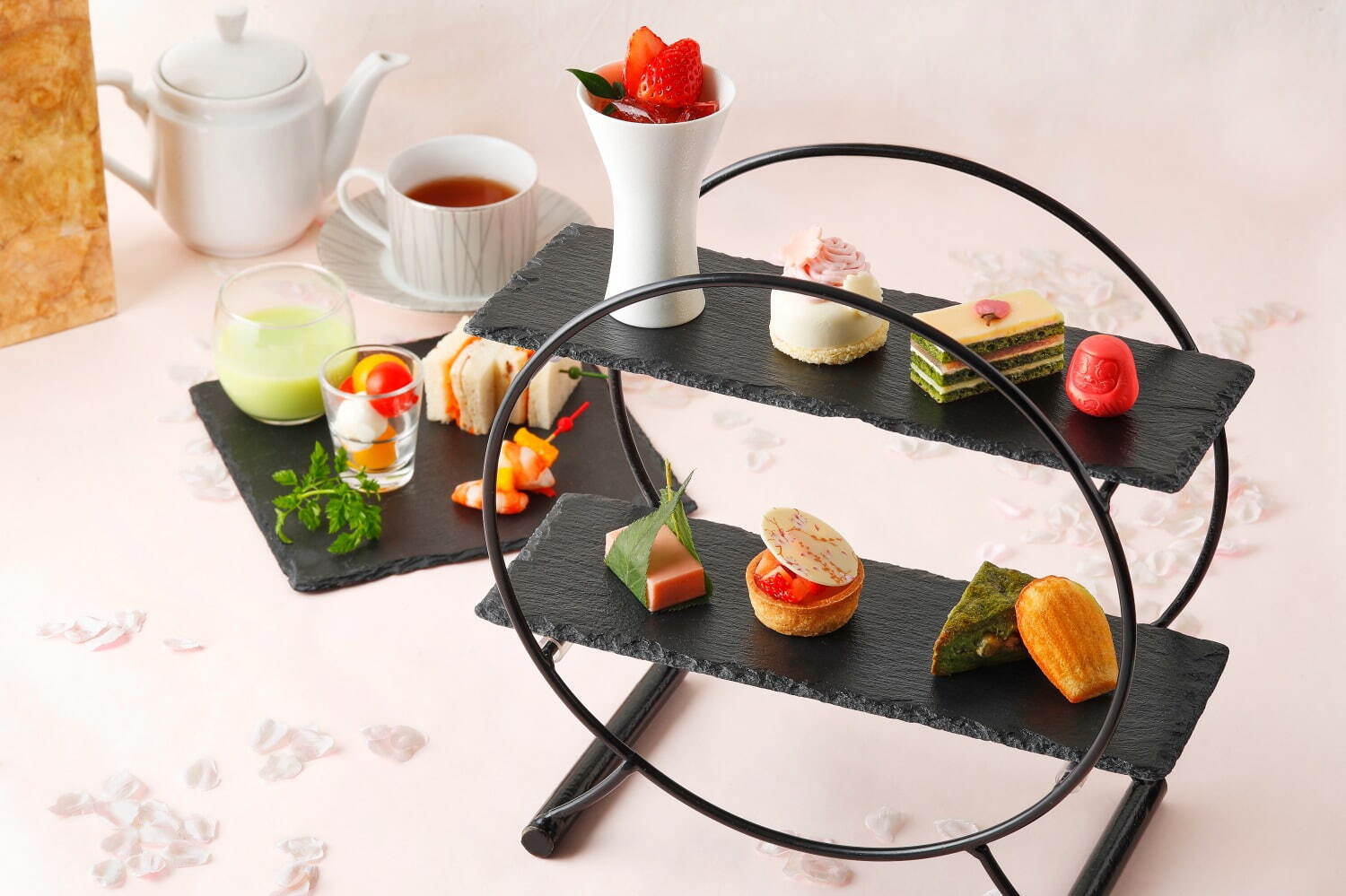 If you are searching for something different, more elegant and Japanese traditional-style from March 14 (Monday) to April 10 (Sunday), 2022 Afternoon tea "Sakura Afternoon Tea" will be available from Hotel Gajoen Tokyo.
In addition to some European classics as "Sakura Mont Blanc" you can also have a more Japanese style sweets such as "Sakura Opera" with cherry blossom flavored mochi and "Strawberry and Sakura" with raw chocolate wrapped in cherry leaves.
Offer time: 14:30-17: 30 (Last order: 19: 30)
Price: 4,950 yen (6,820 yen with a glass of champagne)
* You can also have a Sakura Cocktail (1,760 yen) or Sakura Lemonade (1,320 yen).
Thanks for reading! Doing this article has made me want to go to all of them. Which one is your favorite? For more events, food and products related to cherry blossoms in Japan you can check these articles too.
▽Related Articles▽
▼Editor's Picks▼
---