4 Best Pocket WiFi Rental in Taiwan
Comparing the best Pocket WiFi Rental Services in Taiwan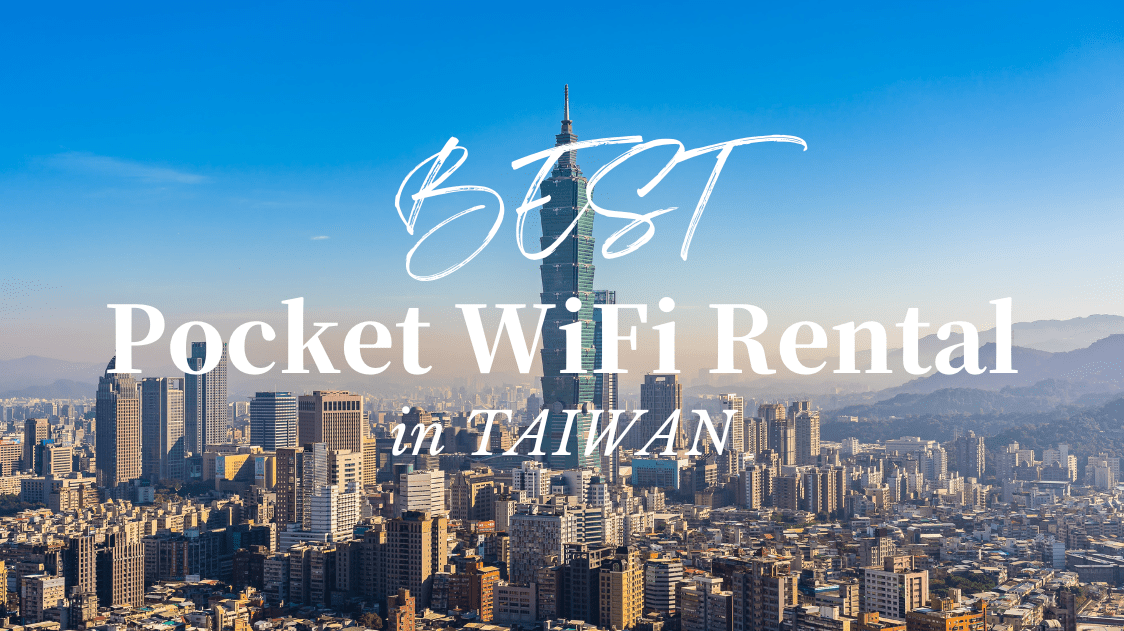 Having a reliable high-speed internet connection during international travel is a must, and it is no exception for Taiwan.
A Pocket WiFi, or portable WiFi router, enables multiple devices to connect to the same hotspot, allowing you and your companion seamless internet access. Renting a pocket WiFi eliminates the need to buy local SIM cards and deal with activation hassles. Simply pick up the device upon arrival or have it delivered to your accommodation for instant connectivity.
With high-speed and unlimited data plans, you can navigate, stay connected, and share experiences on social media without interruptions. Pocket WiFi offers better coverage and stability than public hotspots, ensuring a secure and private connection.
By renting pocket WiFi, you avoid the inconvenience of changing SIM cards and maintaining your phone number. Stay accessible to your contacts throughout your journey. Embrace the ease and reliability of pocket WiFi in Taiwan, enhancing your travel experience with seamless internet connectivity.
In this article, I will introduce to you the main Pocket WiFi rental services in Taiwan.
---
The process of the service for all four companies is similar (with small differences), and it works as follows.
1. First, you make the reservation online. This is a must and depending on the service you choose to use, the minimal days you have to make the reservation before your flight. Also depending on the service, you can choose to receive the WiFi device to a place of preference. One thing to be careful of is that some services will have you pick up the device after you get to Taiwan, while others will send it to you before you leave for Taiwan.
2. Next, you go pick up the device at the instructed location (or in other cases, it will be sent to the place you have indicated). Be sure to bring your identification documents when you pick up the device.
3. Turn on the pocket WiFi and enjoy high-speed internet connection during your travels in Taiwan.
4. Return the device. In some cases, this is done before heading back to your country (at the airport), while in other cases you can send it back after getting home.
Ok, now that you know how the process works, let me introduce the four main pocket WiFi rental services in Taiwan. The following chart shows five of the most important qualities that people usually look for when deciding. Hopefully, this chart will make things easier for you when deciding on which service you would like to contact.
1. Jetfi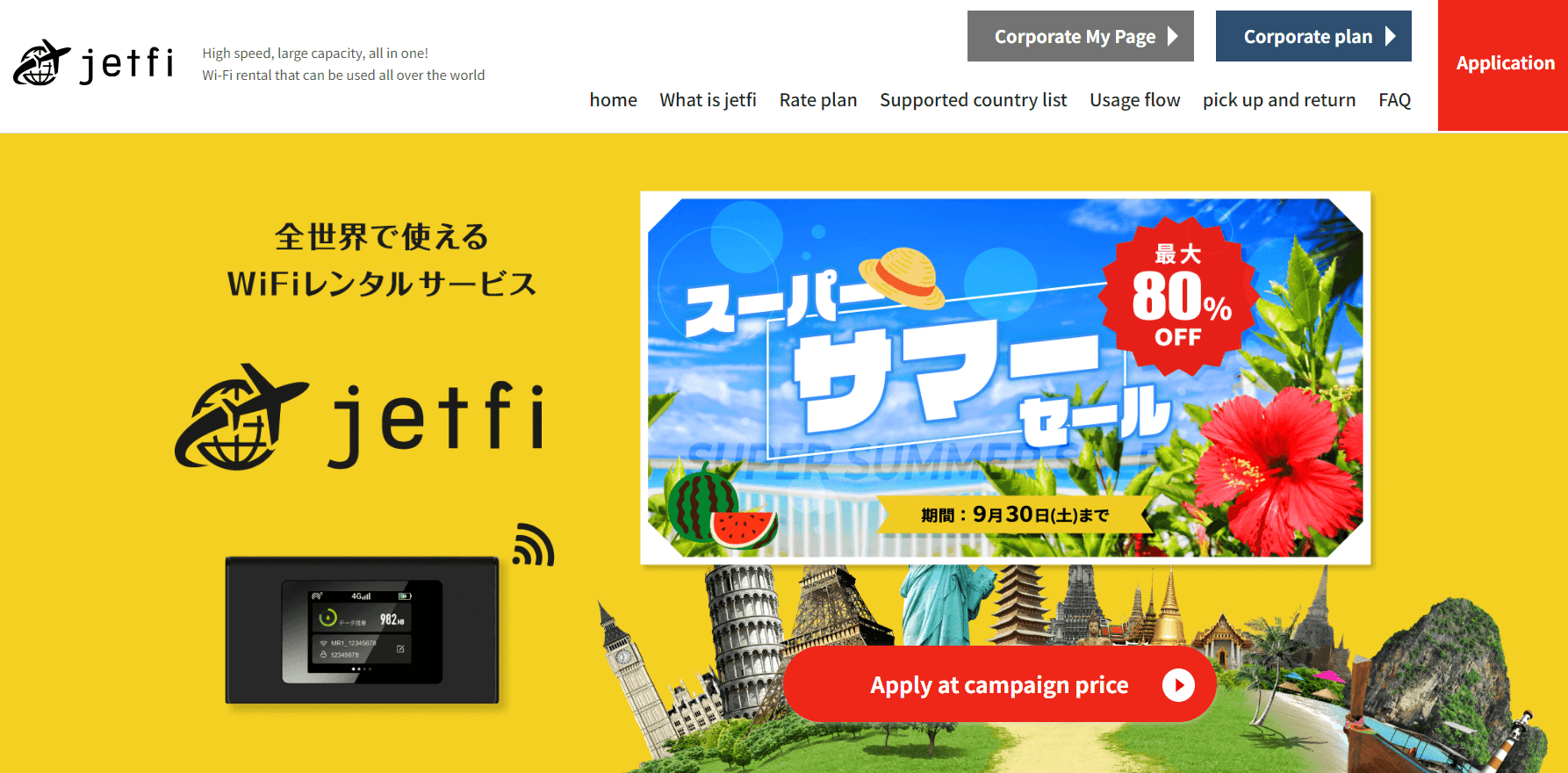 The first pocket WiFi rental service for Taiwan on this list is Jetfi. This is a reputable Japanese provider offering Pocket WiFi device rental in over 100 countries. With a straightforward pricing system, it's an excellent option for those journeying from Japan or those who are planning on traveling across various countries.
Choose from single-country plans or area plans covering various countries, tailored to your travel needs. You can opt for limited MB plans like 350MB, 500MB, or 1GB, or select the convenience of an unlimited data plan.
To get started, make a simple online reservation at least 5 days before your departure. The device will be sent directly to your chosen location, ensuring a hassle-free setup upon arrival in Taiwan. You can choose your device to be sent to your home, post office of preference, Convenience store of preference, or Airport of departure. And for returning, you just send the device back by post office after you have returned to Japan.
With additional customization options available, Jetfi offers flexibility and ease to suit your unique travel requirements. Stay connected effortlessly throughout your Taiwan adventure with the reliable and convenient Jetfi pocket WiFi service.
2. GoWiFi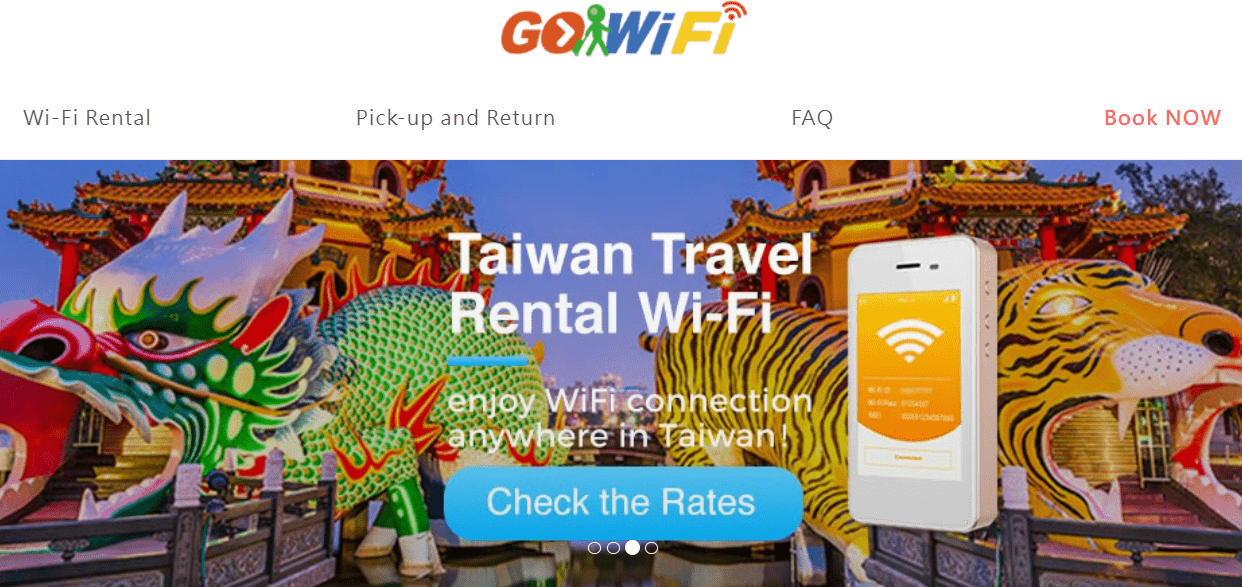 Next on our list is GoWiFi. This pocket WiFi rental service is another good option for a seamless internet experience. Enjoy unlimited data at 4G speed, ensuring fast and reliable connectivity throughout the country.
With GoWiFi, pick-up and return are made convenient at all Taiwan airports (Taoyuan International Airport (Terminal 1 and 2) and Kaohsiung International Airport), making it easy to start and end your rental period hassle-free.
The pocket WiFi allows you to connect up to 5 devices, perfect for staying connected with your travel companions. With a long 12-hour battery life (5350mAh), you can explore Taiwan without worrying about frequent recharging.
The package includes a WiFi router, USB cable, and charger, providing all essentials for immediate use. GoWiFi covers all of Taiwan, ensuring you stay connected in urban areas and remote regions alike.
3. Klook
Another option for a fantastic internet experience while traveling in Taiwan is Klook. Enjoy unlimited data usage per day with impressive upload and download speeds of 50mbps and 150mbps, respectively.
With the ability to connect up to 5 devices at once, you and your travel companions can stay connected effortlessly. The coverage area spans the entire Taiwan, ensuring you have a reliable internet connection in all regions.
To pick up the device, simply present your voucher along with your passport or photo ID at designated locations, including Taoyuan International Airport (Terminal 1 and 2), Kaohsiung International Airport, and Taipei Songshan Airport.
With Klook, you can explore Taiwan without worrying about data limits, slow speeds, or connectivity issues. Stay in touch, share your adventures, and navigate with ease using Klook pocket WiFi service throughout your Taiwan journey.
4. iVideo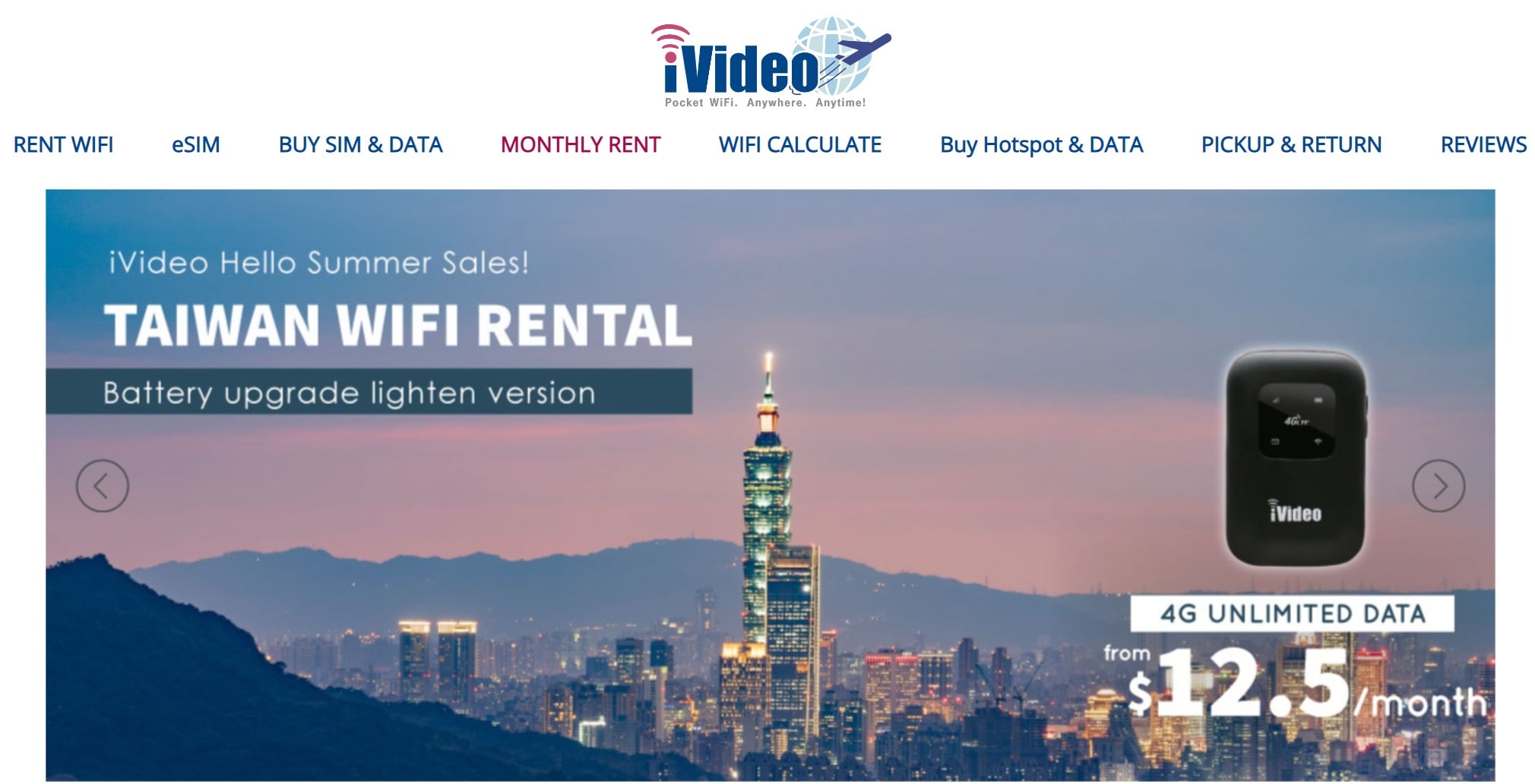 And lastly, on our list, we have iVideo. This pocket WiFi rental service is an excellent choice with its wide selection of Pocket WiFi devices from various companies, allowing you to compare and choose the best fit for your needs.
Enjoy flexibility with iVideo as you can opt for short-term plans with a daily charge or long-term plans with a monthly charge, ensuring you have the ideal internet solution for your stay duration.
When it comes to pick-up locations, "iVideo" offers multiple convenient options. If you're from the US, you can have it delivered to your home address. For those traveling from Japan, choose from locations like airports, hotels, iVideo stores, or convenience stores. And if you're already in Taiwan, pick-up locations include airports, hotels, and iVideo stores.
Experience seamless internet connectivity throughout your Taiwan trip with iVideo pocket WiFi service, tailored to your preferences and travel requirements.
---
▽Subscribe to our free news magazine!▽

For more information about Things to do in Japan, check our other articles below.
▽Related Articles▽
▼Editor's Picks▼
---