5 Best Japanese Light Novels for Beginners
Light Novel to Read in English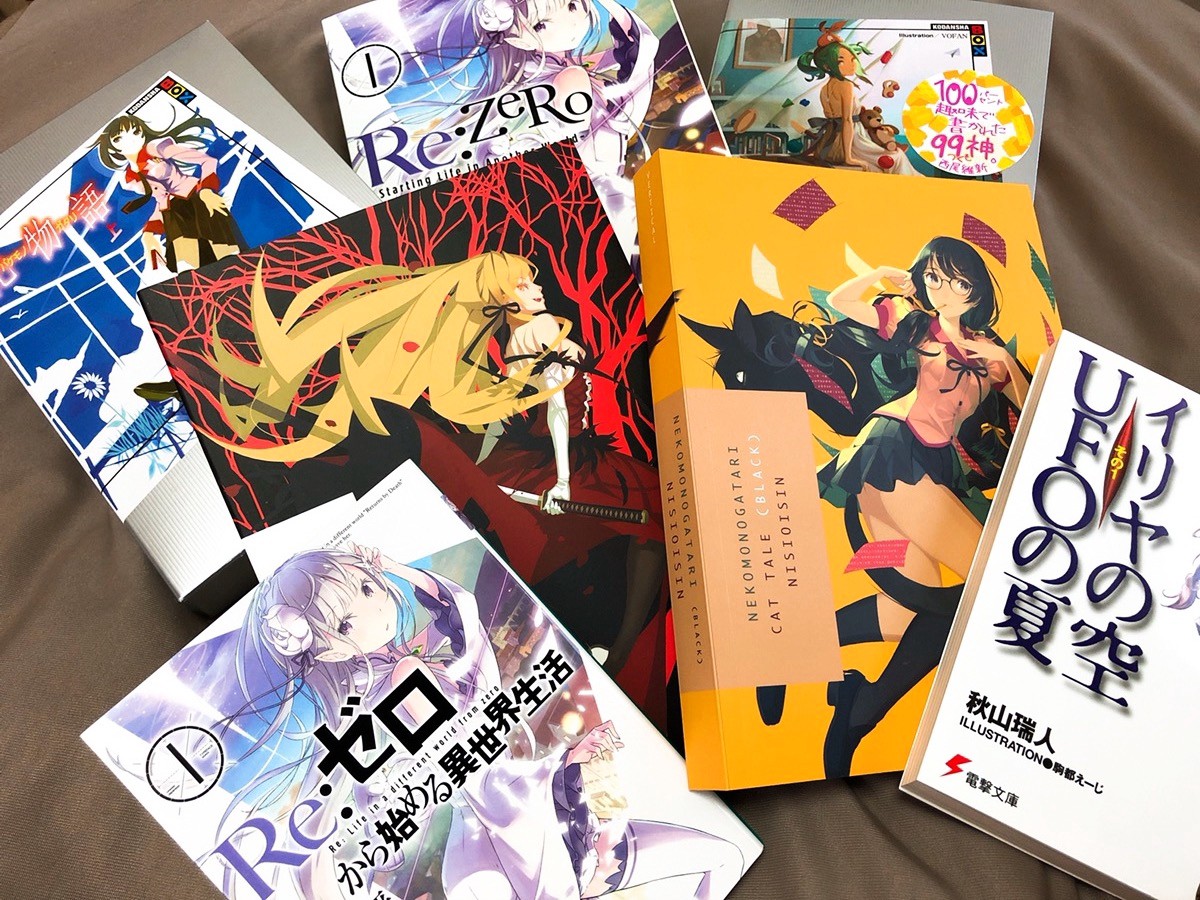 Light Novel is one of the hottest Japanese pop cultures as well as Anime and Manga. Today, I'd like to introduce 5 best Japanese light novels for beginners to read in English.
Speaking of Japanese modern and pop culture, Anime and Manga are quite famous and popular all over the world. What you shouldn't miss to talk about Japanese pop culture, especially Anime, is Light Novel. A light novel is a novel with the similar theme to Manga and now one of the most popular genres of Japanese books. Light novels started to be popularized after 1990 by some remarkable works and grew more popular after 2000s.
Light novels have unique concepts which are different from fiction novels or Manga. For example, a setting of the light novel is completely fantasy world but you can have a feeling of closeness and feel sympathy for the world and the characters. In addition to attractive contents, light novels are featured by its cover illustration with characters which influence how readers feel about the light novel. Some people buy a light novel for just the attractive cover illustration.
There are countless Japanese Anime and the number of newly released works is increasing these days. Many of the popular Anime released after 2000 were made based on light novels such as The Melancholy of Haruhi Suzumiya, Sword Art Online, Oreimo, That Time I Got Reincarnated as a Slime, etc.
Light novels got well known by more people partly because the user-written publishing platform Shosetsuka ni Naro was available from the beginning of 2000s. Anyone can publish their novels on the website.
For both first timers and advanced readers, here are 5 best Japanese light novels which are translated into English and other languages.
▽Check this best light novel list of all time, too!▽
1. The Melancholy of Haruhi Suzumiya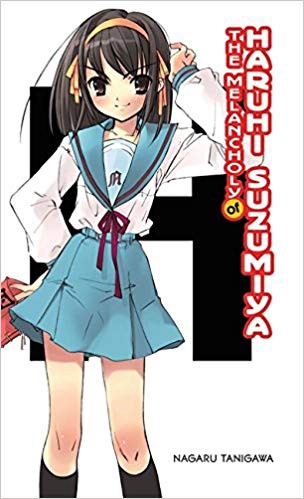 Quite a few light novel fans look on The Melancholy of Haruhi Suzumiya (涼宮ハルヒの憂鬱) as the best light novel of all time, which is the first part of Haruhi Suzumiya Series composed of 11 volumes. A light novel has been much more popularized and familiar to youngsters since The Melancholy of Haruhi Suzumiya was released in 2003 by the imprint Kadokawa Sneaker Bunko.
The story focuses on the SOS Brigade including the five high school student main characters. They are aliens coming from other planets or the future except the human being Kyon. It's interesting that they enjoy an ordinary school life while supernatural phenomena interfere in their lives, which happen due to the unconscious force of Haruhi.
Writer: Nagaru Tanigawa (谷川流)
Illustrator: Noizi Ito (いとうのいぢ)
2. Boogiepop Doesn't Laugh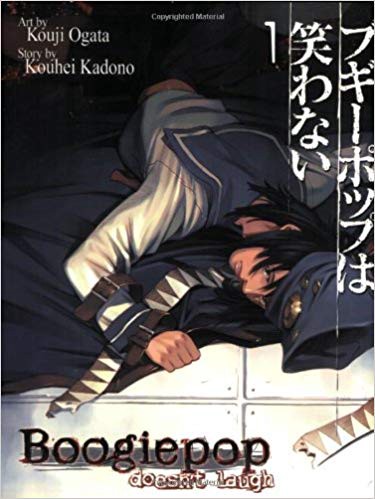 Boogiepop Doesn't Laugh (ブギーポップは笑わない), published by the popular imprint label Dengeki Bunko in 1998, is one of the legendary light novels in Japan, which popularized light novels the first as a book genre. Boogiepop Doesn't Laugh is the first part of Boogiepop series, which totally consists of 23 volumes so far (May, 2019).
The story of Boogiepop Doesn't Laugh proceeds with the students who hold various personal problems This light novel is the first one that describes a kind of dark side of the world: death, split personality and battle in the meantime, majority of Japanese light novels have cheerful and pleasant themes.
Writer: Kouhei Kadono (上遠野浩平)
Illustrator: Kouji Ogata (緒方剛志)
3. Bakemonogatari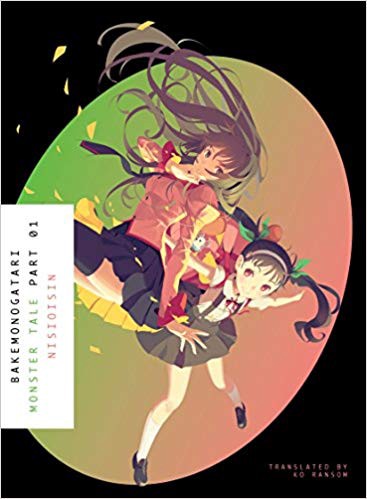 Bakemonogatari (化物語), published in 2006 by the light novel publishing label Kodansha Box, is one of the most popular ongoing Japanese light novels. Some fans think that it is just a novel rather than a light novel, though. The Monogarati Series by NISIOISIN, starting with Bakemonogatari, consists of 21 stories published and other two stories are scheduled to be released in the future so far (May, 2019).
The story features the main character guy Kotomi and several heroines around him, and their personalities are unique and totally different from each other. For example, Hitagi is a little shy but cool and acid-tongued, and Suruga is breezy and perverse. Each main character holds an apparition or monster which occurs due to their terrific occasions in the past. The other highlight of Bakemonogatari is a conversation filled with wordplays. The original funny sentences in Japanese are translated into English very well.
Writer: NISIOISIN (西尾維新)
Illustrator: VOFAN
4. Re:Zero -Starting Life in Another World-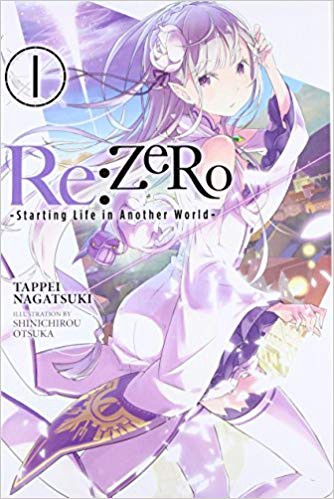 Re:Zero -Starting Life in Another World- (Re:ゼロから始める異世界生活) is one of the most famous light novels which are published on the Shosetsuka ni Naro, started to serialize on the website in 2012 and sold as a physical book in 2014. 26 volumes including the anthologies of short stories and spin-offs have been already published (as of May, 2019).
The setting of Re:Zero -Starting Life in Another World- is the symbol of the current popular light novels: another world where a main character is sent for any reason. Its main character Subaru is summoned to the fantasy parallel world, but he is not granted any special power or ability while a main character of many light novels gets a special ability. However, he exerts himself to carry on living with other attractive characters including main three heroines.
Writer: Tappei Nagatsuki (長月達平)
Illustrator: Shinichirou Otsuka (大塚真一郎)
5. Is It Wrong to Try to Pick Up Girls in a Dungeon?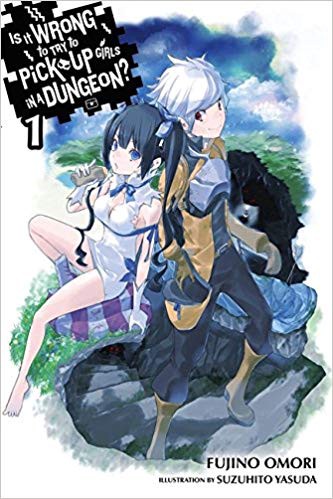 For a recommended hot light novel, Is It Wrong to Try to Pick Up Girls in a Dungeon? (ダンジョンに出会いを求めるのは間違っているだろうか) is a nice option. Its first volume was released in 2013 by the imprint GA Bunko while its original edition had been uploaded on the user-publishing website Arcadia before that.
The setting is the fictional world Orario where there are lots of underground labyrinth known as Dungeon. The main character Bell visits Dungeons to live from day to day and get stronger. One day, he is attacked by a vicious monster in the Dungeon and saved from certain doom by the powerful swordswoman Ais. He falls in love with her and tries hard to draw level with her developing his skill.
Writer: Fujino Omori (大森藤ノ)
Illustrator: Suzuhito Yasuda (ヤスダスズヒト)
For more info about light novels, here are 25 best light novels of all time!
If you like light novels, it's highly recommended to watch the Anime version of your favorite one. Many Anime are also offered with English subtitles. For more info about Japanese pop culture, you might also like these articles below, too!
▽Related Articles▽
▼Editor's Picks▼
---