Best Japanese Blue Light Blocking Sunscreens
Must-Buy Japanese Sunscreens to Protect Your Skin from Blue Light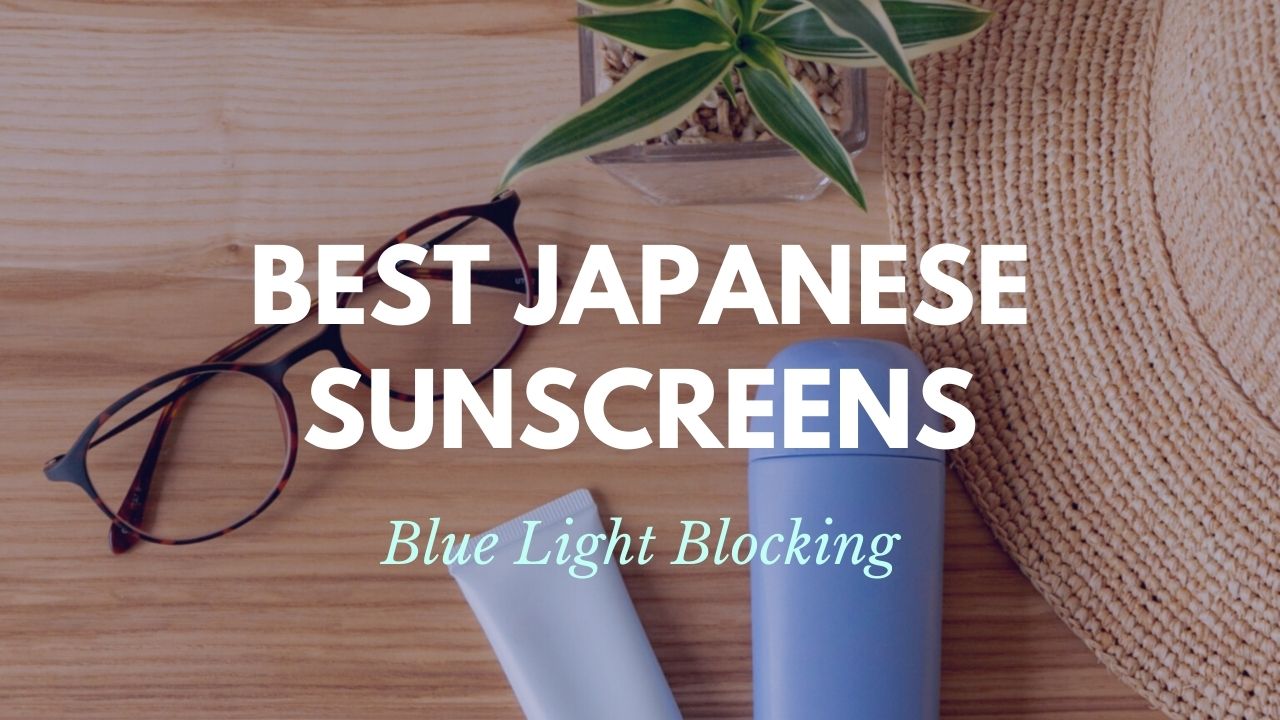 Blue light from electronic devices including smartphones, tablets and laptops can cause similar skin damage to UV rays, which can result dryness, premature skin aging and hyperpigmentation. If you spend a lot of time in front of screens daily, your skin is exposed to harmful factors even when you are indoor.
Cutting devices that emit blue light from our daily life may be very hard in modern days, but one of the solutions to protect your skin is wearing effective blue light blocking sunscreens and base makeup products.
While most sunscreens only protect the skin against UV rays, some products are designed to block other harmful lights such as blue light and near infrared light. Wearing sunscreen daily when going out is a common skin care routine to protect our skin from UV rays, so why don't we act the same way on blue light?
If you are serious about protecting your skin from harmful external stimuli, it's recommended to wear a blue light blocking sunscreen daily, even indoor for the long-term skin health. In this article, I will introduce the list of the best Japanese sunscreens that protect your skin from blue light. So let's check them out!
---
1. POLA White Shot Skin Protector DX
POLA White Shot Skin Protector DX (ポーラ ホワイトショット スキンプロテクター DX) is a daytime cream that is combined with skin brightening care and UV protection. The light and refreshing cream spreads smoothly. The DX Shield Delivery formula forms a shield veil against UV rays and delivers hydration deep into the skin. It contains flexible polymer that adjust the movement of the face. It features the multi-protective design and contains powders in three different sizes that protect the skin from UV rays, near-infrared rays, micro dust (exhaust gas, factory smoke, dust, PM2.5, cigarette smoke, yellow sand and pollen) and blue light. Various beauty ingredients are blended which lead to luminous, translucent skin.
Price: 6,600 yen (45g) 【Shop Online】
2. Naturaglace UV Protection Base
Naturaglace UV Protection Base (ナチュラグラッセ UVプロテクションベース) is a makeup primer that protects the skin from harmful UV rays, blue light and near-infrared lights. It's free of UV absorber but protects the skin with plant derived ingredients. It contains botanical skin care ingredients such as bilberry and soy beans, which maintain skin's moisture and give resilience. The lightly beige colour blends well on the skin and gives an elegant luster and a natural tone-up finish. It prevents makeup from smudging by sebum and sweat, and keeps its fresh look for hours.
Price: 3,520 yen (30ml) 【Shop Online】
3. ETVOS Mineral UV Powder
ETVOS Mineral UV Powder (エトヴォス ミネラルUVパウダー) is a chemical-free sunscreen powder that is made of minerals and beauty ingredients. The product is free of surfactant, mineral oil, silicon, tar pigment, fragrance, paraben, alcohol and UV absorber. It protect the skin from various lights causing damages and dryness on the skin including UV rays, blue light and near infrared rays. The after sun care ingredients are newly formulated to treat the skin even after being exposed to the lights. The light pink-beige powder covers pores and the skin tone for a beautiful and transparent look. It absorbs excess sebum and keeps the smooth skin for hours.
Price: 3,080 yen 【Shop Online】
4. Skin mania Ceramide UV Milk
Skin mania Ceramide UV Milk (Skin mania セラミド UVミルク) is a 5-in-1 daytime emulsion that works as beauty serum, emulsion, makeup base, sunscreen and blue light protection. The blue light cut powder is blended to prevent skin damage by PC or smartphone. It contains both proactive and penetrating ceramides that lock in skin's moisture and prevent damage caused by dryness. The chemical-free sunscreen is made with UV-scattering agents instead of UV absorber, and is free of fragrance, artificial colors, mineral oil, alcohol, and parabens. It contains two kinds of hyaluronic acid and anti-pollution agents that create a hydrating veil on the skin and protect from environmental factors such as PM2.5, pollen and dust. It contains beauty ingredients to keep the skin elastic, resilient and soft.
Price: 1,650 yen (35g)
5. FANCL Sunguard Protact UV
FANCL Sunguard 50+ Protect UV (ファンケル サンガード50+ プロテクトUV) is a broad spectrum sunscreen milk with multi-protection. The lightweight sunscreen milk gives a smooth and silky finish. It features an original prescription which helps to spread evenly without streaks. The multi-protection formula helps to block UV rays, blue light and environmental stressors which can cause dryness, dark spots and wrinkles. It's waterproof formula. All skin care products of FANCL are free of preservatives, fragrance, artificial colouring, surfactant and UV absorber.
Price: 2,750 yen (60ml) 【Buy it Now】
6. Dr.Ci:LABO UV & White Moisture Gel
Dr.Ci:LABO UV & White Moisture Gel (ドクターシーラボ UV&ホワイト モイスチャーゲル50+) is a sunscreen gel that blocks UV rays, near-infrared rays and blue light. The lightweight sunscreen gel provides a fresh and comfortable finish. The new skin protector formula protects the skin from damage and dryness for many hours. It's rich in beauty ingredients such as collagen, hyaluronic acid and lychee extract that delivers hydration to the skin. It's free of fragrance, coloring, mineral oil and paraben. It's waterproof and resistant to water and sweat, yet can be removed easily with face wash or soap.
Price: 3,520 yen (60g) 【Shop Online】
7. AYURA Water Feel UV Gel
AYURA Water Feel UV Gel (ウォーターフィールUVジェルα) is a sunscreen gel that provides light and comfortable wear while offering a powerful UV protection. The moisture-rich sunscreen delivers deep hydration to the skin yet the silky powder keeps the skin surface smooth and non-sticky. It creates a thin veil on the skin and blocks UV rays and external stimulus such as blue light, PM2.5 and pollen. It's free of colouring, alcohol, mineral oil, preservative. It has refreshing aromatic herb scent. The waterproof formula and resistant to water and sweat.
Price: 3,080 yen 【Shop Online】
---
Thanks for reading! I hope this article helps you out with finding a perfect sunscreen for your skin! The listed products are commonly sold at drugstores, cosmetics stores and variety shops in Japan, but some products are also available to shop online with international shipping! So if you are interested in these products, go ahead and try them out!
If you are into Japanese beauty products, I'd recommend you to check out the online beauty store Kokoro which offers a wide selection of Japanese beauty products with worldwide shipping. Visit their website (Kokoro: http://bit.ly/32HfNbi) to check more Japanese cosmetics products! Free shipping is available when you spend over 40 USD 🙂
For more information about the latest Japanese cosmetics products, here are some more articles that you may be interested!
▽Related Articles▽
▼Editor's Picks▼
---