Best Clinics for AGA and Hair Loss in Tokyo and Osaka
Ranking of the 5 Best AGA and hair loss clinic according with the Japanese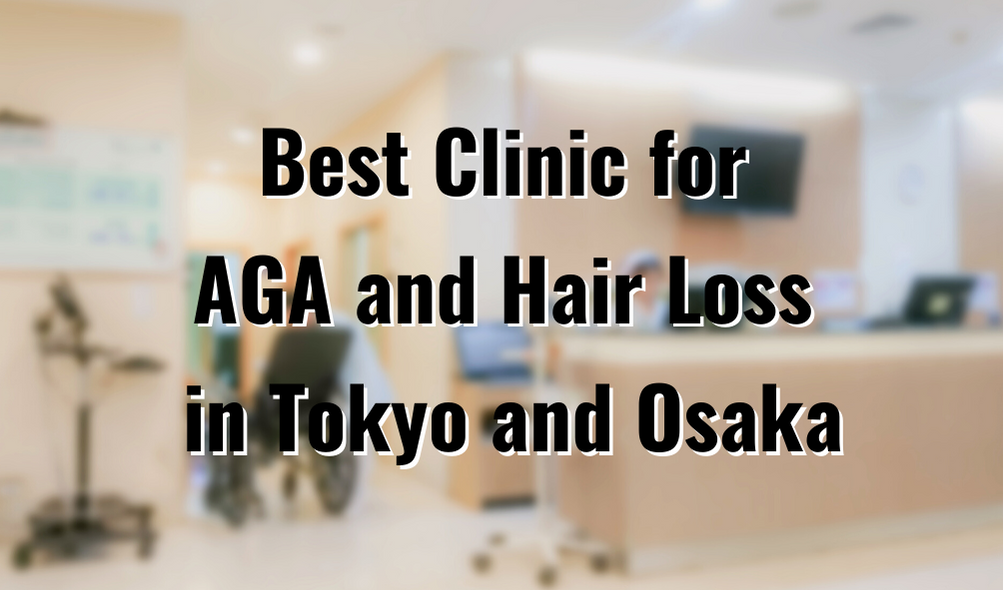 Although some may be embarrassed to admit it, hair loss is a problem for many people. Especially androgenetic alopecia, abbreviated as AGA, affects 50 million men and 30 million women only in United States. While it's true that hair loss itself is not a health problem, it can have a significant impact on mood. Many people may have self-esteem problems and even feel stress when they start to lose their hair.
There are different reasons that can cause hair loss. For example, many foreigners experience greater hair loss when they move to Japan because the water here is harder than in other countries. Stress, hormonal changes or bad daily habits are other reasons for hair loss. While in these cases, the problem may have a simple solution (change your habits, etc.), in other cases medical help is required. Is the case of androgenetic alopecia (AGA), a genetic condition due to an excessive response to androgens.
They are several AGA hair clinic in Japan, even more in big cities as Tokyo and Osaka, with different treatments. In some cases, AGA can be treat with medicines, but in other cases the best option is a hair transplant. If you are thinking about a hair transplant in Japan or visiting an AGA hair clinic for consultation, in this article I'm going to introduce you the ranking of the 5 best AGA and hair loss clinic according with the Japanese!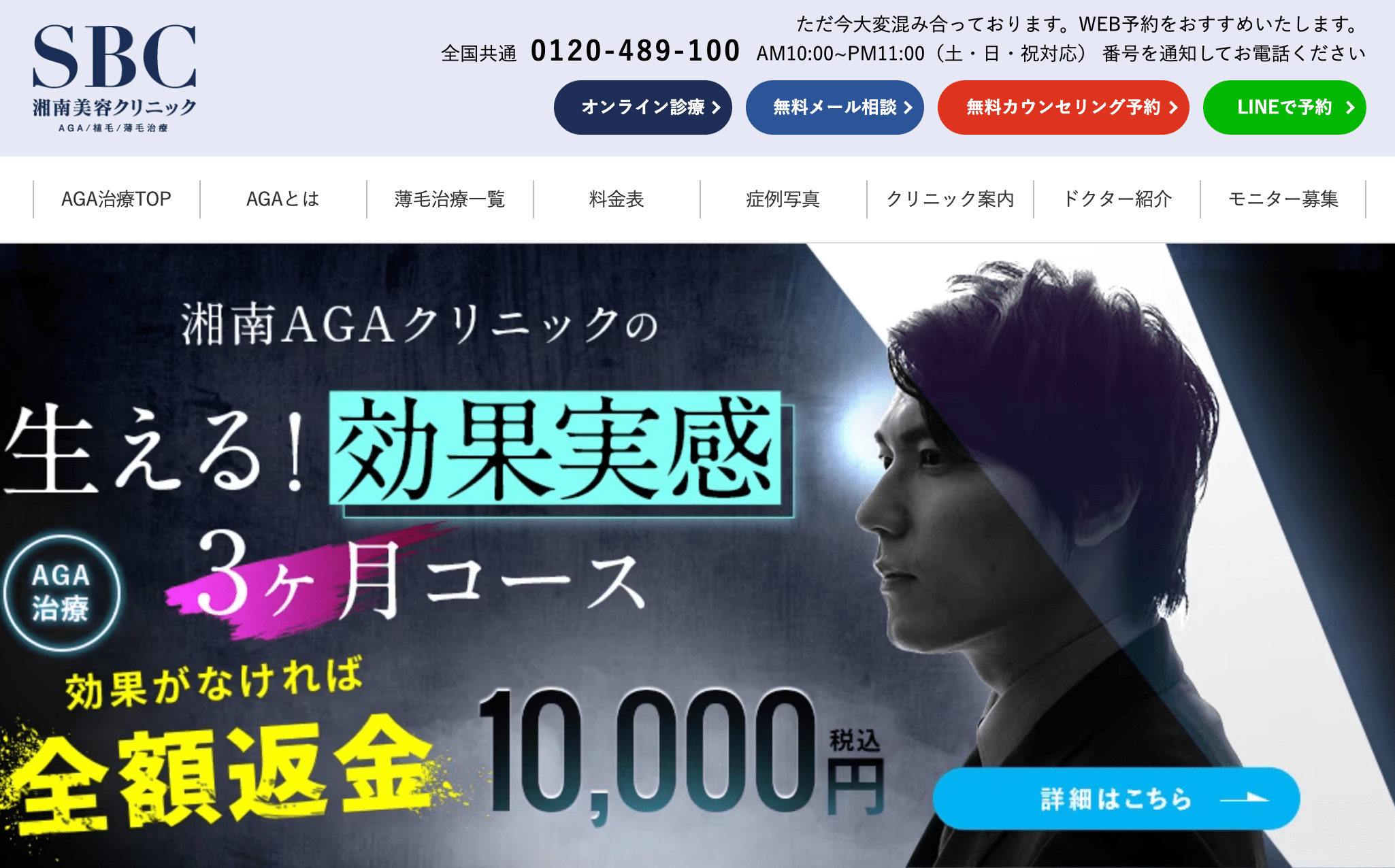 Shonan Beauty Clinic, one of the leading beauty clinics in Japan, also provides AGA treatment. Shonan Aesthetic Clinic places the highest priority on effectiveness and satisfaction, putting the patient first, and has highly skilled physicians specializing in AGA treatment throughout Japan. As a result, they are able to respond precisely to patient concerns.
Although they have numerous clinics throughout the country, not all of them can offer the same services. Customer service is available every day (including weekends and public holidays) from 10:00 to 23:00, but due to the high demand they currently have, it's recommended make your booking through the website.
Official website: https://www.sbc-aga.jp/
Gorilla Clinic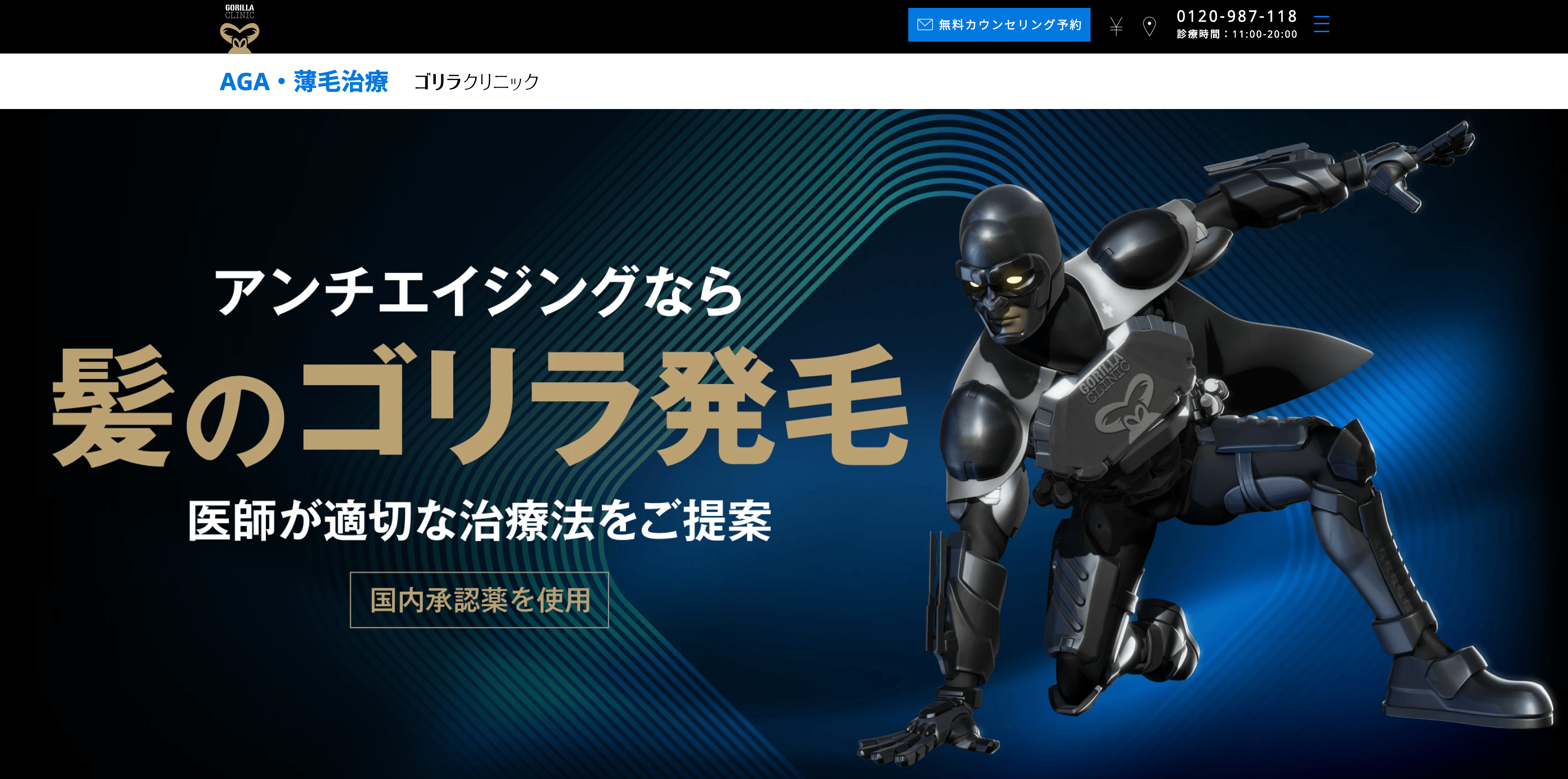 Gorilla Clinic is among the most popular clinics in Japan for Japanese people. They have clinics all over the country, from Hokkaido to Kyushu. They have hundreds of satisfied customers in all their clinics, and a wide variety of services and options.
Their customer service number for inquiries or reservations is open from 11:00 to 20:00 every day.
Official website: https://gorilla.clinic/operation/aga/
CLINIC FOR ONLINE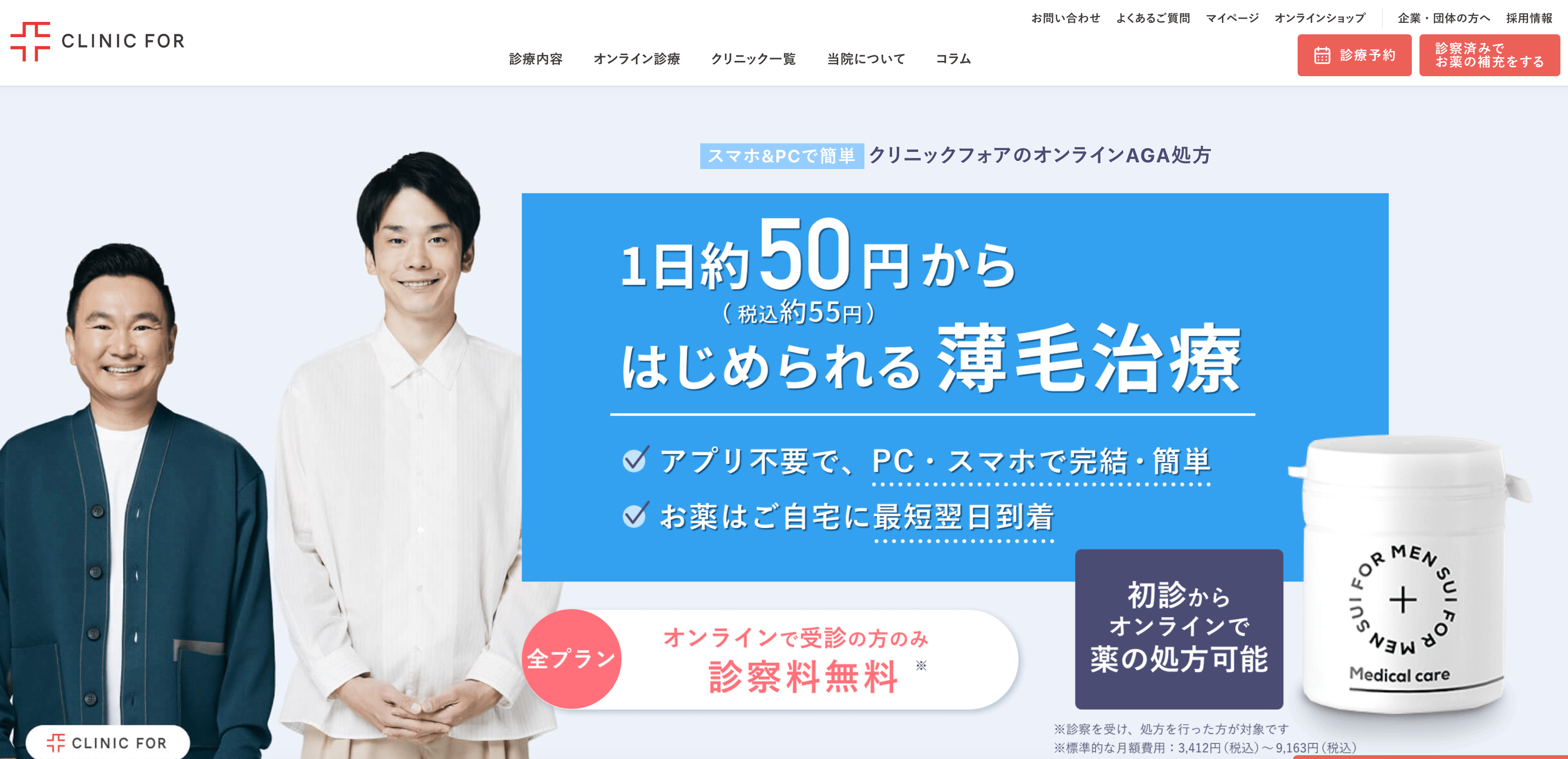 The top 1 clinic on the ranking, CLINIC FOR ONLINE offer a wide variety of treatment plans flexible to all budgets and concerns!
Clinic Fore is a major group with a great deal of experience, as has handled over 490,000 cases. With a full lineup of treatment drugs and supplements, including new drugs and generic drugs, they will propose a plan that fits each individual's budget, concerns, and hopes. They even offer the option of purchasing treatment drugs individually.
Furthermore, same day consultation is possible. Counseling is free of charge, only take about 5 minutes and appointments can be made every 15 minutes, making them ideal for busy people!
Official website: https://www.clinicfor.life/telemedicine/aga/
DMM Online Clinic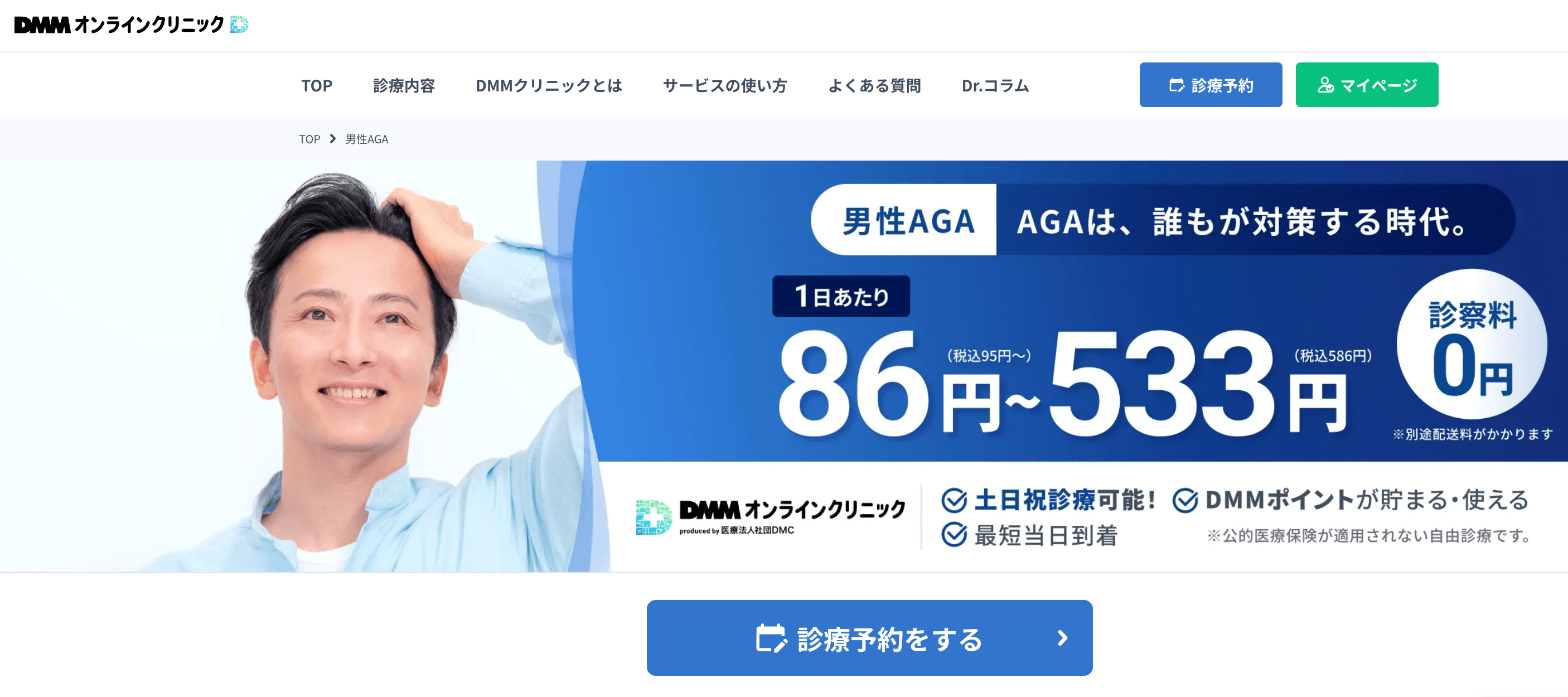 DMM Group is offering online medical treatment at DMM Online Clinic, including an online AGA clinic with a range of treatment options and prices available, from prevention plans to hair regrowth plans, as well as single-drug prescriptions. For example the prevention plan cost 3,799/month and the hair growth light plan 8,500/month.
DMM Online Clinic have a reasonable price for long-term use, such as 15% off if you purchase 6 months at once.
Official website: https://clinic.dmm.com/menu/aga-male/
AGA Hair Clinic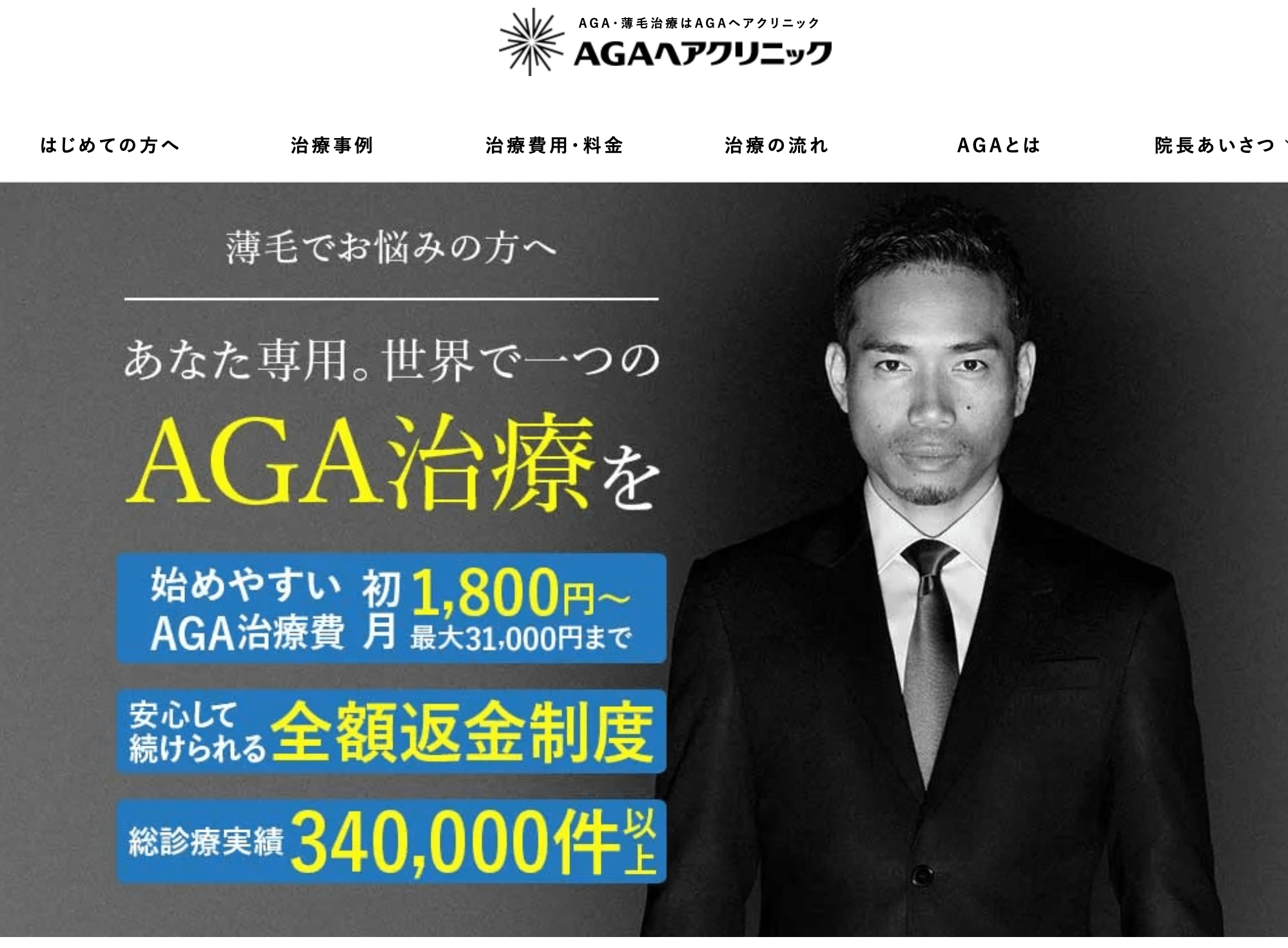 For those who are concerned about the treatment and have doubts or fears, AGA Hair Clinic is a clinic that has a generous follow-up system in place to manage your physical condition and any side effects that may occur so that you can continue treatment with peace of mind. They also provide regular blood tests and other health monitoring.
The dedicated app not only provides counseling, but also has a full range of functions, such as checking the progress of hair with photos.
Official website: https://agahairclinic.or.jp/
AGA Skin Clinic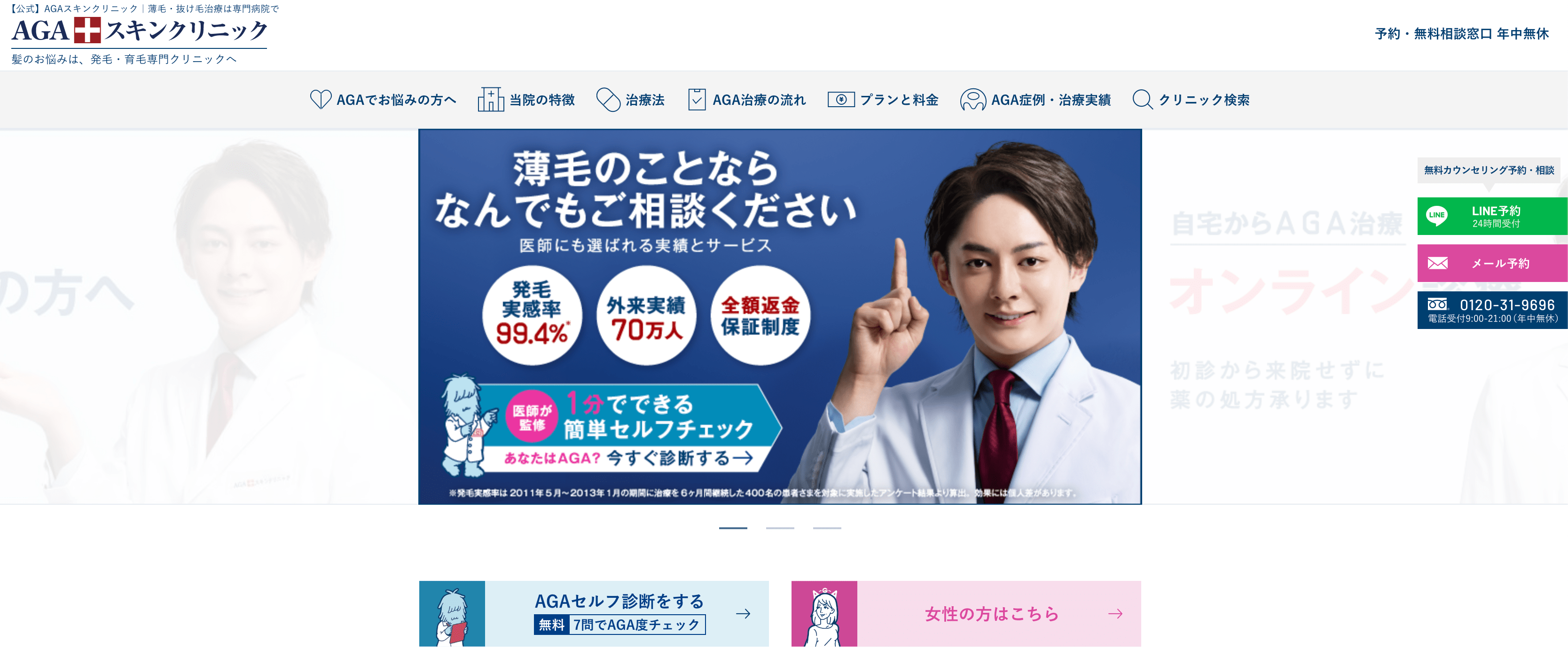 AGA Skin Clinic, with over 60 clinics nationwide located near to train stations with an excellent accessibility, is the best option for those who are also considering injection treatment. It's also one of the few clinics that also offers its services to women.
However, prices are hight and they don't offer discounts.
Official website: https://www.agaskin.net/
Hair's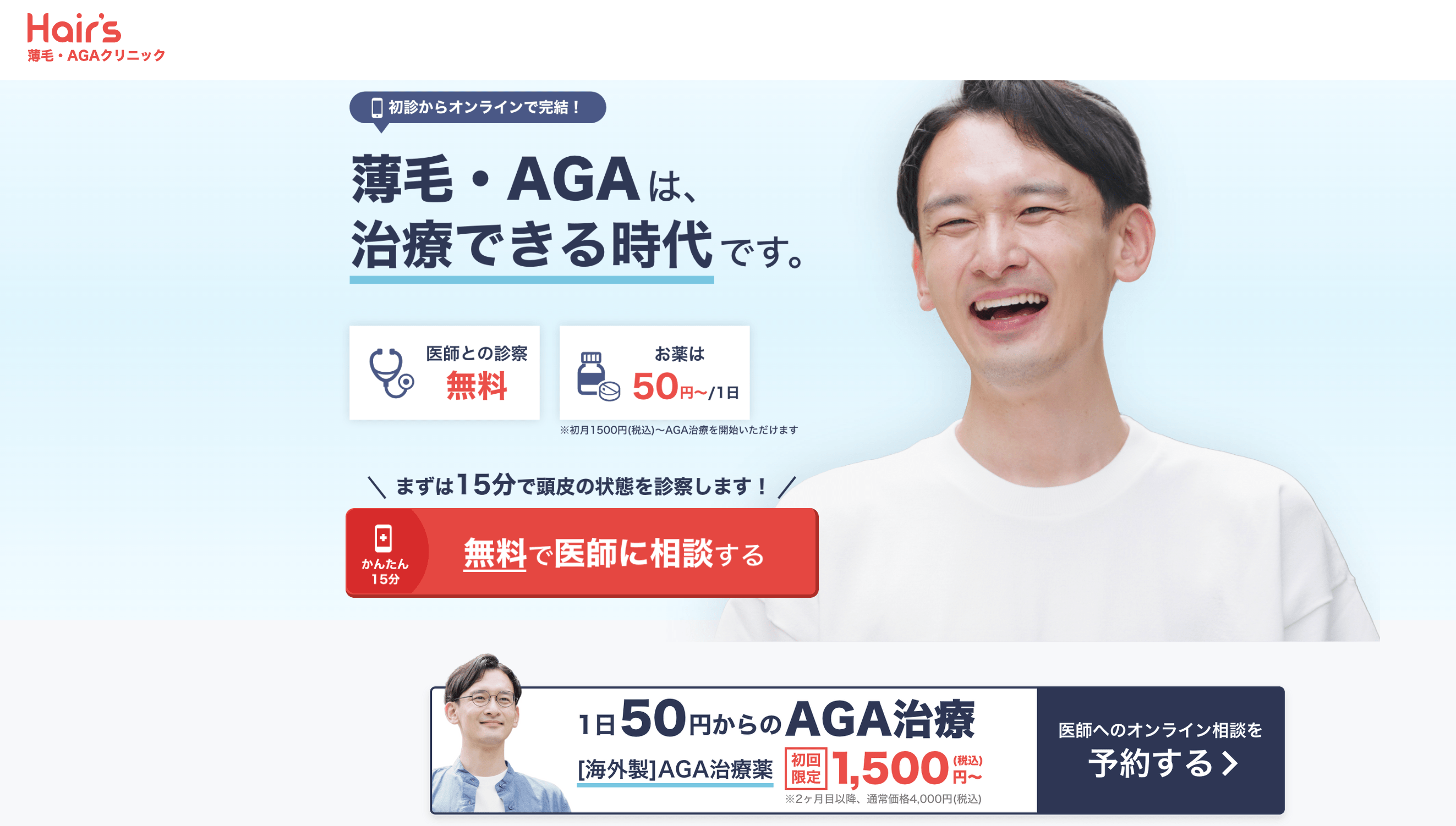 Hair's features a simple and easy to understand plan. It's an online specialized clinic with no storefront, but consultation hours are from 8:00 to 21:30, making it possible to see a doctor even after work.
Official website: https://hairs.clinicplus.health/
---
I hope this article has helped you! For more recommendations of medical or beauty services in Tokyo, you can check these articles too.
▽Related Articles▽
▼Editor's Picks▼
---