Tokyo New Years Eve: 10 Best Countdown Events in Tokyo 2019–2020
Best Countdown Events on New Years Eve in Tokyo 2019–2020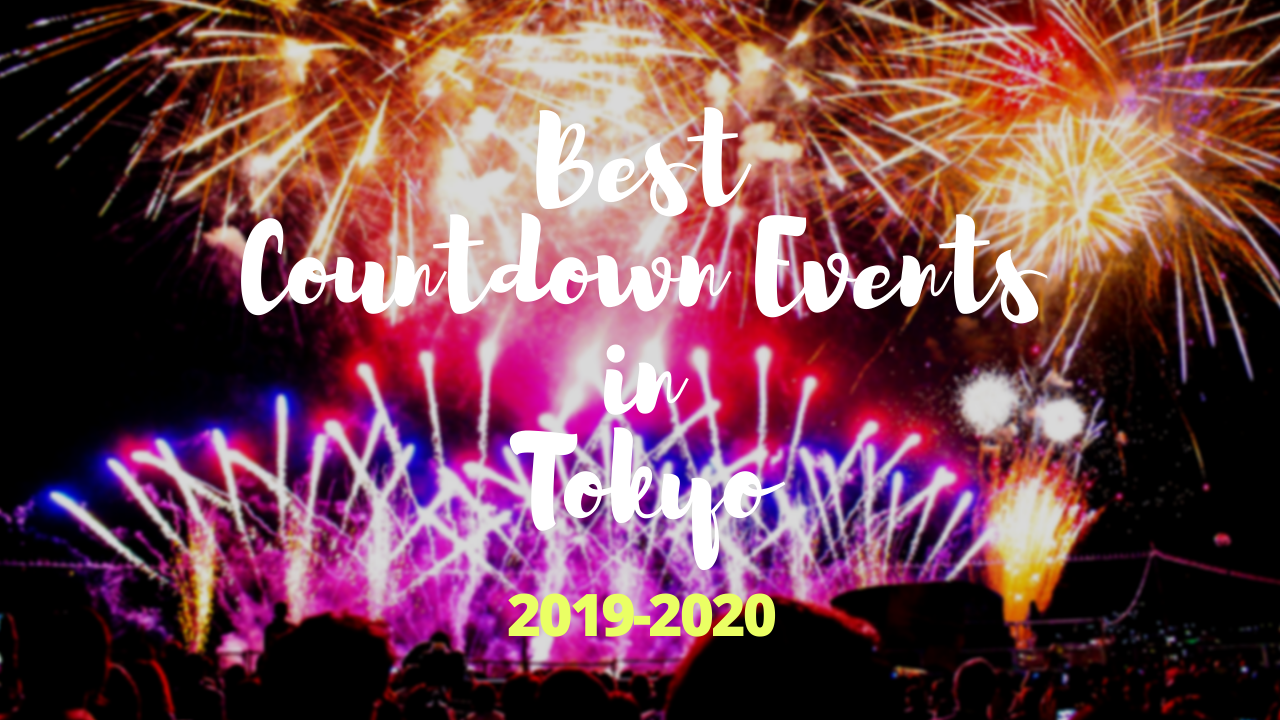 Time flies and it's already this time of year again! We are about to say goodbye to 2019 and welcome the new year of 2020 very very soon. If you are planning to to spend holiday in Japan over the Christmas/New Year period in Japan, it maybe a good idea to join one of countdown events which will be held at several locations in Tokyo.
Why don't you have a special moment on the last day of 2019, and celebrate the coming of 2020. Today, I have picked some of the most exciting countdown events and spots in Tokyo 2019 New Year's Eve!
1. Tokyo Bay Countdown Cruise
The most spectacular and romantic way to celebrate the New Year. Watch the gorgeous fireworks on luxury cruise, and sail around the Tokyo Bay with exclusive buffet style dinner and music by a marching band. The amazing view of some Tokyo's landmarks are promised, such as Rainbow bridge, Tokyo Tower and Tokyo Sky Tree. You can book the Tokyo Bay Cruise exclusive tickets from the links below (two types of events are available.)
Book Online ▶ Tokyo Bay Cruise—Countdown to 2020!
Book Online ▶ Tokyo New Year's Eve Countdown Cruise 2019–2020
2. The Prince Gallery Tokyo
Join the luxurious and exclusive countdown party at one of most prestigious hotels in Japan, The Prince Gallery Tokyo Kioicho with the live music, and DJ performance with the stunning view of the city! Finger food and unlimited drinks are available! Book tickets now for Tokyo's most glamorous event on New Year's Eve!
3. Kawaii Monster Cafe
One of must-visit tourist attractions in Tokyo, the super pop and instagram-worthy cafe, Kawaii Monster Cafe in Harajuku is hosting a special countdown event from the 31 December night to early morning of 1 January. Live DJ music, dance performance and special events with the Kawaii theme can be enjoyed with cute and colourful rainbow food.
Book Online ▶ Kawaii Monster Cafe Tokyo Reservation
4. JOYPOLIS COUNTDOWN PARTY 2020
The indoor amusement park, Tokyo JOYPOLIS (東京ジョイポリス) offers latest games and entertainments with cutting edge technology, especially VR experience is their top attraction. The park hosts a countdown event on New Year's Eve annually, which includes live shows by famous musician and comedian till the morning.
Official Website: http://tokyo-joypolis.com/language/english/index.html
5. Tokyo Station Hotel
The exclusive countdown party "Electro Swing Night" will be held at Bar & Café Camellia inside The Tokyo Station Hotel. Enjoy the live music by the electro swing band Tawoyame Orquesta, the special DJ performance, delicious finger food and champagne! Get the tickets for this special countdown party in the heart of Tokyo!
6. Hanayashiki
Hanayashiki (花やしき) is one of oldest amusement parks in the country, located in the popular tourist area, Asakusa and only a few steps away from Sensoji Temple. The park will be open at night specially for the countdown event on 31 Dec, featuring park rides, gorgeous illuminations, and a special live show.
Information:
Hours: 20:00~25:00
Price: 2,000 yen (admission + 7 attraction rides)
7. Tokyo Tower
Tokyo Tower annually displays special light-up for New Year's Eve and New Year's day, and it's been a popular countdown spot in the city. If you wish to see or photograph Tokyo Tower, I highly recommend you to check out the article below 😉
When it comes to celebration, Shibuya Scramble Crossing is the first street spot where party animals gather. It's an unofficial event, but since a few years ago, more and more people celebrate the countdown on New Year's eve on the street of Shibuya, around the famous Scramble Crossing. From 22:30 of 31 Dec to 1:00 of 1 Jan, the main roads of Shibuya is scheduled to be vehicle-free pedestrian paradise for the celebration.
An exclusive countdown party will be held at Cerulean Tower Tokyu Hotel in Shibuya! Enjoy the live music, dance performance and astonishing view from 39th floor! Check the below for more details about the event and book the tickets before selling out!
9. Party at Clubs/Bars
Numbers of clubs and Bars in Tokyo hold countdown events, especially in Shibuya and Roppongi area. Popular clubs' tickets are tend to be sold out earlier, but many clubs can be entered on the same day.
For information about popular clubs in Tokyo, please check out the link below.
10. Tokyo Fight Club New Year Countdown Party (TBA)
One of the most unique way to countdown the New Year! Tokyo Fight Club (TFC) is a newly opened bar/restaurant located in the heart of Shibuya Tokyo. The venue features live cage fighting with various kinds of martial arts and fighting styles, and guests can watch the live action while enjoying drinks. On the New Year's Eve, three matches are due to be held along with the countdown party with drinks, arm wrestling machines, go-go dancers, a live DJ and party poppers at midnight. Click the link below to book the tickets in advance!
-Looking for more traditional way to celebrate the New Year in Japan?? Then..
Visit shrines
The most traditional way to celebrate the coming of new year in Japan. Many people kick off their new year with their first shrine visits of the year, "hatsumoude", and shrines get crowded from the midnight of New Year's day.
▼ Check out more countdown events in Japan 2019–2020!! ▼
How would like to celebrate the coming of 2020?? It's the most exciting and festive time of the year in Japan 🙂 Let's go big and party all night long at one of these countdown events! For more information about holiday season in Japan, please check out useful links listed below!
▽ Related Articles ▽
▼ Editor's Picks ▼
---