4 Best 100 yen Sushi Restaurants in Japan
budget 100 yen sushi restaurants in Tokyo, Osaka and more!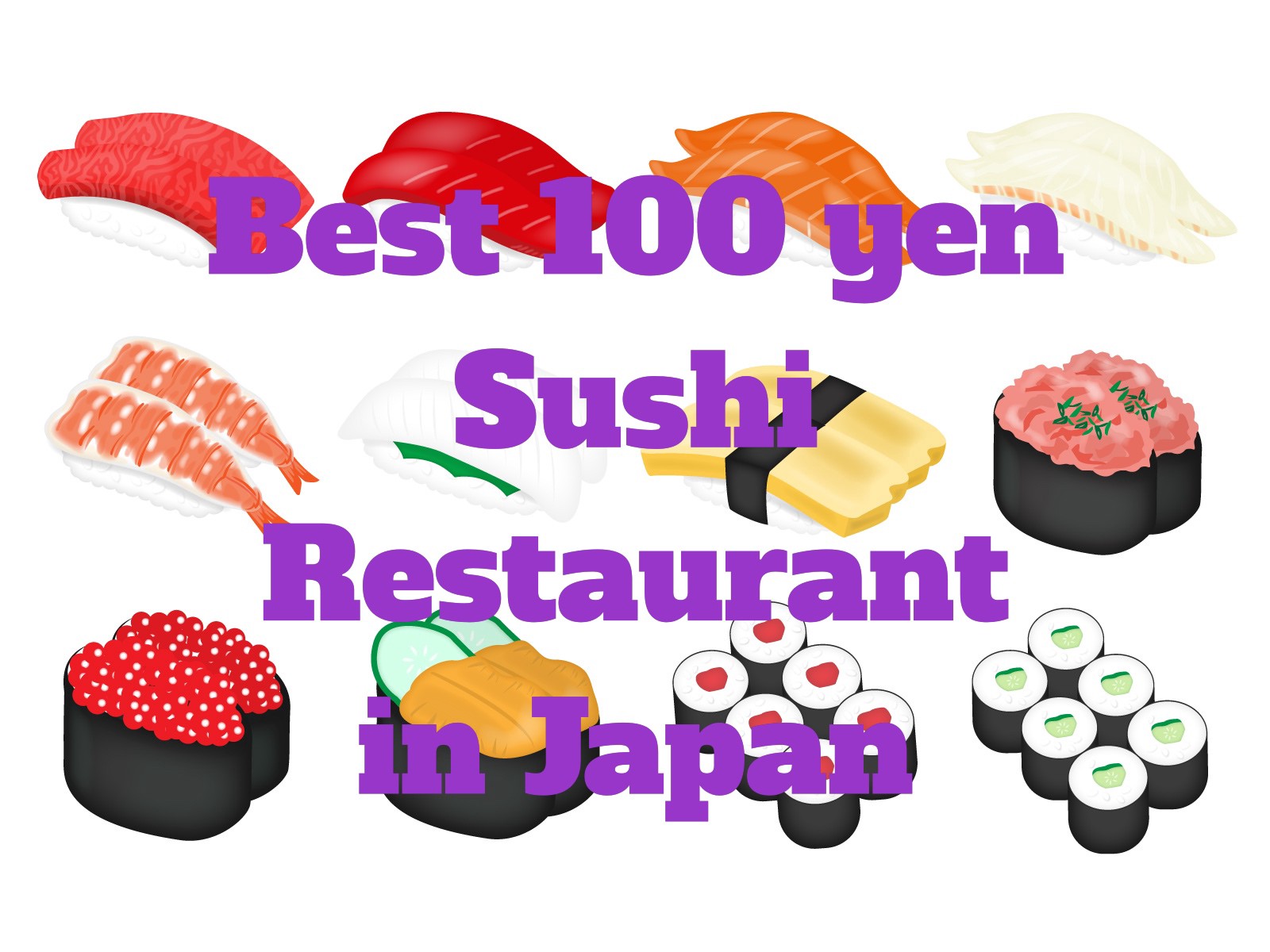 Looking for delicious Sushi with affordable price in Japan? Then the best place to dine is one of these 100 yen Sushi restaurants! Now there are numbers of franchised Sushi restaurants in Japan, which offer decent quality Sushi dishes only for 100 yen per plate, usually in a conveyor belt style (Kaiten Sushi). Not only Sushi, but most of them also offers a variety of side dishes such as french fries, noodles and desserts. It's now one of most popular place to dine for families in Japan.
Today, I'm introducing 4 most popular "BIG 4" 100 yen Sushi restaurants in Japan which definitely can satisfy your stomach and mind 🙂
---
1. Sushiro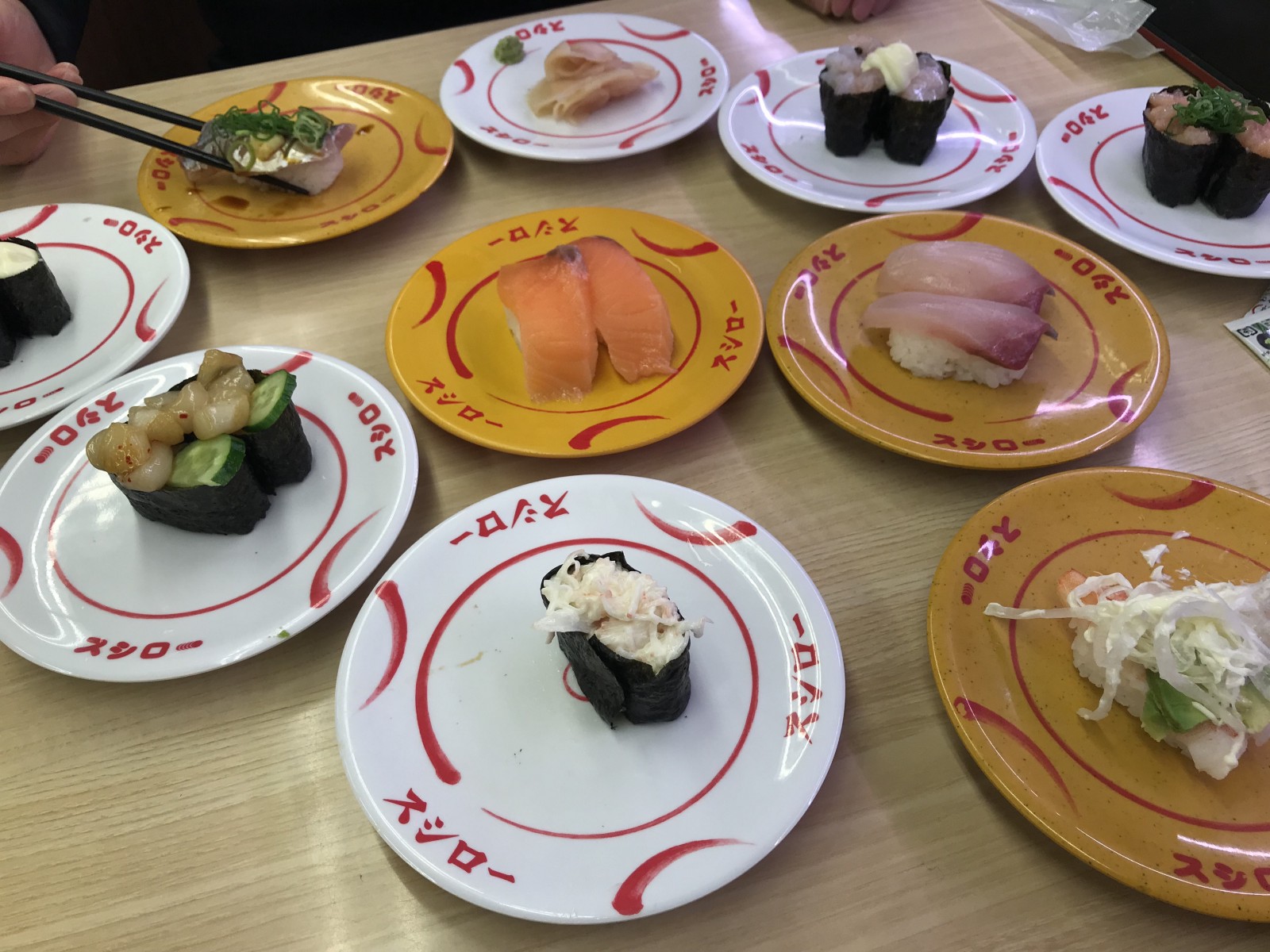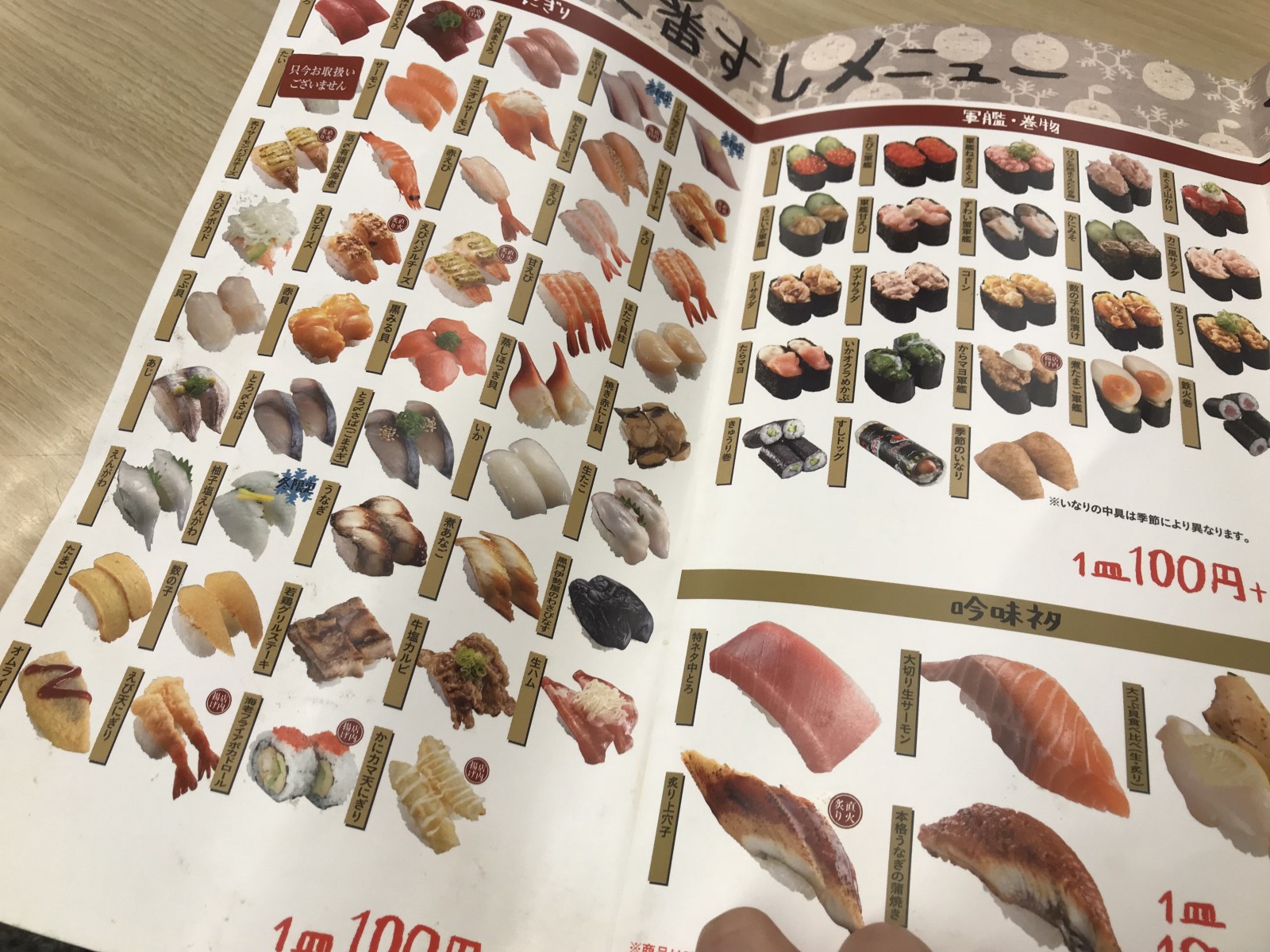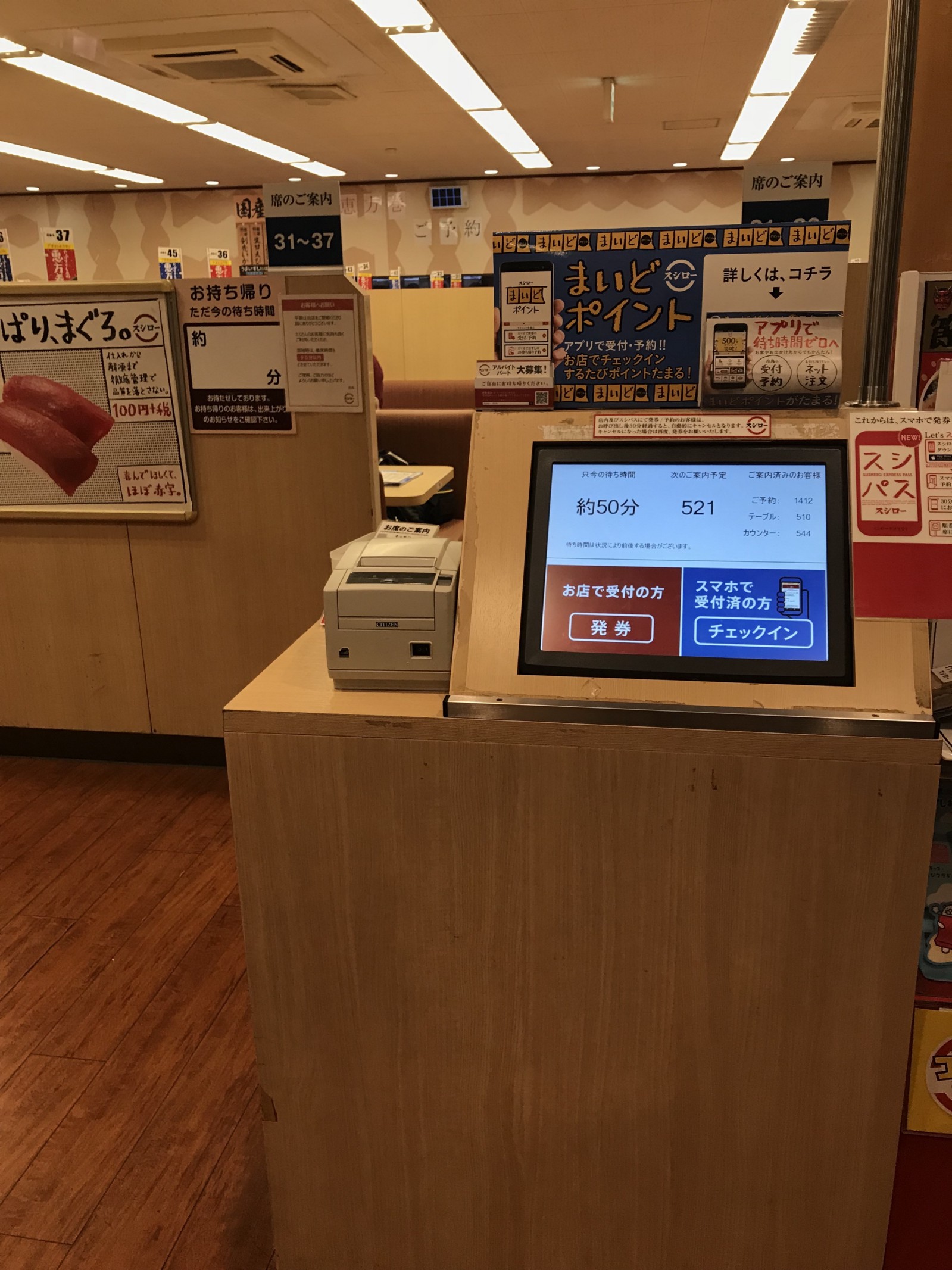 Sushiro (スシロー) is the biggest franchised 100 yen Sushi store in Japan currently, and offers a great variety and trust-worthy quality of Sushi dishes. Most of Sushi dishes are 100 yen, but some of seasonal or special items costs a bit more. Sushiro offers a variety of side dishes and especially their Ramen and desserts are my recommendations.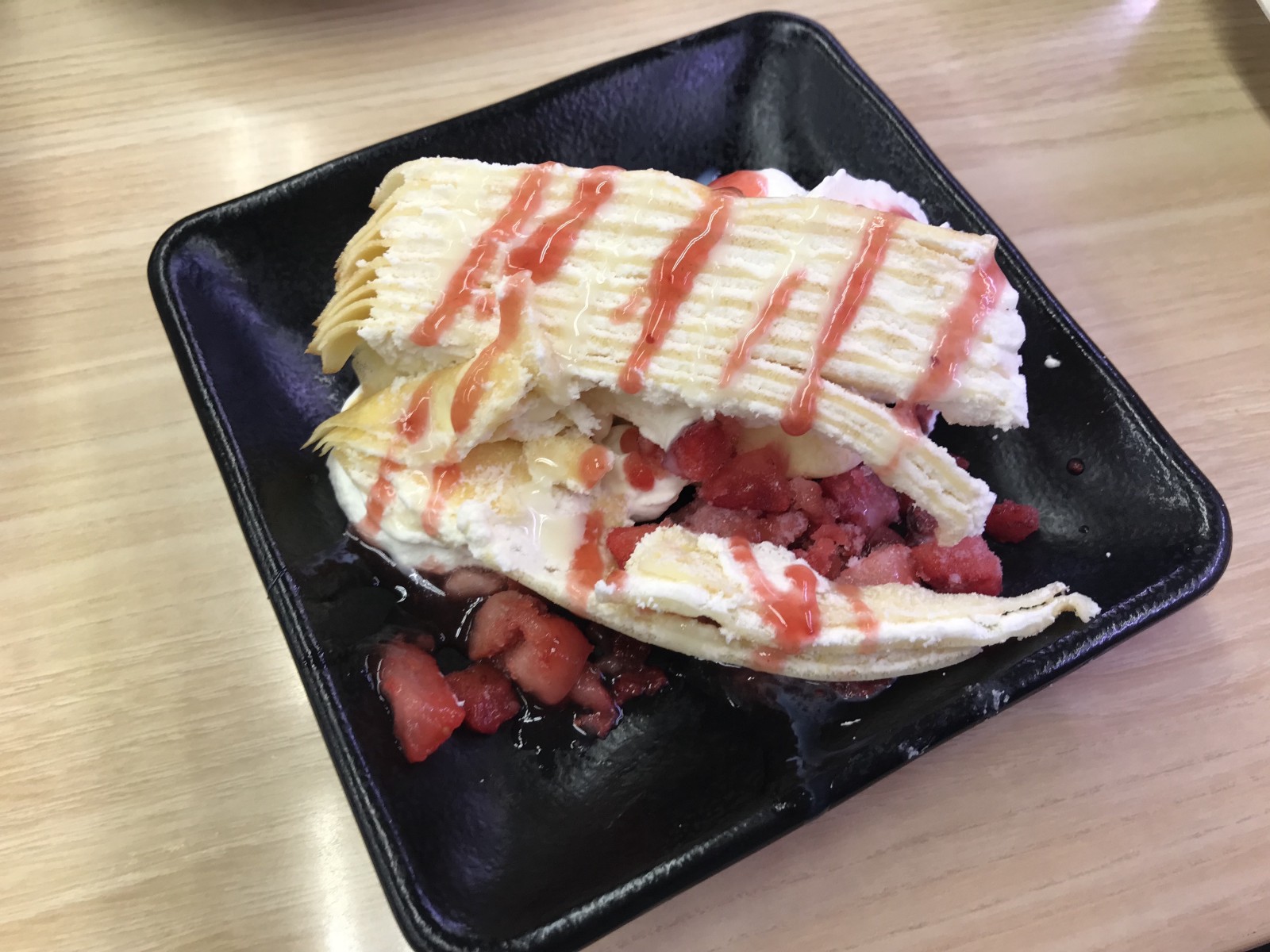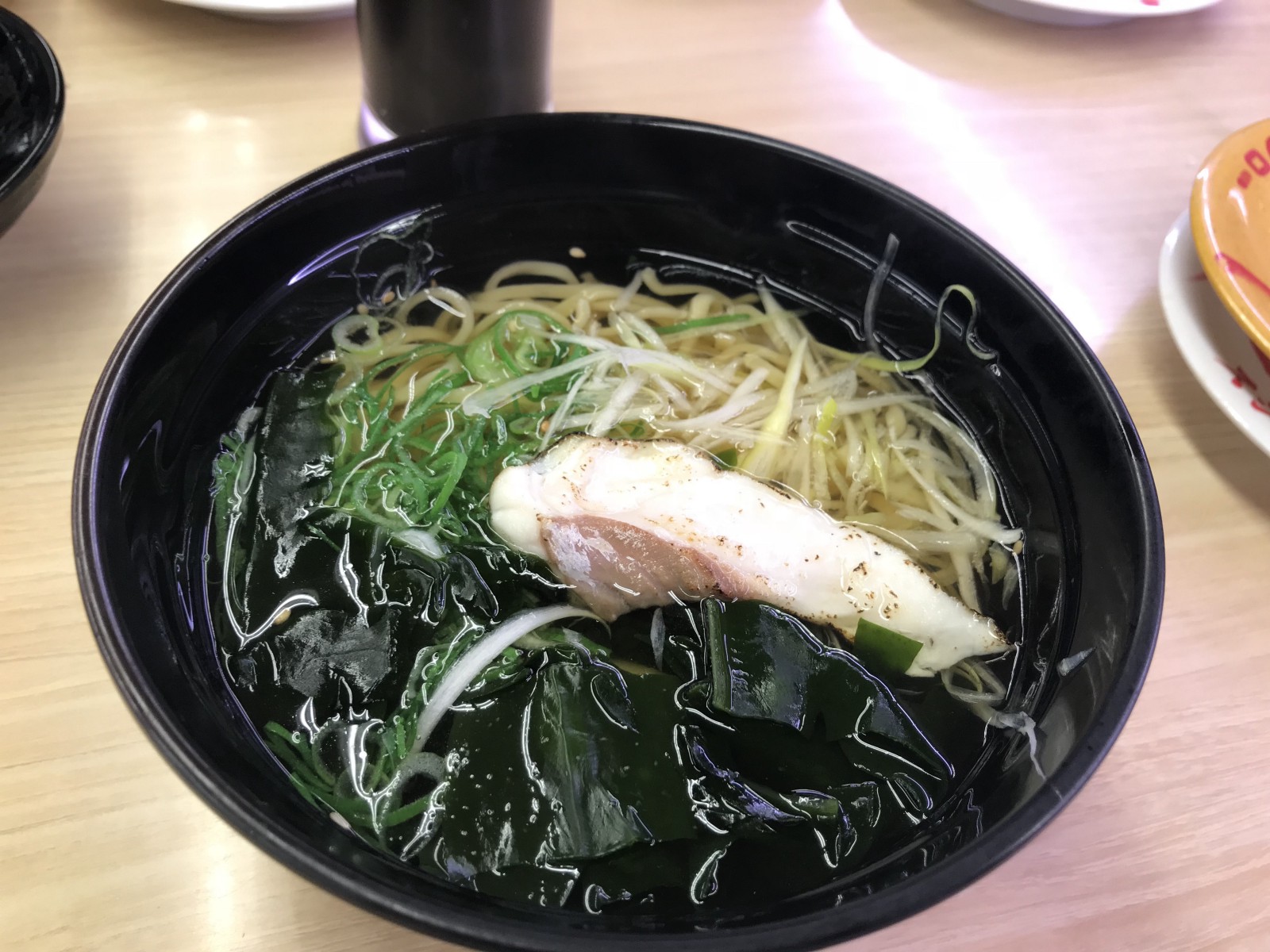 (left to right) Hokkaido Milcrape Melba ¥280+Tax / Sio Ramen with snapper broth ¥330+Tax
As Sushiro is very popular, the waiting time can be pretty long (up to 2 hours at busy time), so I suggest you to book the table in advance by using their phone app!
2. Kura Sushi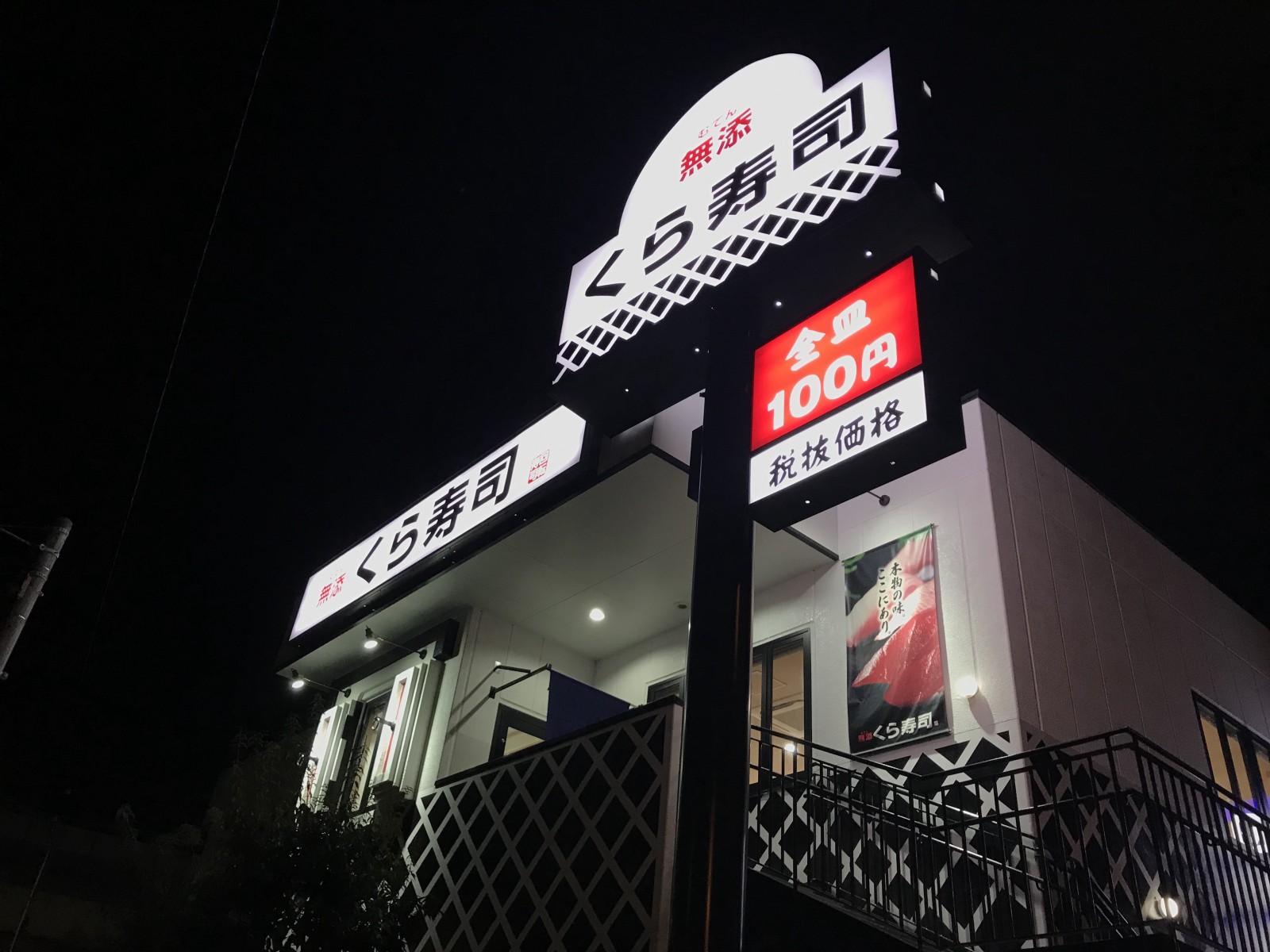 The best features of Kura Sushi (くら寿司) is "additive‐free" and their proud "shari rice (vinegared rice)". Fresh seafood products are served with selected quality Japanese rice, and also there are several other unique vinegared rice dishes such as curry rice, curry rice bread and rice coke (!).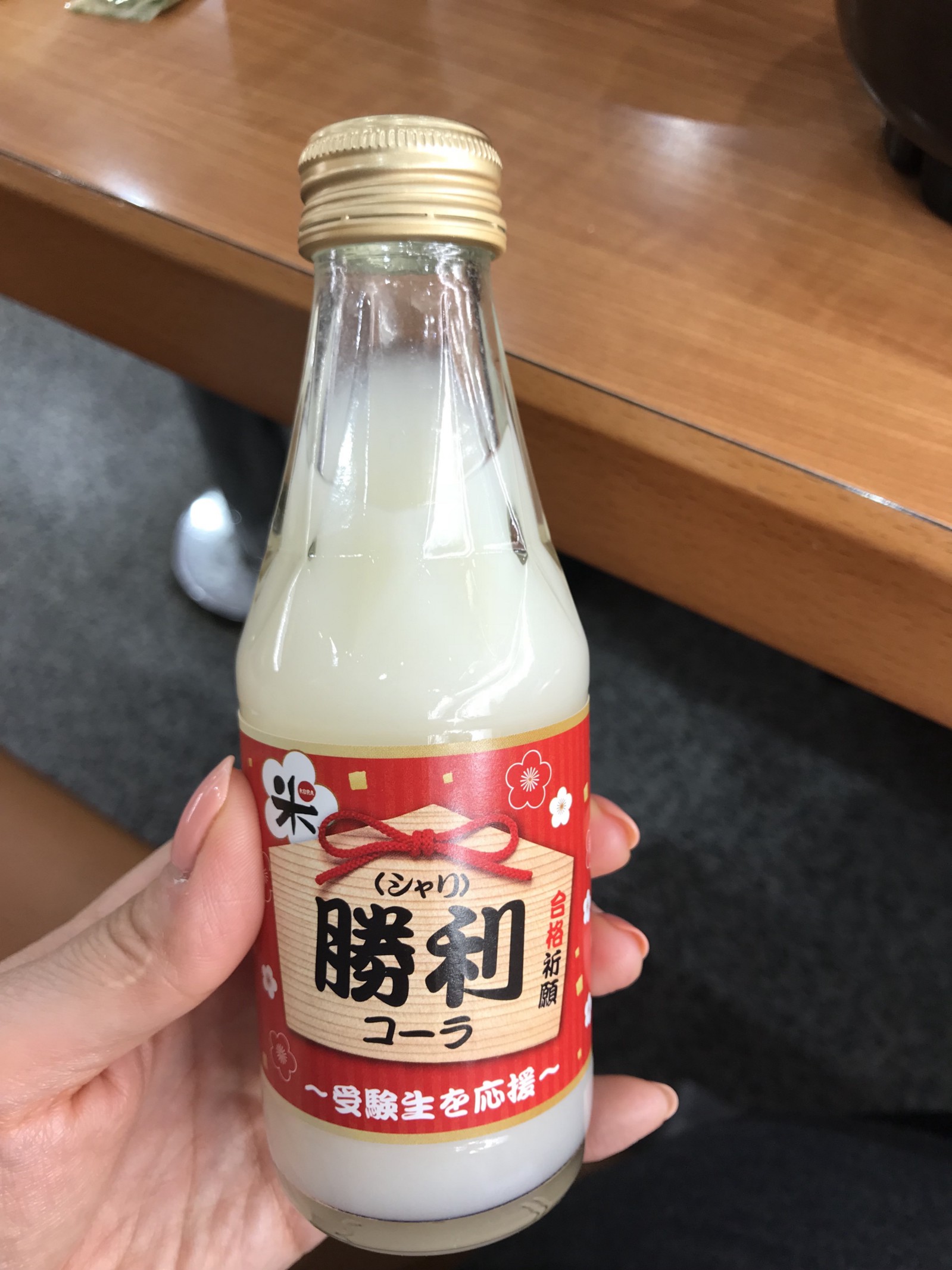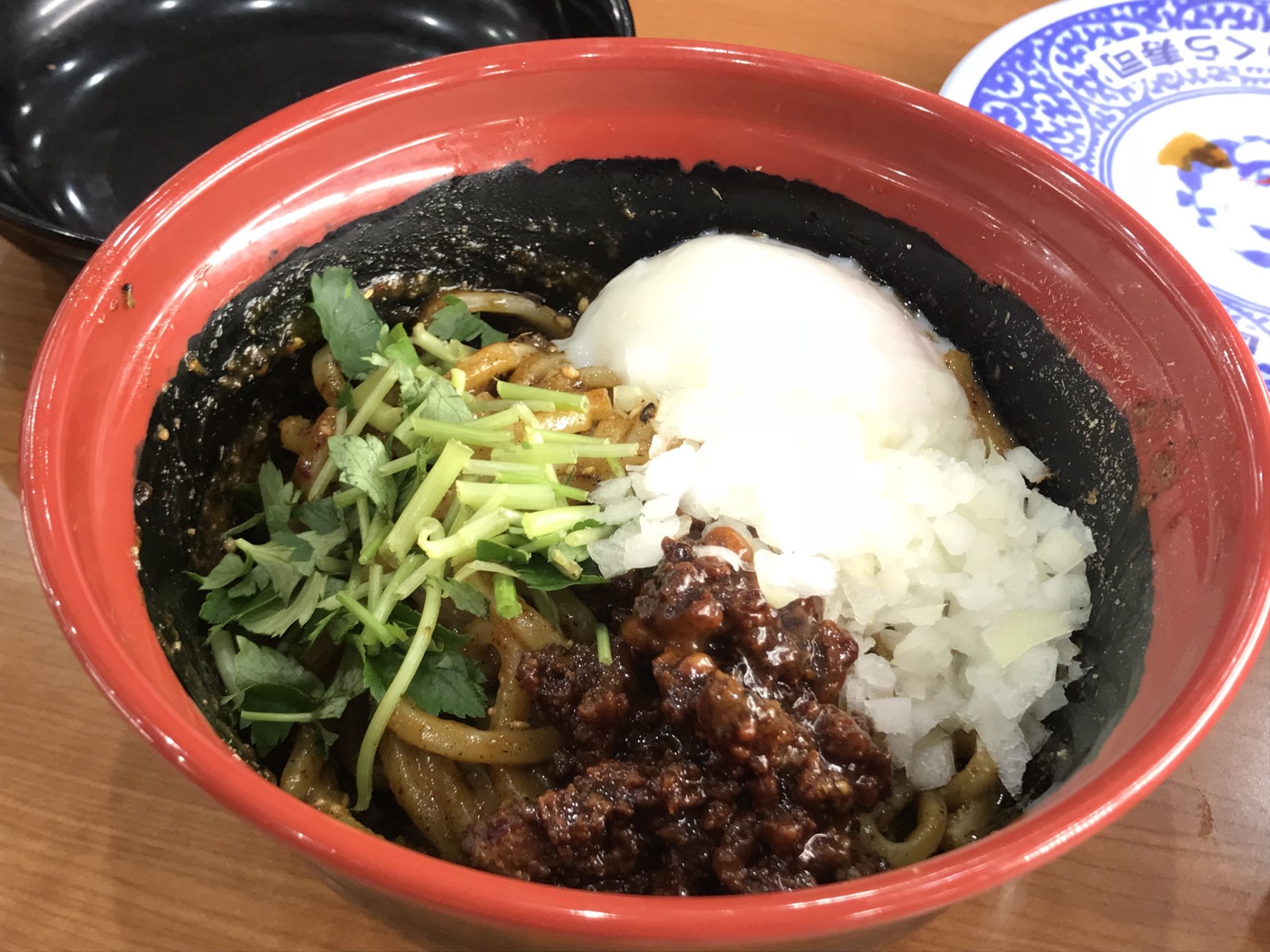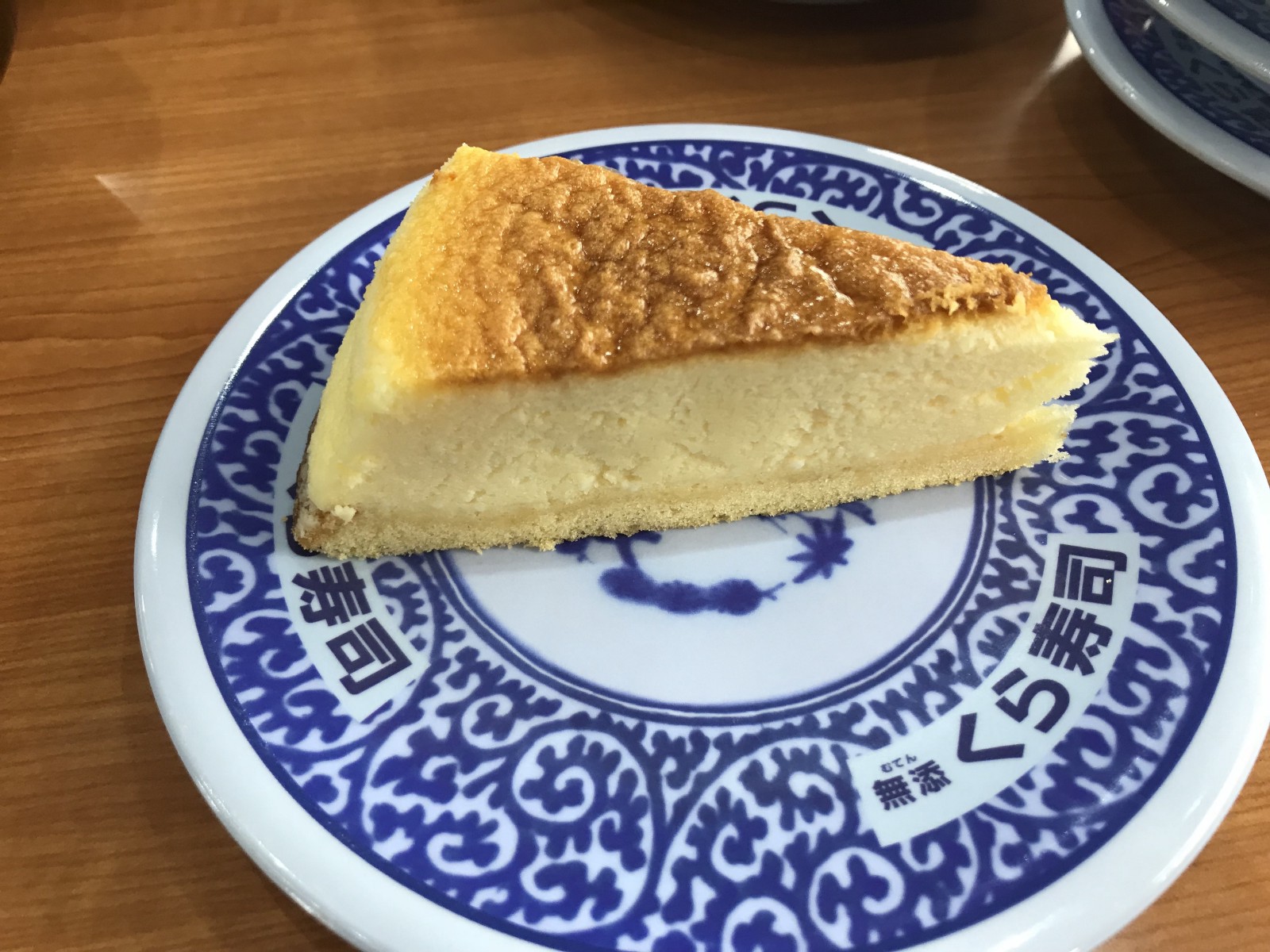 (left to right) Shari Coke ¥180+Tax / Soupless Dandan Noodles ¥370+Tax / Cheese Cake ¥100+Tax
To keep Sushi dishes on the conveyor belt fresh and hygienic, Kura Sushi uses special cover.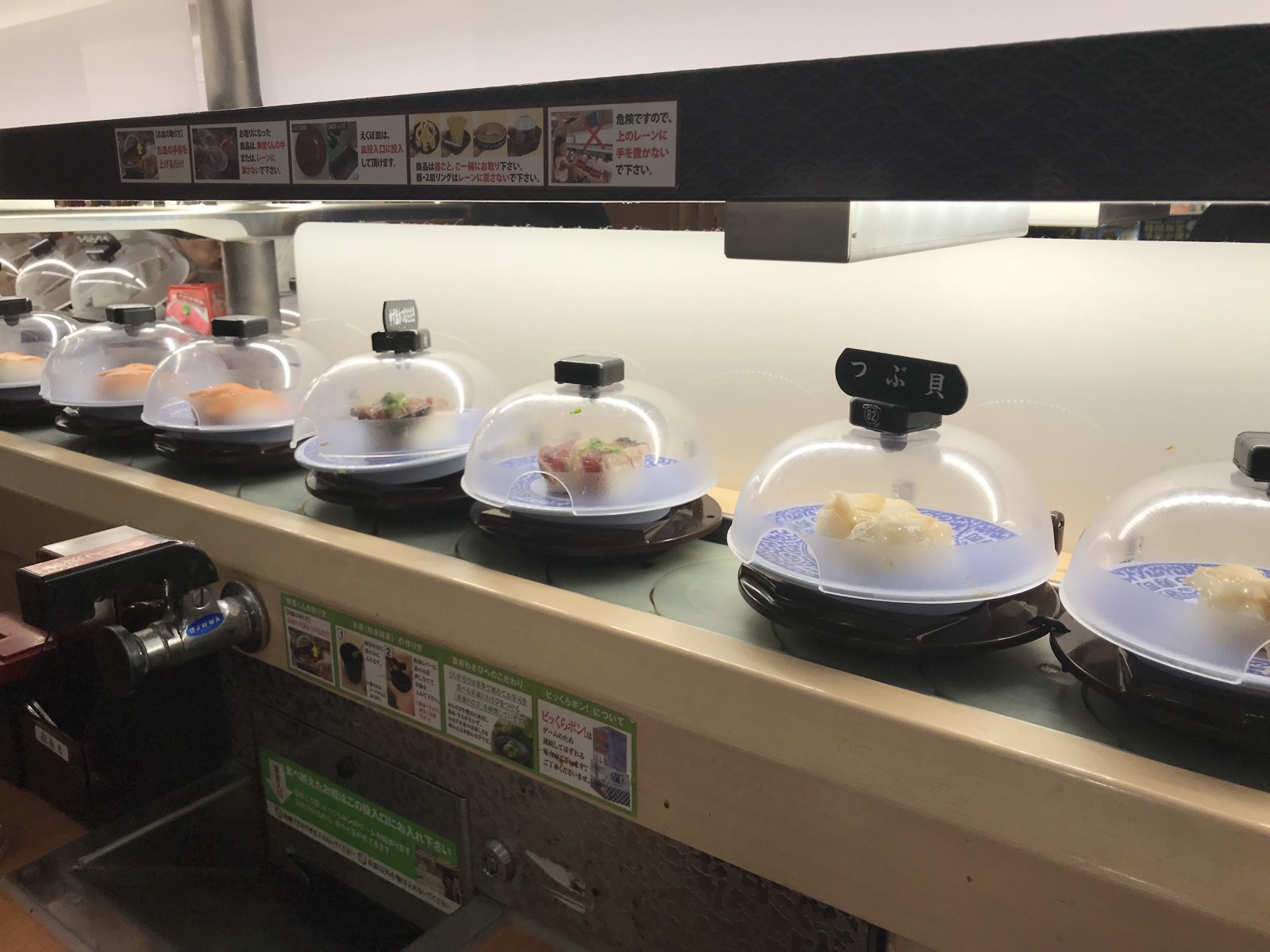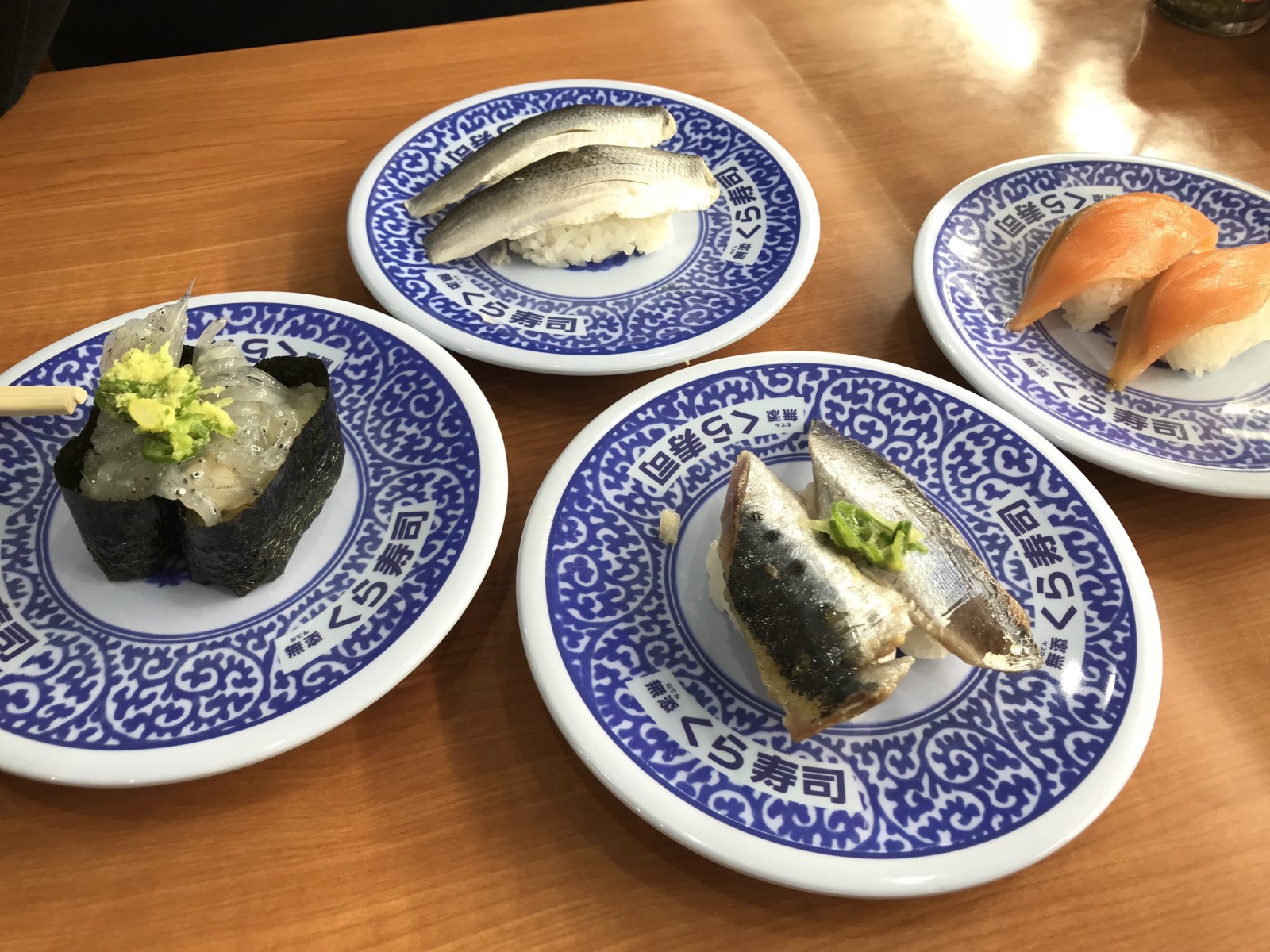 The best part of Kura Sushi comes in the end.. You can play a little game for every five plates. Simply slide empty plates into a special slot attached on a table and the game starts playing on the screen automatically. If you are lucky, you get a small prize which comes out from the box above the lane! (usually a small toy)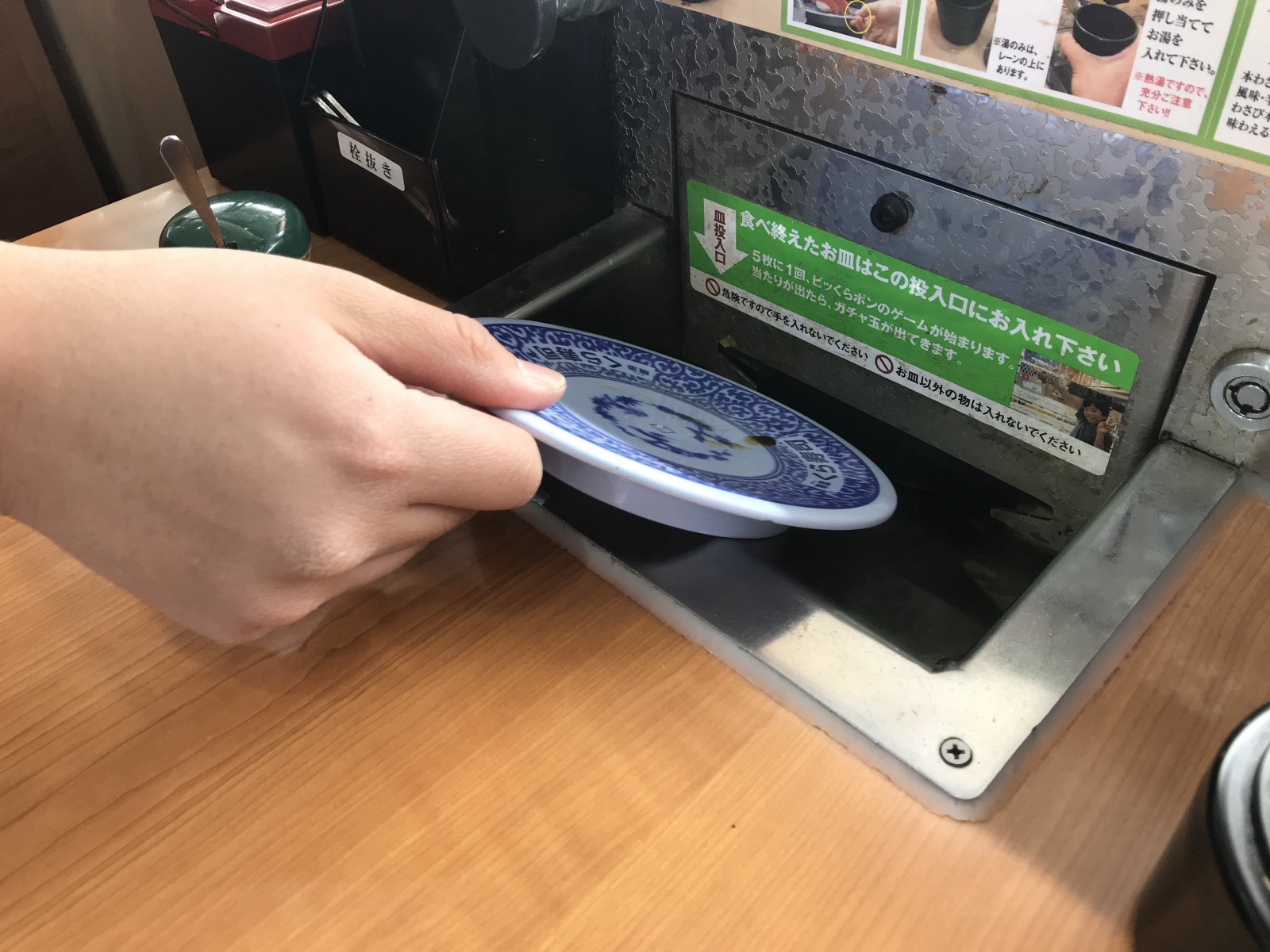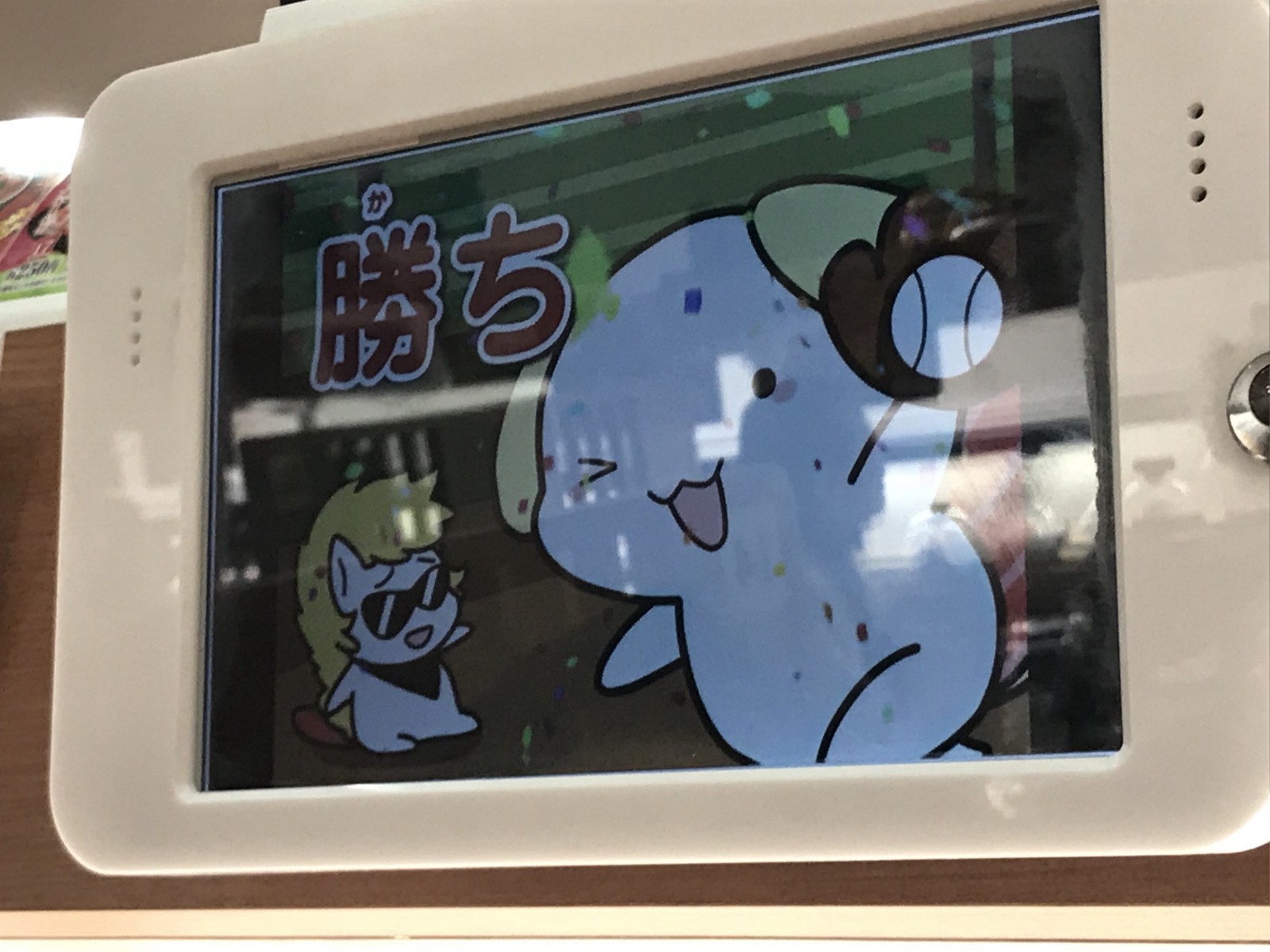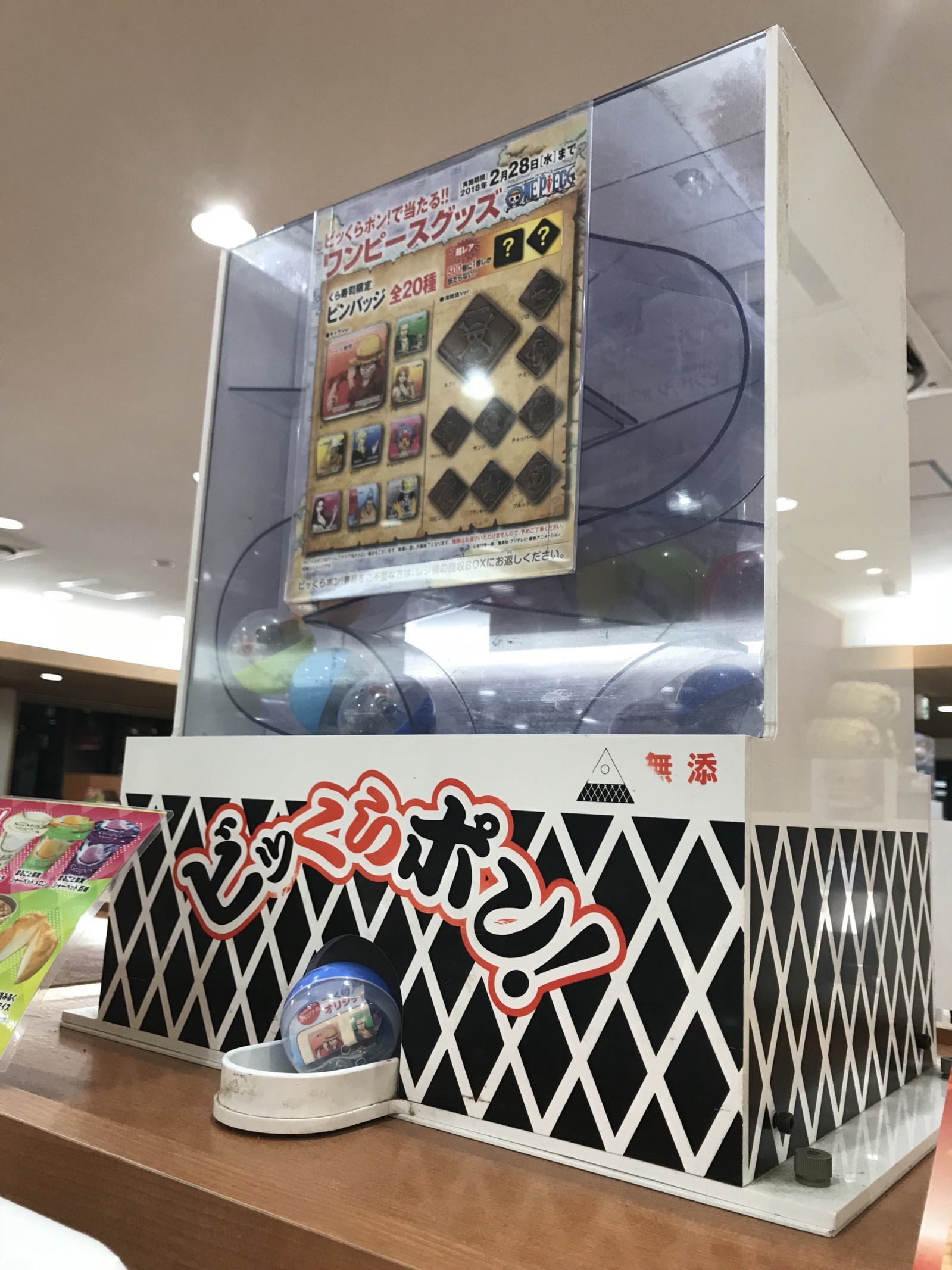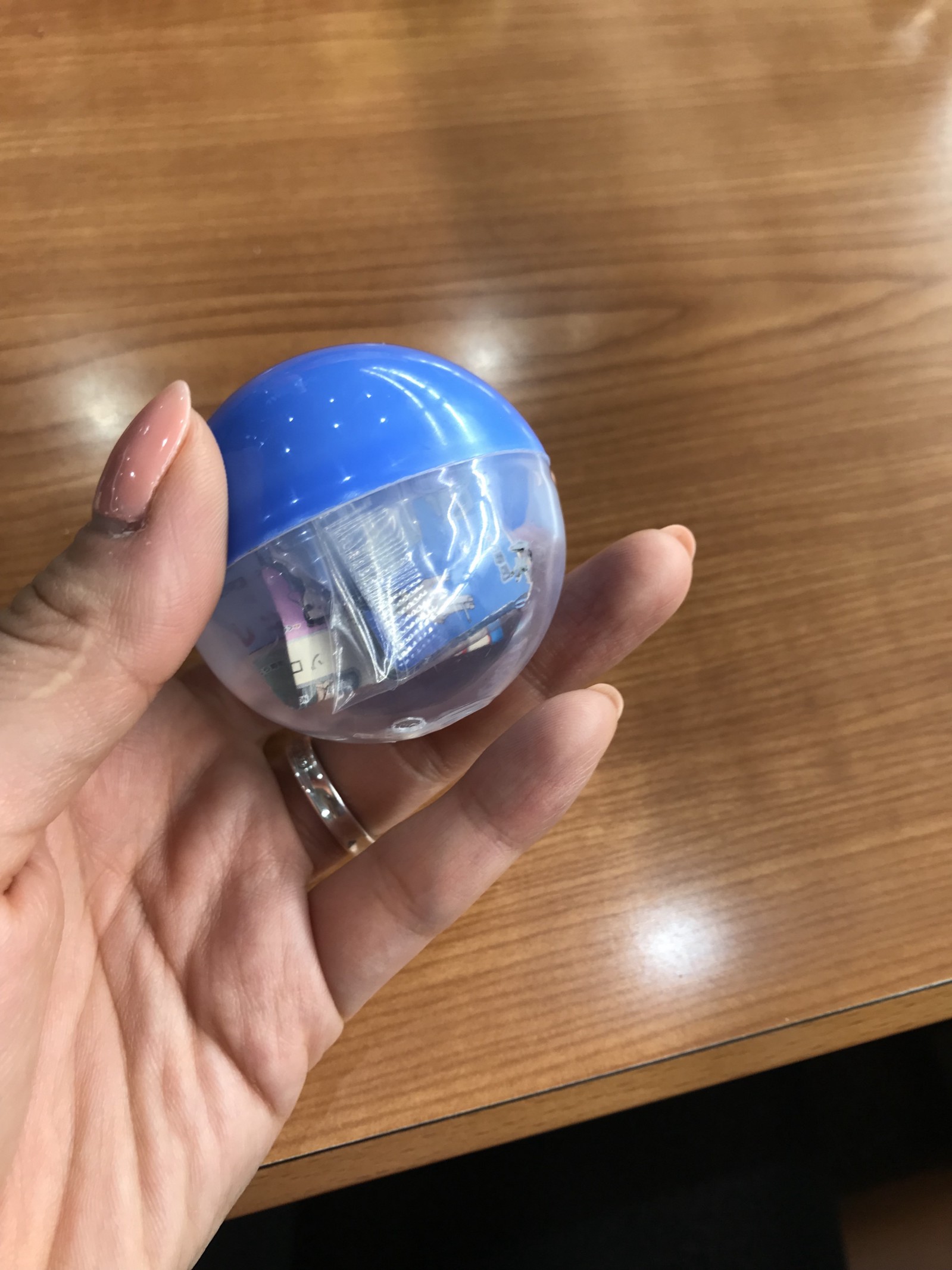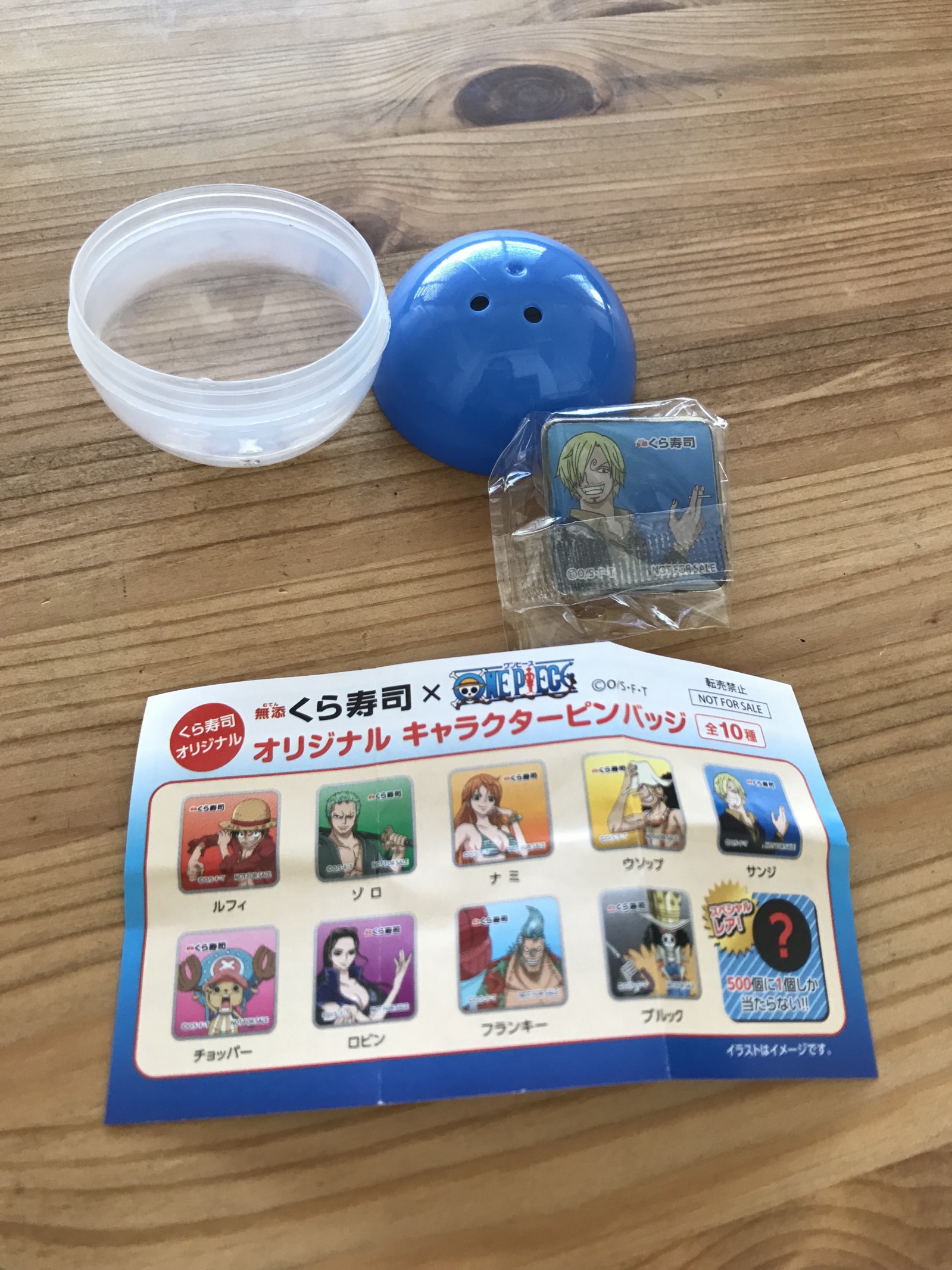 I luckily won this time and got a pin badge of the popular anime, One Piece 🙂 This game is extremely popular among kids!
3. Hama Sushi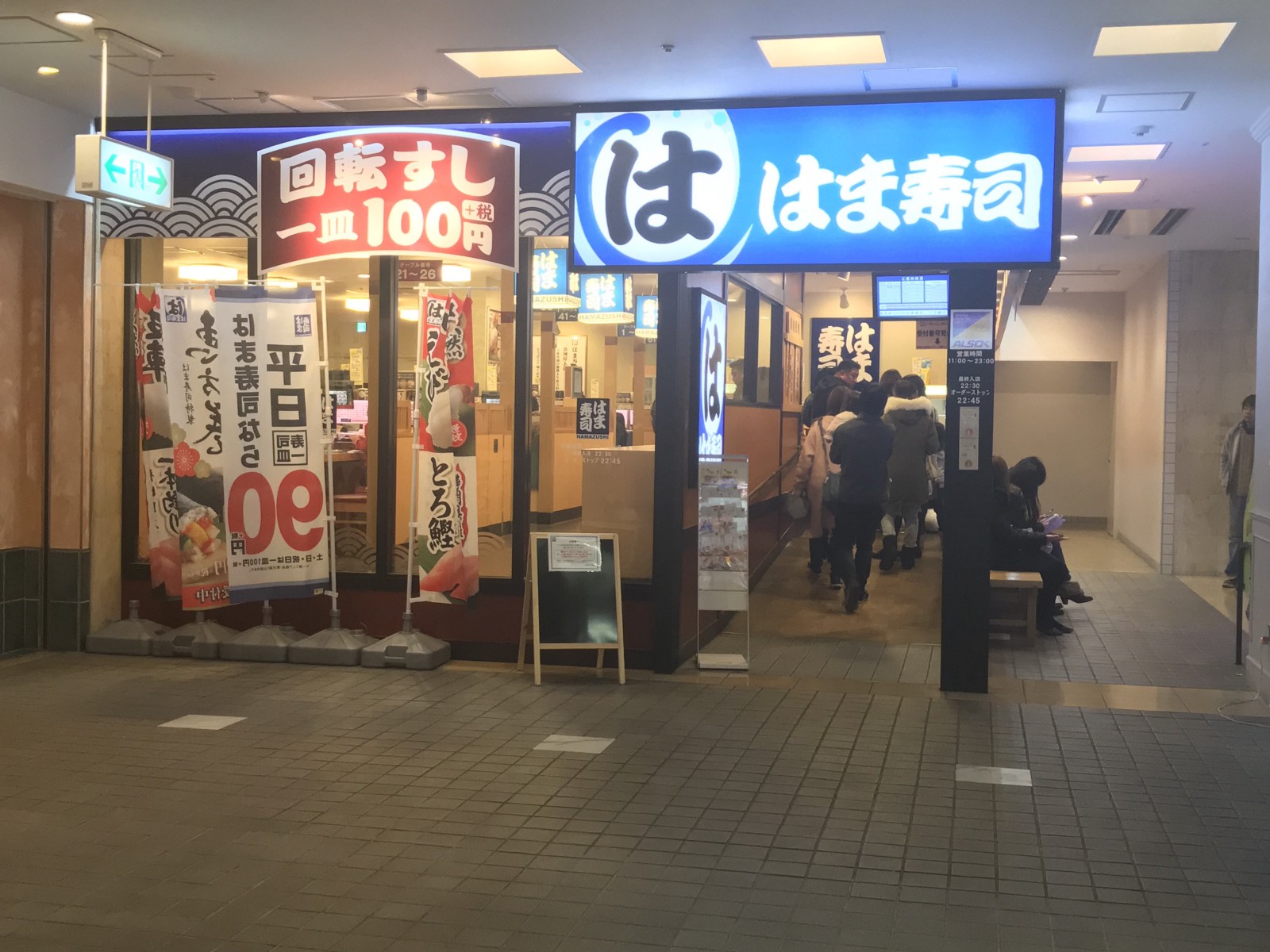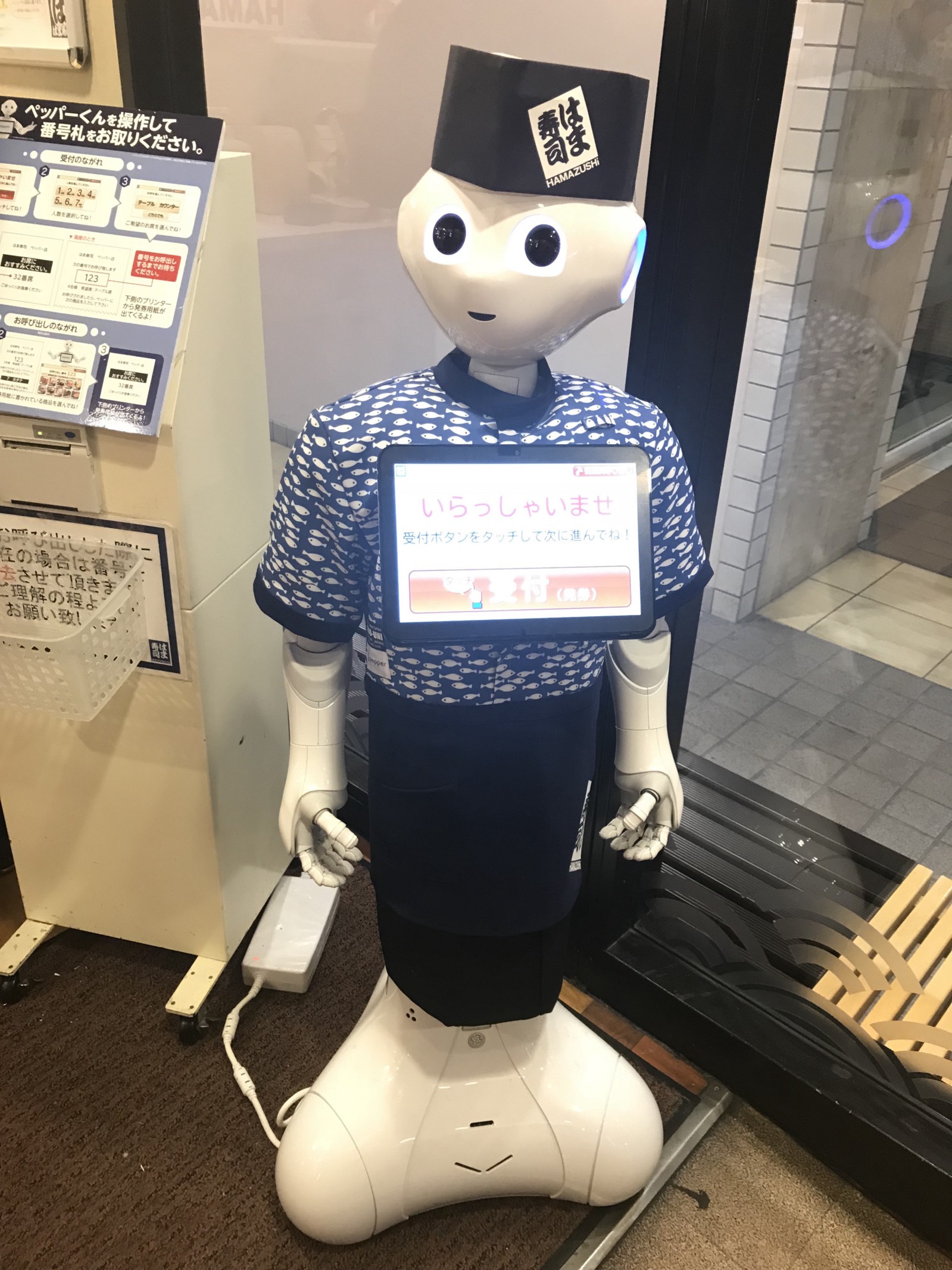 Hama Sushi (はま寿司) serves Sushi dishes for 100 yen like other competitors on weekends, but manages to make even cheaper during weekdays. From Monday to Friday (except for holidays) Sushi are served for only 90 yen!
Hama Sushi is a first Sushi restaurant who hires robots as their front of the house. When you enter the restaurant, the robot computer "Pepper" gives you a warm welcome! He guides you the waiting time and a table number,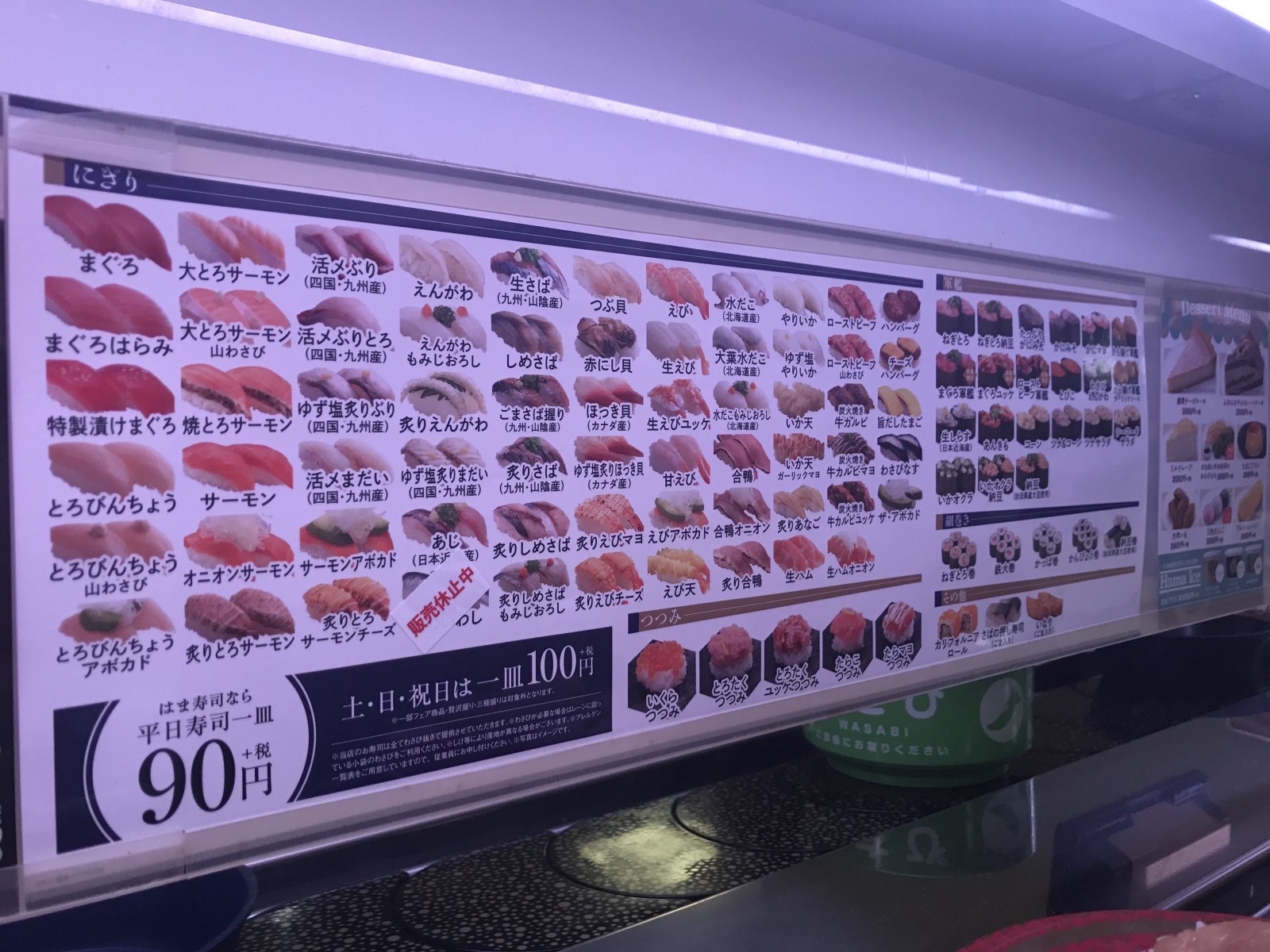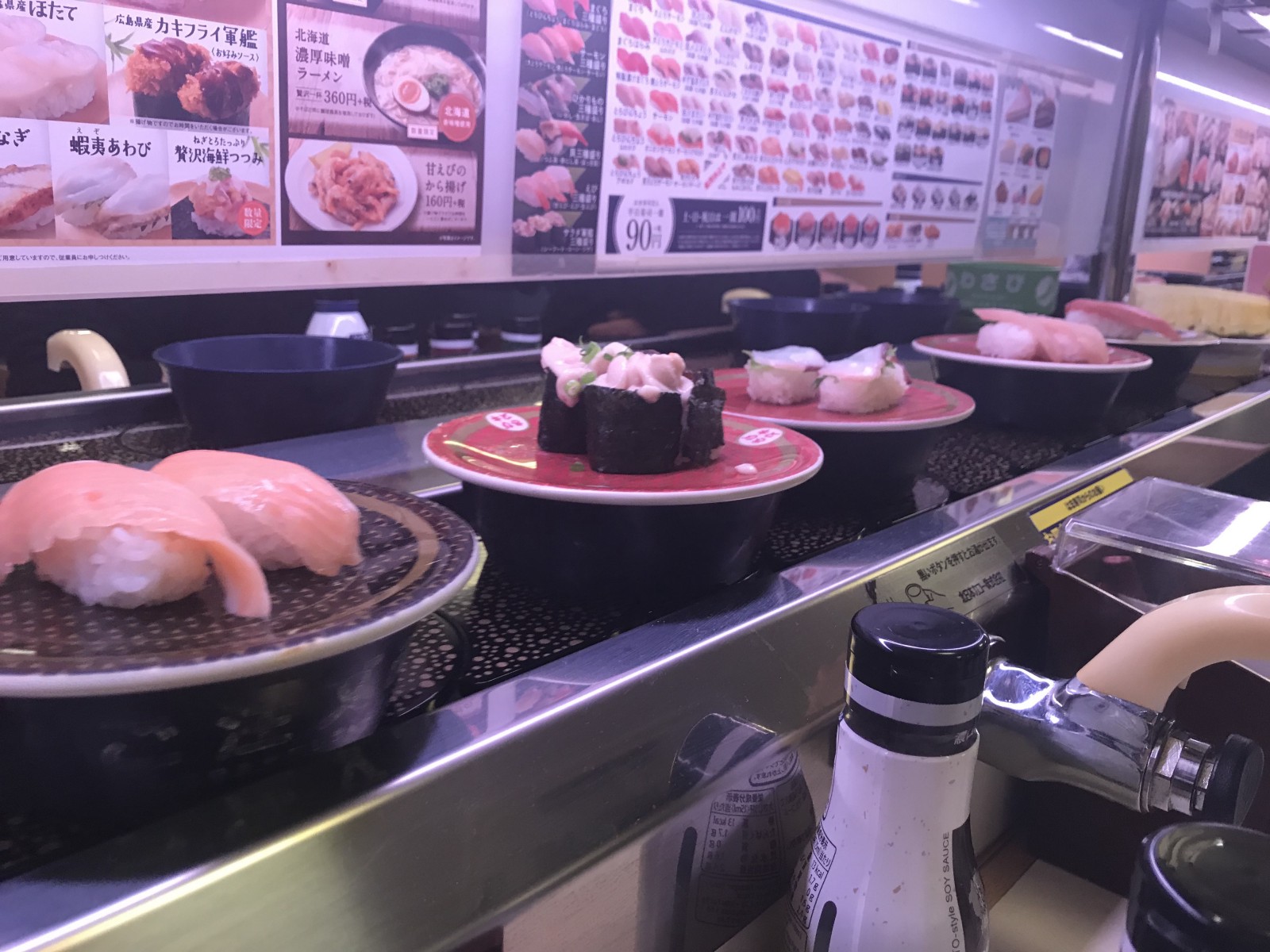 Hama Sushi offer a variety of soya sauce from rich to mild flavours.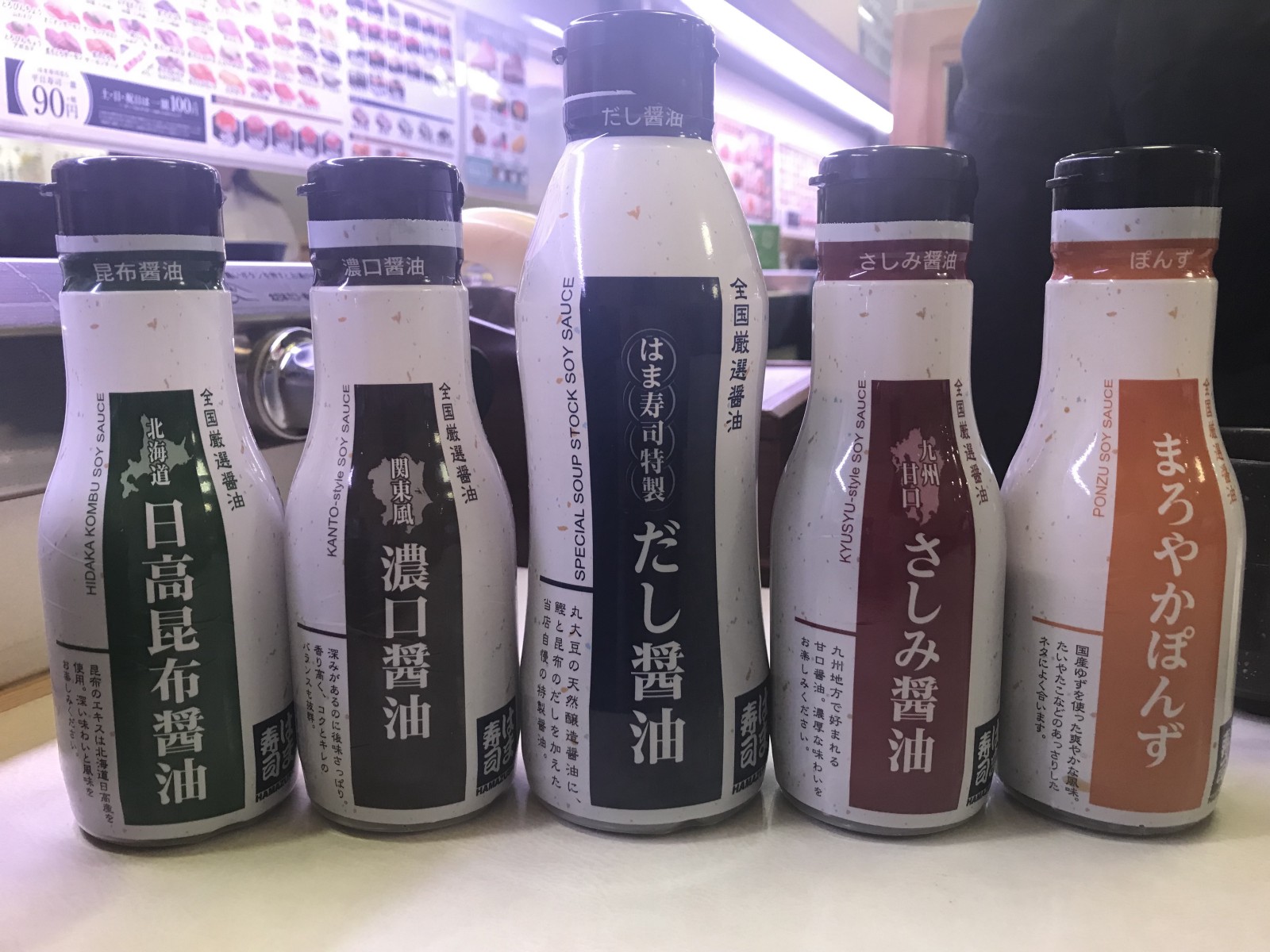 Deep-fried dishes are highly recommended at Hama Sushi as they are served freshly fried!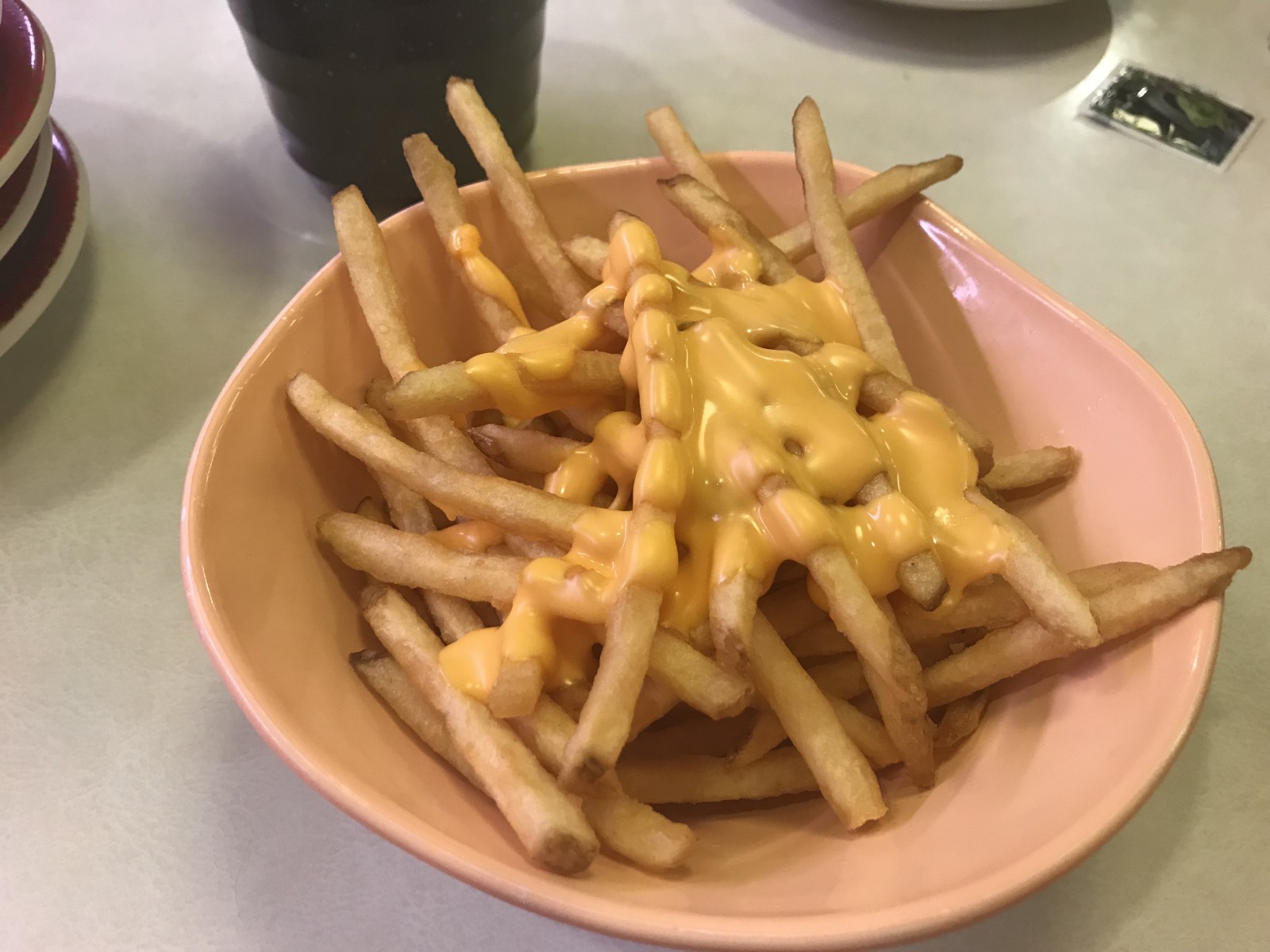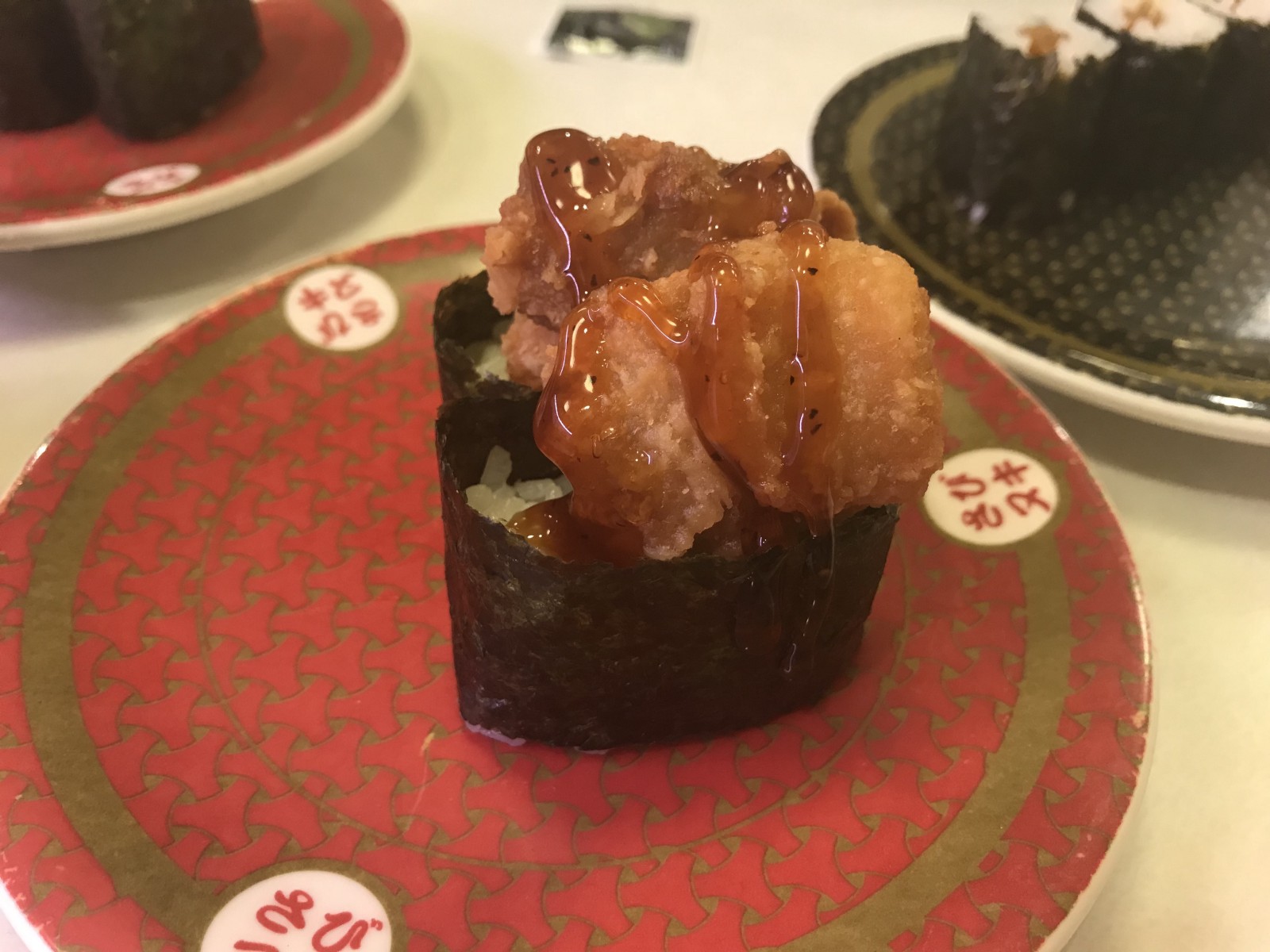 (left to right) Cheese French Fries ¥200+tax / Fried Chicken Gunkan ¥100+tax
4. Kappa Sushi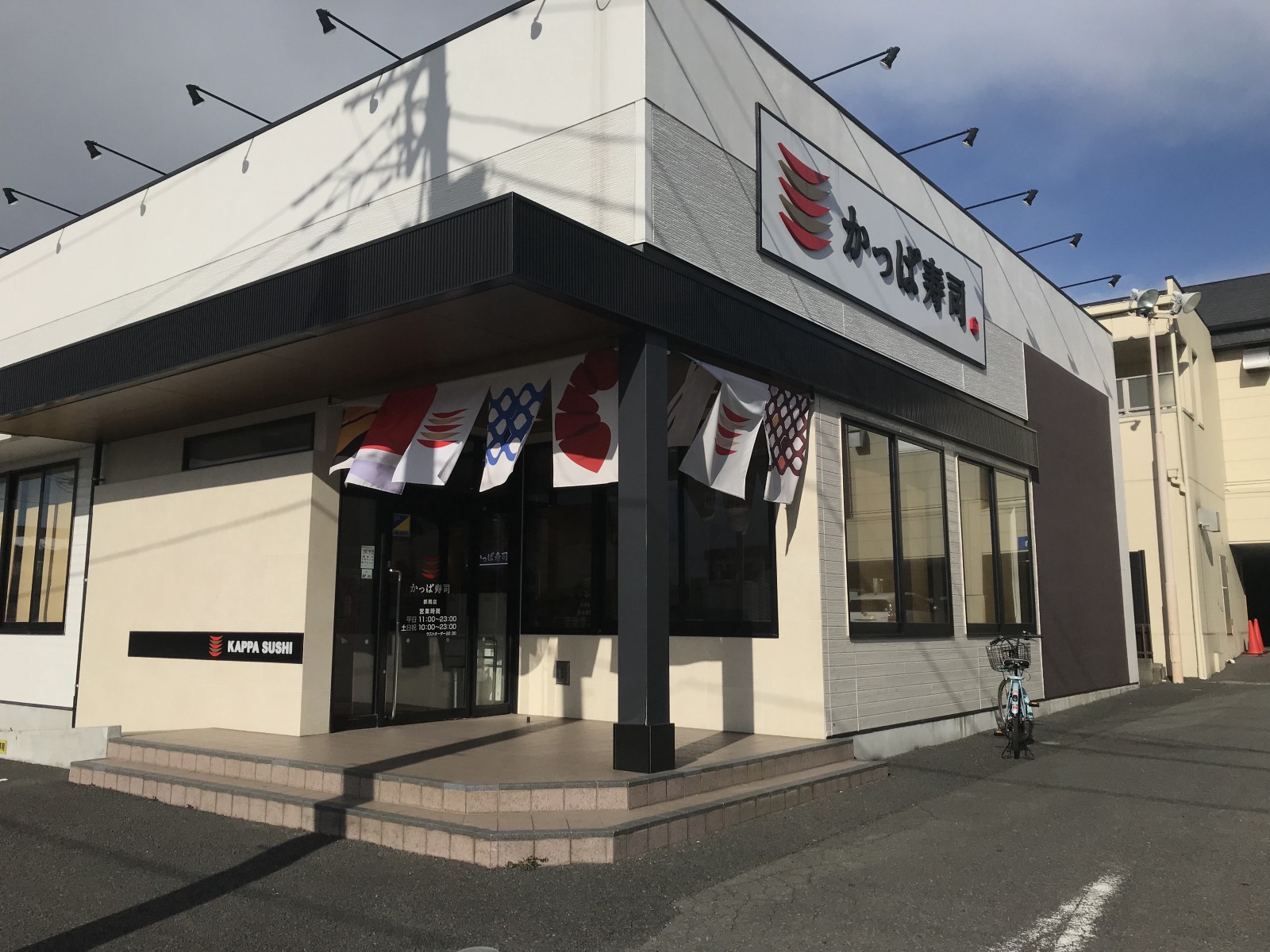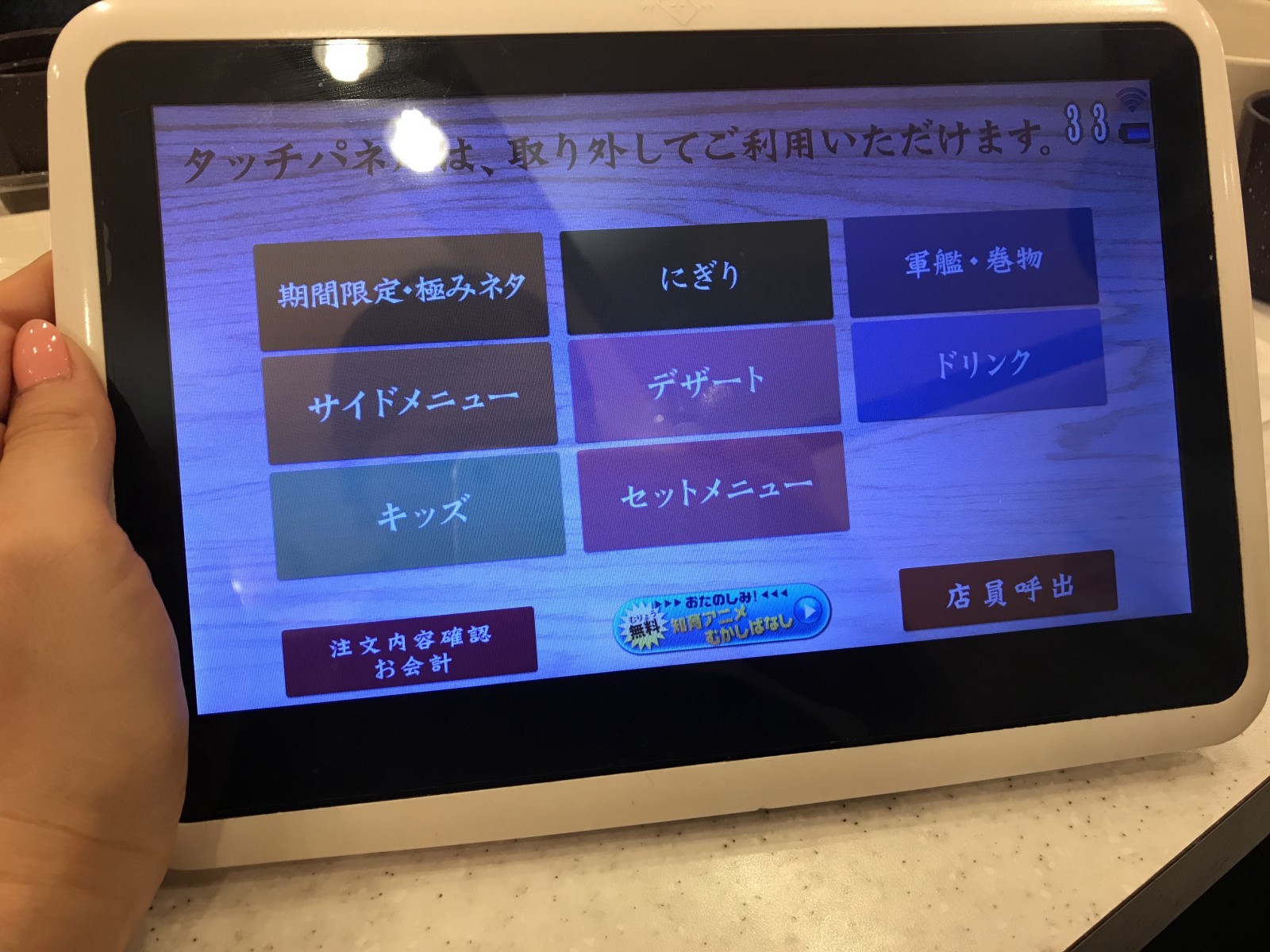 Kappa Sushi is a pioneer of 100 yen Sushi restaurant industry, who firstly started conveyor belt sushi in Japan. There are not as many stores as Sushiro or Kura Sushi today, but Kappa Sushi is still a long-time beloved nationwide Sushi restaurant in Japan.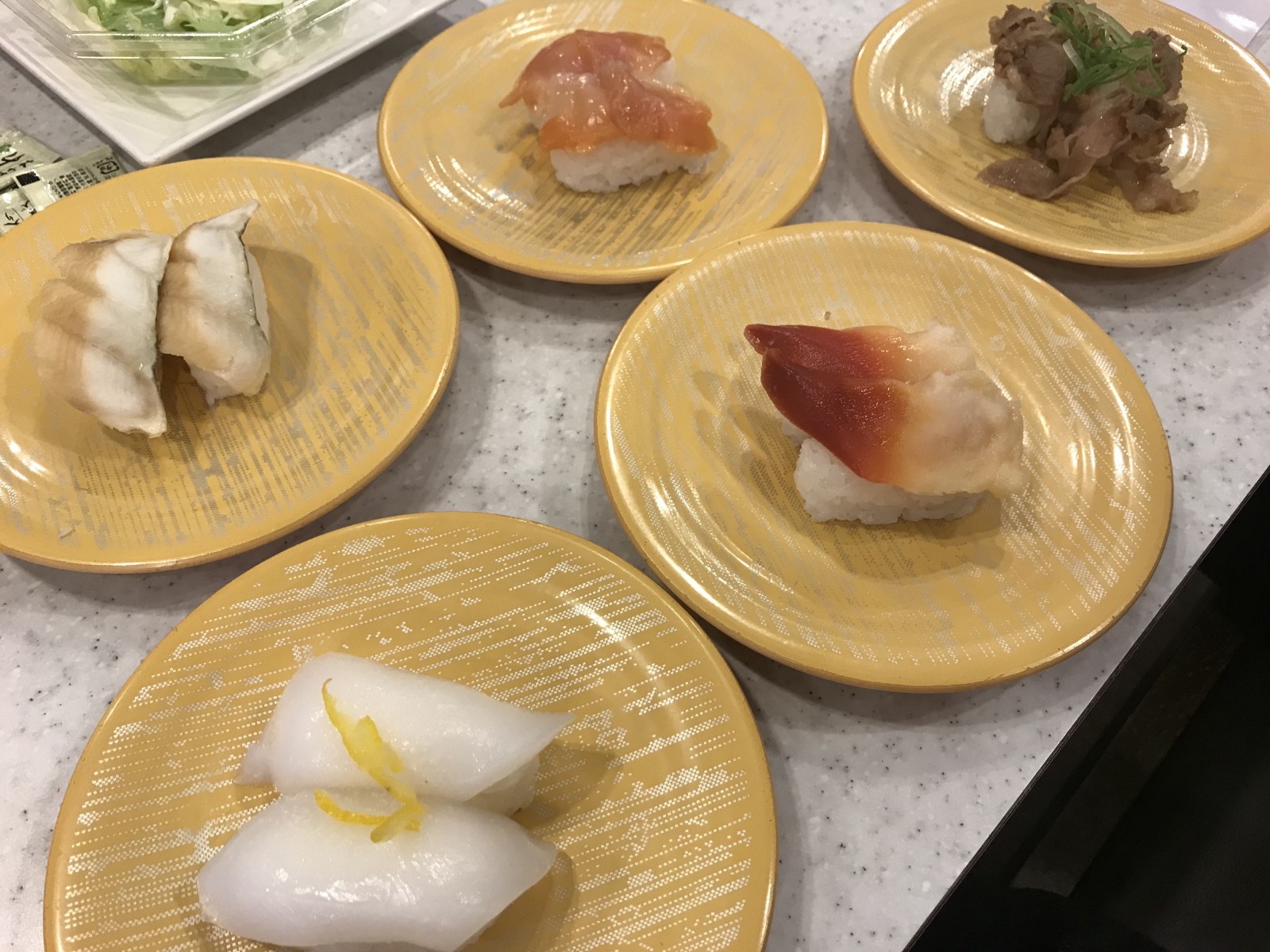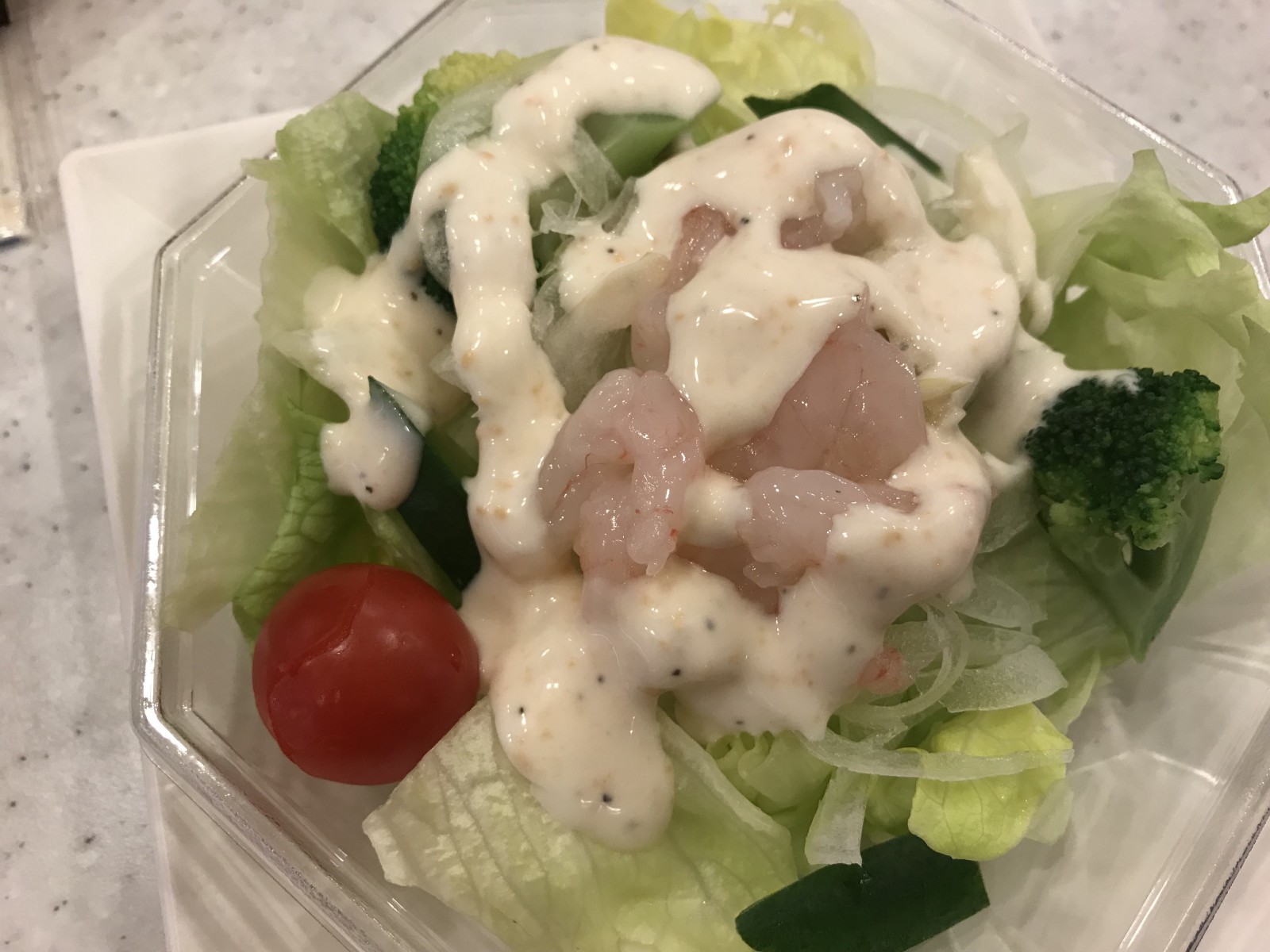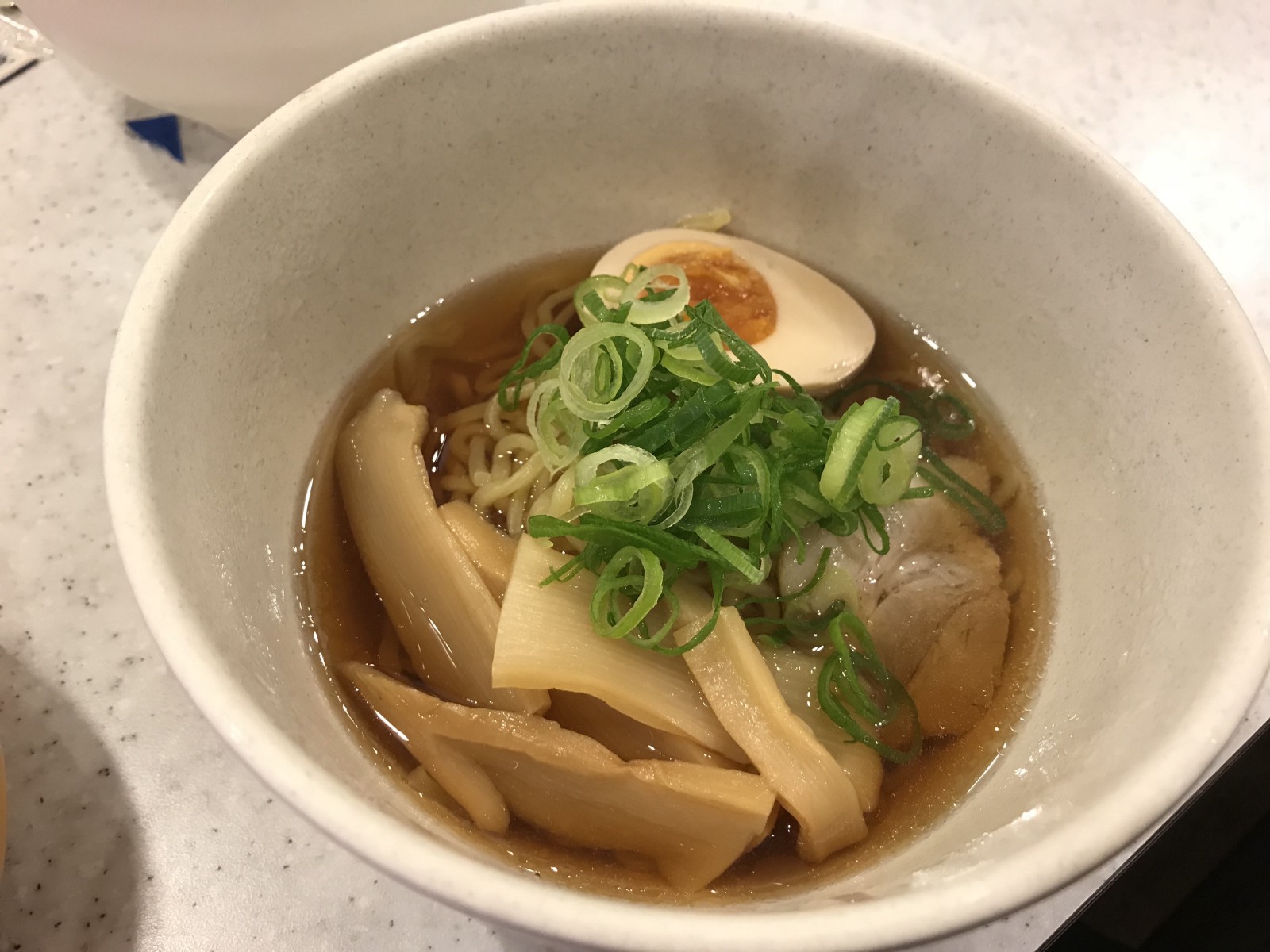 Kappa Sushi is their first restaurant which launched a Sushi "all-you-can-eat" course in 2017. A variety of 100 yen Sushi dishes and side dishes (Ramen, salad, desserts, etc) can be enjoyed limitlessly for 60 mins! The deal also includes free-flow soft drinks. If 60 mins is not enough, you can extend the course with 500 yen for every 10 mins. However, there is a penalty when you leave dishes, so make sure to order only the dishes you can finish off!
All You Can Eat rate:
Men: 1,580 yen
Women: 1,380 yen
Seniors over 65: 980 yen
Children (Elementary school age): 780 yen
Children (Under elementary school age): free
Make a reservation in advance via website or phone app! ()
---
▽This Complete Sushi Guide introduces all about the authentic Japanese sushi▽
How did you like the list? Each Sushi restaurant has their own unique features and offers a variety of side dishes along with Sushi and fun entertainments to customers. Even if you are not a big fan of Sushi, there are many other options to eat at these restaurants!
For more information about eating out on budget in Japan, please check out these articles, too!
▽Related Articles▽
▼Editor's Picks▼
---