Yoshinoya x Pokemon Collaboration: Pokemon Beef Bowl
Pokemori: Yoshinoya is Collaborating with Pokemon!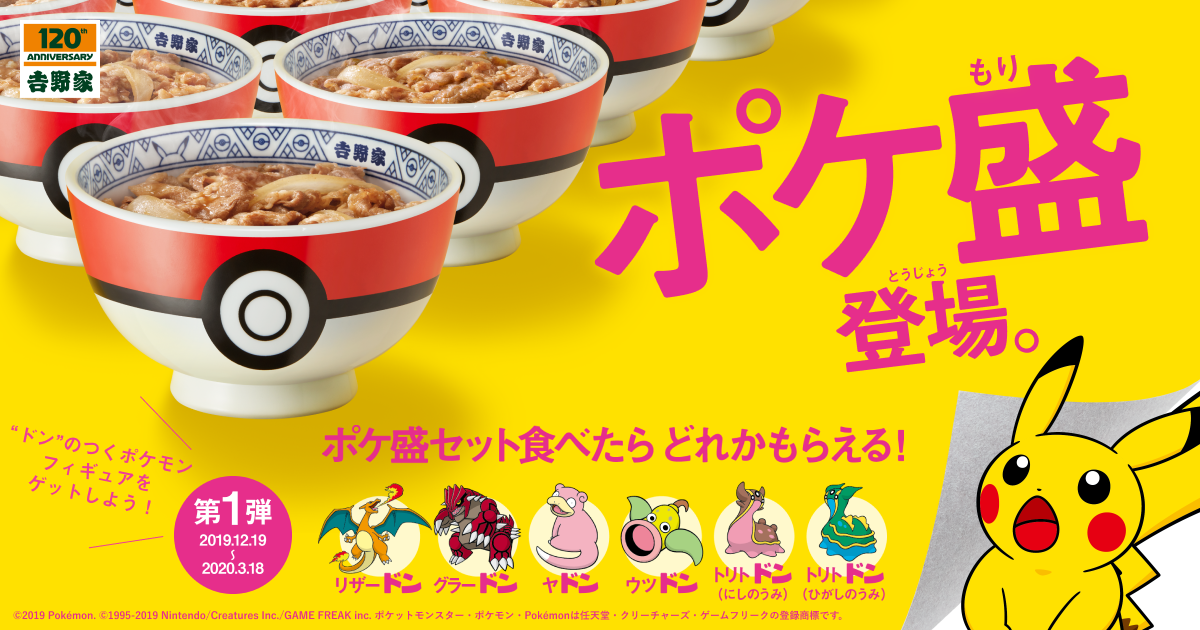 The famous Japanese Gyudon (Beef Bowl) store, Yoshinoya (吉野家) is celebrating their 120th anniversary this winter by collaborating with Pokemon characters. The Pokemon theme beef bowl, Pokemori will be available at Yoshinoya stores across Japan from 19 December 2019!
The first phase of this special collaboration will be available from 19 December 2019 to 18 March 2020, featuring six Pokemon characters that have "-don" in their names in Japanese: Charizard (Lizardon), Groudon, Slowpoke (Yadon), Weepinbell (Utsudon), West Sea Gastrodon and East Sea Gastrodon (Tritodon)
Pokemori will be available in 3 set meals: Pokemori Gyudon (498 yen + tax), Pokemori Kids Gyudon (448 yen + tax) and Pokemori Kids Curry (448 yen + tax) ,and all come with a fruit juice and one of Pokemon figures. Pokemori are all served in a special Pokemon theme bowl that has Pokemon characters hiding on the bottom of the bowl. You can discover it only when you finish off your Gyudon dish!
Pokemori is also available for takeaway, served in a special Pokemon theme to-go container and plastic bag.
Unfortunately, these cute and rare Pokemon theme bowls are not on sale.. however, Yoshinoya offers a special campaign which you can win the Pokemori bowls by follow their official Twitter account, and either retweet their contents or photographing the receipt when you order Pokemori at a Yoshinoya store and DM the photo. You can check more details from their official website (https://www.yoshinoya.com/special/pokemori/) or official Twitter account (https://twitter.com/yoshinoyagyudon)!
If you are Pokemon fan or Gyudon lover, let's celebrate Yoshinoya's 120th anniversary with adorable characters in Japan! 🙂
Are you a Pokemon fan?? More and more Pokemon attractions and related spots are opening in Japan nowadays! For more information about Pokemon spots in Japan, here are some more articles you may wanna check out!
▽Related Articles▽
▼Editor's Picks▼
---