A Nice Airbnb in Nanto, Toyama
Staying in a Traditional Japanese Home: An Airbnb Experience Review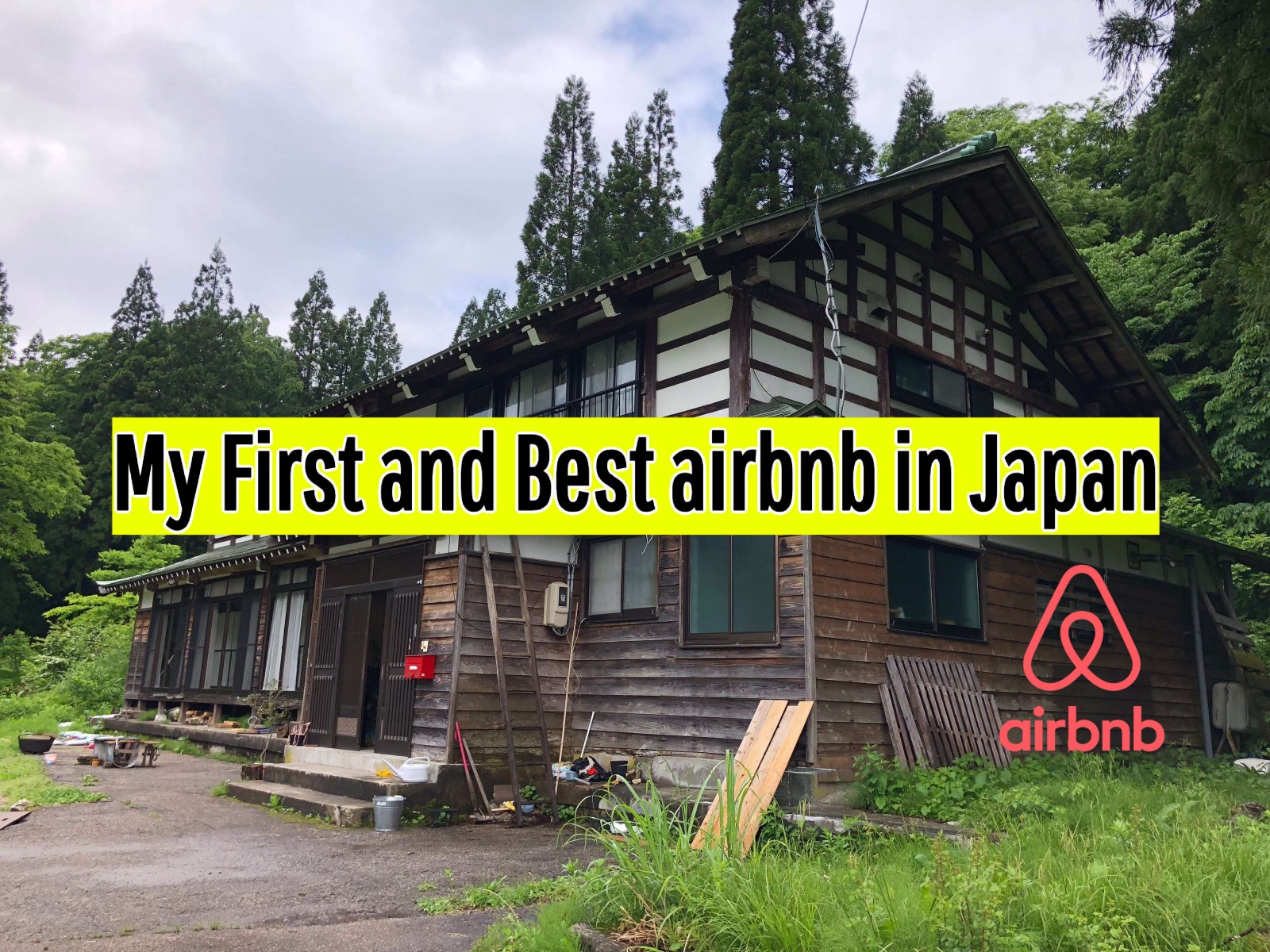 Airbnb in Japan has gotten more recognition among domestic and international travelers. Here, my personal experience to stay in an Airbnb in Japan for the first time. My first but best Airbnb!
Airbnb founded in San Francisco in 2008 launched its business in Japan six years later. This leading company of "sharing economy" has gotten more recognition among domestic and international travelers for the past few years. It is increasingly getting popular to stay in an Airbnb since it offers a chance to have special experiences different from staying in a hotel or guesthouse.
There are various Airbnb accommodations such as a rental apartment in metropolitan areas, or a vacation resort in the countryside.
One of the purposes to travel is to get to know about the culture and history of the area. You can get to know it very well by staying at houses of local people and communicating with them. Airbnb enables you to do that. This is precisely why the number of travelers who pick an Airbnb accommodation instead of hotels is increasing worldwide.
Today, I'd like to share my personal experience to stay in an Airbnb in Japan for the first time. I visited a hot tourist area, Toyama and Ishikawa Prefecture, in Hokuriku 北陸 ('Northlands Japan'). This trendy area is known for Tateyama Kurobe Alpine Route and Kanazawa city. I really recommend the Airbnb house I stayed at since I had an unbelievable time on this trip, thanks to the Airbnb and its host family.
Why did I choose this Airbnb house?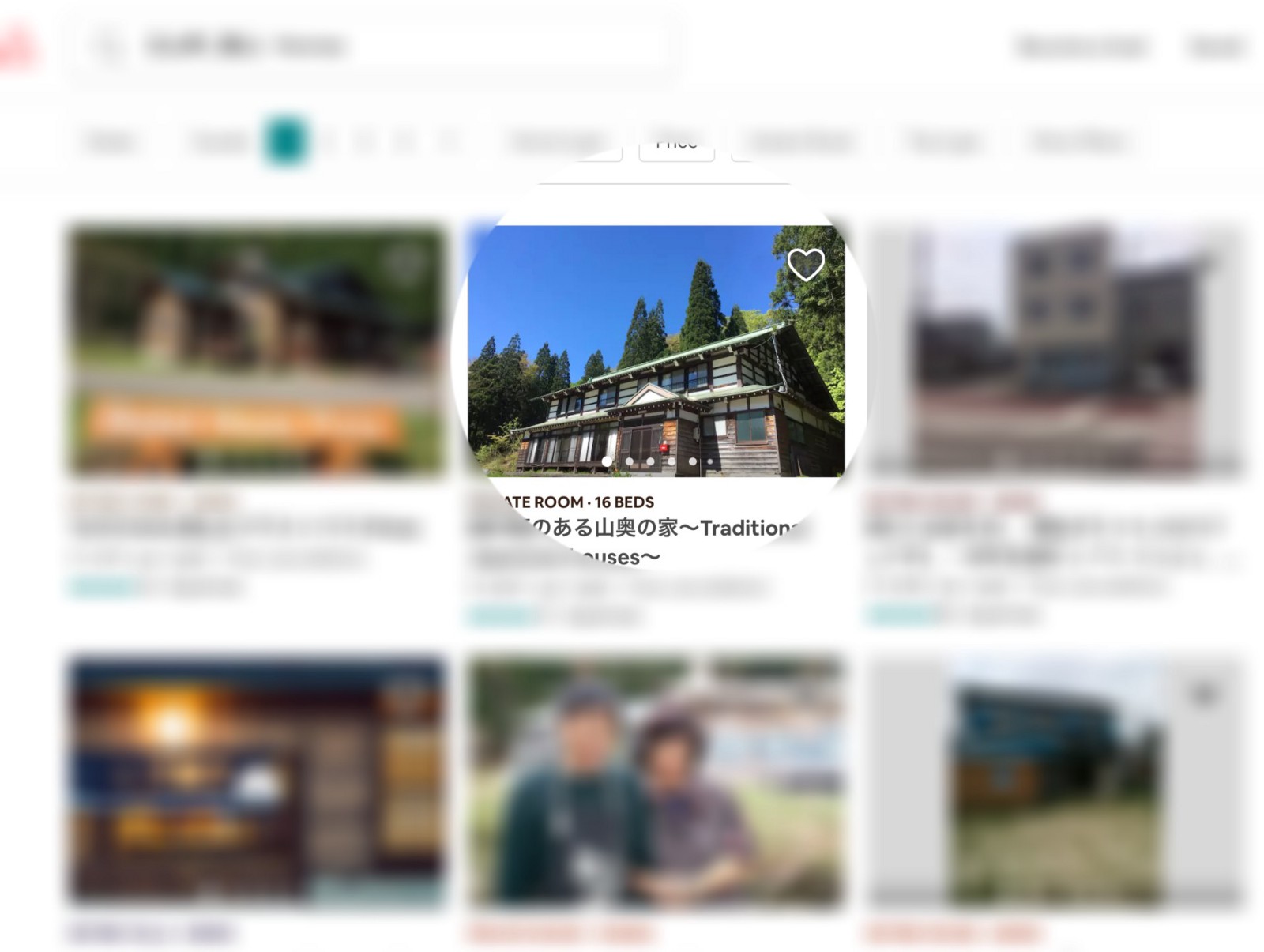 I like to travel in Japan and overseas and had known about Airbnb since before. However, I had never stayed in an Airbnb because…
"No idea if I can expect high-quality services like hotels"
"I feel a little uneasy to stay at a stranger's house."
On this occasion, I decided to change my travel style to a different one and I was browsing on the website of Airbnb when I noticed. Then, what jumped out at me was a picture of a large house in rich nature with a reasonable price. The host says the house was built about 80 years ago in a Japanese traditional method. The photo almost looks like a scene from an anime such as My Neighbor Totoro of Ghibli. I signed up with Airbnb and booked the house without hesitation.
*Please be noted that it is a little hard to access to the house without a car since it is located in the mountain area. No transportation there.
How was the Shojiro's house?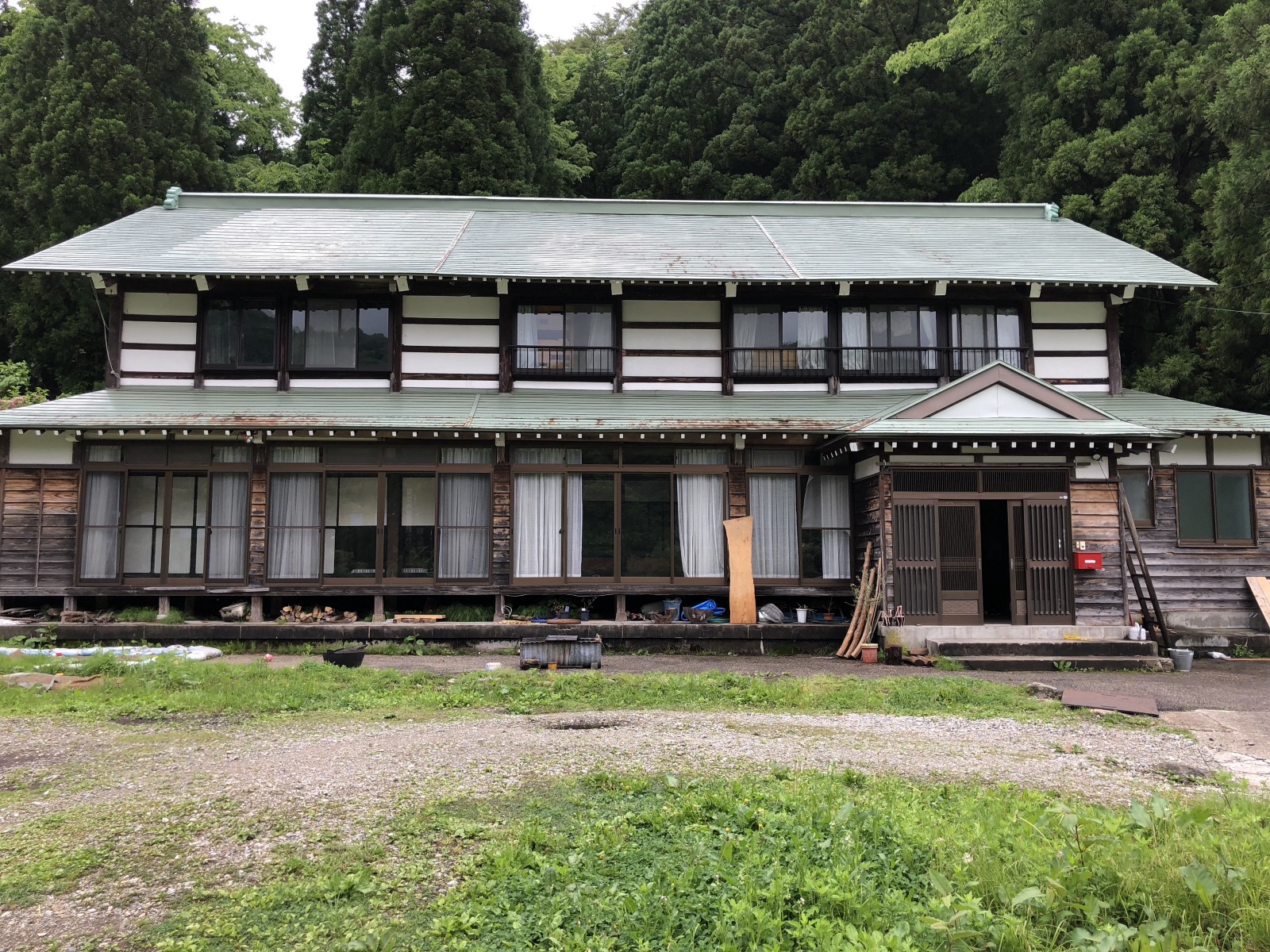 Here, let me name the house "Shojiro's house" after the name of the host.
It took about an hour to get to Shojiro's house by car from the urban area Kanazawa. When I arrived there and looked at the scenery around the house, I felt as if I have come to the anime world as I saw the picture on the website. During my stay, numerous things surprised me.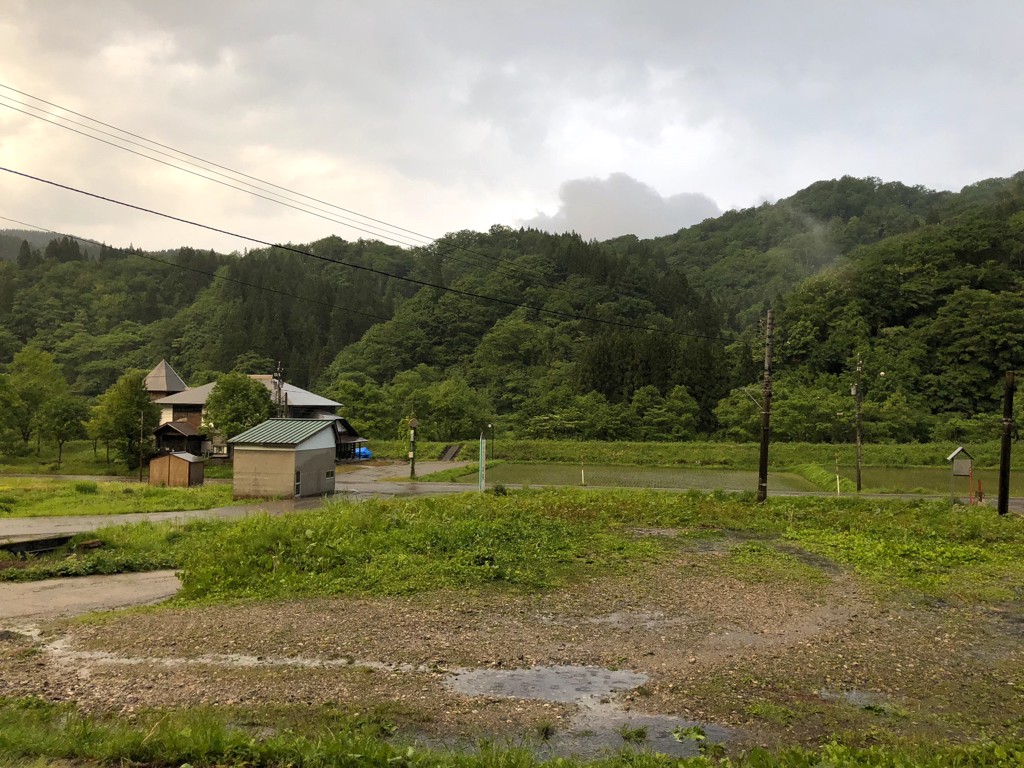 At first, the host family welcomed me in front of the house when I arrived while it was raining. The owner is Shojiro, who is kind and friendly.
I didn't think that most of Airbnb hosts offer good services with hospitality since I have heard that some hosts never took care of guests and even ask visitors to take keys from letter boxes by themselves.Disappointing, isn't it? However, the warm and hearty host waited for me this time.
Shojiro and his wife gave me heartwarming words like this "We are very happy for you to come all the way to stay here" and kindly introduced their house.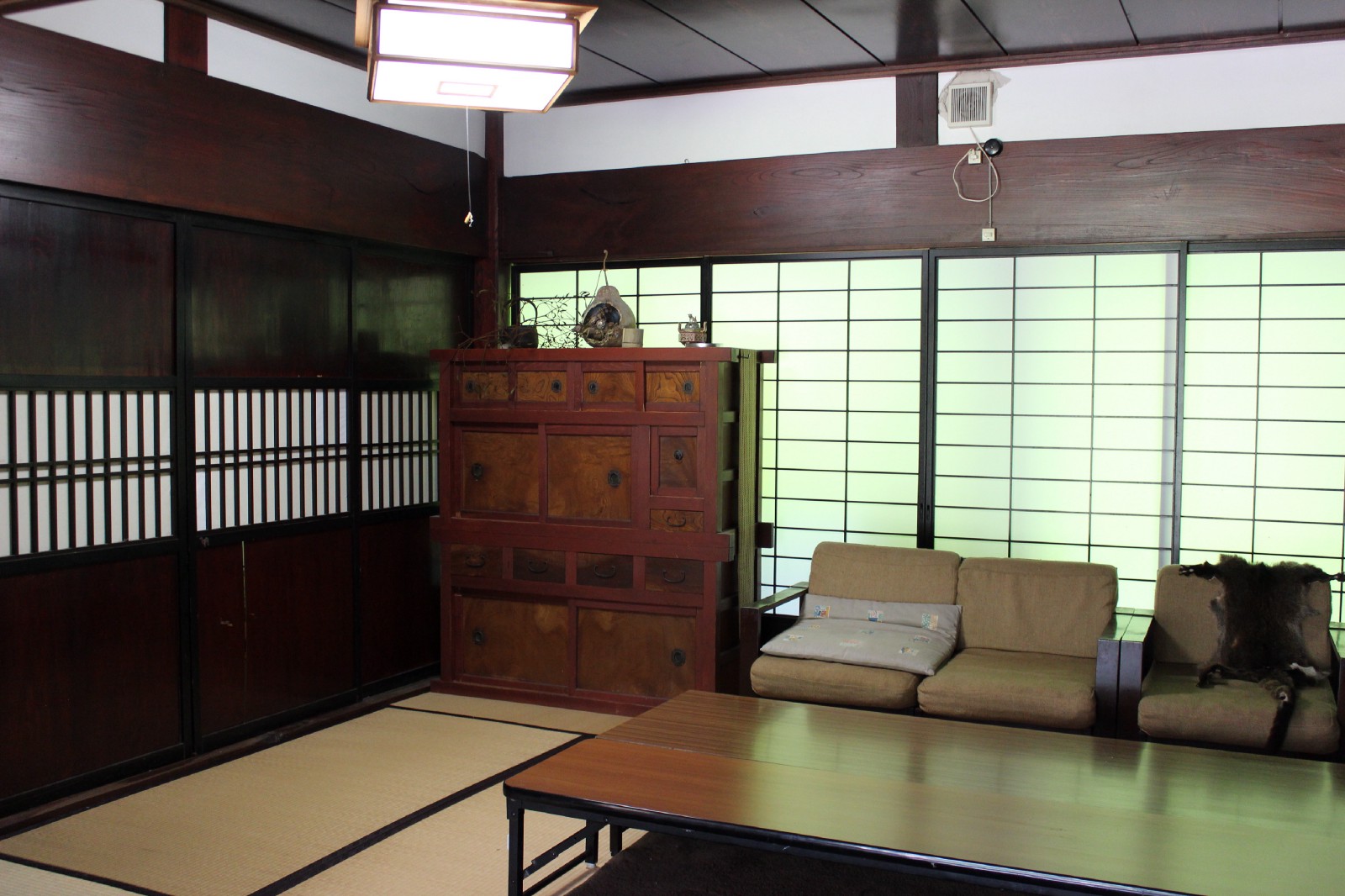 Next, I was so impressed to see inside the house with traditional materials including tatami mats and wooden closets. The good-old Japanese atmosphere made me feel as if I got back in time.
The large house has 6 rooms and can accommodate 16 people or more. It is highly recommended to enjoy staying in a large group.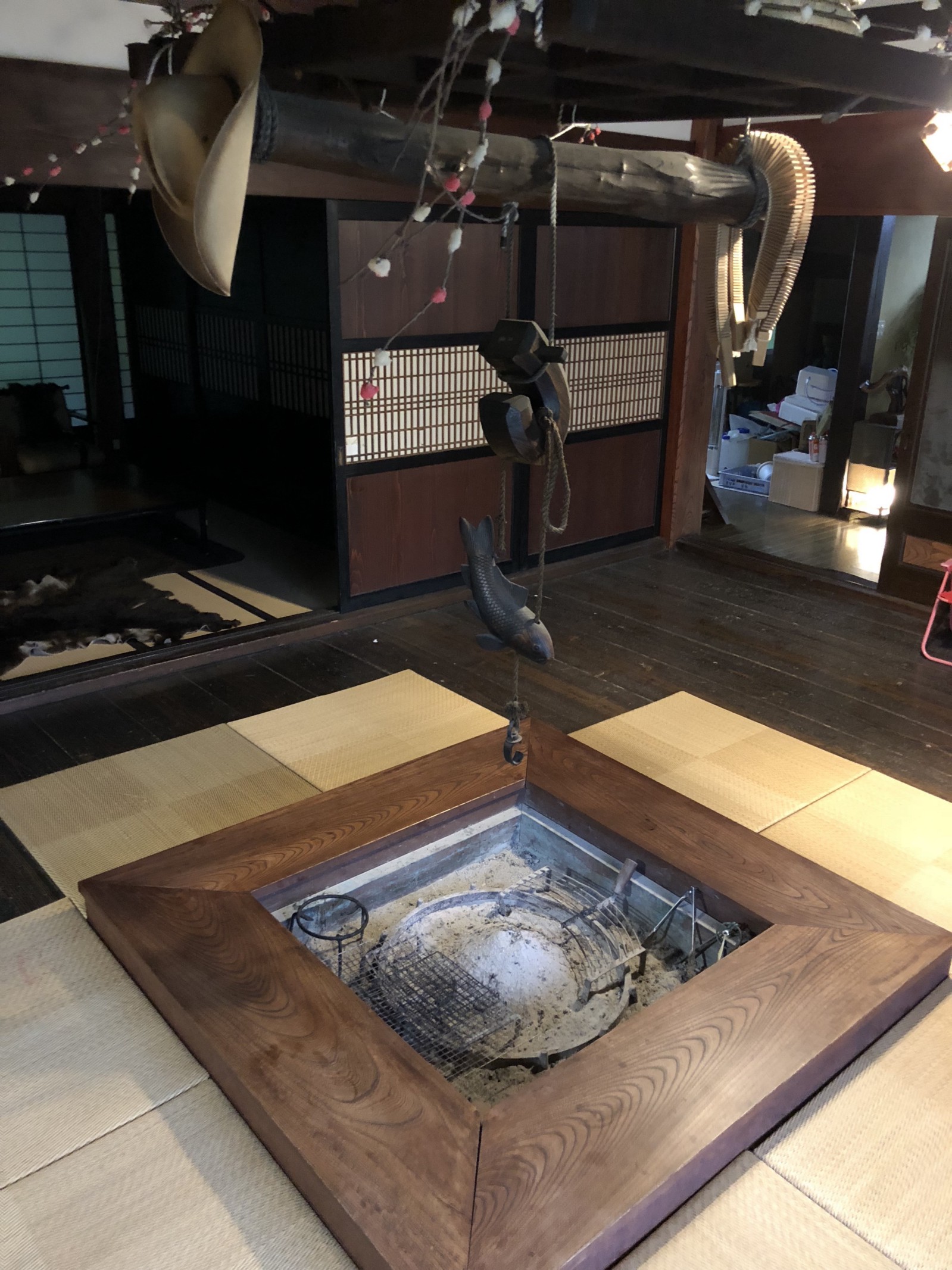 Additionally, what's the most remarkable thing in Shojiro's house is Irori (囲炉裏) which is a Japanese traditional fireplace on the floor. There are few chances to see it except countryside, especially in Tokyo. He can start a fire with charcoal in Irori if you want (the charcoal for 500 yen).
A spacious kitchen and a fridge are available, so I cooked the fresh fish that I bought at the largest market in Ishikawa Omicho Market. It is fun to cook for yourself during traveling, isn't it? You can also ask him to grill rockfish in Irori.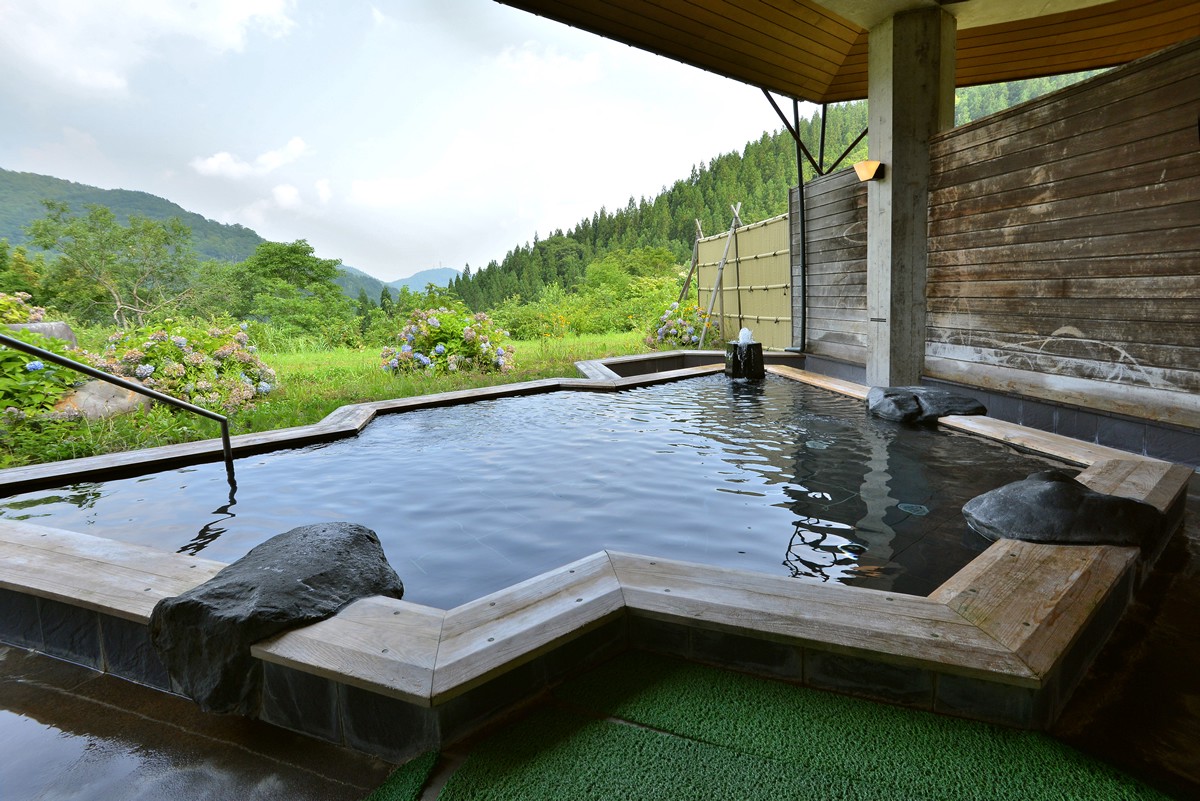 Just when I was about to take a bath, Shojiro told me that a hot spring facility named Tenjiku Onsen (天竺温泉) is located within 5 mins distance by car and it's never crowded. It cost only 600 yen to jump in a hot spring with an amazing outdoor bath. As he said, there were a few people but me, so I completely refreshed.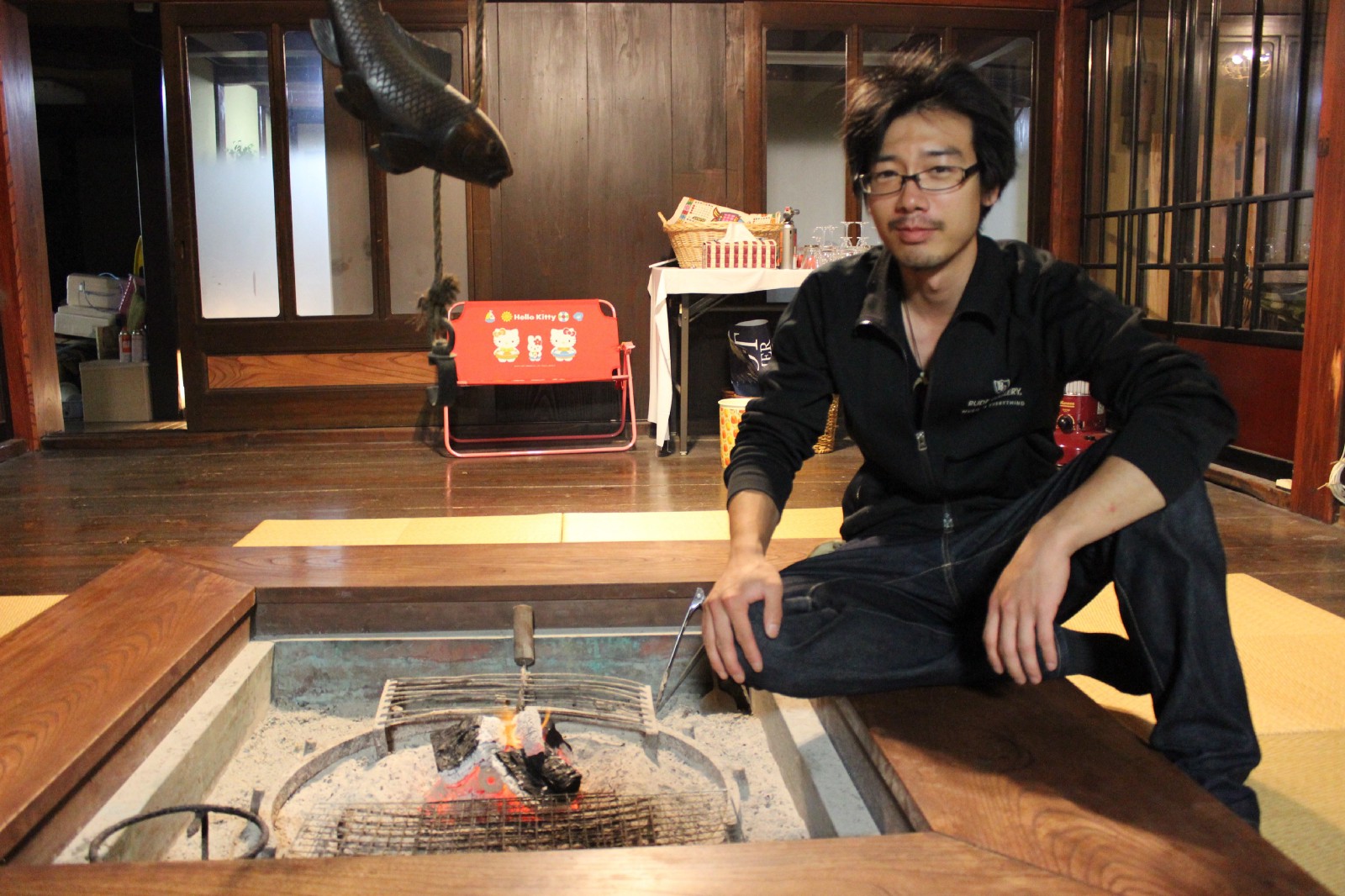 The fire was just being made in Irori by Shojiro when I got back. The room was getting warm, which put me in the mood for drinking. A few minutes later, Shojiro and I started drinking together. It was such unique and fantastic experience to drink and talk with local people sitting around Irori. The one and only experience! That would hardly happen if you stay at a normal hotel. That's why you should choose Airbnb for your trip to communicate with locals.
We talked a lot, and one of the most impressive things he said was about the price of the accommodation fee.
I said "this house is a bit too low-priced, isn't it?" since I thought the magnificent house and their hospitality was worth paying more.
Nevertheless, he responded "that may be a kind of affordable, but we can't charge anymore to guests who come all the way here."
I was moved by his attitude to give priority to guests, not to own profits.
As you can see on the website of Airbnb, the rate of its review is five stars and Shojiro is a Superhost. That totally makes sense. The atmosphere and the house itself are awesome, but guests highly appreciates his and his wife's personality.
By the way, we enjoyed taking about each other, and he suddenly made a suggestion to have a "Marshmallow Party". He brought a handful of marshmallows and skewers and started to grill them in Irori. I had eaten marshmallows grilled with BBQ, but never seen that way. What do you think about it?
Yes, the marshmallows grilled slowly on low heat were the best one in my life. A little ingenuity was used for them. He said that the idea of the ingenuity was taught by guests who came from North America. The authentic way to enjoy grilling marshmallows. It's also a nice point of Airbnb that the a variety of cultures pass from a guest to others across the sea.
Shojiro is called "Marshmallow Ojisan (Mr. Marshmallow)" by local residents since he likes it and has the special technique.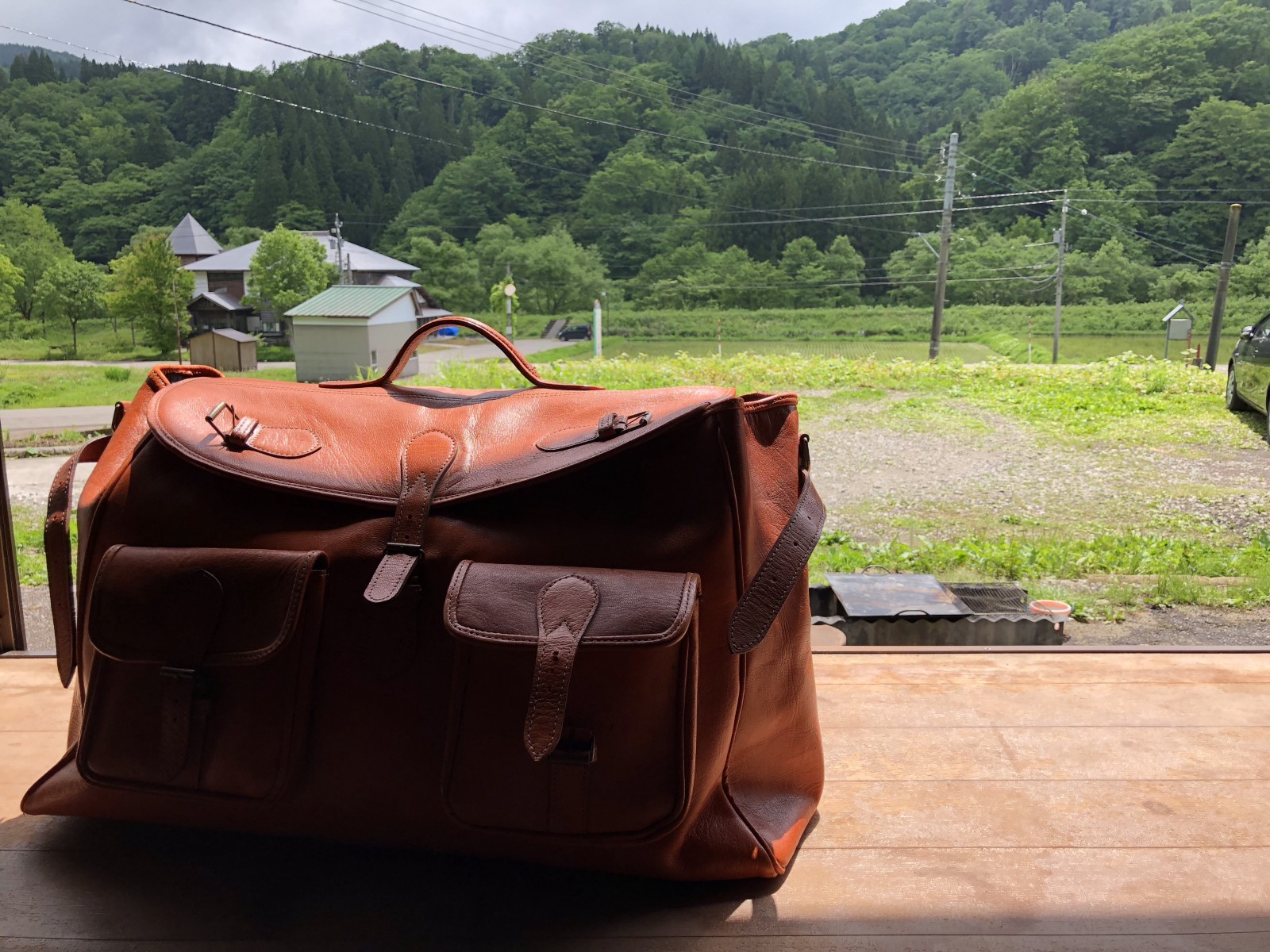 On the following morning, I woke up and noticed that the rain fortunately had stopped. I did not find out that there was a peaceful and serene landscape until it stopped raining.
Very quiet surrounded by rich nature which is far away from the the hustle and bustle of the city. There is no artificial noise such as traffic signals and voice advertisements. You hear only the river off, birds singing and insects chirping.
On a sunny day, you can enjoy a BBQ in front of the house. I had no time enough to do that on the second day but strongly recommend to have a BBQ with the host!!
A hammock is put by the windows, which gives the chance to spend gorgeous time reading a book or just sleeping on it.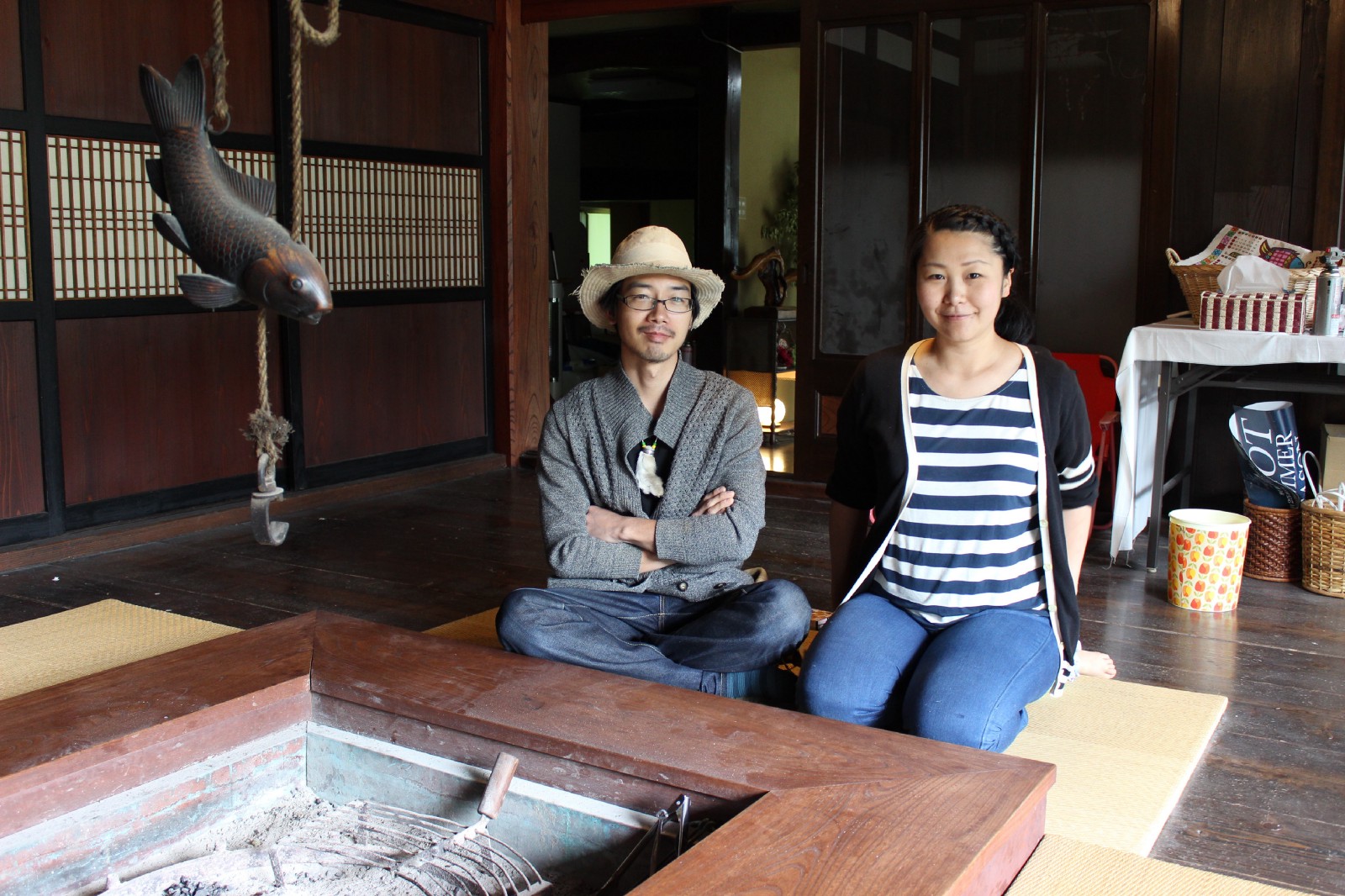 Thank you very much for Shojiro, Mai and everything I enjoyed.
▽Check the Shojiro's house on Airbnb▽
Did you enjoy this Airbnb experience? That kind of Airbnb is a nice option to stay in Japan. If you can touch Japanese traditional culture or communicate with the local, that kind of house is really recommended. Be also noted that your WiFi may not cover that mountain area, but I think it is sometimes important to live without Internet for a bit of a while.
Toyama Prefecture is getting a hot travel destination since there are a great number of attractive tourist sites in and around there: Tateyama Kurobe Alpine Route, Kenrokuen Garden, 21st Century Museum of Contemporary Art, Kanazawa, and Shirakawago.
If you can drive a car in Japan, staying at the Shojiro's house should be put in your bucket list. For those who want to stay at safe Airbnb accommodations or spend a vacation in rich nature, it's also recommended.
Personally, I found the new way to enjoy traveling in rural areas. Choosing accommodations is not only for sleeping but also additional experiences. Let's stay at Airbnb for your next trip and I would be happy if you could share your experience!!
In the following article, we have compiled information on various types of accommodations in Japan, including hotels and traditional Ryokan. With our Japan Accommodation Guide, find the perfect lodging experience for you!
▽Subscribe to our free news magazine!▽
▽Check out another my unique experience staying at a temple▽
▽Here are my other astonishing experiences!!▽
For more info about sightseeing in Central Japan, you might also like these articles below.
▽Related Articles▽
---