10 Most Popular Cocktails in Japan
Best Japanese Cocktails you should try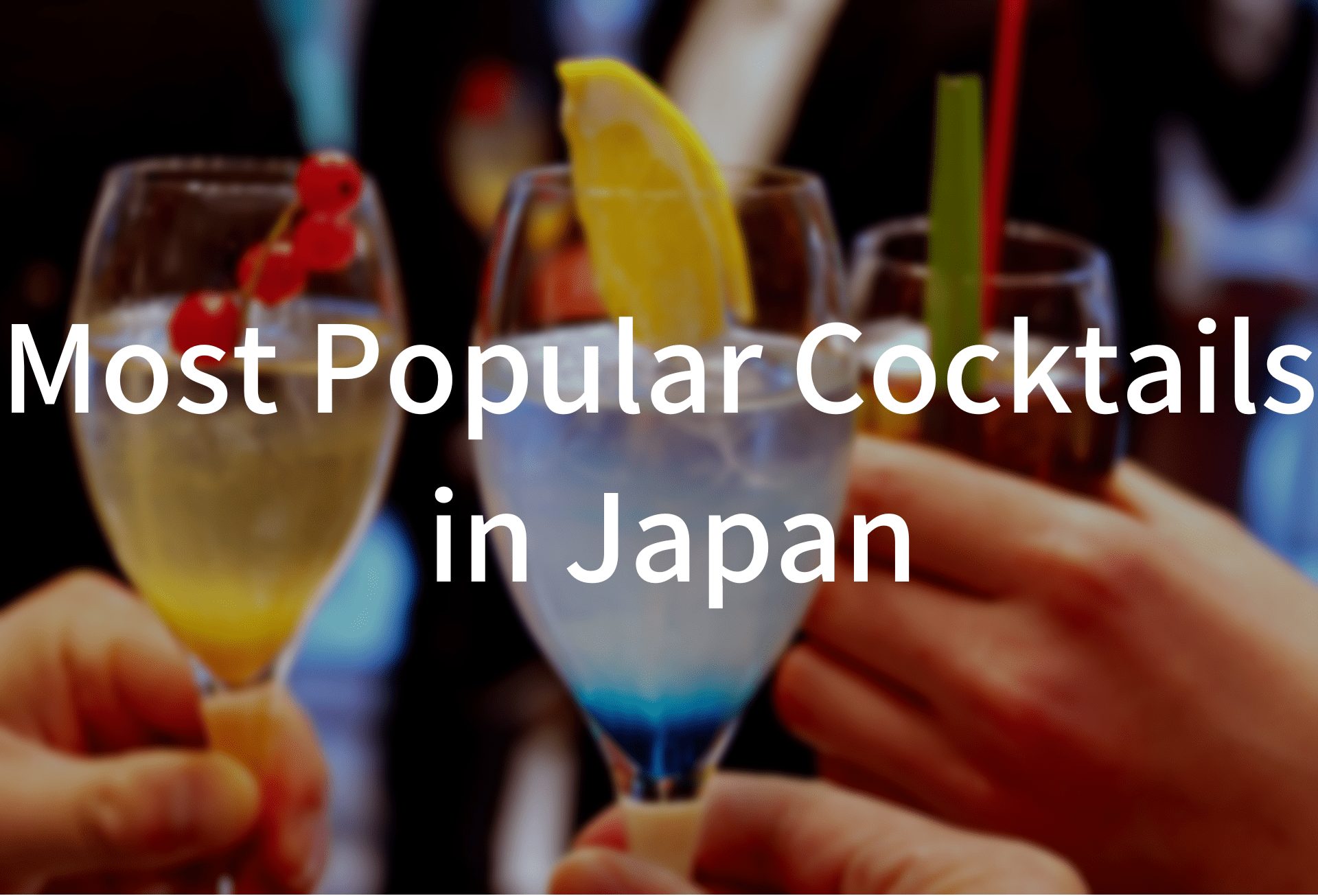 Do you enjoy drinking alcoholic beverages? If you do, then you are on the right article!
There are millions of different kinds and labeled drinks in each culture. You probably won't be able to taste all drinks in the world but in this article, you may find drinks that you've never heard of and that you can do a taste test while you are here in Japan.
We will be listing the 10 most popular cocktails in Japan. Some drinks are hard to find outside Japan, so why not give them a go and do a taste test? You might find your new favorite drink! 20 years and older people are allowed to get drinks in Japan, so to all the grown-ups, let's find out if there's any drink that interests you!
---
1. Cassis Orange

Cassis Orange (カシスオレンジ) has massive popularity in Japan. It is a Cassis liqueur blended with orange juice and it is only 5% alcohol percentage. It is one of the smoothest to drink. It actually tastes very sweet and mild like there's no alcohol in them. If you prefer a sweet cocktail or you're a lightweight drinker, this is for you.
On a side note, people who order the cocktail can be considered "women-like" by some people in Japan. For example, if a man orders it for himself, some people might be like "aw… How cute". Writing and actually thinking about it, it sounds sexist, but there is no offensive intention or seriousness. So please don't take it personally. You should drink whatever you like!
Many convenience stores or supermarkets have this canned cocktail in stock, so it is very easy to have a little sip to try them out.
2. Lemon Sour

Lemon Sour (レモンサワー) is one of the most popular drinks among pretty much all Japanese. New products continuously come out from various alcoholic beverage companies. Alcohol percentage differs from product to product, but they are usually somewhere between 3-9 %.
Also on a side note, there is a cocktail named "lemon-hi". Japanese even get so confused that there are many articles that explain the differences online. It pretty much tastes the same and there are no distinct differences or meanings. Those two means the same on many restaurants or izakaya menus.
Lemon sour is a cocktail made from shochu (焼酎, Japanese vodka), soda water, and lemon juice. It tastes very refreshing and has a hint of bitterness from lemon zest. Some drinks are sweet and some are not. There is a wide variety of tastes. Many stores have them in stock so it is very easy to find.
3. Kahlua and Milk

Kahlua and Milk (カルーアミルク) originated in Boston, USA in the '70s. Back then, they used to pour Kahlua (coffee liqueur) into a liqueur glass and topped it with heavy cream, not milk. It got very popular among women and it was spread throughout the world.
The recipe is quite self-explanatory; Kahlua mixed with some milk. The alcohol percentage depends on the mixture ratio but is said to be around 7-8%. Kahlua itself is 15% so it is pretty strong. It is a sweet, mild cocktail and very smooth to drink. It almost tastes like a sweetened cafe latte. You can enjoy it as like a dessert.
4. Matcha Hai (Ryokucha Hai)

You have probably heard the word "matcha". matcha is high-grade green tea ground into powdered form. "Ryoucha" means Japanese green tea. Both of them are not sweetened.
This cocktail is shochu (焼酎, Japanese vodka) mixed with Matcha or Ryokucha. There are 3 main benefits of this drink: low carb, low calorie, and purine free. People who are going on a diet or trying to go low-carb can enjoy this cocktail. The alcohol percentage is around 4%.
There was a "oolong hi" (ウーロンハイ) before ryokucha hi (緑茶ハイ) and as the technology developed and became able to brew a cold, delicious, and bottled ryokucha, ryokucha hi was born. Japanese mainly drink hot ryokucha, which has a mild aroma and some bitterness. Keeping that sensitive taste was not an easy job to do. It is a unique Japanese cocktail and some people don't like it but you will never know until you try it.
5. Red Eye

Red eye (レッドアイ) is a cocktail made with beer and tomato juice. The taste varies based on the beer you use to make this cocktail. It's safe to say that a Red Eye's taste will vary depending on the beer you use with it. Some people who don't like tomato juice say it is fruity, fresh, and smooth to drink.
The name came from people who had a little too much to drink the day before and got red eyes. It has many names other than this: Red Beer, Spicy Beer, Michelada, or Chelada.
The alcohol percentage is below 7%. A Japanese beverage company, Asahi sells canned Red eye. So you may able to find it in a store.
6. Shandy Gaff

Shandy Gaff (シャンディガフ) is a beer-based cocktail that is popular in English pubs. It is blended with ginger ale. Ginger ale cancels out the bitterness of a beer and makes it mild. You can taste the richness of beer, sweetness, and a hint of spiciness from ginger ale.
However, switching a beer to another beer can make a difference in taste. This means that you can play around with the recipe and make an original and perfect Shandy Gaff. People who don't enjoy the taste of beer can enjoy this cocktail. The ratio of beer and ginger ale is 1:1 so the percentage is around 3-4% and it is quite low. those who are lightweight drinkers could enjoy it.
7. Fuzzy Navel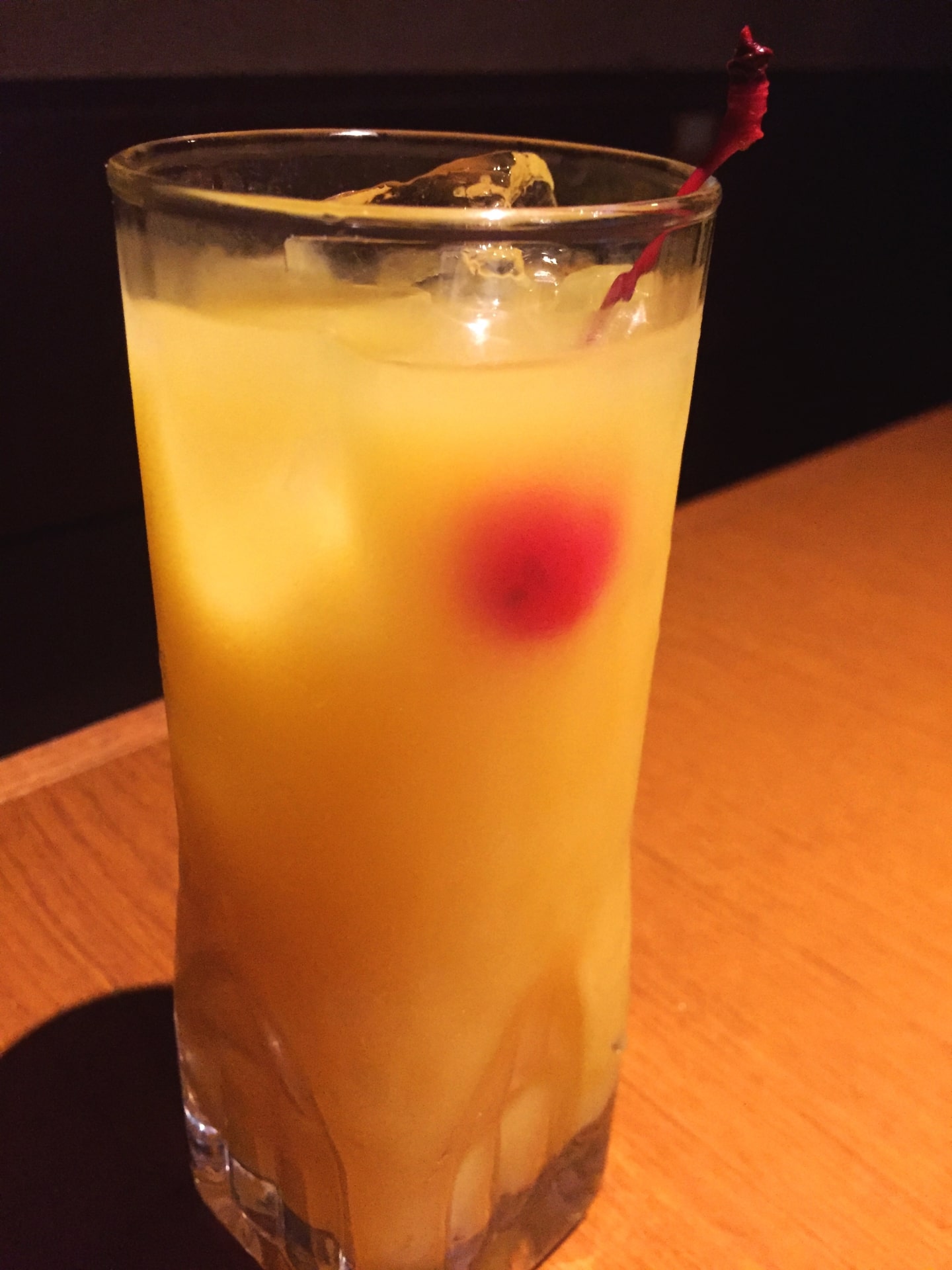 Fuzzy navel (ファジーネーブル), otherwise known as "Peachtree orange", is a peach liqueur-based cocktail. it is blended with orange juice; the sweetness of the peach cocktail and the citrussy and freshness of orange juice makes a very fruity, sweet, and smooth drink.
The alcohol percentage differs depending on the ratio but it is said that it is around 5%.
The term "fuzzy" represents peach and it comes from the peach fuzz. Fuzzy navel was born in the '80s USA, so it is a fairly new cocktail. Again, Asahi, the Japanese beverage company, makes a canned version of this so you may find one in a store.
8. Tokyo Mule
Tokyo Mule (東京ミュール) is A fun twist on the classic mule. Vodka blended with Japanese alcoholic beverages (sake, shochu), ground ginger (or ginger beer, ginger syrup + sparkling water, ginger ale), a squeeze of citrus fruit such as yuzu and lime, and some bartenders even put some cucumber and its juice. There is a variety of recipes but the point is it is a vodka and Japanese alcohol beverage-based sparkling ginger citrus cocktail.
The taste of Tokyo mule is super refreshing and has flavors of ginger. There are many cocktails named "(blank) mule"; Moscow mule is one of them.
9. Moscow Mule

As I said in the last paragraph, Moscow Mule (モスコミュール) is one of the "mule" cocktail families and probably the most well-known "mule" cocktail. "mule", came from people saying that this cocktail is strong like a mule's (a hybrid between a donkey and a horse) kick.
It is vodka-based, mixed with ginger ale and some squeezed lime. Vodka is quite a strong liquor so the percentage is a bit high compared to other cocktails and it is around 10-15%.
This cocktail is said that it originated in the '40s in Hollywood, USA.
The taste of this cocktail is very refreshing thanks to ginger ale and lime zest. The vodka itself doesn't have any smell, but it is a very strong drink that you will feel some kind of heat as the drink comes down from your throat and to your body.
10. Reggae Punch (Peach Oolong)

Peach Oolong (ピーチウーロン) is peach liqueur mixed with oolong tea. People call peach oolong by many names and reggae punch (レゲエパンチ) is one of them. Peach oolong is said to have originated in Sendai, Miyagi Prefecture.
The bitterness of the oolong tea is almost completely offset by the peach ​​liqueur, which makes it as if it is a glass of sweet peach tea. It is refreshing and easy to drink.
The percentage of peach liqueur itself has 15% alcohol but if you blend it with oolong tea, it will only be around 4%. The ratio is 1:3 (peach liqueur: oolong tea).
---
▽Subscribe to our free news magazine!▽

There should be at least one drink that you have never heard of. We have listed a few Japanese-originated cocktails as well that it is hard to find other than in Japan. I hope you got intrigued by one of them to see what it tastes like. If you did, go to an Izakaya (informal Japanese bar) or a bar for a drink and have a fantastic and fun grown-up night (or day if you are into day drinking!)!
We also have many articles about izakaya and bar so please check them out too! You may find a hidden gem…
For more information about cocktails in Japan, check these articles below, too!
▽Related Articles▽
▼Editor's Picks▼
---