Jujutsu Kaisen Cafe in Japan 2022
Jujutsu Kaisen Theme Cafe to Open in Tokyo and Osaka in 2022 Summer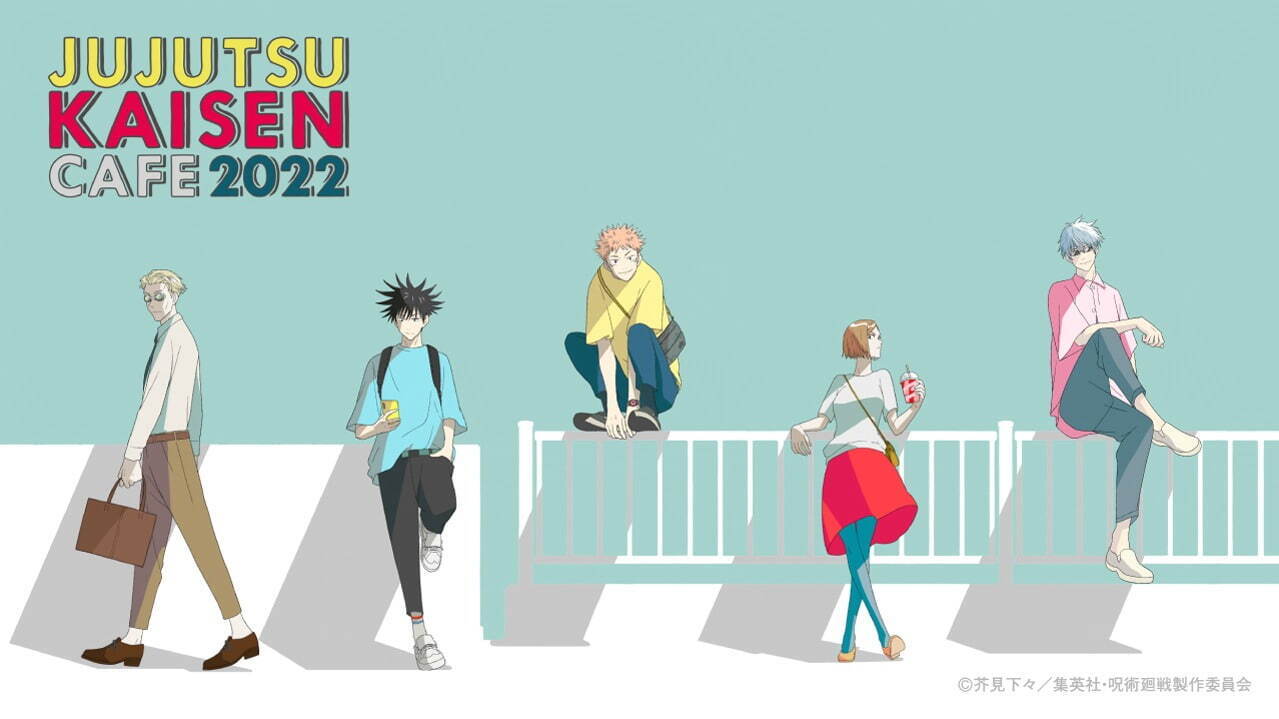 Jujutsu Kaisen (呪術廻戦) is a dark fantasy anime written and illustrated by Gege Akutami. In 2018 the serie was serialized in Weekly Shonen Jump for the first time, and since October 2020 the anime serie has been aired on TV. Especially since the release of the anime Jujutsu Kaisen has become one of the most popular series in Japan. The manga serie has sold over 50 million copies and in December 2021 the Jujutsu Kaisen 0: The Movie was the second biggest opening in Japanese box office history after Demon Slayer: Kimetsu No Yaiba-The Movie: Mugen Train.
After the success of the previous two collaboration cafe Jujutsu Kaisen Cafe in 2021, as a part of the Jujutsu Kaisen Exhibition, and Jujutsu Kaisen 0: The Movie cafe it has been announced that in Summer/Autumn 2022 a new Jujutsu Kaisen Cafe will open in Tokyo and Osaka for a limited time! The Jujutsu Kaisen themed cafe will take place in Tokyo (Harajuku) and Osaka (Umeda) from August 11 to October 10 2022!
The third theme cafe Jutsu Kaisensen Cafe 2022 has a mint green theme color. In a fresh and urban atmosphere, customers can enjoy food, drinks, and sweets with motifs of popular characters from Jujutsu Kaisen. The cafe menu includes a variety of delicious and original design dishes, desserts and drinks inspired by characters of Jujutsu Kaisen. In addition, visitor can purchase the exclusive cafe merchandise and enjoy special gifts.
Let's take a look at exclusive food, drinks and merchandise available at Jujutsu Kaisen Cafe 2022!!
-Food and Drink Menu
▲ left to right
Yuji Itadori Chicken Over Rice Plate 1,540 yen
Megumi Fushiguro Chimera Shadow Garden Sandwich 1,430 yen
▲ left to right
Second Grade Plate 1,430 yen
Kento Nanami Apple Pork Wrap Sandwich 1,540 yen
Nobara Kugisaki Vegetable Spice Curry Plate 1,430 yen
▲ left to right
Satoru Gojo Hollow Technique: Purple Cake 1,540 yen
Pasta 1,540 yen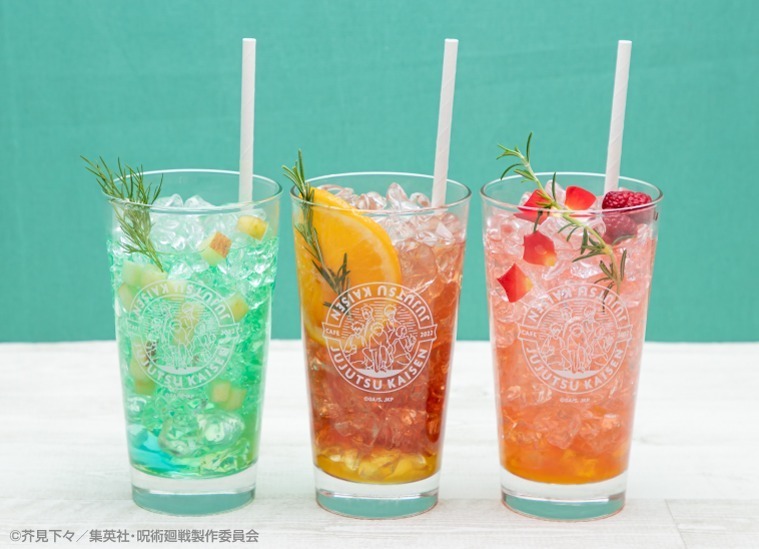 ▲ left to right
Megumi Fushiguro Green Apple Mint Soda 880 yen
Yuji Itadori Passion Cranberry Tea Soda 880 yen
Nobara Kugisaki Orange Rose Hip Tea Soda 880 yen
▲ left to right
Satoru Gojo Blue Hawaii Lemon Squash 880 yen
Kento Nanami Coffee Mojito Soda 880 yen
In addition an original coaster will be given to all customers who order a drink from the collaboration menu. And customers who made a reservation online through the website will receive an A4 clear file.
-Cafe Merchandise
▲ left to right
Acrylic Key Chain 715 yen
Acrylic Stand 1,320 yen
Sticker Set 1,089 yen
▲ left to right
Can Badge 550 yen
Mini Character Acrylic Stand 990 yen
Cushion 3,520 yen *Online store only
▲ left to right
Acrylic Block 3,300 yen
Mini Character Acrylic Badge 715 yen
Postcard Set 825 yen
Original Glass 1,320 yen
Jujutsu Kaisen Cafe Official Online Store: https://jujutsukaisen-cafe.jp/online_store/
And there's more! Customers who spend more than 3,000 yen on goods will receive an original card, and for those who spend over 3,500 yen the cafe would give them a special bag with an exclusive design!
---
<Jujutsu Kaisen Cafe>
-Tokyo
Harajuku venue
Location: BOX cafe&space Harajuku ALTA store
Date: 10 August to 10 October 2022
-Osaka (2 locations)
Umeda venue
Location: UMEDA BOX cafe&space
Date: 10 August to 10 October 2022
Official Website: https://jujutsukaisen-cafe.jp/
---
Thanks for reading! For more information about seasonal events and exciting topics in Japan, please check out these articles, too!
▽Related Articles▽
▼Editor's Picks▼
---