10 Great Anime that Missed the Best List
10 Good Anime Recommendations that Deserve Honorable Mentions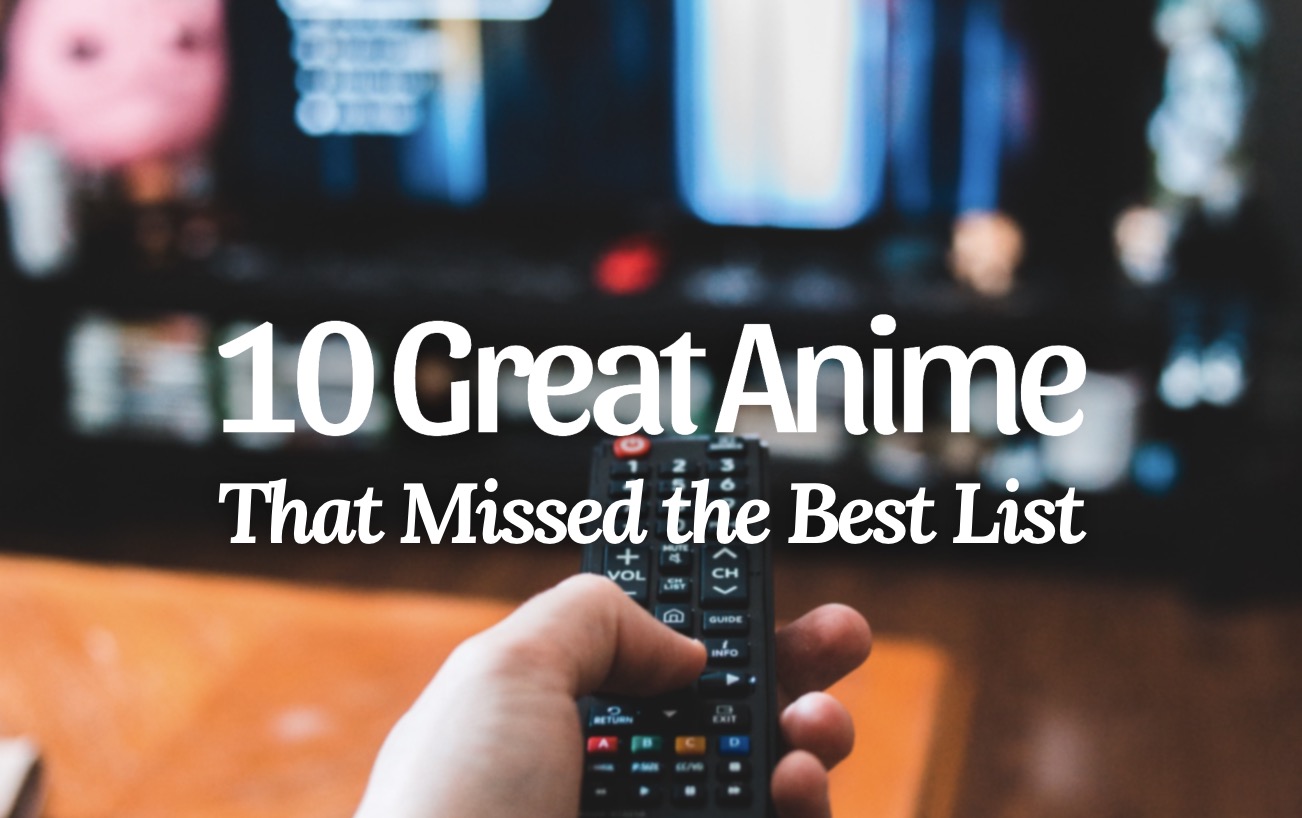 Anime, now globally popular, has a multitude of fans who create their own best of all time lists. I myself have written an article on the 30 Best Anime of All Time. It was no easy task to narrow down to just 30 works among the many masterpieces. However, I've now realized that there are recommendations outside of that top 30.
These are what you might call excellent works – not quite the "best", but they're great anime that come incredibly close. These anime can be recommended to beginners, and they serve as good recommendations since there's a relatively high chance that even anime fans might have missed them. In this article, I will introduce 10 high-quality, highly rated great anime.
If you're tired of the super-popular works that everyone selects as the best, please take this list as a reference!
1. Tokyo Ghoul: A Gritty Tale of Survival and Self-Discovery in a World of Ghouls and Humans
Tokyo Ghoul (東京喰種トーキョーグール) is a popular anime both in Japan and abroad, and some fans may consider it the best anime of the last decade. The popular dark fantasy manga series of Tokyo Ghoul, published on the Weekly Young Jump in 2011-2014, was adapted into an anime from 2014. And, the second title Tokyo Ghoul √A (東京喰種トーキョーグール√A) and the third part titled Tokyo Ghoul:re (東京喰種トーキョーグール:re) was aired in 2015 and 2018.
Tokyo Ghoul presents a compelling world where Ghouls, creatures that must consume human flesh to survive, live in disguise among humans. The story follows Kaneki, a young man who becomes a half-ghoul after a fateful encounter, thrusting him into this terrifying reality. Balancing high-stakes action with intricate character development, Tokyo Ghoul offers a unique exploration of identity and morality under extreme circumstances.
Air Dates: 2014-2018
Genre: Dark Fantasy
Recommended for Fans/Freaks
2. Code Geass: The antihero story of revenge
Some core anime fans include the Code Geass series in their top ten. It is popular among anime fans all over the world, starting with the first season Code Geass: Lelouch of the Rebellion (コードギアス 反逆のルルーシュ) in 2006-2007. The new story Code Geass: Lelouchi of the Re;surrection (コードギアス 復活のルルーシュ) hit the big screen as an anime movie in 2019.
Code Geass chronicles the tale of Lelouch vi Britannia, a strategic mastermind who embarks on a mission against the colossal Holy Britannian Empire, armed with the supernatural ability known as Geass. As he navigates through political intrigue and dangerous battles, Lelouch's complex character and the anime's intriguing exploration of power and morality make it a captivating viewing experience.
Air Dates: from 2006
Genre: Dark Fantasy, Mecha
Recommended for Fans
3. KonoSuba: God's Blessing on this Wonderful World!: The funniest comedy anime set in an Isekai
KonoSuba: God's Blessing on this Wonderful World! (この素晴らしい世界に祝福を!) is a good comedy Isekai anime, based on the light novel written by Natsume Akatsuki. The first season of KonoSuba was released in 2016 and the second one in 2017. An anime movie KonoSuba: God's Blessing on this Wonderful World! Legend of Crimson (この素晴らしい世界に祝福を!紅伝説) and a new series KonoSuba: An Explosion on This Wonderful World! (この素晴らしい世界に爆焔を!) were released in 2019 and 2023, which focus on one of the main characters, Megumin.
KonoSuba: God's Blessing on this Wonderful World! follows the comedic misadventures of Kazuma, a teenager who, after dying in an accident, is reincarnated in a fantasy world with the seemingly useless goddess, Aqua. Together with a party of eccentric characters, they navigate their new reality, often leading to hilarious situations.
Air Dates: From 2016
Genre: Isekai, Comedy
Recommended for Fans/Freaks
4. Gintama: A hilarious blend of action, sci-fi, and samurai, with a dash of heartfelt moments
Despite a long list of successful comedy series, Gintama (銀魂) is what many people pick up as one of the outstanding titles. There are four seasons that consist of over 350 episodes in the anime series aired between 2006 and 2018, which are based on the long-running manga series serialized on Weekly Shonen Jump from 2004 to 2018. The Gintama anime series is completed with three anime movies: Gintama: The Movie (劇場版 銀魂 新訳紅桜篇) in 2010, The Final Chapter: Be Forever Yorozuya (劇場版 銀魂 完結篇 万事屋よ永遠なれ) in 2013 and The Very Final (銀魂 THE FINAL) in 2021.
Gintama, categorized as science fiction and comedy, is set in an alternate Japan in the Edo period. The nation is controlled by the puppet government since the aliens called Amanto attacked it. The story focuses on a busy and funny life of a weird Samurai named Gintoki Sakata with his apprentice Shinpachi, a young alien heroine Kagura and other Samurai characters.
Air Dates: 2006-2018
Genre: Comedy, Science Fiction
Recommended for Beginners/Fans
5. No Game No Life: Various mind games of the genius protagonists
No Game No Life (ノーゲーム・ノーライフ), aired in 2014, is a beguiling anime adapted from the light novel series written by Yuu Kamiya. This gaming themed story is mixed with the genre of Isekai. It spins the tale of Sora and Shiro, reclusive siblings famed in the online gaming world as "Blank", an unbeatable duo.
Their lives take a thrilling turn when they are transported to Disboard, a world where all disputes are resolved through games, as mandated by its commandments. The pair navigate through this enchanting realm, using their superior strategic skills to challenge godly opponents and uncover Disboard's secrets.
Air Dates: 2014
Genre: Science Fiction
Recommended for Fans
6. Gurren Lagann: The good old mecha anime by Gainax
Gurren Lagann (天元突破グレンラガン), an original anime television series that premiered in 2007, quickly established itself as an electrifying force in the mecha genre. This series by Gainax and director Hiroyuki Imaishi, introduces us to Simon and Kamina, residents of an underground village, who dream of a life beyond their subterranean confines.
Their fate is forever changed with the discovery of a powerful mecha named Lagann. They embark on a daring adventure above ground, squaring off against beastmen and their monstrous mecha in a battle for the planet's future.
Air Dates: 2007
Genre: Mecha, Science Fiction
Recommended for Freaks
7. A Certain Scientific Railgun: Conflict between Sorcerers and Espers in the Academy City
A Certain Scientific Railgun (とある科学の超電磁砲), first airing in 2009, is a spin-off of the popular series A Certain Magical Index. Adapted from the same titled manga series serialized since 2007, the first season was made from 2009 to 2010, followed by the second season in 2013 and the third season in 2020. Though it didn't make the best list, the anime stands out for its nuanced characters, intriguing world-building, and engaging story arcs.
Set in Academy City, a place brimming with advanced technology and students possessing psychic powers, the show revolves around Mikoto Misaka, a student with powerful electric abilities. Misaka, a Level 5 esper, uses her abilities to uphold justice in a city riddled with dark secrets, providing viewers a dynamic mix of action, drama, and occasional comedic relief.
Air Dates: 2009-2020
Genre: Science Fiction, Action
Recommended for Fans/Freaks
8. Tokyo Revengers: The recent yanki-themed anime mixed with science fiction
Tokyo Revengers (東京リベンジャーズ) is a popular recent television series, adapted from the current manga series serialized on Weekly Shonen Magazine since 2017. The first season of the anime adaptation was broadcasted with 24 episodes, broadly welcomed by manga and anime fans.
A protagonist Takemichi Hanagaki, a unsuccessful 26 years old man, suddenly travels back in time 12 years. To save his ex-girlfriend who dies in an accident in the present time, he tries to change the past as a Yanki junior high schooler.
Air Dates: From 2021
Genre: Action, Science Fiction, Thriller
Recommended for Fans/Freaks
9. Yu-Gi-Oh!: The classic card-game franchise
The popular anime series Yu-Gi-Oh! (遊☆戯☆王) started in 1998, based on the Weekly Shonen Jump manga. The symbol of the anime is the trading card game Yu-Gi-Oh! Duel Monsters, which has been played worldwide since then. The second season of the anime series Yu-Gi-Oh! Duel Monsters (遊☆戯☆王デュエルモンスターズ) released in 2000 popularized the card game and the anime itself, and the new series is still ongoing.
The protagonist, Yugi Moto, solves an ancient Egyptian puzzle and gets inhabited by a gambler spirit. Together, they partake in numerous high-stakes Duel Monsters card games, battling dangerous foes, uncovering secrets of Yugi's past, and forging enduring friendships along the way.
Air Dates: from 1998
Genre: Fantasy
Recommended for Fans
10. Eureka Seven: The "Boy Meets Girl" in the sci-fi mecha world
Eureka Seven (交響詩篇エウレカセブン), also known as Psalms of Planets Eureka Seven, is a 50-episode mecha anime series that aired in Japan from 2005 to 2006. The series, produced by Bones, offers a compelling blend of action, romance, and coming-of-age themes. After its sequel Eureka Seven: AO (エウレカセブンAO) aired in 2012, Eureka Seven: Hi-Evolution (交響詩篇エウレカセブン ハイエボリューション), the anime movie series based on the first series was released in 2017, 2018 and 2021.
Eureka Seven centers on Renton Thurston, a young mechanic living a dull life in a secluded town. Things take a thrilling turn when Eureka, a member of the mercenary group Gekkostate, crashes into Renton's life. Driven by newfound love and adventure, Renton joins Gekkostate, setting him on an epic journey filled with colossal mechs, surfing the skies, and complex characters.
Air Dates: 2005-2012
Genre: Fantasy
Recommended for Fans/Freaks
For more anime recommendations, check these lists below, too!
▽Related Articles▽
▼Editor's Picks▼
---