Fast DOCTOR: Japan's leading medical visit service
Domicile medical attention in Japan with English services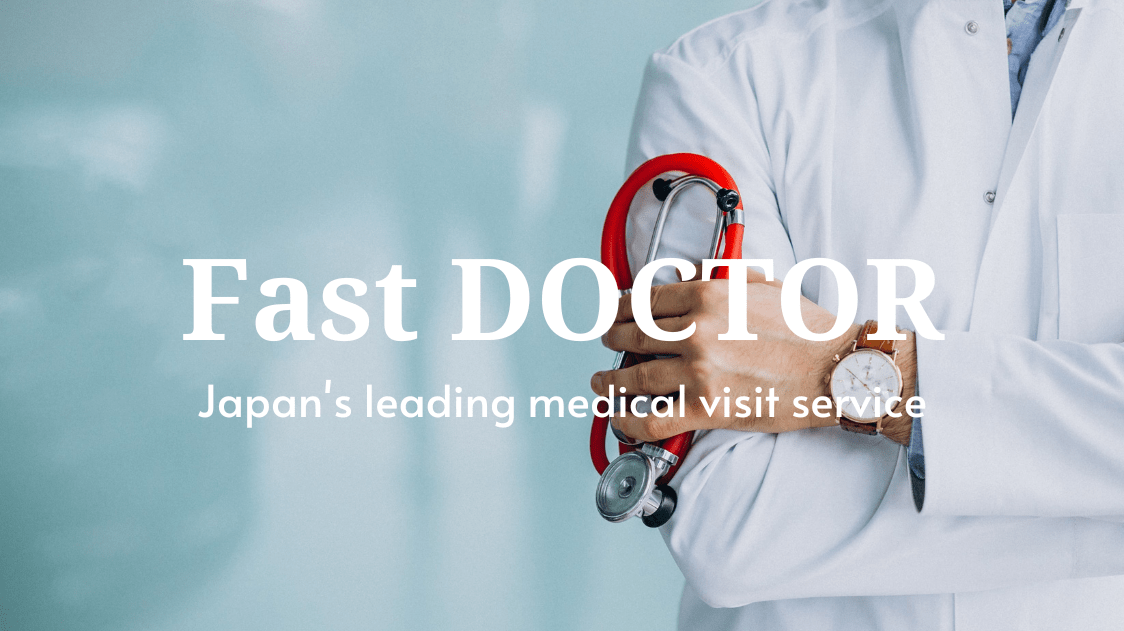 When traveling abroad, one of the biggest worries you might face is what to do in the event of an emergency, falling ill being one of the most common.
Normally, travelers may rely on over-the-counter medications brought from home or purchased at local pharmacies for minor symptoms. However, if symptoms worsen, the next step might be to consult the hotel or embassy for nearby clinics or hospitals. But what happens if these are closed due to the time of day or holiday?
Fortunately, there is a solution to these potential issues: Fast DOCTOR, a medical visit service in Japan with an extensive network of doctors. Fast DOCTOR provides patients with medical care in their homes or hotel rooms, eliminating the need to find and visit a clinic.
In this article, we will explore how Fast DOCTOR could be a life-saving service during your visit to Japan, offering a convenient and comfortable alternative for those who prefer not to visit a clinic or simply need a prescription.
*Please note that this article contains affiliate links.
---
Fast DOCTOR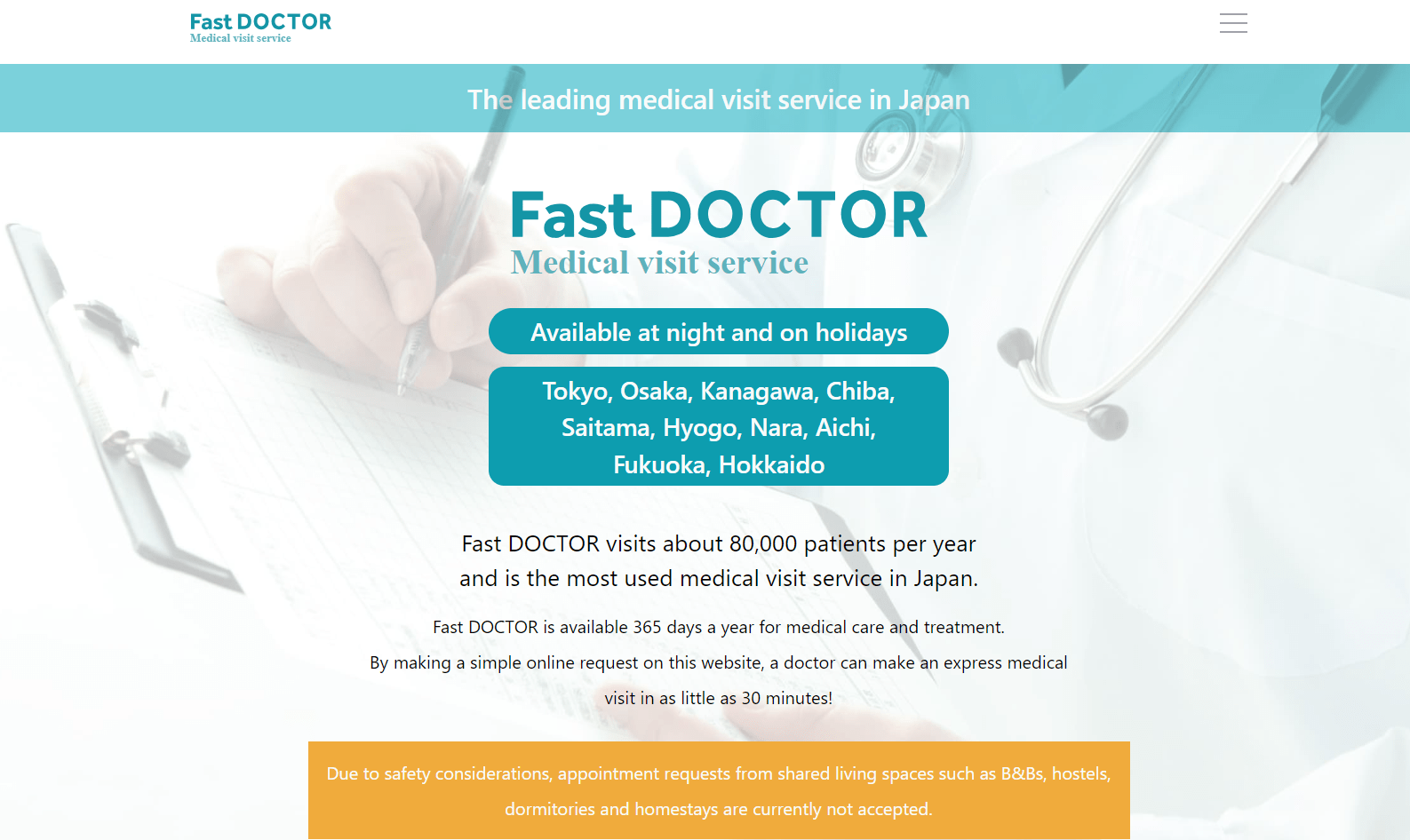 What is Fast DOCTOR?
Fast DOCTOR is Japan's premier medical visit service, offering comprehensive healthcare solutions directly to your home or hotel room. With an extensive network of skilled physicians, Fast DOCTOR ensures that you receive prompt and professional medical care, all within the comfort of your personal space. Their doctors are adept at performing a variety of medical examinations and can prescribe more than 70 types of medications, catering to your non-emergency medical needs.
The service is tailored to cater to the needs of foreign visitors. By collaborating with a medical translation company, they ensure that language barriers do not impede your access to quality healthcare. This makes Fast DOCTOR an ideal solution for international tourists who may find navigating the Japanese healthcare system daunting.
Scheduling a doctor's visit is a breeze – simply call or make an online request through their website, and a doctor can be at your doorstep in as little as 30 minutes, depending on availability. Their services are available 365 days a year, during nights and holidays, making it a reliable option when you need medical attention during the closing hours of usual clinics.
With over 80,000 patients attended to annually, Fast DOCTOR is not just the leading medical visit service in Japan but also the most trusted and preferred choice for both locals and foreign visitors alike.
▶︎Click here to go to Fast DOCTOR's official website
How to use Fast DOCTOR?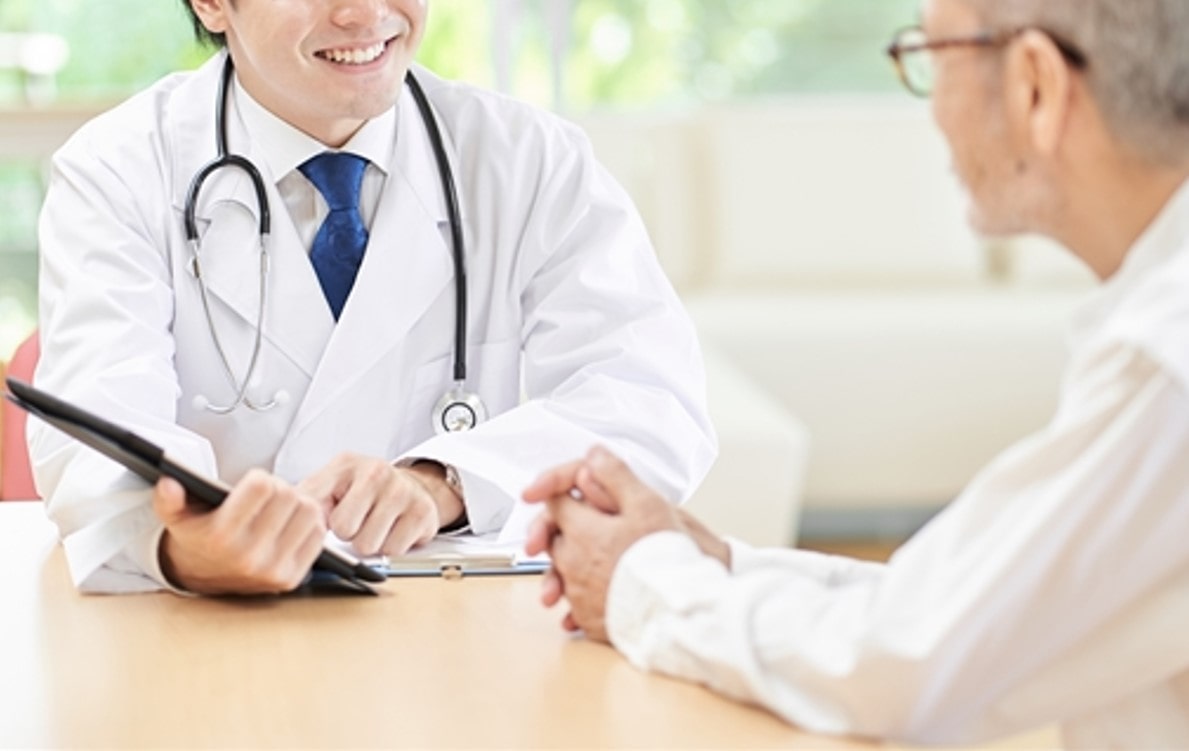 As I previously mentioned, booking a Doctor's visit with Fast DOCTOR is really simple.
First, you need to call or make an online request through the Fast DOCTOR website. Once you've filled in the web form and requested an appointment on the website, they will send you a Zoom invitation via email for a preliminary assessment of your needs. During this call, the operator will ask you a few questions and assist you in scheduling an appointment, all in English for your convenience. The appointment will be confirmed once your payment is done.
Then, the doctor accompanied by an assistant will come to your hotel or place of stay. If deemed necessary, the doctor will prescribe medication.
Post-treatment, you will receive a medical certificate from the doctor, followed by an email receipt within 72 business hours. These documents can be utilized to seek reimbursement from your international travel insurance, provided your condition is covered by your policy, once you return to your home country.
*Note: Appointment requests from shared living spaces (B&Bs, hostels, dormitories, homestays, etc.) are currently not accepted due to safety reasons.
Available Treatments
Fast DOCTOR conveniently brings medical care to patients in their homes or hotels.
Some of the medical examinations available go from sore throat, cough, common cold, cuts/scratches, and sprains to asthma, allergies, high fever, vomiting, diarrhea, and deep vein thrombosis.
They also have an extensive variety of testing services which include antigen tests, influenza, mycoplasma, adenovirus, streptococcus, urinalysis, X-ray, blood pressure, electrocardiogram, ultrasound, and more.
*Note: Should a patient require more extensive examination or treatment than can be provided during the home visit, the doctor may recommend hospitalization.
Coverage Area
Areas of Coverage include: Tokyo, Osaka, Kanagawa, Chiba, Saitama, Hyogo, Nara, Aichi, Fukuoka, and Hokkaido. However, even if you're not sure whether service coverage is available in your area, be sure to contact them to check.
Pricing
The fee per visit is 80,000 yen, plus a 10% tax. This covers the cost of diagnosis, treatment, medications, and transportation.
If you hold international travel insurance, you may be eligible for reimbursement of the medical visit fee. Please consult your insurance provider to understand the specific coverage limitations.
Reception Hours & Visit Hours
When it comes to scheduling an appointment, Fast DOCTOR's reception is open from 4 p.m. to 1 a.m. on weekdays and from 12 p.m. to 1 a.m. on weekends. Supported languages are English, Chinese, Cantonese, Hokkien, and Korean.
As for medical visit availability, the doctors are on-call from 6 p.m. to 6 a.m. from Monday to Saturday, and they offer 24-hour availability on Sundays and holidays. Fast DOCTOR ensures medical visits 365 days a year.
This extensive availability demonstrates their commitment to providing accessible and convenient healthcare services whenever you may need them.
▶︎Click here to go to Fast DOCTOR's official website
---
I hope this article was helpful to you. As I previously mentioned, Fast DOCTOR could be a life-saving service during your visit to Japan. Although the best would be to simply not get sick during your trip, it is always good to keep these kinds of helpful services in mind just in case you might need them.
▽Subscribe to our free news magazine!▽

For more information about medication in Japan, check our other articles below.
▽Related Articles▽
▼Editor's Picks▼
---