Delicious Japanese Home Cooking Class in Shinjuku Tokyo
The best way to experience Japanese food culture! Join the cooking class by LocalBites!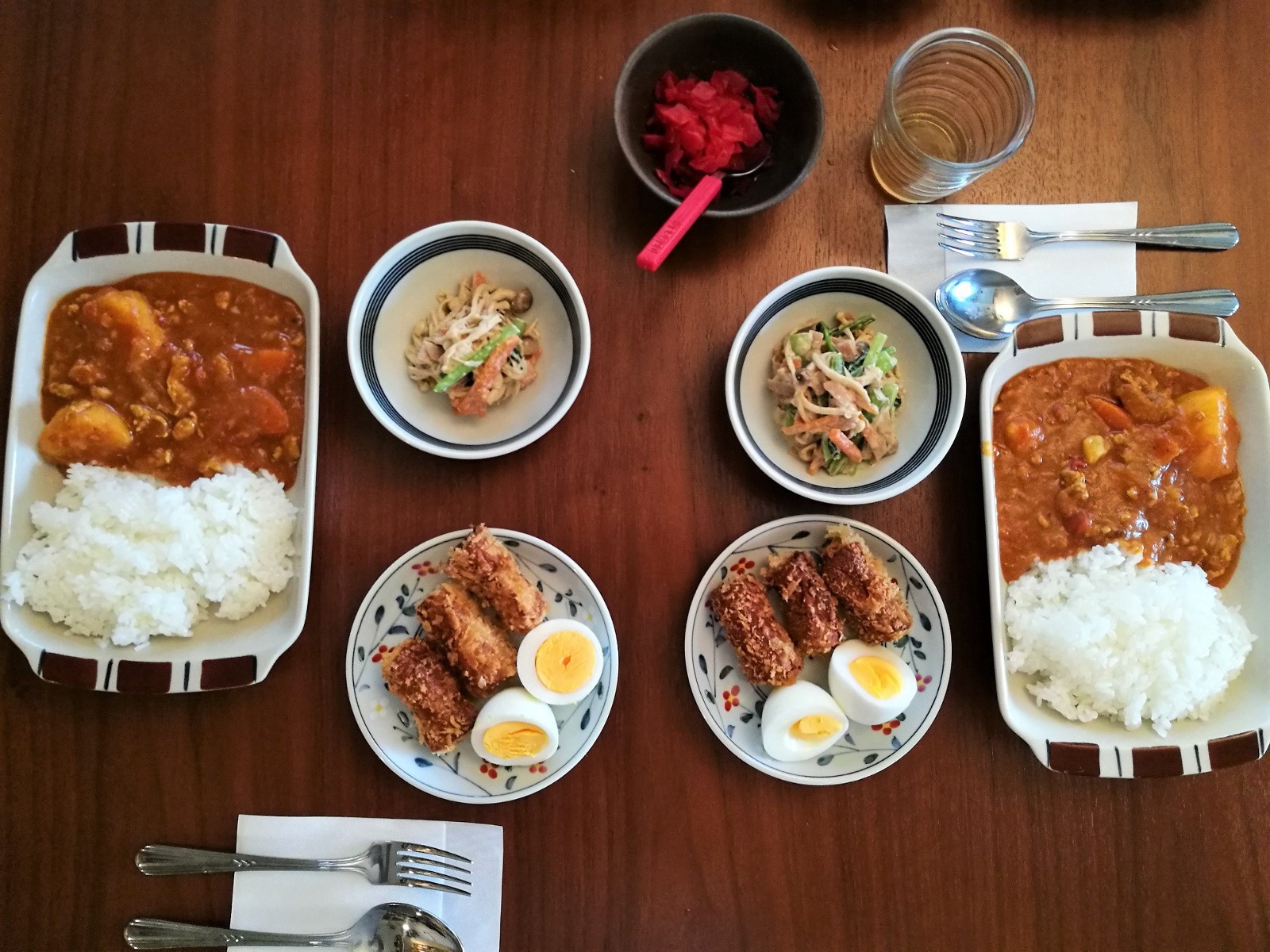 As Japan is situated in far far east, many travellers to Japan come a long way from home and with very different cultures. If you are one of them and seeking for one in lifetime experience in Japan, I'd highly recommend you to join one of cultural activities during the trip. Among many cultural activities available today in Japan, I'd say cooking classes are one of the best choice. Why??
What is the most attractive thing about Japan? I think it's fair to say that food is one of the most interesting and attractive parts of the country. Japanese food is very unique and special, and many foreign travellers come to visit Japan to have wonderful food experiences. While many travellers head to fancy Japanese restaurants such as a long established Sushi restaurant and a Michelin starred Tempura restaurant to enjoy top-notch Japanese dishes, nowadays many attend cooking classes and enjoy their self-made Japanese dishes.
Joining a cooking class is not only that you can eat what you make by yourself, but also you can learn some valuable Japanese cooking method and techniques from locals, bring it back home and cook for your friends and family. I can assure that cooking classes can make your Japanese food experiences more special and memorable.
I have recently joined a Japanese home cooking class in Tokyo, and I'd love to share my wonderful experience with everyone in this article. I have booked "Japanese Style Curry Rice Cooking Class" hosted in Shinjuku, one of the most vibrate areas in Tokyo. Please check out my wonderful cooking experience of Japanese home cooking class 🙂
*Please note that this article contains affiliate links.
Cooking Class
Let me just say it first, "If you underestimate "Home Cooking", the teacher Sato will blow your mind!!"
The class was hosted by COMBURGER which is owned by the teacher Sato (I call him Sato san).
The meeting point was Shinjuku Station East Exit Police Box. Even though it's a MEGA station, the meeting point was very easy to spot! The teacher was standing there with a placard said COMBURGER, and soon after meeting one more guest, he took us to his place which was approx 5 mins walk. (very near Golden Gai: the famous street where smalls bars are lined)
At the beginning of the class, Sato san introduced himself and his unique background, and handed us the recipe and aprons. The ingredients that we were going to use for the cooking were placed beautifully on the table, and he briefly explained us where vegetables were from and usages of them.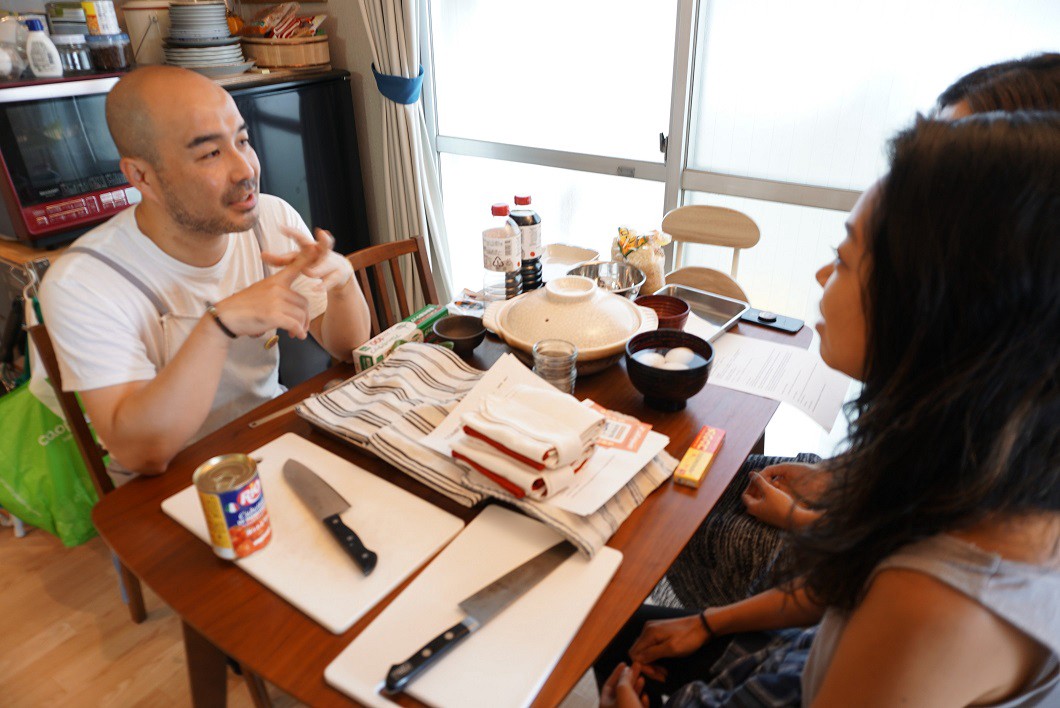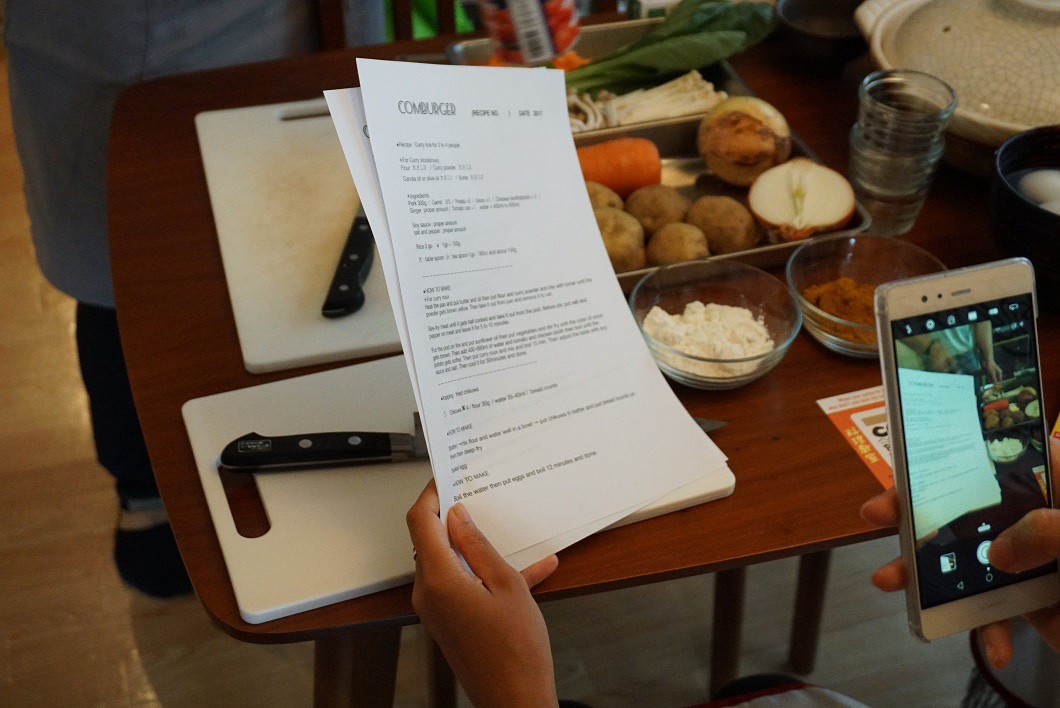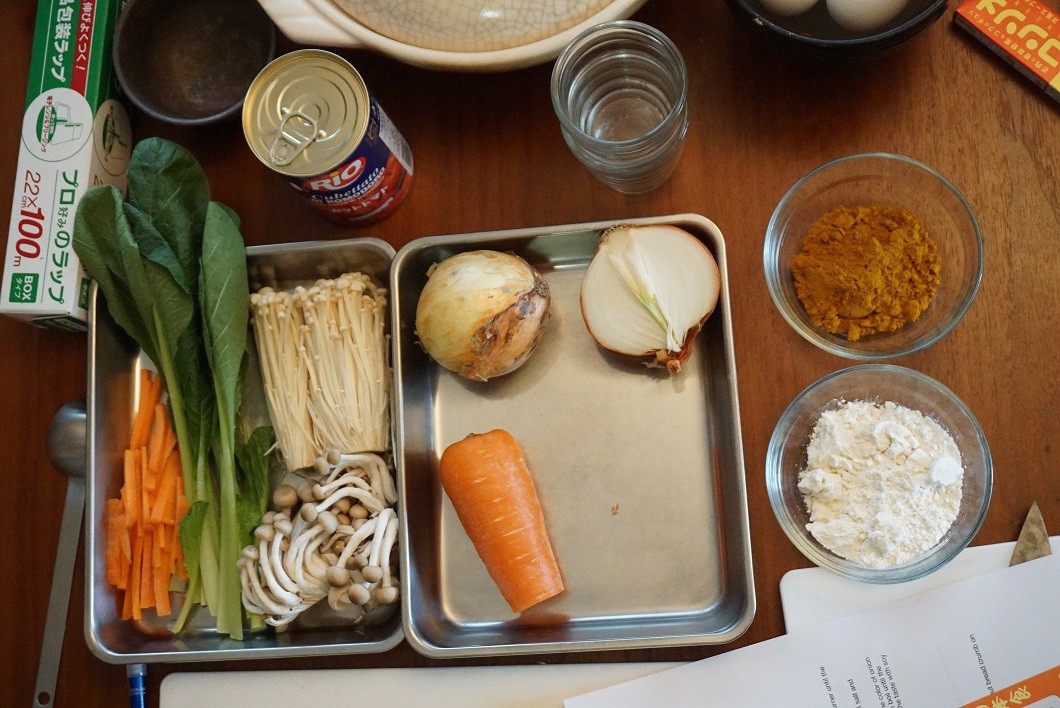 On this class, we were going to make Japanese style curry rice, toppings (boiled eggs and deep fried Chikuwa) and Komatsuna salad, everything from scratch! He started showing us how to make curry roux, and meanwhile asked us to cut vegetable and prepare for other dishes. I noticed Sato san was very organised and tidy, but at the same time, he was very relaxed and fun to talk as he was always telling us interesting stories!
He has a huge knowledge about food from self-learning as well as a big influence from his family, especially his grandfather. He also spent some years in abroad so he has a big understanding of foreign cultures, too. So don't be scared if you don't know the table manner of Japan or not very familiar with cooking! He is very kind and welcomes every guest 🙂
During the class, he shared with us many of his knowledge and techniques of cooking. One of the most interesting things during the class was his special way to cook rice. As he calls himself as "a rice freak", his passion for rice made him to search for the perfect way to cook rice. Although most of people cook rice in electric cookers in Japan, he uses a Donabe pot, which is a traditional Japanese cooking utensils since many years. It was a total surprise that you can cook rice within 10 mins with Donabe pot! He also selects rice that goes well with water in Tokyo after trying many different kinds.
He also mentioned us about the Miso soup which was also one of his specialties. His grandfather started a Miso factory in Hokkaido, and now his mother makes Miso.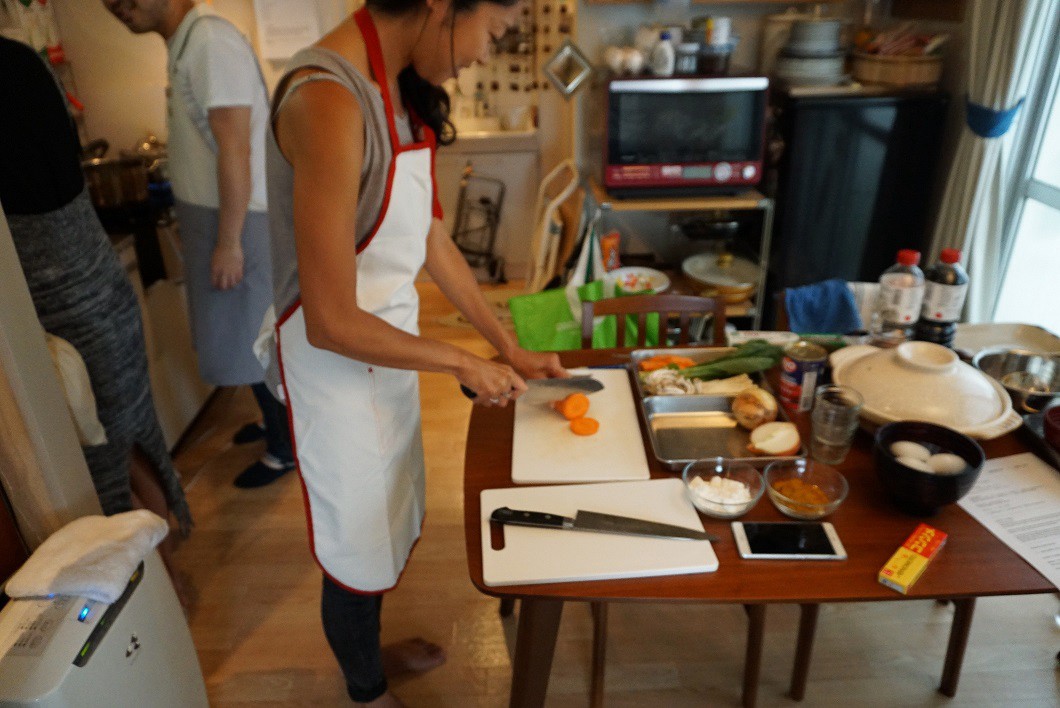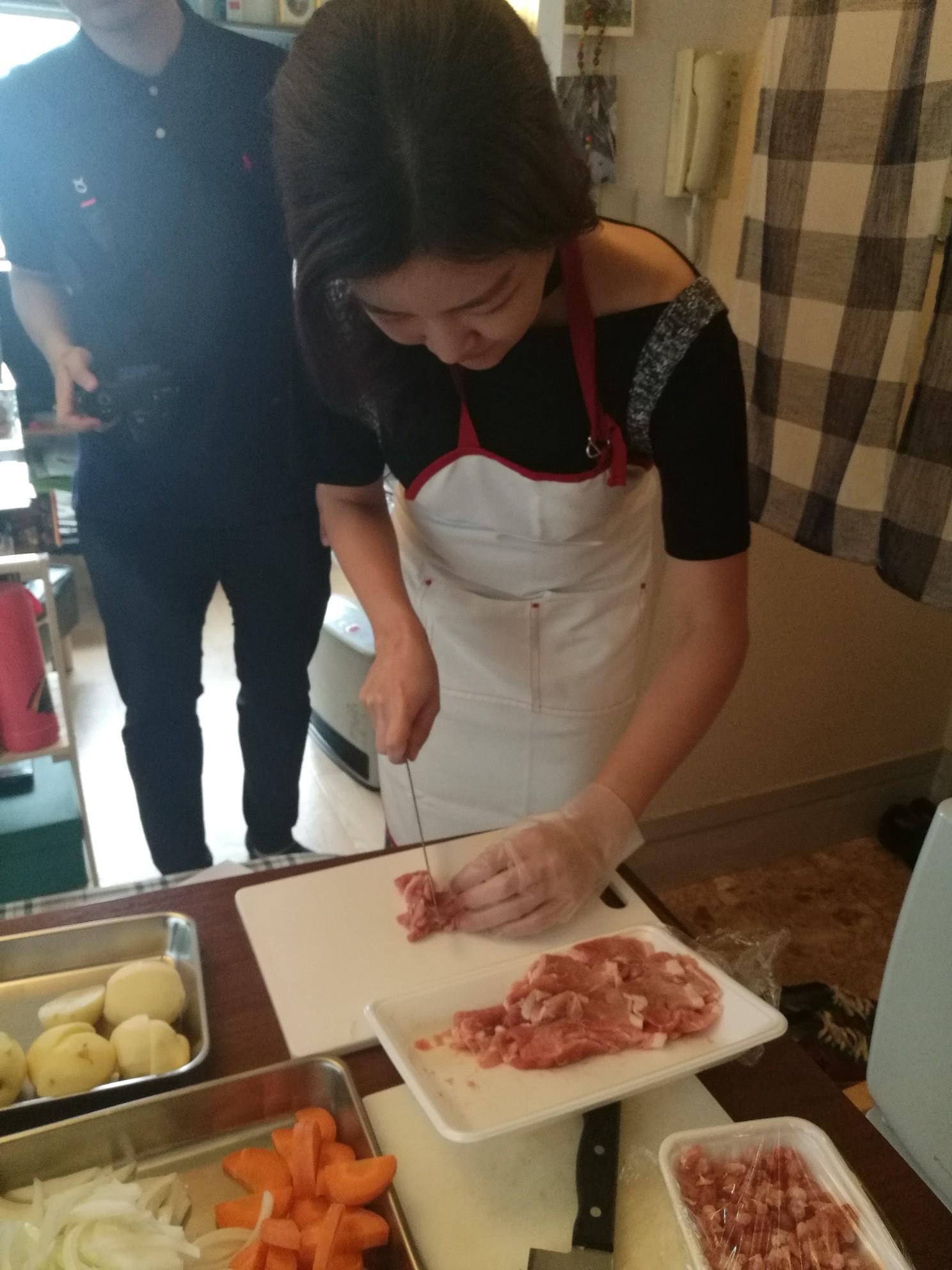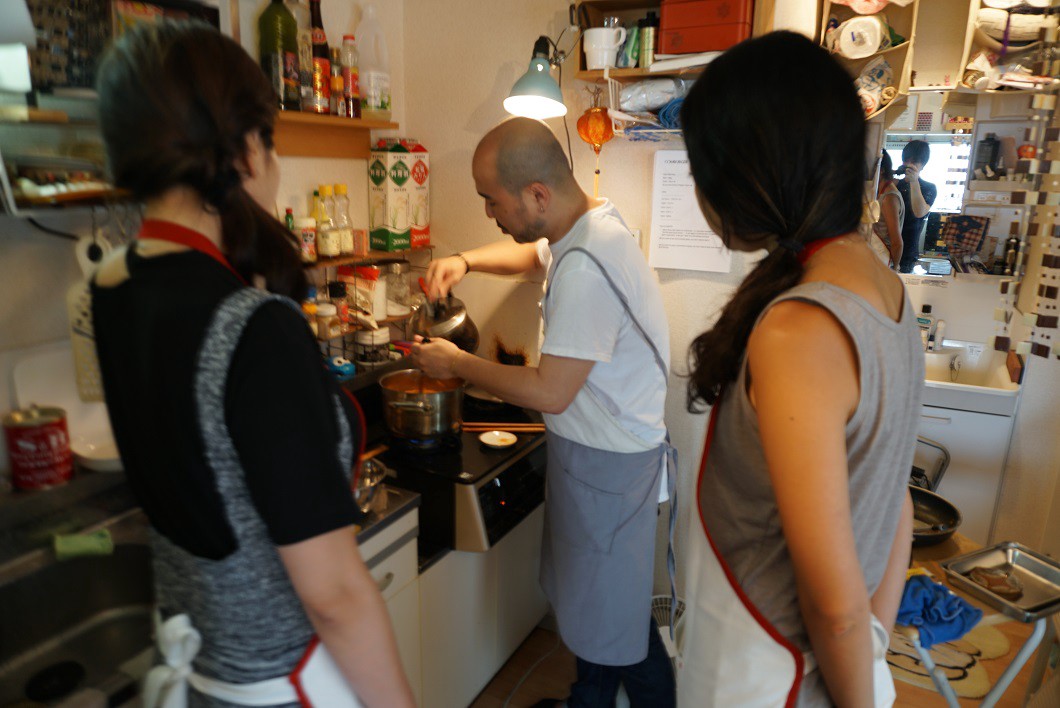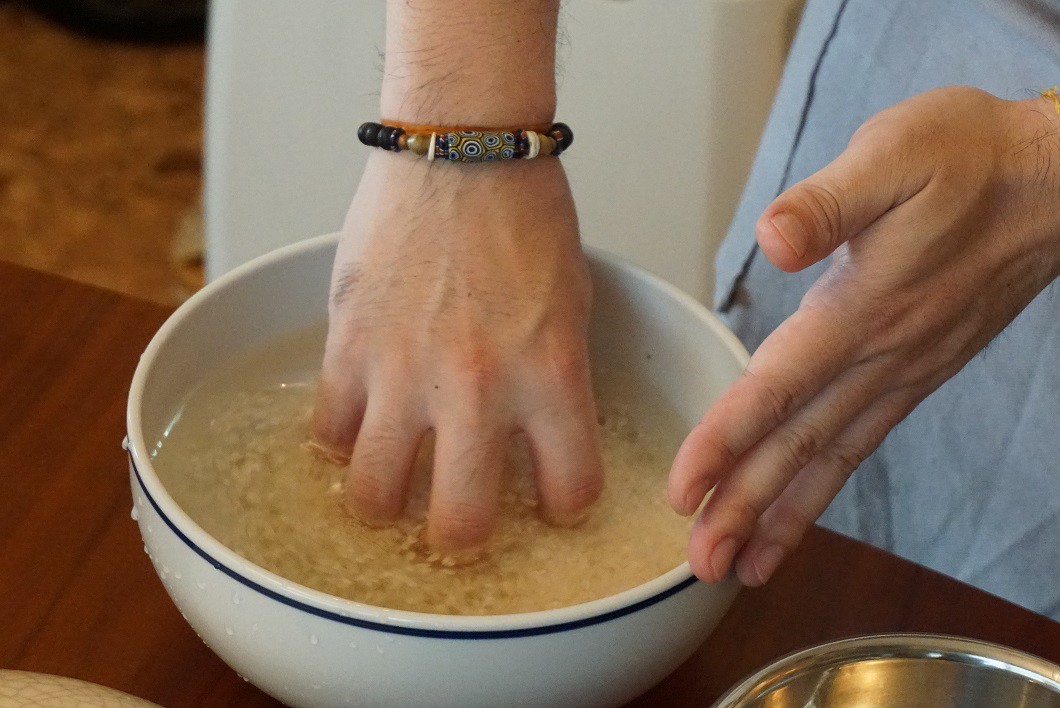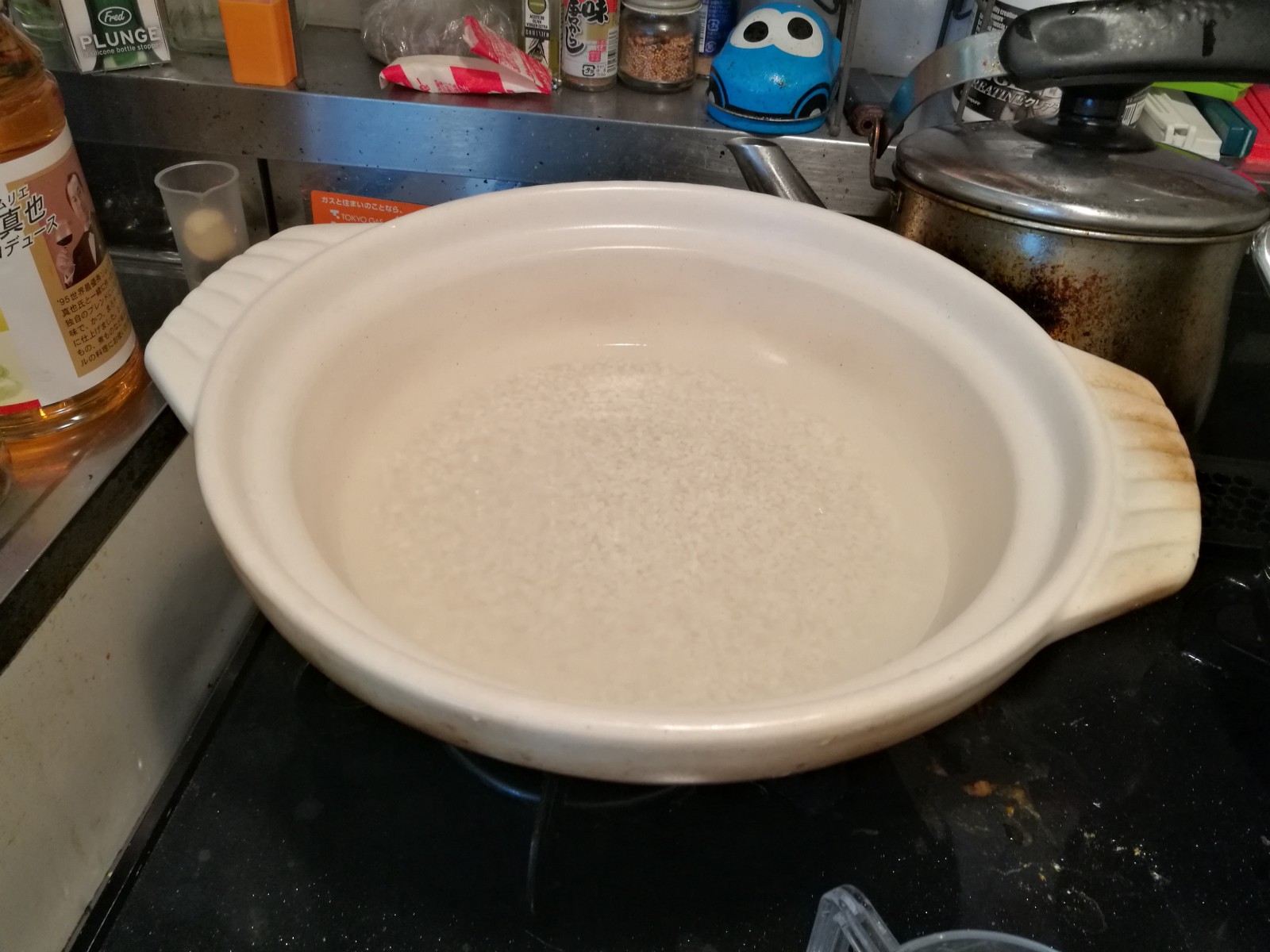 It took us about 1.5h to cook all dishes: curry, rice, toppings and salad. I don't wanna describe so much about the cooking process here because I really want everyone to join his class and see how awesome the way he cooks! He is an awesome teacher and his dishes are very original that you wouldn't find them anywhere else 🙂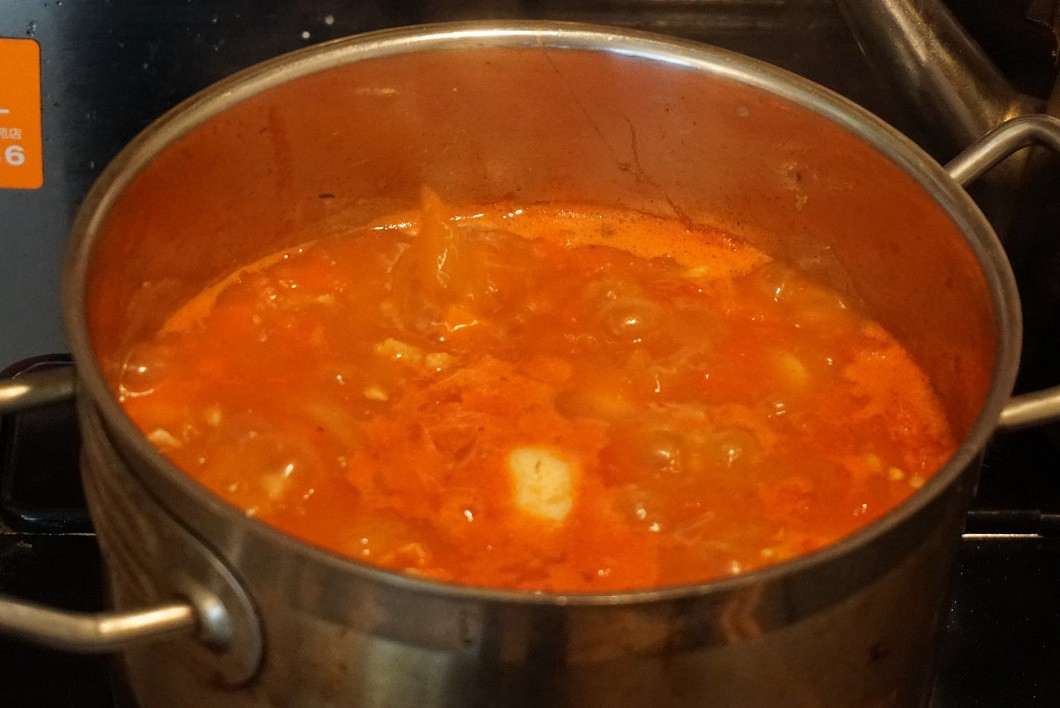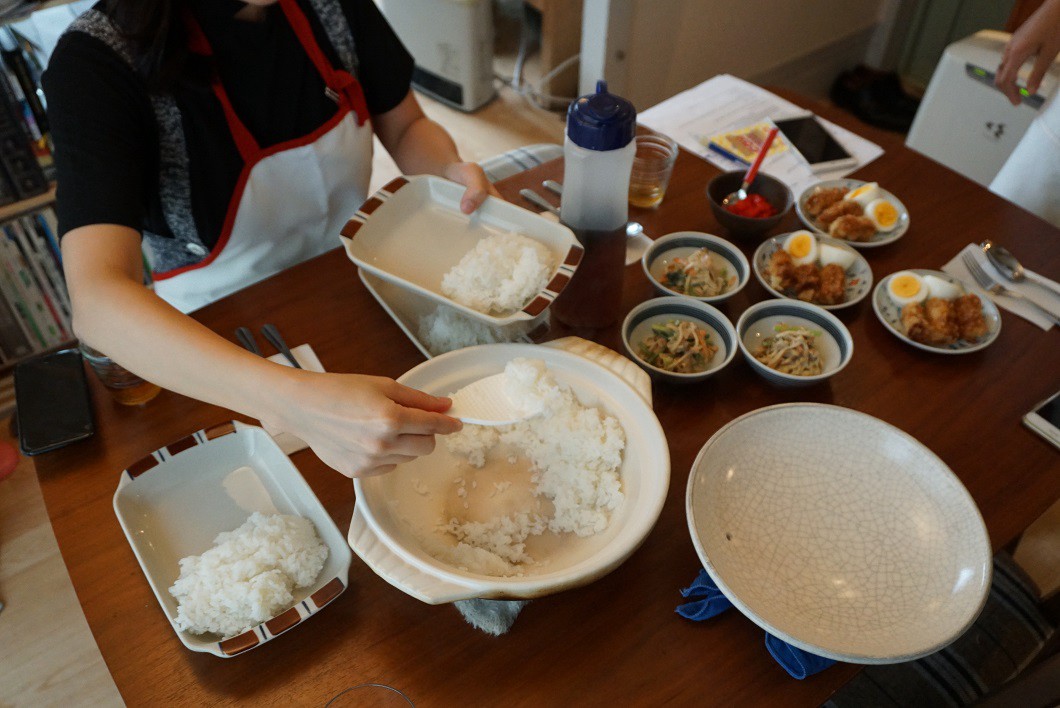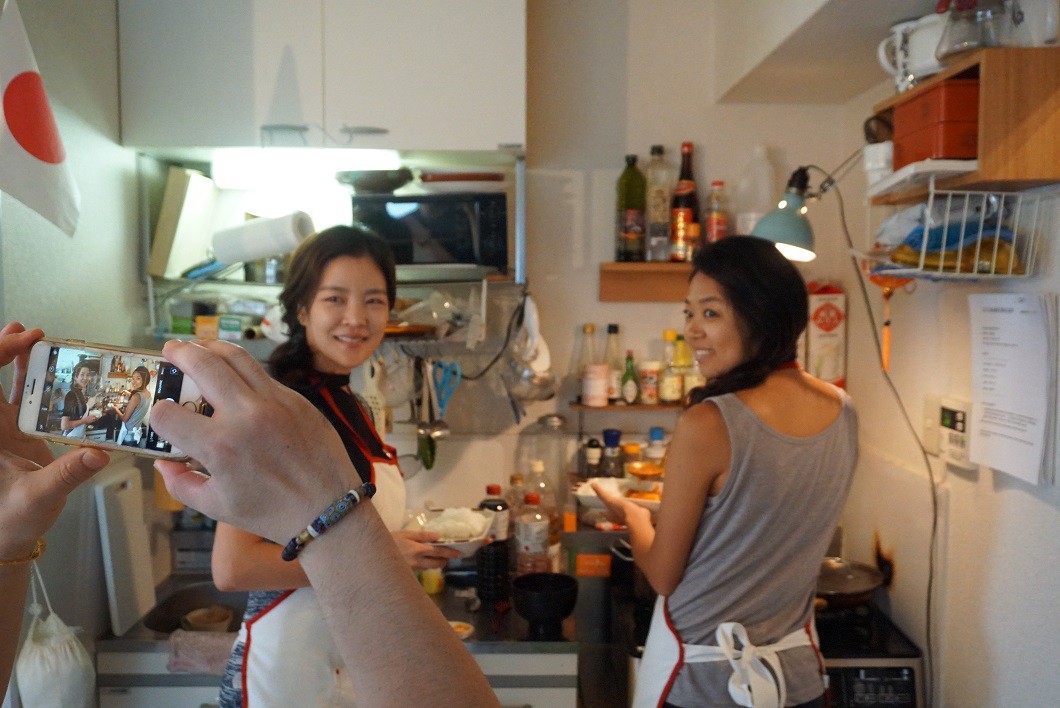 Needless to say, but the best part of the class was.. of course TASTING 🙂
Sato san selected plates and set the table elegantly, and gave us enough time to take lots of photos before started eating 😉 Thank you!
The curry we made was totally awesome. I would say it was not typical Japanese curry that I have ever tried, yet not extremely spicy like Indian or Thai curry.. I'd describe it as Sato san's original curry! It had the perfect balance of mildness, spice, density, refreshing flavour of tomato sauce and lots of UMAMI!! 🙂 Also the side dishes went perfectly good with the curry rice! The combinations of curry, boiled egg, deep fried Chikuwa and the Komatsuna Salad with wasabi dressing could not get any better, I swear!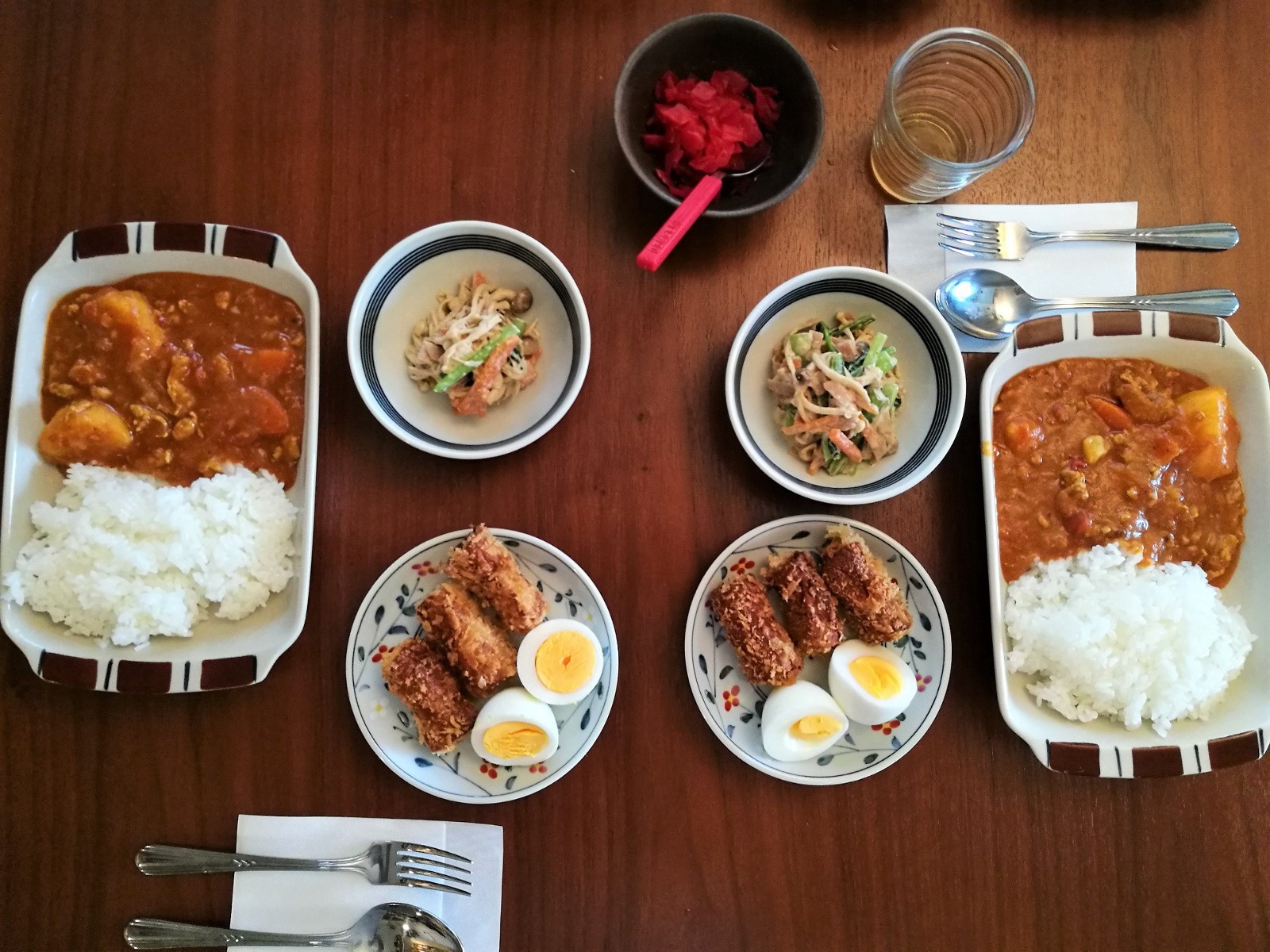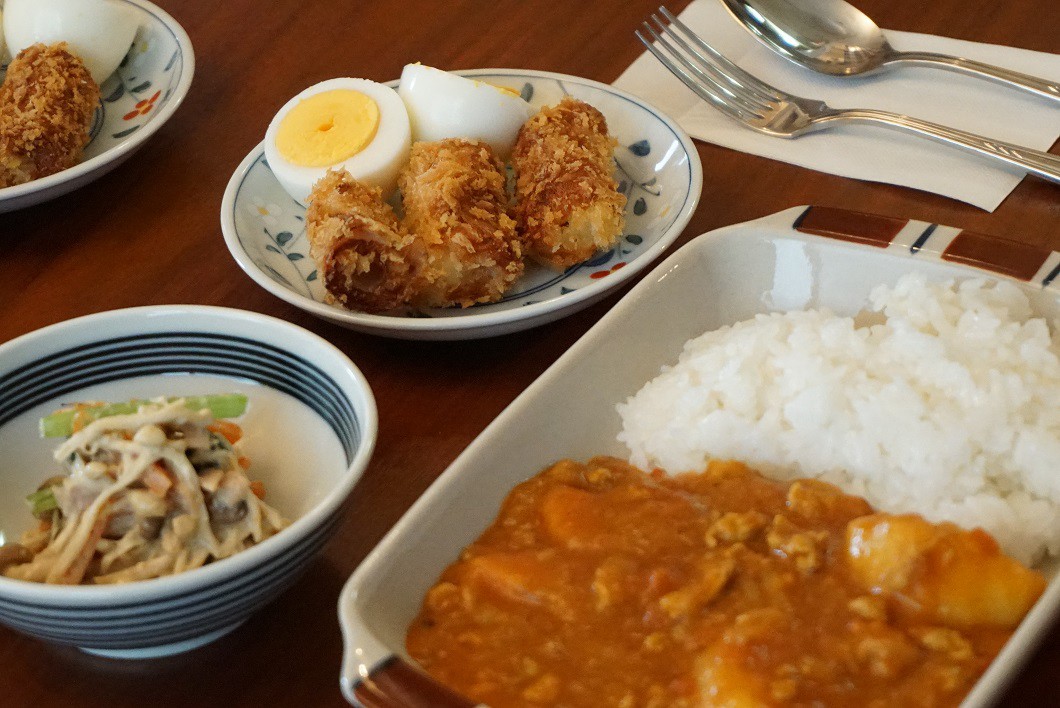 It did not take me long to finish the dish! Such a great lunch and delightful noon that I would not wish to be anywhere else 😉
Thank you Sato san for such a jolly moment. I enjoyed chatting with you as much as eating your dish!
After the class, I realised the class was not only about learning how to cook "Japanese dish", but it more like learning how to cook "Sato san's original Japanese dish" which is not something you can find anywhere else, even in a great restaurant.
I really felt like going home with his recipe and make the same dish to my family and friends so that I can also share this experience with those I love. His class also reminded me that sharing happiness is a great essence for cooking 😉
I 100% recommend his class to everyone who visit Tokyo, not only because you can eat self-made delicious Japanese dishes but also you can learn the special home cooking and bring it back home. Also, his class is held at the popular district of Tokyo, Shinjuku so it's very accessible and convenient to join the class along with your visit to sightseeing and shopping spots in Shinjuku area.
No wonder why he gets a lot of repeaters to his class cos I'm pretty sure that I'll be one of them, too! I can't wait to learn more of home cooking dishes from Sato san!!
Overall
Sato san's class is not only where you can learn about Japanese home cooking but you can simply have a great time as he is an awesome person to spend time with.
Many cooking classes in Japan offer "traditional Japanese cooking experience" such as making Sushi, Tempura, Noodles, etc, and yes, they are the most signature dishes of the country and surely it's a great experience to make them. However, when it comes to "learning", would you make these dishes back home? Do you get all ingredients for the dish easily in your country??
Most of ingredients that we used at this class could be found easily at supermarkets in Japan, and I'm pretty sure in abroad, too.
COMBURGER introduces home cooking of popular and common Japanese dishes, and the useful tips that can be brought back home and cook by yourself easily, and of course super delicious. Not extremely fancy or lavish, Sato san's cooking style is real home cooking with simple ingredients, no special skills needed, but all you need is a great knowledge and techniques like him.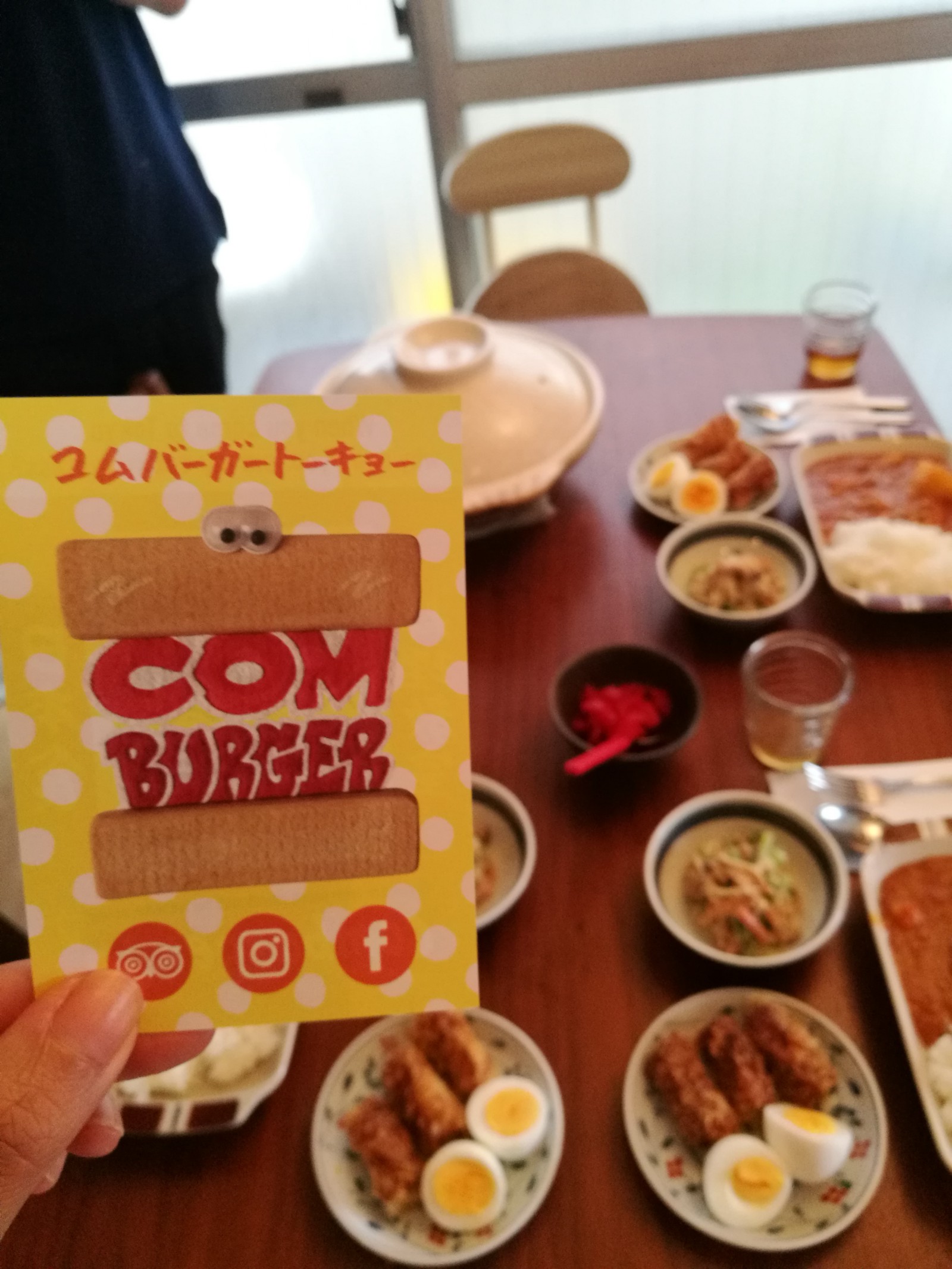 Sato san takes home cooking to another level. With his superb cooking method, simple dishes can turn into the most delicious and special ones, which you wouldn't find even at restaurants cos dishes are made based on Sato san's very own original recipe.
His class proves that to make delicious Japanese dishes, we do not necessarily use finest or most expensive ingredients. He is a living proof that not every greatest chefs works in a restaurant!
Teacher
The Japanese cooking class COMBURGER is owned by Mr. Sato who is an amazingly skilled cooking teacher specialised in Japanese home style cooking. He is originally from Hokkaido, the great northern land gifted with the gorgeous nature and crop fields.
His class is full of fun as he is an artistic, enthusiastic and friendly person that anybody would enjoy chatting and spending time with 🙂 Besides, his passion for food and attention to details are so admirable such as in presentation, carefully selected ingredients, self-taught cooking method.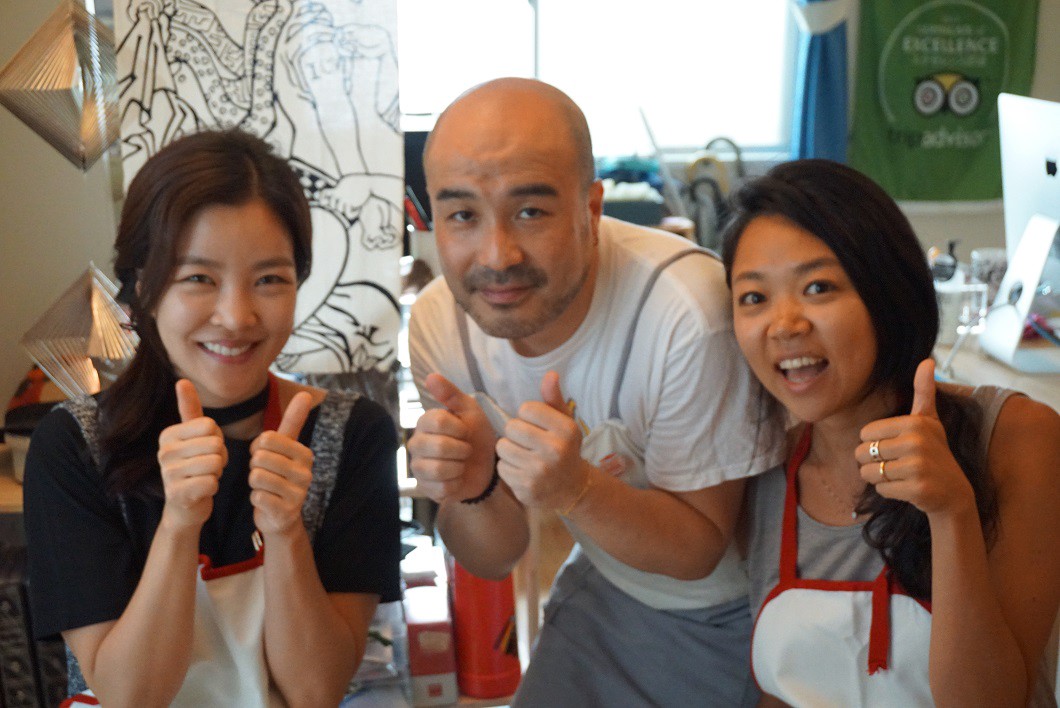 His menu is not based on simple recipes that you can find ordinal cooking books, but it's a precious method of cooking that Sato san discovered after spending years with his passion for cooking and hospitality mind as well as things that he also learned from his family in his childhood.
He also spent many years in abroad, so he speaks fluent English and has great knowledge about foreign culture, too (as well as great sense of humor!). Sato san is very flexible so he'd be happy to accommodate with requests from guests 🙂
Sato san is based in Shinjuku area, the most vibrant district of Tokyo, and besides cooking, he also hosts a walking tour everyday after his lunch class introducing local hidden gems of the district. The tour is exclusive for his guests and it's highly recommended as he can show you around Shinjuku and places that you wouldn't find on guide books! → Official Website
COMBURGER
Sato's cooking class: COMBURGER is one of the most popular cooking classes in Tokyo! The class is held at his apartment in Shinjuku, Tokyo. Introducing delicious home cooking Japanese dishes, which are simple yet very special based on his own recipes! Their menu includes popular Japanese dishes such as CURRY RICE, GYOZA, TEISHOKU (JAPANESE COMBINATION MEAL), DONBURI (RICE BOWL) and more! (Feel free to request if you have any preferences)
COMBURGER has been extremely popular since launch two years ago, and it has already received the certificate of excellence by Tripadvisor for the two years in a row. As you can find, COMBURGER's Tripadvisor page is full of happy comments! (all 5 stars.. WOW!)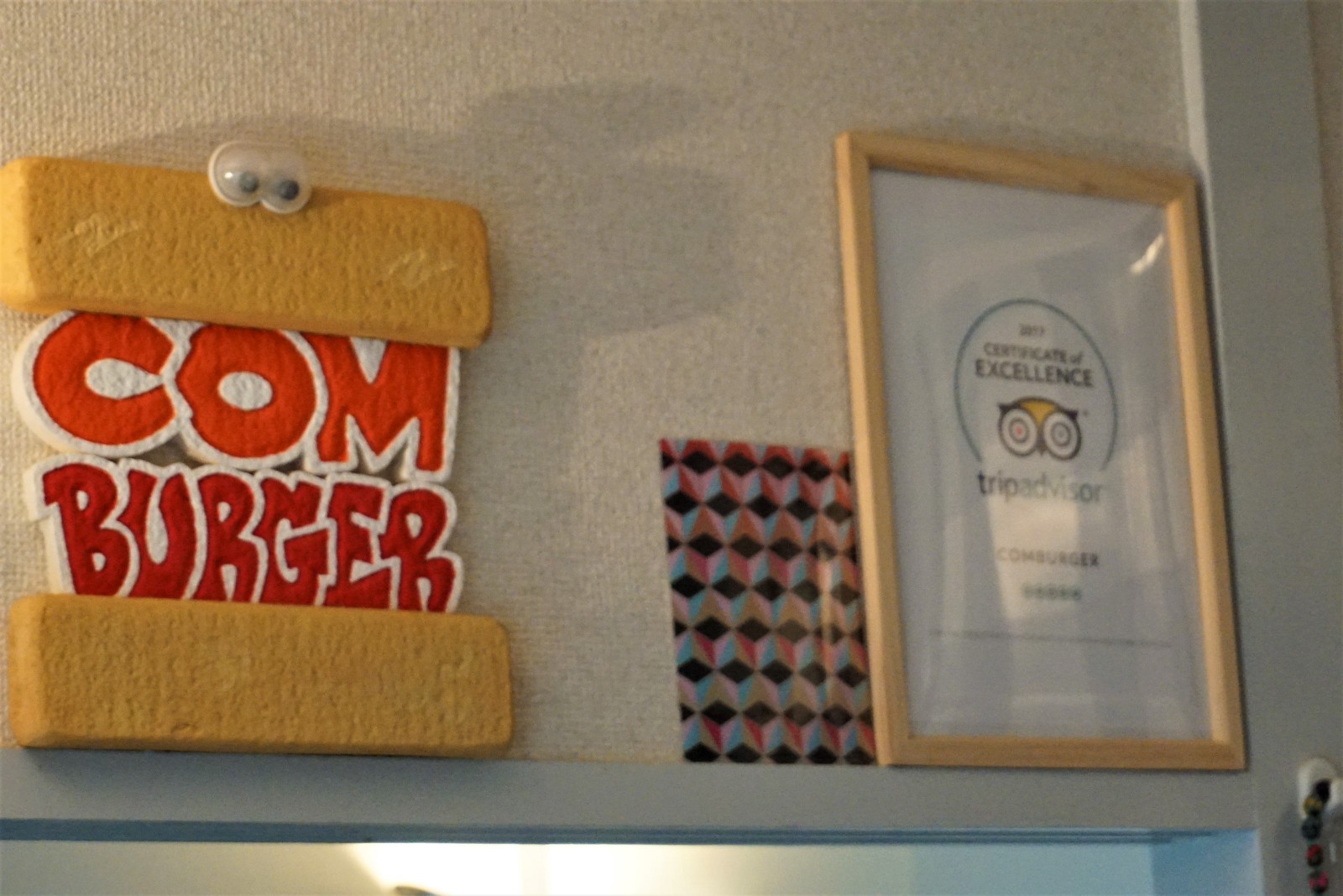 Make sure to book his class in advance and never miss a chance to experience the most wonderful Japanese home cooking experience in Tokyo! His class is suitable from 1–3 people.
Besides curry, there are various Japanese home cooking dishes available such as Gyoza, Karaage, Yakisoba and Okonomiyaki. Vegan and gluten free options are also available. The class is usually held for lunch (10:30 am to 1:00 pm) or Dinner (6:00 pm to 8:30 pm)
See more details from the Official Website!
I hope you've all enjoyed reading my cooking experience in Tokyo! For more unique and fun things to do/see in the city, please check out my other articles listed below!
▽Related Articles▽
▼Editor's Pick▼
---