8 Unique Themed Restaurants and Bars in Shinjuku
Best Crazy Themed Restaurants and Bars in Shinjuku, Tokyo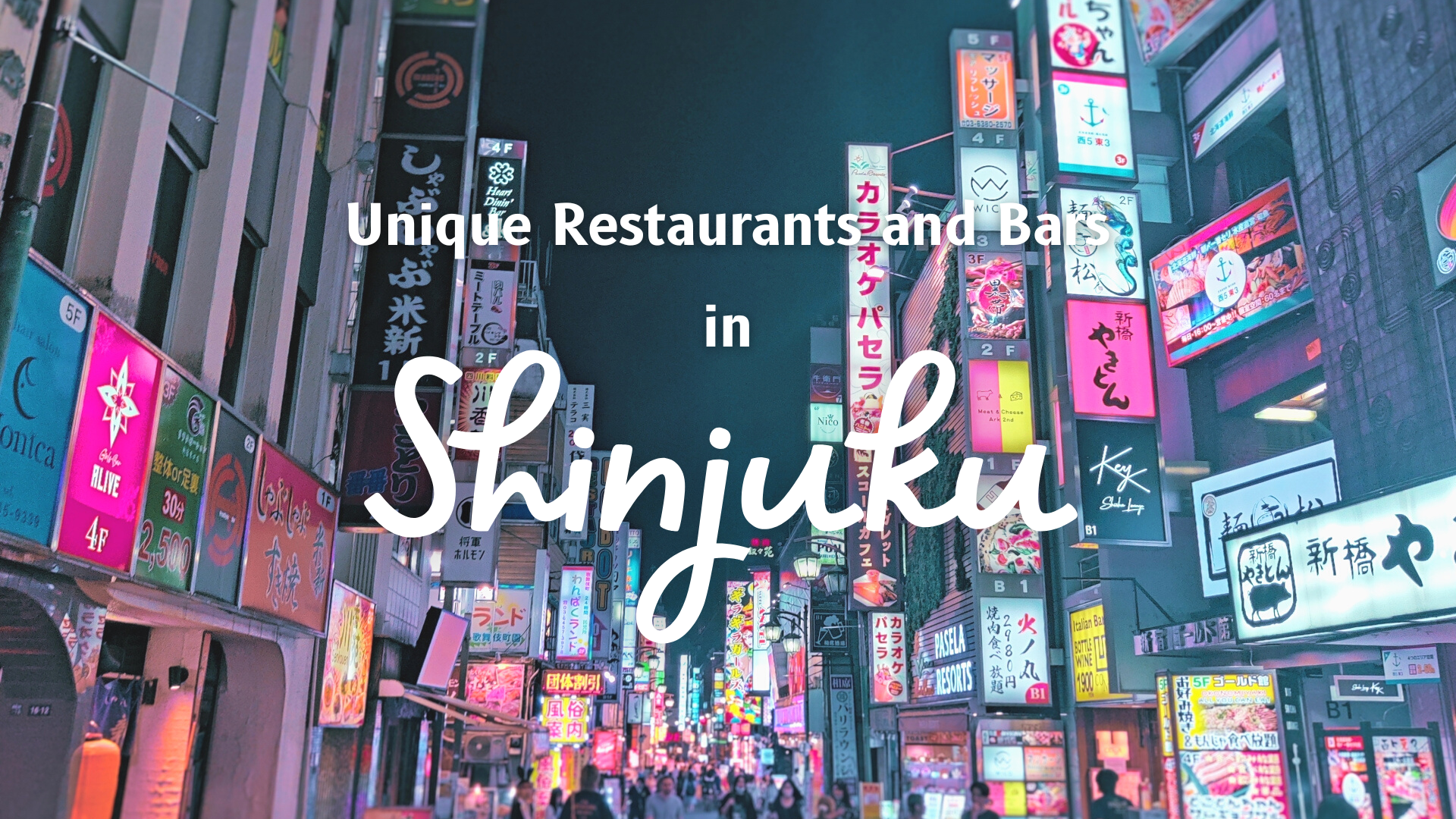 If you wish to have unique and extraordinary dining experience in Japan, themed restaurants and bars are the best option to choose. Not only Robot Restaurant, but there are more unique and crazy themed bars and restaurants located in Shinjuku area, Tokyo today! I have picked some of the most unique and entertaining themed restaurants and bars in Shinjuku, Tokyo.
1. Robot Restaurant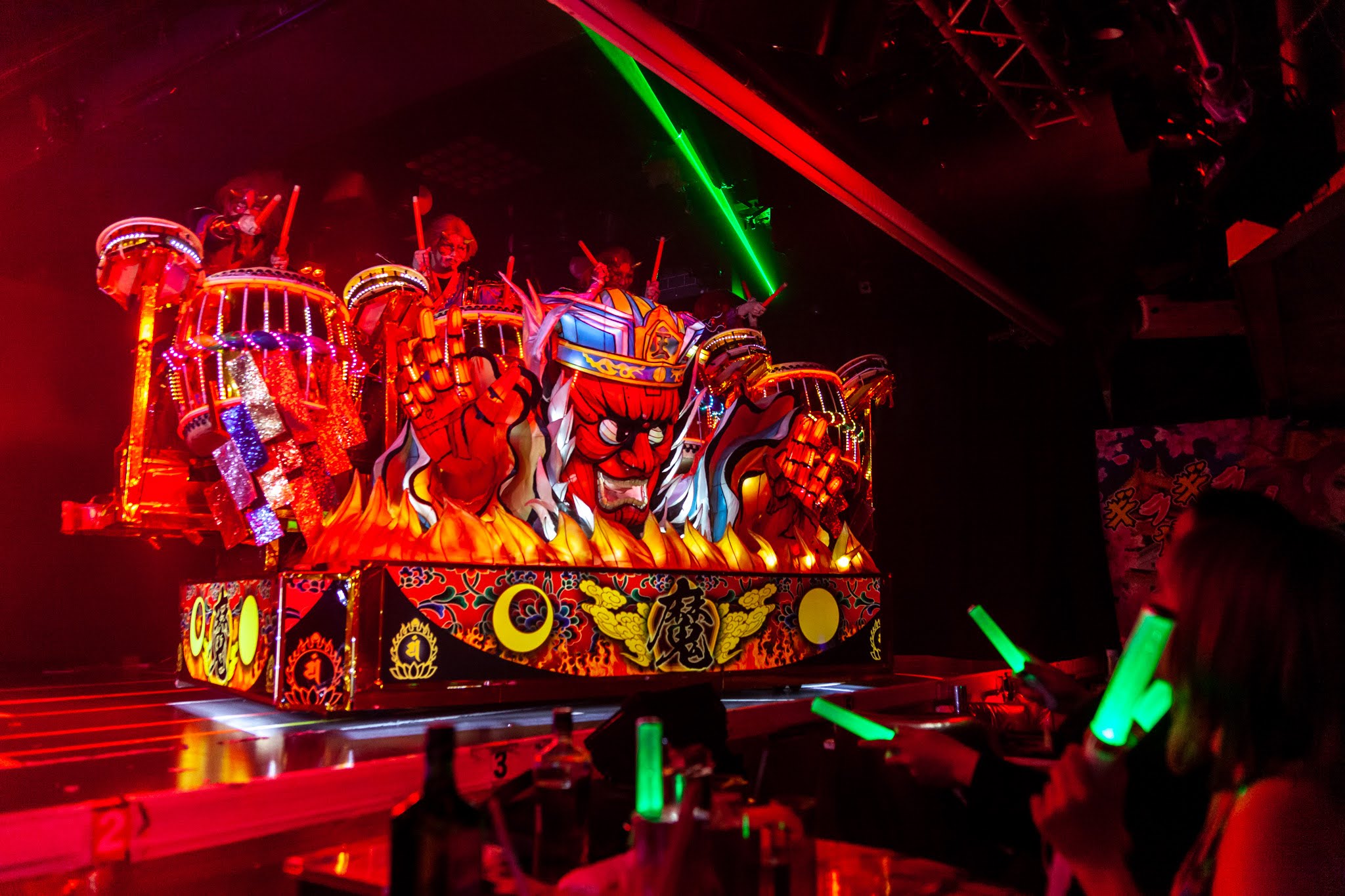 The first restaurant we introduce is the Robot Restaurant. Following its closure in 2021, Robot Restaurant has made a triumphant return, reopening at its original Shinjuku location in May 2023. As you may know, the robot restaurant is one of the restaurants that has become well known among foreign tourists. However, there are very few people who actually have been to this restaurant. You may imagine that there will be a show related to robots, and it is true in a way, but we guarantee they have got something beyond our imagination. So, here's the system of the restaurant. You will be charged for entrance (10,000 yen), which includes a few drinks or a tasty light meal. You can book a ticket at a discounted price in the link below.
<<Get 11% OFF Shinjuku Robot Restaurant Ticket here!>>
Related article:
Access: 4 min walk from Shinjuku Station
Business Hours: opening hours may vary (please check the website for the info)
Price Range: 10,000 yen
2. Zauo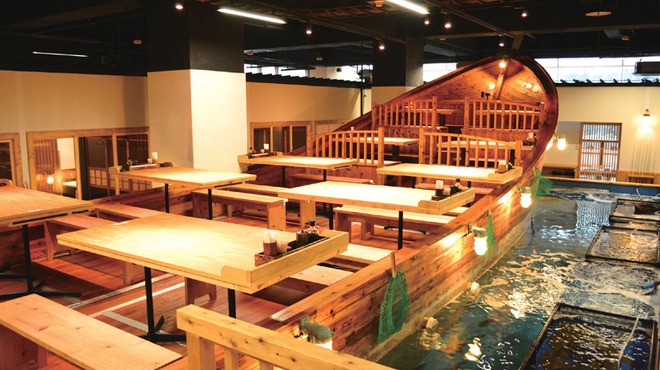 There is a big fish preserve in the center of this restaurant Zauo. There are numerous high-class fish such as salmon, flounder, and spiny lobsters are swimming in the cage, and here in Zauo you can rent a fishing rod for 100 yen to fish them by yourself. Then you get to decide how you cook the fish you caught. You can either grill, deep-fry them or eat them as Sushi and Sashimi. Of course, you can also order the fish cuisines without fishing by yourself, but the price will be slightly more expensive. So here at Zauo I recommend you to enjoy both the fishing experience and the delicious fresh Japanese seafoods.
Access: 9 min walk from Shinjuku Station
Business Hours: 11:30am-2:30pm, 5pm-11pm (all days)
Price Range: 4,000–7,000 yen
3. Ninja Shinjuku
The popular Ninja themed bar/restaurant in Roppongi/Akasaka area, Ninja Akasaka has now their Shinjuku branch. Guests can have an unique dining experience by entering the world of Ninja from Edo period. The great quality and innovative Japanese cuisine are offered at Ninja Shinjuku including Wagyu Beef. On top of that, the entertaining Ninja tricks are performed while guests are dining. It's an amazing place to enjoy authentic Japanese food, immerse yourself with old Japanese history and be entertained, all at the same time.
Access: 5 mins walk from Shinjuku Station West Exit
Business Hours: Lunch 11:30~15:00/Dinner 17:00~23:00
Price Range: 6,000–8,000 yen
4. Koshitsu-Izakaya 6nen4kumi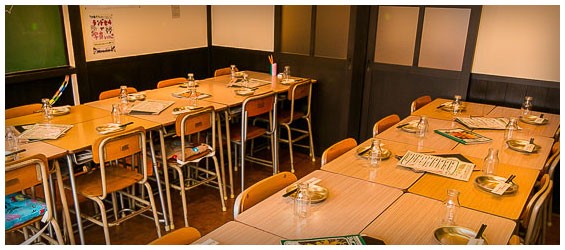 I hope this restaurant: Koshitsu-Izakaya 6nen4kumi bring your memory back from good old days when you were in an elementary school student. The restaurant Koshitsu-Izakaya 6nen4kumi here is a themed restaurant of Japanese elementary schools from several decades ago. There are many kinds of Japanese snacks and cup ramens that were familiar to Japanese kids and you may be able to feel nostalgic feelings. All kinds of snacks can be eaten for only 500 yen. Of course, they do have ordinary izakaya menu like edamame, grilled chicken and so on. What's unique in this restaurant is that they suddenly hand out a sheet of paper with several easy math questions for you to solve while you are drinking. The questions are simple, but I hope you enjoy whether you can solve them with a drunken brain. If you get a perfect score, there may be a prize…
Access: 5 min walk from Shinjuku Station
Business Hours: 5pm-11:30am (all days)
Price Range: 3,000 yen
5. Alice in Fantasy Book

Here is a restaurant built based on the concept of "Alice's Adventures in Wonderland", a novel written by Charles Dodgson that is known worldwide. You will have a fantastic and exciting time in this restaurant Alice in magical land. The inside is decorated with various ornaments inspired by the story which bring you back to your childhood. Moreover, the menu they serve here is also related to the story of Alice, and their seasonal course dishes are provided under the supervision of a chef from a famous hotel chain. For example, pumpkin based dishes are served in October and dessert menus such as parfait in winter. Each one of their cocktails have its own concept based on the characters in the story.
Access: 2 min walk from Shinjuku Station
Business Hours: 11pm-11:30am (all days)
Price Range: 3,000–5,000 yen
6. Magic bar CUORE
Here, you can enjoy a professional magic show by the performers while drinking alcohol. The bar has a fantastic ambiance and you may have the feeling of being lost in a castle in the middle ages. Not only the magic show but also a lot of wisdom rings and puzzle goods are exhibited in the bar, which keep stimulating your intellectual curiosity. Remove your daily stress in such unusual space. There are more than 500 kinds of cocktails in this bar, so you will surely find one you like. If you may also have a birthday party in this bar. In that case, please make a reservation from their homepage to get the decorated magical cake.
Access: 7 min walk from Shinjuku Station
Business Hours: 7pm-5:30am (all days)
Price Range: 1,500–5,000 yen
7. Sengoku Buyuden <<Permanently Closed>>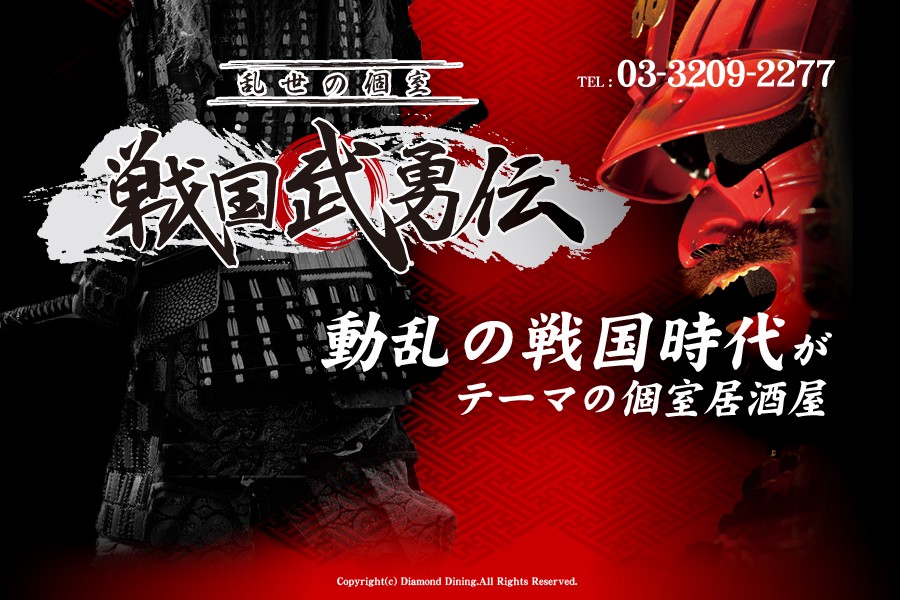 Are you interested in Japanese history? This place, Sengoku Buyuden, located in Shinjuku, is a themed Izakaya of the Sengoku period in Japan. The restaurant's interior is decorated with various historical items (replicas) which are related to famous wartime lords (Damiyos) , such as armors and military flags. If you are familiar with Japanese Daimyo or Shoguns, you surely will enjoy the feeling of having a time trip to the age of the Warring States. Of course, even if you don't have any knowledge of Japanese history, you can still enjoy having dinner there. As mentioned above, here Sengoku Buyuden is a themed tavern. Therefore, a wide variety of dishes and original sake and cocktails are offered here. We hope you make an unforgettable dinner memory here enjoying both the cuisine and the ambiance.
Access: 4 min walk from Shinjuku Station
Business Hours: 5pm-11:30pm (all days)
Price Range: 3,000–5,000 yen
8. The Lock-Up Tokyo <<Permanently Closed>>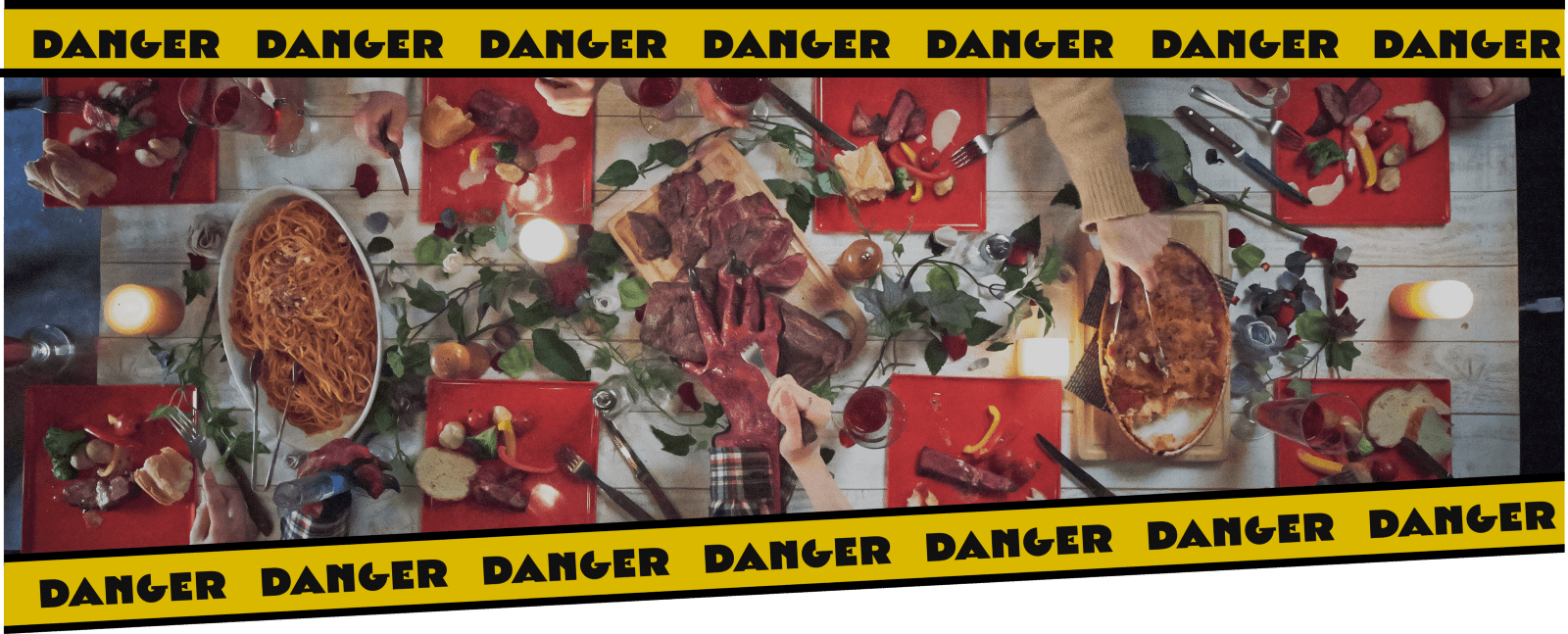 The restaurant The Lock Up Tokyo is a prison-themed restaurant in the Kabukicho are of Shinjuku. You will be taken to their seat as prisoners in the restaurant. Inside, the dimly lit seats bring out a prison cell-like atmosphere. and various unique gimmicks are hidden everywhere in the restaurant to make sure you can get the feeling of you being prisoned. It appears to be more as a haunted house than just a restaurant. In my opinion, it wil be more fun if you visit here with your friends since they've got some serious reputation for entertaining customers with their surprising events and shows. Make sure not to forget referring to their website to make a reservation in advance.
Access: 4 min walk from Shinjuku Station
Business Hours: 5pm-12am (all days)
Price Range: 4,000–8,000 yen
▽Check out the Best Themed Cafes and Restaurants in Tokyo, too!▽
Hope you have enjoyed the list! For more unique and trendy spots in Tokyo, please check out listed articles below, too!
▽Related Articles▽
▼Editor's Picks▼
---