6 Best Shabu Shabu/Sukiyaki Restaurants in Tokyo
Best Shabu Shabu and Sukiyaki Restaurants in Tokyo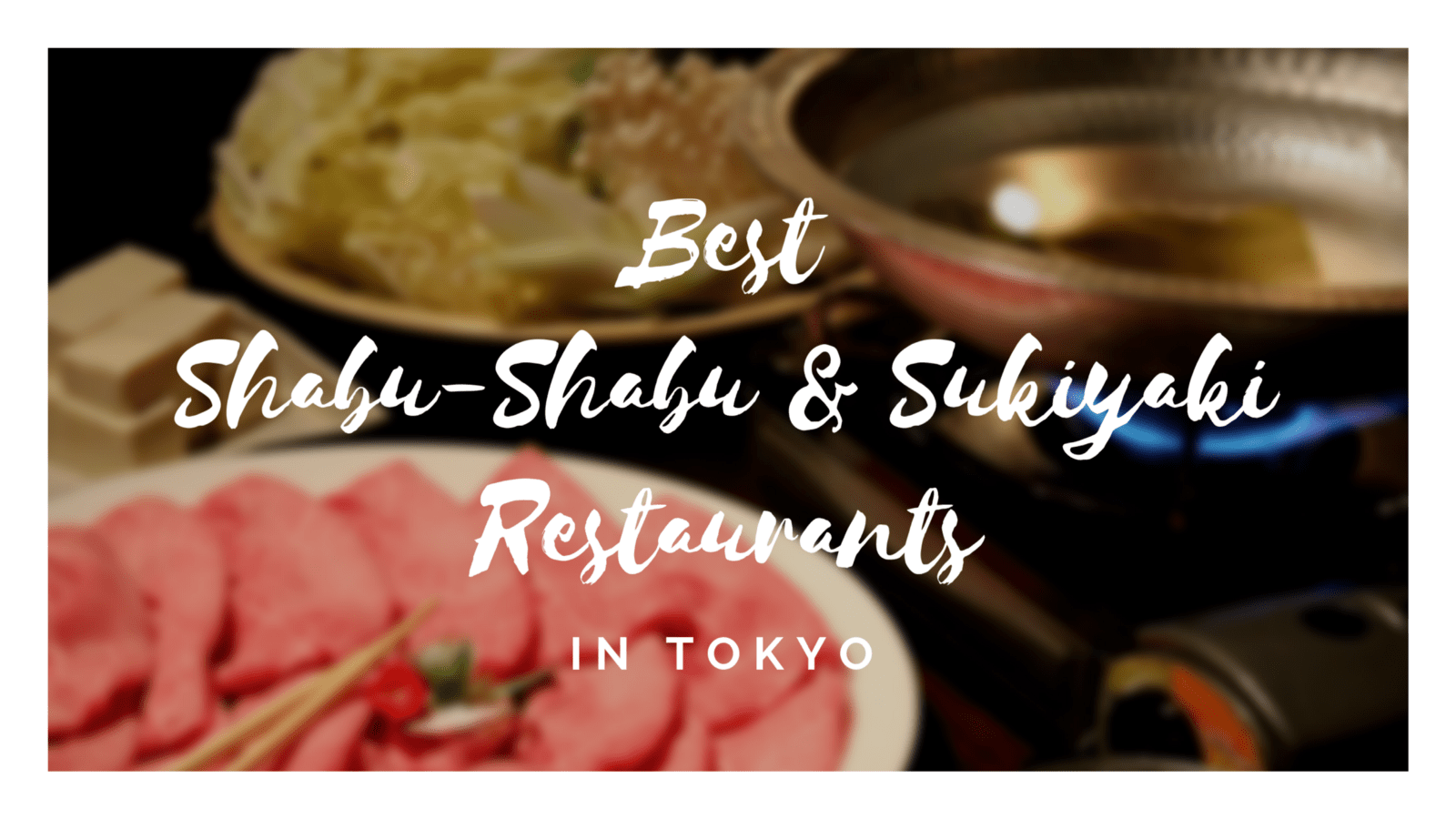 H
ave you tried Shabu Shabu and Sukiyaki?? They are both traditional Japanese dishes, typically served with thinly sliced beef. Some of Shabu Shabu/Sukiyaki restaurants serve high quality Japanese beef. If you wish to try Japanese Wagyu beef in different way rather than steak or pan-fried, they are both great options.
What's the difference between Shabu Shabu and Sukiyaki?
Both are served in a hot pot with some vegetables and tofu.
Shabu Shabu is usually cooked in boiled water or lightly seasoned soup, and served with sauce, usually sesame or ponzu (yuzu and soy sauce). It's a simple dish that you can feel the natural taste of the ingredients.
Sukiyaki is simmered in sweet soy sauce with other ingredients and served with raw egg on the side. Sukiyaki has much more sweet flavour than Shabu Shabu.
The great thing is that most of Shabu Shabu/Sukiyaki restaurants serve both dishes, so if you have a chance, it's worth trying both 😉
So today, I'd like to introduce you some of the best restaurants in Tokyo, serving great Shabu Shabu & Sukiyaki dishes. All are located in a central area of Tokyo, so it's very easy to access 🙂
---
1. Rokkasen
The famous Yakiniku (BBQ) restaurant in Shinjuku area. Rokkasen serves high quality Japanese beef including Matsuzaka Beef and Japanese Black Cattle all in BBQ, Shabu Shabu and Sukiyaki style as you wish!
<< Book your seat at ROKKASEN here! >>
↓ more info ↓
2. Nabezo
If you think Shabu Shabu/Sukiyaki are not for you because they are pricey, Nabezo is the best option as they offer "all you can eat" at very reasonable price!
↓ more info ↓
3. Tajimaya
The sophisticated restaurant serving authentic Japanese cuisine. Taste the best quality beef in the most competitive gourmet district, Ginza!
↓ more info ↓
4. Asakusa Imahan
The most recognizable Sukiyaki restaurant located in Asakusa. Imahan was established over 100 years ago and has always been one of top dinings in the city.
<< Book your seat at Sukiyaki Imahan here! >>
↓ more info ↓
5. Imafuku
Looking for a perfection of Shabu Shabu/Sukiyaki?? The Michelin award winning restaurant Imafuku serves top-rated Japanese beef with selected seasonal ingredients cooked in the finest method.
<<Book your table at Imafuku!!>>
↓ more info ↓
6. Yonezawagyu Oki
One of the three greatest Wagyu beef brands, Yonezawa Beef can be indulged with various styles at Yonezawagyu Oki including steak, shabu shabu and sukiyaki.
↓ more info ↓
---
If you have already tried major Japanese dishes, such as Sushi, Tempura and Teppanyaki, now you should definitely go for Shabu Shabu and Sukiyaki!! These restaurants are extremely popular so it's recommended to book in advance 😉
More traditional Japanese cuisine?? Then check these articles below!
▽ Related Articles▽
▼Editor's Picks▼
---