5 Best Japanese Movies on Netflix
Best Japanese Movies on Netflix from samurai movies to thrillers, romance and more!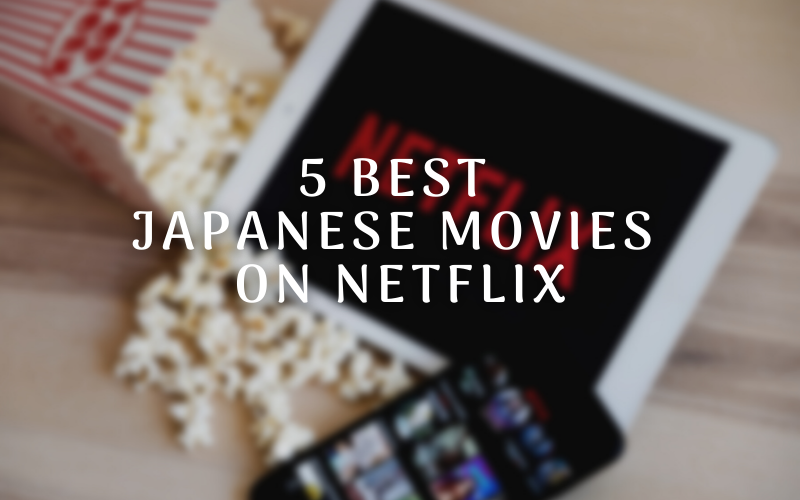 Since the appearance of the internet, our lives have changed in many ways. Internet has helped to make the world more communicated and we can get to know more and better other countries that were previously distant for us. Netflix started as a DVD rental company but knew how to have a vision of the future long before the others and already around 2007 it introduced its viewing service via live broadcasting. Today it's the most famous streaming company in the world, offering its services in more than 190 countries for only around 10 dollars (1,000 yen) per month and even producing its own series and movies.
With the introduction of subtitles in different languages, Netflix made it easier for its viewers to watch not only series shot in their country of origin but in many other countries. It's not as if this wasn't possible before, since television networks bought the rights to foreign series and dubbed them (hence for example part of the success of anime around the world) but now it's easier and there is much more variety .
Japanese movies are usually less know than anime, which has many followers around the world. But there are many good Japanese movies that I am sure you will like! Here I bring you my compilation of the 5 best Japanese movies to watch on Netflix. There are them for all tastes, from romantic to thrillers, LGTB friendly and even some that may will make you cry. I hope you enjoy it!
Rurouni Kenshin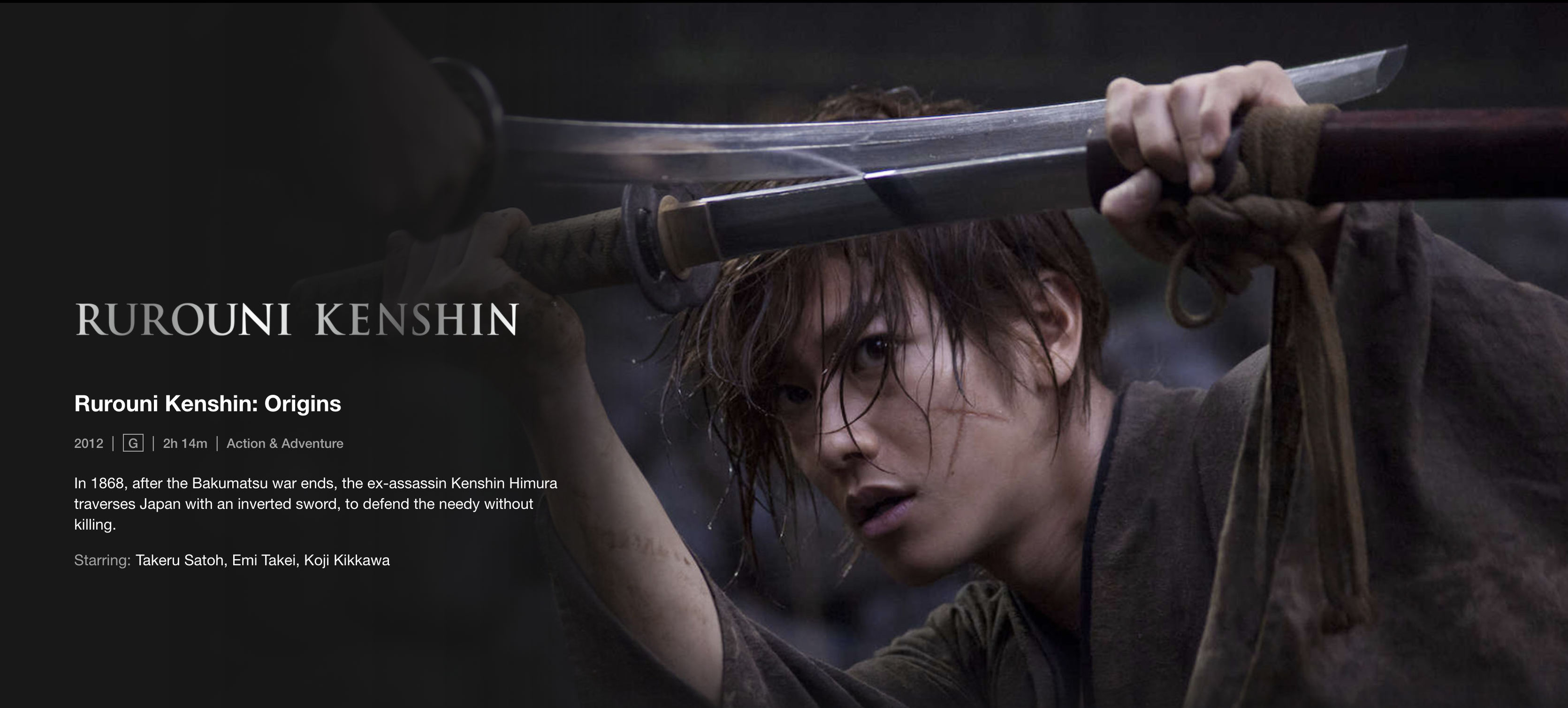 Ruroni Kenshin is undoubtedly one of the most famous manga both outside and inside Japan.
For those of you who don't know the plot, Ruroni Kenshin tells us the story of Kenshin Himura, a legendary assassin who is now a wandering samurai without an owner. The story is set in the Meiji Era, when the samurai disappeared. Many samurai were left without an owner to serve and became wandering samurai or ronin in Japanese. Kenshin was the most famous and feared assassin, but after the end of the war he decided to become a wanderer who traveled the country helping people, as a way to redeem himself for all the things he done in the past and all the people who killed. In fact, his double-edged katana is inverted and can't kill, since he promised himself not to take any life never again.
My Tomorrow Your Yesterday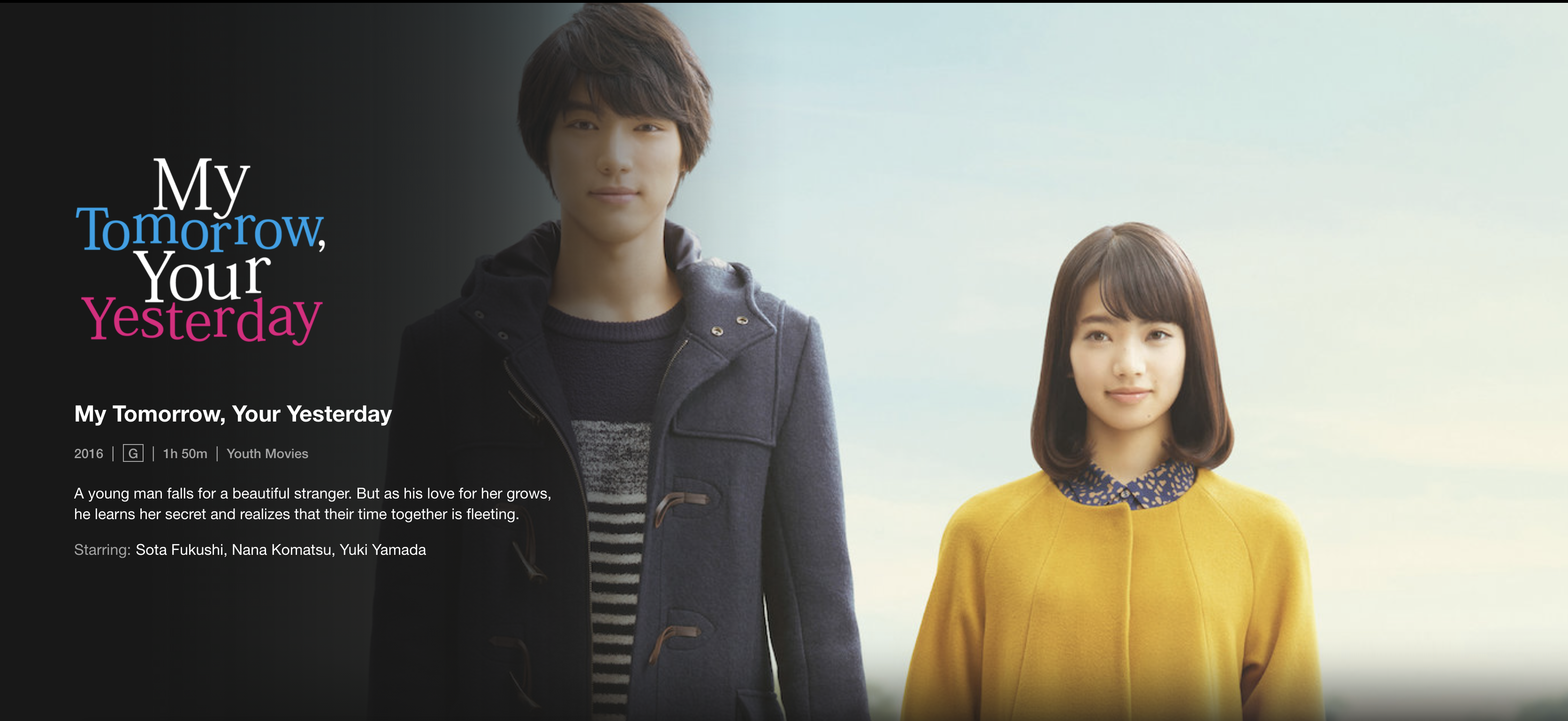 For those who like the typical teen romance movie, there is My Tomorrow Your Yesterday.
One day while riding the train Takatoshi Minamiyama, an art student at a university in Kyoto sees a girl named Emi Fukuju. Takatoshi falls in love at first sight with Emi, and gathers courage to talk to her. Luckily for Takatoshi, Emi also seems to have an interest in him and the two begin dating. Takatoshi enjoys happy days together with Emi, but then she tells him her secret and he realizes that they don't have much time together.
The original title would be Tomorrow I Will Date With Yesterday's You, since the movie is based on novel with the same name written by Takafumi Nanatsuki.
River's Edge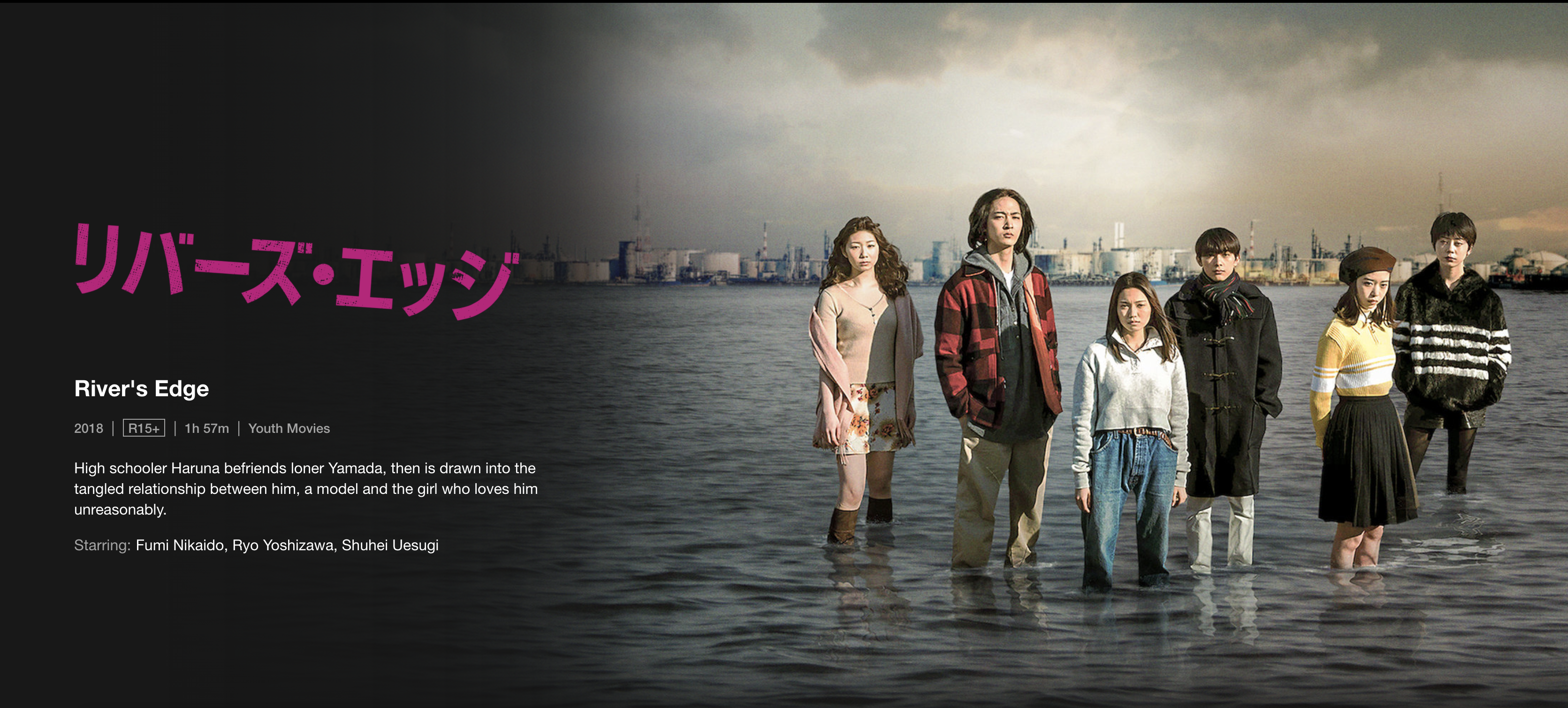 Ichiro Yamada is a high school student who is gay and is bullied at school by his classmates. Haruna Wakagusa, a girl who lives with her mother, is Ichiro's classmate. Haruna defends Ichiro from the others, and they become best friends. One day Ichiro tells Haruna his secret: he found a dead body on river side. Later a new body appears.
The movie is based on manga series "River's Edge" by Kyoko Okazaki.
Fullmetal Alchemist
The protagonists of the story are Edward and Alphonse Elric, two brothers. The brothers lived only with their mother Trisha, but one day their mother dies leaving them alone. Edward convinces Alphonse to try to resurrect his mother through alchemy but you can't resurrect someone from death, it's one of the rules of alchemy. The attempt fails and Edward loses his left leg and Alphonse his body. Edward manages to seal his brother's soul in armor, although for this he loses his right arm. After this happens, an alchemist named Roy Mustang visits the two brothers and proposes to Edward to become a member of the State Alchemist. From the day Alphonse loses his body, all Edward's motivation and obsession is to get his brother's body back.
Although without reaching the level of Ruroni Kenshin perhaps, Fullmetal Alchemist is also a very popular manga, becoming the most popular anime at the time.
Rie or Die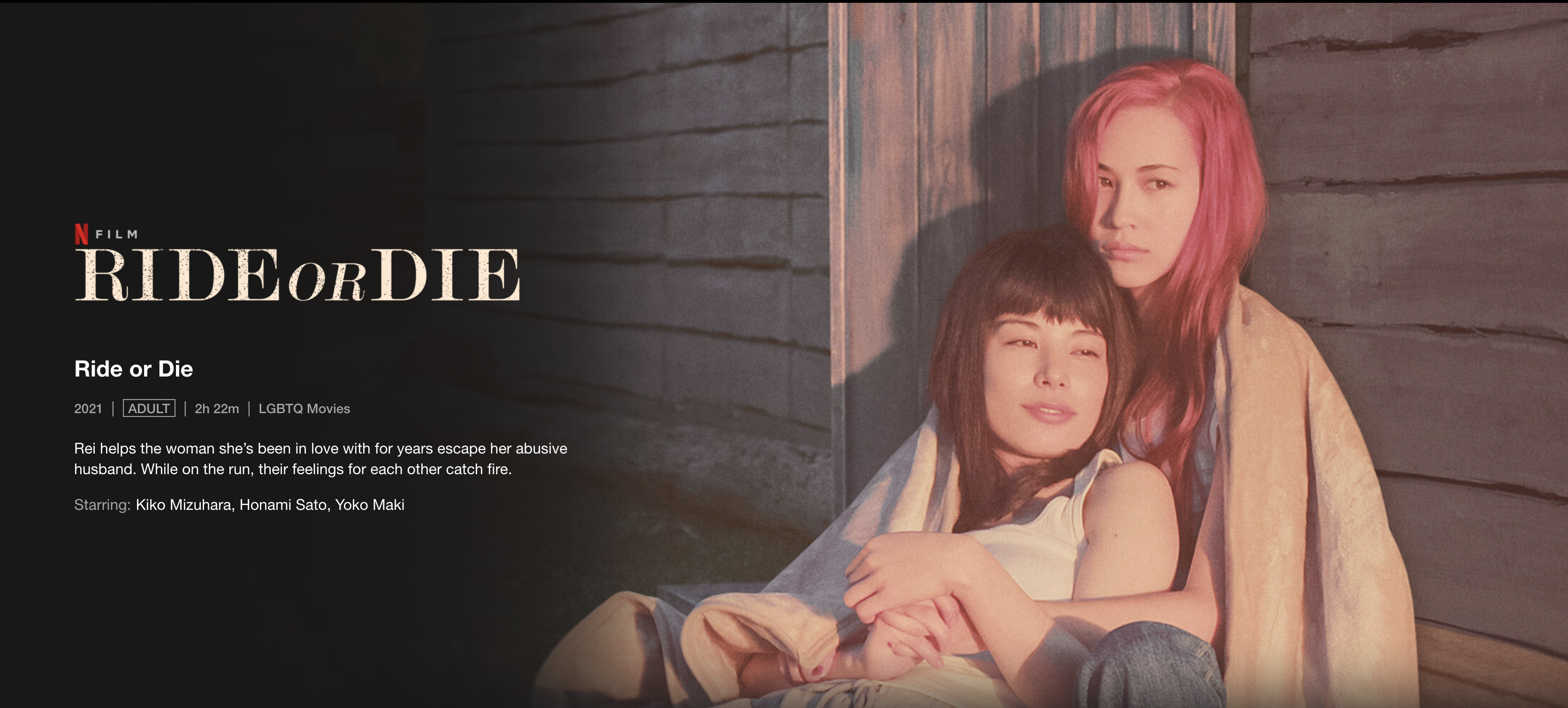 Rei is a 20-year-old girl who one day receives a call from the woman she's been in love with for years. Rei and Nanae were classmates in high school, but now they haven't been in contact for years. Rei discovers that Nanae is trapped in an abusive relationship and suffers brutal domestic violence from her husband.
Driven by her feelings for Nanae, Rei is willing to do anything, including killing Nanae's husband to set Nanae free. While they run from the crime they have committed, Rei and Nanae begin to feel increasingly attracted to each other, but incompatible and difficult-to-deal-with emotions also arise.
Ride or Die premiered in April this year on Netflix and I find this film worth including as it's groundbreaking and doesn't show the typical love relationship. The film is based on Ching Nakamura's manga series Gunjo.
This is my list of recommendations for Japanese movies on Netflix. Have you seen any? Which of the list do you find most interesting? If you have any recommendations, please don't hesitate to write us in the comments! 🙂
If you are looking for more recommendations on Japanese movies, series or anime, check out these articles too!
▽Related Articles▽
▼Editor's Picks▼
---