5 Best Japanese Drugstores in Shibuya
Japanese Drugstores from Matsumoto Kiyoshi to Don Quijote in Shibuya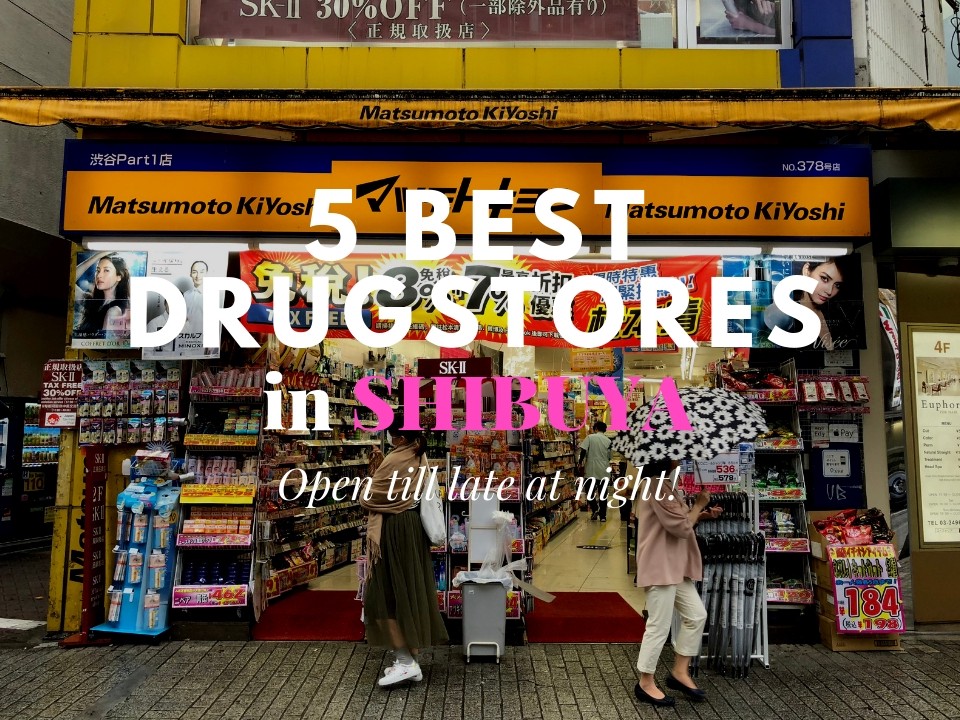 Shibuya is a perfect shopping town for youngsters in Tokyo, and there numerous drugstores in Shibuya. Many tourists visit drugstores in Shibuya in the search of Japanese cosmetics products, medicines and more at a bargain price while traveling the tourist sites such as Shibuya Crossing and Center-gai Street.
There is almost nothing you can't find at drugstores in Shibuya, and some stores open until late at night (for 24 hours). If you have a flight departing early in the morning or late at night, the drugstores in Shibuya offer the last chance to buy cosmetic items and souvenirs in Tokyo.
Here are 5 best drugstores in Shibuya for you to get various high-quality products at an affordable price. All of the 5 drugstores below are located very close to Shibuya Station (within less than 5 mins walking). Of course, they can serve you with the tax-free deal.
1. Matsumoto Kiyoshi Shibuya Part 1
Matsumoto Kiyoshi (マツモトキヨシ) is one of the most popular and largest chain drugstores in Japan. There are two branches of Shibuya near the famous tourist site Shibuya Crossing. The part 1 of Matsumoto Kiyoshi is open for 24 hours everyday. It is recommended to hit the Matsumoto Kiyoshi at first if you visit drugstores in Shibuya.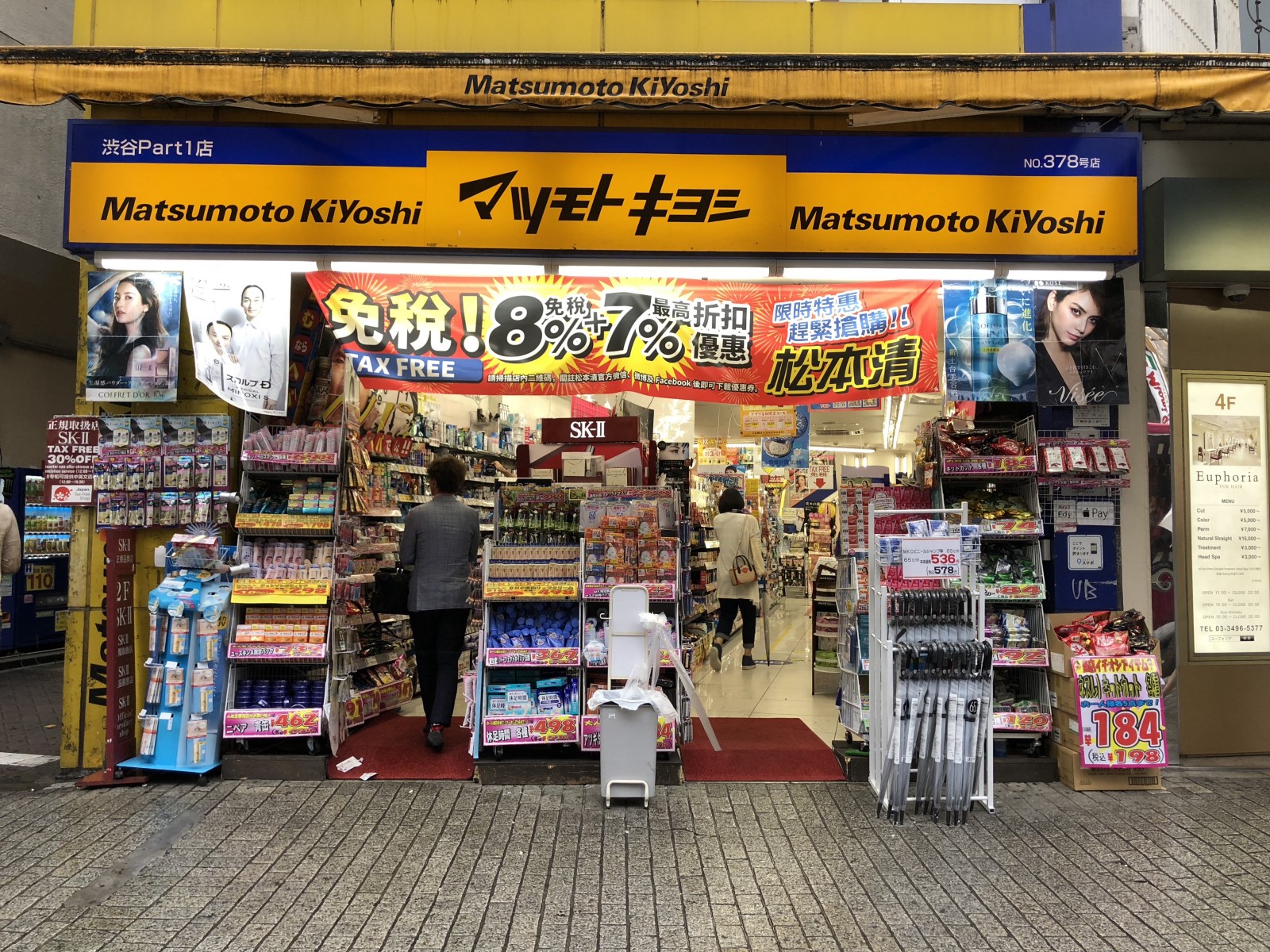 Map: https://goo.gl/sx5jtv
Hours: opens 24 hours
Tax Free: available
2. MEGA DONKI Shibuya (MEGA Don Quijote Shibuya Honten)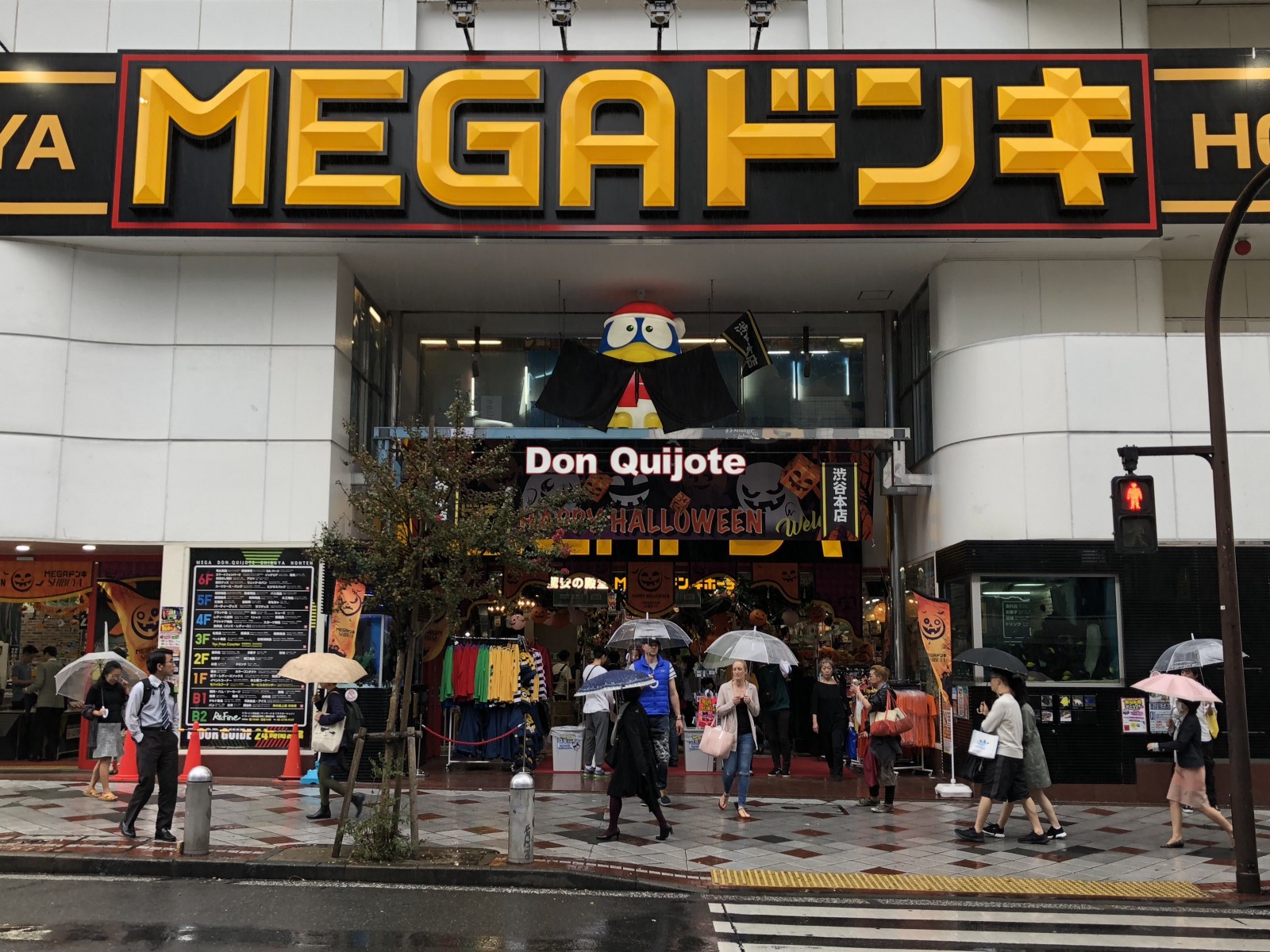 MEGA DONKI is also a kind of a drugstore as well as a discount variety store. MEGA DONKI Shibuya is the largest stores of the 7 stores in this article. It offers a large lineup of beauty products and daily necessities in addition to Tokyo's souvenirs of sweets and snacks. If you miss the chance to buy souvenirs for your family, friends or yourself, visit MEGA DONKI Shibuya at last since it is open for 24 hours everyday!
Map: https://goo.gl/MccWLg
Hours: opens 24 hours
Tax Free: available
3. Cocokarafine Shibuya Center-gai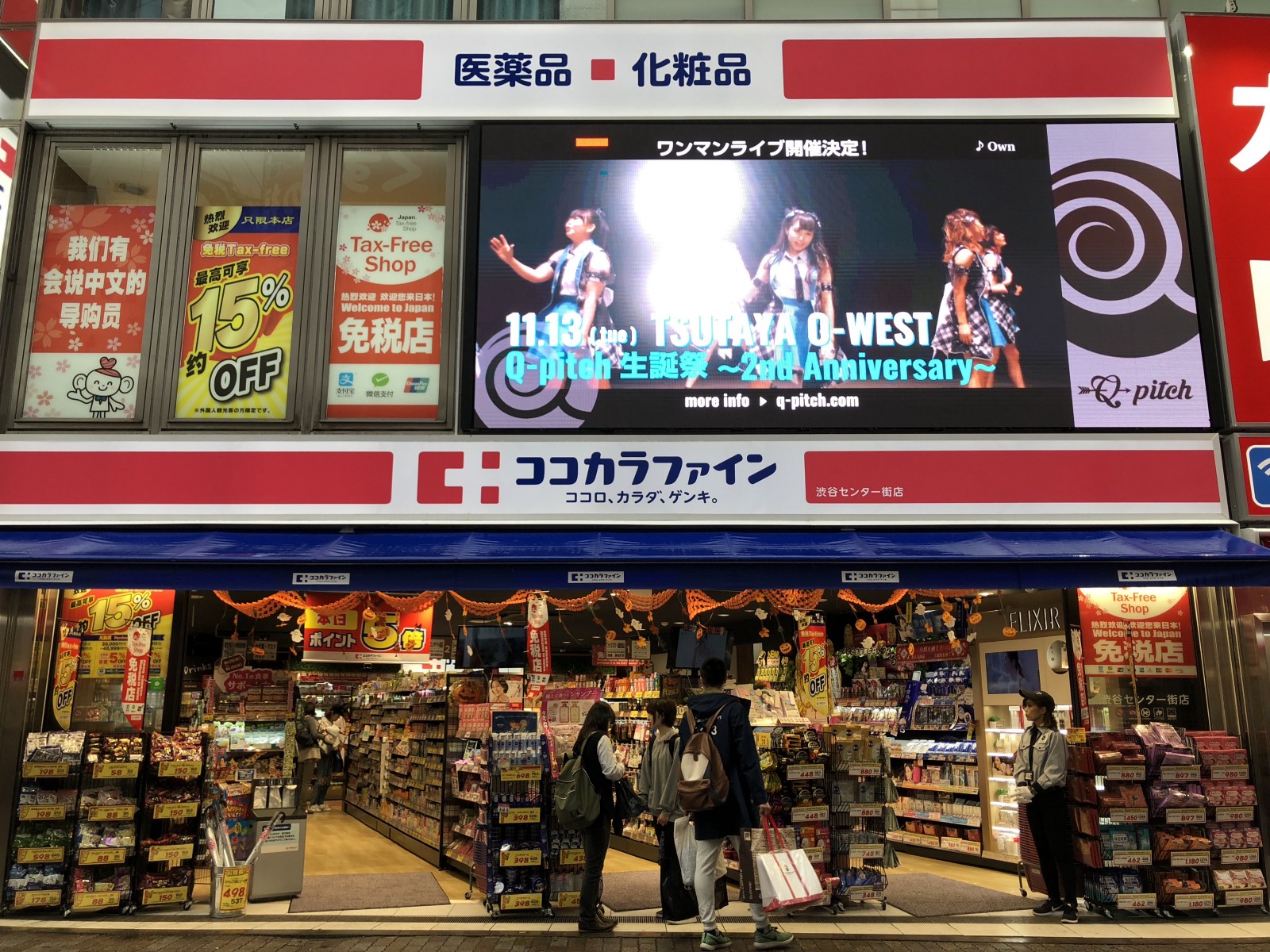 Cocokarafine Shibuya Center-gai (ココカラファイン) is very convenient for tourists since it is located at the center of Shibuya Center-gai Street where numerous restaurants and shops are lined up. Cocokarafine Group has over 1,300 chain stores all over the country, and the branch of Shibuya was newly open in September, 2018. For the latest line-up of products, this drugstore is a good choice!
Map: https://goo.gl/51QcwQ
Hours: 10:00–23:00
Tax Free: available
4. Bic Camera Shibuya Higashi-guchi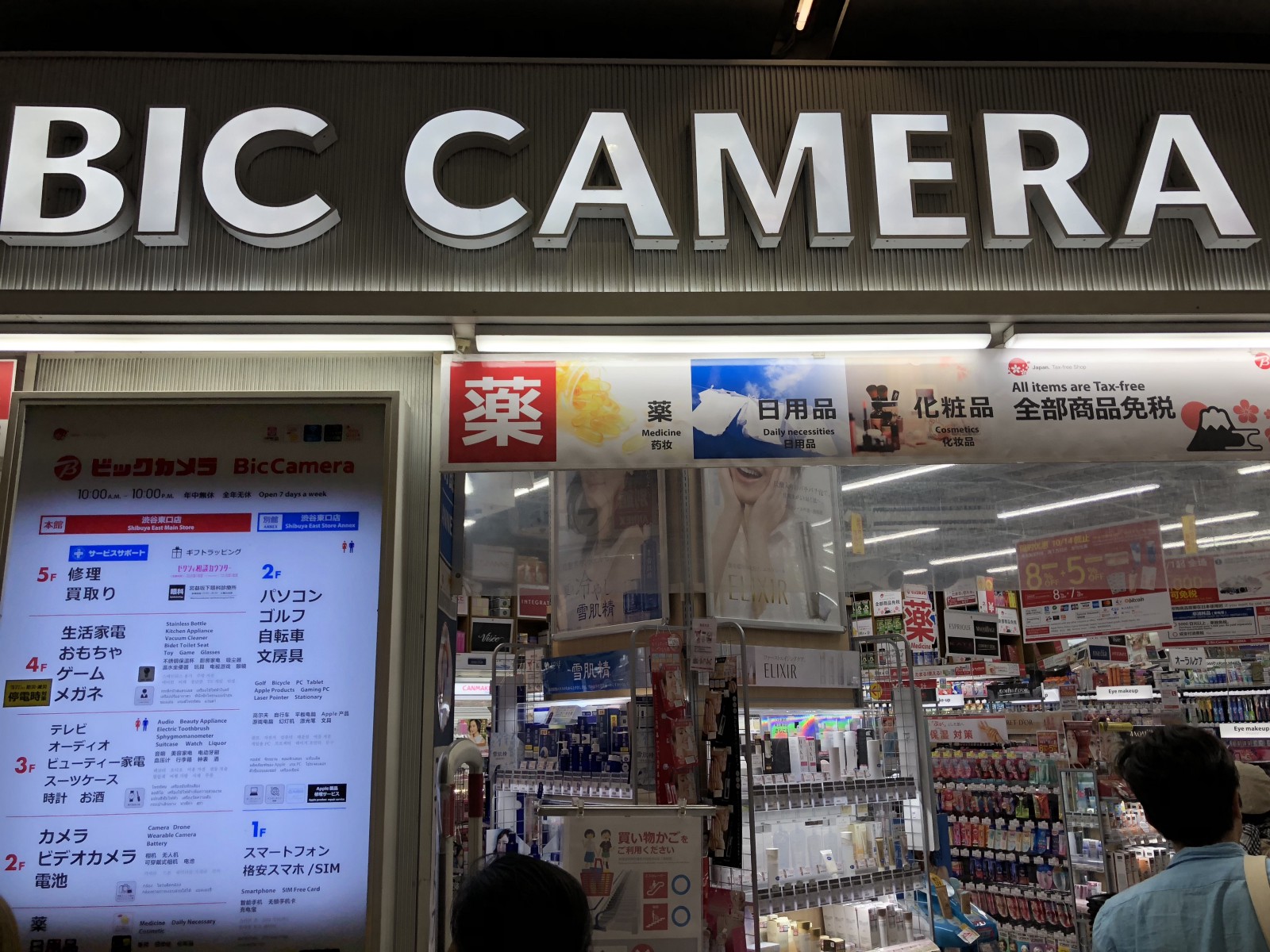 Bic Camera (ビックカメラ) is widely known as an electronics store, however, the branch of Shibuya is a hidden spot to enjoy shopping cosmetics products, medicines, daily necessities as well as beauty electronic products. There are large selection of any kind of products, and all items are tax-free! Bic Camera Shibuya Higashi-guchi is located in the less-crowded area of Shibuya Station East Exit.
Map: https://goo.gl/4cYAto
Hours: 10:00–22:00
Tax Free: available
5. Sundrug Shibuya Shop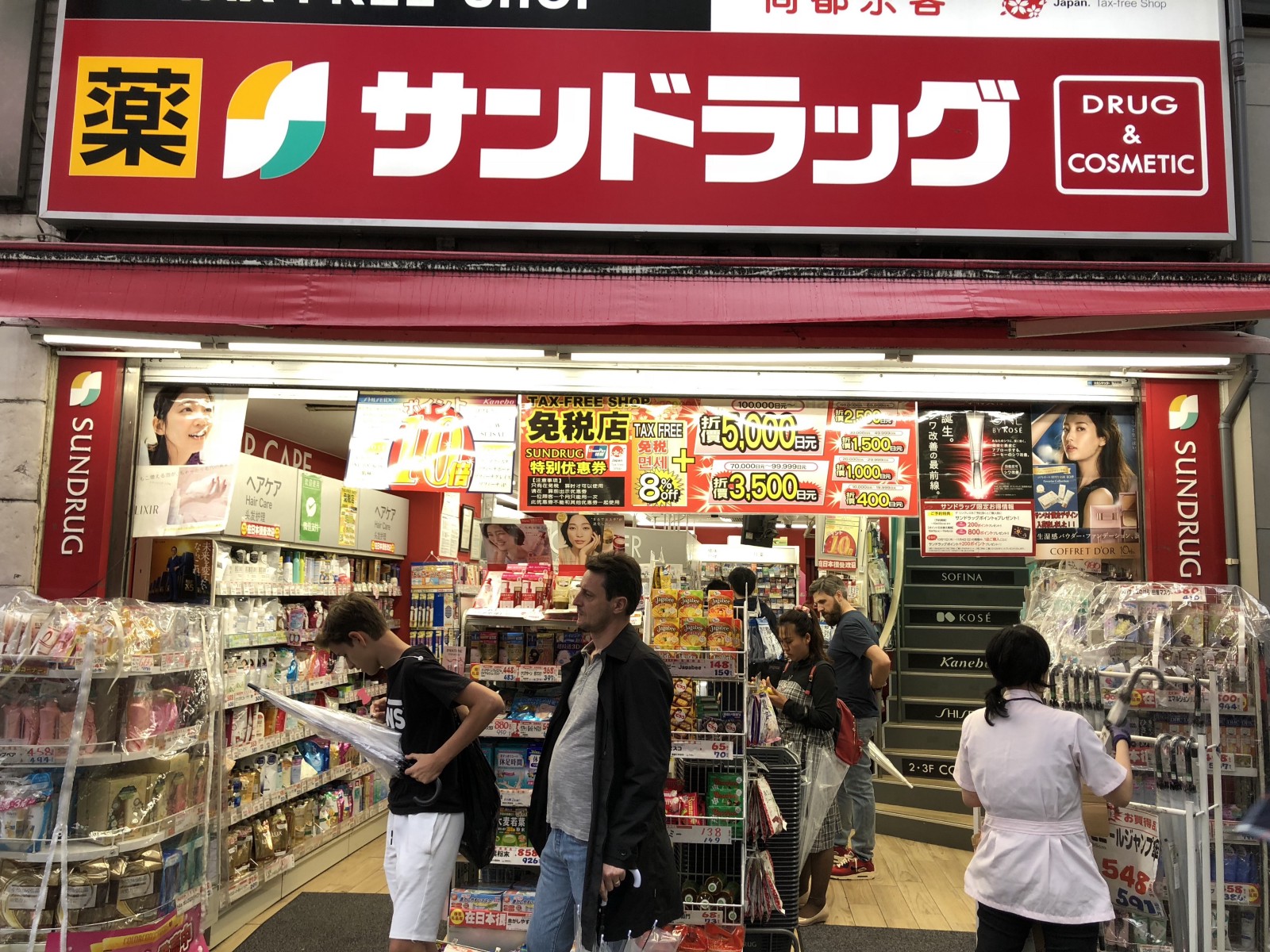 Sundrug Shibuya Shop (サンドラッグ) is the best drugstore to buy Japanese cosmetics products and medicines in Shibuya. It stands on Dogenzaka Street, which is one of the busiest streets with a great number of shops and restaurants as well as Center-gai Street. There are a variety of products of Japanese cosmetics brands including Shiseido and Kose on its second floor. Lots of payment options are available from credit cards to WeChat Pay, of course.
Map: https://goo.gl/XLsq9J
Hours: 10:00–23:00
Tax Free: available
If you wan to enjoy shopping not only cosmetics products and medicines but also clothing and electronic products in Tokyo, Shibuya is definitely recommended to travel. For more info about Shibuya and shopping in Tokyo, check these articles below, too!
▽Related Articles▽
▼Editor's Picks▼
---