2 Days Itinerary in Wakayama City
Wakayama Garden × Wellness Tour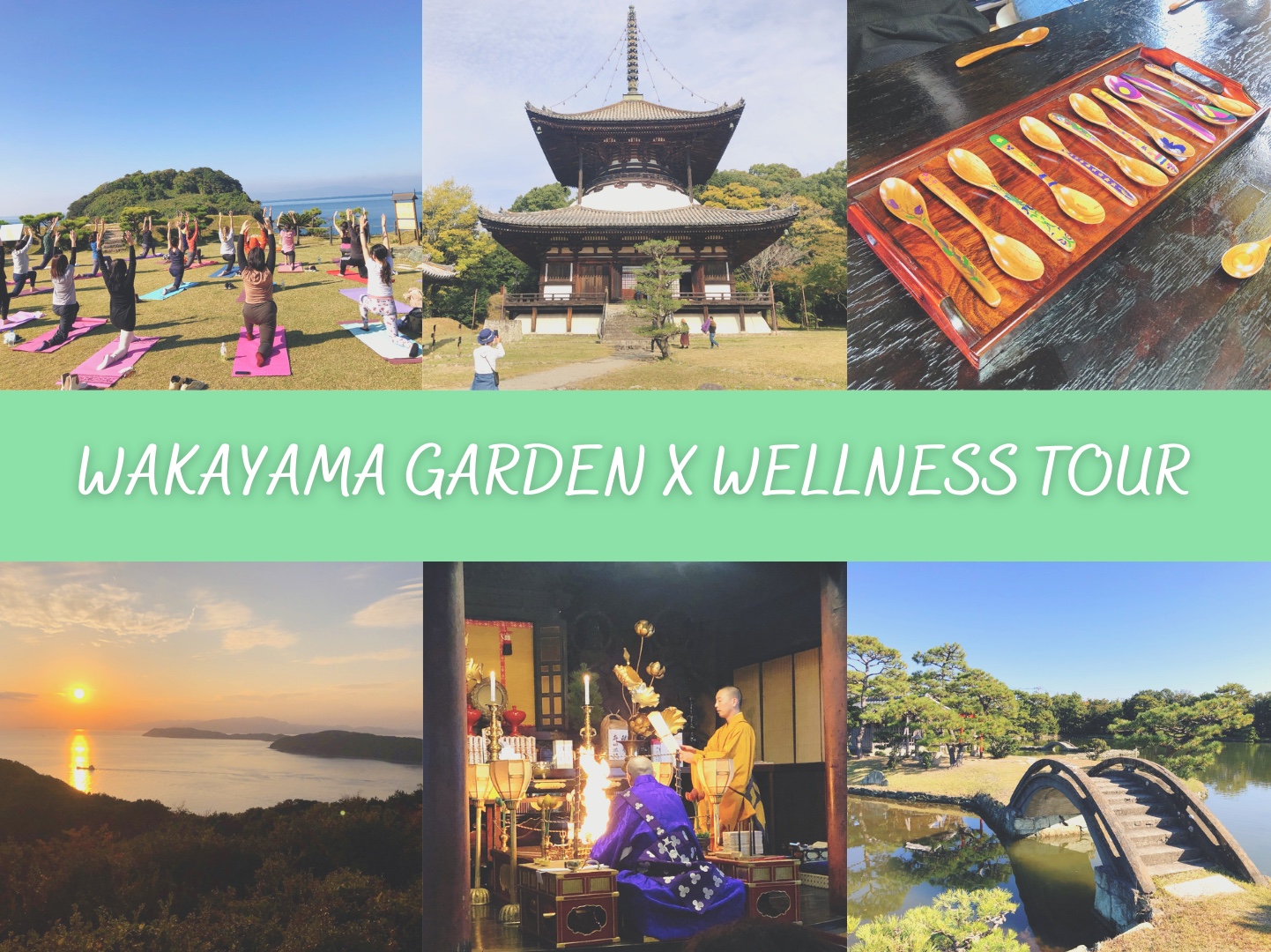 Japan has become much more popular among travelers around the globe in the last decade. On the other hand, there are still lots of hidden gems that are less-known to international tourists in the 47 prefectures. Wakayama is one of the prefectures that have a large number of worthy attractions located off the beaten path.
Wakayama, the southernmost prefecture in Kansai Region sharing borders with Osaka, Nara and Mie, has been famous worldwide for a sacred mountain Koyasan and a pilgrimage trail Kumano Kodo for a long time. In addition to the currently popular tourist spots, the government of Wakayama has been making efforts recently to introduce new places for foreign tourists to visit.
To have wonderful little-known experiences, I joined a 2-day "Wakayama Garden × Wellness Tour" from Tokyo. It took me and other participants to several spots that are filled with rich nature and Japanese tradition as well as a nice accommodation with breathtaking views.
To get straight to the point, this Wakayama Garden × Wellness Tour was worth joining for both first-time visitors in Japan and experienced travelers since it includes a variety of untouristy things and places that are difficult to know and access except local people.
Let me share the amazing experience of the 2-day tour in Wakayama!
*Please note that this article contains affiliate links.
---
Day 1
Negoroji Temple and its garden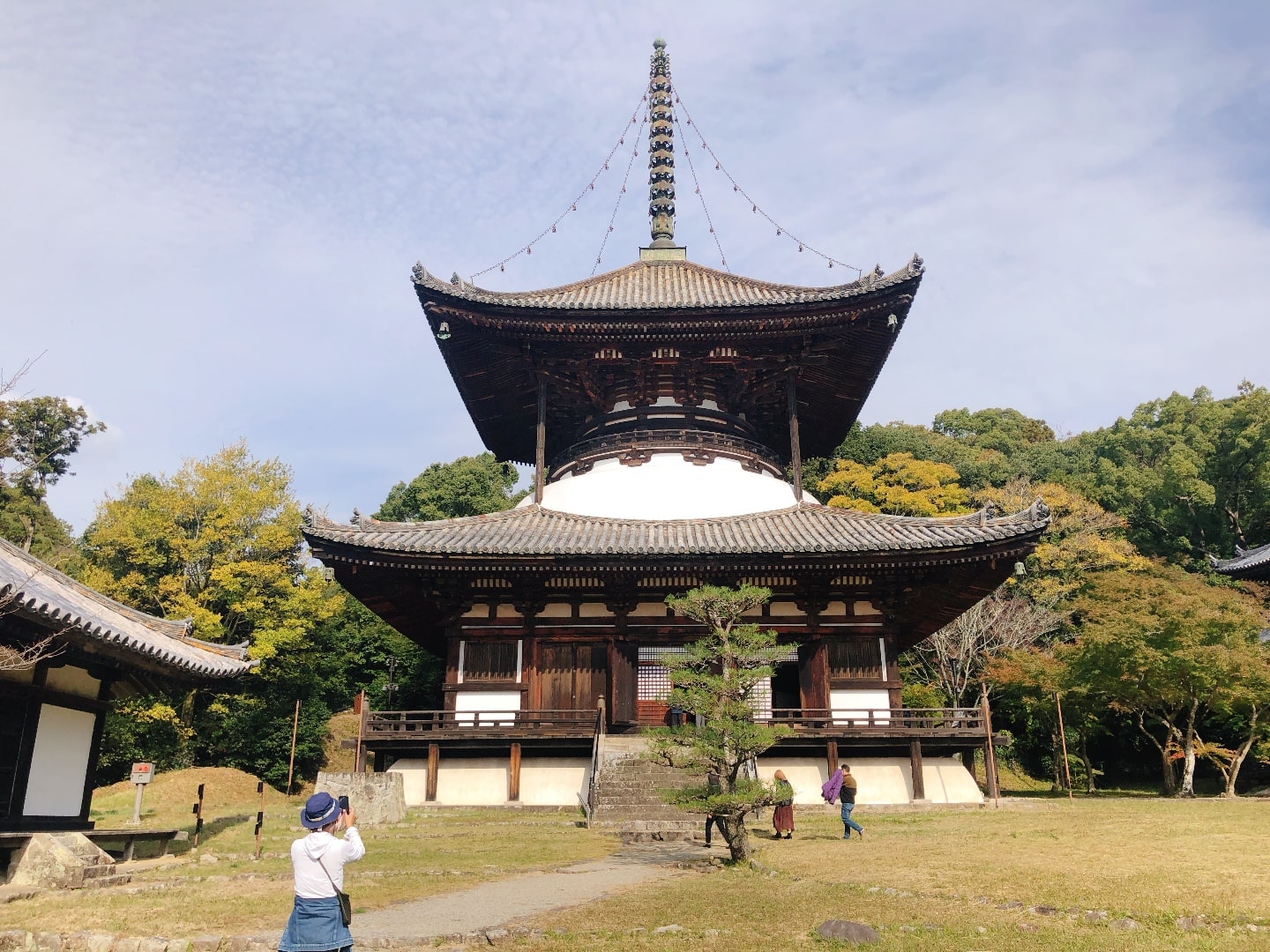 I boarded a chartered bus after meeting other participants and the two guides in front of Wakayama Station at 10 a.m. The first day of the tour focused on Negoroji Temple, the head temple of Shingi Shingon Buddhism. That is to say, it is also the parent temple of Chishakuin Temple in Kyoto and Hasedera Temple in Nara. They branched into other famous temples such as Naritasan Shinshoji Temple and Kawasaki Daishi. Young Buddhist monks visited Negoroji Temple for study since it was founded around the mid 12th century. It also had a great impact in the Japanese Warring States period, which is also known as the Sengoku period.
On the tour in the site of Negoroji Temple, we were guided to some highlights by a local storyteller. The main hall named Daidenpodo was originally founded during the Oei era (1394~1428) but was burned down during the fight against Toyotomi Hideyoshi, the most powerful feudal lord in the late of the Sengoku period. In the main hall that was rebuilt by the Kishu Tokugawa family (a branch of the Tokugawa clan) in 1827, there are three large Buddha statues. An iconic pagoda Daito, which was founded in 1547, stands next to the main hall as a National Treasure. With a height of 40 meters, it is the largest wooden pagoda in Japan and is only tahoto-style that visitors can enter into to worship.
Negoroji Temple is also famous for cherry blossoms in spring and autumn leaves, and leaves were turning yellow and red on the tour. You will see beautifully blooming cherry blossoms in spring and tinted leaves in autumn.
The tour in Negoroji Temple also featured a unique traditional art experience Negoro Ware, which was originally created by monks who lived in the site before. Negoro Ware is known for lacquerware coated with red lacquer and beautiful black basecoat emerging while aging. We coated wooden spoons with Negoro lacquer, taught by a Nagoro Ware artist.
Following the art and nature experiences, we tasted traditional Japanese lunch including Tempura and Tofu in an old folk house restaurant adjacent to the temple.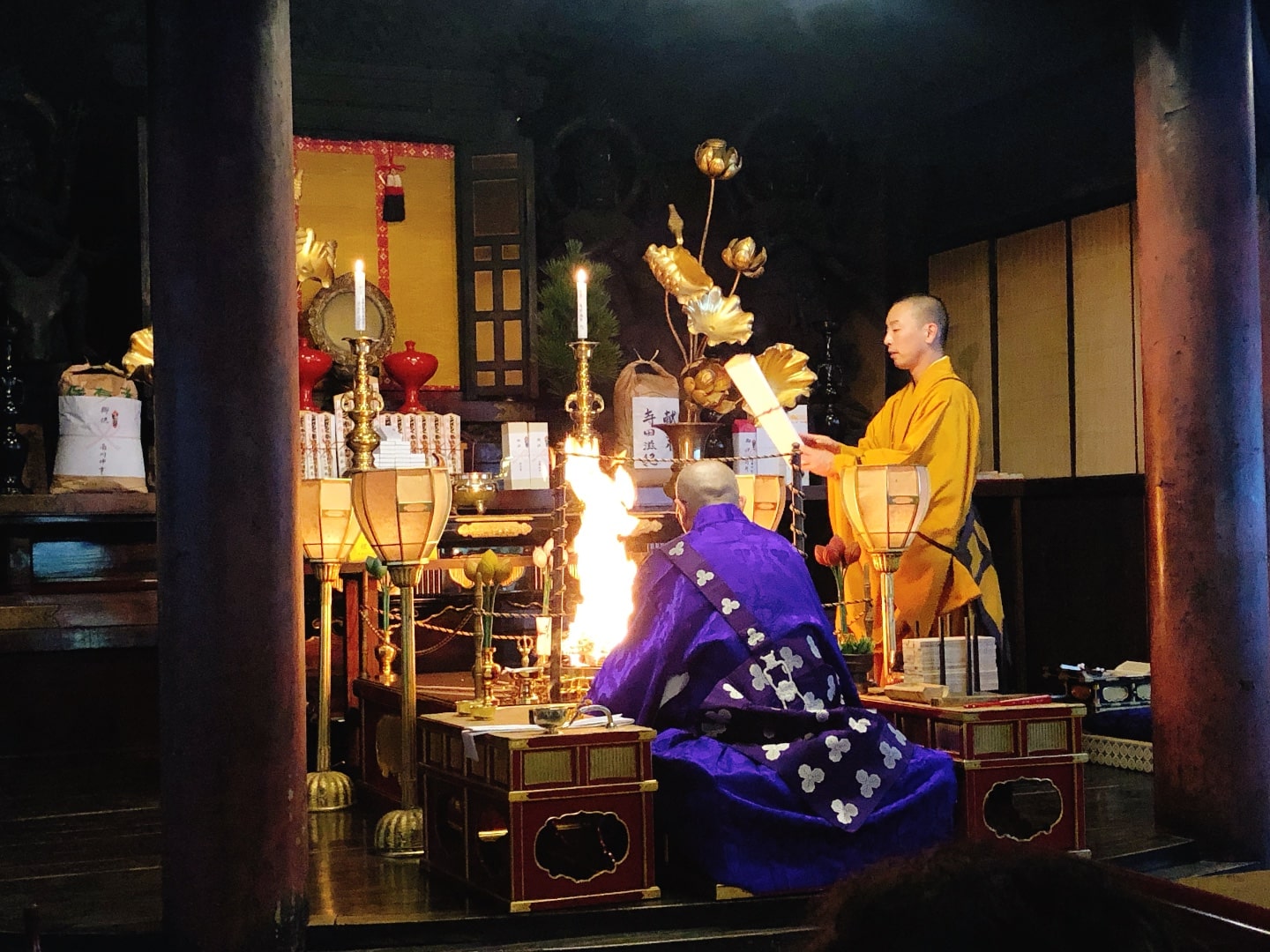 After lunch, we took part in the one and only Buddism ritual called Ogoma. Monks prayed for us with a Buddhist chant, flames and Japanese drums. An Ogoma celebration is a rare opportunity but is highly recommended to see once at least in Japan.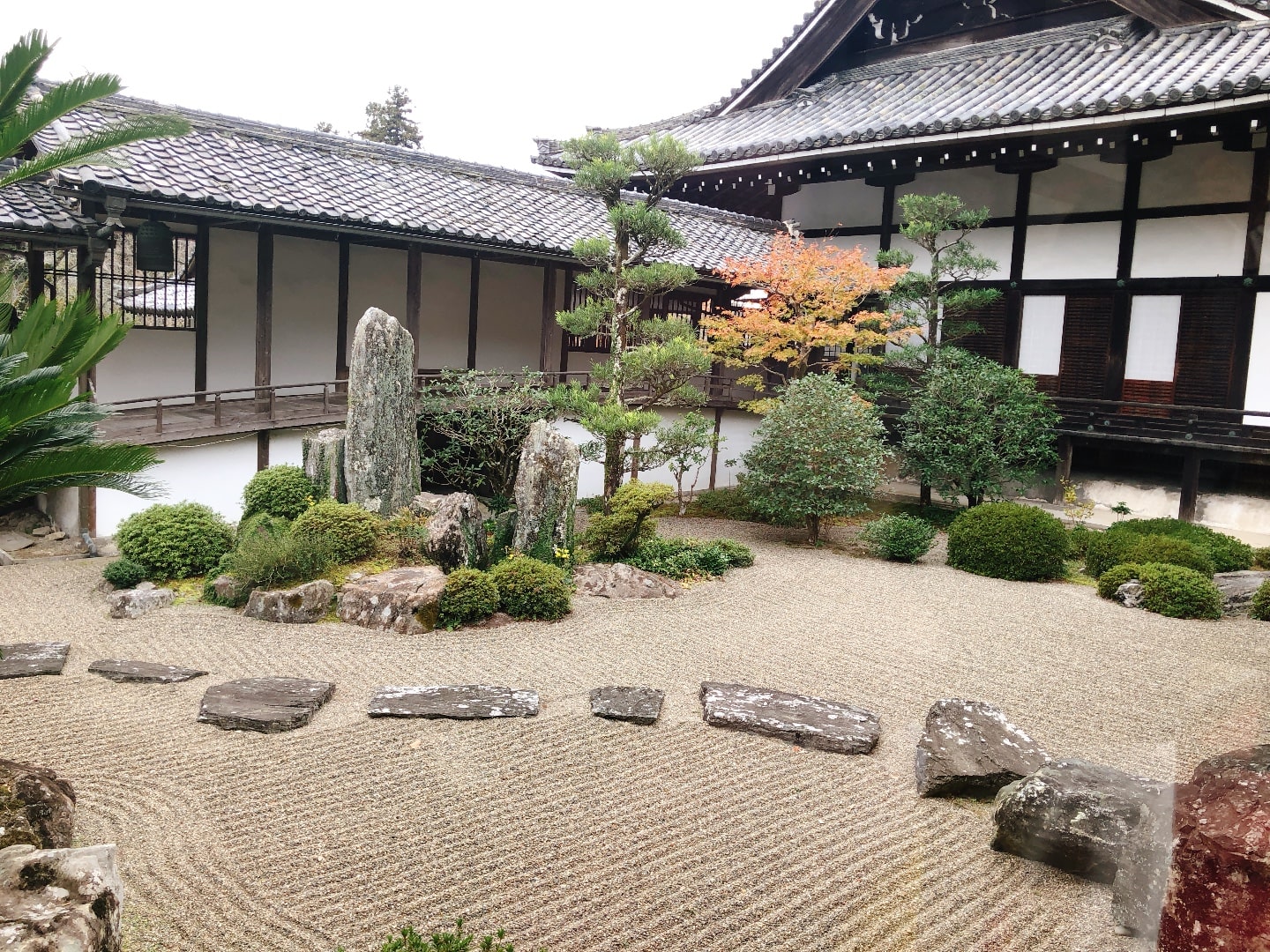 At the end of the itinerary in Negoroji Temple, we viewed the beautiful scenery of its garden consisting of designed stones, the pond and the fall that water flowing into from the mountain. As other buildings of the temple maintained by the Kishu Tokugawa family, the garden was presented by them.
A picturesque seaside town Kada and staying at Kyukamura Kishu-Kada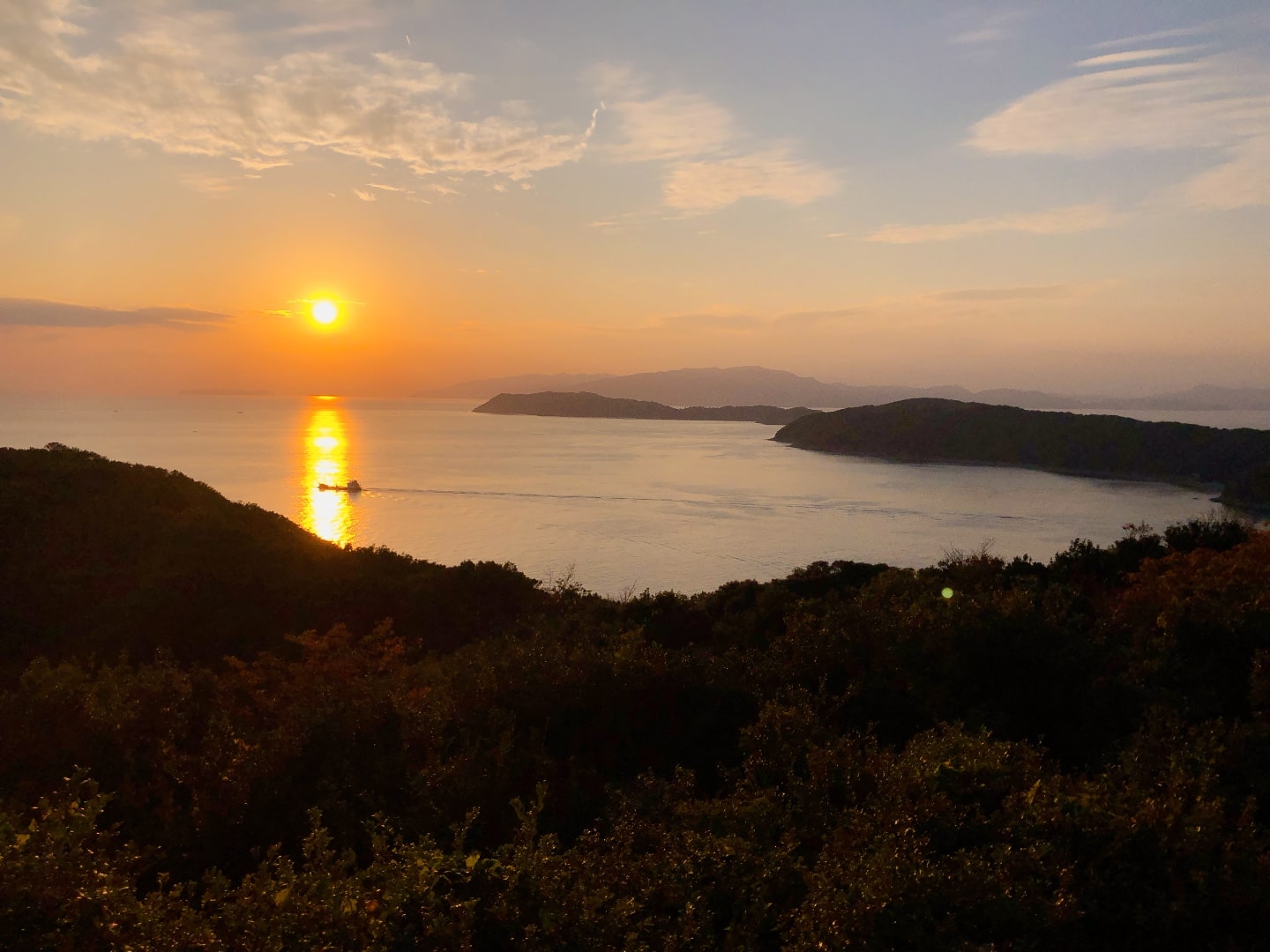 After fully enjoying the powerful Negoroji Temple and its nature, we moved to Kada, which is located in the northwest of Wakayama City. Kyukamura Kishu-Kada, where we stayed on the first day, is one of the best accommodations in Wakayama. The scenic hotel faces the Kitan Strait, and we saw the breathtaking ocean and the sunset sinking below the horizon.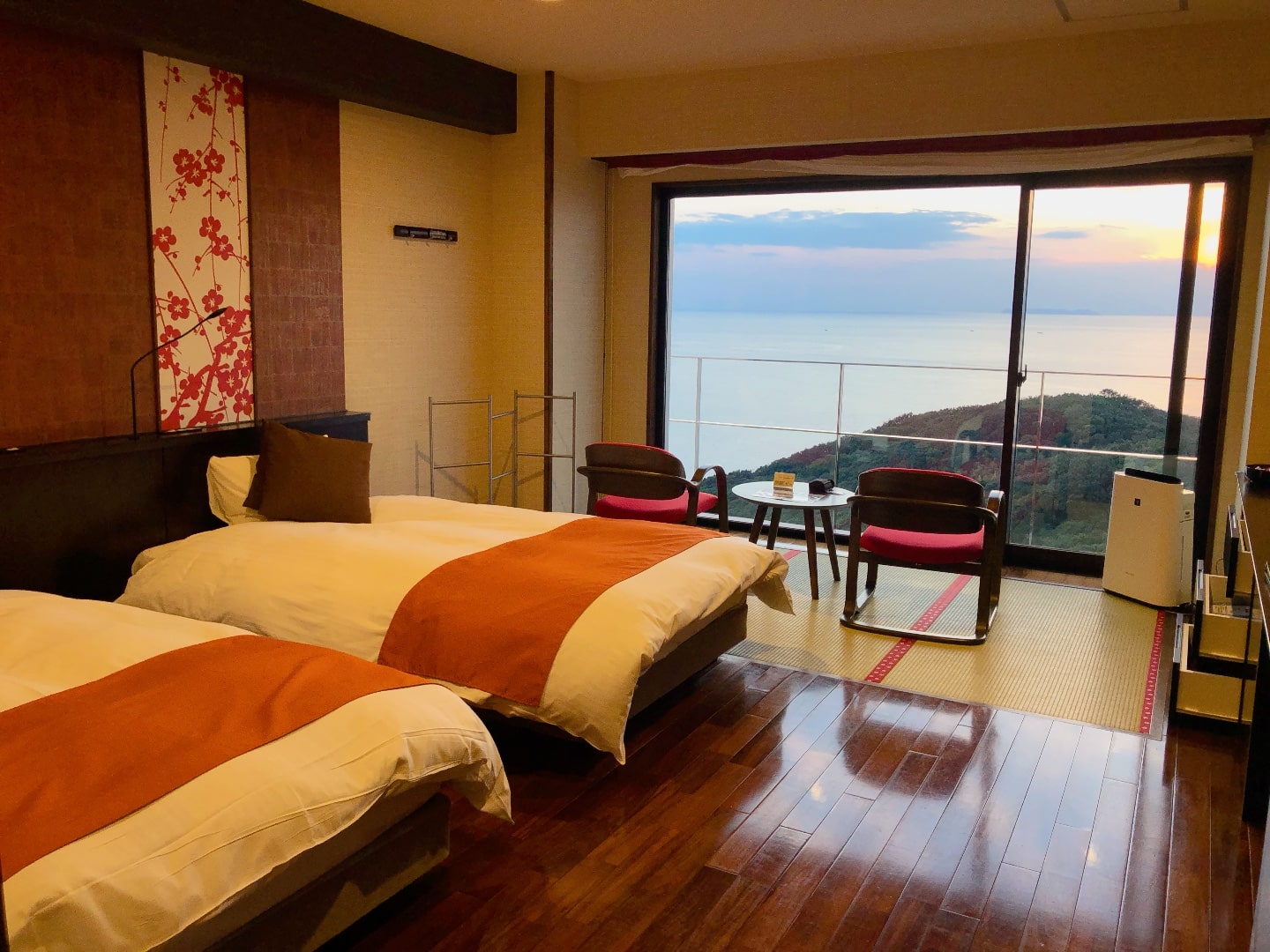 I was surprised at the scenery from the wide window of the room, which consisted of the ocean and some remote islands like Tomogashima Islands and Awaji Island. Kyukamura Kishu-Kada is also featured by the scenic outdoor Onsen, where you can enjoy wide open views of the Seto Inland Sea while soaking in hot springs. I really want to show you the Onsen facility, but it was prohibited to take photos of it. Please visit the official website of Kyukamura Kishu-Kada instead: https://www.qkamura.or.jp/kada/
Kada is famous for fishing sea bream, and there were some specialty dishes cooked with the freshest fish such as Sashimi, Shabushabu and rice for dinner. The dinner time was also good for communicating with other participants from different backgrounds. The delicious dinner and the relaxing hot springs got rid of tiredness.
The lovely hotel also offers attractive activities such as a stargazing party and a morning walk. Unfortunately, the stargazing party on the day was cancelled due to the cloudy sky. However, the walking tour in the next morning was fantastic.
Day 2
Morning Walk to Yura Fortress and Breakfast
We were favored with good weather on the second day, too. The Wakayama Garden × Wellness Tour re-started with Radio Taiso, which is a traditional Japanese morning exercise routine, and a walking tour to the Ruins of the Miyama Battery from 7 a.m. I felt like I had wandered into a different world at the same time we stepped into the forest. It took just 10 minutes to reach the Yura Fortress, which was founded for gun batteries and fortifications during World War II. After 5 more minutes, we arrived at an observatory overlooking Tomogashima Islands floating the Seto Inland Sea.
Feeling hungry, we went back to the hotel and got to the Ocean Dining for a buffet-style breakfast. It offered both Japanese and Western foods such as Onigiri (rice balls) and sandwiches as well as other dishes cooked with regional ingredients. You should try some of dozens of different toppings of Onigiri that are served by the chef specializing in making them. He made some Onigiri in front of me just after I ordered from the diverse ingredients. It is also recommended to try Umeboshi (pickled plums) that are a local specialty of Wakayama.
A scenic port town Wakanoura and Yosuien Garden
For the highlights for the second day, we left the Kada area and headed to a scenic port town Wakanoura. Wakanoura, located in the southwest of Wakayama City, has been famous for landscapes surrounded by the sea and mountains since the Nara period (710-794).
Our first destination on the second day was Yosuien Garden, which was established by Tokugawa Harutomi, the 10th head of the Kishu Tokugawa family, in 1826. I, a Japanese travel writer, had not known the garden itself and it was such a serene and beautiful place until the tour guided me there. Yosuien Garden is a Japanese stroll garden with a large pond in the center surrounded by designed stones, plants, artificial hills and a Torii gate. The landscape of the 33,000-square-meter garden is mainly formed by a lot of pine trees. It is also unique that water flows into the pond from the sea, and there is no garden with that pond except Yosuien Garden and Hamarikyu Garden in Tokyo.
Yoga at Bandoko Garden
The next attraction was a yoga lesson at Bandoko Garden, which was one of my best experiences on the tour though that was the first time I did yoga. Practicing yoga on the lawn of that beautiful Japanese garden with ocean views will surely be a once-in-a-lifetime activity for you as it was for me. You can see the Seto Inland Sea with Awaji Island and even Shikoku Region from the garden. I sweated it out with the yoga lesson and thought it was definitely good for health. I could stay in the quiet garden for unlimited hours.
Lunch on the 14th floor in front of Wakayama Castle
We had lunch at "14th Floor Farm", which is literally located on the 14th floor of Wakayama's city hall building. There are buffet-style dishes cooked with ingredients from local farms. Additionally, I found it was a perfect spot to capture the entire picture of Wakayama Castle.
Wakayama Castle and Nishinomaru Garden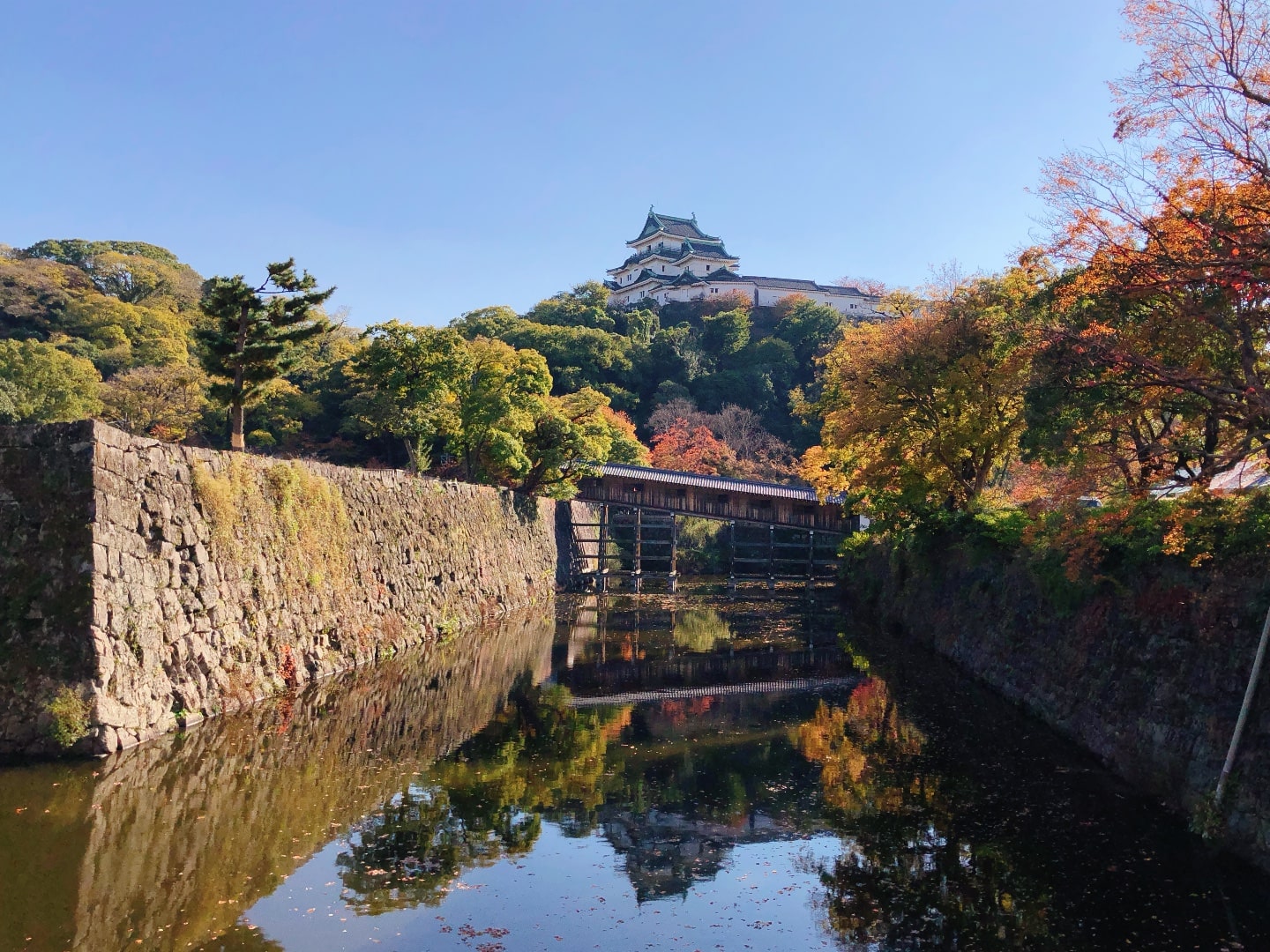 Our final destination was Wakayama Castle, a symbol of the city. The castle was founded in 1585, which had been home to the Kishu Tokugawa family since 1619. The current castle was rebuilt in 1958 following the same blueprint as the original one that was burn destroyed after a lightning struck and an air raid.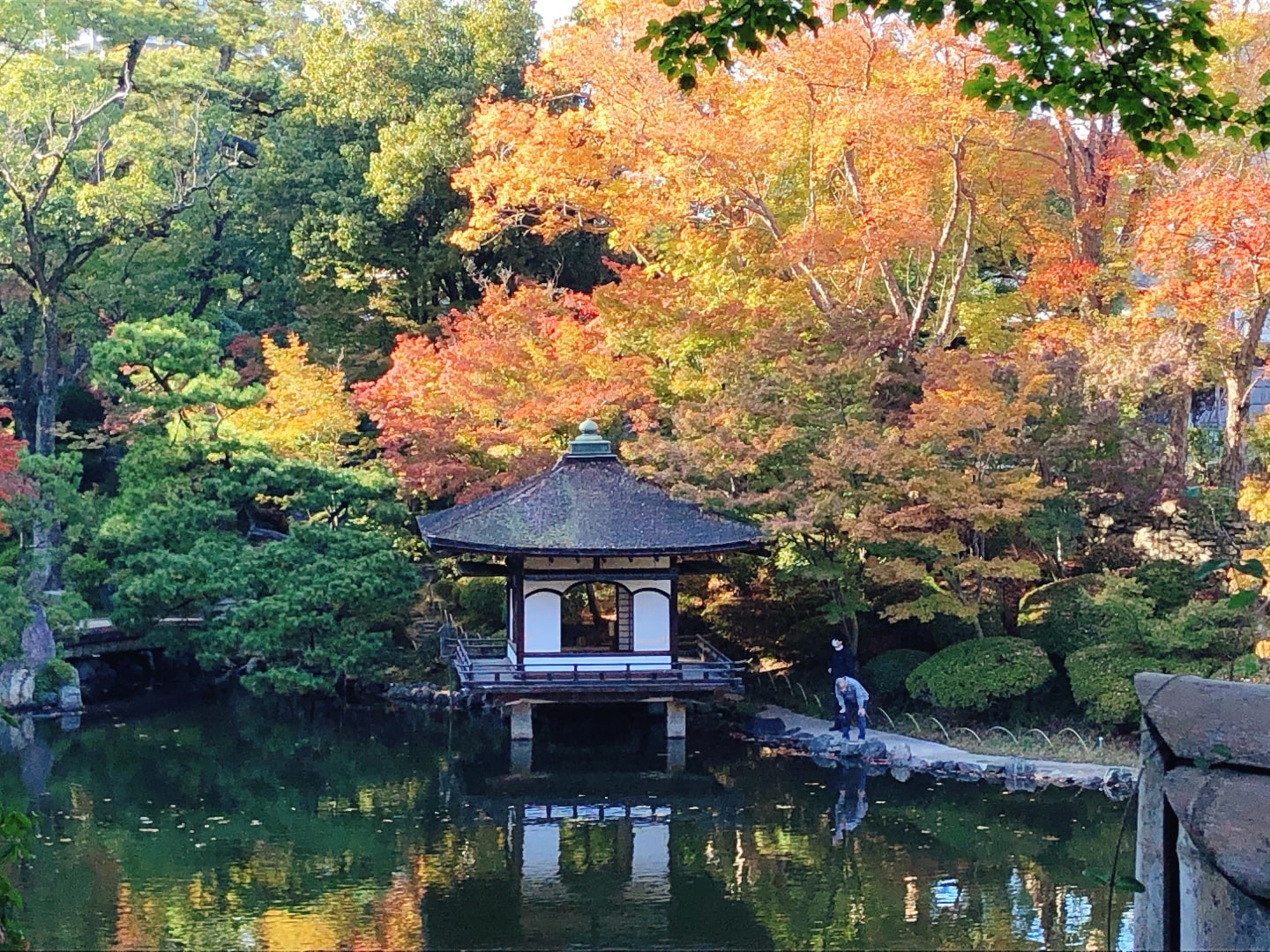 There is a Japanese garden named Nishinomaru Garden at the bottom of the castle, which is also called Momijidani Garden for tinted leaves in autumn. It is a steep stroll garden with a centered pond, and is colored by red and yellow leaves from the late November to the early December.
We experienced authentic green tea and traditional Japanese sweets at the tea house Koshoan. It served a cup of green tea and a small snack filled with red bean paste. You can also visually enjoy tea ceremony bowls and cute and colorful sweets there. This afternoon tea time soothed my soul.
Finally
The enjoyable Wakayama tour was ending at a souvenir store near Wakayama Castle. I had a hard time saying goodbye to other participants and the wonderful guides at Wakayama Station.
Tokyoites such as myself don't get as much of an opportunity to visit and get to know about Wakayama as much as more popular spots such as Osaka and Kyoto, which are visited more frequently. However, I understood there were many more places that have lots of attractions but received little publicity all over the country after this tour in Wakayama.
Those several nice spots and activities during this Wakayama Garden × Wellness Tour made me think so. They may not be easy for first-time visitors to access for two days. In that case, it is strongly recommended to join this kind of tour and move around by bus.
Wakayama City and the Wakayama Garden × Wellness Tour are perfect for those who want to visit untouristy or hidden spots in Japan, who are interested in Japanese gardens and healthy culture, or who want to make an itinerary including Osaka and Kyoto.
How to Get to Wakayama
It takes about 3.5-4 hours to get to Wakayama Station from Tokyo Station like this example:
Tokyo – Shin-Osaka (Shinkansen): 2 hours 30 mins/14,520 yen
Shin-Osaka – Wakayama (Rapid train Kuroshio): 1 hour/2,590 yen
Wakayama is more accessible from main Western cities such as Osaka and Kyoto. It takes only an hour to get to Wakayama Station from Shin-Osaka. Only less than an hour from Kansai International Airport to Wakayama Station by JR Kansai Airport Line and Hanwa Line.
---
For more information about traveling in Japan, check these articles below!
▽Related Articles▽
▼Editor's Picks▼
---