10 Best Sushi Deliveries in Tokyo
Our picks for Sushi delivery services in Tokyo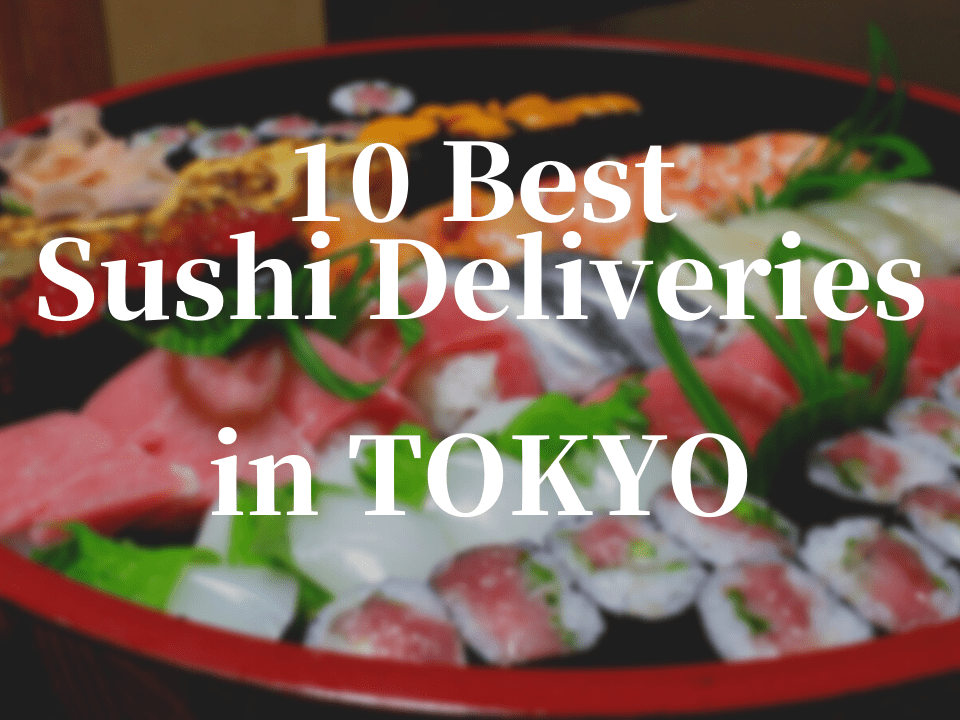 For those of you living in Tokyo, don't you sometimes crave good food, but also don't feel like going to a formal restaurant for it?
Many people think they need to go to a traditional sushi restaurant in order to enjoy high-quality sushi. This may be true to an extent, however, there's also a way you can still enjoy good sushi without the need of leaving the comfort of your home; yes, I'm referring to sushi delivery.
If you have never tried ordering sushi delivery, you might be a little worried about the quality. This is understandable, especially because there are so many options.
In this article, I will introduce to you our 10 picks for best sushi deliveries in Tokyo.
---
Why order sushi delivery?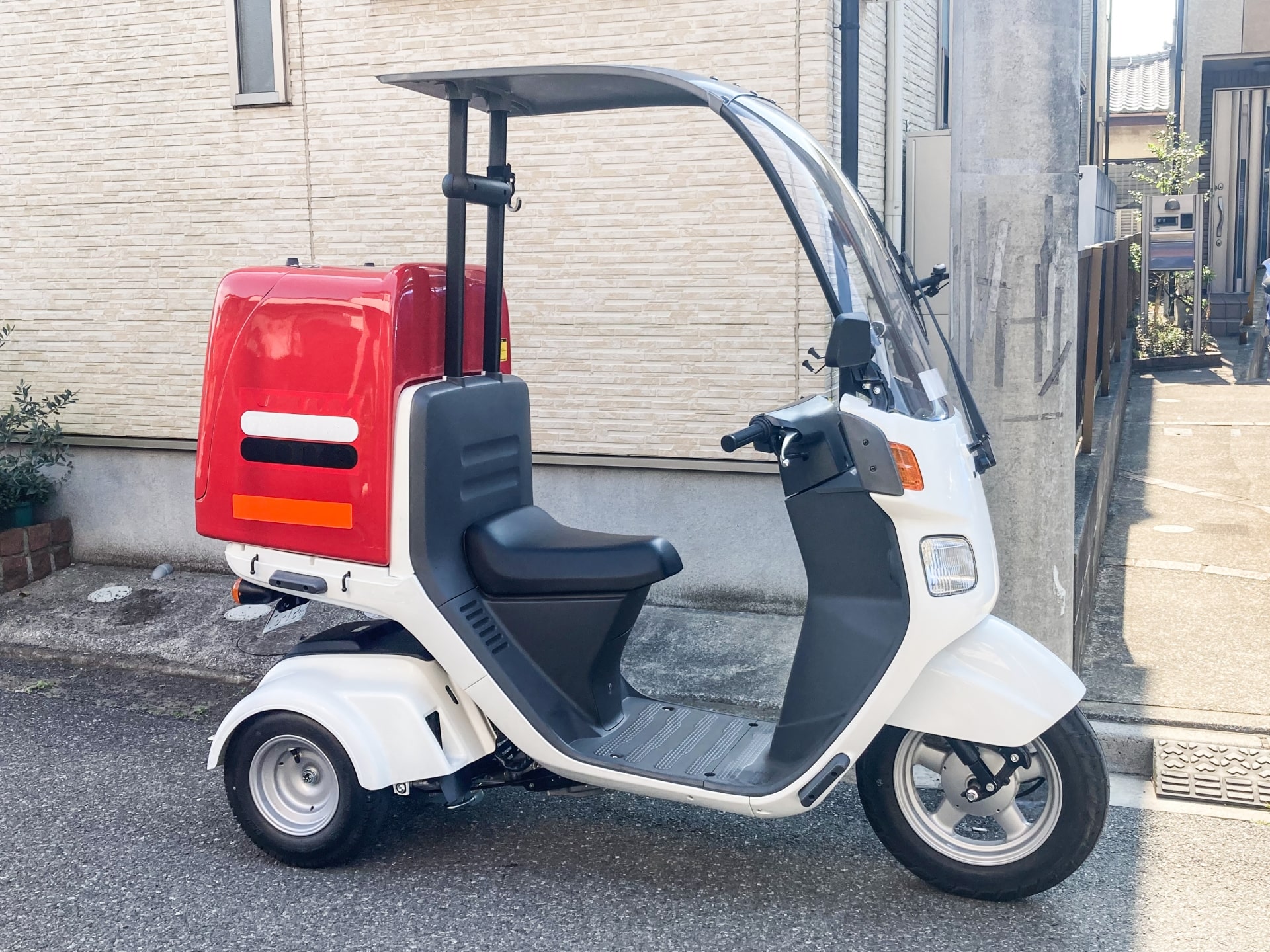 Other than going to a traditional sushi restaurant, there are several ways you can eat sushi such as going to a conveyor belt sushi restaurant, buying it at a supermarket or convenience store, and using a delivery service.
What makes sushi delivery services stand out from the other options?
First, the quality of sushi will be considerably better compared to sushi you find at supermarkets and convenience stores. This is because the sushi from delivery services will usually be prepared after you place the order, making it much fresher.
Also, you'll be able to enjoy this at your home where you can feel comfortable.
What's the sushi quality of delivery services?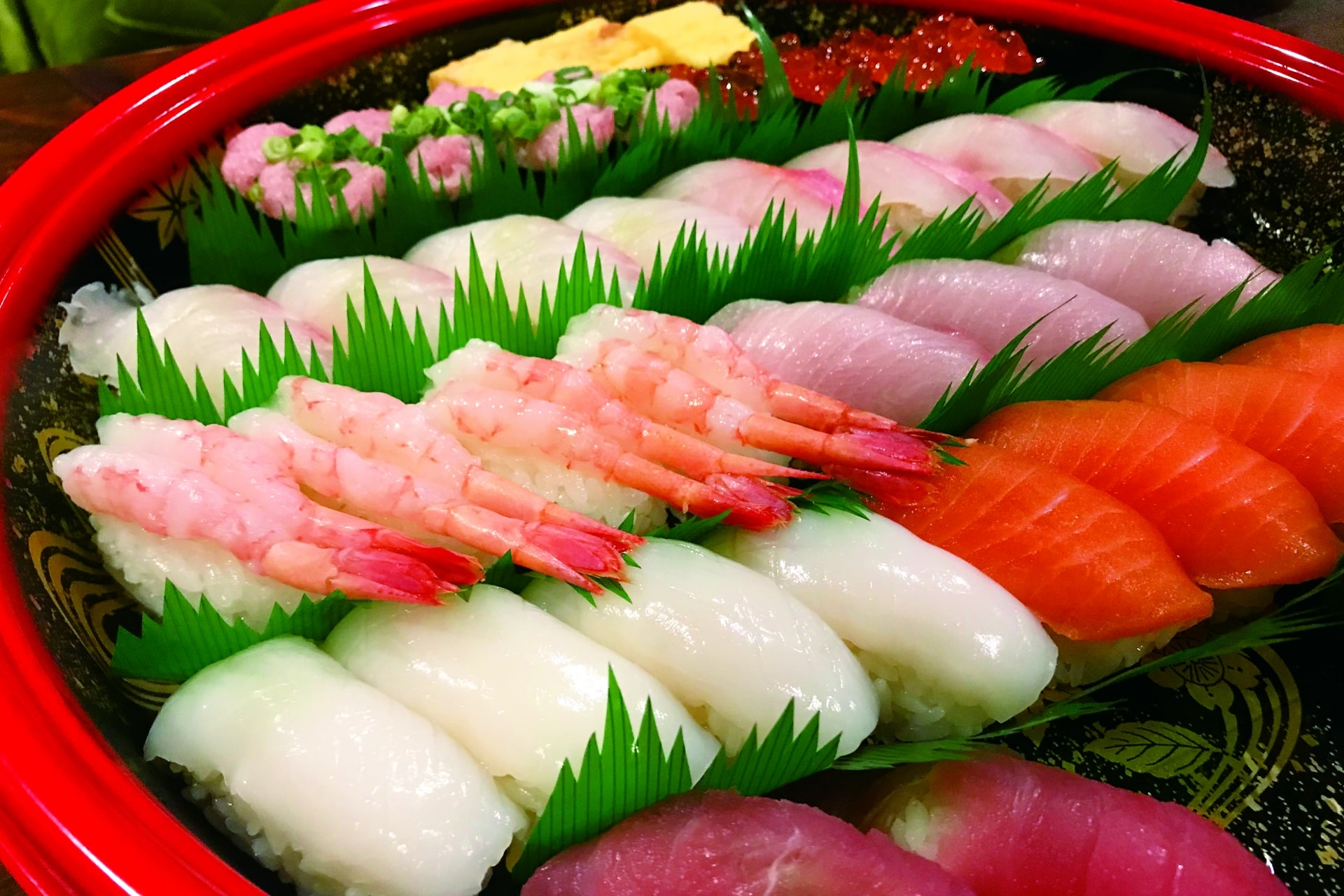 You might wonder how good is the quality of these sushi from delivery services.
Let me tell you that the quality is as good as the restaurant. In other words, in most cases, it's really good and you don't need to worry about this.
However, the price usually correlates with the quality. There are some places that are cheaper than others, but overall, sushi delivery is usually more expensive compared to ordering other kinds of food.
How sushi delivery works
There are some things you should be aware of before ordering sushi delivery.
For example, although some places use disposable plates, there are other restaurants that use containers that need to be returned. How this works is that a delivery staff will come the next day to pick it up. How to return it can vary depending on where you live, so be sure to ask beforehand.
Also, you should know that some restaurants specialize in delivery while others are restaurants that use separate delivery services such as Demae Kan and Uber Eats. These separate delivery services make the delivery possible for many sushi restaurants that didn't use to offer this service.
Best Sushi Deliveries in Tokyo
From here, let me introduce to you our 10 picks for sushi delivery services in Tokyo. I hope you find one that suits your taste.
All these websites are in Japanese (some do have English versions). so if you're not comfortable with your Japanese, you might want to ask someone to help you order your first time.
1. Gin no Sara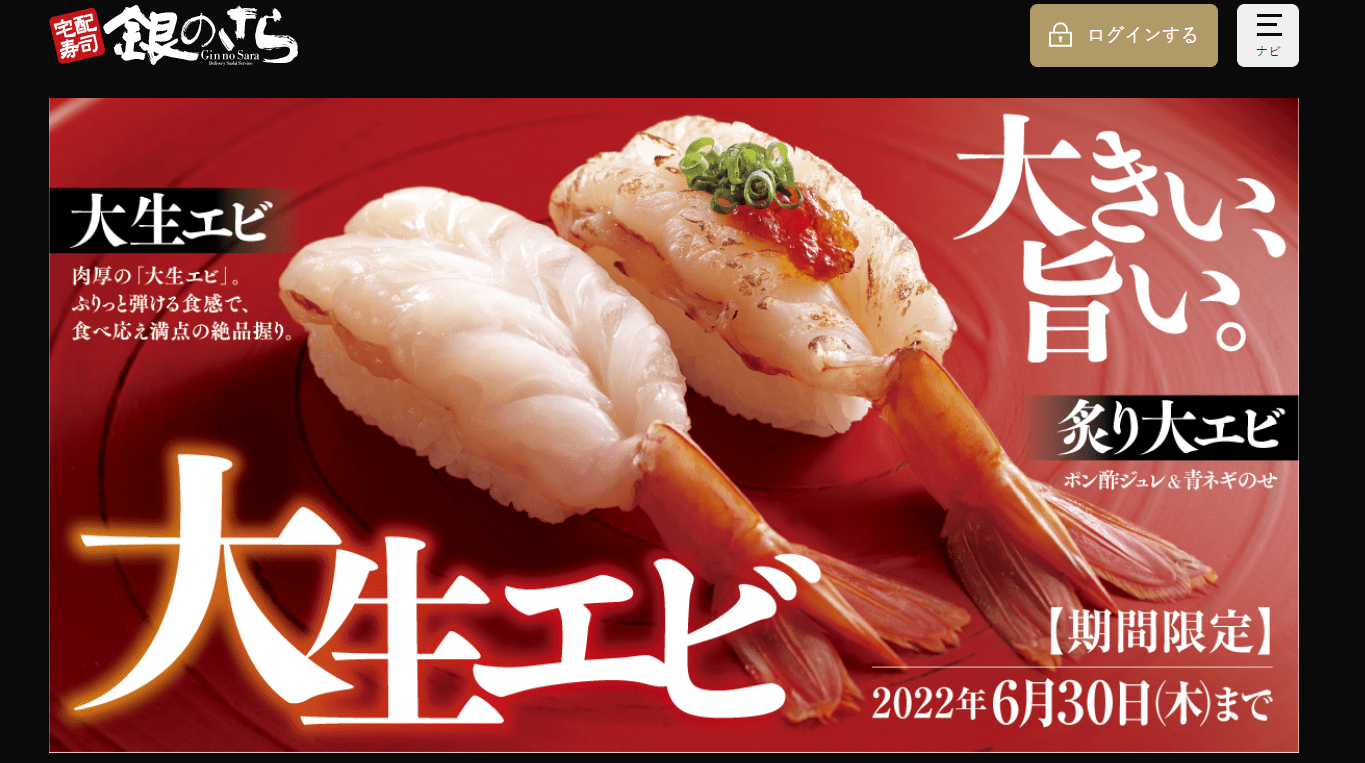 Gin no Sara (銀のさら) is the largest sushi delivery service in Japan, having over 700 shops including affiliate shops. It opened its first shop in 1998 and has expanded throughout all of Japan.
The most attractive point about Gin no Sara is its commitment to preparing the sushi pieces after an order is made. This is to guarantee its freshness to the customer.
Also, because of the number of shops, there is a good chance that you will find a Gin no Sara that will deliver to your place.
▶Official Website: https://www.ginsara.jp/
2. Tsukiji Kaihin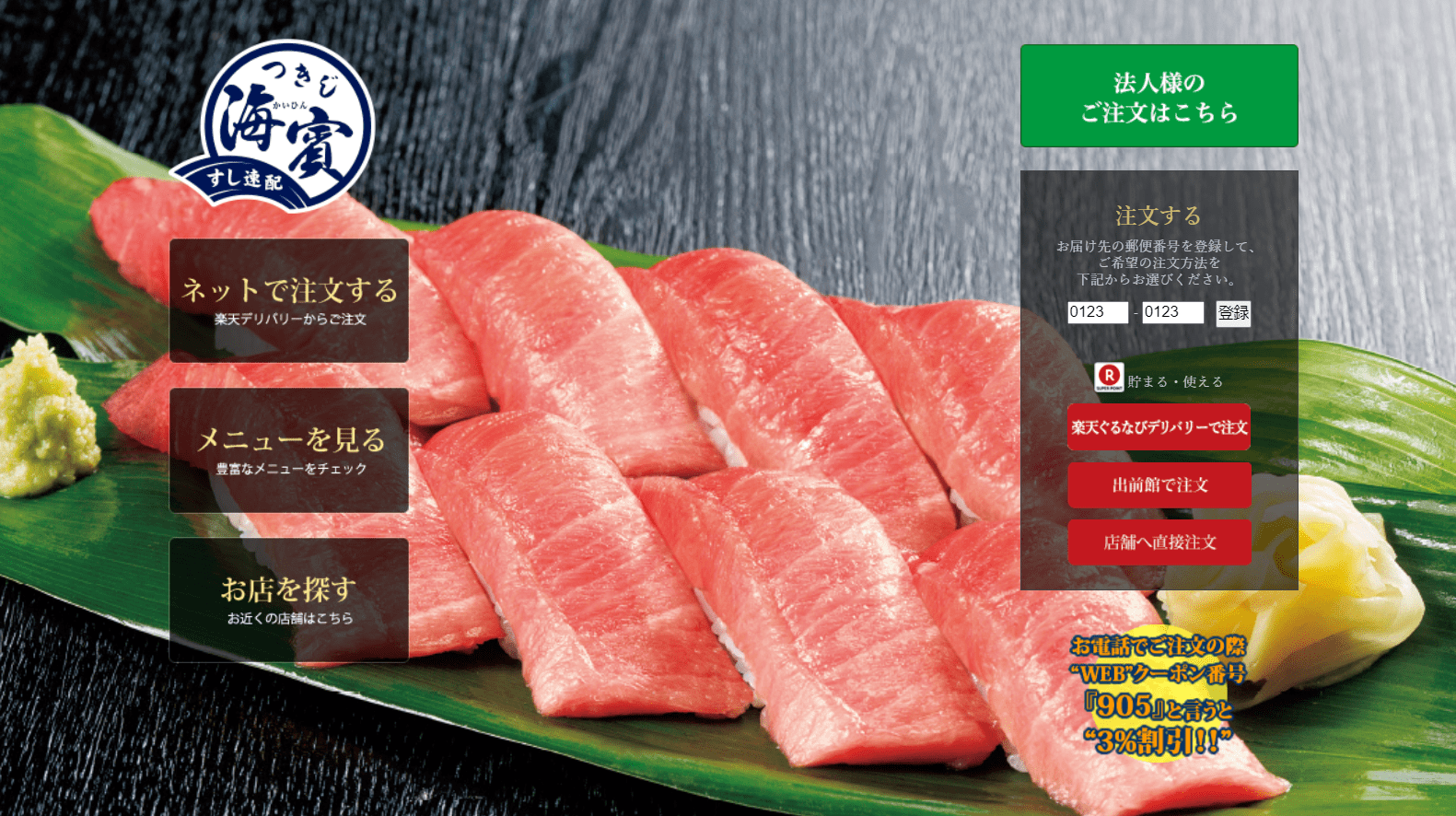 Tsukiji Kaihin (つきじ海賓) is a shop that started in 1991 in Kanagawa prefecture and has over 50 branches. They specialize in Kanagawa, Tokyo, Saitama, and Shizuoka prefectures.
In order to maintain its good quality, Tsukiji Kaihin doesn't develop its branches as franchisees, and rather directly manages all their shops.
The price is relatively reasonable and the minimum order amount is 1,200 yen which is one of the lowest compared to other sushi delivery services.
▶Official Website: https://www.tsukiji-kaihin.com/
3. Sushiro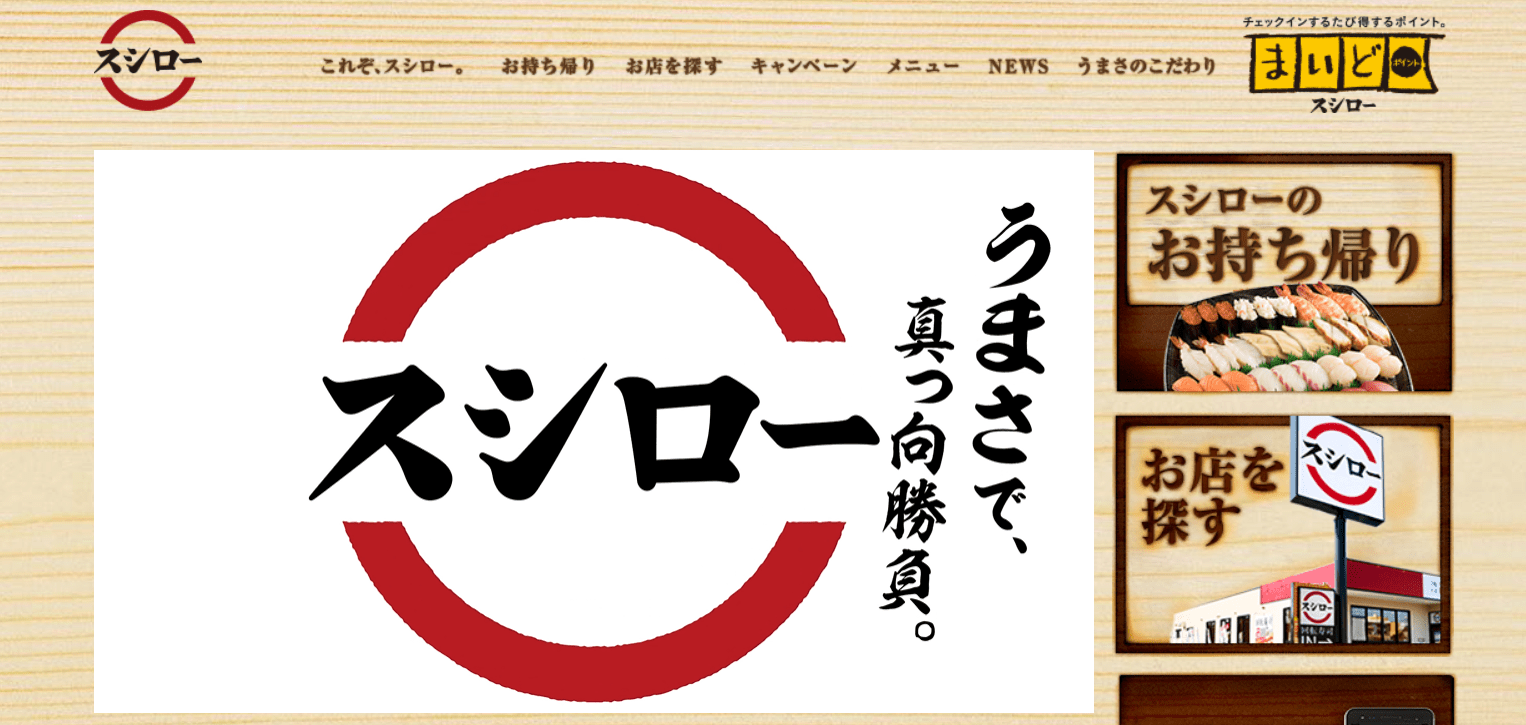 Sushiro (スシロー) is arguably the most popular conveyor belt sushi restaurant chain in Japan. First opened in 1984 in Osaka, it has now expanded all across Japan, having over 600 restaurants.
They are not very known as being a sushi delivery shop, but you can order from either Uber Eats or Demaekan. Which service can be used depends on the branch you're ordering, so be sure to check beforehand.
Similar to Gin no Sara, they have many shops, so it is most likely you'll find one nearby that will deliver to your place.
▶Official Website: https://www.akindo-sushiro.co.jp/
4. Kakiya Sushi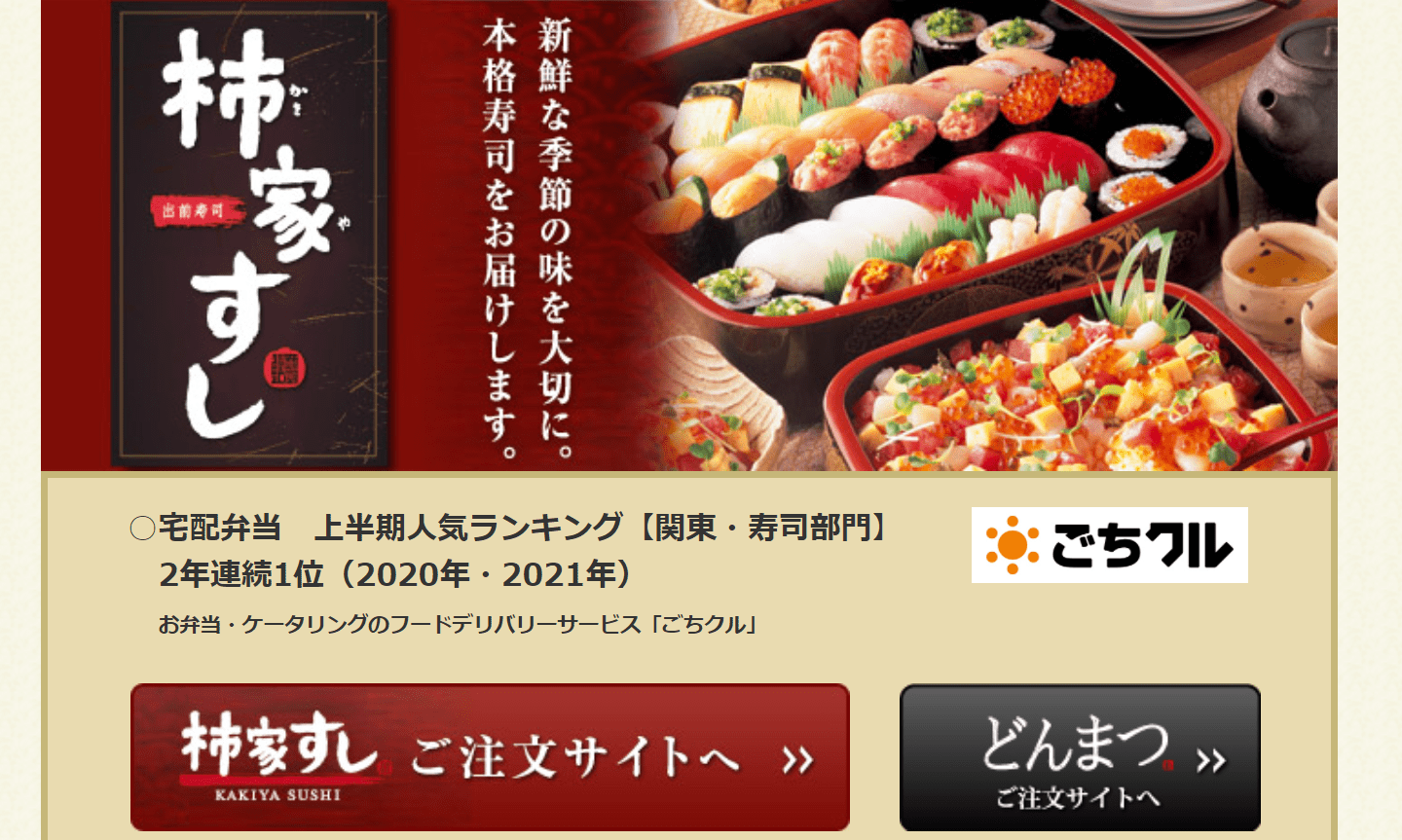 Kakiya Sushi (柿家鮨) is a sushi delivery that is run by the same company as Pizza-la. There are 24 branches mainly focused in the Tokyo area.
Most of its shops are located within the central Tokyo area, and they are particular about choosing the best materials accordingly to the season. This means that you will notice differences in their menu depending on what time of the year you're ordering, which makes you want to check their menu constantly.
▶Official Website: https://www.kakiya-sushi.jp/
5. Neiro Sushi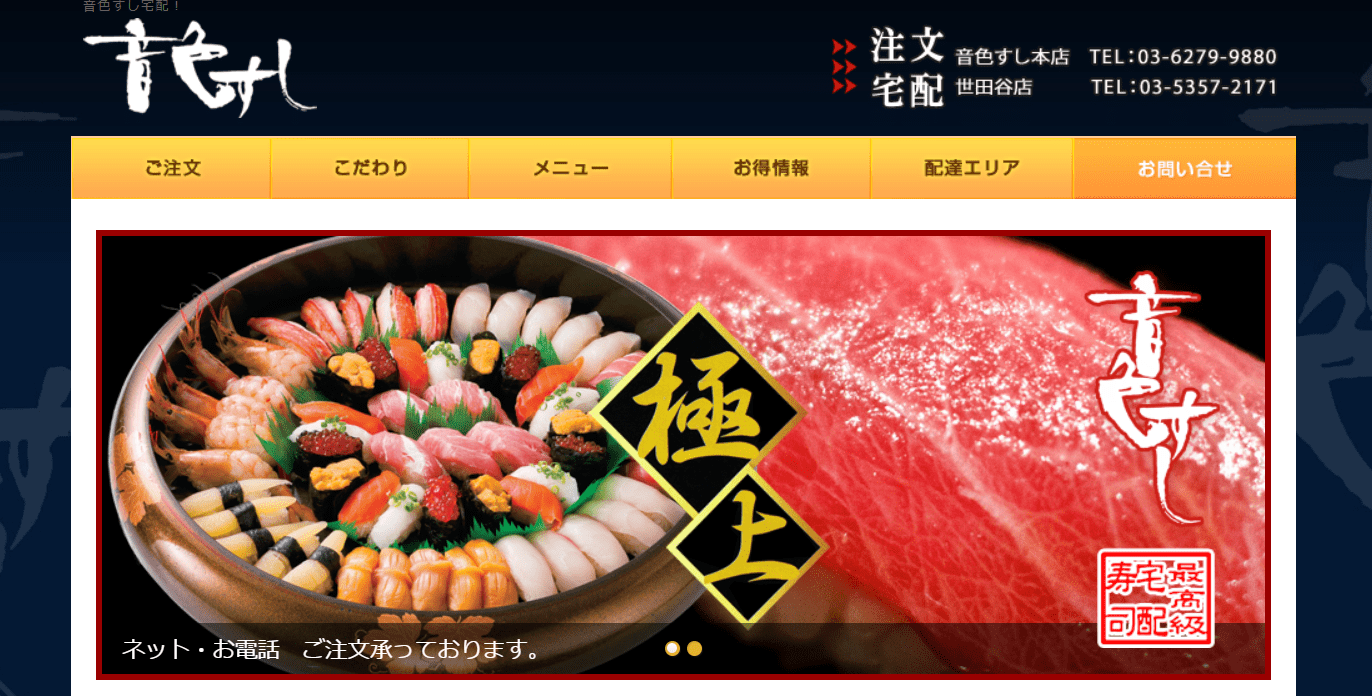 Neiro Sushi (音色すし) is said to be the first sushi delivery company in Tokyo, having opened its first shop in 1996. It has two shops, both of which deliver within Tokyo.
Because of being the longest-running sushi delivery service in Tokyo, it is well known and has a good reputation.
One of their popular menus is the variety of Tuna sushi. Also, the minimum order amount is 1,200 yen which makes it easy to order even for one person.
▶Official Website: http://neiro.co.jp/hp/
6. Daikokuya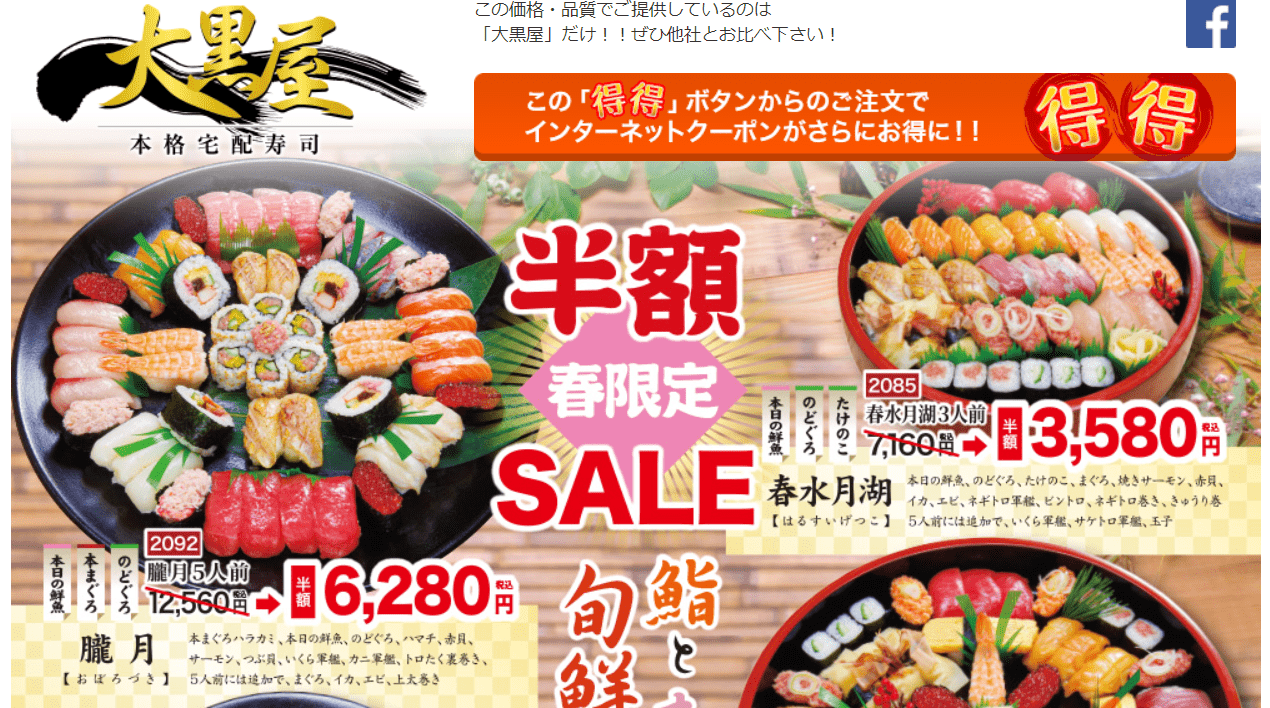 The next delivery sushi on our list is Daikokuya (宅配寿司 大黒屋). Daikokuya started its services when they opened their first 6 shops back in 2001.
They focus their service in Tokyo, Kanagawa, and Saitama.
The attractive point of Daikokuya is primarily in its price, being relatively more reasonable compared to other services on this list. They also are particular about their rice which doesn't use any chemical fertilizer or pesticides.
▶Official Website: http://www.sushi-daikokuya.com/
7. Ajigin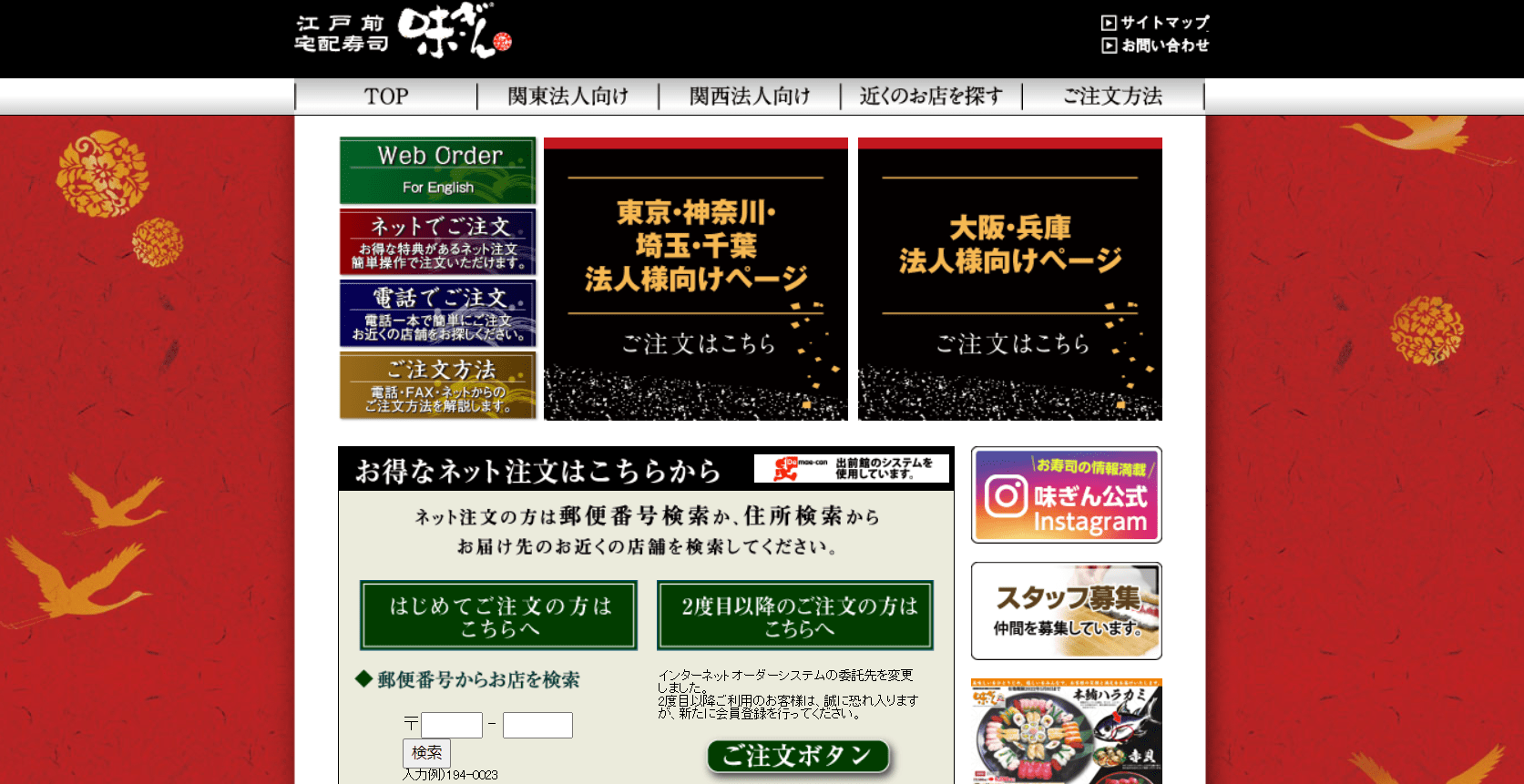 Ajigin (味ぎん) is another sushi delivery service in Tokyo that you can order. Ajigin started in Kanagawa prefecture in the year 2000 and has branches mostly in the Kanto and Kansai region.
In the case of Kanto, they have 17 branches across Tokyo, Kanagawa, Chiba, and Saitama prefecture.
Their strength is in their tuna and salmon sushi which has high praise from its customers. All this at a relatively low cost.
▶Official Website: http://www.ajigin.co.jp/
8. Hama Sushi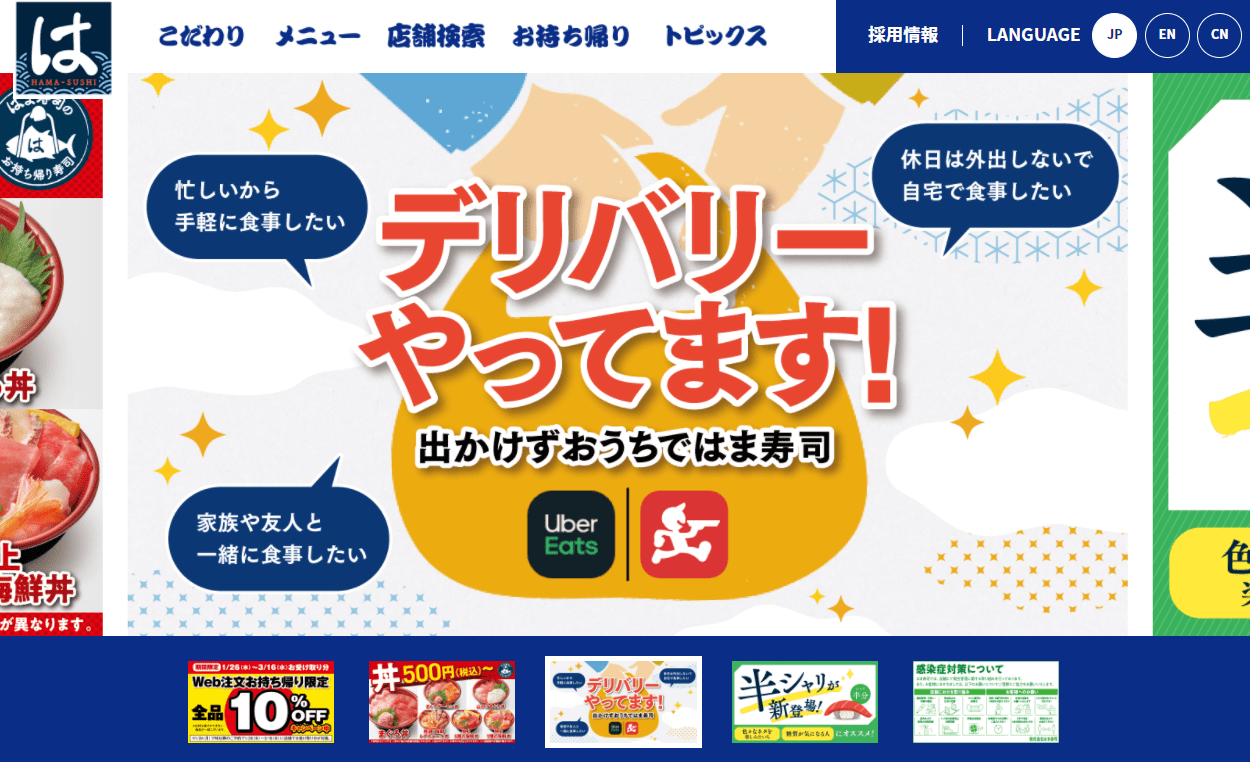 Next on our list is Hama Sushi (はま寿司) which, similarly to Sushiro, is a conveyor belt sushi restaurant chain. They have been in the conveyor belt sushi business since 2002 and have over 500 restaurants all around Japan.
You can order their sushi using Demaekan and Uber Eats. Which service can be used depends on the branch you're ordering, so be sure to check beforehand.
▶Official Website: https://www.hama-sushi.co.jp/
9. Hishizen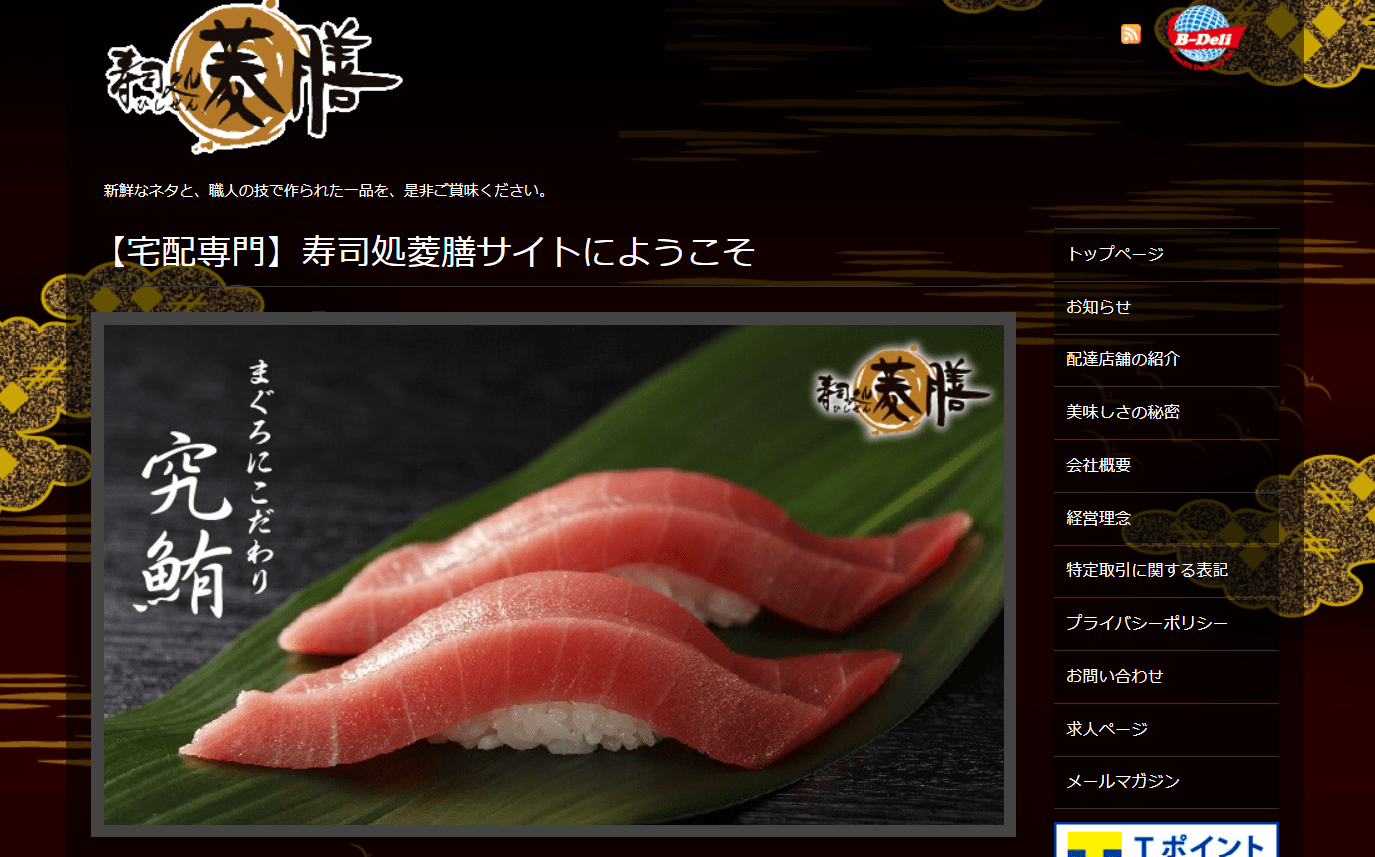 Hishizen (寿司処 菱膳) is a delivery sushi chain that currently has 4 shops in Tokyo. They're in this business since 2013 and are committed to using fresh tuna from Tsukiji which is famous in their repertoire.
Their shops are all located in the central area of Tokyo, and they are particular about their delivery time. They calculate how they prepare their sushi so that it taste best at about the time it gets to the person ordering.
▶Official Website: http://b-deli.co.jp/
10. Sushiiwa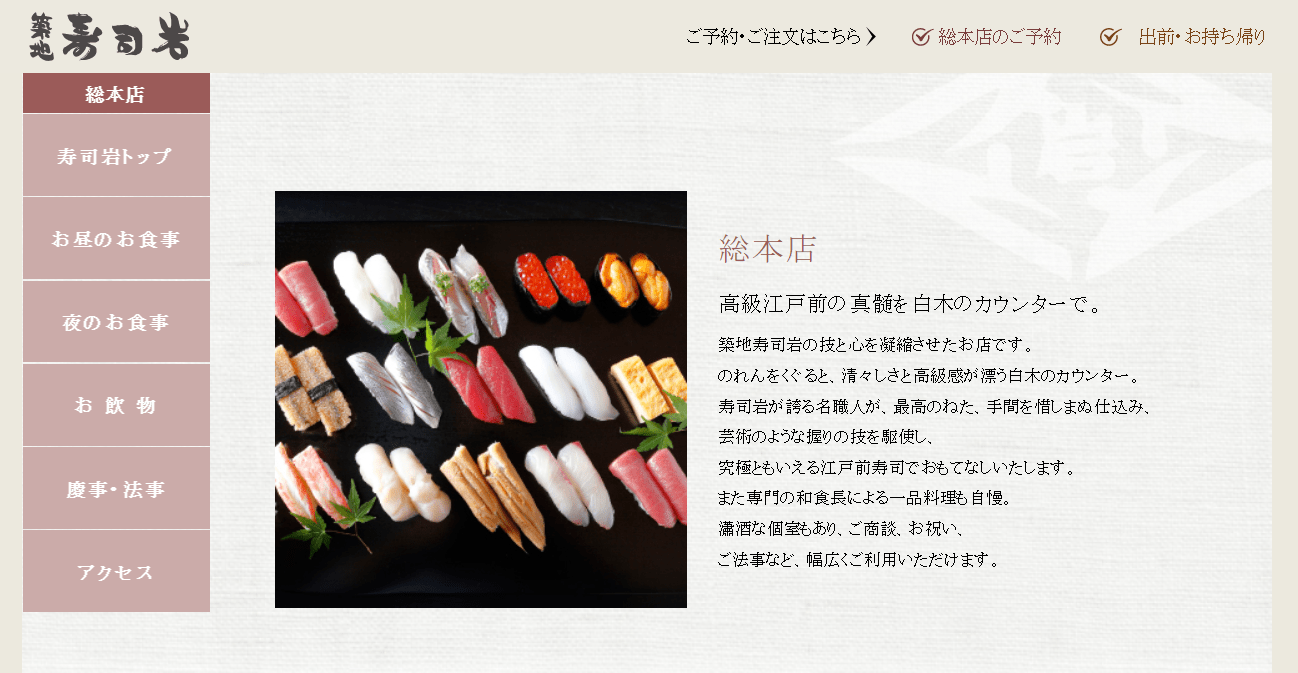 Lastly, on our list, we have Sushiiwa (寿司岩) which is a luxury-level sushi restaurant located in Tsukiji. They are a traditional sushi restaurant that happens to also do sushi delivery as well.
They have 2 restaurants, both located in Tsukiji. The delivery area is based on Chuo city and Koto city. If you happen to be ordering from this area, you may want to check if you can order from this restaurant.
Price is higher than the other places on this list, but the quality is guaranteed.
▶Official Website: https://www.sushiiwa.co.jp/honten/index.html
---
What did you think about this article? Is there a sushi delivery in Tokyo on this list that sparked an interest in ordering?
As I mentioned before, in the case you want to order from their website, all of these websites are in Japanese, so you might need some assistance on your first time ordering. But I assure you, once you know how convenient and luxurious it feels to order sushi delivery, you'll want to order it oftenly.
If you liked this article and want more information about sushi in Japan, check out the following articles!
▽Related Articles▽
▼Editor's Picks▼
---