Meat Sushi : Best NIKUZUSHI Restaurants in Tokyo
From Wagyu beef to horse meat, best Meat Sushi (Niku Sushi) in Tokyo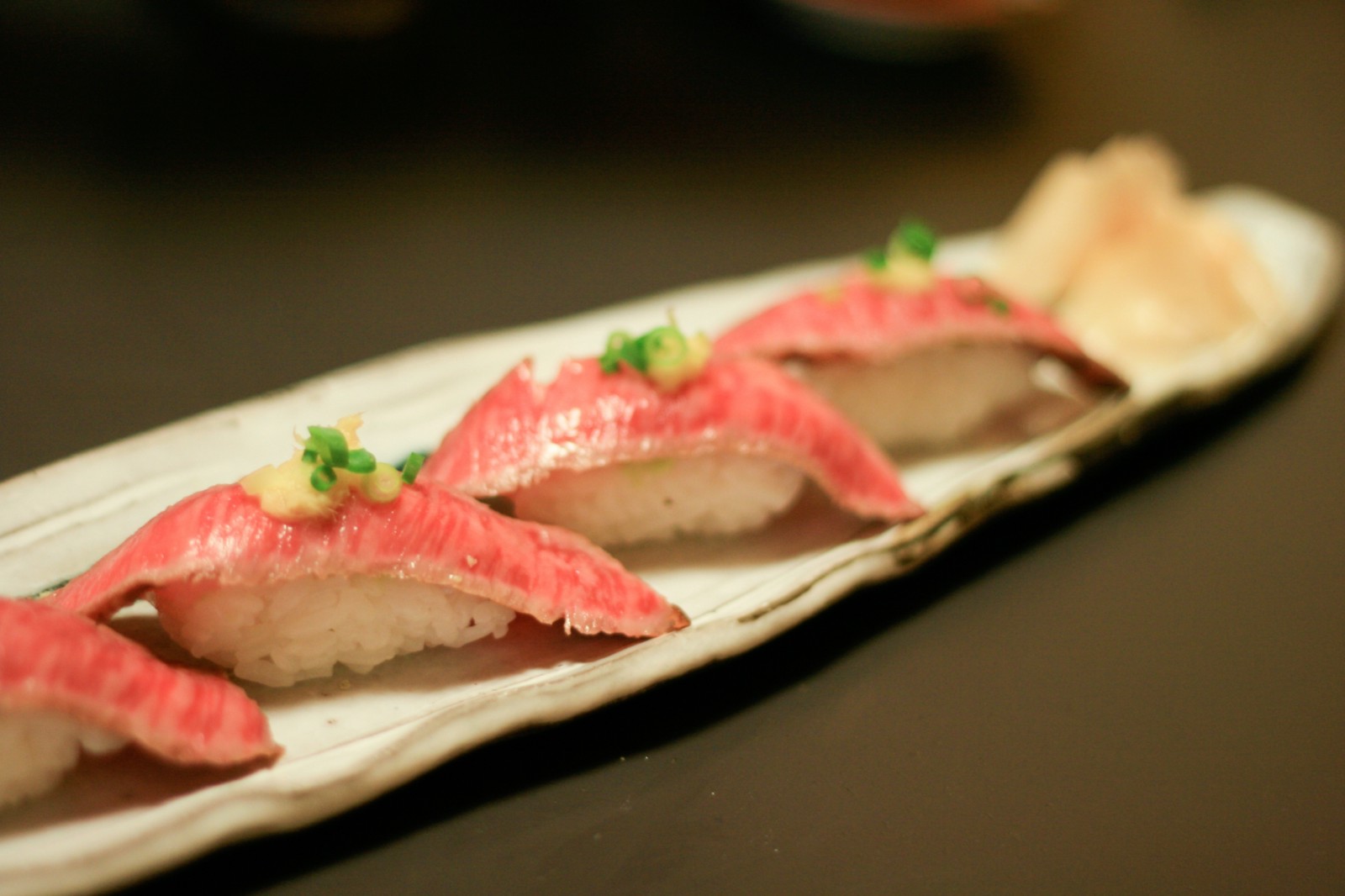 Sushi is the most famous signature dish of Japan, and popular worldwide. Usually Sushi are made with fresh raw seafood with vinaigrette rice, but nowadays, many restaurants in Japan serve creative and modern Sushi dishes, and one of them is Meat Sushi (Nikuzushi/肉寿司). Meat Sushi is becoming hugely popular among foreign visitors to Japan and it's a great option for those who don't eat seafood products yet still want to enjoy the traditional Japanese dish, Sushi.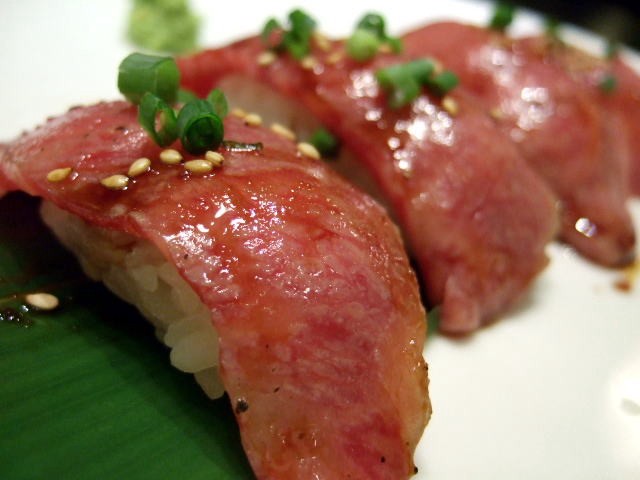 Various kinds of meat sushi can be found in Japan today, including high quality Japanese beef, Wagyu Sushi, horse meat, chicken etc. If you're a meat lover or looking for a whole new Japanese food experience, you should definitely try meat sushi in Japan.
In this article, I'm going to introduce some of the best Nikuzushi restaurants in Tokyo where you can have an amazing wagyu x sushi experience!
*Please note that this article contains affiliate links.
1. Ebisu Yokocho Nikuzushi
Ebisu Yokocho Nikuzushi (恵比寿横丁 肉寿司) is an Izakaya restaurant located at Ebisu-Yokocho, a lowkey lively indoor drinking alley with about 20 small restaurants and bars. Specialized in meat dishes, Ebisu Yokocho Nikuzushi serves meat sushi with various kinds and parts of meat including wagyu beef, horse, pork, chicken, duck and foie gras. The meat is served with raw, grilled or slow cook depending on the variety. The price of meat sushi starts from 200 yen per piece which is pretty affordable. Try a variety of meat sushi in the heart of Ebisu!
Map: https://goo.gl/maps/MPArzHXoL6Xu8jBU6
Access: 3 mins walk from Ebisu Station
Hours: 16:00~3:00 next day
Budget: 3,000 yen~
2. Umaebisu
Umaebisu (うまえびす) is an Izakaya restaurant specializing in horse meat dishes. Using the A5 ranked fresh horse meat from Kumamoto Prefecture, various horse meat dishes are available on the ala carte or course menus including meat sushi, sashimi, tartare, etc. The restaurant offers a spacious dining area with tranquil ambience. There is also an impressive selection of sake collected from all the 47 prefectures of the country.
Map: https://goo.gl/maps/mVWvCUAbrHbDe6Vm8
Access: 5 mins walk from Ebisu Station
Hours: 17:00~23:00
Budget: 5,000 yen~
3. Ginza Koso
Ginza Koso (ギンザ コウソウ) is one of the few restaurants in Tokyo where you can taste raw meat dishes. It's actually the first venue within Chuo ward licensed to serve raw meat. A variety of raw meat dishes using high-quality black-haired wagyu beef can be enjoyed such as tartare, nigiri sushi and donburi. The restaurant serves creative dishes using luxurious ingredients such as wagyu beef, sea urchin, foie gras, truffle and caviar. The restaurant has counter seats and private rooms and it's uniquely equipped with lounge room, karaoke room and golf simulation room.
Map: https://goo.gl/maps/1qtcZGwENXSLNQEz6
Access: 5 mins walk from Shimbashi Station
Closed: Sunday and Holiday
Hours: Mon to Fri lunch 11:30~14:30, dinner 17:30~28:00/Sat lunch 11:30~15:00, dinner 17:30~22:00
Budget: lunch 3,000 yen~, dinner 10,000 yen~
4. Yoroniku
Yoroniku (よろにく) is a popular yakiniku (Japanese BBQ) restaurant located in Minami Aoyama. Yoroniku serves various parts of top-quality wagyu beef as well as innovative dishes including wagyu meat sushi and truffle sukiyaki. It is said that meat sushi was originated in this restaurant! The luxurious yakiniku course is a perfect choice if you want to taste mouthwatering wagyu beef in various ways as the chef opens up a new world of wagyu beef by new approaches and techniques.
▶ Reservation for Yakiniku (BBQ Beef) at Yoroniku in Tokyo!
Map: https://goo.gl/maps/4gJS58ZXECYvQsk16
Access: 10 mins walk from Omotesando Station
Hours: 17:00~
Budget: 10,000 yen~
5. Bouya
Bouya (房家) is a yakiniku restaurant that has been running their business for 20 years. Currently there are 6 outlets in Tokyo and the main branch is located in Nishi Nippori. Bouya makes their best effort to serves high quality A5 ranked wagyu beef at reasonable price by purchasing a whole cattle from suppliers. That also allows them to serve some of rare parts of the meat to customers. Besides yakiniku meat, there are a variety of side dishes on the menu including broiled wagyu sushi with lean meat or marbled meat.
Map: https://goo.gl/maps/WwBxJhz4MntKt39g7
Access: 2 mins walk from Nishi Nippori Station
Hours: 17:00~23:15
Closed: Tuesday
Budget: 6,000 yen
For more info about restaurants in Tokyo, please check out these articles, too!
▽Related Articles ▽
▼Editor's Picks▼
---