How is the Vaccination situation in Japan? COVID-19 Vaccination Record Certificate in Japan Sample Here
Download free COVID-19 Vaccination Record Certificate Sample Here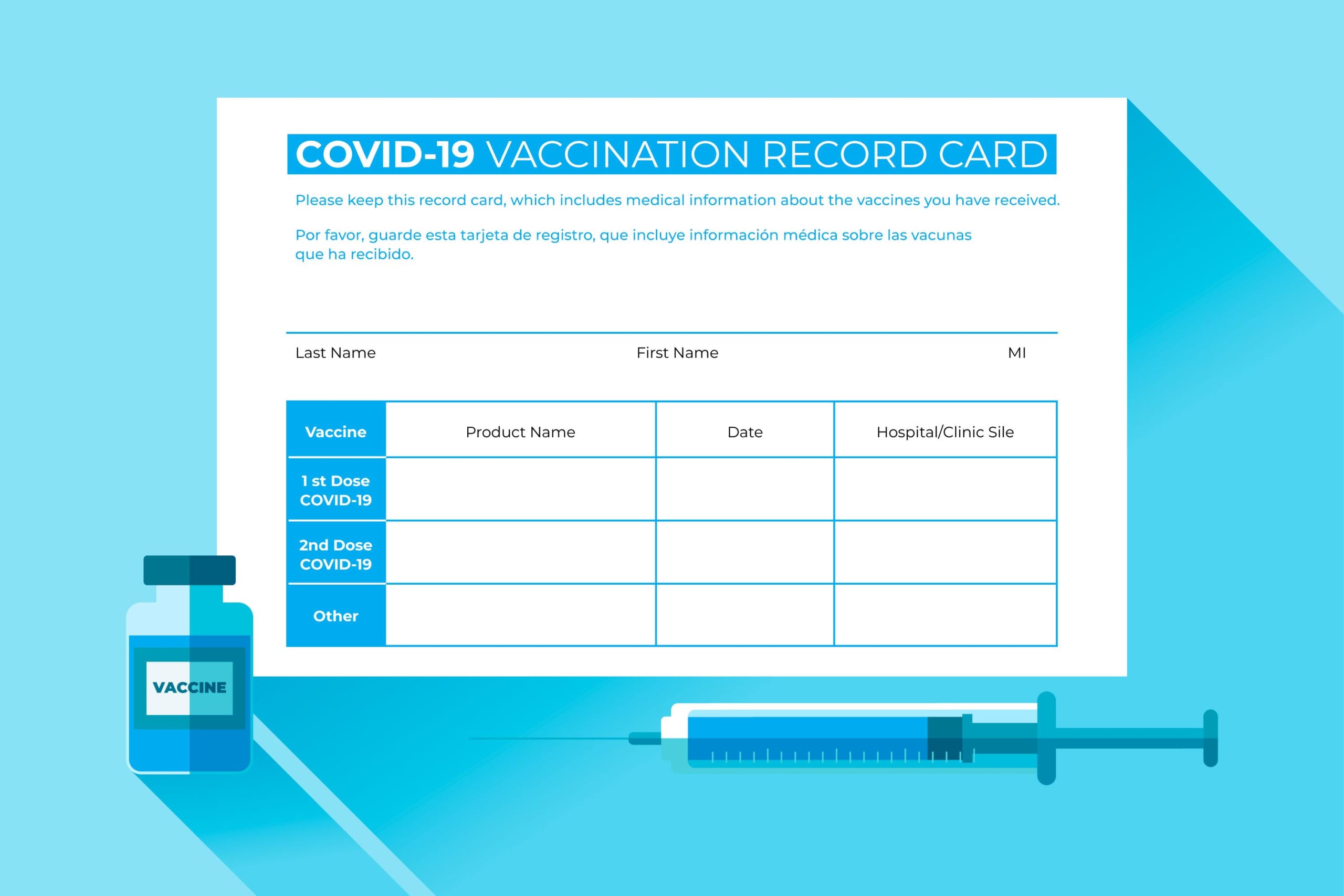 It is no news that today Japan is going particularly slow with COVID-19 vaccines. There are several factors that explain this, but one of the main reasons is that it requires more clinical tests than other countries for the vaccine to be considered safe.
Vaccination in Japan officially started on February 17, providing vaccination for medical workers. Then, on April 12th they started administering vaccines to residents from 65 years and above. When Prime Minister Suga was asked about the schedule, he said they would work to finish the inoculation for the elderly by the end of July.
In this article I will explain how the current situation in Japan is to book an appointment to get vaccinated against covid-19 and at the end I will leave you a sample of the record certificate that is being delivered to people who have already been vaccinated.

Vaccination situation in Japan
Currently, two systems or forms for vaccination are being carried out. One is mass vaccination, for which many people get together in the same place and all are vaccinated at the same time. The other is individual vaccination, in which you have to book a reservation. Medical workers in large hospitals are vaccinated in the hospital itself, but people who work in smaller clinics also have to book an appointment. As it may be obvious from the information given above, currently in Japan only medical workers (or people who work in medical facilities, such as reception staff of clinics, hospitals, etc.) and those over 65 years of age can book an appointment for the vaccine at nearby hospitals or clinics.
But there are two problems. The first, which was to be expected, that the websites where the vaccine can be booked are collapsing and there are so many calls that the telephone lines are also collapsed. Almost all hospitals and clinics that administer the vaccine are fully booked. As I said this is not a surprise, as many people want to get the vaccine.
But the second problem was something that was not expected: there are many people calling to cancel their reservation to get vaccinated and that can cause the loss of vaccines. For example according to NHK, when they interviewed the main hospitals in Koriyama (Fukushima), at least five hospitals had a total of 63 cancellations. The vaccine must be used within 6 hours of being thawed, so cancellation too late could result in the removal of valuable vaccines.
The cause of these cancellations is not that people suddenly decide that they do not want to be vaccinated, but that some with the desire to be vaccinated as soon as possible book multiple times, and then have to cancel one or more reservations.
Besides, when the first vaccines began to be administered, some television programs also reported that several people had not shown up for their appointment.
What to bring / Vaccination record certificate
The world has been talking about a "vaccine passport" for a few months now. It would be a passport that proves that the person is vaccinated against COVID-19 to allow travel between countries. To date, most countries are closed to tourism and only allow nationals and residents and only if they have a negative COVID-19 certificate with a PCR test. But this "vaccine passport" would be a way to begin to slowly return to normality.
Japan also knows that other countries are starting to talk about this passport, and are thinking about how to do it. But for the moment what has been proposed is a Covid-19 vaccine registry that would serve as a certificate to prove that that person has received the two doses of the Covid-19 vaccine.
The current certificate that is being issued is in Japanese (so it can not be used to travel abroad). Here is a sample in English of this record certificate:
Vaccination record certificate for medical workers Sample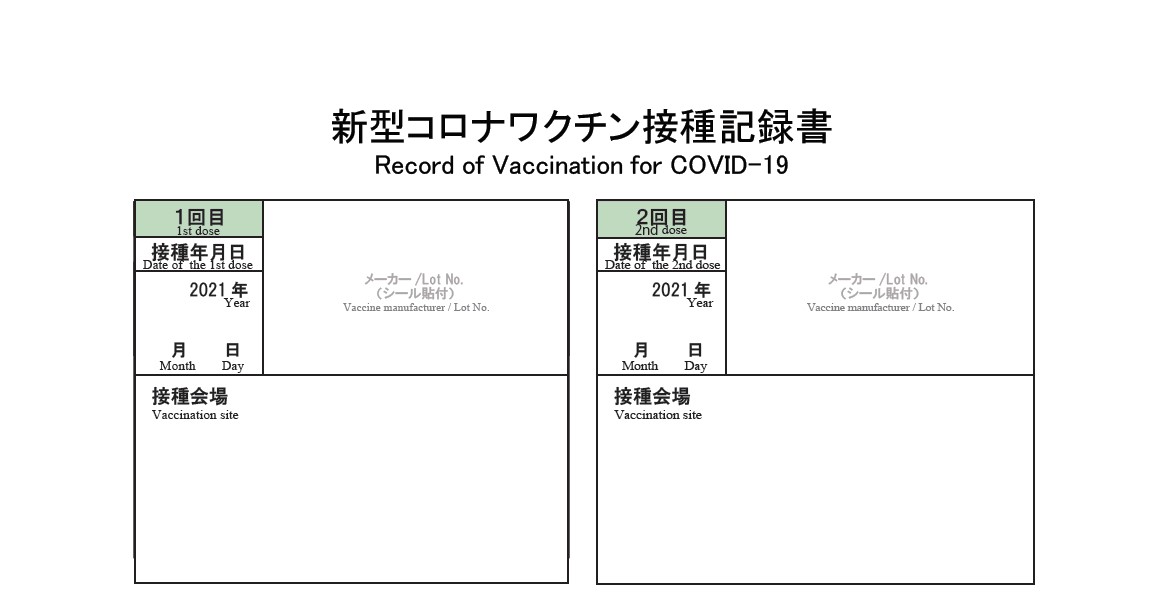 On the lower part of the vaccination certificate, there are still Japanese sentences. We translate this part too.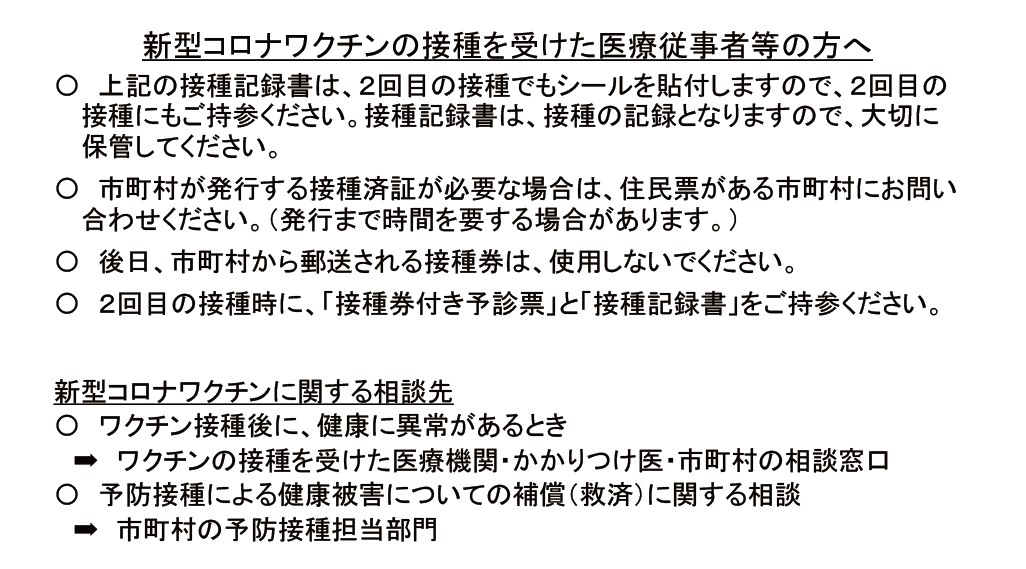 新型コロナワクチンの接種を受けた医療従事者等の方へ
To Healthcare Workers who got vaccinated,
上記の接種記録書は、2回目の接種でもシールを貼付しますので、2回目の接種にもご持参ください。接種記録書は、接種の記録となりますので、大切に保管してください。
Please keep this card as your record/proof of vaccination until your second vaccination time. Make sure to bring this card with you at your next vaccination time so that your second vaccine's product label will be added to this record paper.
市町村が発行する接種済証が必要な場合は、住民票がある市町村にお問い合わせください。(発行まで時間を要する場合があります。)
For a Vaccination Certificate issued by the municipal
office, please contact the municipal office of where your residence is registered directly. (This may require sometime for issuance.)
後日、市町村から郵送される接種券は、使用しないでください。
Do not use the vaccination coupons that will be mailed to you by the municipality at a later date.
2回目の接種時に、「接種券付き予診票」と「接種記録書」をご持参ください。
Make very sure to bring your "Prevaccination Screening Questionnaire for COVID-19 vaccine" sheet and "Vaccination Record Card" with you at your second vaccination.
新型コロナワクチンに関する相談先
For inquiries about the COVID-19 vaccine:
ワクチン接種後に、健康に異常があるとき
For health problems after vaccination
ワクチンの接種を受けた医療機関・かかりつけ医・市町村の相談窓口
-The medical institution where you received the vaccine, your family doctor, or the consultation counter of the municipality
予防接種による健康被害についての補償(救済)に関する相談
For consultation on compensation (relief) for health damage caused by vaccination
市町村の予防接種担当部門
The department/section in charge of vaccination in the municipal office where you received the vaccine
新型コロナワクチンの詳しい情報については、
For more information regarding COVID-19 vaccine,
厚生労働省ホームページをご覧ください。
scan the QR Code on the right and go to official web
右のQRコードからアクセスできます。
page of Ministry of Health, Labour and Welfare.
You can see the process at the vaccination site on the following article.
If you have any inquiries, here is the call center number of Ministry of Health, Labour and Welfare;
■MHLW Call Center (Toll Free)
About COVID-19: 0120-565-653
About COVID-19 Vaccines: 0120-761-770
Supported languages and Opening hours (Opens Everyday):
–English, Chinese, Korean, Portuguese, and Spanish: 9:00-21:00
–Thai: 9:00-18:00
–Vietnamese: 10:00-19:00

*Interpreters for each language will support you during the call. Please inform the operator in which language you wish to speak
*Please take notice that this service cannot provide medical advice such as diagnosis
*For domestic calls only
Clinic Nearme Customer Service Team also can help you!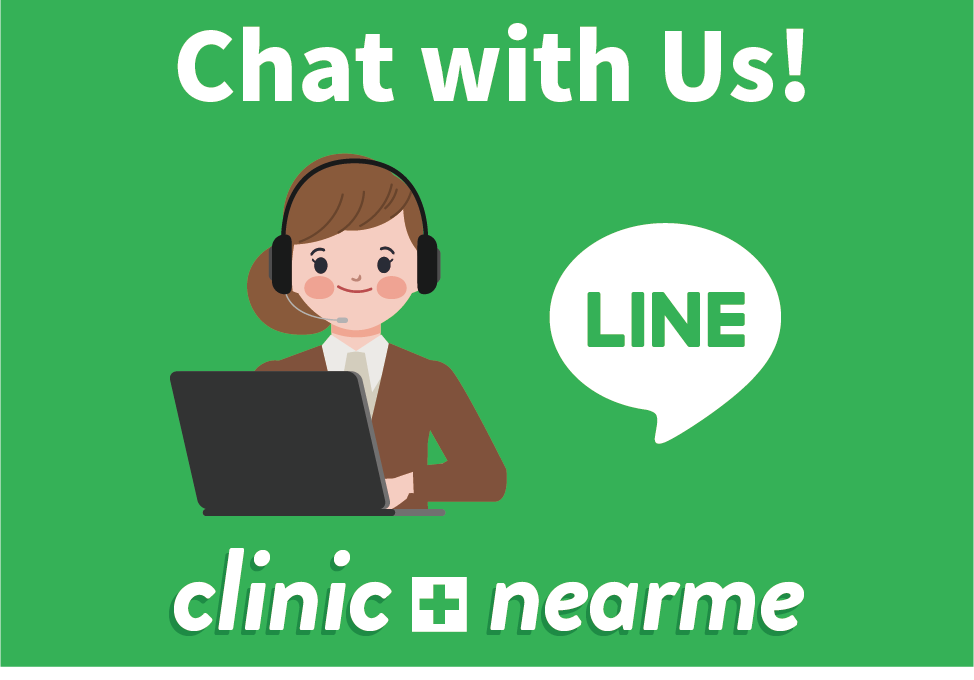 Clinic Nearme, which is medical support service for Foreign Residents in Japan, can also support you by chatting on LINE or on the phone. When you needed to have our support, add Clinic Nearme LINE account and chat with us.
▽Related Articles▽
---