Where to Get a Covid-19 PCR Test in Osaka with Negative Certificate
Clinics and hospitals in Osaka that offer COVID-19 PCR test with a Negative Certificate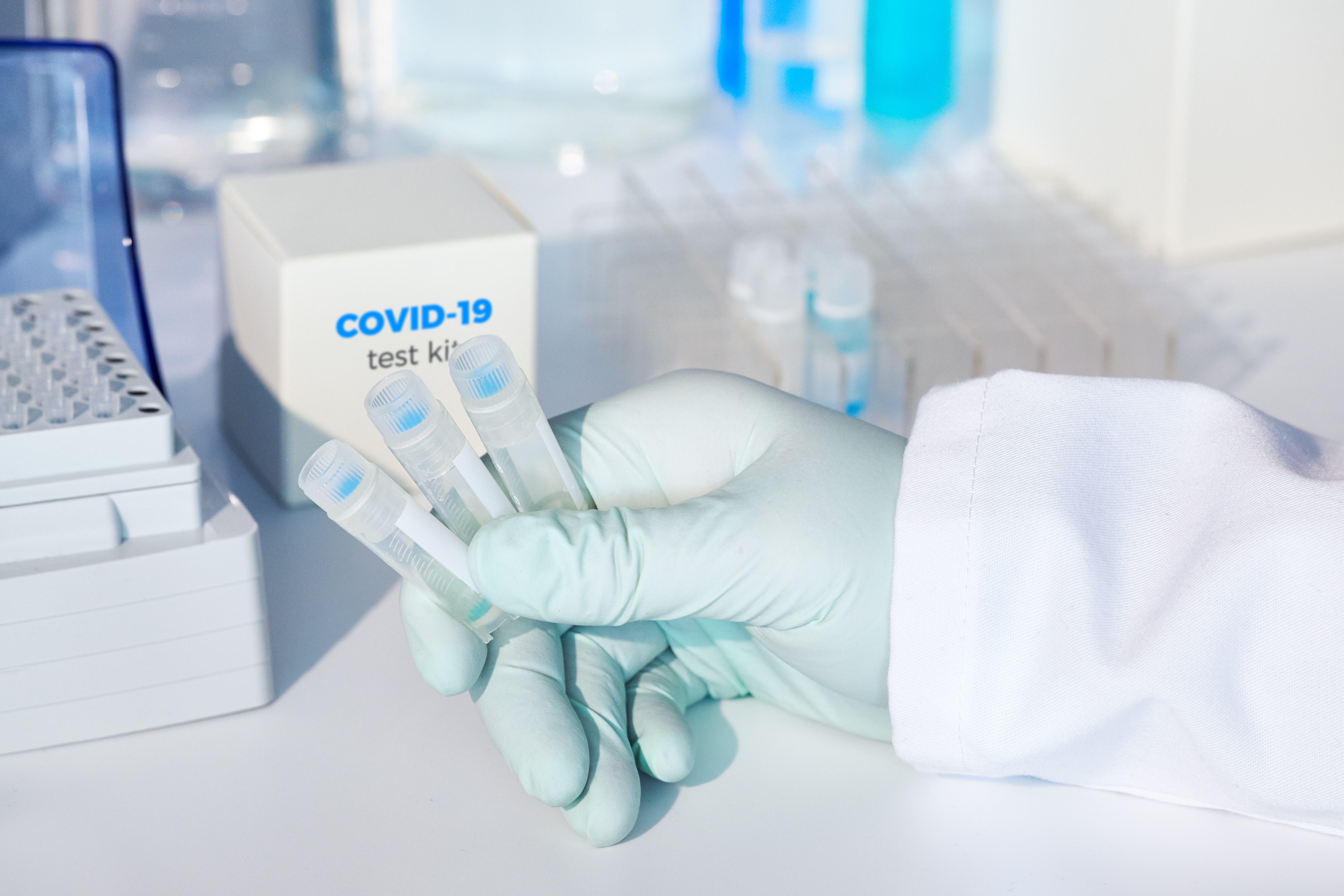 It has been more than a year since COVID-19 appeared, and although many thought it could be solved quickly, in the end, the virus seems to have come to stay. The arrival of the long-awaited vaccine gives some hope for a better future, but for now, we must adapt and learn to live with COVID-19. Some countries where there are currently few cases are beginning to open up to tourism or to allow events with certain security measures.
In recent months one of the most listened to things is "negative coronavirus certificate" and "COVID-19 PCR test". The COVID-19 PCR test is the most used method since the beginning of the pandemic to know if someone is infected with COVID-19 or not. In the last months, many countries only allow those who show a certificate confirming that they are not infected with the virus (which is known as a negative certificate). Recently some events have joined this trend and request this certificate from whoever wants to attend the event.
---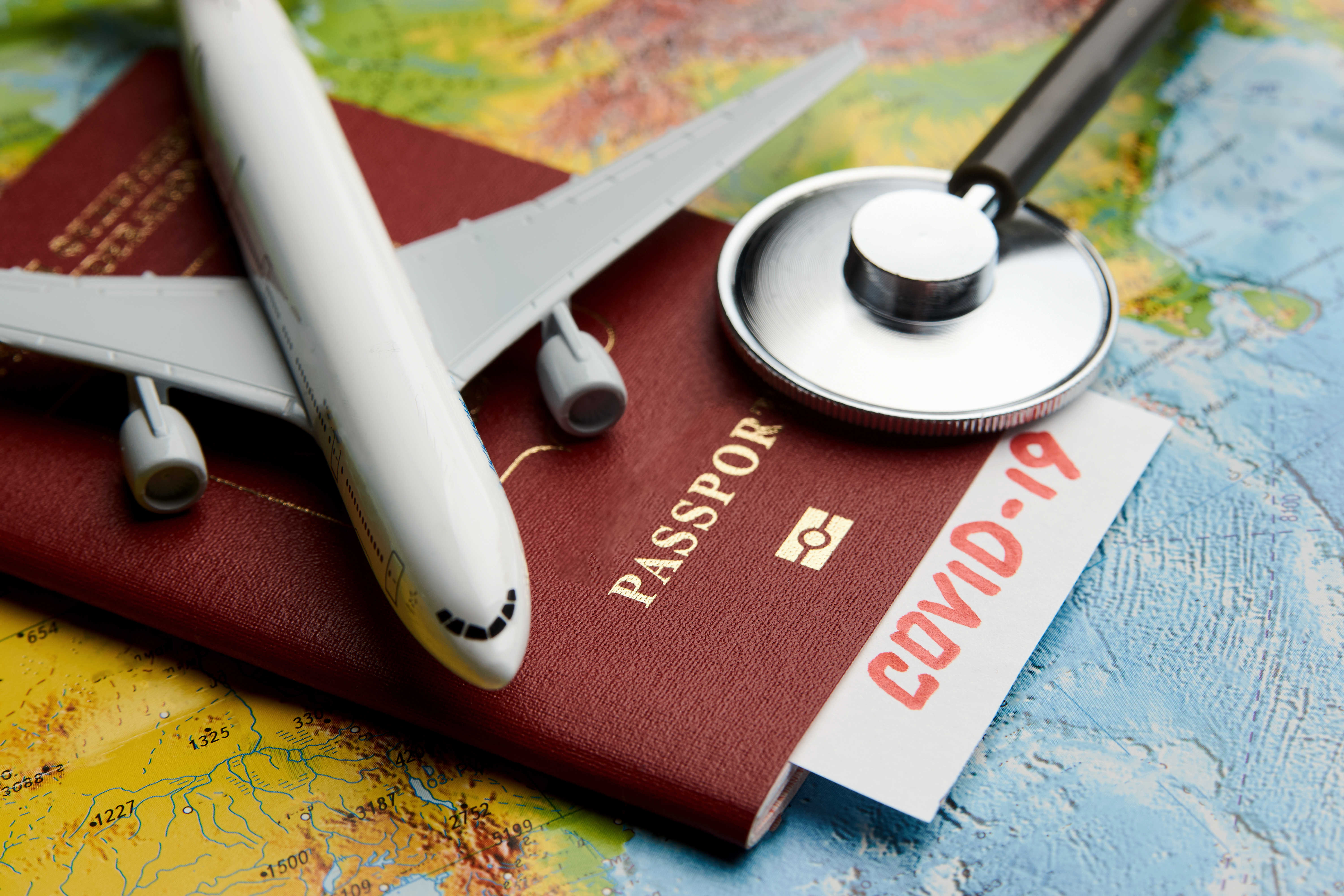 ■ Comparing 5 best PCR Tests in Osaka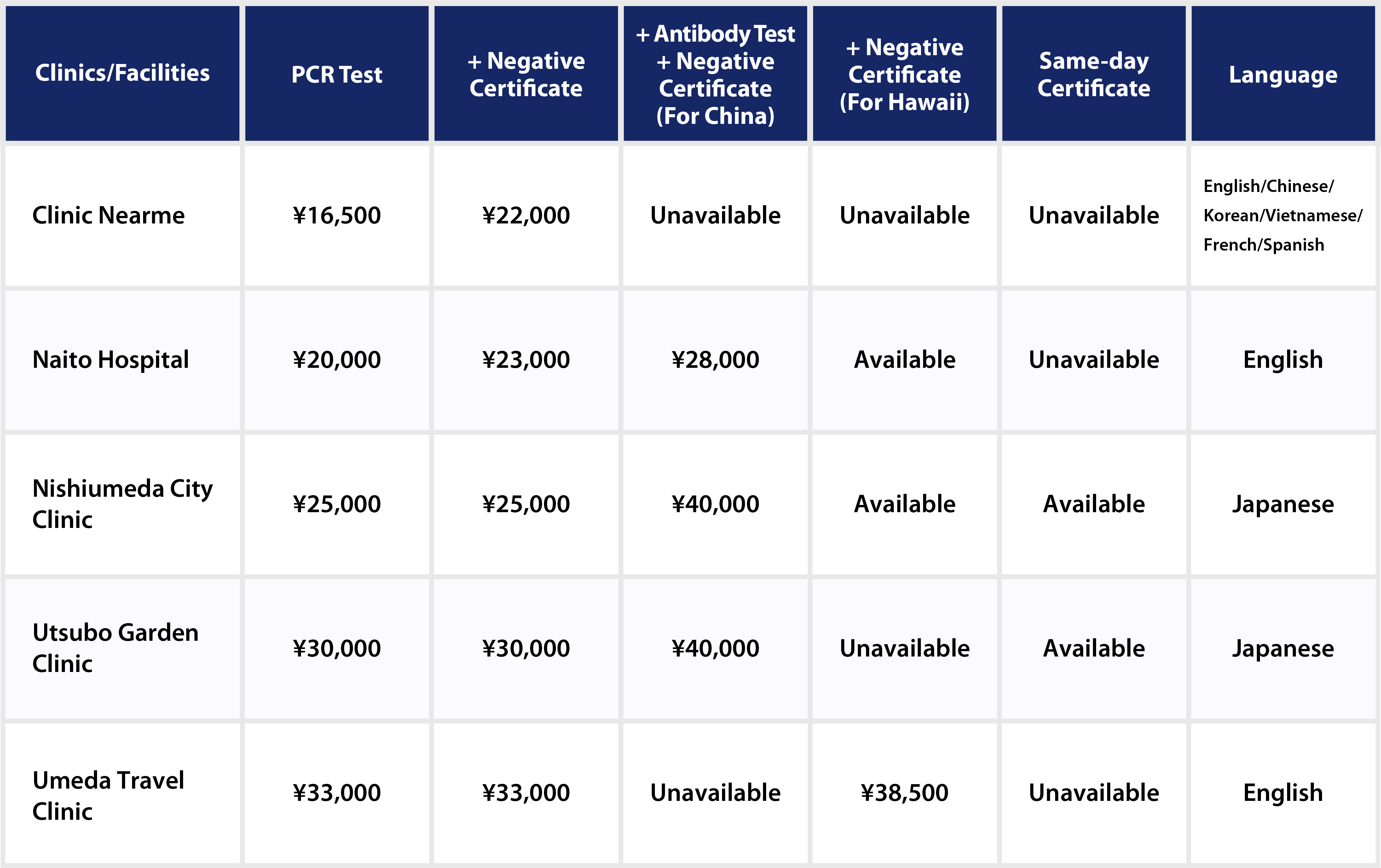 Here is a comparison table consisting of 5 places you can get a PCR test in Osaka. Which is the best option for you to take a PCR test?
For the safe and cheapest PCR test, check how much they are and whether they give you a negative certificate to travel abroad. More people need to fly to China and Hawaii from Japan, so they should confirm if they offer antibody tests for China or they prepare a specific certificate for Hawaii. The supported languages of the 5 medical facilities are also listed up below so that you can choose the perfect PCR test in Osaka.
■ Osaka clinics and hospitals for COVID-19 PCR test
If you live in or around Osaka and you have to travel abroad for business or personal reasons or attend a congress or major event, you will likely be asked for a negative COVID-19 certificate. Medical matters are always complicated, even in your own country and in your own language, so having to talk about these topics in a foreign country in a language you don't yet know can be difficult and even stressful. So today I would like to help people who need to have a COVID-19 PCR test and I have compiled some clinics and hospitals that offer this service in the Osaka area.

Clinic Nearme , which is also known as T Care Clinic Osaka, is one of the cheapest option we found in Osaka. For 22,000 yen, almost half the price of other clinics and hospitals, you can have the PCR test and general certificate the next day at 3 p.m. They are open every day, including weekends and holidays, from 9 a.m. to 2.30 p.m. and then from 3.30 p.m. to 6 p.m. They also make special certificates for Hawaii (27,500 yen) and China (28,000 yen). For those people who don't need a certificate but want to take the test for their own safety, the price is 16,500 yen. The voluntary test is not covered by the national health insurance, so it's not possible to apply any discount.
Besides the price, the best part of T Care Clinic is that they have a lot of availability (they can do many tests a day) and they accept last-minute reservations (as long as that day is not already full).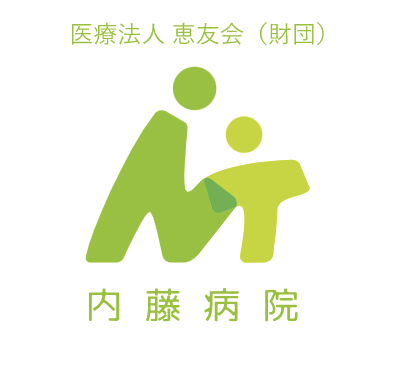 Another economical option is Naito Hospital. The COVID-19 PCR test and certificate in 1-2 business days cost 20,000 yen. For an extra 3,000 yen, you can have the certificate as well. The hospital is open from Monday to Friday from 9:30 a.m. to 12:30 p.m. and from 2 to 7:15 p.m. and on Saturdays from 9:30 to 11 a.m. and from 2 to 3:50 p.m.
People who take the COVID-19 PCR test in the morning will have the certificate the next business day at 9 in the morning, while those who take the test in the afternoon will have the certificate two business days later at 9 in the morning (for example if you go Monday in the afternoon, it will be Wednesday morning). People taking the test on Friday afternoon will have to wait until Monday morning.

Located in one of the two main urban and business centers of Osaka Nishiumeda City Clinic offers the COVID-19 PCR test and certificate in English for 25,000 yen. Those who take the COVID-19 PCR test in the morning can have the certificate the same day at the earliest at 7 p.m. (it may be delayed to 8 p.m. if there are many people taking the test that day). Those who take the test in the afternoon will have to wait until 7 p.m. the next day (except for people who take the test on a Saturday afternoon, who will have to wait until Monday).
One of the positive points of this clinic is its opening hours since they open later than most clinics and with more hours available to do the test, from 10 to 13 p.m. in the morning and from 4:30 to 9 p.m, in the afternoon. Also, you can make an appointment by Line or email without calling.

Utsubo Garden Clinic offers a wide variety of services, from general medicine, vaccines, allergy tests to tobacco cessation treatment, cancer detection or health cosmetic injection, and many more. With the arrival of COVID-19, they have also added COVID-19 PCR and antibody tests to their services.
The price of the COVID-19 PCR test and the English Certificate is 30,000 yen. If you take a COVID-19 PCR test before 12 p.m. you can get a negative result on the same day between 5 – 6 p.m. without any additional cost. After 12 p.m., you will get a result the next day after 10 a.m. They are open from Monday to Thursday from 10 a.m. to 2 p.m. and from 3 p.m. to 6 p.m. and the first and third week of the month (fifth week also in long months) they also open Fridays at the same time and Saturdays only at the morning.

Umeda Travel Clinic is a clinic specialized in services for travel abroad, such as specific vaccines that are needed in certain countries. They also offer among their services the COVID-19 PCR test with the negative certificate for 33,000 yen on Monday, Tuesday, Wednesday, and Friday from 9 to 11 a.m. The certificate will be available the next day at 10 a.m. at the earliest, except for those who take the test on Wednesday who will have to wait until Friday since the clinic is closed on Thursday. Fit to Fly Certificate costs extra 5,500 yen.
---
I hope this article has been helpful to you. If you are looking for clinics in other cities such as Tokyo or Nagoya or if you want to know more about PCR and covid-19 tests in Japan you can take a look at these articles as well.
▽Related Articles▽
---