Yoyogi Park's Event Schedule for Spring/Summer 2018!
Upcoming Festivals at Yoyogi Park Tokyo 2018 Spring/Summer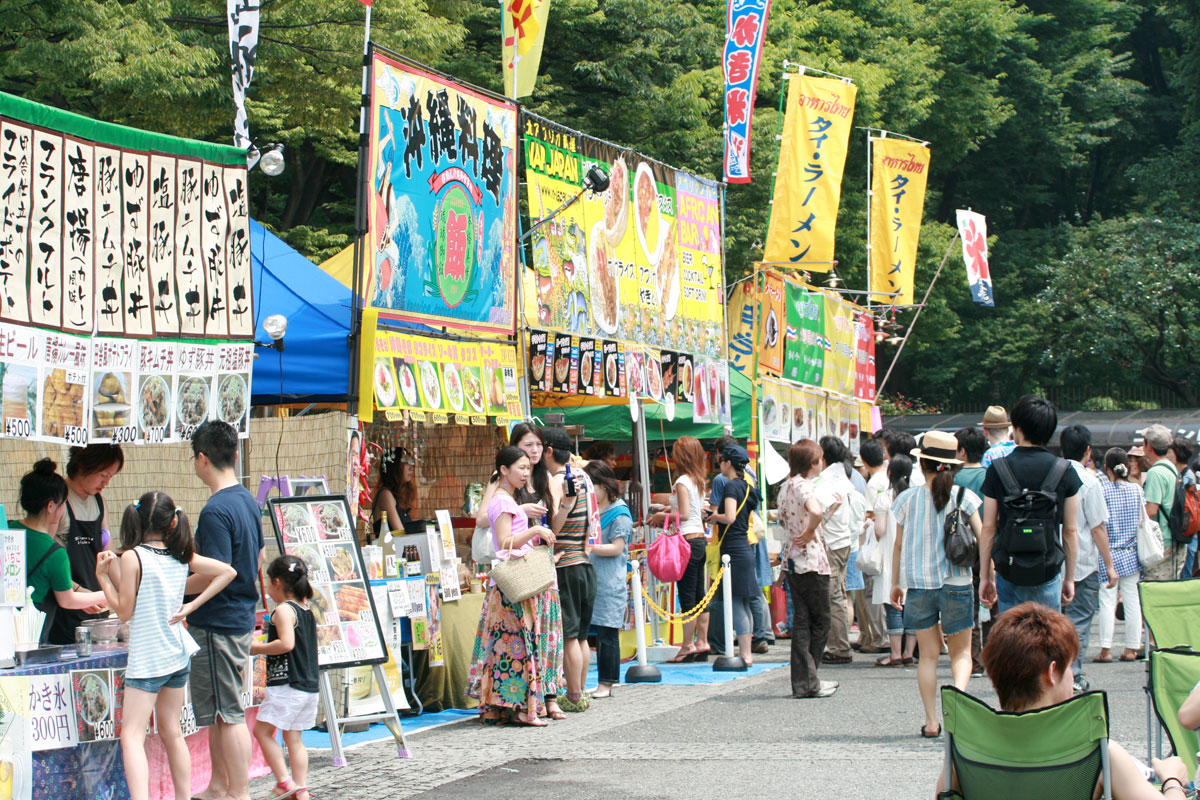 Yoyogi Park is one of largest parks in Tokyo with rich nature such as forest, ponds and lawns. The park is located near popular tourist areas such as Shibuya, Harajuku and Shinjuku. Through the year, there are lots of fun events held in the park on most of weekends, and normally they are admission FREE!
I'm sharing the information about up-coming events/festivals at Yoyogi Park this spring and summer 2018, and if you are interested in any, you should definitely join and have fun!! And make sure to keep updated as more and more fun events to be announced 🙂
March
17–18th I love Ireland Festival 2018
Asia's Largest St. Patrick's Day event
17–18th Thai Music Grammy Award Festival 2018
25th Shibuya Omotesando Women's Run
31 March-1 April Paella Tapas Festival 2018
The biggest Spanish food festival in Japan
April
7th Outdoor Day
Featuring outdoor activities with the latest outdoor gadgets and field activities.
14–15th
Tokyo's biggest dog events. Join with your dog!
21–22nd Earth Day Tokyo 2018
May
3–4th Cambodia Festival 2018
Japan's biggest Cambodia event. There will be lots of food, and themed shows.
3–4th Tokyo Flea Market
5–6th Rainbow Pride 2018
Celebrating LGBT pride in a heat of park with colourful parade.
12–13th Thai Festival 2018
One of the biggest annual events in Yoyogi Park, the famous Thai festival.
19–20th Vietnam Festival
Annual Vietnam themed event featuring delicious Vietnamese food
26–27th Laos Festival
Another SE Asia country themed event but much more relaxing vibes.
June
2–3rd Eco Life Fair
9–10th Okinawa Festival 2018
The tropical island of Japan, enjoy Okinawan food and culture show.
10th Oedo Antique Festival
Tokyo's one of biggest antique market. Great chance to hunt rare items
16–17th World Gourmet & Music Festa in Yoyogi Park 2018
The event features food from multiple different countries such as Thailand, Turkey, Peru, India and more.
23–24th The Caribbean Latin America Festival 2018
Reggae, Salsa, Tequila and Cuban cigar, etc.. enjoy all the greatest things at The Caribbean Latin America Festival 2018.
July
7–8th Ocean People's 18
The annual event for all beach lovers. Chilax music, pretty market and yummy food.
14–15th Festival Brazil
The 13th Brazilian festival features over 50 booths with foods and craft goods, live music and samba dance show.
21–22nd Africa Festival
Africa Festival celebrates their 5th anniversary with authentic food, drinks, folk arts and liver performance of music and dance!
21–22nd Oishi Peru
Do you like Peruvian food? or never tried? Discover the delicious cuisine from Peru at Oishi Peru, the 5th event featuring Peruvian food.
28–29th Taiwan Festival
The great neighbour, Taiwan themed festival with lots of dimsums 😉
August
4–5th Sri Lanka Festival
Sri Lanka themed event with lots of curry and a dance show
11-12th Thai Food Festival 2018
Another chance to enjoy delicious Thai food, cute crafts and traditional music
18–19th Shibuya Summer Festival
The summer festival featuring traditional Japanese theme with delicious food and music
25–26th Harajuku Omotesando Yosakoi Festival
One of the biggest festivals in Japan, Kochi's Yosakoi Festival is coming to Tokyo
Yoyogi Park (代々木公園)
Access: 3 mins walk from Harajuku Station or Yoyogikoen Station or Meijijingu Station
Website: http://www.tokyo-park.or.jp/english/
Check out more fun things to do in Tokyo!
▽ Related Articles ▽
▼ Editor's Picks ▼
---