If you are planning to travel Tokyo to Hiroshima, check out the best way to get there.
Hiroshima is one of top tourist destinations in Japan, attracting numbers of visitors with historical landmarks including Itsukushima Shrine in Miyajima Island and Hiroshima Peace Memorial.
So, which way is the cheapest and fastest to reach the historical city?
There are 3 recommended options to Hiroshima from Tokyo: Shinkansen (bullet train), airplane and bus.
Today, I'd like to compare the time, money and convenience of the three options.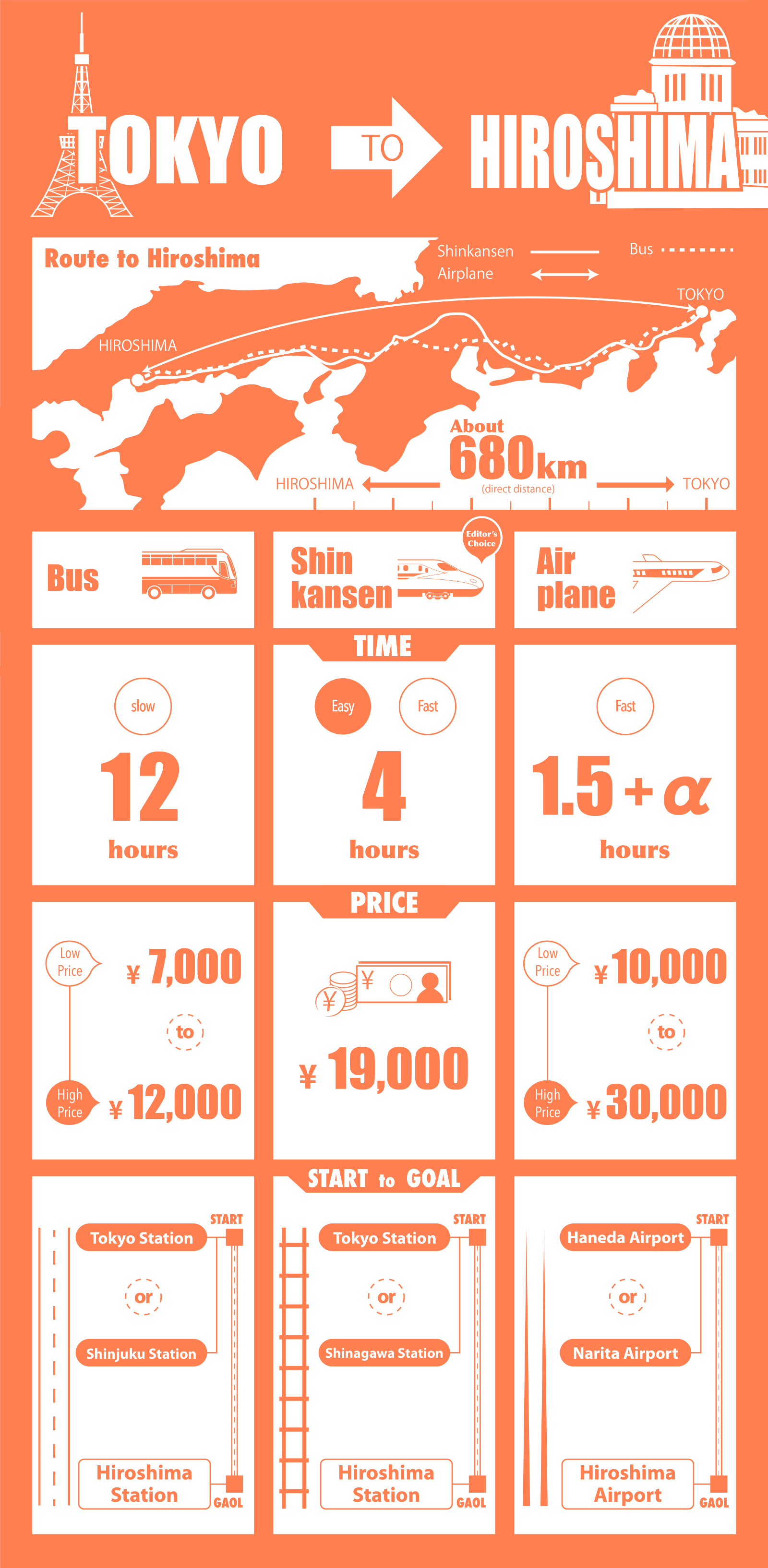 Quick Look at each way
Shinkansen (bullet trains)
Time: 4 hours
Cost: about 18,000–19,000JPY
Airplane
Time: 1.5 hours
Cost: about 10,000–30,000JPY
Bus
Time: 11.5–13 hours
Cost: about 7,700–11,900JPY
***
Shinkansen is the easiest and the most useful way. Airplanes are the fastest way but don't forget that it takes more time to get to Narita or Haneda Airport, to process boarding and to go to the center of Hiroshima after arriving at Hiroshima Airport.
Additionally, Shinkansen must be the first choice if you have Japan Rail Pass (JR Pass). In the case you take a shinkansen to Hiroshima with Japan Rail Pass, HIKARI and KODAMA are available without any extra fee, but NOZOMI requires an extra fee.
<<Check out how to get and use Japan Rail Pass!!>>
If you want to save money on travel, buses can be selected as your option. However, with a tight schedule, other options are recommended; Shinkansen or airplane.
TIPS: You can get a ticket of airplanes and buses cheaper when you reserve them earlier. In the case of buses, recommend to book 10 days before. Cheaper flight tickets require to be booked some months before.
***
Shinkansen
There are 3 major shinkansens whose names are Nozomi, Hikari and Kodama to Hiroshima Station. The fare of Nozomi with a reserved seat is JPY19,080 and a non-reserved seat is JPY18,040. It takes less than 4 hours to get to Hiroshima.
For the tickets, vending machines and ticket offices (called "Midori-no-madoguchi") are available. Some vending machines have English menu. They are located next to ticket gates.
From Tokyo Station to Hiroshima
First train: 6:00
Last train: 19:50
Location of ticket gates: blue areas on this map
Platform: platform №14–19
From Shinagawa Station to Hiroshima
First train: 6:00
Last train: 19:57
Location of ticket gates: blue areas at the bottom of this map
Platform: platform №23&24