The Steakhouse: the Best Charcoal Grill Wagyu Steak in Tokyo!
The Steakhouse ANA InterContinental Tokyo: one of the best Wagyu Beef steak restaurants in Tokyo!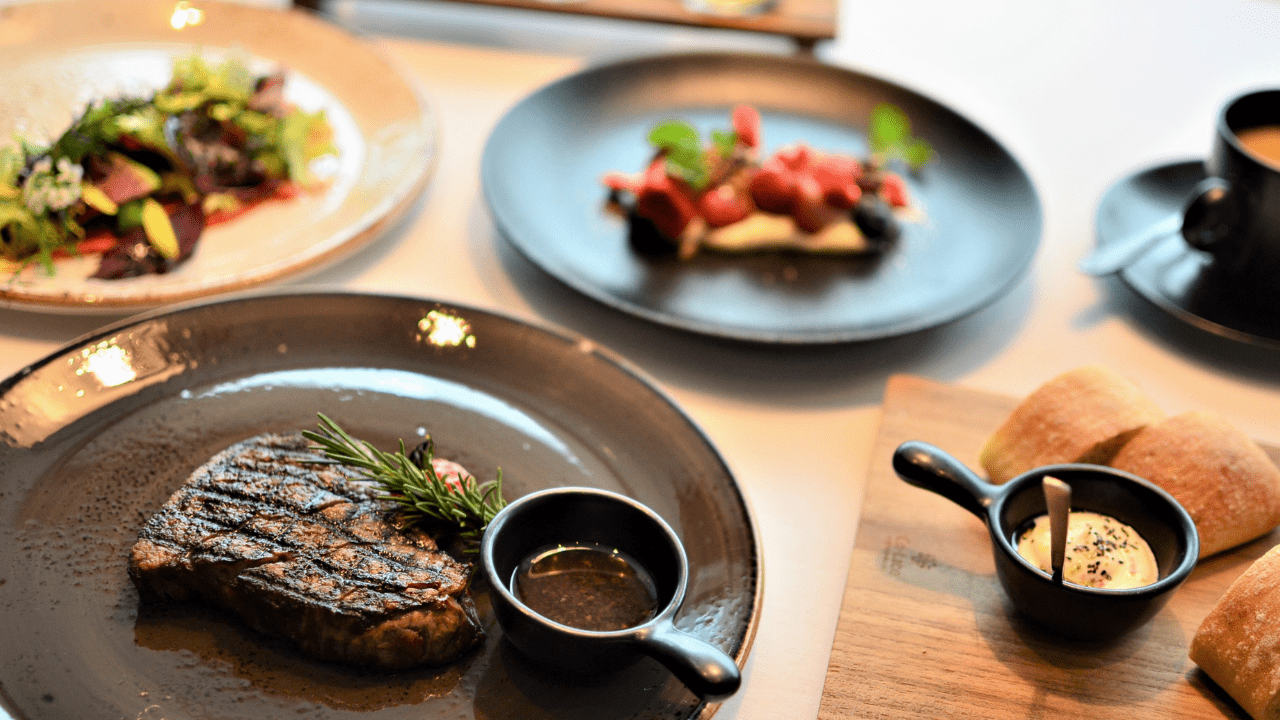 Enjoy the best Wagyu Beef steak in Tokyo! The Steakhouse at ANA InterContinental Tokyo serves the finest quality Wagyu Beef cooked on the charcoal grill!
Looking for the best places to eat Wagyu Beef in Tokyo??
Along with Sushi and Tempura, Wagyu (Premium Japanese Beef) is one of the most popular Japanese food among foreign visitors today. There are various ways to enjoy quality Wagyu Beef in Japan such as Teppanyaki (iron grill), Shabu-Shabu (hot pot dish) and Yakiniku (BBQ).
How do you like to enjoy Wagyu Beef most??
My favourite way to enjoy Wagyu Beef is steak, especially charcoal grilled. Charcoal grill steak is simple yet the great way to enjoy the real taste of the meat itself, especially, premium Wagyu Beef. If you wish to enjoy the finest quality Wagyu Beef as charcoal grill steak in Tokyo, this restaurant I'm going to introduce now is really a great pick out of hundreds restaurants in town!
The Steakhouse
The Steakhouse (ザ・ステーキハウス) is an authentic American style steakhouse located at 3F of ANA InterContinental Tokyo, one of the most luxurious hotels in Roppongi/Akasaka area, Tokyo. With the concept of "The Neighbouhood Steakhouse", the restaurant has a cozy and welcoming atmosphere for both Japanese and international guests.
The restaurant has a spacious venue with 115 seats, including private rooms which can be hired for special parties or meetings. Once entering the restaurant, there is a lively open kitchen with the 3m long charcoal grill where guests can watch the action of chefs on the grill and the meat and seafood dishes being cooked dynamically.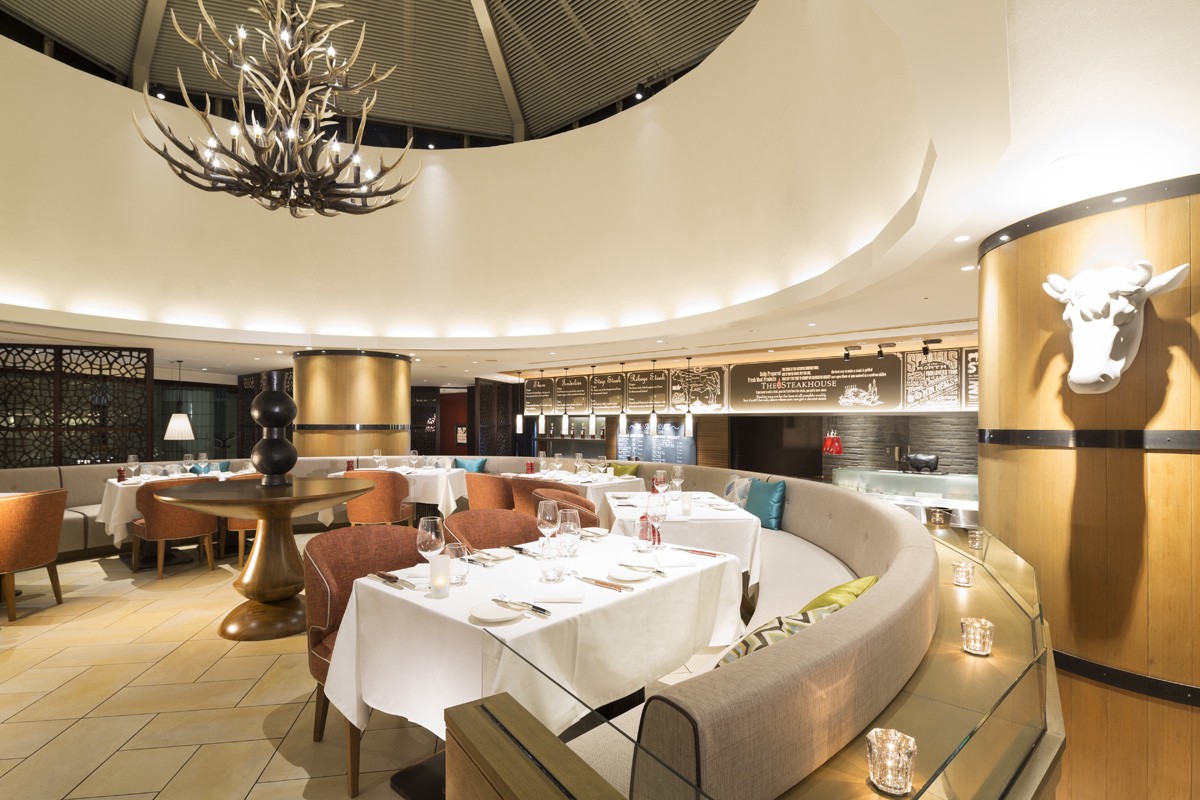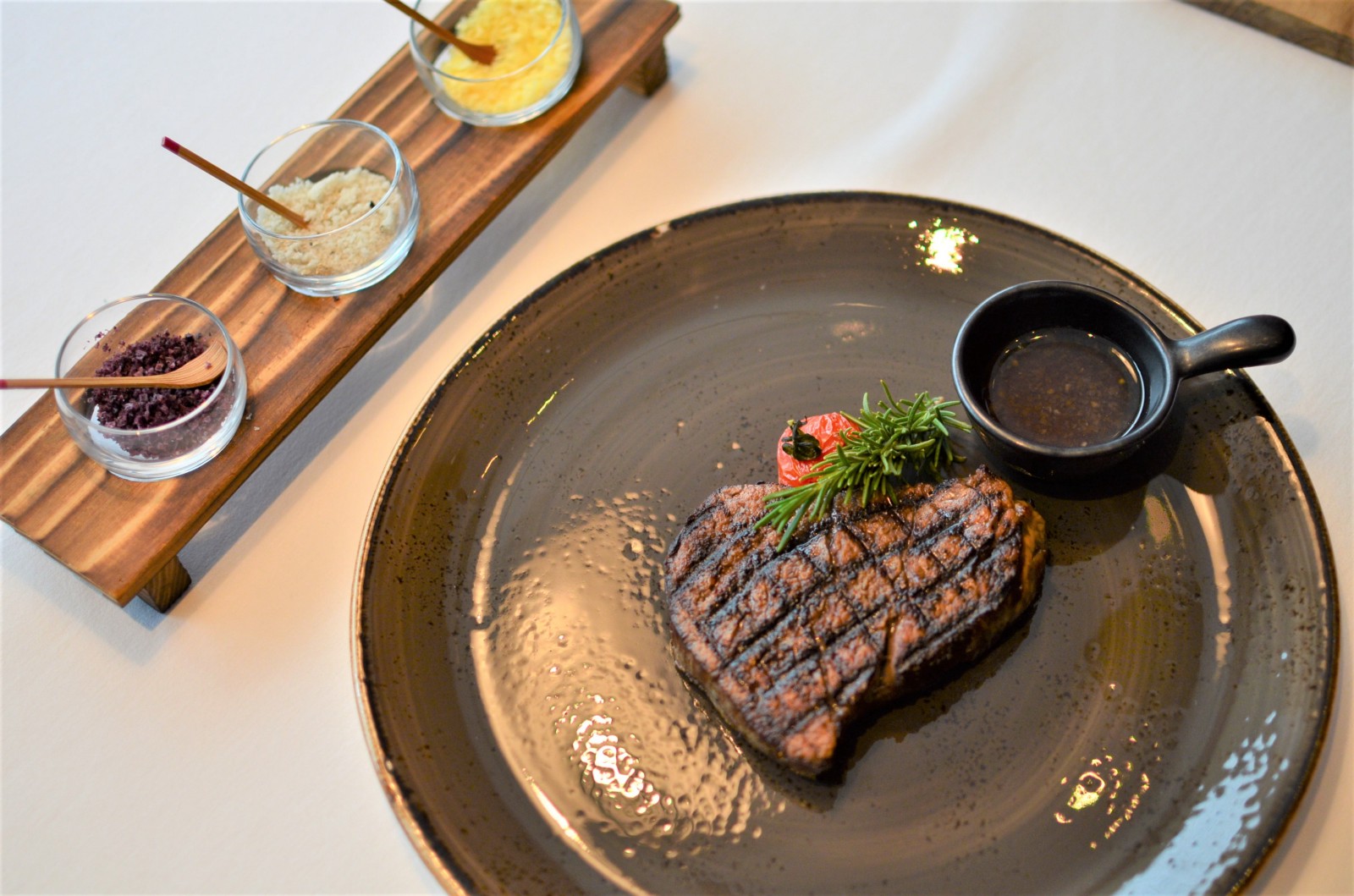 The restaurant's menu offers a wide variety of dishes using seasonal specialties and carefully selected ingredients including steaks, seafood, burgers, side dishes and salad. As the name suggests, the signature dishes at The Steakhouse is definitely steak. The restaurant offers an impressive selection of meat including premium Wagyu Beef, the top quality domestic/imported beef and flavourful dry-age beef. The finest beef cuts are cooked on the charcoal grill to maximize its taste and flavour to perfection.
At The Steakhouse, you can taste some of rare brands of Wagyu Beef from all over Japan including 5A rank Sendai Wagyu Beef Tenderloin and Iwami Wagyu Beef Sirloin. Especially, Iwami Beef is one of the rarest Wagyu Beef brands from Shimane Prefecture that is produced only from 200 cows a year.
When it comes to Wagyu Beef, a lot of people only talk about Kobe Beef or Matsuzaka Beef which are two most famous Wagyu Beef brands. However, in fact, there are considerably over 200 Wagyu Beef brands in Japan, and each Wagyu beef has different taste, texture and flavours. If you are a Wagyu Beef lover, you should definitely try different kinds of Wagyu Beef rather than Kobe and Matsuzaka Beefs!
I have recently visited The Steakhouse for Wagyu Beef steak, and the following is a quick review of my delightful lunch experience at the restaurant!
<<Review>>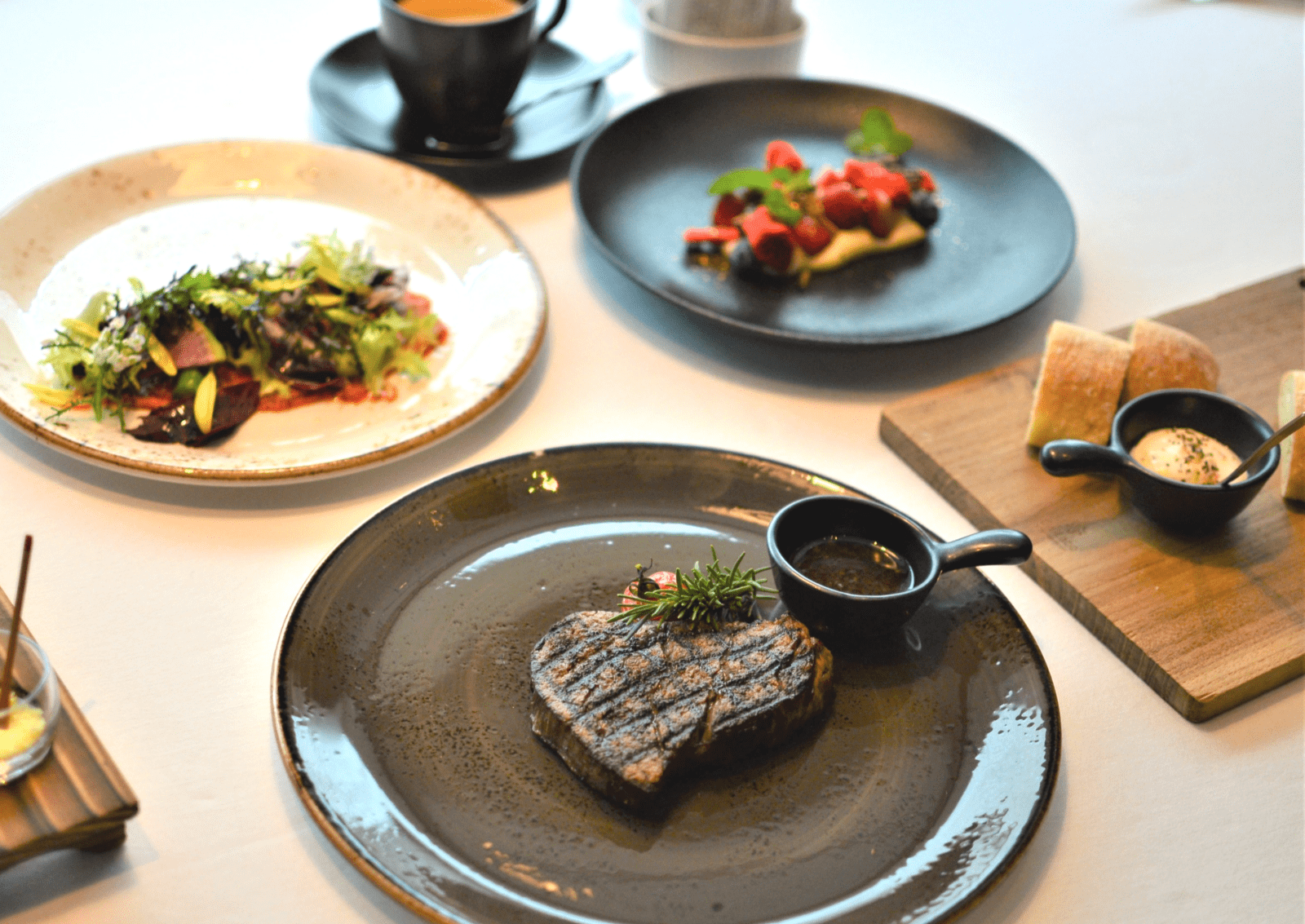 Why did I choose to dine at The Steakhouse?? One of the most appealing things about this restaurant for me was the price. Comparing to many high-end Wagyu Beef restaurants in Tokyo, The Steakhouse does offer slightly more affordable rate, and I thought it would be great value for the premium Wagyu Beef dining experience in Tokyo. For even more reasonable option, I'd recommend you to go there during lunch time for great set deals. I have decided to have one of the lunch set courses, Wagyu Set.
The Wagyu Steak Set comes with a choice of starters (Octopus Salad or Tomato & Ricotta Cheese Salad) with bread, Wagyu Beef Steak (Sendai Wagyu Beef Tenderloin 150g or Iwami Wagyu Sirloin 250g), and dessert with tea or coffee. The set course meal costs 10,000 yen plus tax and service fee.
I personally like beef steak when it's tender, but less fatty and slightly lean. So I took Sendai Wagyu Beef Tenderloin (Filet), but if you like the type of steak that is silky and melts in your mouth, I think Iwami Wagyu Beef Sirloin would be a better option for you.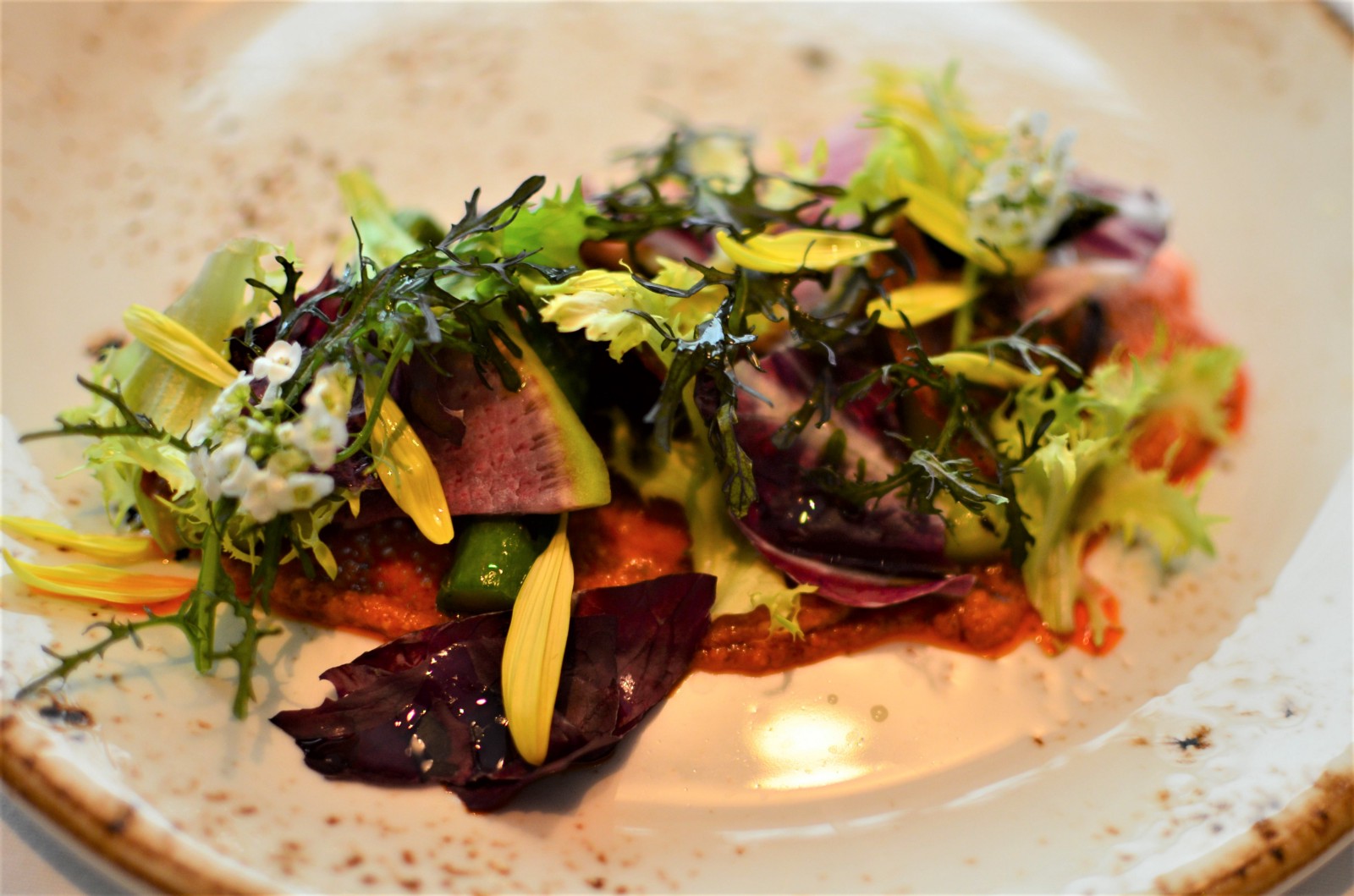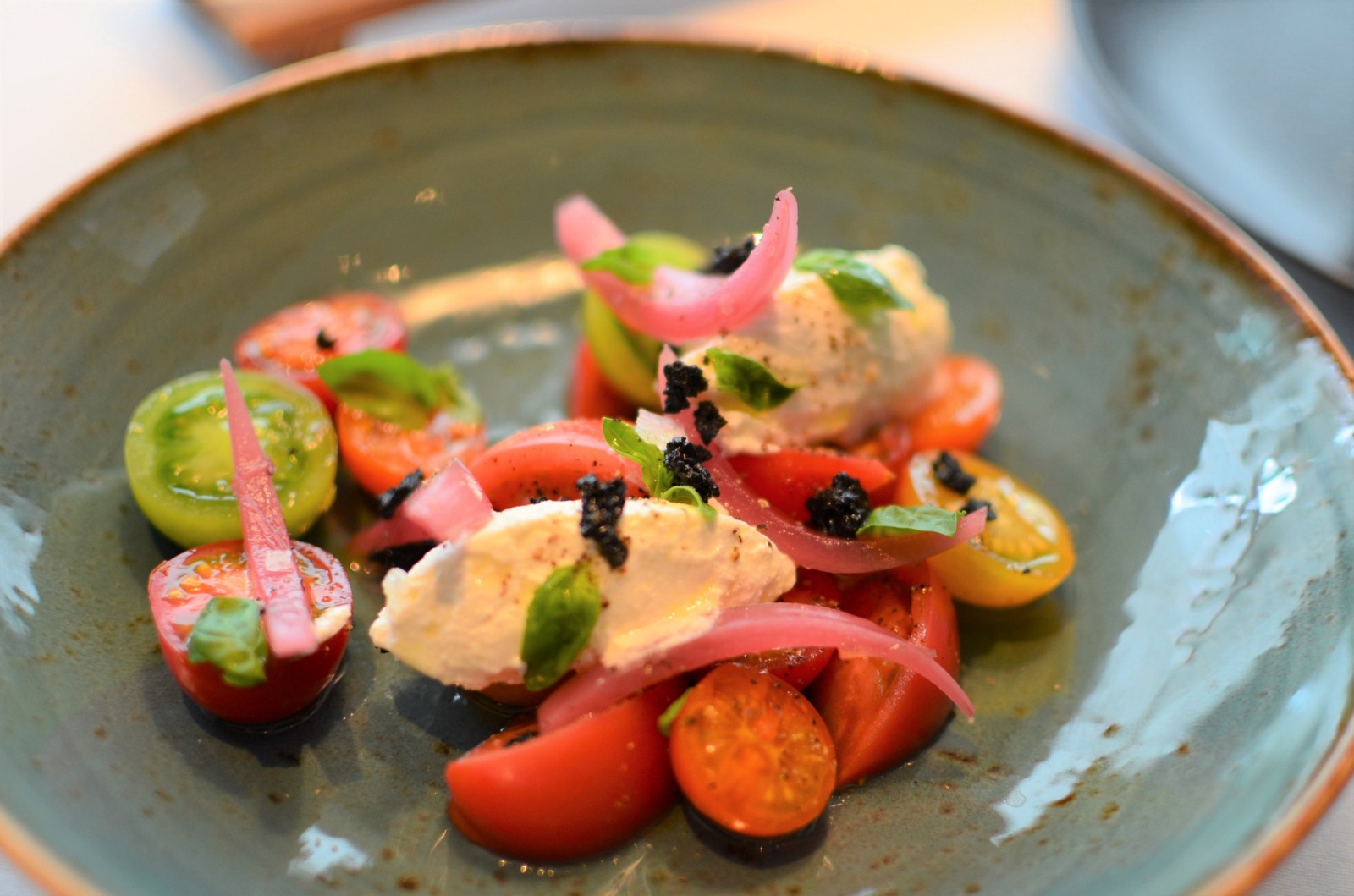 My friend and I decided to pick different starters so I had a chance to taste both. The Octopus Salad is served with several kinds of colourful vegetables and topped with edible flowers while the Tomato Salad is served with 5 kinds of tomatoes which go perfectly with rich ricotta cheese. I really enjoyed both starters!
The Wagyu Beef was served with ginger sauce (in dinner time, the steaks are served with flavoured salts : Red Wine Salt, Truffle Salt and Lemon Salt), looking absolutely gorgeous. The moment I sliced the steak, I could already feel how tender and delicate the meat was. The quality of the beef was outstanding, and the steak was cooked to perfection. The meat was really thick, yet very tender and juicy, then slowly melted in the mouth. I really like when the steak is grilled over the charcoal as it gives extra flavour. I did not regret my choice since the Sandai Wagyu Beef steak turned out to be one of the best things I ever tasted in my life!
The finale of the lunch course was a dessert plate (Fresh Cream and Vanilla Cream) accompanied with a cup of coffee. I felt like my life had just completed!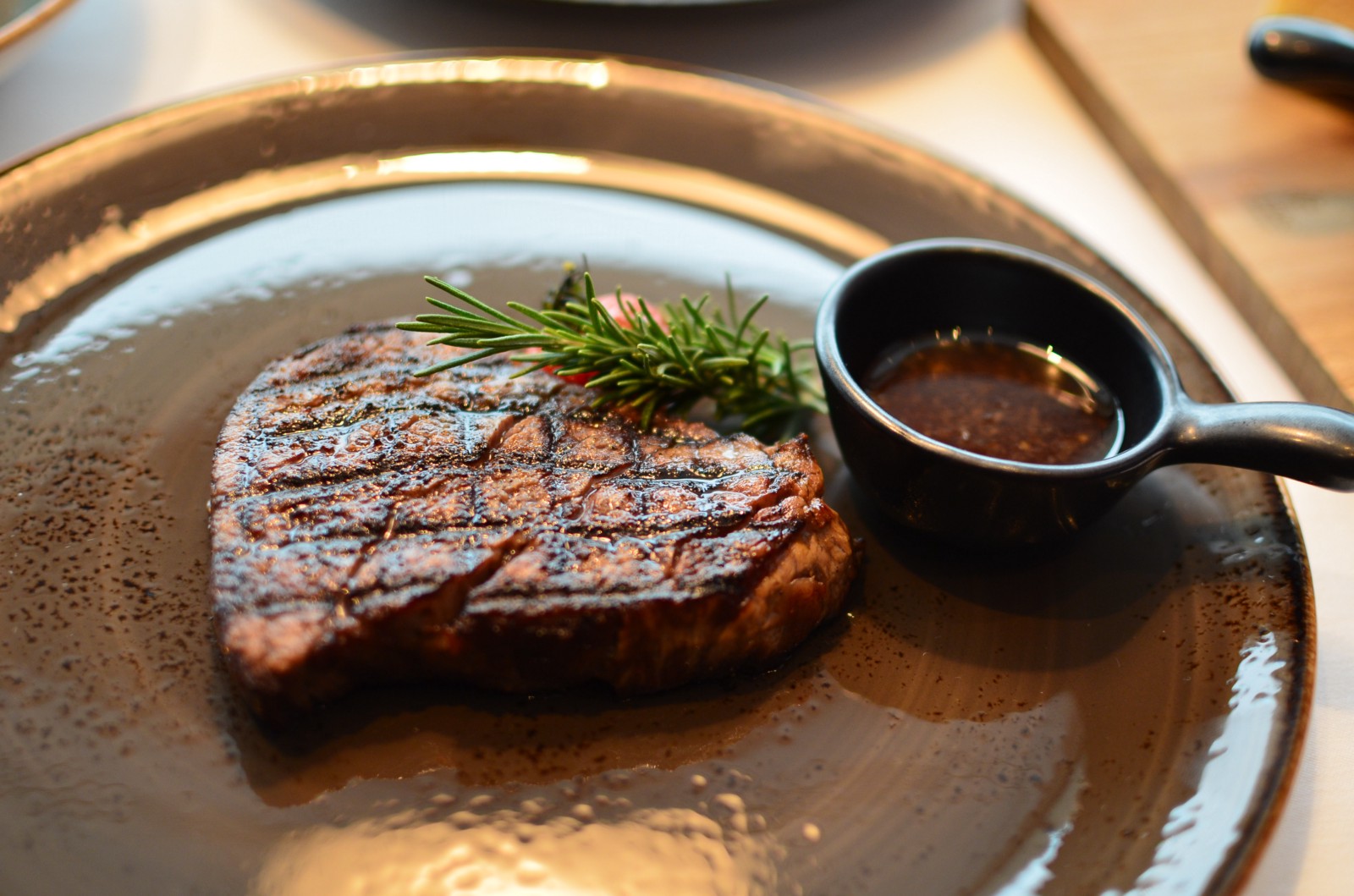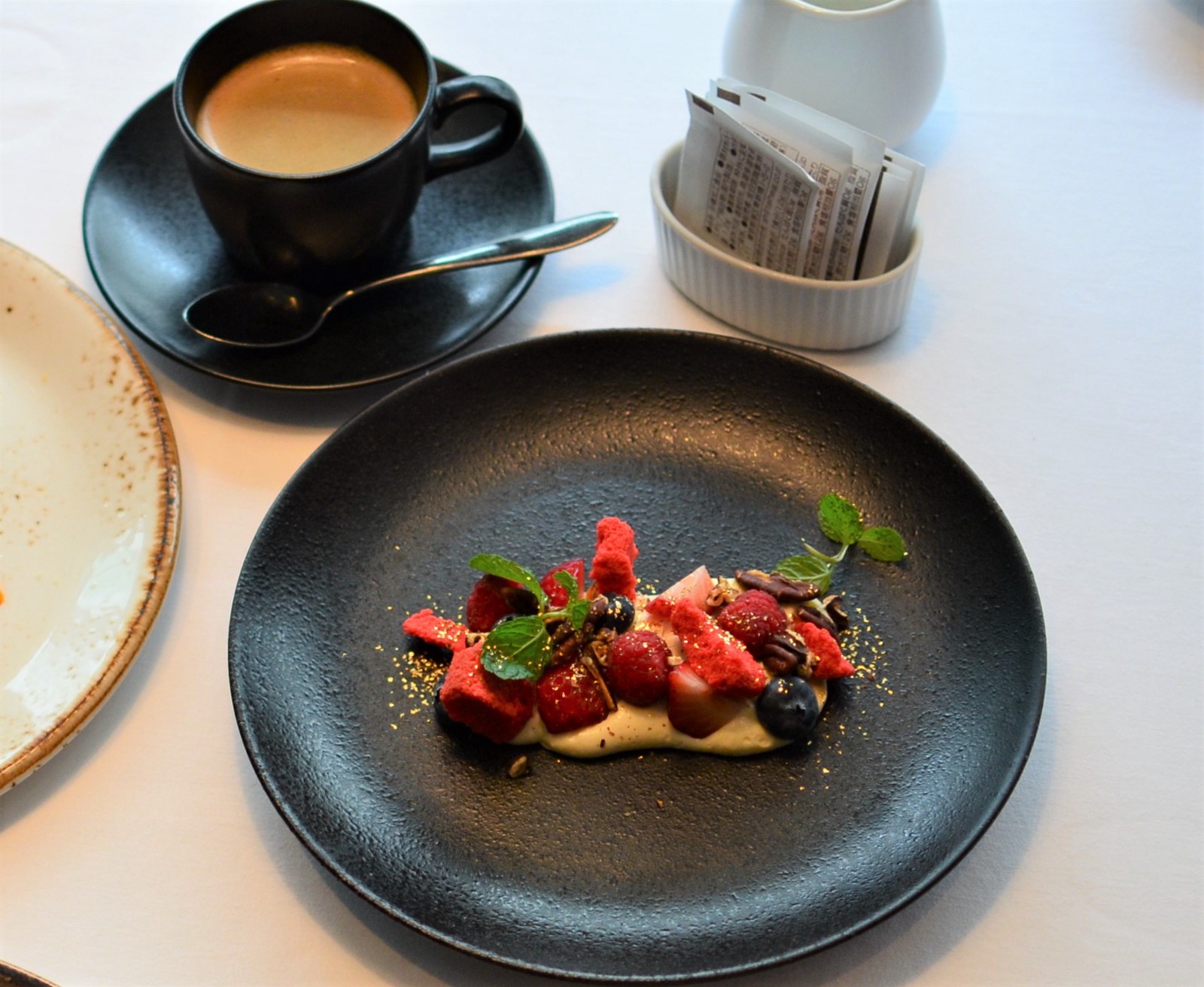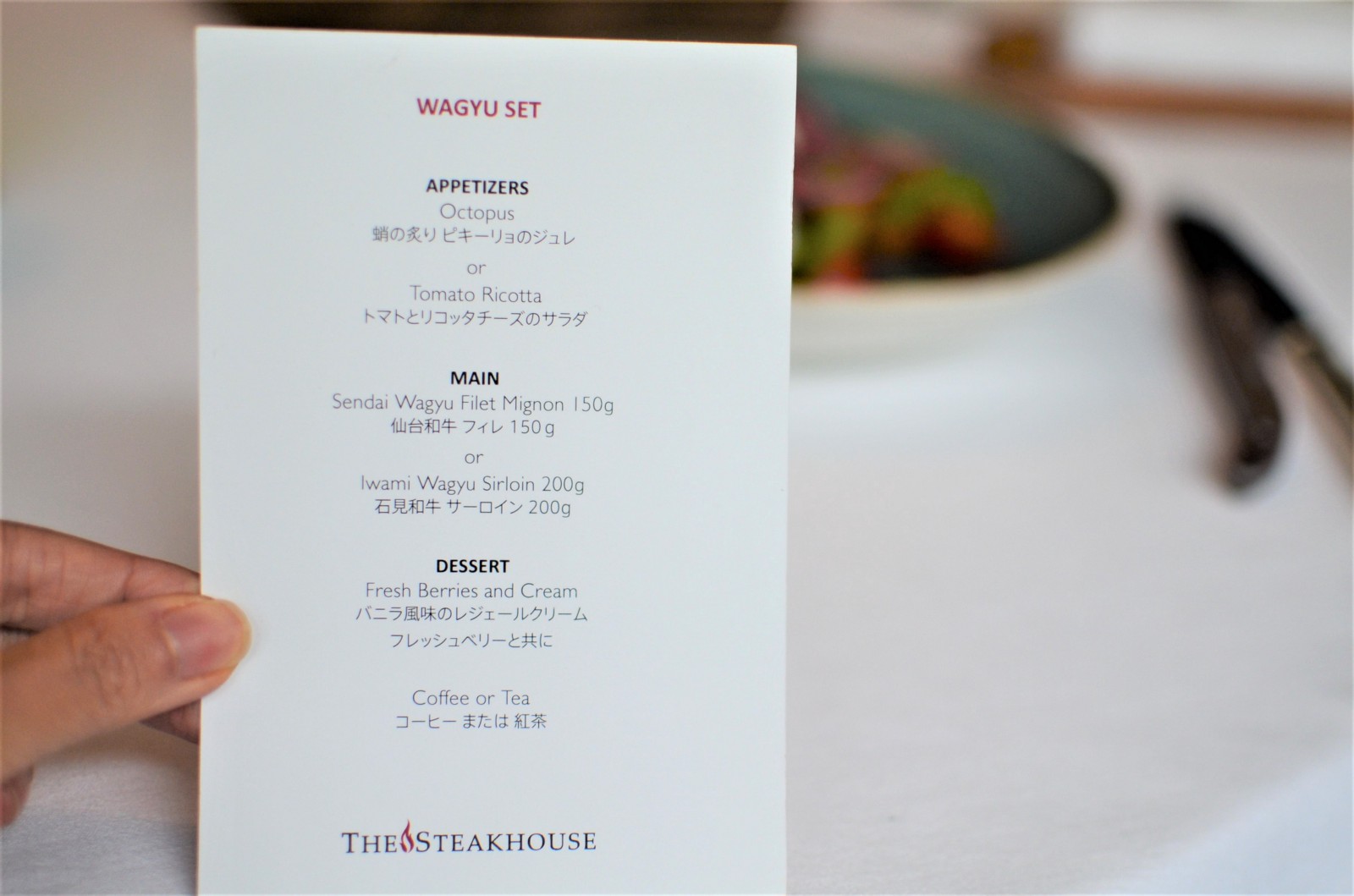 There are also less pricey lunch options such as Steak Set (6,500 yen) and Grilled Set (3,500 yen) which are served with domestic or imported beef/seafood/hamburger. The Steakhouse also does mouthwatering American style Wagyu Beef burgers that come with a choice of toppings (from 2,300 yen). The Wagyu Burgers at The Steakhouse are also available for takeaway.
They also offer a large selection of wine and craft beers which goes perfectly with Wagyu Beef steaks and gourmet burgers. 6 kinds of the award winning Japanese craft beer, COEDO Beer can be tasted at the restaurant. COEDO Beer Paring Menu is available at the restaurant during this spring and summer (till 30 September).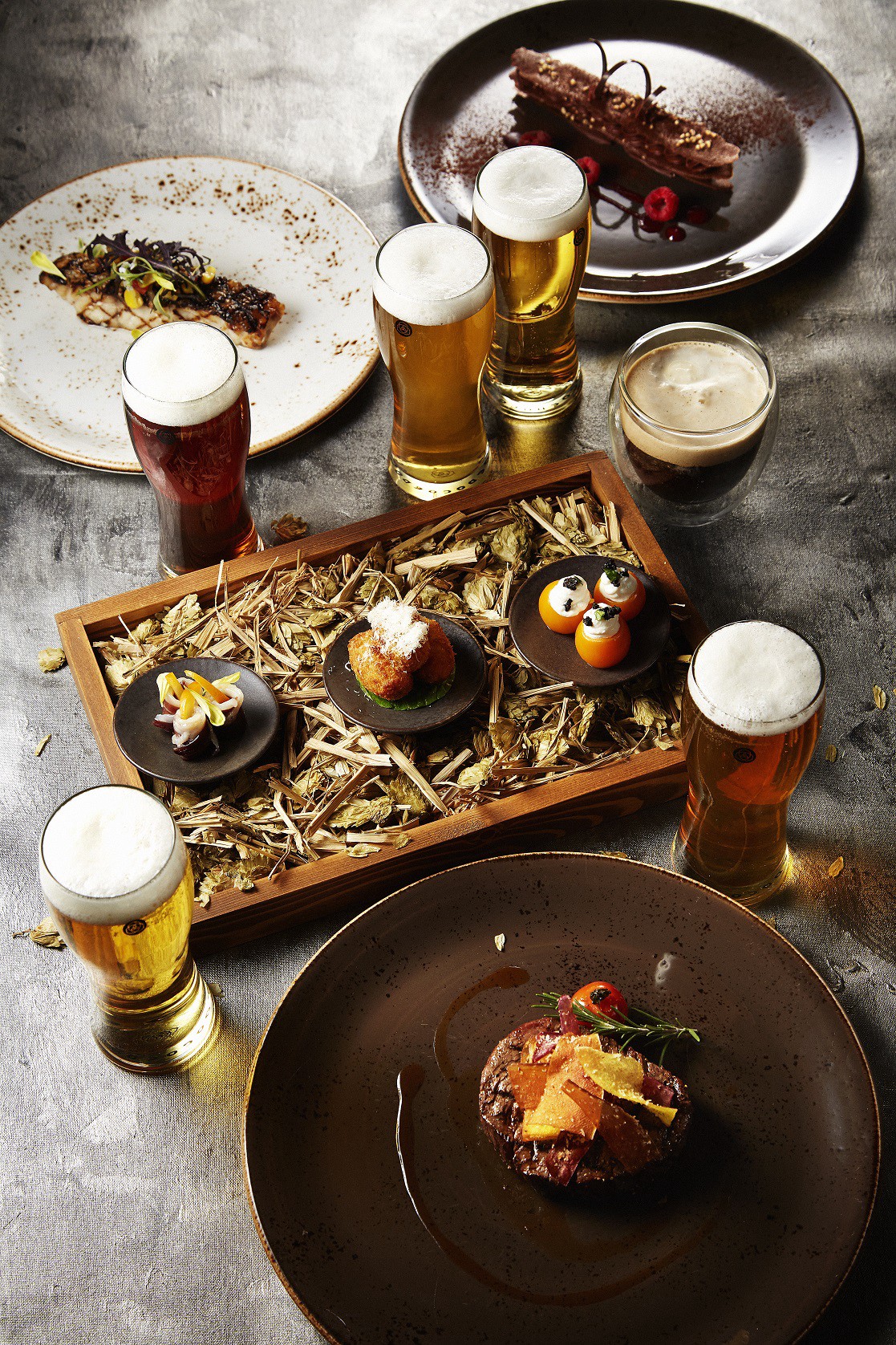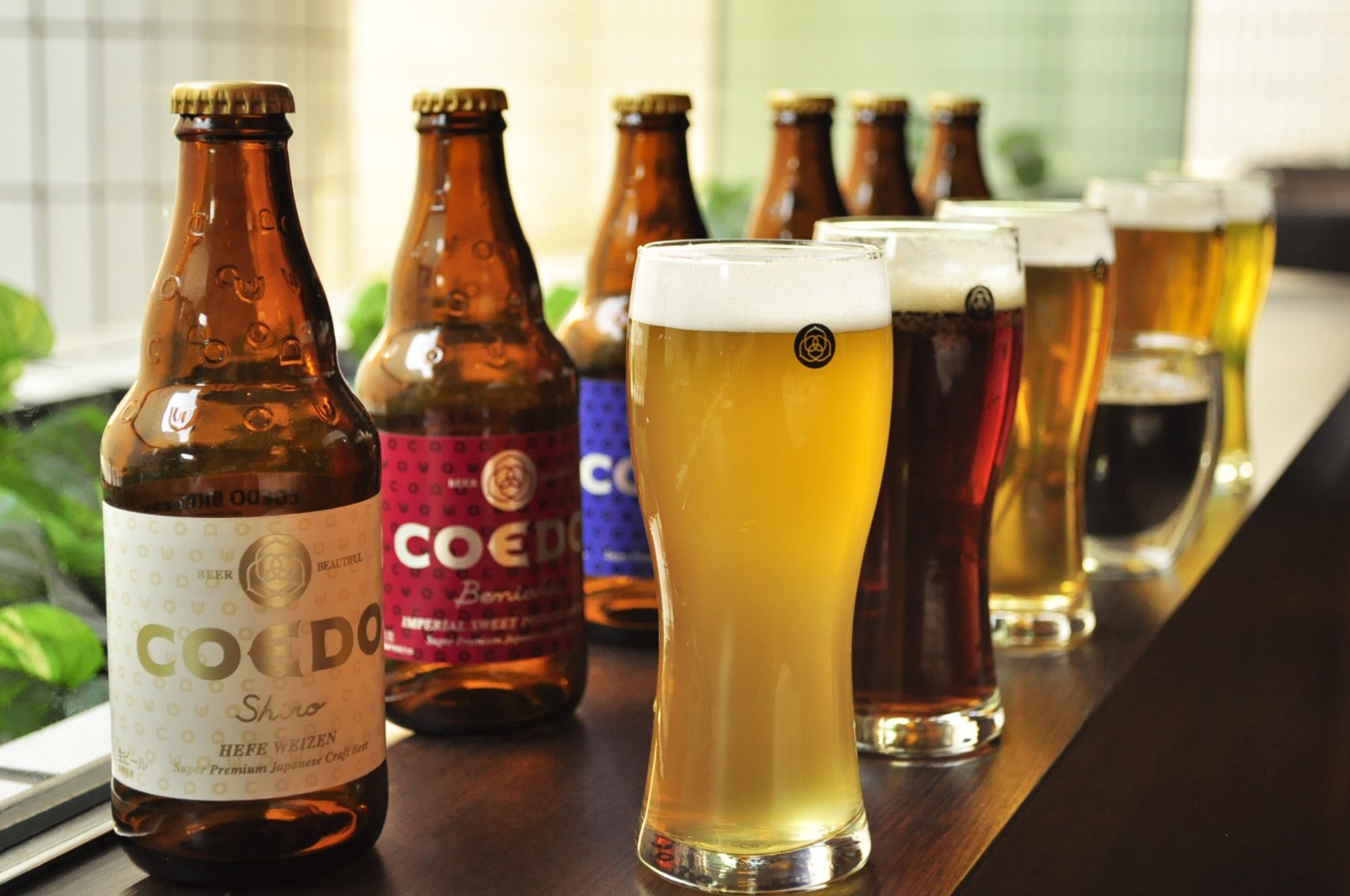 A variety of seasonal dishes, events and promotions are available at The Steakhouse through the year such as Taraba Crab Matcha Burger and Matcha Panaché, Rugby Burger, kids cooking class and more! Manhattan Jazz Night is held every Friday night, offering guests a premium time with the live music while enjoying their delicious charcoal grilled dishes.
-The Steakhouse
Location: 3F ANA InterContinental Tokyo 3F
Hours: Lunch 11:30~14:30/Dinner 17:00~21:30
Genre: Steak, Burger
Budget: Lunch 2,000~3,o00 yen/Dinner 5,000~10,000 yen
Online Reservation: http://bit.ly/2PuoO2n
---
Thanks for reading! If you are looking for the best Wagyu Beef experience in Tokyo, I'd highly recommend you The Steakhouse for the best-value and exceptional dining experience 🙂
For more information about delicious food and great restaurants in Tokyo, here are some more articles for you to check out 😉
▽Related Articles▽
▼Editor's Picks▼
---