STAR WARS Marunouchi Bright Christmas 2019 -Precious for you- will be held in Marunouchi area (near Tokyo Station) this winter (from 7 November to 25 December). This special event will be celebrating Christmas and the upcoming STAR WARS movie, Star Wars: The Rise of Skywalker, which will be released on 20 December 2019 across the world.
STAR WARS Marunouchi Bright Christmas2019-Precious for you- will take place at several locations within Tokyo Marunouchi area, featuring special decorations, participatory events,temporary STAR WARS cafe, gallery, pop-up shops, etc.. all in the STAR WARS theme! Besides the temporary pop-up stores, several apparel and variety shops in Marunouchi area will be selling limited products with STAR WARS designs only this time. If you are a STAR WARS fan, don't miss a chance to celebrate both Christmas and the release of the new film in the heart of Tokyo!
Let's check out some of the best highlights of the event!
-Marunouchi Building "RISE CRYSTAL-A Magical Christmas Object Rising toward the Galaxy-"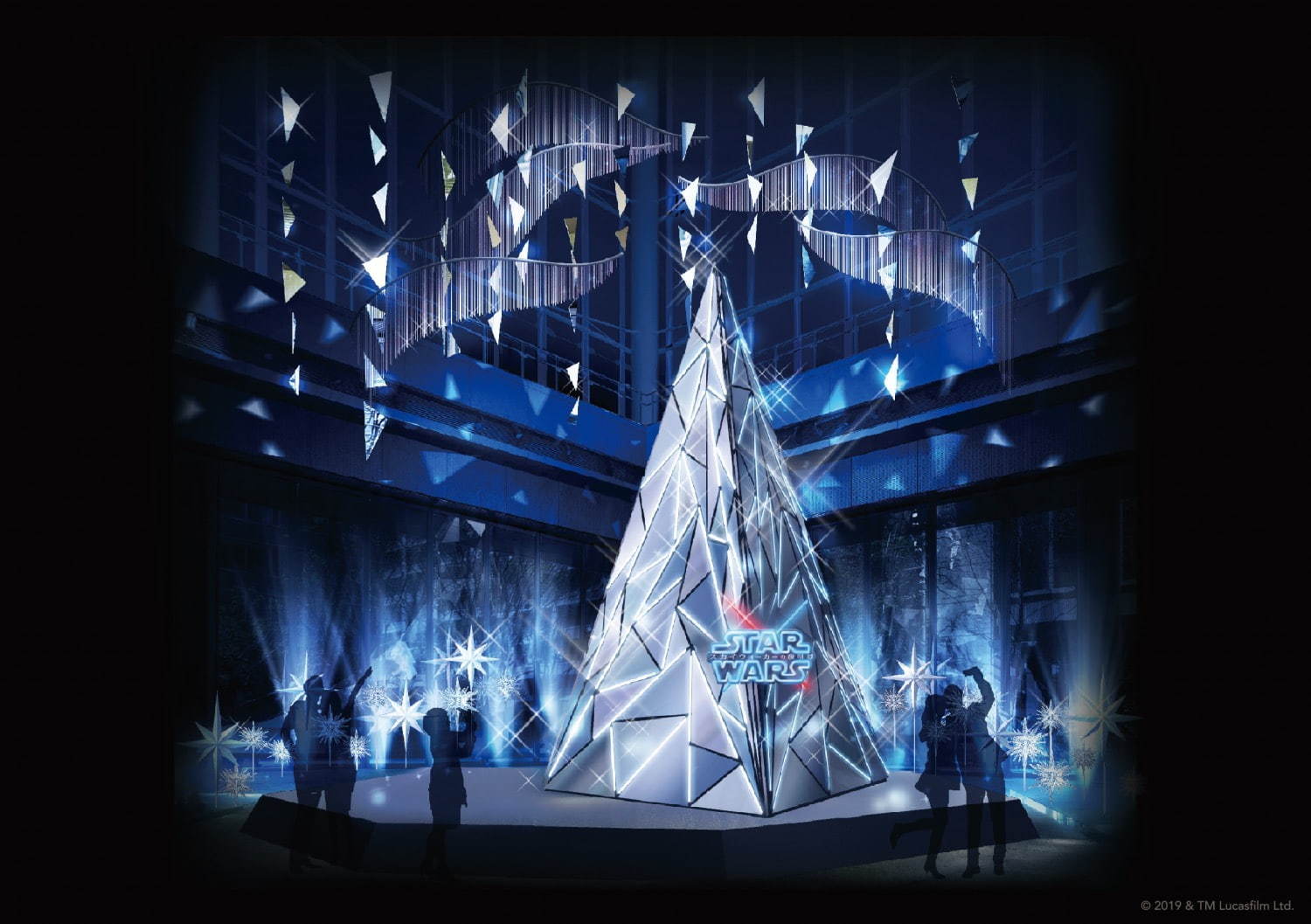 At Marunouchi Building (Marubiru), there will be a Christmas tree-like object inspired by the world of the galaxy that will show different light effects in day and night expressing the conflict in mind between LIGHT SIDE and DARK SIDE.
Location: Maru Cube, 1F Marunouchi Building
Hours: 6:00~24:00
-Shinmaru Building "KAWAii UCHŪ-Colorful Characters, POP Christmas"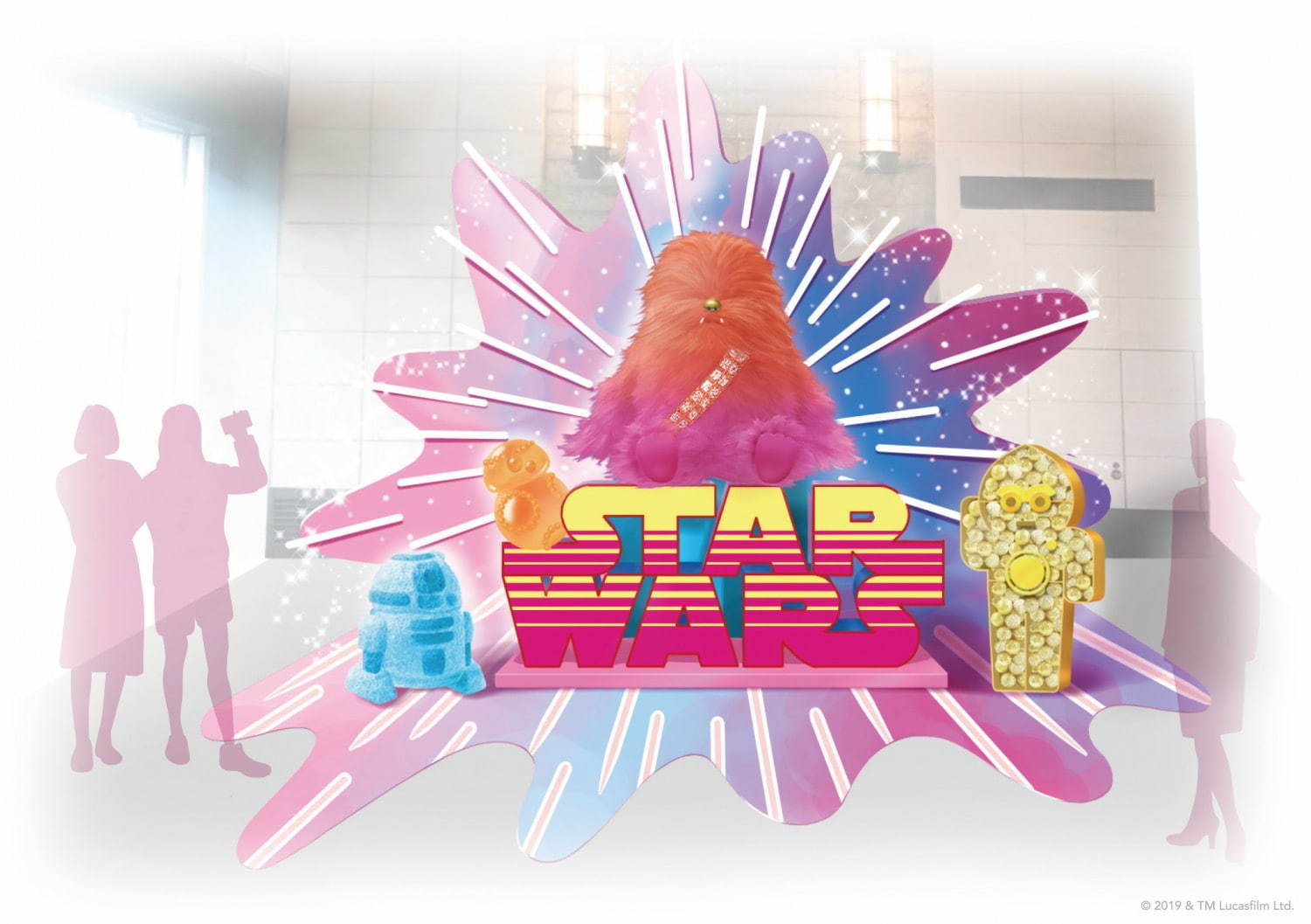 STAR WARS characters will be decorating the Shin-Marunouchi Building (Shin Marubiru) in a pop and colourful "Kawaii" motif.
Location: Atrium, 3F Shin-Marunouchi Building
Hours: 11:00~21:00 (~20:00 on Sunday and Weekends)
-Marunouchi Oazo "HARMONY OF LIGHTS"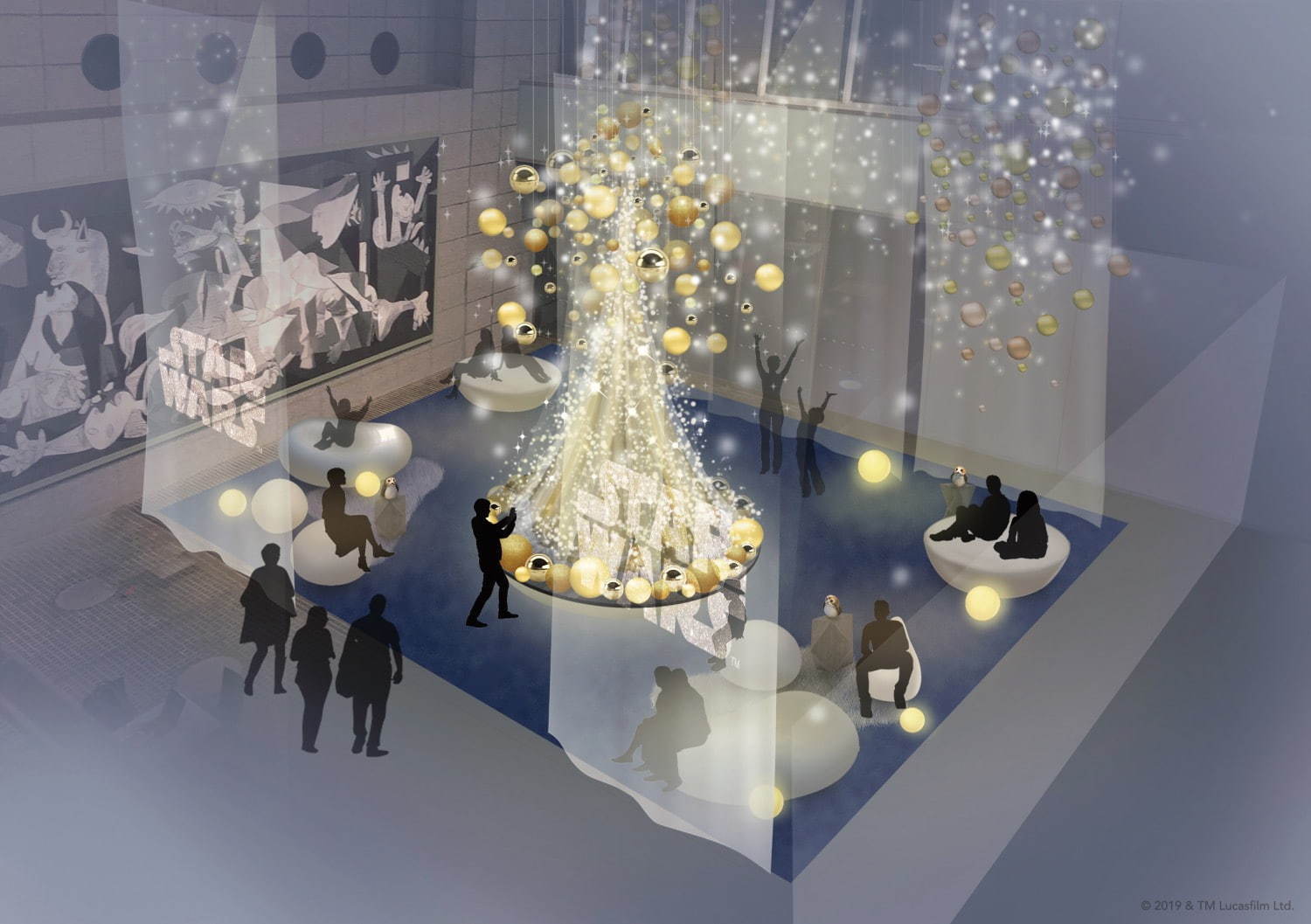 The Christmas tree inspired by Ahch-To island where Rey has met the Jedi Master, Luke Skywalker will be displayed at Marunouchi Oazo.
Location: OO Square, Marunouchi Oazo
Hours: 6:00~24:00
-Marunouchi Brick Square "ETERNAL SNOW- Glittering Crystals and Character Collaboration"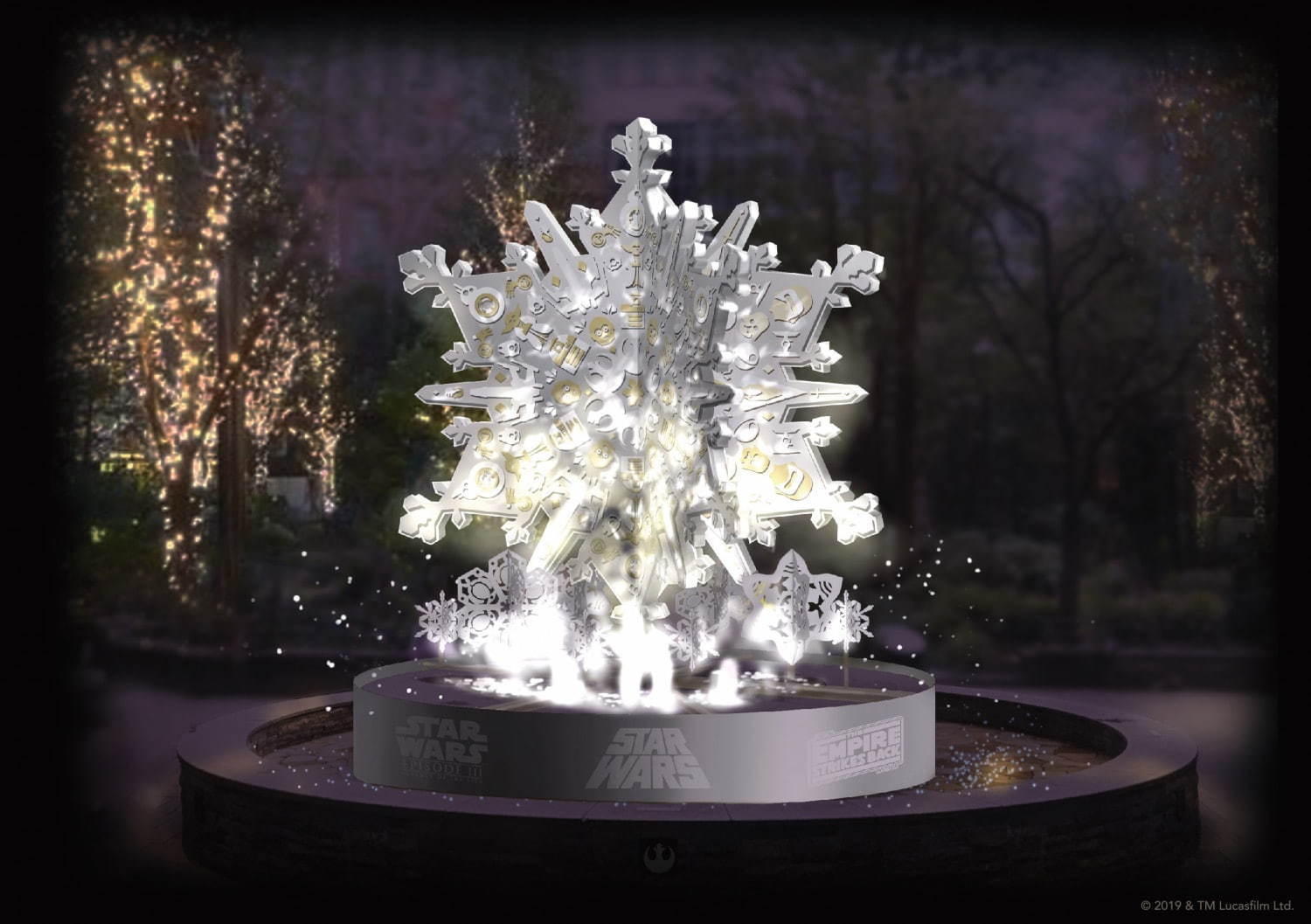 In Marunouchi Brick Square, there will be a snowflake motif object, and there are hid signs when you look closer into the sparkling snow crystals.
Location: Marunouchi Brick Square Ichigokan Plaza
Hours: 6:00~24:00
-Kokusai Building "MEMORIAL GIFTS-Special Christmas Gift from R2-D2"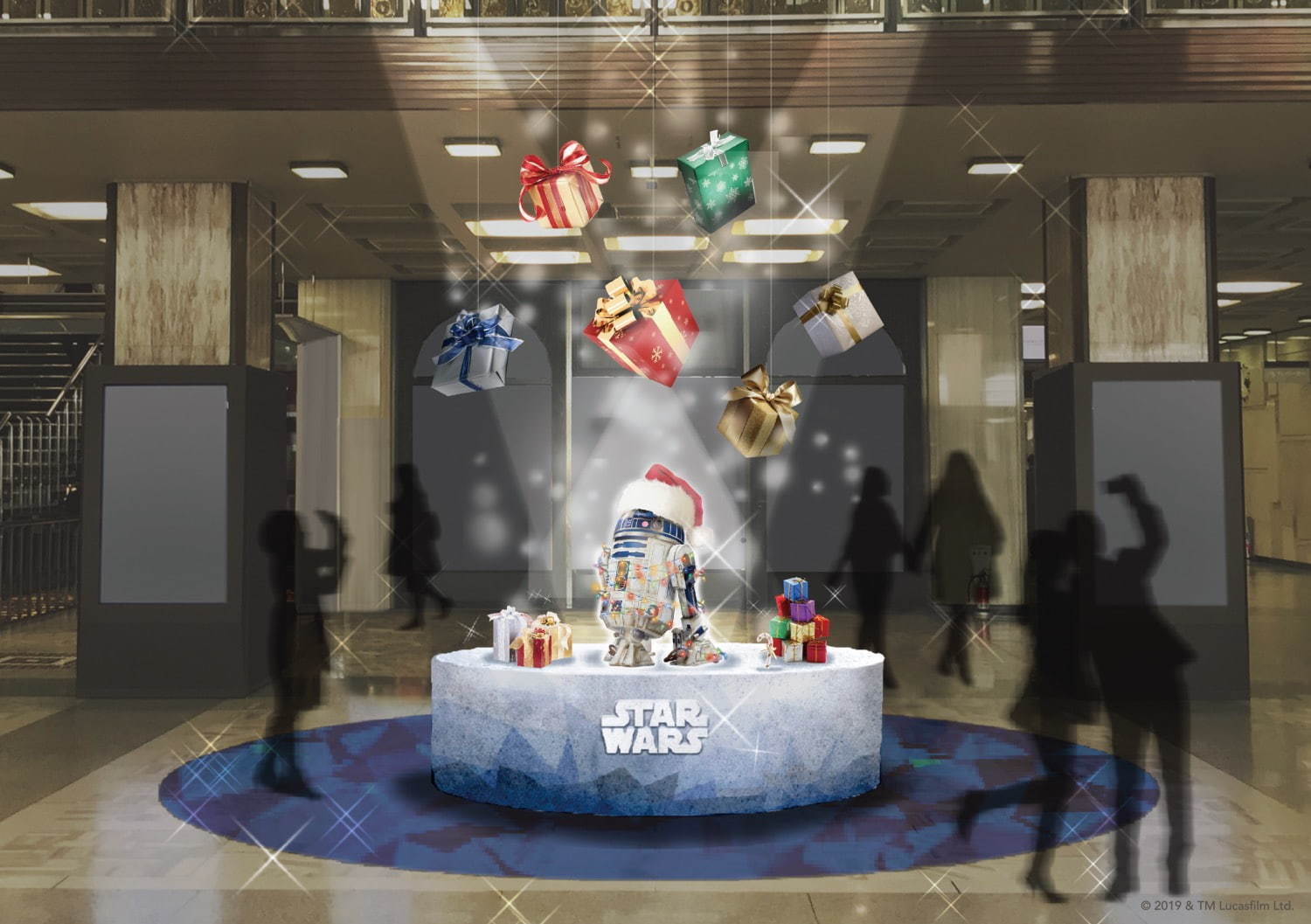 Adorable and festive statue of R2-D2 in a Santa Claus costume will appear in the Kokusai Building.
Location: 1F Kokusai Building
Hours: 8:00~23:00 (Weekdays),8:00~22:00 (Saturday),10:00~22:00 (Sunday and Holiday)
-Nijubashi Square "HIDE AND SEEK-Characters' Fun Hide-and-Seek"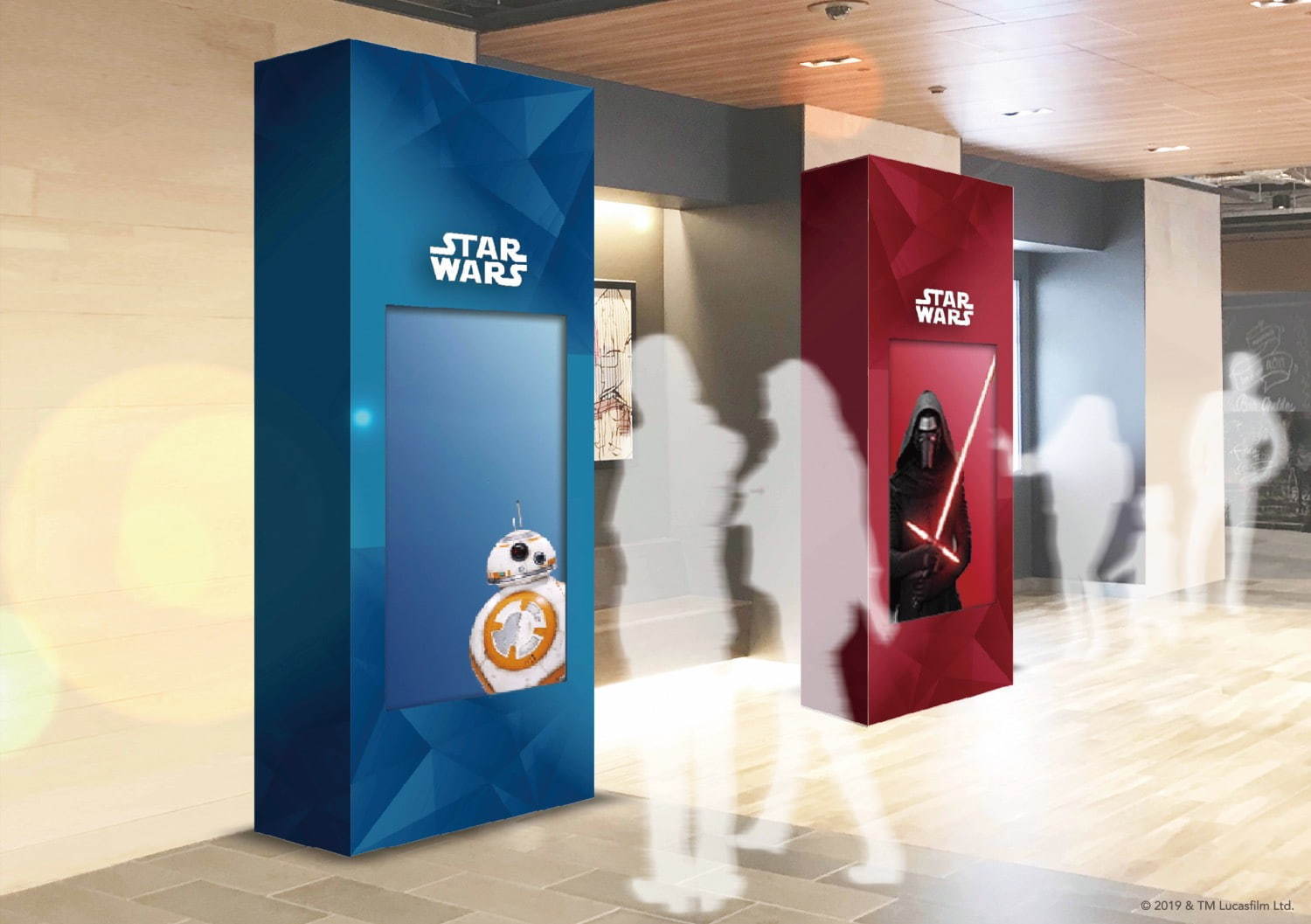 The immersive content with fun and cheeky STAR WARS characters that move according to the movements of guests will be available at Nujubashi Square.
Location: B1F Nijubashi Square
Hours: 11:00~23:00 (Mon to Sat), 11:00~22:00 (Sun & Holiday)
-Marunouchi Café "RISE CRYSTAL CAFE"
Marunouchi Cafe at Marunouchi Building will open a temporary STAR WARS cafe "RISE CRYSTAL CAFE" featuring a special menu collaborated with the motif and characters of STAR WARS.
Location: 1F Marunouchi Building
Hours: 7:00~23:00 (Mon-Thu), 7:30~24:00 (Fri & the day before Holiday), 10:00~24:00 (Sat), 10:00~23:00 (Sun & Holiday)
-Pop-Up Stores
Temporary pop-up stores will open at three different locations in Marunouchi, offering a variety of STAR WARS items.
Location: Maru Cube, 1F Marunouchi Building
Date: 7 November to 25 December
Hours: 11:00~20:00 (Weekdays), 11:00~19:30 (Weekends and Holidays)
Location: Atrium 3F Shin-Marunouchi Building
Date: 7 November to 25 December
Hours: 11:00~20:00
Location: Wood Deck 1F Marunouchi Oazo
Date: 6 to 25 December
Hours: 11:00~19:00
-Estnation Yurakucho Store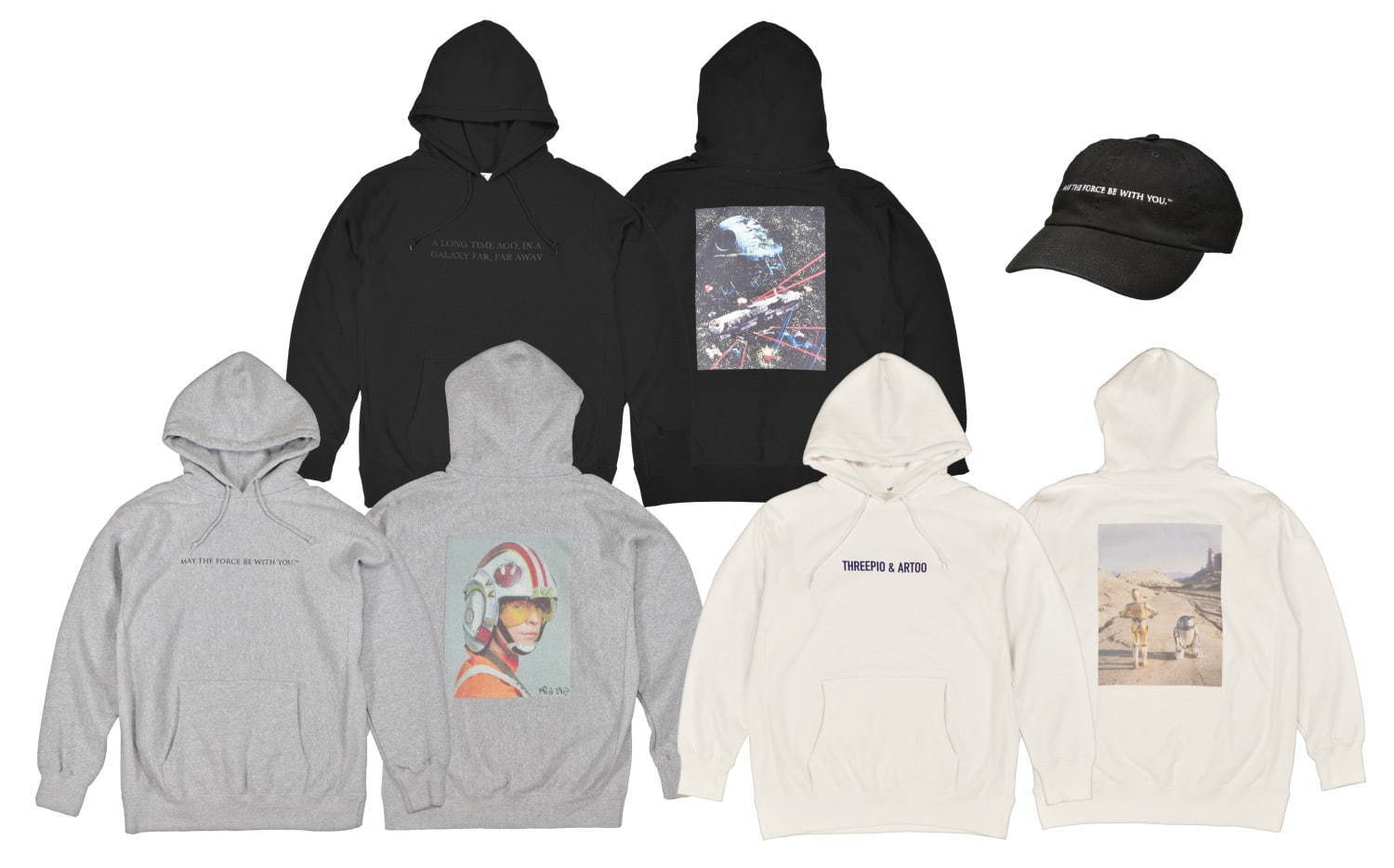 PULLOVER PARKA 18,000 yen
BASEBALL CAP 4,800 yen
Location: 1–2F Yurakucho Building
-Le Dome EDIFICE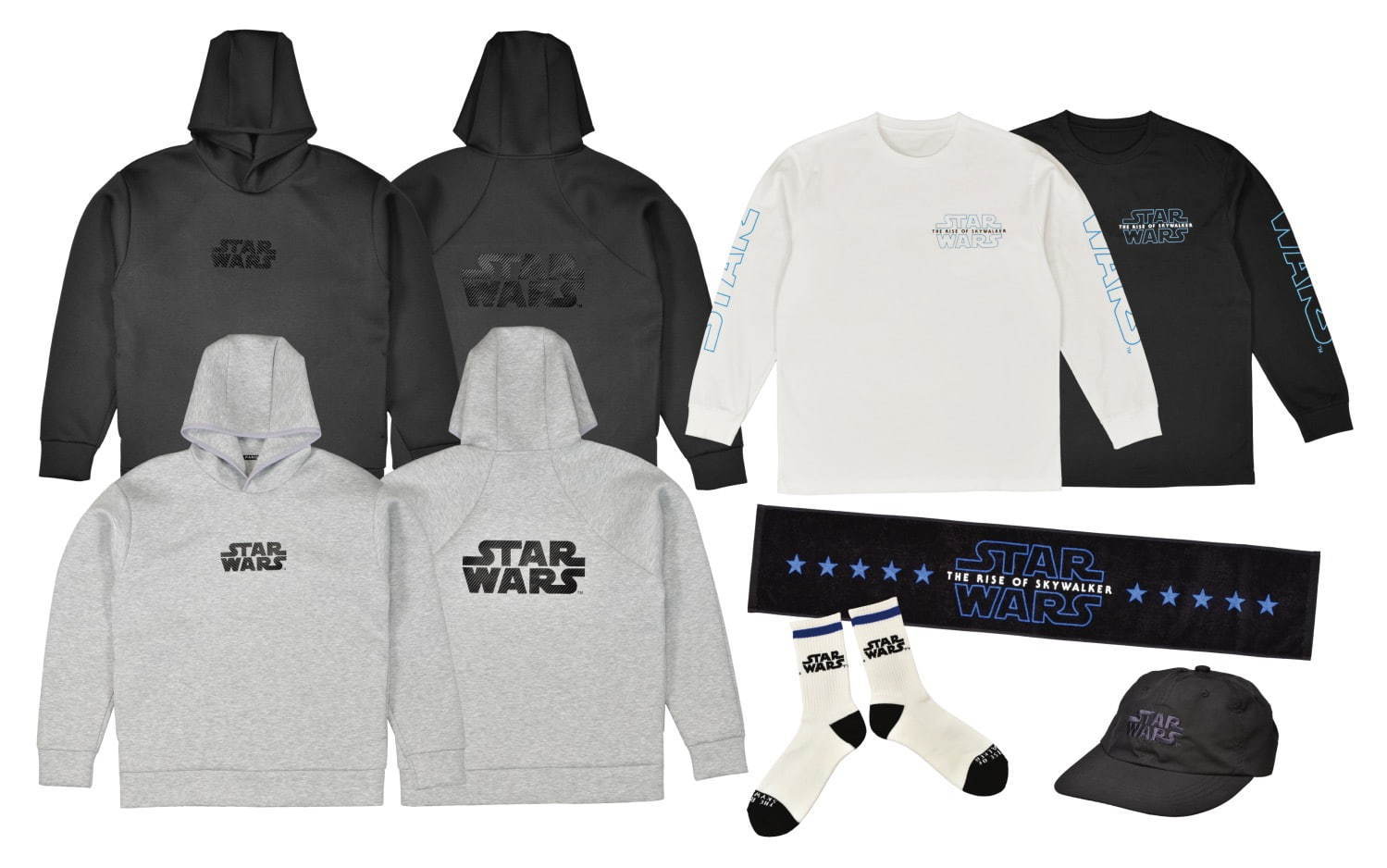 Bonding Hoodie 1,4000 yen
Print Long T-Shirt 8,000 yen
Baseball Cap 5,000 yen
Line Socks 1,500 yen
Long Towel 2,200 yen
Location: 1F Mitsubishi Building
-ACE BAGS&LUGGAGE Marunouchi Store
Name Tag 300 yen
Passport Case 400 yen
Folding Tote Bag 2,000 yen
Folding Backpack 3,000 yen
Location: 4F Marunouchi Building
-Kamawanu Tenugui
Tenugui Towel 1,300 yen
Location: 4F Shin-Marunouchi Buidling
Note: Tax is excluded in all above prices