Shonen Jump 50th Anniversary Exhibition VOL.3 features Shonen Jump works published from 2000's to the present day. A number of original drawings and items on display related to 2000's manga including NARUTO, ONE PIECE, BLEACH, DEATH NOTE, HUNTER×HUNTER and so on.
The recent-day manga works in 2000's are especially familiar to you since NARUTO, ONE PIECE, BLEACH are the most popular Japanese mangas all over the world. They has been translated into many languages. Of course, Shonen Jump produced other megasellers before that, for instance Dragon Ball and Captain Tsubasa. However, the newer works has continued to attract new fans.
This article will be updated once the additional information about Shonen Jump 50th Anniversary Exhibition VOL.3 is released.
▽Shonen Jump 50th Anniversary Exhibition VOL.2 is open now▽
▽Review: Visiting JUMP Expo vol. 2▽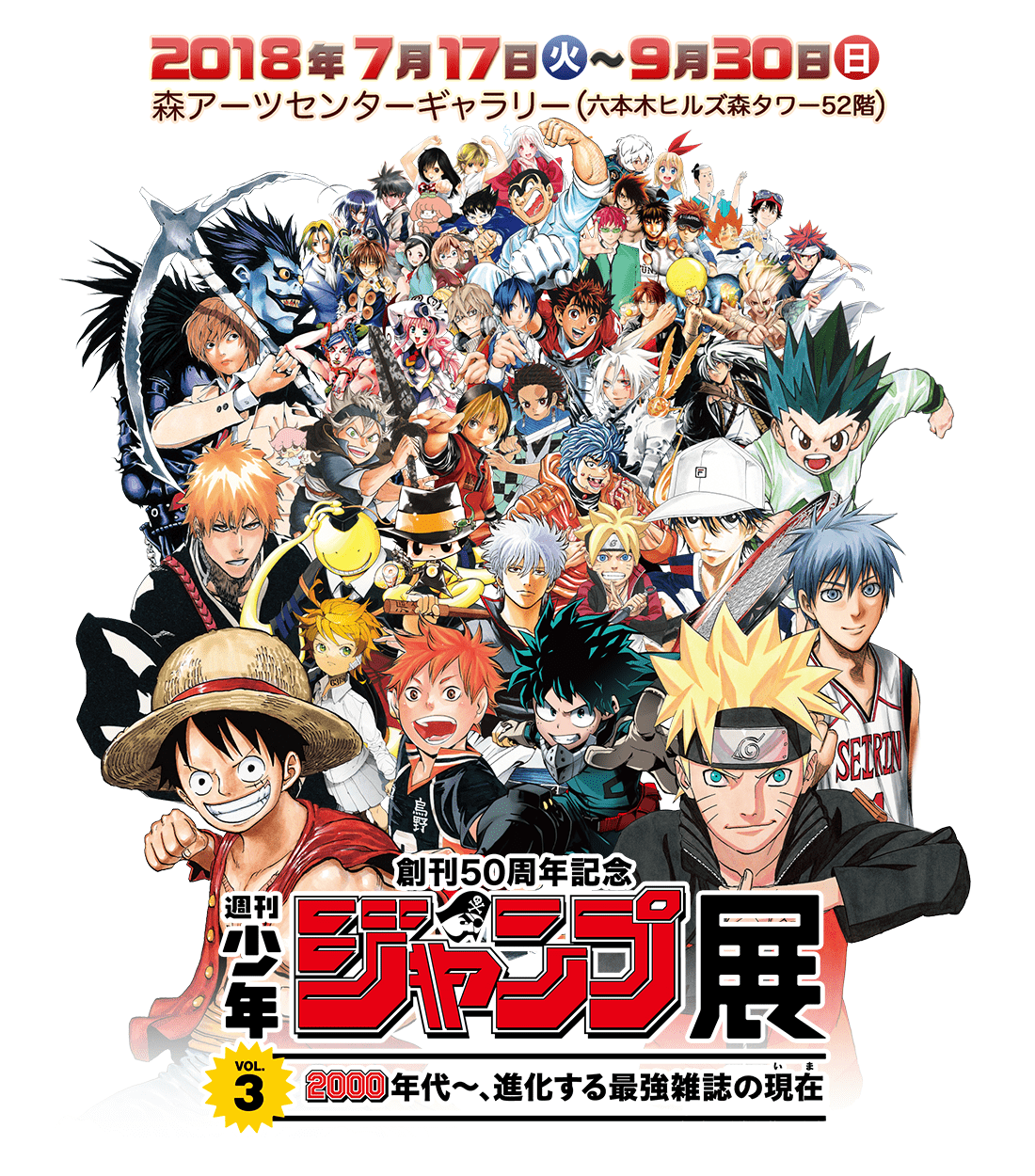 Legendary Manga in 2000's
NARUTO (ナルト)<1999–2014>
Naruto is the Ninja-themed manga with one of the most explosive sales in 2000's. It had been published for about 15 years. Following the story, the sequel has started with Naruto's son named Boruto as the main character.
ONE PIECE <1997->
One Piece is the best selling and the most famous manga in Japan without doubt. The work represents the adventure of a pirate Monkey D. Luffy and his crews sailing around the sea. It has been translated into foreign languages in more than 35 countries and regions.
BLEACH <2001–2016>
The main character of Bleach is Ichigo Kurosaki, a Samurai with the power of Soul Reaper. Bleach had contributed to Jump's sales with 686 individual chapters for 15 years.
DEATH NOTE <2003–2006>
Death Note is a horror and unique story: when a name of a person is written on a Death Note, he/she dies. Death Note has been run in Shonen Jump just for less than 3 years, however, it has got much attention and was filmized in 2006, 2008 and the latest film was released on Netflix in 2017.
<<MAP>>
Location: Mori Arts Center Gallery (52F Roppongi Hills Mori Tower)
Hours: 10:00–20:00/9:00–21:00 (11th to 19th August)
Admission: 2,000 yen
Date: 17th July to 30th September, 2018
Website: http://shonenjump-ten.com/vol3/