Rugby World Cup will be open in Japan in 2019 for the first time. Rugby World Cup 2019 will start with the opening match in Tokyo on the 20th September and last till the 2nd November. This is the perfect guide to Rugby World Cup 2019 (RWC 2019) for those who will visit Japan to enjoy watching the exciting games in 2019. Here is the introduction of how to buy Rugby World Cup 2019 tickets, hotels and travel information near the venues. Make a perfect travel plan for RWC 2019!
▽For travelers visiting Japan for Rugby World Cup 2019, here are best things to do in the host cities!▽
Things to Do in Host Cities during Rugby World Cup 2019: Tokyo, Osaka, Yokohama, etc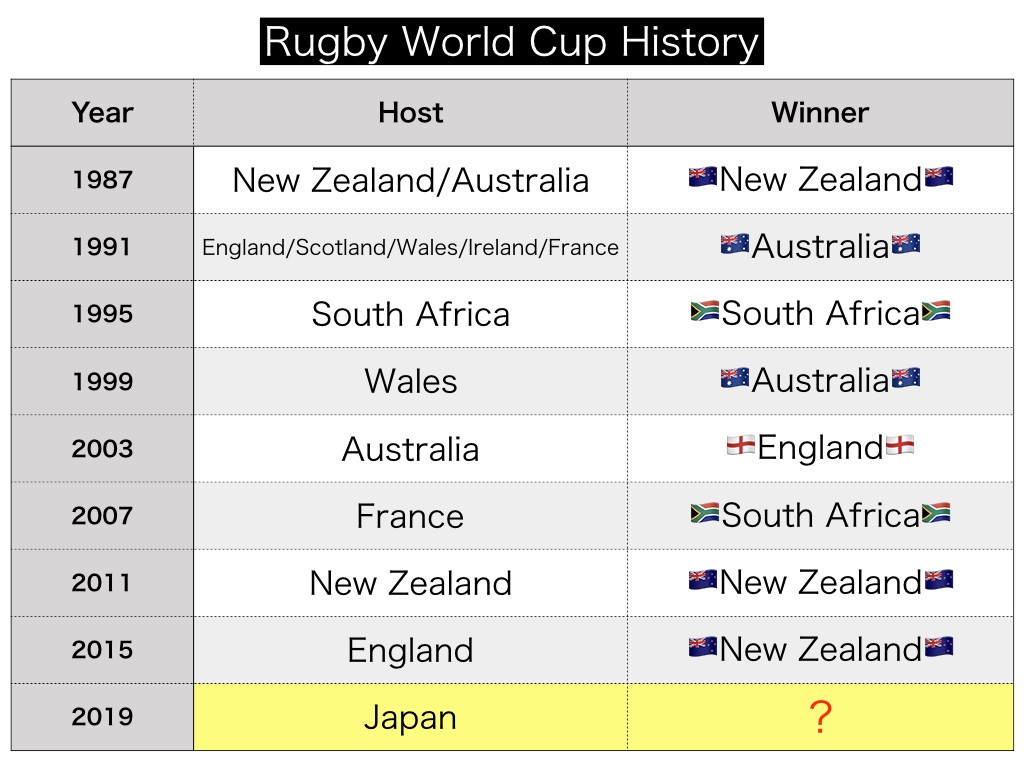 Rugby World Cup, a rugby tournament contested once every four years, is one of the most popular sports competitions in the world as well as FIFA World Cup and the Olympic Games. The first competition of Rugby World Cup started in 1987 hosted by New Zealand and Australia, and Rugby World Cup 2019 in Japan is the 9th one. 20 top national teams will come to Japan and compete to win the championship.
Match Schedule
Rugby World Cup 2019 in Japan is started with the opening match (the host team Japan v Russia) on the 20th September. 10 games are held in each pool until the 13th September all over the country, and 8 teams (2 teams in each pool) advance to the final round. And then, the final is set on the 2nd November! All matches schedule is below.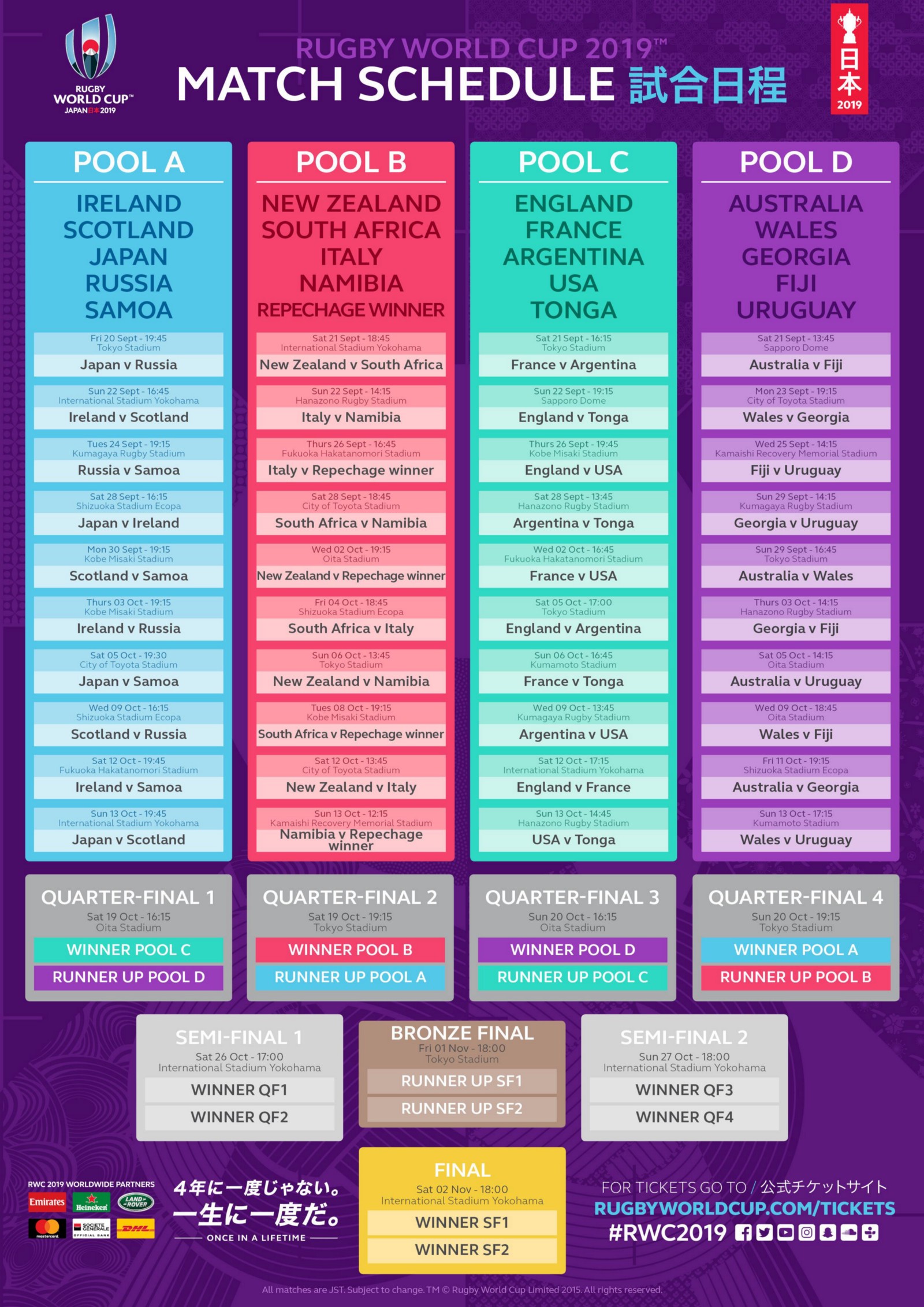 Venues
There are 12 venues which host the Rugby World Cup 2019 games all over Japan from the northernmost prefecture Hokkaido to Kumamoto Prefecture in Kyushu Region. You can enjoy not only watching the rugby games but also traveling around the stadiums since the host cities, especially, Tokyo, Yokohama, Osaka and Hokkaido, have numerous popular tourist attractions including regional Japanese food, onsen, shrines, temples and so on.
1. Sapporo Dome (Hokkaido)/Map: https://goo.gl/9PCsGL
2. Kamaishi Recovery Memorial Stadium (Iwate Prefecture)/Map: https://goo.gl/JYbXJh
3. Kumagaya Rugby Stadium (Saitama Prefecture)/Map: https://goo.gl/remcB9
4. Tokyo Stadium (Tokyo)/Map: https://goo.gl/cmxRfo
5. International Stadium Yokohama/Nissan Stadium (Kanagawa Prefecture)/Map: https://goo.gl/U4LBB5
6. Shizuoka Stadium Ecopa (Shizuoka Prefecture)/Map: https://goo.gl/cF6Vay
7. City of Toyota Stadium (Aichi Prefecture)/Map: https://goo.gl/iDHMiQ
8. Hanazono Rugby Stadium (Osaka)/Map: https://goo.gl/baZd2e
9. Kobe Misaki Stadium (Kobe Prefecture)/Map: https://goo.gl/598BA4
10. Fukuoka Hakatanomori Stadium (Fukuoka Prefecture)/Map: https://goo.gl/bSBi6p
11. Kumamoto Stadium (Kumamoto Prefecture)/Map: https://goo.gl/xQqo6d
12. Oita Stadium (Oita Prefecture)/Map: https://goo.gl/RXkWDr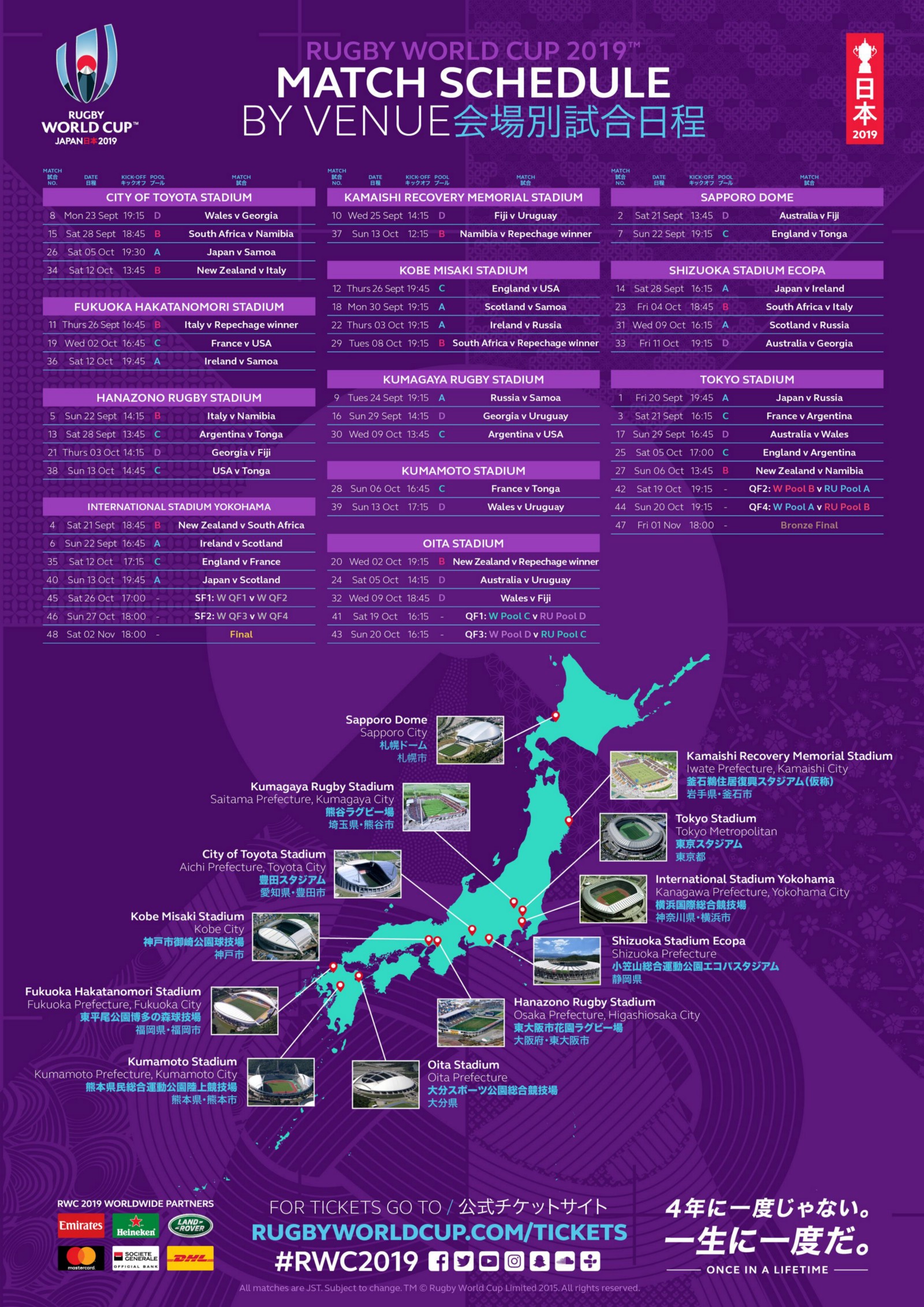 How to Get Tickets
It is not too late to get the tickets of RWC 2019!
Priority Ballot Sales already started in the beginning of 2018, but you can still get the chance to buy the tickets. Here are the periods of First General Ticket Sales and Second General Ticket Sales and how to proceed the application. The tickets are offered with a wide range of prices from 2,019 yen (1,000 yen for child) to 100,000 yen for the final.
First General Ticket Sales (Ballot)
Period: 10:00 on Wednesday, 19 September 2018 to 23:59 on Monday, 12 November 2018
Second General Ticket Sales (First come first served)
Period: from 10:00 on Saturday, 19 January 2019
<<Let's just visit the official ticket website and apply for the tickets right away!!>>
▽Ticket pricing▽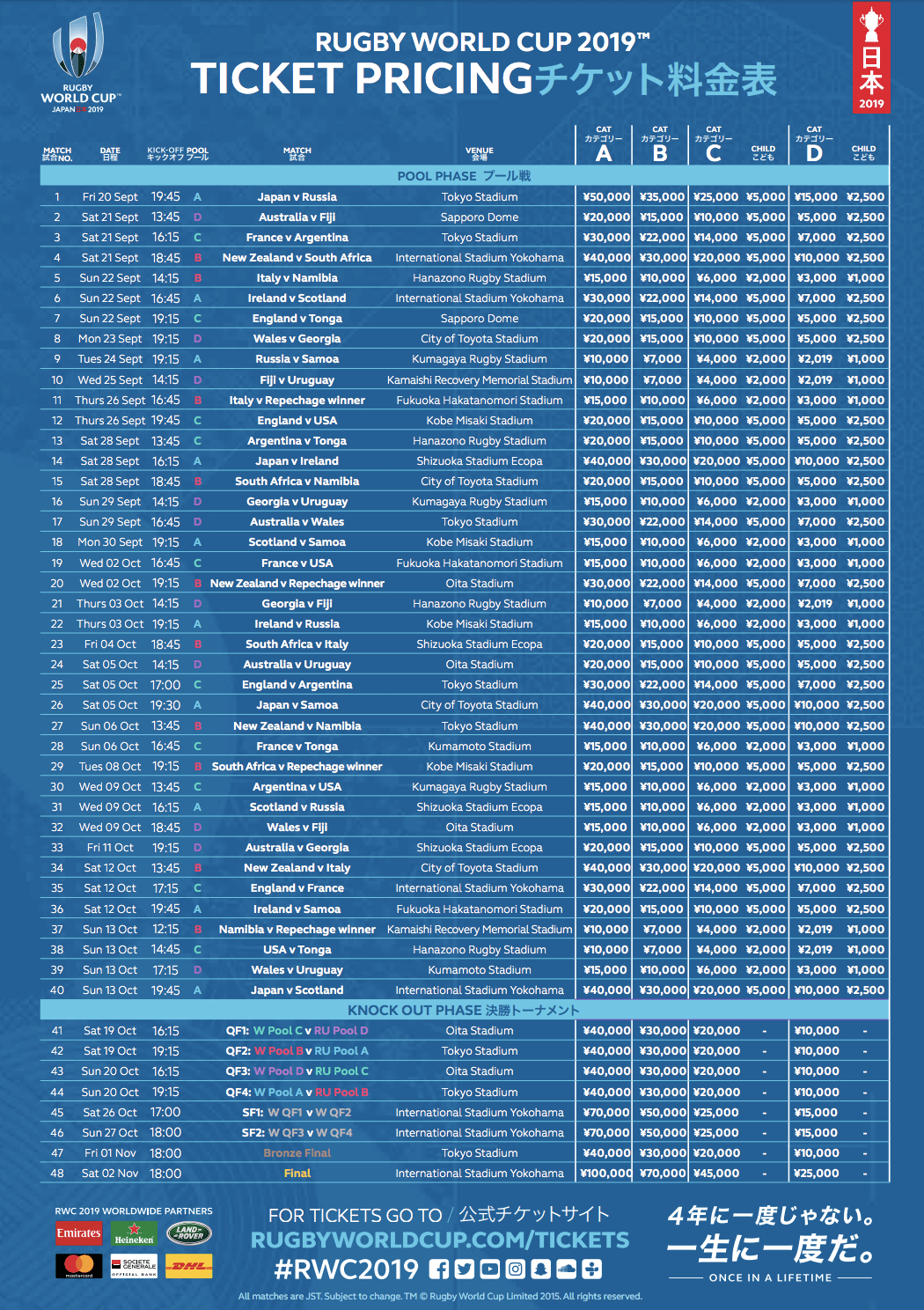 ▽Area category of seats in each venue▽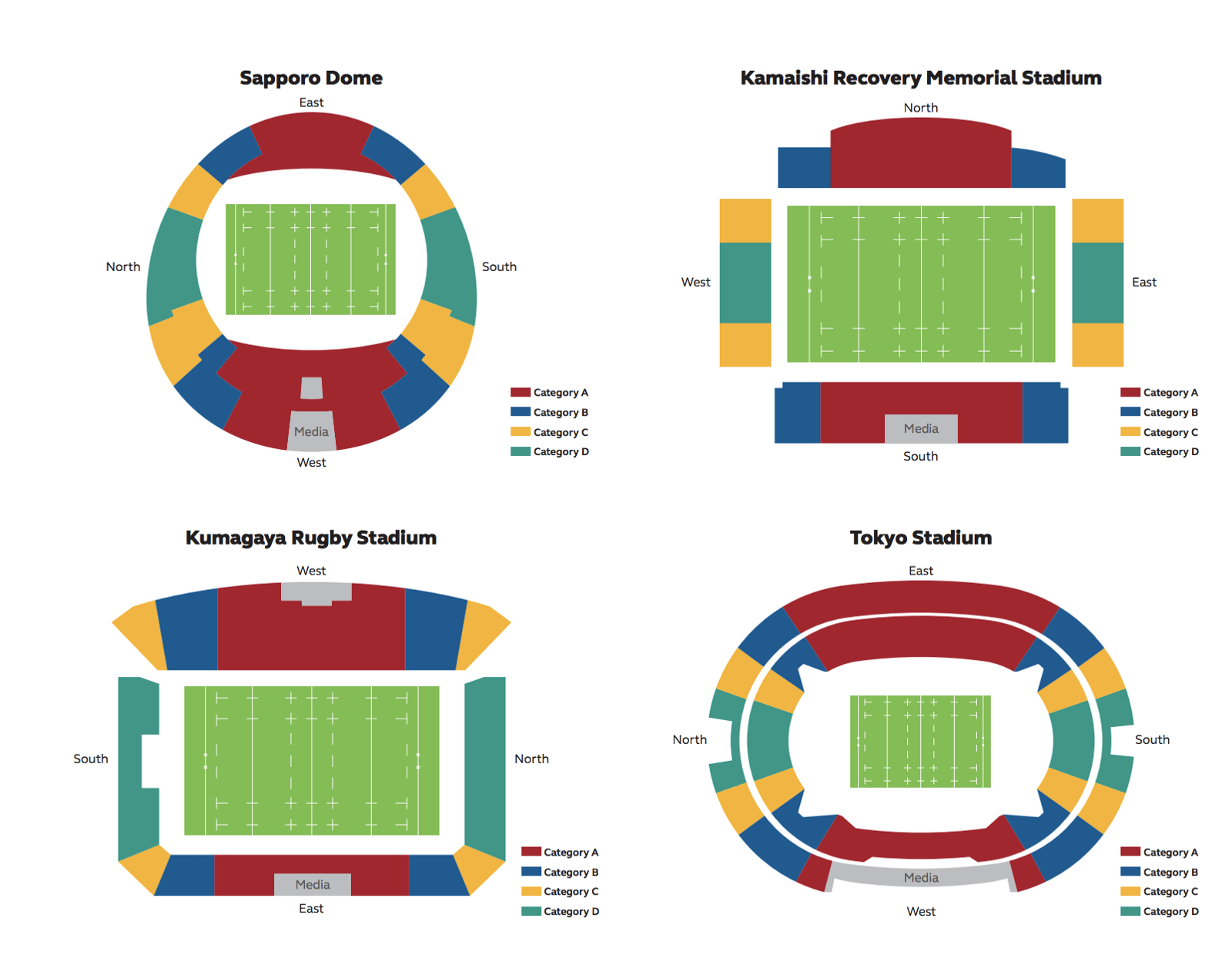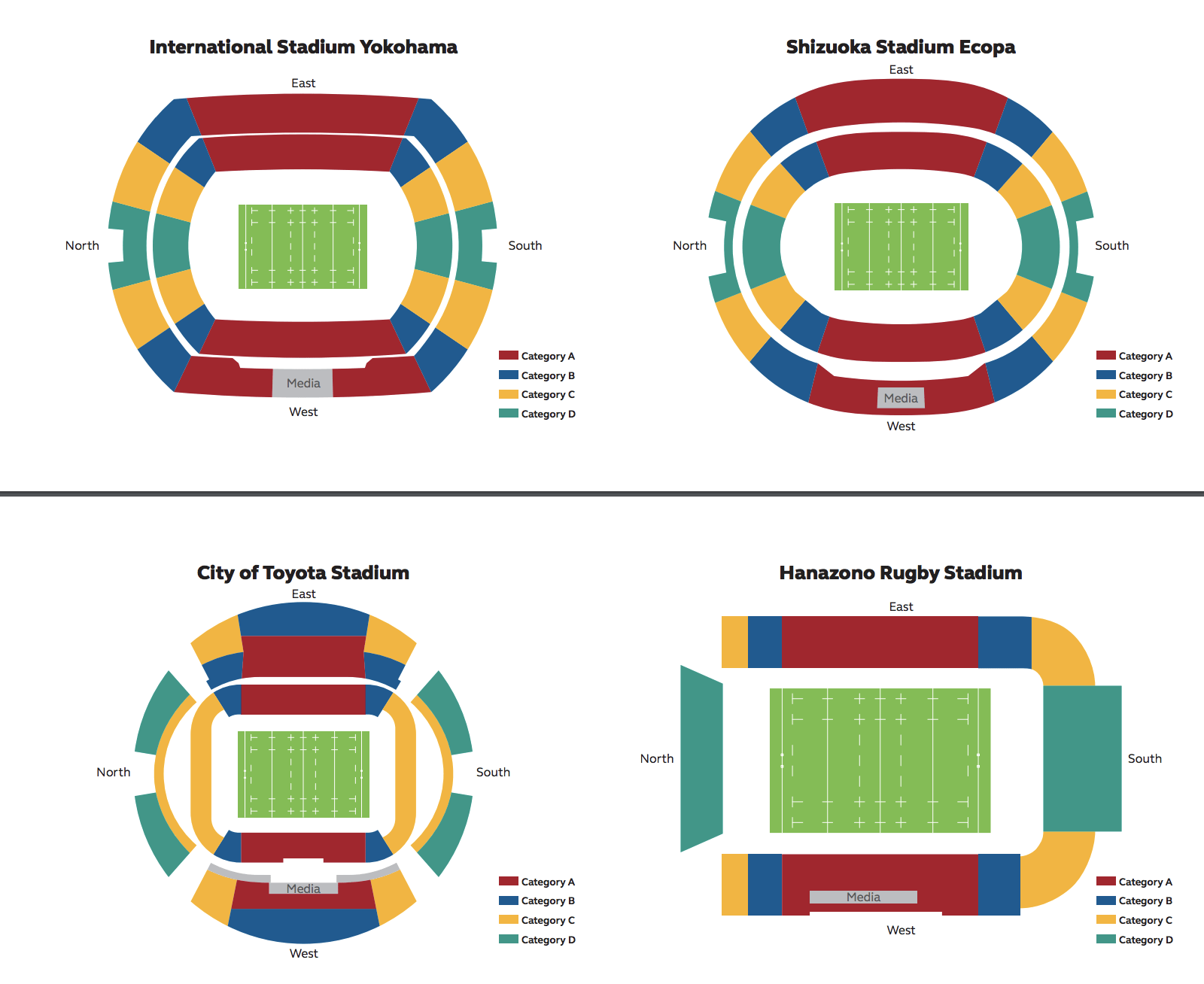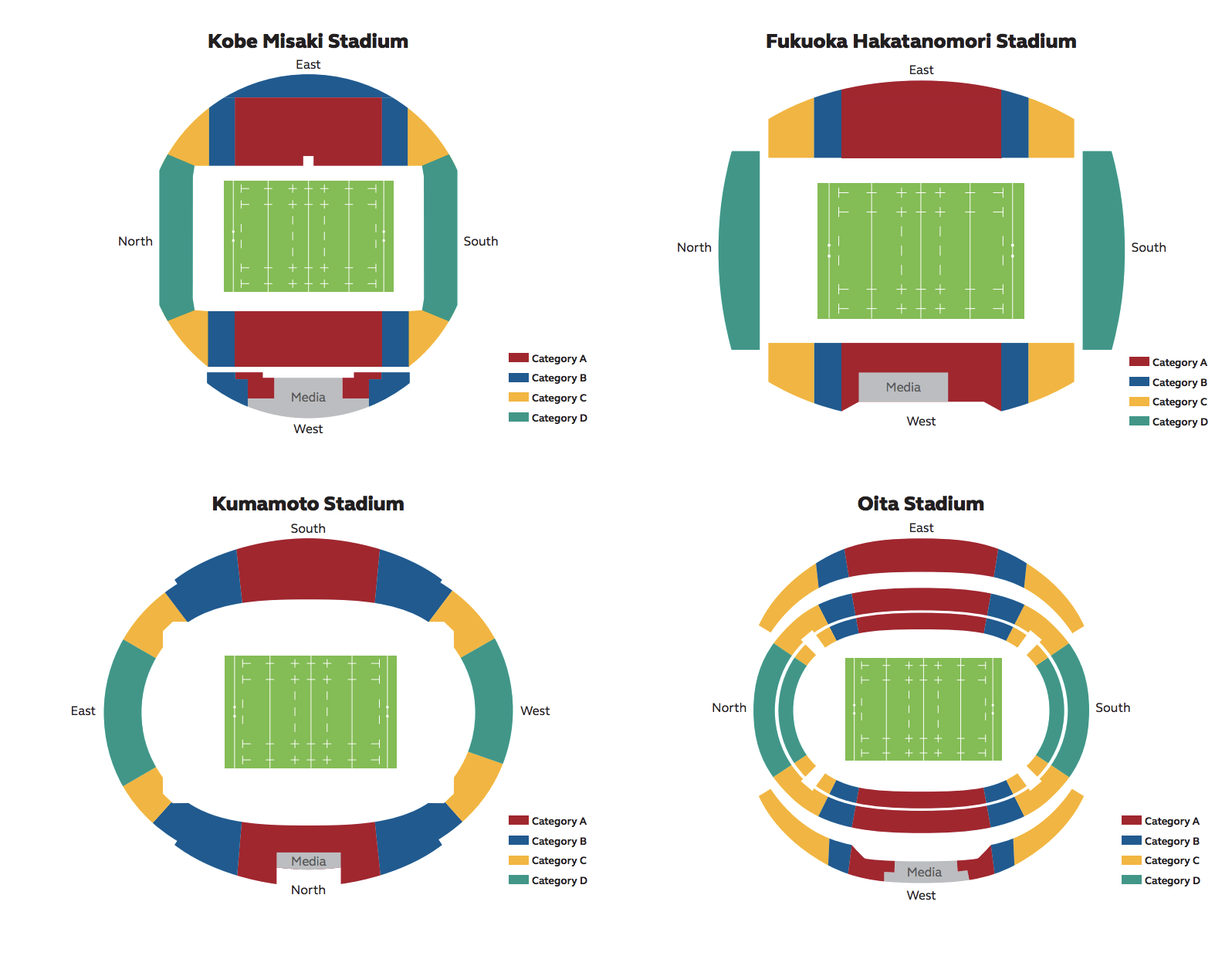 Tour Packages
In addition to just tickets, you can get the chance to watch RWC 2019 games with tour packages. There are lots of official travel agents in the world which offer special tour packages for RWC 2019 including flight tickets, guaranteed official match tickets, accommodations, travel tours in Japan, etc.
<<Check the official travel agents and availabilities of the packages!>>
Things to do in the host areas
-Sapporo, Hokkaido