Discover the Truth about Ninja and Samurai in Japan
Do Ninja and Samurai still exist?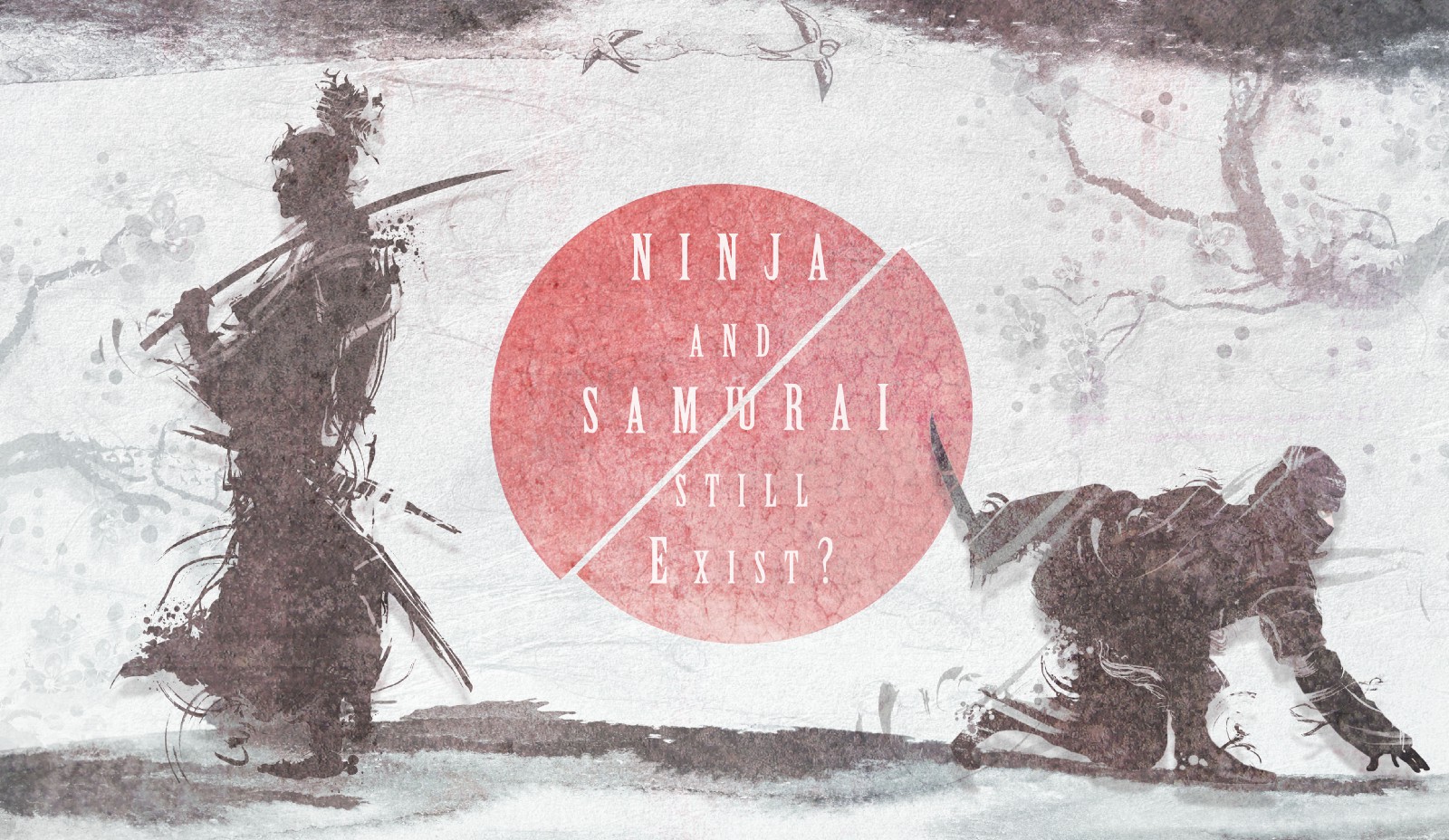 *Please note that this article contains affiliate links.
Does Ninja still exist?
Is Samurai alive today??
It may sound funny but this is some typical stereotype of Japan
which foreign people still believe.
In fact, 97–98% of people worldwide know what are Ninja and Samurai,
and surprisingly over 60% of them believe that they still exist in modern days in Japan.
When I meet foreigners, they often ask me some questions like..
-Do you eat Sushi everyday?
-Have you ever met Ninja?
Well, the answer is NO, but it's not completely wrong to think that.
-Do Austrians listen to classical music everyday?
-All Indians are willing to be system engineers??
There are numbers of stereotypes for each nations, especially if it's very specific and remarkable, that could become a big image of the country.
So what's the best way to find the truth? I think that is seeing it by your own eyes.
In this article, I'd like to introduce two most significant things in Japan:
Ninja and Samurai, what they are today, and where and how you can experience to feel, meet and maybe become one of them in Japan.
Ninja
Ninja (忍者) was a covert agent or mercenary in feudal Japan, and it's mostly known as assassins with special techniques. Mie and Shiga Prefectures are best known as the birthplace of Ninja, and there are some related spots in Tokyo, too.
If you are keen on learning Ninja's special techniques, you can experience them at Musashi, the Ninja ancestors who came to Tokyo over 400 years ago. Put on Ninja costume and practice some of significant techniques like Ninja star and blowgun with real Ninja!
<<You can book the Musashi's activity to experience the techniques here>>
And today, there is a unique option to experience Ninja with the cutting-edge VR technology. Check out the VR NINJA DOJO!!
If you simply want to be entertained by Ninja, I highly recommend you to dine at Ninja Shinjuku and Ninja Akasaka a.k.a the Ninja Restaurant. Not only being served by Ninja waiters, but you will surely be impressed by their quality traditional Japanese cuisine, including Sushi and Wagyu.
In Tokyo, there is also a shop Busou Shoten (武装商店) selling traditional Japanese weapons.
The historical city Kyoto has plenty of spots where you can experience Japanese traditional culture, and Ninja is one of the popular cultures. Everyone including adults and kids can enjoy Ninja activities at Kyoto Samurai & Ninja Museum. The Ninja-themed restaurants and shops are located in Kyoto, too.
As I mentioned earlier, Koka city (甲賀市) in Shiga prefecture and Iga city (伊賀市) in Mie prefecture are known as the birth place of Ninja, and in 2017 both cities were designated to "Japan Heritage", which is authorized by Agency for Cultural Affairs of Japan to preserve and optimize local cultural heritages more effectively.
They are very likely to become more touristy in near future, so it's highly recommended to check out now 😉
Samurai
Samurai (侍) or sometimes called Bushi (武士) is another well-known symbol of Japan. They have built their golden history for fighting in hundreds and thousands years. The spirit of Samurai has been strongly remained in our hearts today, and the word Samurai is often used for calling Japanese athletes at big sport competitions today.
But how much do we know about Samurai? What did they actually look like? In Tokyo, there are several spots where you can learn and experience
the Samurai culture, such as Samurai Museum and Samurai Armor Photo Studio.
<<You can reserve Samurai Museum Ticket online!!>>
Kyoto is another well-known city associated with Samurai culture,
and there are also some cultural activities.
Kyoto Samurai and Ninja Museum is the top-rated museum in Kyoto to experience Samurai and Ninja. It provides you with the chance to experience samurai lessons, samurai dress up, ninja star throw and samurai shows all included in the package. The museum also has an option to use a real samurai sword to cut tatami rolls an experience you'd never forget.
<<Book the one and only Sakurai & Ninja experience in Kyoto>>
The activity "Authentic Kyoto Samurai Experience" provides the chance to experience form practices with the real Samurai sword and zen meditation at the historical Samurai house.
<<Special Offer of Authentic Kyoto Samurai Experience with 10% OFF>>
Samurai Kenbu Theatre offers unique Samurai experience, such as learning a traditional performance with sword called Kenbu.
If you are looking for a quite eccentric activity, a walking tour with "Last Samurai" is highly recommended.
Also making your own samurai sword is one of the most popular activities. You can create the one and only knife guided by the master of swordsmith.
<<Don't miss the chance to make your original Samurai sword>>
---
If you are into traditional Japanese culture, why not take a chance to experience some of traditional cultural activities and feel the real beauty of the country. In Tokyo and Kyoto, there are plenty of cultural activities offered. Or why not visit Iga or Koka city for the quest for the origin of Ninja history! You might also like these articles↓↓
▽ Related Articles▽
▼ Editor's Picks▼
---