Shimanami Kaido: The Best Scenic Cycling Road in Japan
My Cycling Experience: 2 Days in Shimanami Kaido, Seto Inland Sea!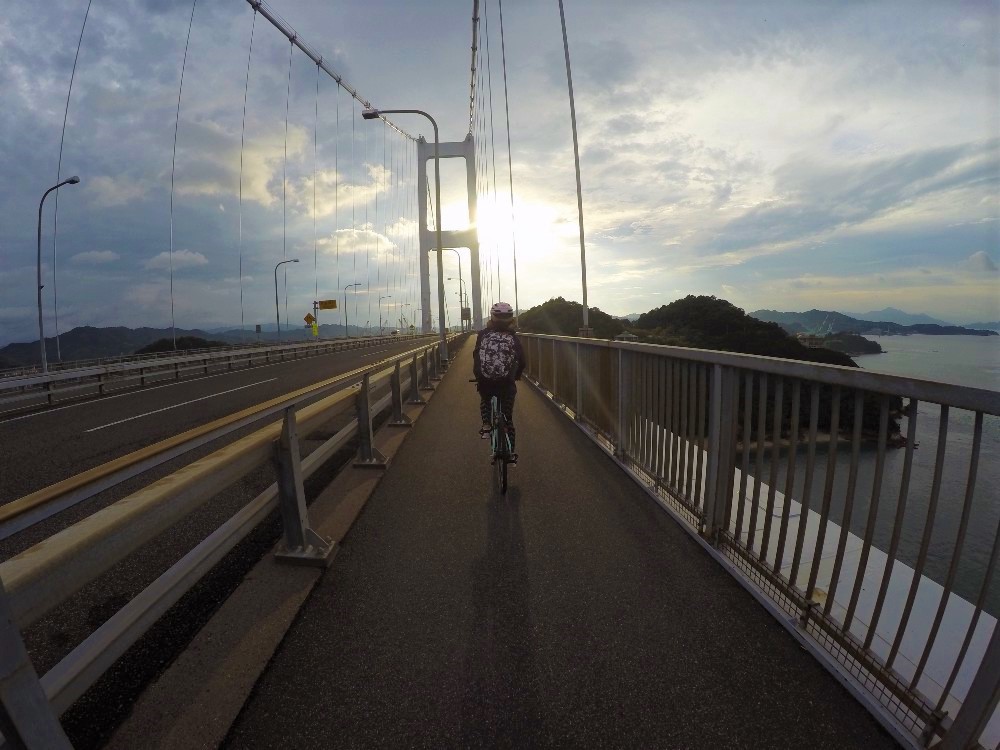 This is my amazing travel experience: 2 days at Shimanami Kaido a.k.a. "the most ideal road for cyclist"!!
---
I have never been particularly keen on cycling but generally I love staying active when I travel, and my favourite holiday activities are swimming, hiking and light trekking. So this time, I decided to challenge myself on a bicycle trip in where I've always dreamt to visit, Seto Inland Sea.
Although the 70 km long Shimanami Kaido can be completed in a day if you are fast, however it's much worthy to take a time and stay at least one night on one of islands as the route is full of attractions.
I have planned two days trip: Day 1-30km cycling from Onomichi City to Ikuchi Island and Day 2-40 km cycling from Ikuchi Island to Imabari City.
Day 1: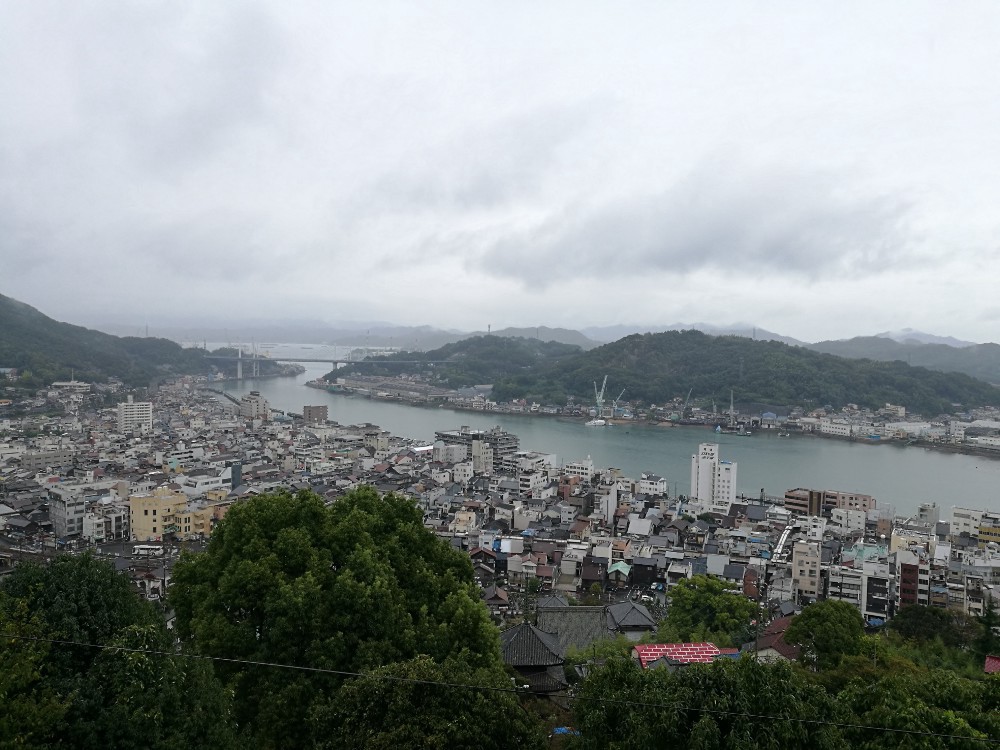 Things are not always as we plan.. It was heavy rain&windy on the day 1 and we were not fully equipped for cycling in such an extreme weather.. So sadly we decided to give up on cycling on that day..
However I'd like to let you guys know that the Shimanami Kaido offers great alternative options for such troubles. In case you are not able to cycle, you can take ferry or public bus to move around these islands.
So as we planned to stay over at Ikuchi Island, we took a speed boat from Onomichi City to Setoda Port (Ikuchi Island) which takes only 40 mins. (1,050 yen)
The rain continued all day so we decided to stay in the hotel and relax. We stayed at the located pension, Juicy Fruit located near Sunset Beach (approx 20 mins walk from Setoda Port).
<<Info>>
Map: https://goo.gl/muASQG
Price: 9,000 yen~ (per night per person include dinner and breakfast)
Website: http://www.gambo-ad.com/english/hotel/index.php?ar=12&id=41
The pension is run by old couple. It's quite rustic but very clean and cozy. I loved food as they provide home-made course dishes with fresh local ingredients. Also the pension has a small public "lemon bath" for guests. And I spoke to the owner how I was disappointed that we had to give up on cycling on the day due to bad weather, but he said "The best parts of Shimanami Kaido starts from this island so don't you worry." Let's hope the weather changes tomorrow!
Day 2:
The rain continued till the morning next day, but luckily the sky cleared up with some sunny spells by 10 am. We had a lovely breakfast at the pension and move on to our cycling trip. we decided to rent our bicycles on the Sunset Beach Terminal on Ikuchi Island. They offer various kinds of bicycles, and I picked a cross bike which was very light and in good condition.
To start, we cycled around Ikuchi Island for about 30 mins. The island is best known as the biggest producer of lemon in Japan, and there lemon farms and trees everywhere making the scenery very pretty. After we headed to the first bridge, Tatara Ohashi Bridge, and the 1,480 m bridge lead us to Omishima island. Interestingly, the border of Hiroshima and Ehime prefectures is at this bridge as you can see the sign on the ground.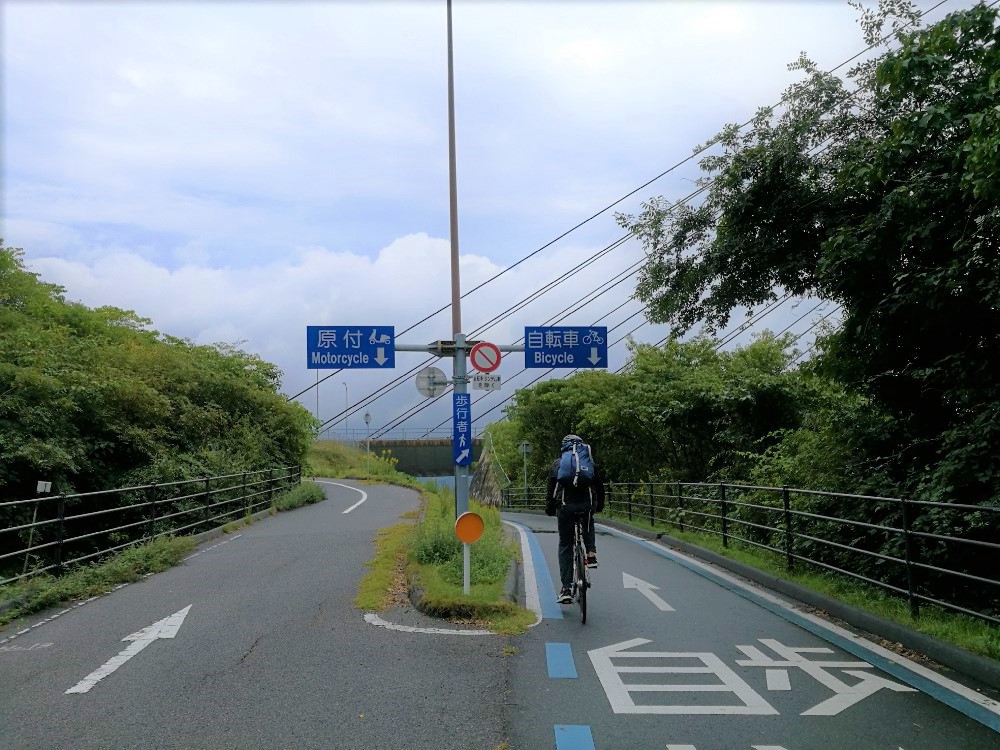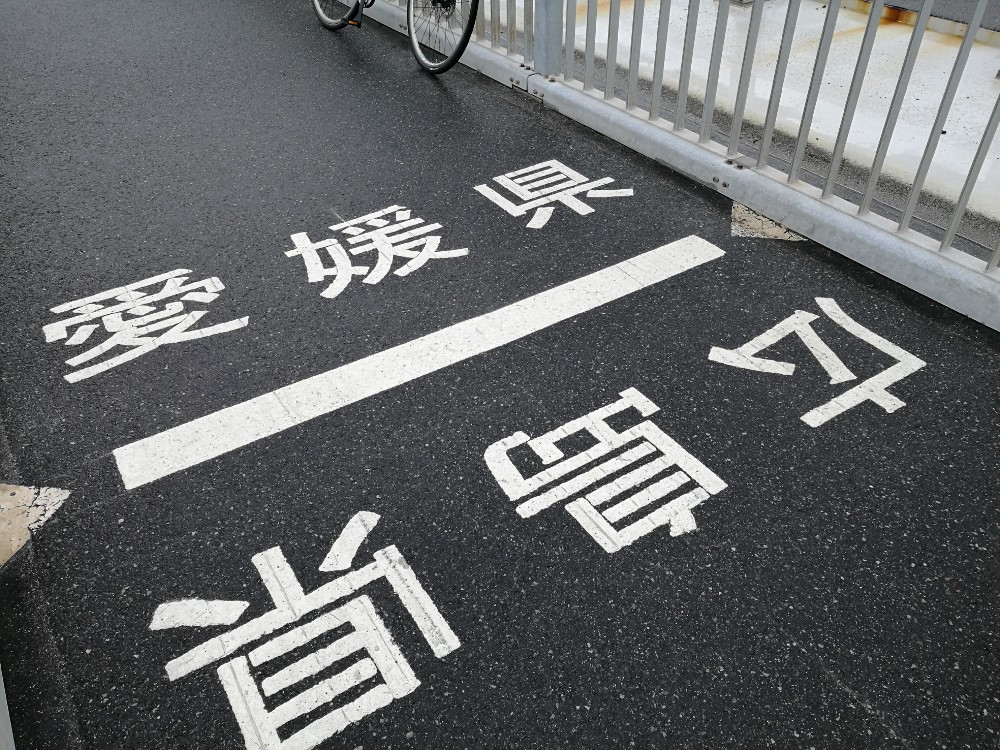 The scenery from the bridge was just stunning and how amazing feeling to have especially when you cycle. In less than an hour, I already fell in love with cycling! It's very easy to stay on the route on Shimanami Kaido as you just need to stick on the blue line which is for cyclist.
Shortly after entering Omishima island, there is a stop point with the famous "Cyclist Sanctuary" monument, which is a great spot to take a photo. We continued cycling to the next bridge, the 328m long Omishima Bridge and entered Hakata Island. Both islands has numbers of tourist attractions such as museums, parks, historical sites, etc, however we had a big plan on the next island, Oshima, so we kept moving on.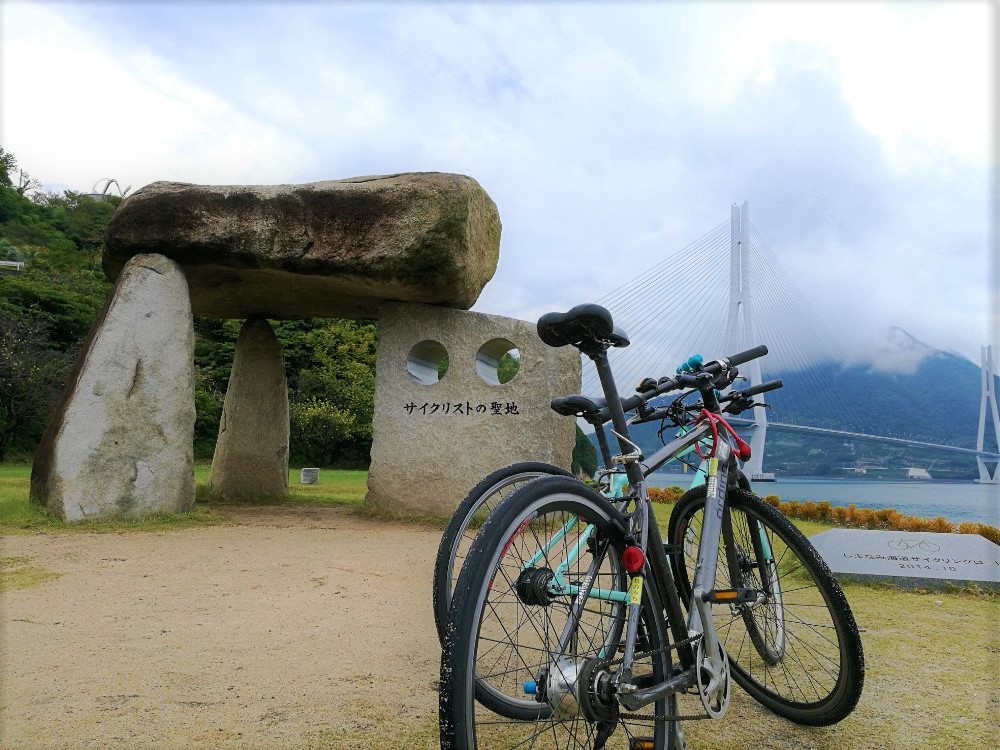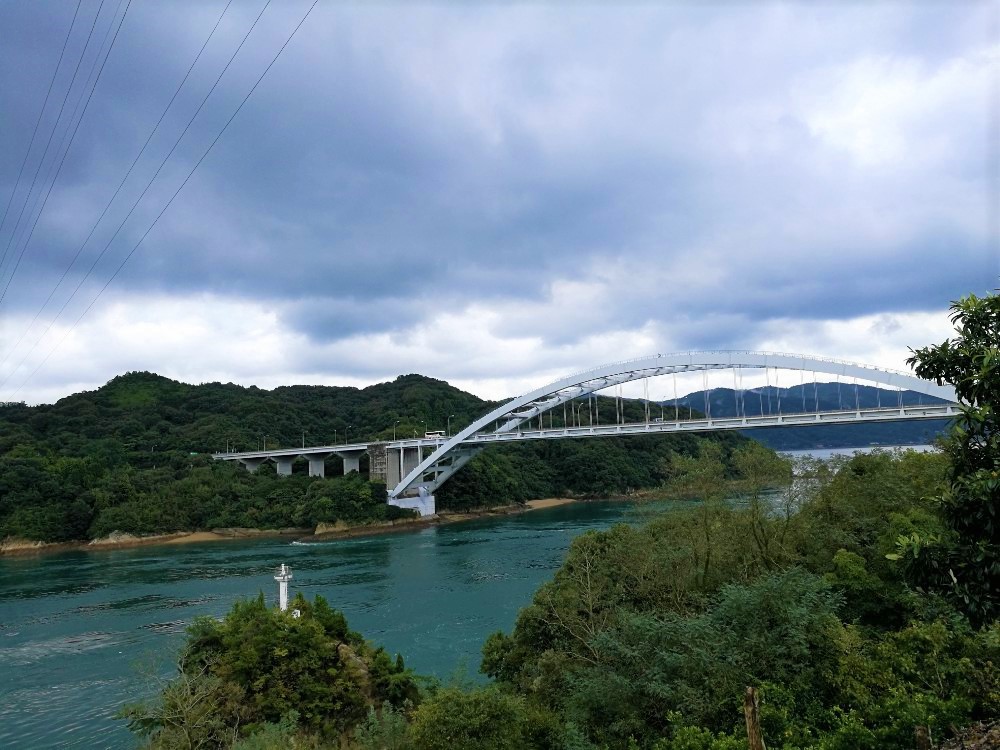 After passing 1,230m long Hakata Oshima Bridge, we entered Oshima Island. Every route before bridges was quite steep on uphill and as our legs were slowly getting tired, it was becoming harder to cross the bridge. I had to make sure not to push a pace and save some energy for the rest of journey. Resting from time to time is also a key.
I tell you at first hand the last island of Shimanami Kaido, Oshima Island, is the most challenging one. The route on this island includes a large uphill road called Miyakubo Pass which for me was quite a killer on my tired legs. Before starting this cycling trip, I heard that this island has an observatory "Kirosantenbo Park" (亀老山展望台) on top of a mountain (307 m) and it's supposed to be the best viewing spot of Shimanami Kaido.. so we just had to go!!
The route to the mountain was too steep for us that it was not possible to cycle, so we had to pull our bicycles and clime to the top for about 1.5 hour. It was much harder than I though, cos my legs were already exhausted after a few hours cycling and it was just after completing Miyakubo Pass. But our hard work really paid off, the view from the top was just breathtaking!!! And I was pretty proud of myself for not giving up 🙂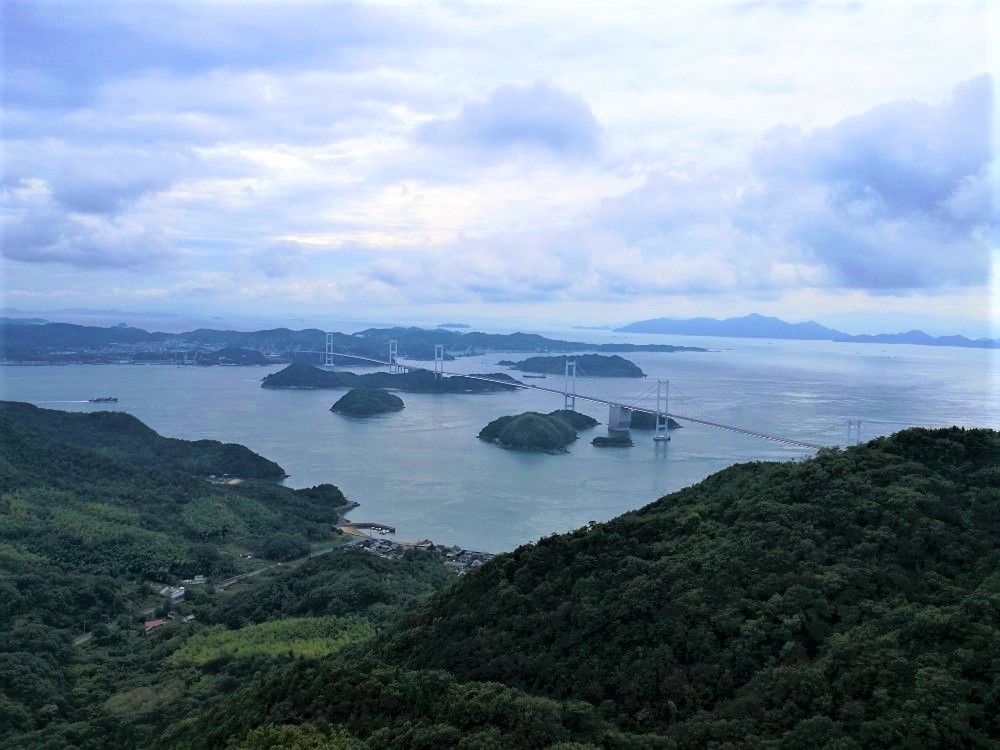 One of best parts on this trip was going down from the mountain top to the foot. The fast and easy ride for 10 mins!
So what left on the trip was the magnificent Kurushima Bridge. Before entering the bridge, we took some long break at Yoshiumi Rental Bike Terminal to recover as we had to go on another uphill road to the bridge. At this point, I was feeling very very tired, but at the same time couldn't wait to cross this glorious bridge standing in front of me.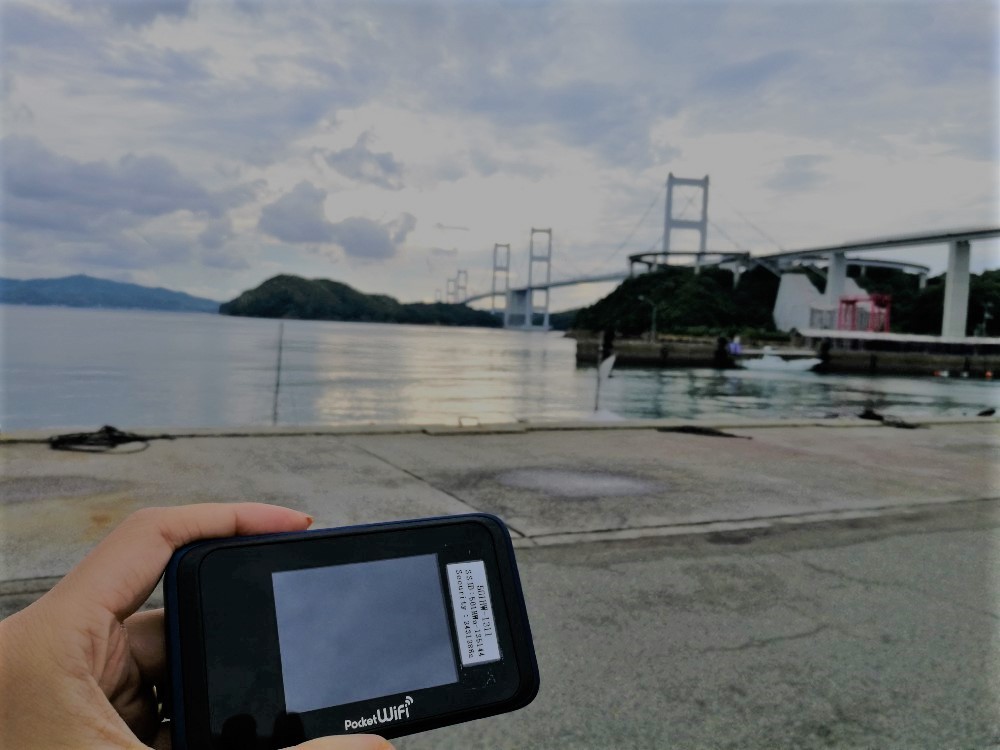 It's time to hit the road! After striving on the gentle steep road, we finally reached to Kurushima Bridge. It's the world's longest suspension bridge structure with approx 4km length. Cycling on this bridge is simply amazing and it felt like cycling in the sky above the sea, and the view of the Seto Inland Sea was much more spectacular then I imagined. It was quite overwhelming passing Kurushima Bridge as it was the end of our cycling trip and I was totally exhausted. Nothing can beat the feeling of accomplishment!!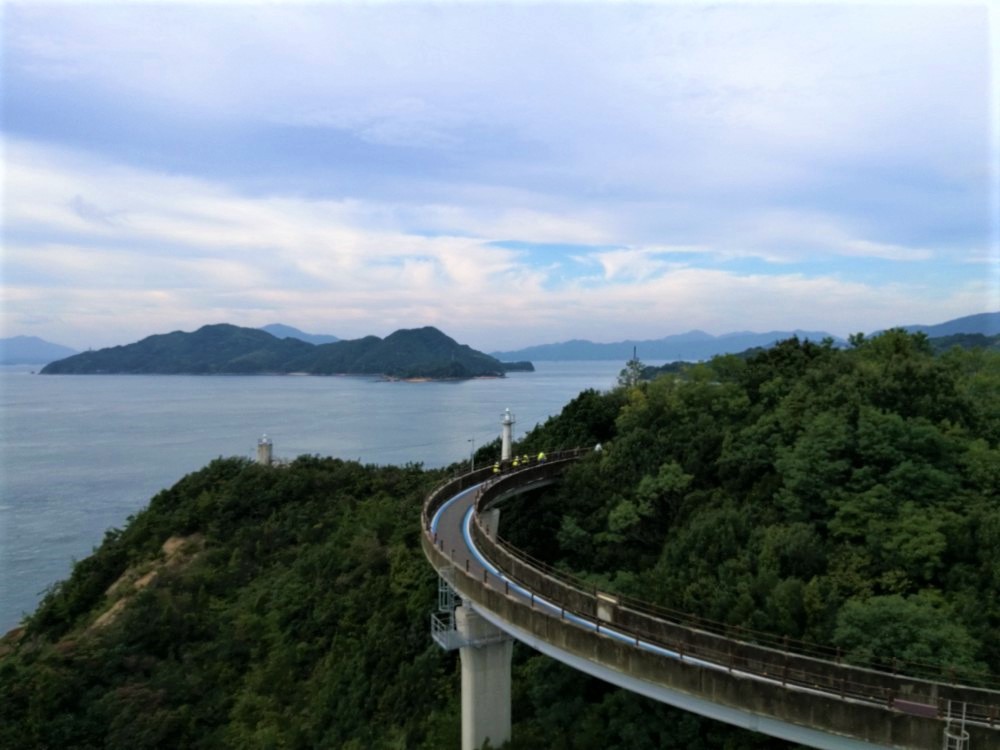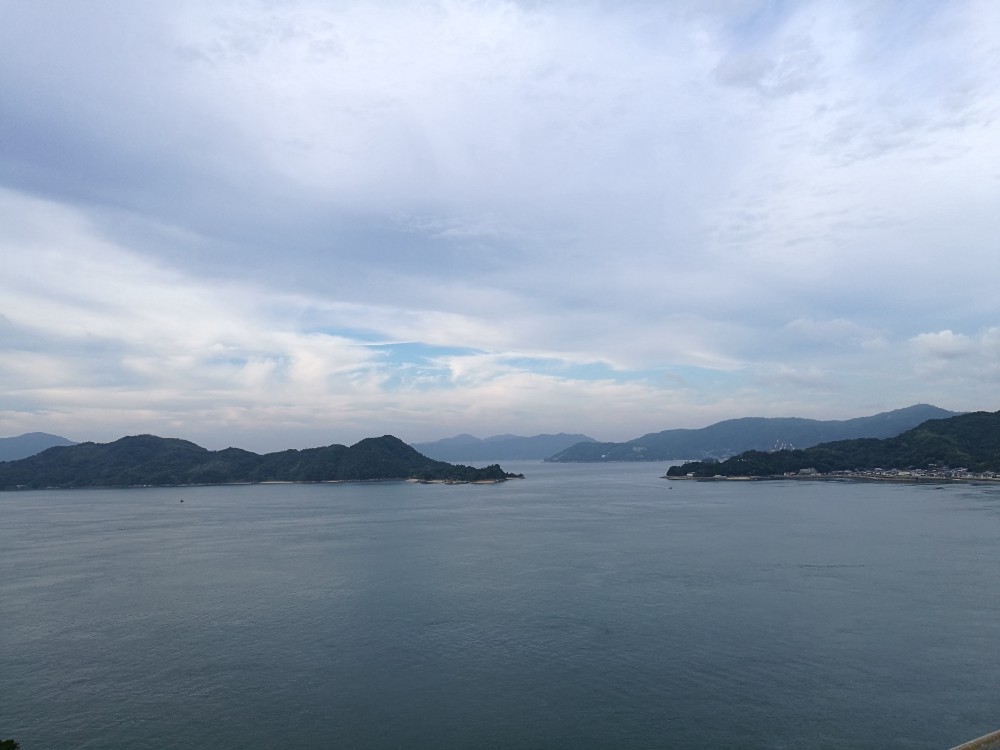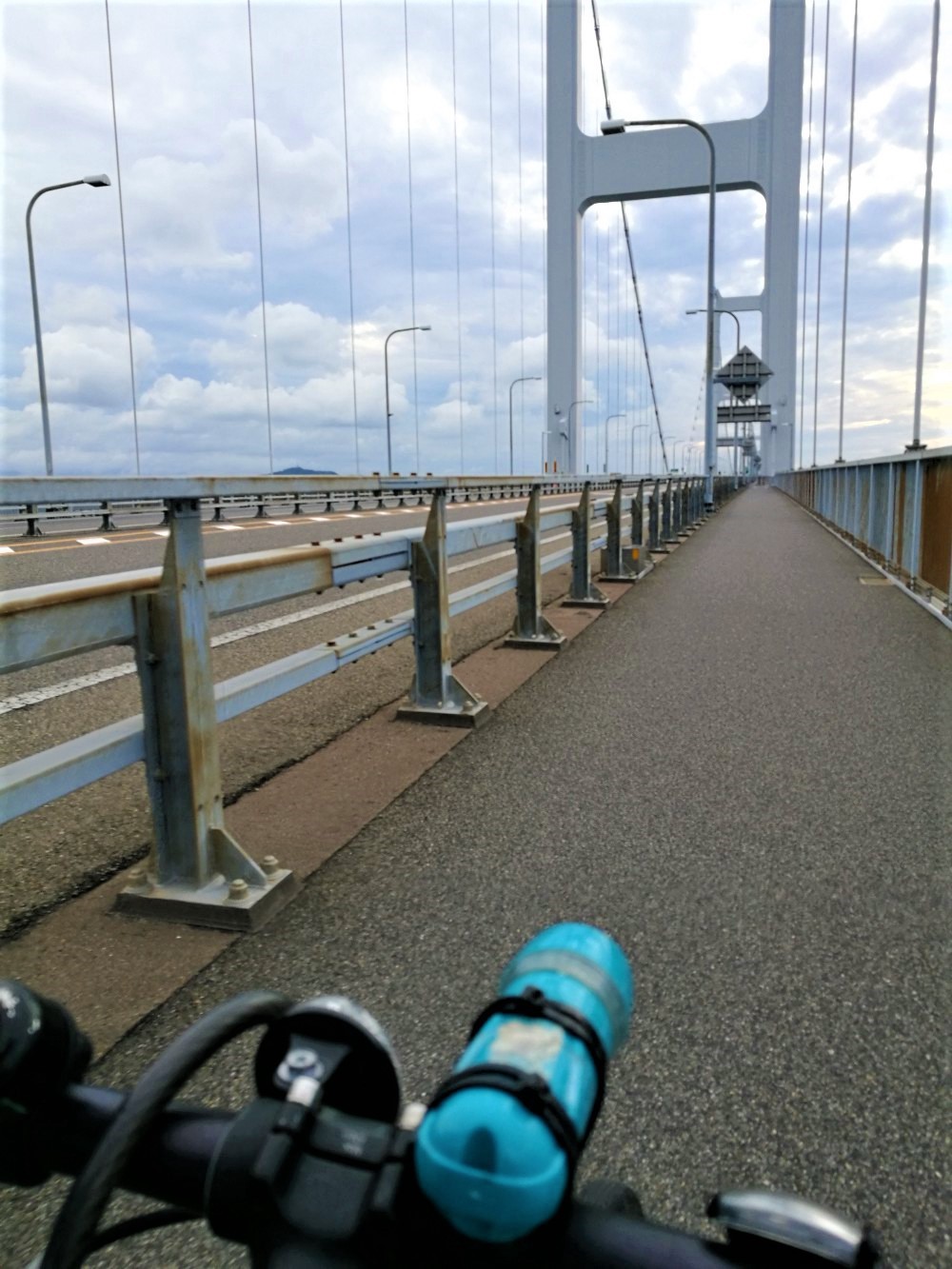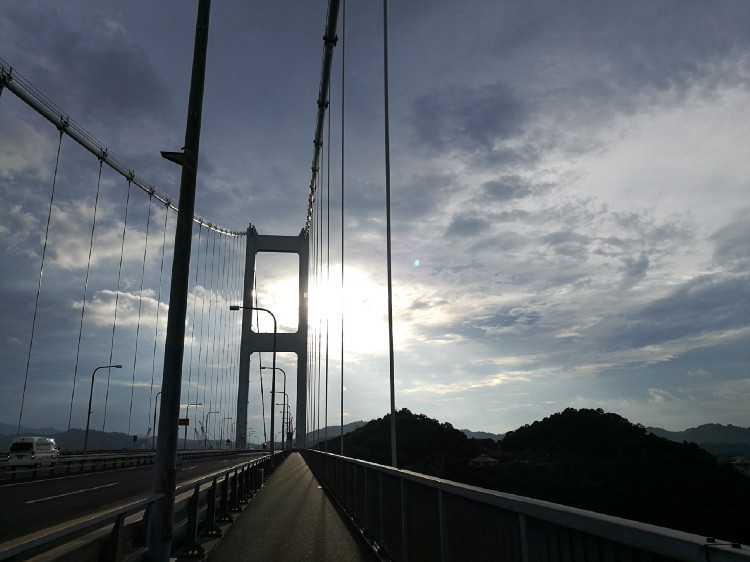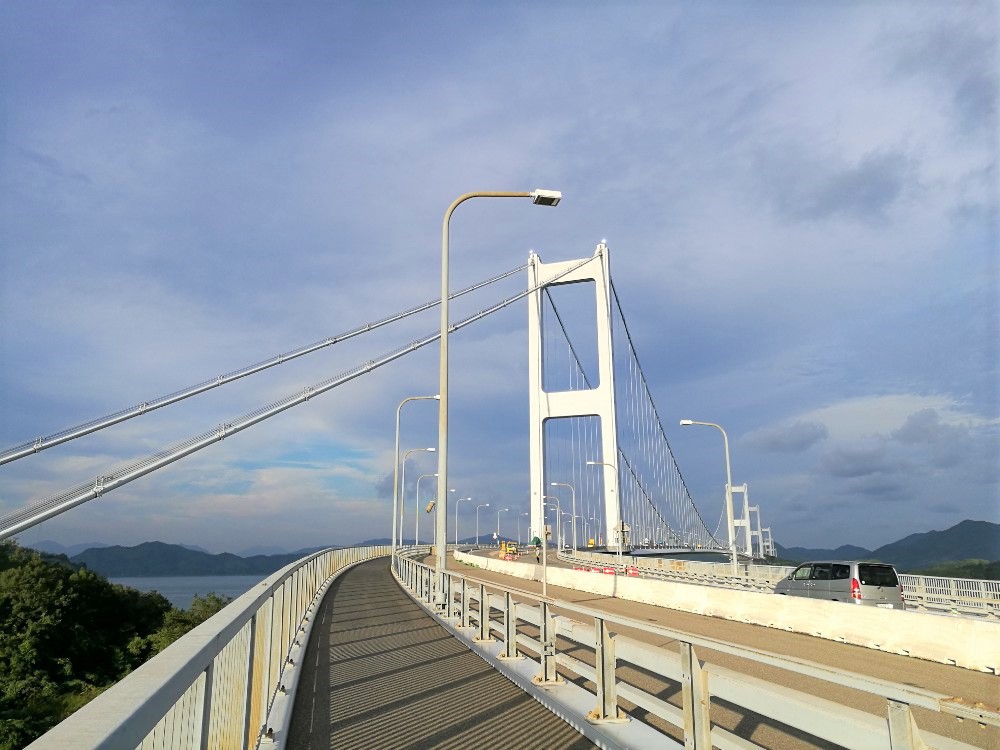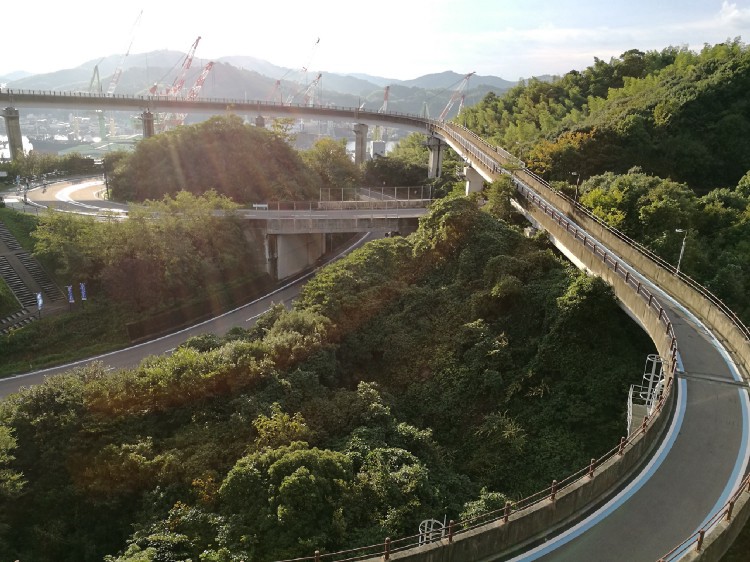 We reached the final destination, Imabari City. Many hotels in the town offers bicycle drop-off service and we return our bicycles when we checked in.
The only wish I could have was if the weather was completely sunny and we could do it for 2 days, but overall, I'm super happy with my trip in Shimanami Kaido and I swear I'll be doing lots of cycling from now on 🙂
If anybody love cycling or active travel like me, I really recommend Shimanami Kaido to you all! And it's a great place to explore real local life as it's not touristic if that's what you like, too!
▽▼More info about Shimanami Kaido Cycling Route▼▽
---
If you enjoyed my story, you may also like these articles, too!
▽ Related Articles ▽
▼ Editor's Picks ▼
---