Japanese Food Trend
What are most trendy food in 2017?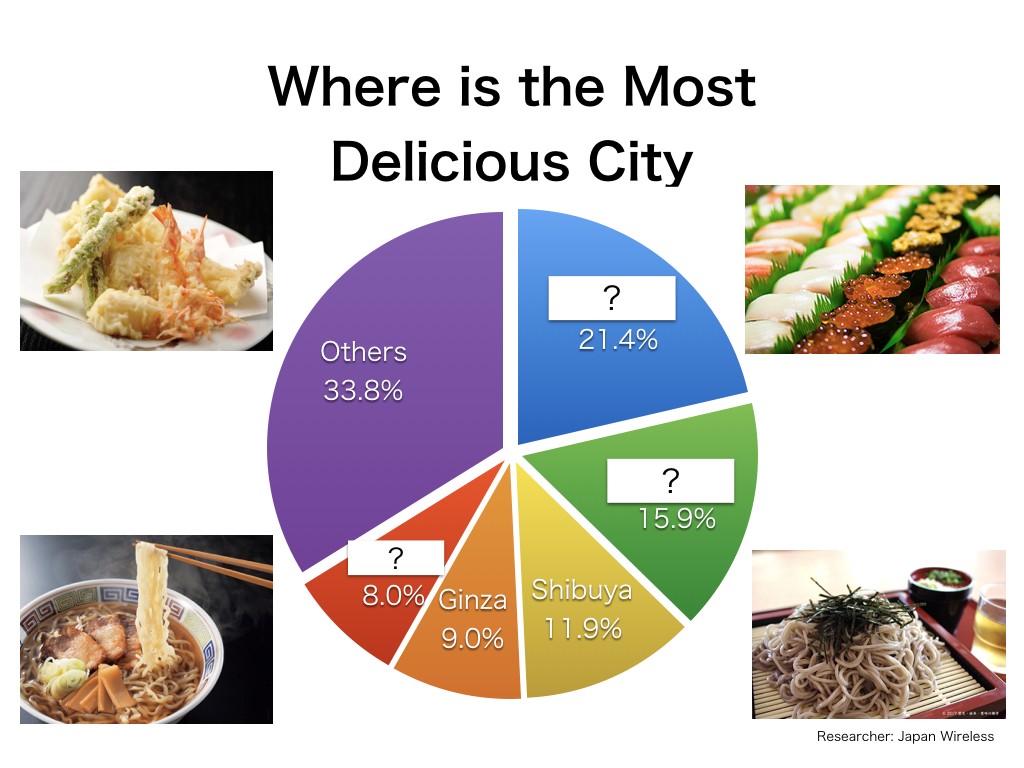 Guess what was the most popular Japanese food in 2016?
The "Japanese Food Election" were held at the same time as the United States presidential election.
We are here to share the result of the survey of 722 Japan Wireless's customers from over 150 countries. They traveled around Japan during the second half of the year 2016 (Jul-Dec.)
I hope this article will help you make a plan for a trip to Japan. Here are answers to "What should I eat in Tokyo (other areas you will visit)?" or "What is the specific name of the most delicious restaurant?"
Which Food on earth Win the Japanese Food Election?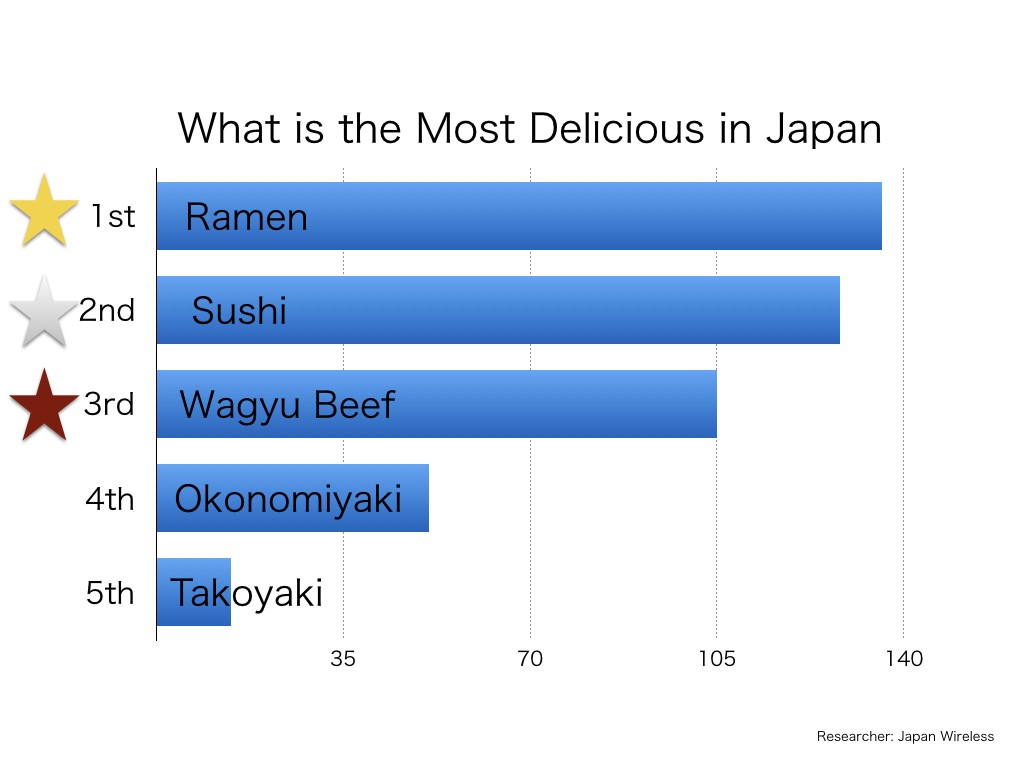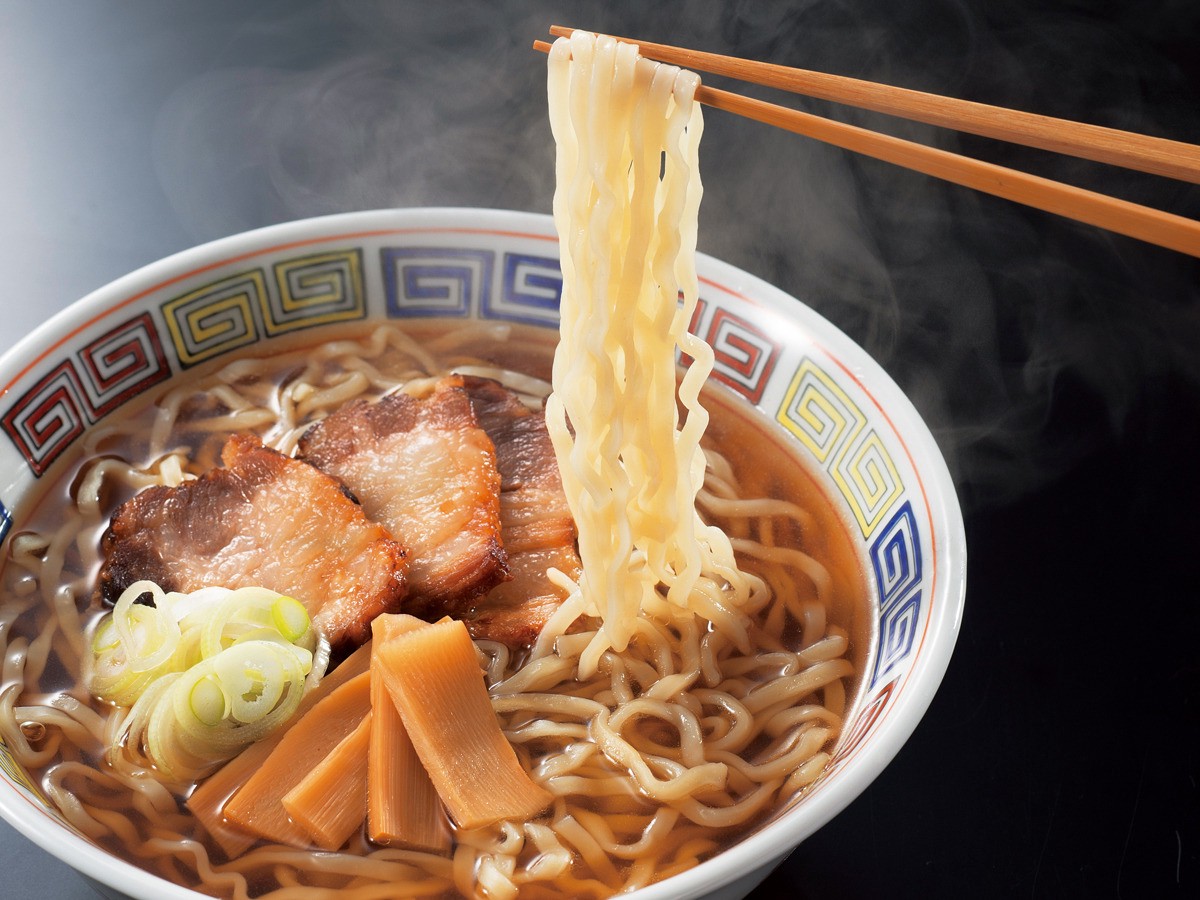 These 5 top food above are internationally well-known. There isn't big surprise honestly. Ramen obtains 136 votes and have the honor of Japanese food's king. Ramen fans have their favorite kinds which are sorted by broths, for example pork based, soy beans based and seafood based broth.
Some people may guess Sushi (128 votes) is the number one but it ranks 2nd by a hair. The 3rd ranked Wagyu Beef is looked on as one of the best beef in the world. Japan is proud of each brand of beef, especially "The Three Major Wagyu Beef": Kobe Beef, Matsusaka Beef and Omi Beef.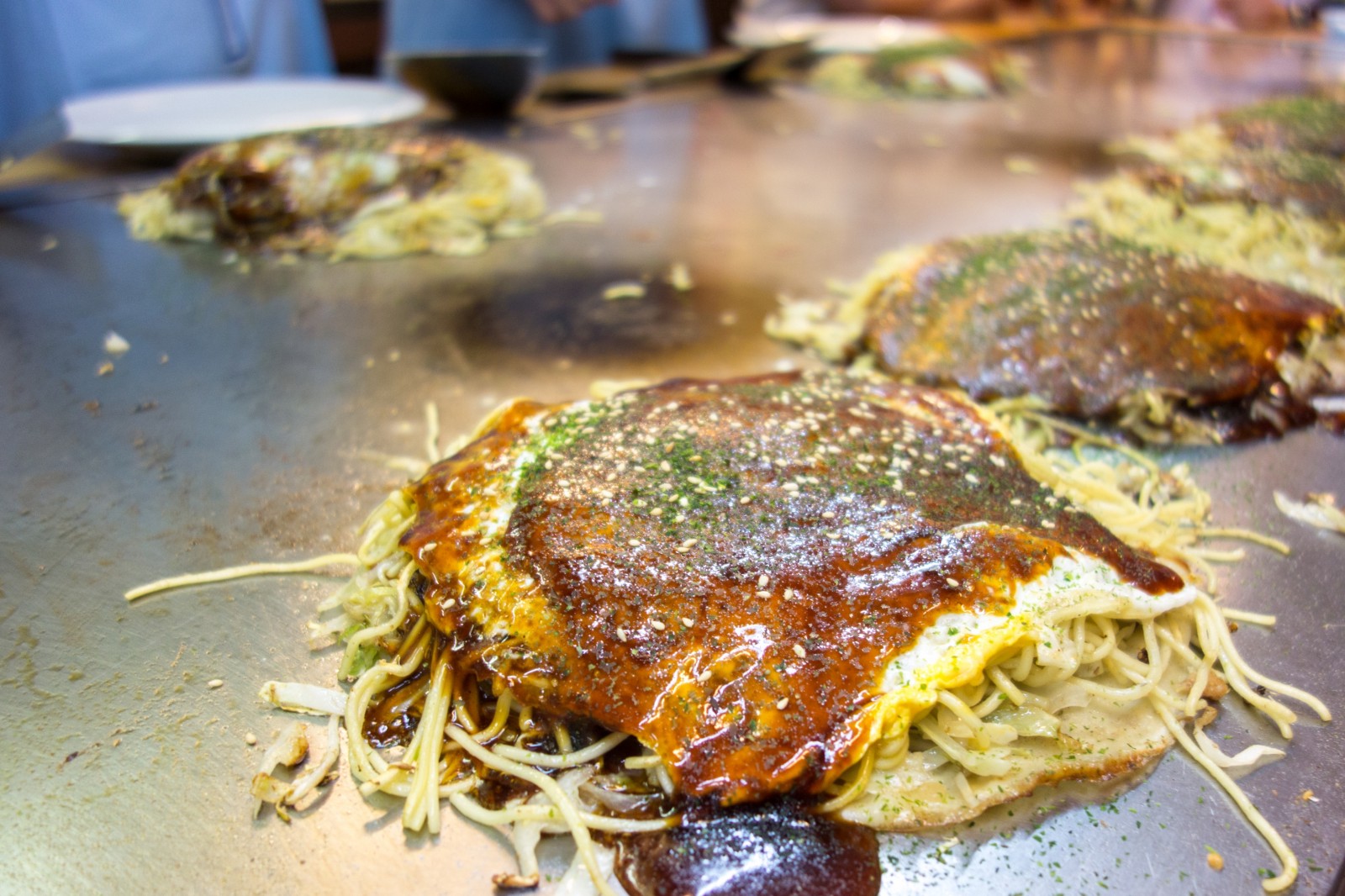 Okonomiyaki is getting more popular among foreign visitors these days. It's originally served in Osaka and Hiroshima while you can eat it in Tokyo now. There is differences between okonomiyaki in Osaka and Hiroshima. The one in Osaka is called "Osaka-fu" and the other is called "Hiroshima-fu" which are cooked with different ingredients. The "Hiroshima-fu" includes Yakisoba (pan-fried noodles.)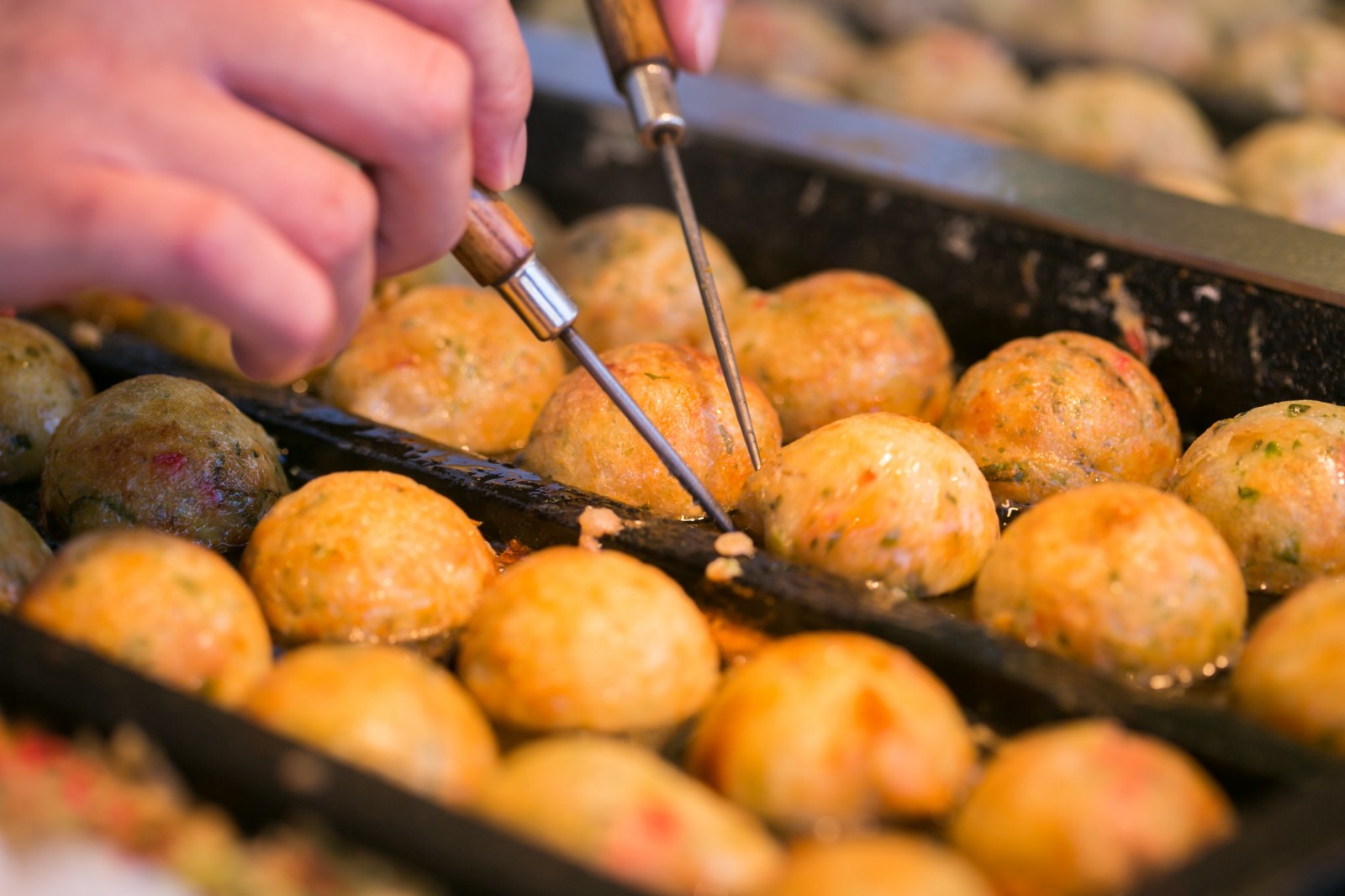 Another Osaka's food Takoyaki, a ball-shaped snack with minces octopus in it, ranks in 5th for its taste, smell and portability. You can find many stalls and shops serving Takoyaki anywhere in Japan and people eating and walking.
Which City Do People Taste the Most?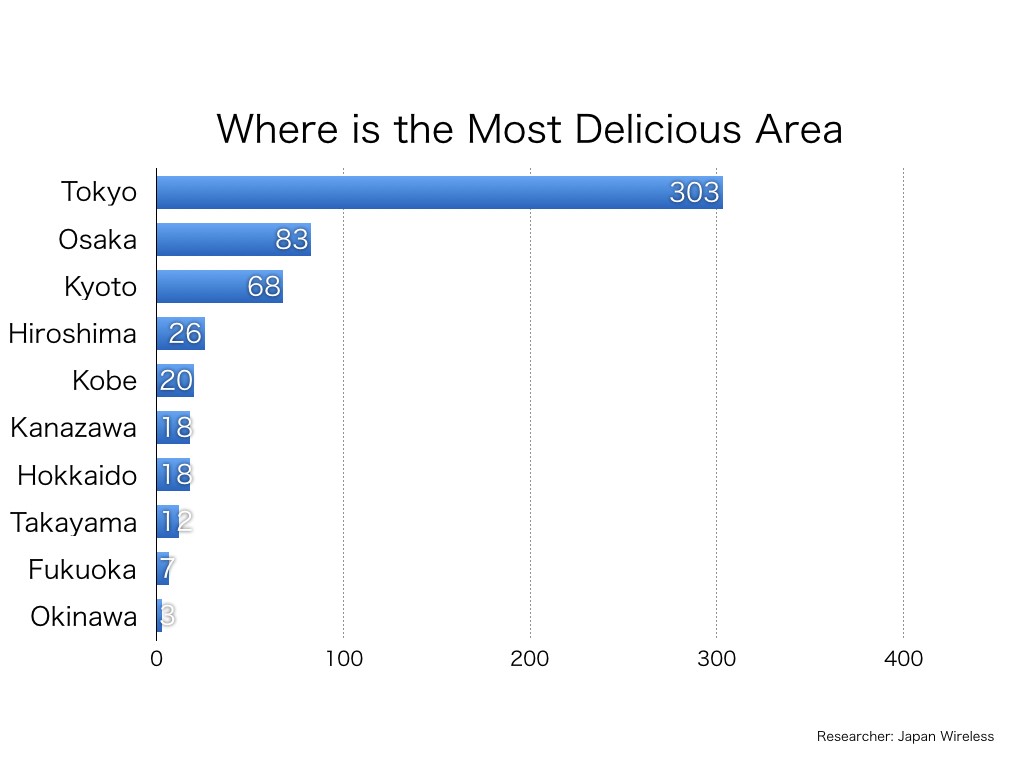 Every popular destination definitely has attractive food, but it is a little difficult to find out what should you eat there. According to the research and point of the author's (Japanese local) view, characters of major sightseeing areas are introduced.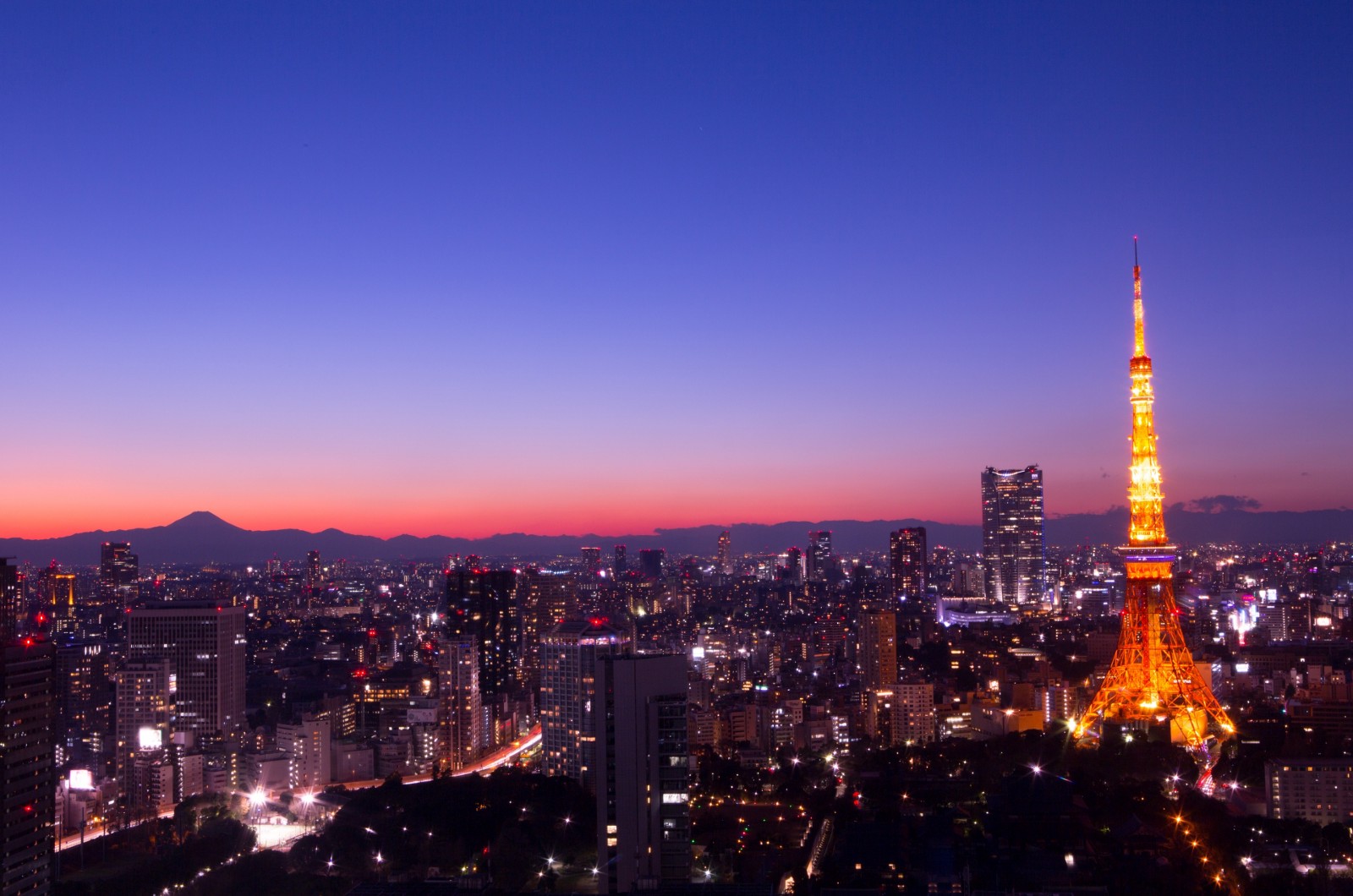 The polling numbers of each area are related to how popular sightseeing destinations they are. So it can be easily expected that Tokyo ranks at the top. But Tokyo truly offers enough food to be the most attractive gourmet city. And there are almost nothing you can't eat in Tokyo.
Osaka seems the hottest city in Japan for foreign tourists. Osaka has lots of original food such as Okonomiyaki and Takoyaki. Hiroshima, ranked the 4th, is also famous for the land of Okonomiyaki's origin.
In Kansai area including Osaka, Kyoto, Kobe and Takayama, high-quality brands of beef are produced such as the Three Major Beef Wagyu Beef. The Freshest seafood like Sushi and Kaisendon(a bowl of rice with raw fish on top of it) are served in Hokkaido and Kanazawa in Ishikawa prefecture.
Japan's end of areas have numerous fans of their attractive food: Fukuoka for Tonkotsu (pork based broth) Ramen and Okinawa for Goya champuru and Sea grape.
Where Tokyo Should You Visit for Delicious Food?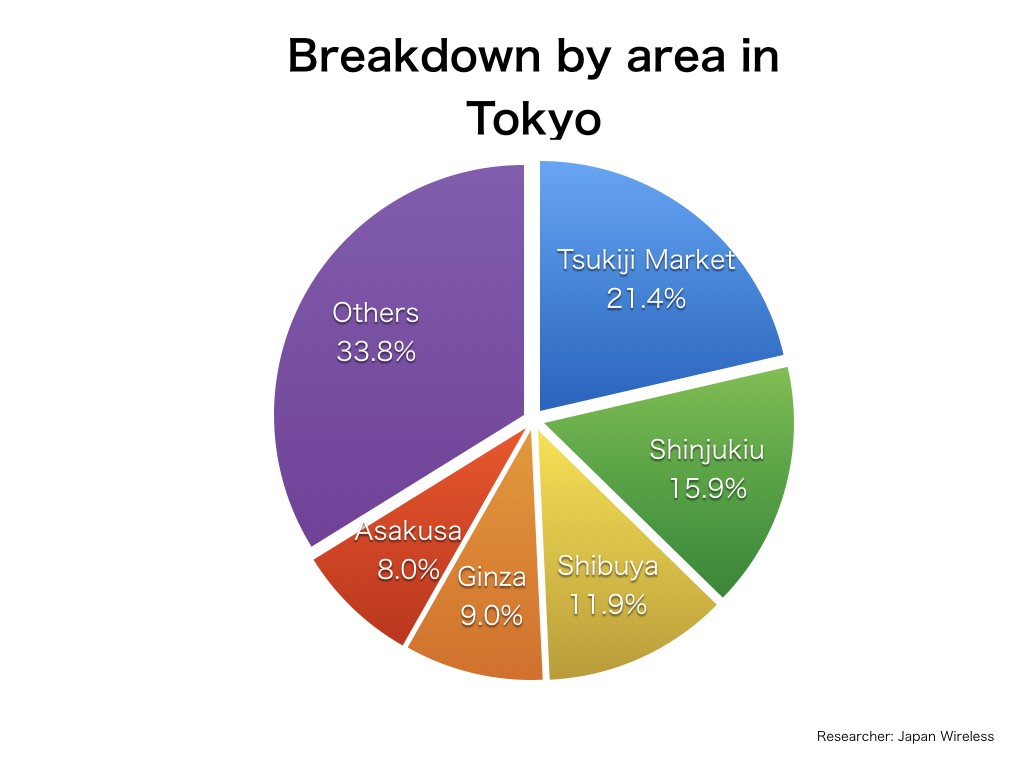 You may think "Tokyo is vast and not specific information." OK. Let's clear which area in Tokyo is recommended. As for food, almost tourists plan to visit Tsukiji Fish Market. It's is the biggest fish market in the globe and has numbers of sushi restaurants in and out of the market. You can eat the freshest fish from the morning.
There are a variety of restaurants in Shinjuku and Shibuya. Chain stores of famous restaurants gather around the areas. Shinjuku is also known for an exciting nightlife with the red light.
Ginza offers relatively high-class restaurants. The Japanese prime minister Shinzo Abe met the former US president Barack Obama at a sushi restaurant in Ginza. If you want to have Japanese traditional food including Tempura, Soba noodle and Tonkatsu (fried pork), Asakusa is the first choice.
Let's Experience Popular Restaurants!!
Ramen
For beginners, two major chain tonkotsu ramen restaurants are recommended: Ichiran and Ippudo. There are many blanches all over Japan. If you want to have traditional soy-sauce-based ramen, Ramen Yoroiya is must. Personally, Taketora in Shinjuku is one of my favorite ramens. Vegetarians and Muslim are welcomed by Shinjuku Gyoen Ramen Ouka.
Sushi
The mecca of sushi restaurants is Tsuhiki Market, and there are over 100 restaurants. Especially, the two sushi restaurants Sushidai and Daiwasushi are much popular. If you are a tuna lover, Sushi Zanmai should be the first choice. It has about 50 chain stores all around Japan with reasonable but high-quality sushi. For the highest-level sushi, these luxury restaurants are recommendable: Kyubey and Sushi Bar Yasuda
Wagyu Beef
Firstly, experience the king of Wagyu Beef, Kobe Beef. The authentic Kobe Beef is provided by Kobe Beef Kaiseki 511. You can eat it at an affordable price ($10–20) at Gyuan. How about enjoying wagyu with Japanese BBQ style at Yakiniku Han no Daidokoro? Sometimes, wagyu beef is served by Ninja of Ninja Akasaka.
Okonomiyaki
One of the funs with Okonomiyaki is a making process by yourself. You can make original one with over 20 topping ingredients in Sakura Tei. Osaka local taste is available in Tokyo: Okonomiyaki Kiji. Some okonomiyaki restaurants offer all you can eat from just $5.
Takoyaki
Restaurants of Takoyaki, the Osaka's soul food, are very easy to find in Osaka and Tokyo as well. Osaka is filled with approximately 700 takoyaki shops and stalls. Find your favorite one in Namba area. Also, the most famous tokoyaki brand Gindako has its origin in Tokyo. There are lots of chain stores all over the country and Asia.
↓↓Check More articles about Food in Japan↓↓
▽ Related Articles ▽
▼ Editor's Picks ▼
---