Tokyo Bar Hopping: the Best Drink Tour in Shinjuku at Night
Enjoy Bar-Hopping Tour in Tokyo with Local Guides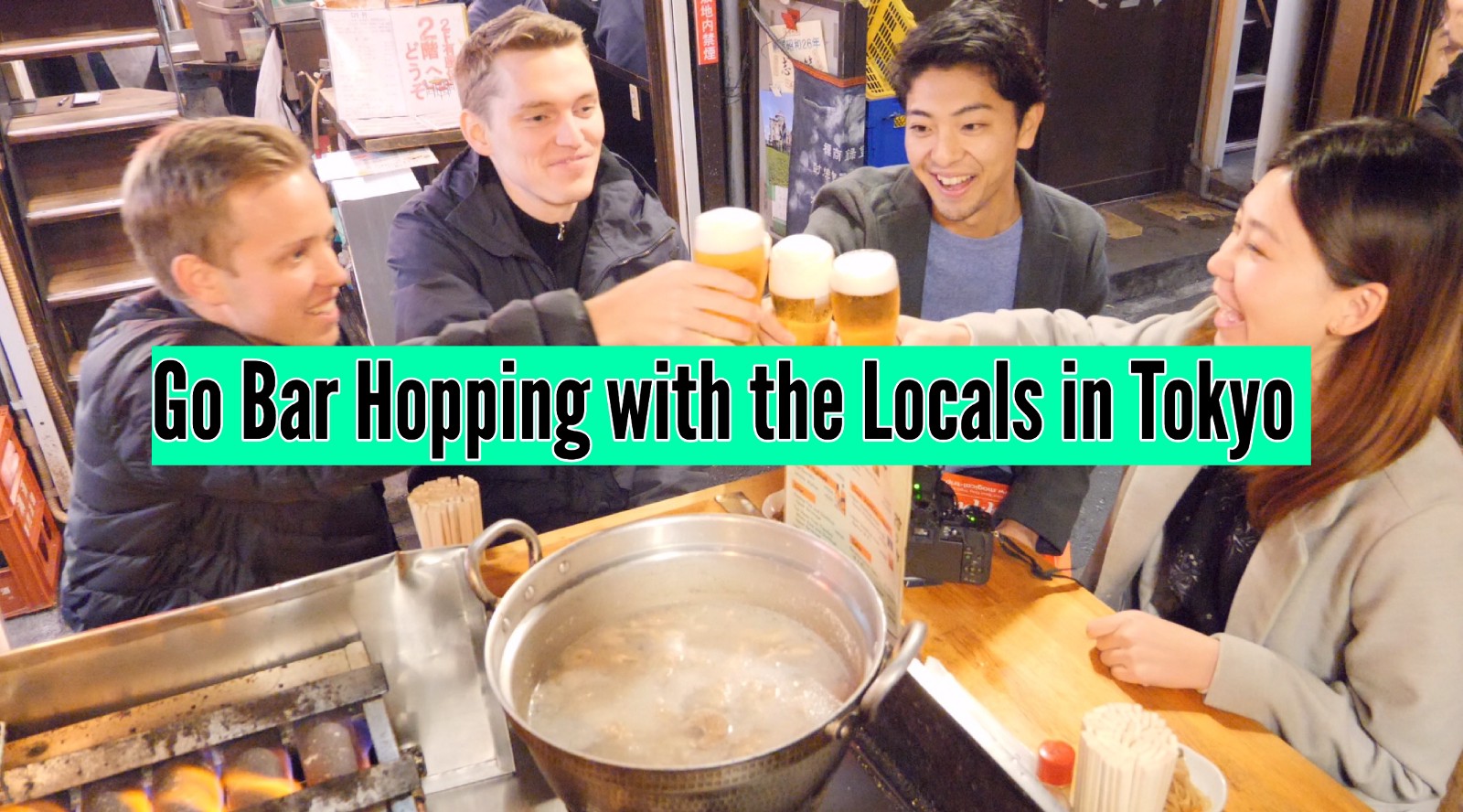 Want to experience authentic Japanese foods and drinks at Izakaya (Japanese style bar) with local guides? Japanese food culture has got much attention from across the world recently, and numerous foreign travelers visit Japan for the unique foods and drinks.
However, in the unfamiliar country, it's very difficult to know which area is the best for nightlife, where is a delicious restaurant and Izakaya, and what to eat and drink. There are excellent but hidden dining spots in Tokyo that are hard to find except the local.
Today, I'd like to introduce a Tokyo Bar Hopping Night Food Tour in Shinjuku with a local guide by Magical Trip, one of the most popular food tour organizers in Tokyo. Through the bar-hopping tour, a friendly local guide takes you to three Izakayas and offers recommended food and drink options. Enjoy the unique Japanese nightlife while eating, drinking, and chatting in a small group.
Hopping 3 different Izakayas in Shinjuku, Tokyo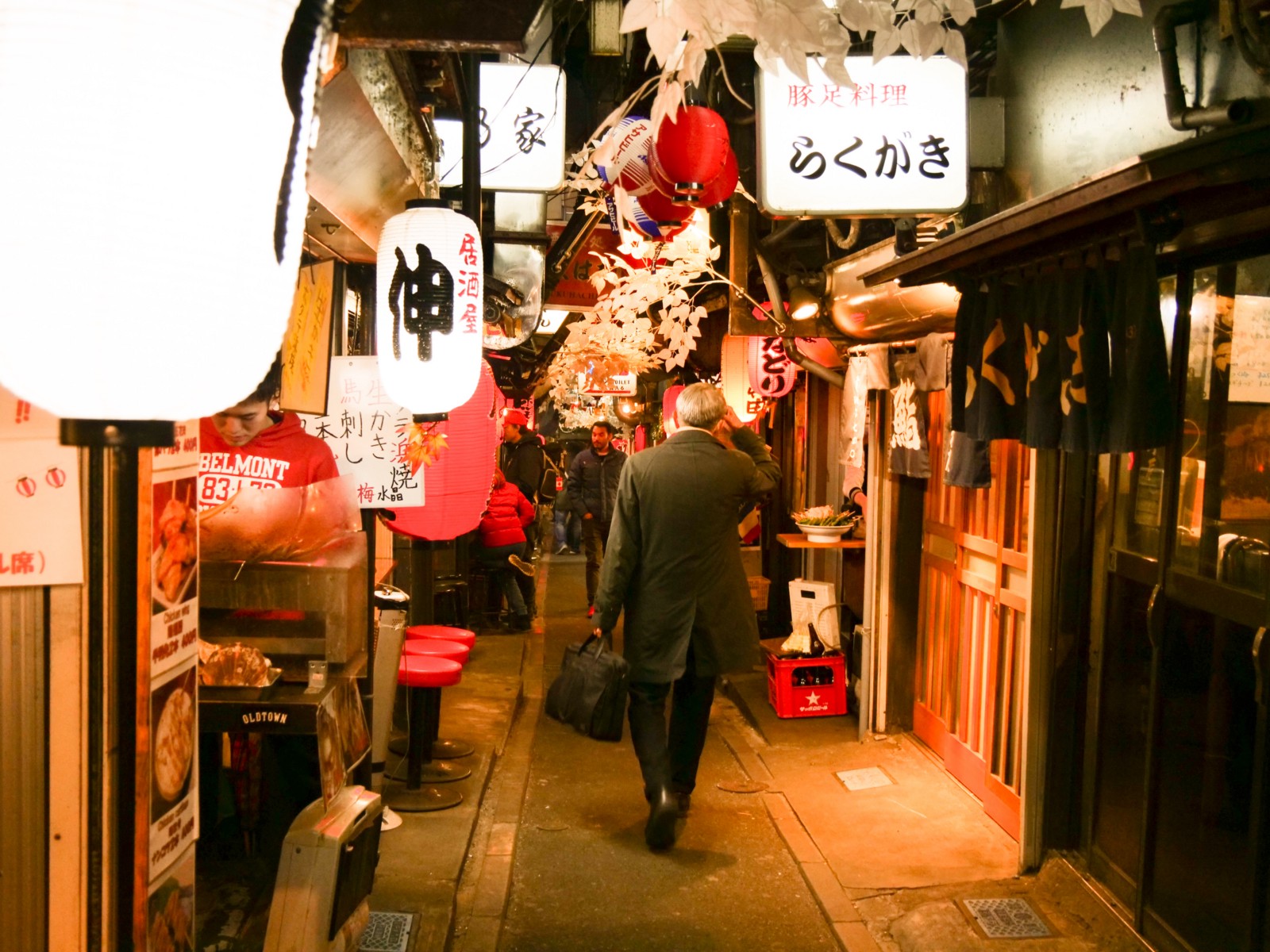 Tokyoites sometimes hop a few Izakayas in one night with their friends or co-workers. To experience the real nightlife in Tokyo like locals, hitting just one Izakaya is not enough. The tour guide takes you to three nice Japanese Izakayas at Tokyo's best Izakaya alleys including Omoide Yokocho Alley in Shinjuku and Ebisu Yokocho Alley in Ebisu. Both the alleys are well-known to Tokyoites but a little challenging for international visitors to find a good Izakaya and take seats there. It may be much harder to encounter the best Izakaya friendly to foreigners.
With this bar hopping tour, you will have satisfying experiences at awesome Izakayas the local guide really recommend.
Enjoy eating Japanese food and drink jugs of beers and Japanese sake. A first timer to Japan or Izakaya may think it's difficult to find out what to eat and order. Don't worry about that. The guide kindly offer bilingual menus so that you can choose your favorite from various types of recommended Japanese foods and drinks. If you wonder what to eat, the guide and Izakaya staff will help you to pick ones to your tastes.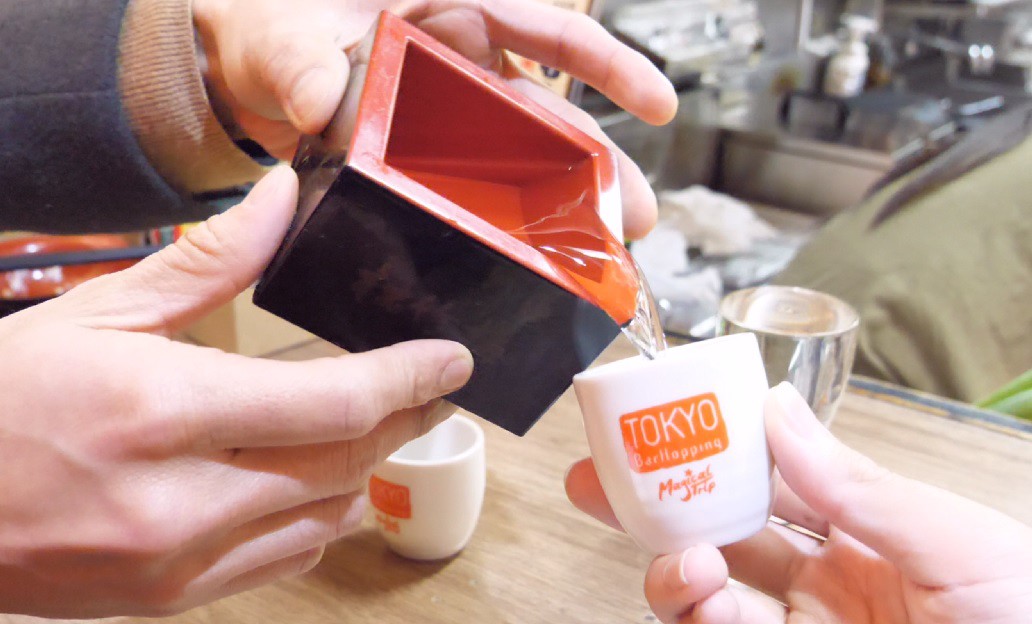 You shouldn't miss these local tapas: Yakitori (chicken skewers), Gyoza (Japanese dumplings), and grilled vegetables. In the tour, the guide presents your own sake cup for you as a souvenir. It's also highly recommended to try Japanese sake to use it immediately.
If you are a vegetarian or have food allergies, that is no problem. Pick your dishes following to the guide's explanation.
Communicating with like-minded people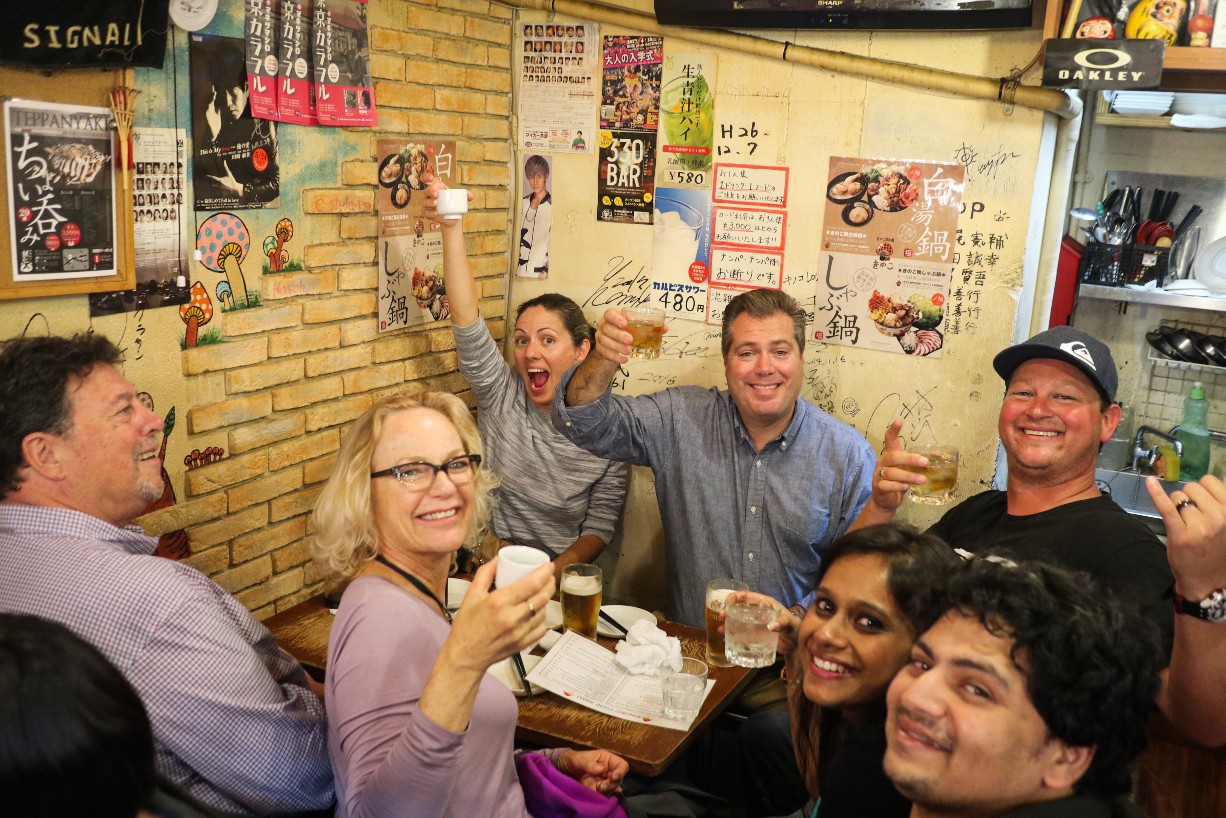 One of the best parts of the bar-hopping tour is interactions with the local and parties in the same group as well as delicious Japanese dishes and drinks. Of course, the friendly guide communicate with you in English.The tour is taken in a small group (2~6 people), so you can comfortably chat with him/her and other participants. There may be chances to chat with Japanese people sitting next to you since many Japanese are so communicative and friendly when they are drinking.
The guide sometimes provides you with some games and quizzes to warm up the tour. You will get involved in the partying games popular among Japanese and the quizzes about Japan.
Overall, you can enjoy dining in a relaxing atmosphere since the guide has a good relationship with chefs and staff at the Izakayas.
Greetings from a guide of Tokyo Bar Hopping Night Food Tour in Shinjuku: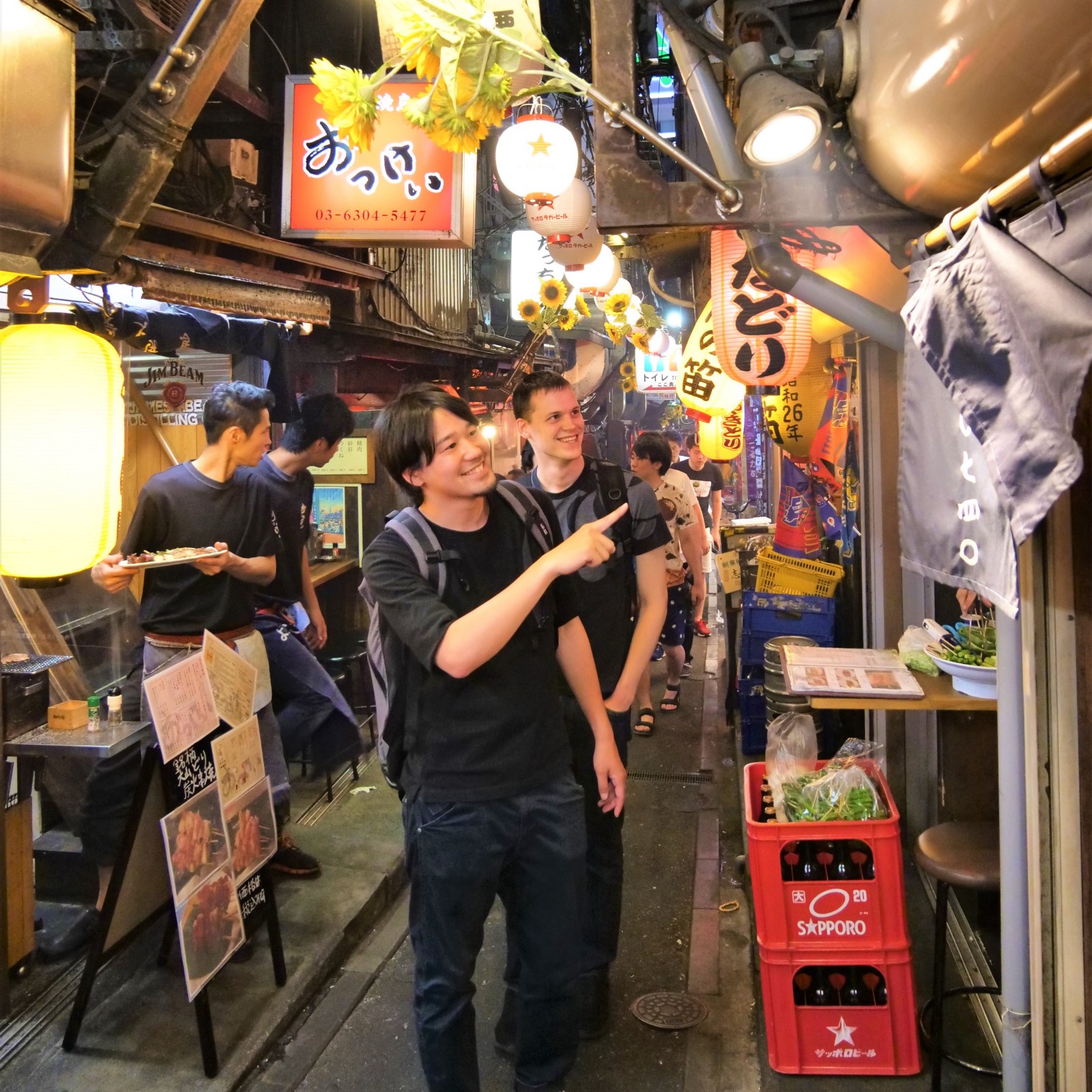 Hello, my name is Shoto! I'm the creator of this trip and sometimes I'm also the guide.
I've lived in the United States and Myanmar for several years and traveled many countries. Through the experiences, I saw a lot of different cultures and customs, and that made me realize how unique Japanese culture is.
One of the most unique cultures is drinking in local places, and I would love to share it with you in this bar hopping nightlife food tour in Tokyo!
In this Tokyo Bar Hopping food tour, we will guide you to good old bars and food alleys in Shinjuku and Ebisu, and let you feel Tokyo's culinary scene as well as the authentic Tokyo nightlife.
There is also a lot of delicious and authentic foods you can try, like Yakitori (Grilled Chicken Skewers), Gyoza (Japanese dumplings), Fried Tofu and much more!
You can select from various types of recommended foods and drinks. Also, vegetarian menu is available. You can order the foods you like based on the tour guide's explanation and recommendation in each Izakaya, so don't worry even if you are a vegetarian or have food allergies.
We offer food & drinks at a special price much cheaper than the actual price!
Itinerary
-Meeting Place: Uniqlo Nishiguchi Shinjuku Shop
-Omoide Yokocho Alley at the first bar (including 2 food / 1 drink)
-Ebisu Yokocho Alley at the second bar (including 1 food / 2 drink) *taking a train to Ebisu station
-Another bar around Ebisu at the third bar (you need to pay by yourself)
-Return to Ebisu Station (You can stay at the last bar if you like)
If you want to have that authentic Japanese nightlife experience, it's totally worth taking this kind of bar-hopping food tour by Magical Trip. Especially perfect for those who visit Tokyo for the first time.
Foods and drinks at the first and second Izakaya are included in the fee, and you don't need to pay for the guide's food and drinks. It's better to bring some cash to order additional dishes and drinks and fully enjoy the third spot.
The bar hopping tour welcomes anyone: solo, with friends, couples and family travelers who are interested in having Japanese local food, feeling Japanese nightlife culture and communicating with the local.
▽You can book this Tokyo Bar Hopping Night Food Tour at a discounted rate here▽
Before starting the tour, how about sightseeing in and around Shinjuku.
▽Related Articles▽
▼Editor's Picks▼
---