DC Exhibition in Japan 2021–2022
THE ART OF DC –THE DAWN OF SUPER HEROES to be Held in Tokyo, Osaka, Nagoya and Fukuoka

DC Comics is a long-established American comic book company that has created numbers of heroic comic series and characters such as Superman, Batman and Wonder Women. Not only superheroes but DC has produced some iconic supervillains, too including Joker, Harley Quinn and Lex Luthor. As well as comic books, DC's movie franchise is highly popular worldwide and has released numbers of high-grossing movies until today.
DC comic books and movies have many fans across the world, and Japan is not an exception. In 2021, Japan's first-ever DC exhibition will be held in Tokyo, then it will be touring around the country until spring next year.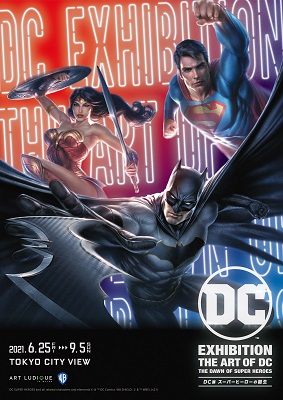 The DC exhibition "THE ART OF DC –THE DAWN OF SUPER HEROES" has been touring around the world since 2017, which first started at Art Ludique-LeMusēe in Paris then moved to Abu Dhabi, UK, Poland and Hong Kong, and it's finally arriving to Japan in 2021.
THE ART OF DC –THE DAWN OF SUPER HEROES exhibition will take place at Tokyo City View Sky Gallery in Roppongi Hills, Tokyo during 2021 summer.
More than 400 items will be displayed at this special exhibition including valuable comics, movie synopsis, and costumes and props from the movies. The exhibition unravels the 80-year long history of DC, which has been changing its shape with the times and continues to create original characters and stories.
At the entrance of the exhibition hall, visitor will be welcomed by DC characters displayed on the window of the observatory deck against the backdrop of a spectacular view of the city center as well as the replica of "Tumbler", the symbolic batmobile that appeared in the Dark Knight movie series. The exhibition space is divided into Batman area, Suicide Squad area, Superman area, Wonder Women area, Justice League area.
There is a shop offering a large selection of original merchandise including special items made in collaboration with other brands. Here are some of exclusive items from DC exhibition merchandise collection!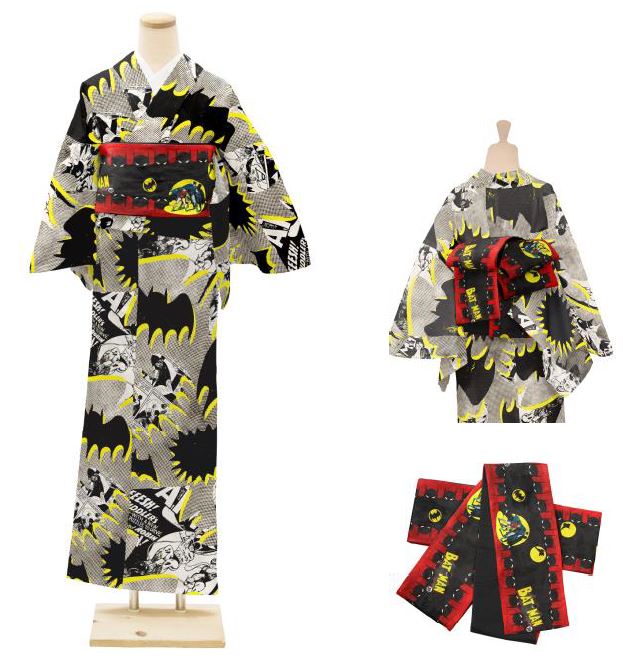 ▲ left to right
Modern Antenna Collaboration Yukata (48,400 yen)
Modern Antenna Collaboration Yukata Belt (23,100 yen)

▲ left to right
NEW ERA Collaboration Cap (Black: 6,600 yen/White: 5,280 yen)
tamaoworld Collaboration Embroidery Brooch (7,150 yen)
TEMBEA Collaboration Batman Tote Bag (19,800 yen)


▲ left to right
tamaoworld Collaboration Embroidery Mini Wallet (19,800 yen)
RIVERS Collaboration Stainless Bottle (3,520 yen)
Bucket Hat (3,025 yen each)

▲ left to right
Cushion (3,300 yen)
Mug (1,650 yen each)
Eco Bag (2,035 yen each)

▲ left to right
PVC Clear Pouch (1,100 yen each)
Sarasa Vintage (275 yen each)
Panorama Notebook (550 yen each)

▲ T-Shirts (4,500 yen each)

▲ Color Tote Bag (2,500 yen each)
Moreover, the restaurant situated next to the exhibition venue "THE SUN & THE MOON" will be offering a collaboration menu inspired by DC characters. This special menu will be served for a limited time from 10 July to 5 September 2021 (11:00~20:00). Let's check out some of DC comic themed dishes and drinks! Official Website: http://thesun-themoon.com/
▲ left to right
Harley Quinn and The Joker Afternoon Tea (5,000 yen)
Batman Dinner (12,000 yen) *Limited to 5 groups/10 meals per day. Reservation required.
▲ Non Alcoholic Character Drink with Coaster (1,400 yen each) *Limited to 25 drinks each per day
After Tokyo, the exhibition will move its location to Fukuoka, followed by Osaka and Nagoya. So even if you miss the one in Tokyo, you will still have a chance to visit one of these locations in Japan until spring 2022! The information for dates and venues of the exhibition at each city is available below.
DC SUPER HEROES and all related characters and elements (c) & TM DC Comics. WB SHIELD: (c)& TM WBEI. (s21)
<<THE ART OF DC –THE DAWN OF SUPER HEROES>>
-Tokyo exhibition
Date: 25 June to 5 September 2021
Venue: Roppongi Hills Tokyo City View Sky Gallery
Ticket info: https://tcv-taod.roppongihills.com/tickets/
-Fukuoka exhibition
Date: 18 September to 5 December 2021
Venue: Fukuoka City Museum
-Osaka exhibition
Date: 18 December 2021 to 23 February 2022
Venue: Grand Front Osaka North Building Knowledge Capital The Lab.
-Nagoya exhibition
Date: 8 March to 8 May 2022
Venue: Nagoya City Museum
DC Exhibition Official Website: https://artofdc.jp/
How exciting? If you are a fan of DC comics, don't miss this temporary exhibition in Japan and meet your favourite superhero!
For more information about travelling in Tokyo, please check out these articles, too!
▽Related Articles▽
▼Editor's Picks▼
---