Butter Pancake x EVANGELION Collaboration 2022
Butter Pancake limited time Evangelion Collaboration Menu in Tokyo, Osaka and Shiga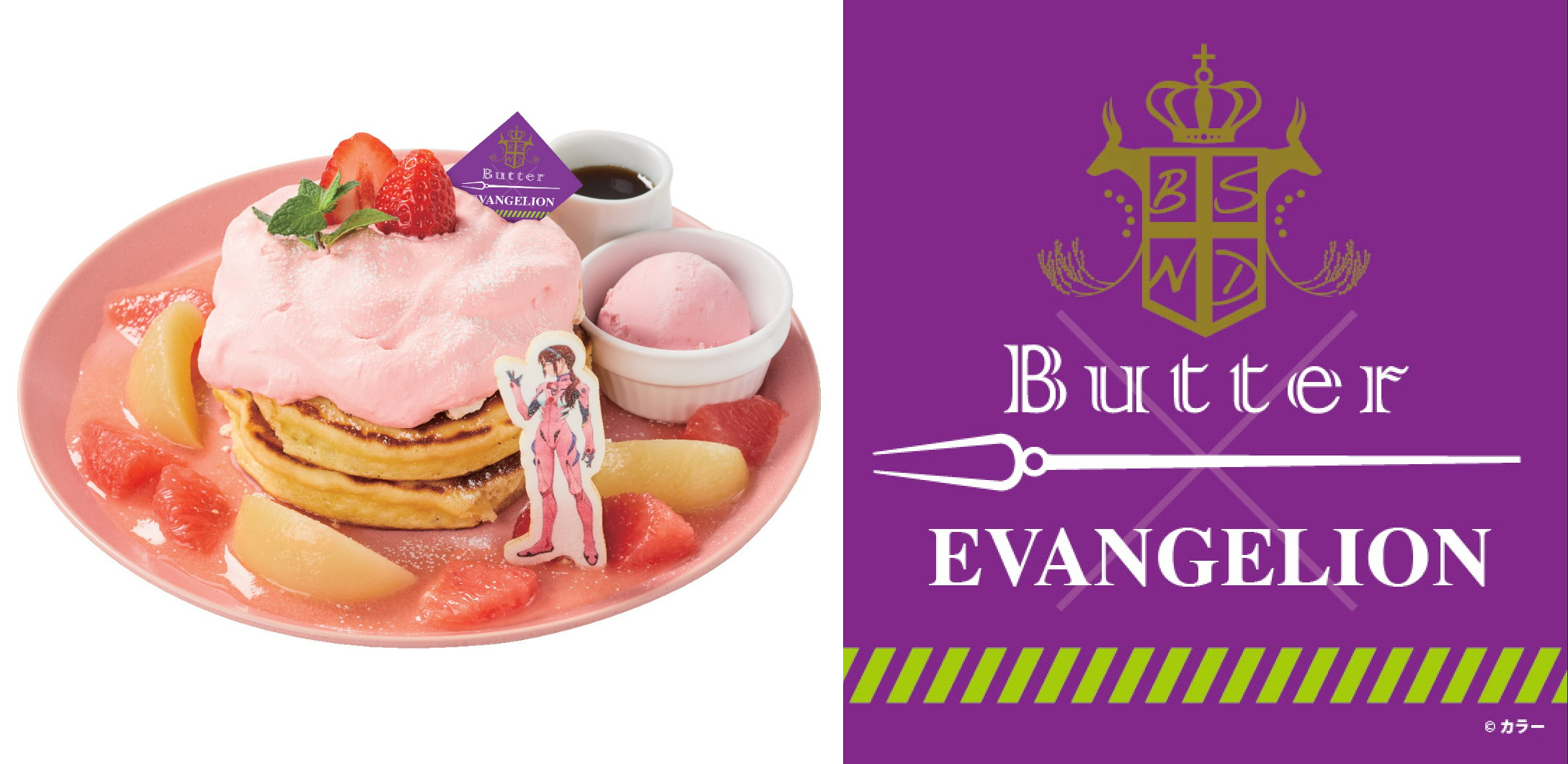 Neon Genesis Evangelion, the animation serie that started in 1995, is no doubt one of the most world-famous and popular Japanese anime of all time. Even 26 years after the anime first release, extra material such new series or movies are still being released and are a bestseller. The year 2020 was supposed to be a great year for EVA fans as the new and final movie in the Rebuild of Evangelion reboot series, "Evangelion: 3.0+1.0 (シン・エヴァンゲリオン劇場版:||)" was scheduled to be released in late June. However, the release date postponed due to the pandemic situation and the restrictions in Japan. But finally on March 8 of this year, fans were able to end their long wait and enjoy the new movie!
To celebrate the eagerly awaited release of the new movie, and because a collaboration with the animated saga is always a guaranteed success, Butter Pancake has announced a special time-limited menu in collaboration with Evangelion! Japanese people love pancakes and proof of this is the wide variety of pancakes-stores available. Butter Pancake is one of the best places in Tokyo to enjoy delicious and fluffy style pancakes. The special collaboration menu will be offering not only sweet but also savory pancakes. If you are an EVA fan but don't like pancakes, don't worry because they also offer other types of dishes, such as the curry or pasta. Special drinks will be also available.
The Butter Pancake x EVANGELION collaboration is available in some of the Butter Pancake stores (the list is at the end of the article) for a limited time from 12 April to 31 May 2022. This is going to be the first round of collaboration, but the second is already scheduled for June-August 2022, and the third is scheduled for September-October 2022. Do you want to see the menu of this first round? So let's go!
Makinami Mari Illustrious Unit 8 Pancake: 1,628 yen
Rei Ayanami White Tower Souffle Pancake: 1,738 yen
Village 3 Eggs Benedict: 1,628 yen
"Spear of Longinus" Hamburger Steak (with rice on the side): 1,628 yen
Asuka Puppet Pancakes: 1,738 yen
Village 3 Salad & Pancake Plate: 1,628 yen
"Spear of Longinus" Pasta (with salad on the side): 1,518 yen
NERV Headquarters Curry: 1,738 yen
Shinji Ikari's Cream Soda: 858 yen
Asuka Langley Shikinami's Cream Soda: 858 yen
Rei Ayanami's Cream Soda: 858 yen
Second impact tea: 858 yen
Take Out Lemonade: 540 yen

Ice Coffee: 935 yen
Ice Coffee Latte: 968 yen
Ice Royal Milk Tea: 968 yen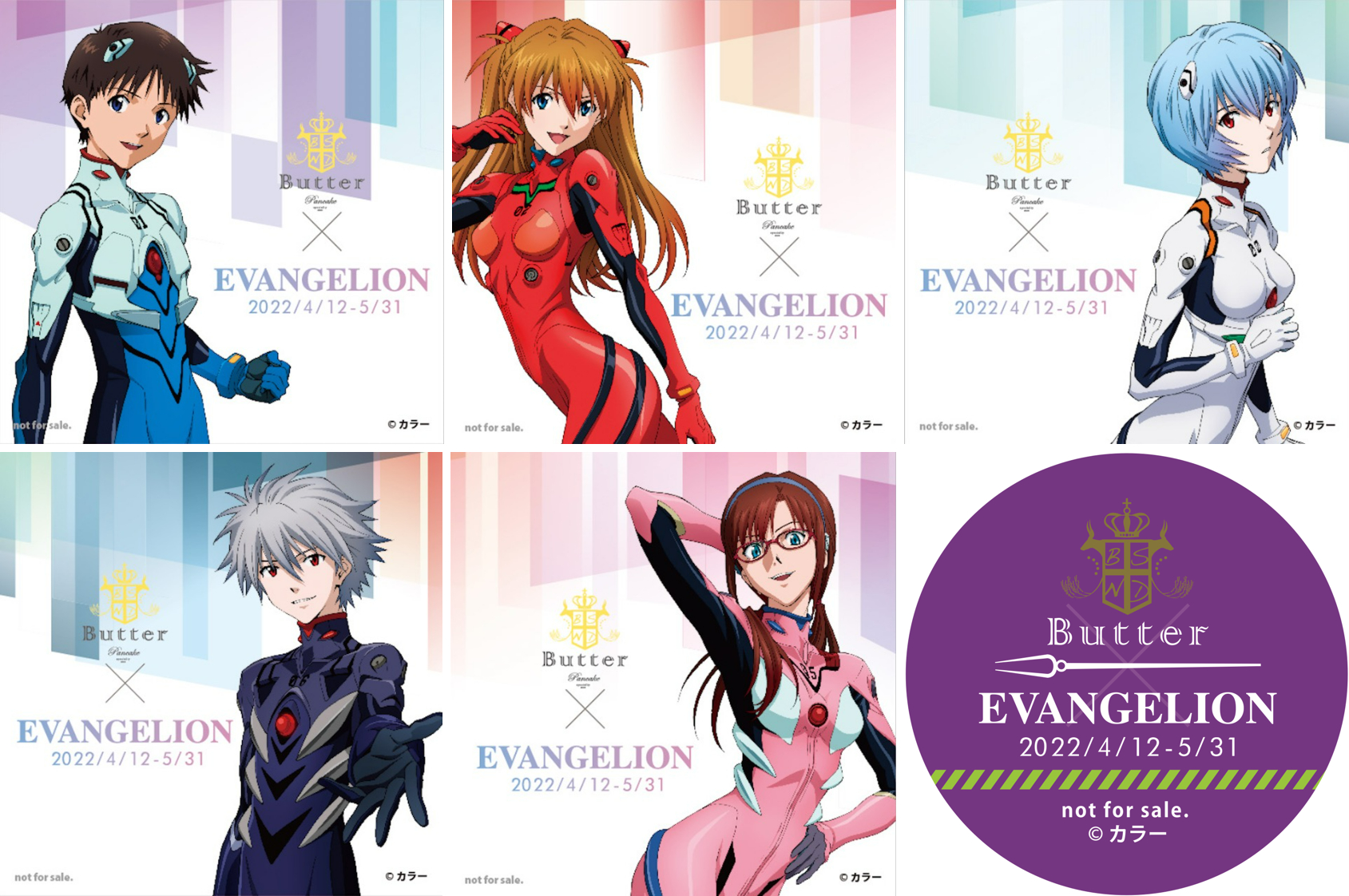 More! Every customer will receive a collaboration original coaster and can bag for each product (can badges will only be given for the collaboration food menu, not drink menu) randomly chosen from the 5 designs above . In addition, they are a 1,000 limited edition secret special coaster!
*Important note: Please note that not all products in the above menu are available in all stores. Some dishes or beverages are exclusive to one of the stores, so we recommend that you check the menu of the store you want to go in advance.
Official Website: http://www.butter-pancake.com/
TOKYO
-Butter's Yokohama Bay Quarter Store
Map: https://bit.ly/37T5mcT
Access: 3 mins walk from Yokohama Station
Hours: 10:00~22:00 (Last Order: Food 1 hour before business closes / Drinks 30 minutes before business closes)
-Butter's Mitsui Outlet Park Tama Minami Osawa Store
Map: https://bit.ly/37QAiuC
Access: 3 min walk from Minami Osawa Station
Hours: 11:00~22:00 (Last Order: Food 1 hour before business closes / Drinks 30 minutes before business closes)
OSAKA
-Butter's Abeno Hoop store
Map: https://bit.ly/3vmHgzo
Access: 1-3 mins walk from Osaka Abenobashi Station, Tennojiekimae Station or Abeno Station
Hours: 11:00~23:00 (Last Order: Food 1 hour before business closes / Drinks 30 minutes before business closes)
SHIGA
-BUTTER & DEL'IMMO CAFÉ DINING Mitsui Outlet Park Shiga Ryuo
Map: https://bit.ly/3xuDlmH
Access: 25 min bus from Yasu Station
Hours: 10:30~21:00 (Last Order: Food 1 hour before business closes / Drinks 30 minutes before business closes)
▽Related Articles▽
▼Editor's Picks▼
---