10 Best Japanese Language Schools in Japan
10 Recommended Language Schools in Japan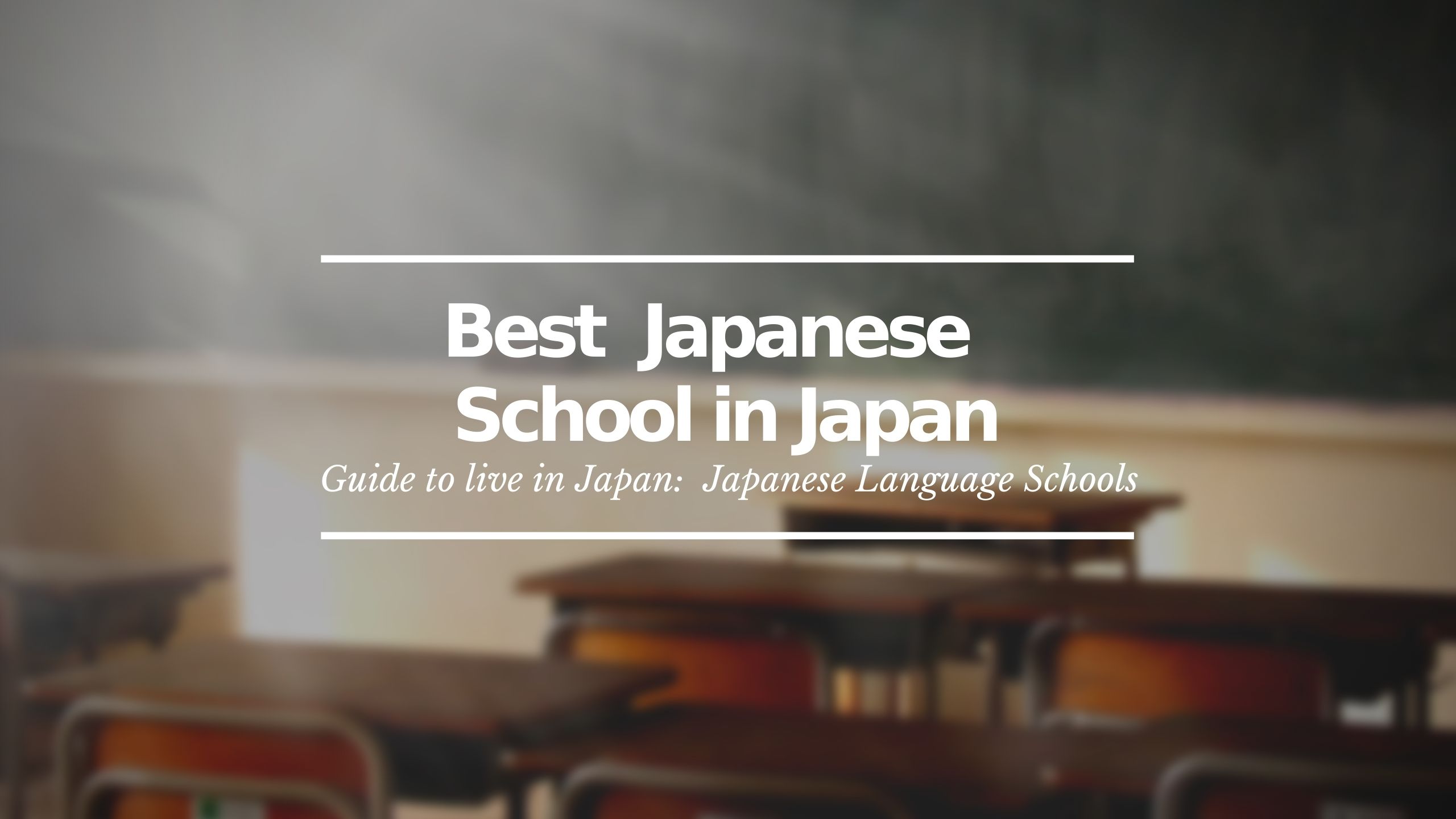 Many of you tell us that your dream is live in Japan, and ask about things like jobs in Japan, types of visa, etc. But there's something very important that some of you tend to forget: one of the most important things to be able to work and live in Japan is to speak Japanese. It's true that some jobs don't require you to have a high level of Japanese, especially jobs about IT, engineers, or for some unskilled jobs. But I think it's always better if you speak Japanese, even if you don't need it for work. But if you speak Japanese you can better integrate into the community, make more Japanese friends and have a more authentic experience.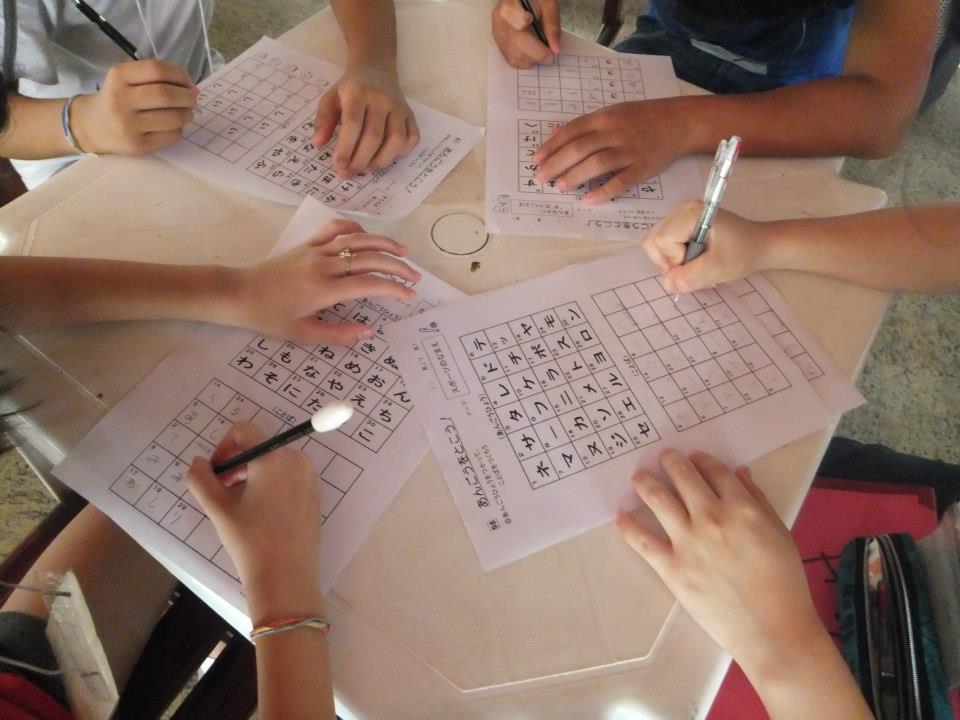 In my opinion and from my personal experience, one of the best ways to learn Japanese is to go to a Japanese language school in Japan. It's true that it's a great investment of money that perhaps not everyone can afford, but you learn much faster than studying at any academy in your country. Basically, because it's a much more intensive course since you have classes 5 days a week about 4 hours a day, and also, the things that you learn at class then you listen to in real life when you go to buy, or are searching for a job, or go to the bank etc. You also have more opportunities to be able to speak and practice it.
In recent years the number of people interested in studying Japanese in Japan has increased, and not surprisingly, more and more Japanese schools have been opening, or those that were already expanding their campuses. These academies aren't cheap, and for many people it's a great effort. So if the school later turns out not to be what you expected, you can be quite disappointed. That's why I think you should choose the academy carefully.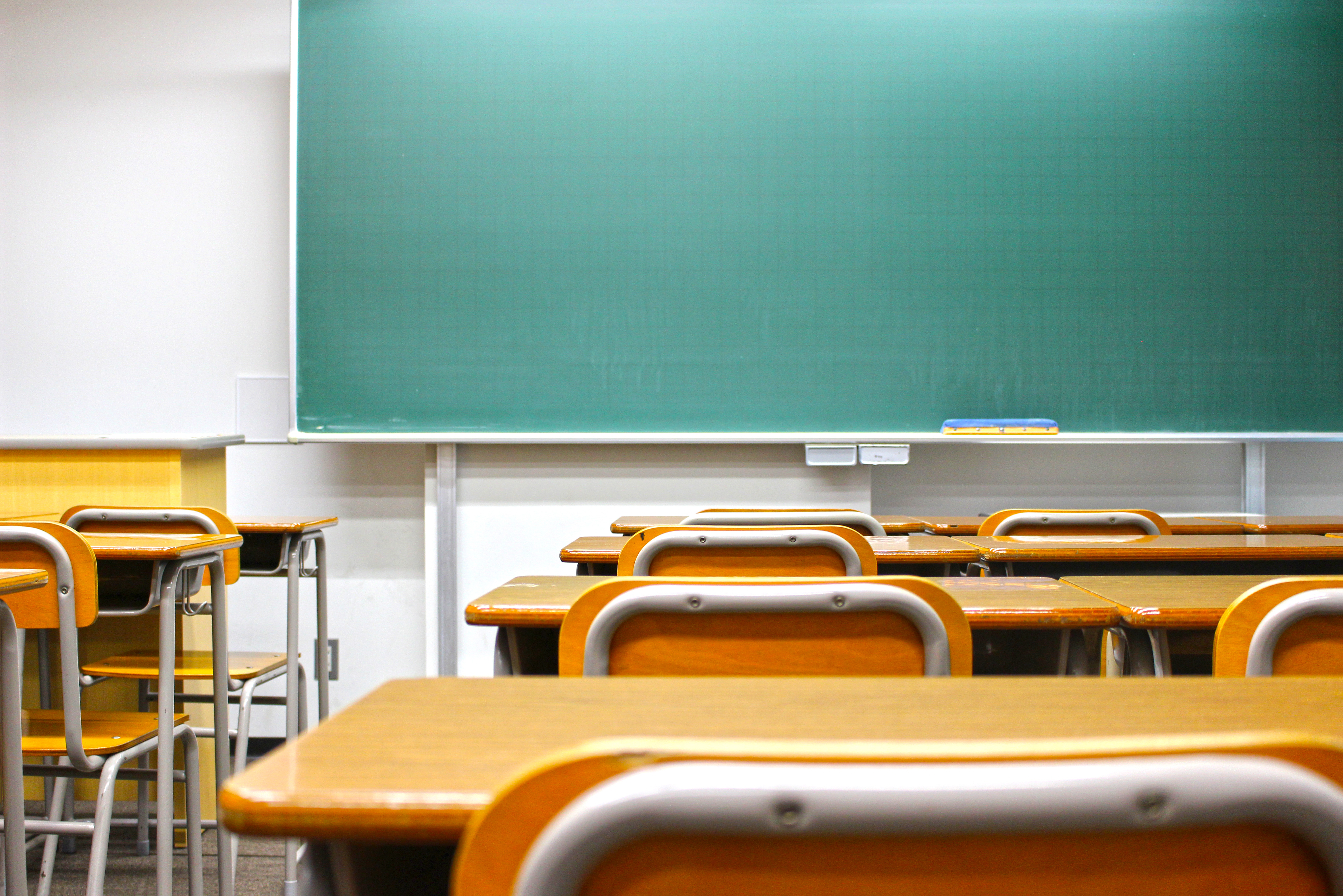 I have personally lived as a Japanese student in Japan for two years, in two different schools (one year and one year) and many of my foreign friends in Japan have also studied in Japanese academies. Honestly speaking, I think that whether you like a school or not largely depends on your personal experience: the teachers and classmates, the moment, etc. But there are some schools that I've only heard bad references about, or have had bad experiences myself. And others that the comments in general are usually positive. So here I leave you, after comparing and talking to all my friends and from my own personal experience, which I think are the best Japanese language schools in Japan.
*Please note that this article contains affiliate links.
---
1. Tokyo Central Japanese Language School (TCJ)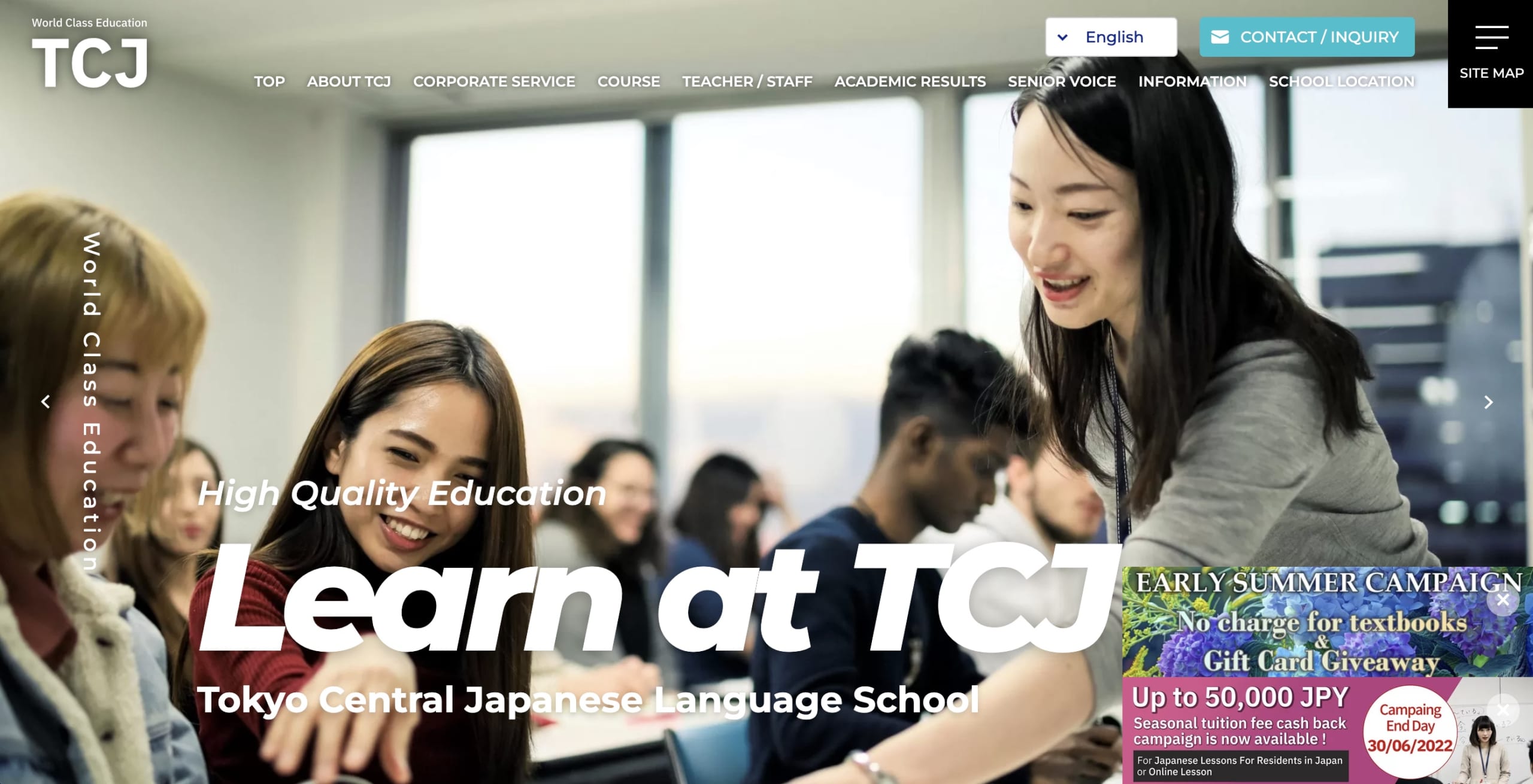 Tokyo Central Japanese Language School (TCJ) is one of the best Japanese schools in Japan for any purpose from developing skills for business to getting student VISA. It is located in the heart of Tokyo with more than 30 years of experience. Over the years students from more than 60 different countries have chosen TCJ to learn Japanese, and the school has about 300 graduates every year.
TCJ's programs are divided into three parts: Student Visa Program, Japanese Lessons For Residents in Japan and Online Lessons. In the Student Visa Program, there are Graduate School Course, University Course, Vocational/Technical School Course and Job Hunting Course. Students will be supported for their goals with each course. The Japanese Lessons For Residents in Japan offers day-time and evening classes including private programs for both adults and kids. The Online Lessons are open to everyone not only in Japan but overseas.
Most Japanese language schools in Japan are geared toward international students who come to the country to learn the language. So their courses are 5 days a week, 4-5 hours per day. However, there are also people who moved to Japan for work or business and need to learn Japanese in a faster and more efficient way, and they don't have the time to be 4-5 hours per day in a school. TCJ students can choose the course and style that best suits their objectives.
▶︎With a special promotion, check more details for a free trial lesson and counseling!
2. ISI Language School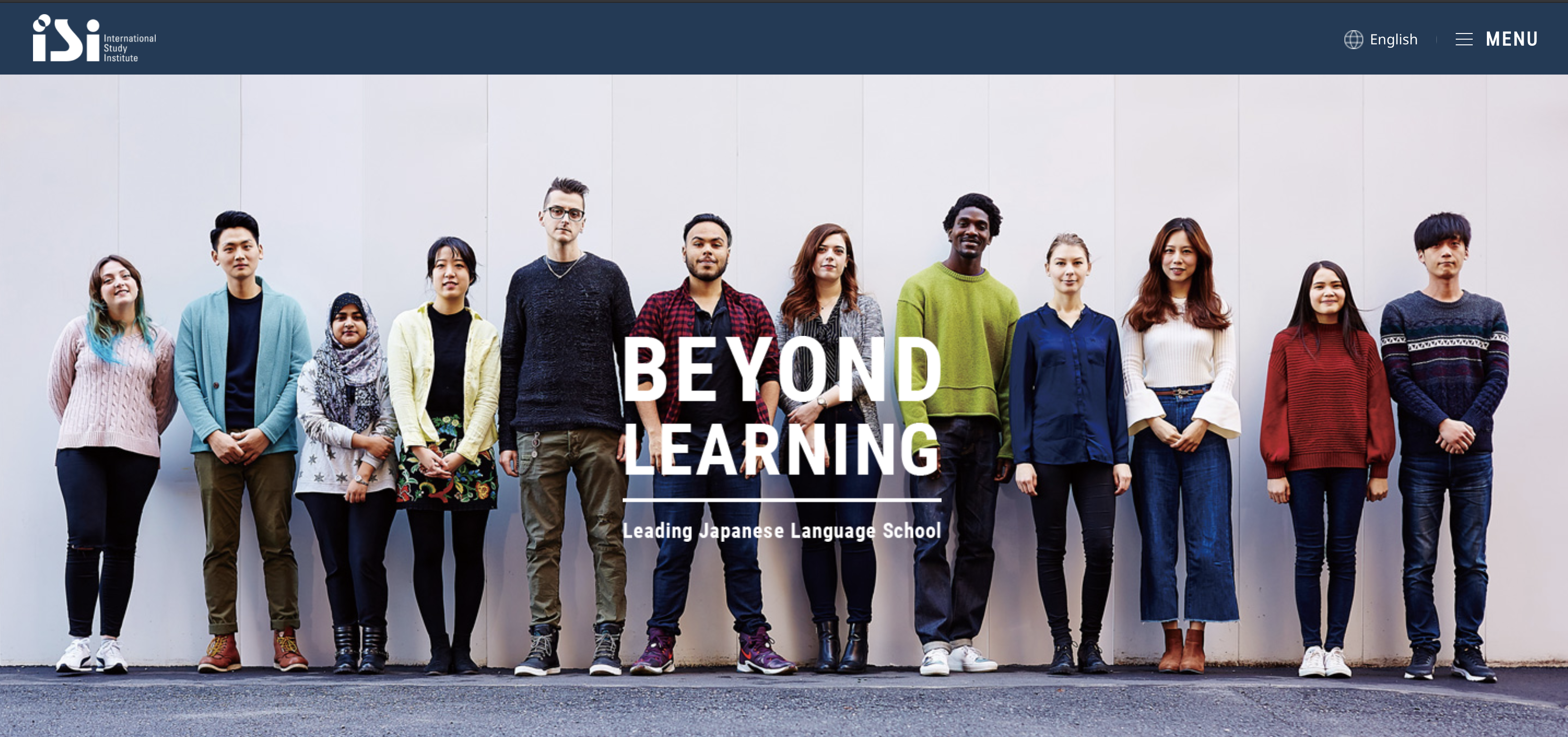 ISI Language School is one of the largest Japanese academies, with two campuses in Tokyo, one in Kyoto and one in Nagano. It's also one of the most international academies, and with the largest influx of students from Europe and America. Many of the academies in Japan have students mainly from Asian countries, which is not a bad thing, but that makes its teaching system very focused on people whose objective is to take the entrance exam to a university in Japan. From my personal experience and that of my friends, the academies that have this student profile above all focus on the kanjis mainly, and secondly on grammar, but totally neglect listening and conversation.
At ISI that doesn't happen, and they teach you kanji and grammar but also from the first moment you have oral exams according to the level of the class. There's a better balance between kanji, grammar, listening and speaking, which I find much more useful in real life. You learn at a good pace but without having the feeling that you are being suffocated or pushing too hard.
Maybe the price isn't as cheap as other academies but they give you a lot of books, and they make excursions to places like Disneyland or Fuji Q Highland.
3. Academy of Language Arts (ALA)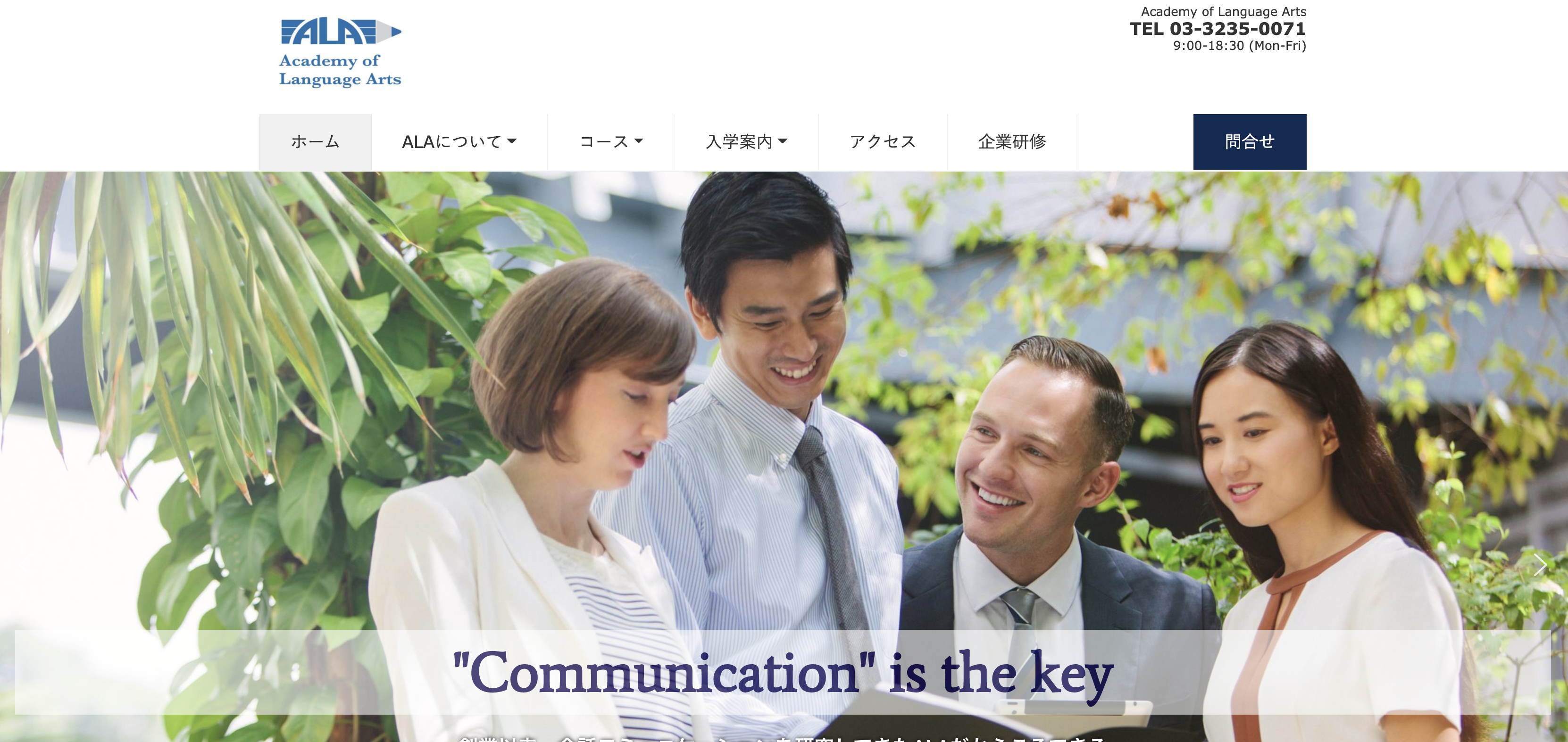 On the opposite side to ISI Language School, we have Academy of Language Arts. This academy has a single campus located in Iidabashi, and it is a small academy with approximately 12 students per class. This allows teachers to always be attentive to their students and pending their development. It also allows them to focus a lot on the conversation. Each end of the course, they do an interview to find out what plans you have and thus help and guide you. But one of the most striking things about ALA is that they don't use the book Minna no Nihongo, the book that all the academies in Japan use and that all Japanese students hate.
Being a small academy, the price is cheaper than the others but the quality of the teaching is very good. Also, they help their students with things like opening a bank account (which is quite difficult in Japan) or getting a job.
4. ARC Academy Japanese Language School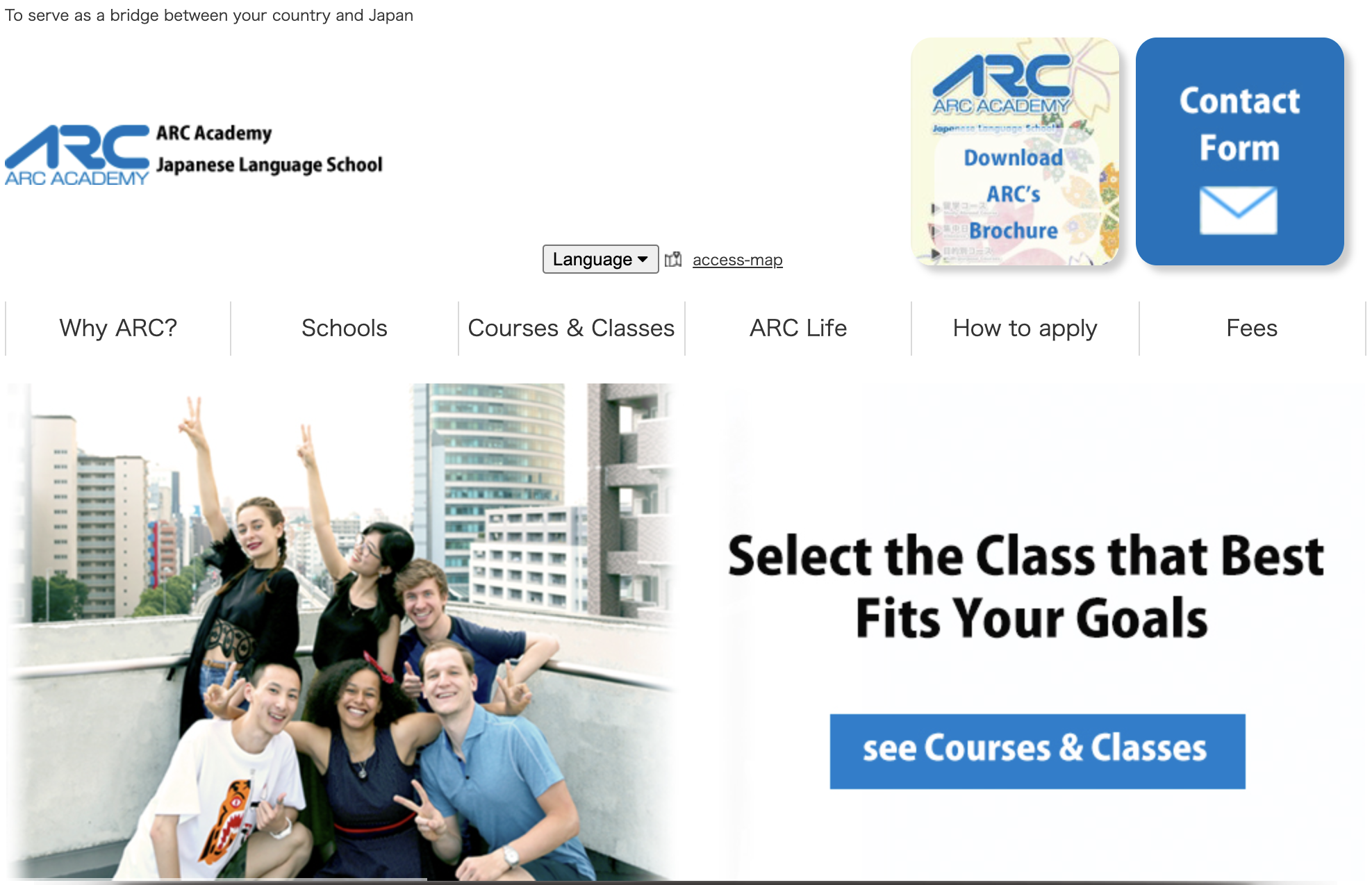 ARC Academy Japanese Language School is another of the largest academies, along with ISI Language School and have schools in Tokyo, Osaka and Kyoto. While if you want to live in Tokyo, I recommend more ISI, if you are thinking of moving to Osaka (where the cost of living is a bit lower than in Tokyo and usually you can live more relaxed), ARC Academy is the most recommended Japanese language academy.
Something you should keep in mind is that while most Japanese academies require attendance of 80% every month, at ARC attendance must be 90%, and they're also very strict with punctuality when arriving to class. The level of the classes is also quite demanding, especially in the kanjis.
5. Intercultural Institute of Japan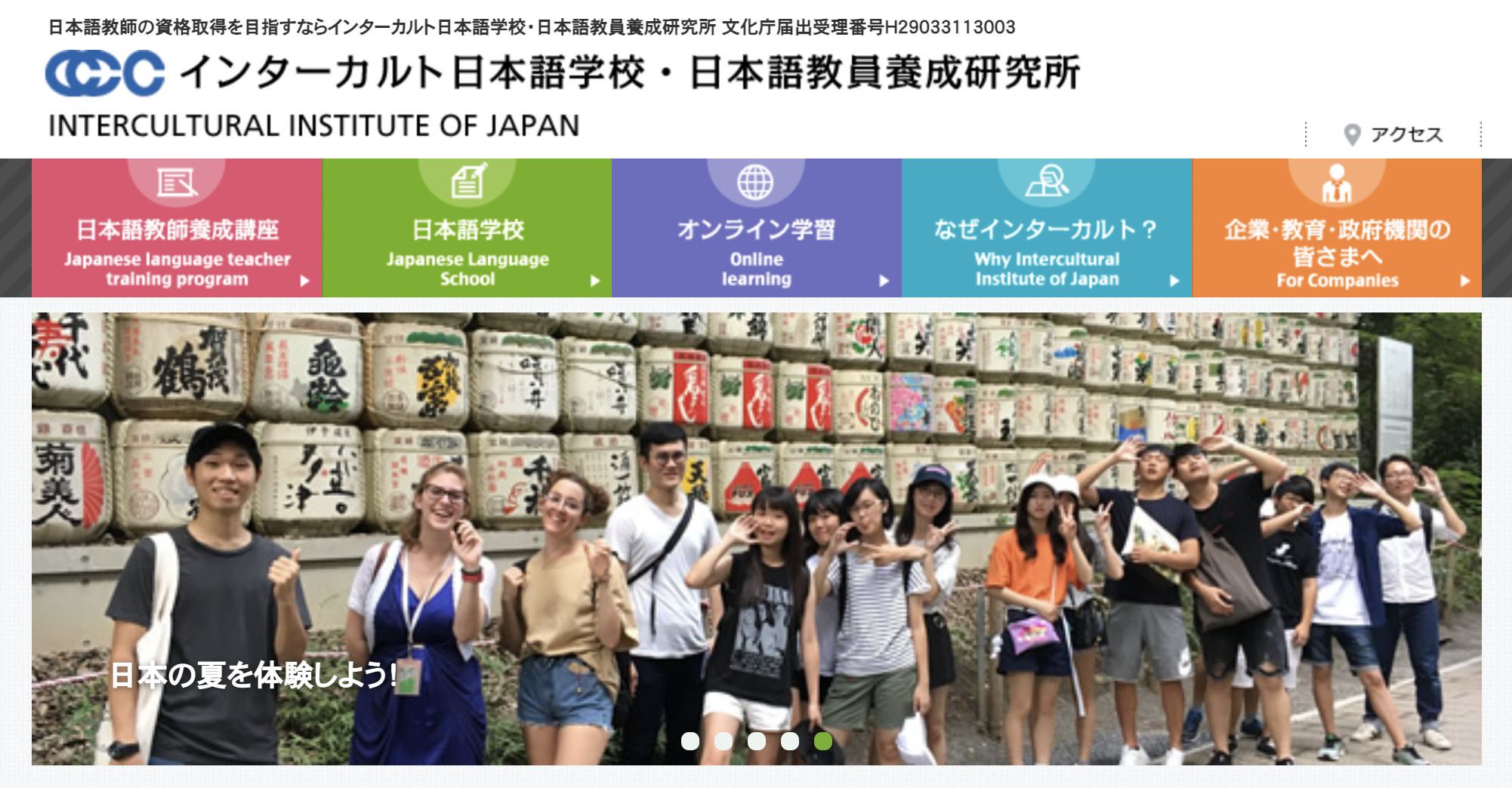 Intercultural Institute of Japan is a medium school located in Akihabara, the mecca of anime and manga fans. Although it's not as big as other schools it's very international and not only because of the name, but because it really has students from all over the world.
According to students from the academy that I have met, the teachers are very good at teaching and care about the student. They explain a lot of grammar and provide students with many photocopies with exercises. If your goal is to learn fast, this school is a good option. On the negative side, although the price of this academy is a bit expensive, they don't include the books used in class and students must buy them on their own.
6. Kudan Institute of Japanese Language & Culture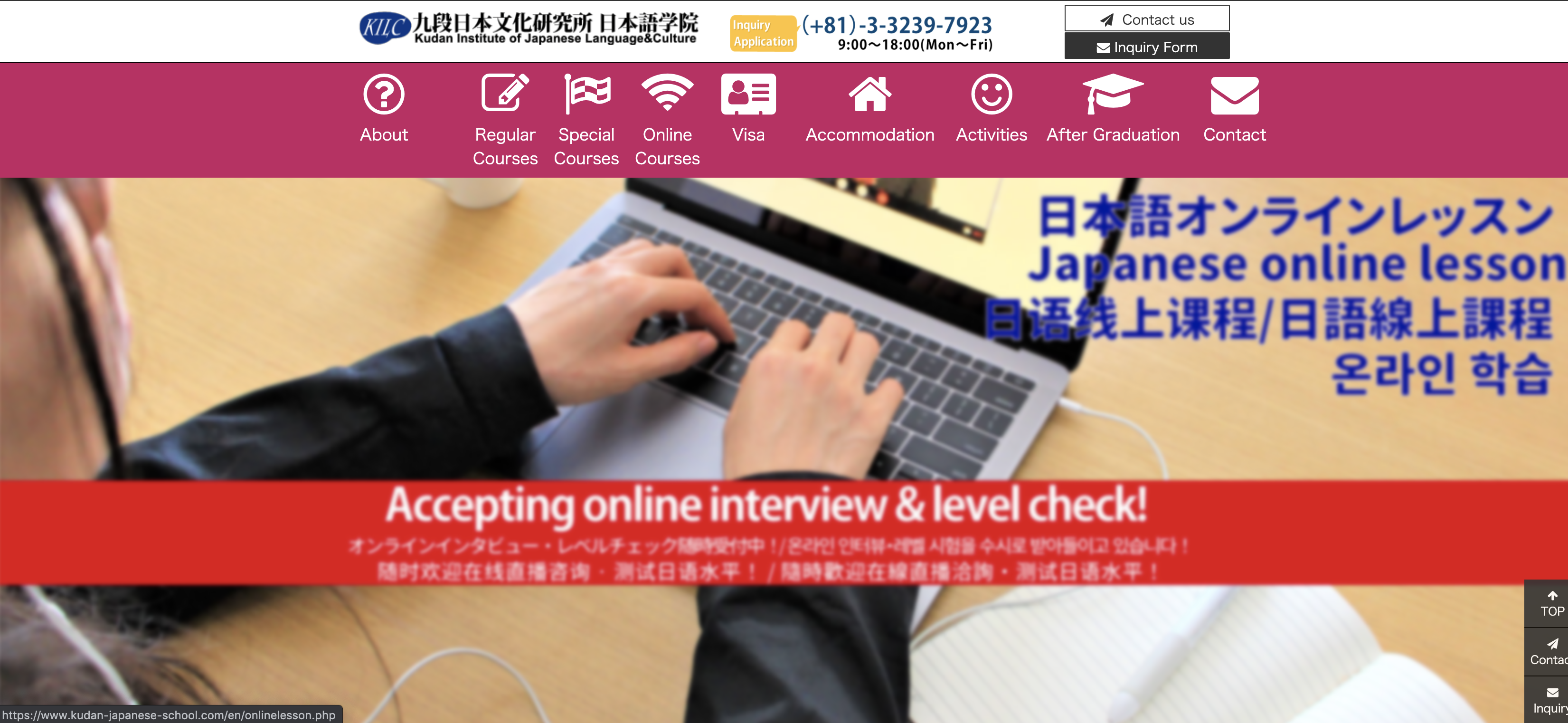 Kudan Institute of Japanese Language & Culture is also a small-medium school compared to the others, with a single campus in Suidobashi, Tokyo. But as with ALA, the positive part of small schools is that the treatment is much more personalised and they can be more aware of their students. They're also more flexible when it comes to payments or possible problems.
But Kudan is also much stricter and more demanding than other larger schools. It has a fairly high rhythm and level, which requires the student to spend many hours outside of classes to be able to keep up. If your intention is to study as much as you can, it's a good option, but if you want to go at a more relaxed pace or have to work while studying perhaps this isn't your school.
7.

Shinjuku Japanese Language Institute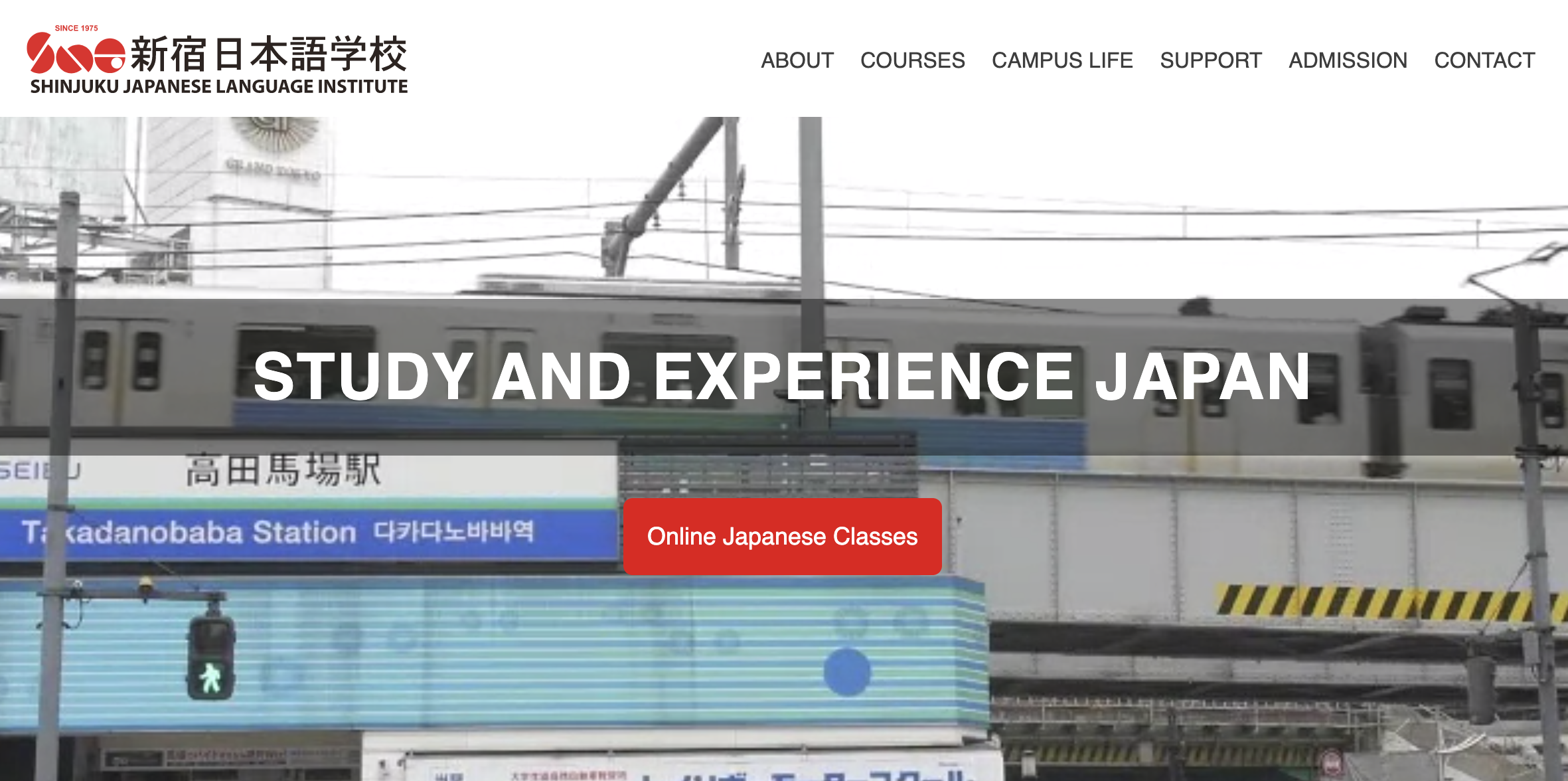 The biggest complain from Japanese learners is that the teaching system is outdated and impractical (and from my experience I can prove it's true). Located near Takadanobaba Station, Shinjuku Japanese Language Institute (SNG) has a different and unique teaching method called the "Ezoe method". Using cards and gestures the teachers help students to lear Japanese grammar easily and quickly. With over 40 years of experience, their method has proven to be very effective and has helped hundreds of students improve their Japanese
Some of the courses that you can choose from in SNG include the short-term course, preparation classes (for JLPT or EJU), and the Kanji course. They also have evening classes as well as private classes.
8.
Human Academy Japanese Language School

Human Academy Japanese Language School is one of the most famous schools in Osaka area, and one of the schools that has been teaching new students for the most years. The first school was founded in Osaka in 1987, and 1991 the opened another school in Tokyo School. Relatively recently, in 2015 Human Academy opened a new school in Saga School.
So Human Academy has a long experience in teaching students from different countries. They also have some interesting and unique courses, such as a course in Nursing Care Japanese Training, that can help you to find a job in Japan as it is a hight demanding sector right now. Or a special program for those who want to become Japanese teachers.
9. KAI Japanese Language School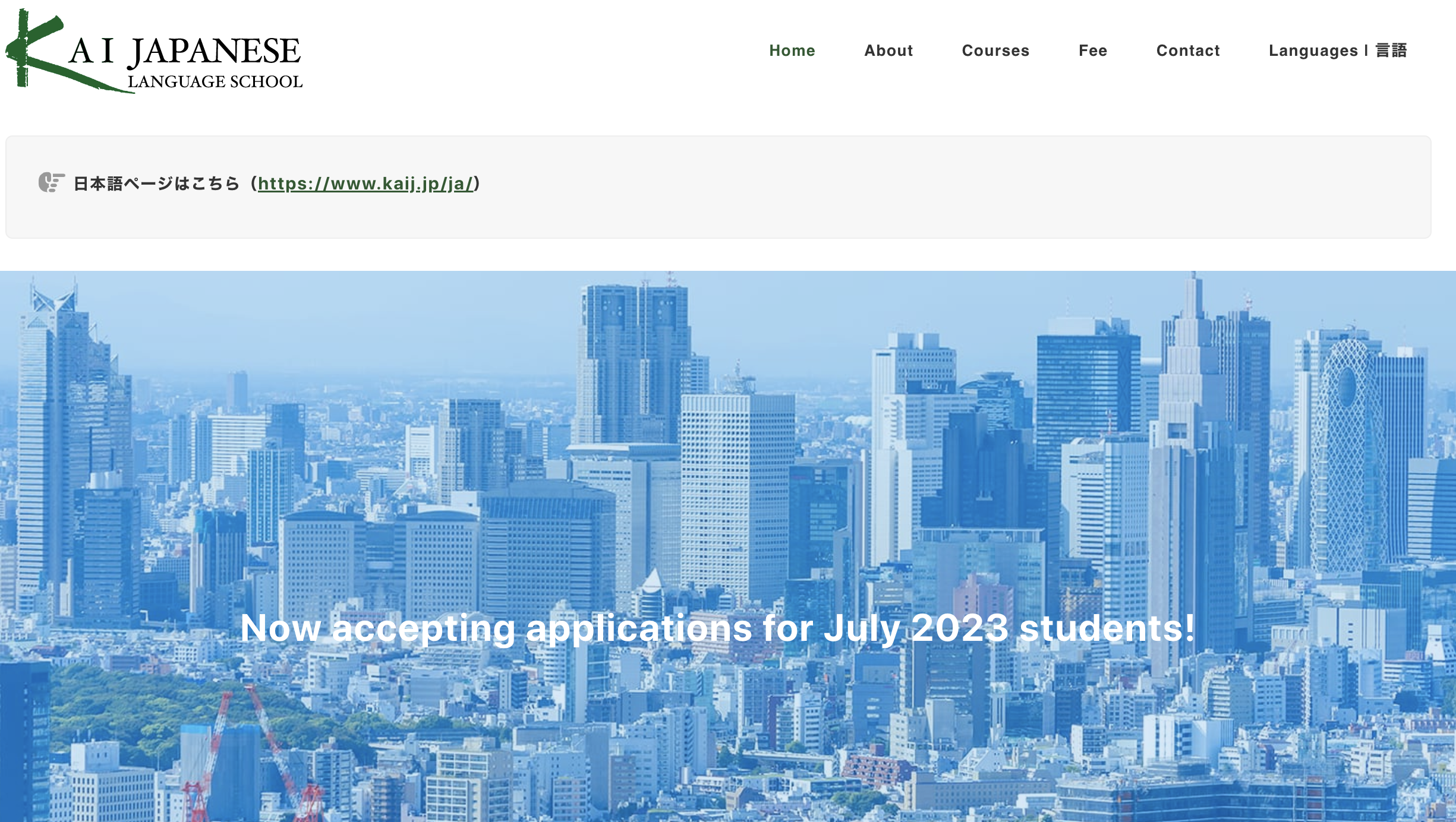 Another well-known school among foreigners is Kai Japanese Language School. As you can see from the statistics on their website this school is especially famous among students from North America and Europe (France, Italy, Spain, etc).
Kai Japanese Language School provides general course, practical conversation course, business Japanese course and online courses. They also offer private classes. It was one of the first Japanese language schools in Japan to digitized their classes building what they called KAI⋮DLS (Digital Learning System), providing original teaching materials and lending iPads to all students in the General Course .
10. Genki Japanese & Culture School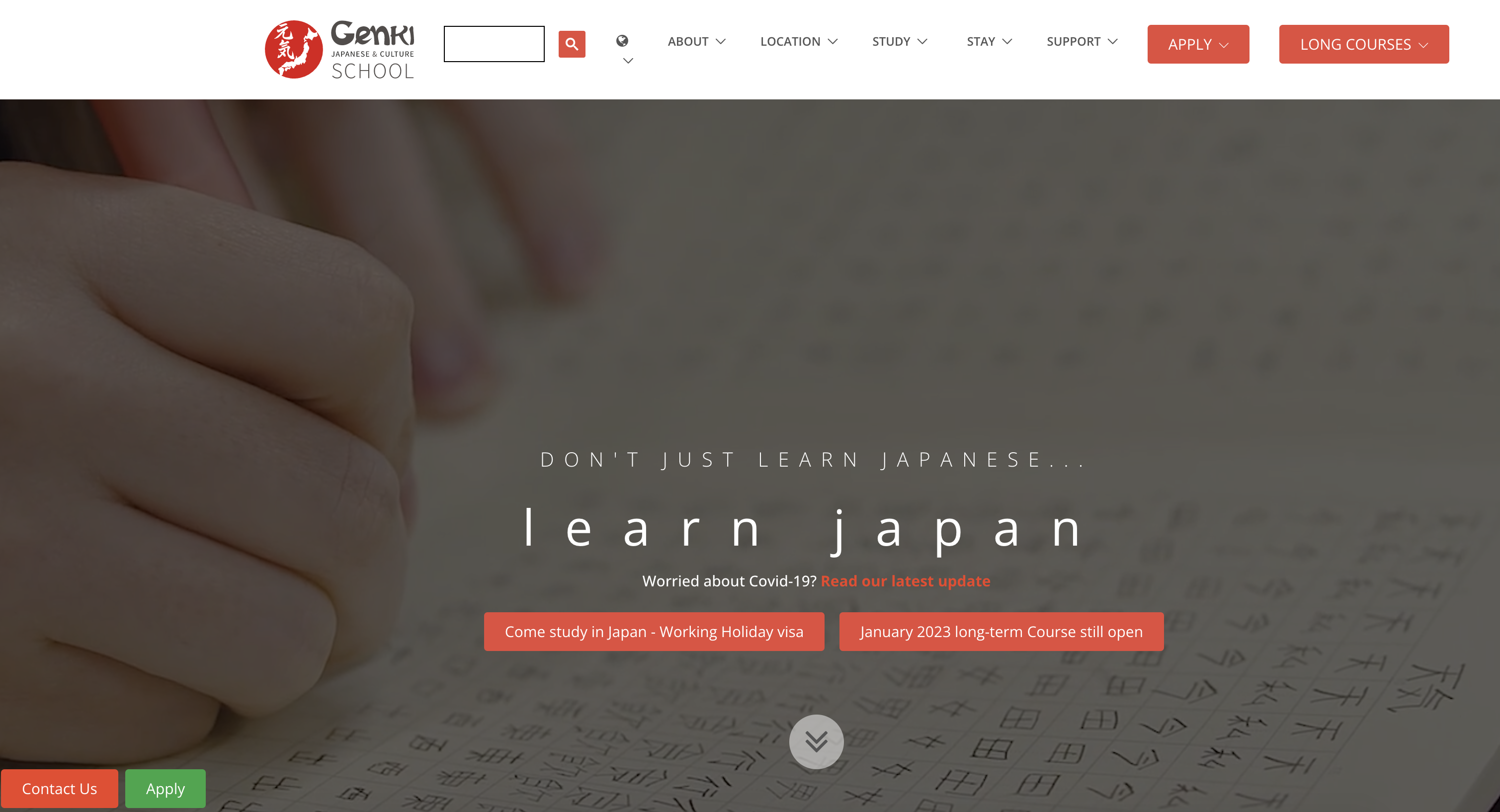 For those who want to learn Japanese but prefer to live away from the two big cities of Tokyo and Osaka, Genki Japanese School may be a good option. They have schools in Fukuoka and Nagoya, which are less frequent destinations but can be very nice places to life.
One of its interesting points is that you can start on any Monday. Normally most Japanese language schools only accept students in 4 terms (January, April, July and October). You can also decide how long you want to study, even if it is two weeks or one month.
---
Another academy that I have heard good comments about is Coto Academy, but I don't have any personal experience and I don't know anyone who has studied there to be able to confirm if it's a good school or what system they use, etc. So I don't add it to this list, but if you want you can search for information about this academy.
On the contrary, academies that I do NOT recommend are Akamonkai and EF. Akamonkai is for the teaching system and the politics and dynamics of the school in general. EF is abusively expensive when compared to other academies and I think they don't treat people well.
If you can't go to Japan to study yet:
+1. Nihongo Master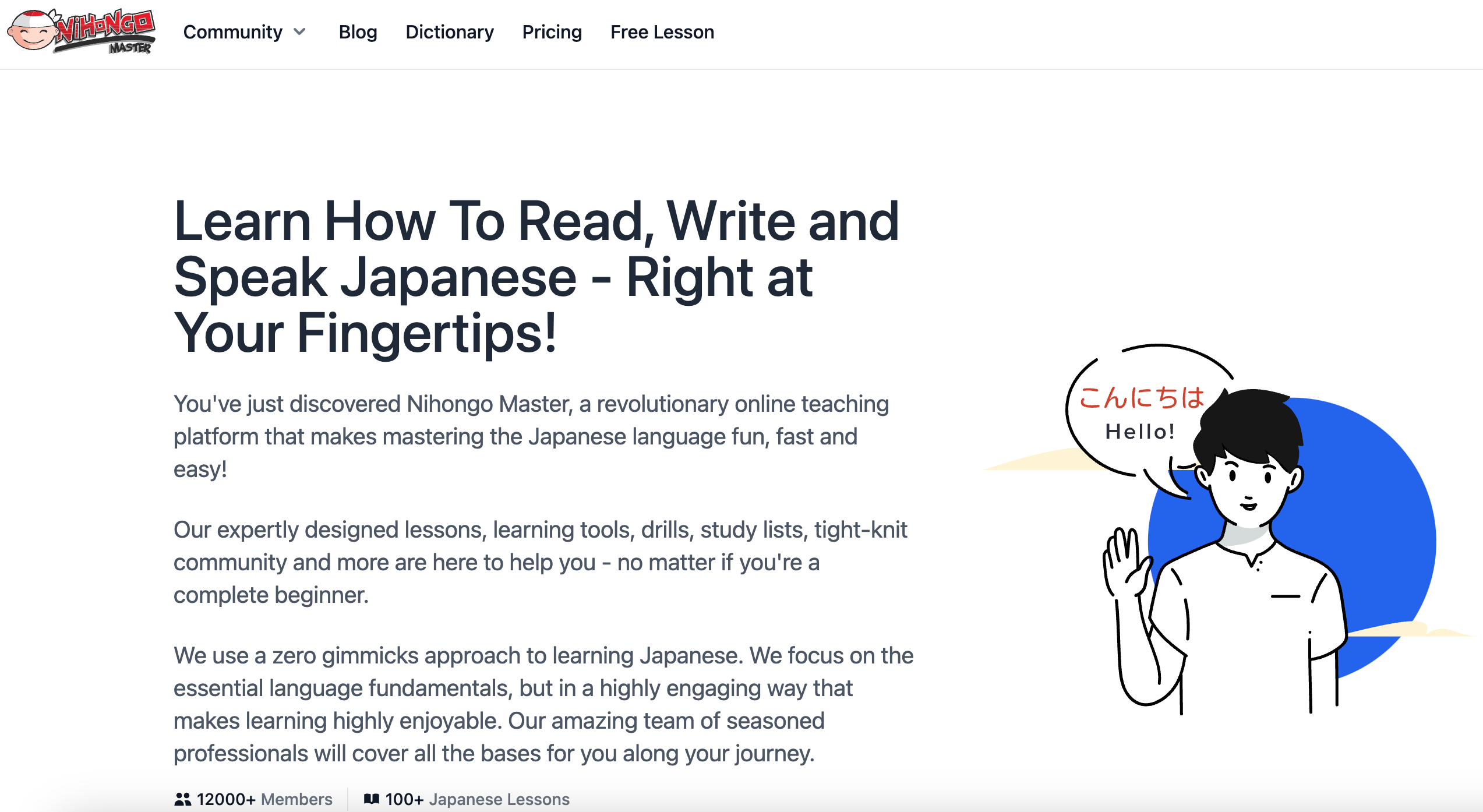 Nihongo Master is one of the best online academies that exist to learn Japanese. Unlike other academies, it's not about virtual classes but about materials to learn in a self-taught way. And it's ideal for people who have a busy life and little time since you only have to dedicate 15 minutes each day!
The learning method is very simple but complete. You have lessons (of different levels, from beginner to advanced) and at the end of each lesson, you have a practice test. There are audios so that you can listen to the correct pronunciation of what you are learning. But one of the things that I like the most is that they have many podcasts with Japanese lessons so that you can study even on the train, in the gym, walking or wherever you want.
There are many things you can do in Nihongo Master, but I recommend you see it for yourself and give it a try! You have a 7-day free trial and if you don't like it, you can unsubscribe without any charge.

And this is all I know from my experience and that of my friends being Japanese students in Japan. I hope this information can be useful and help you!
▽More recommended Japanese schools in and around Tokyo here!▽
If you want more information about things that may be useful to you if you plan to live in Japan or are living in Japan, you can check these articles too!
▽Related Articles ▽
▼Editor's Picks▼
---