7 Best Sunflower Fields in Japan 2021
Best Places to See Sunflowers in Japan in Summer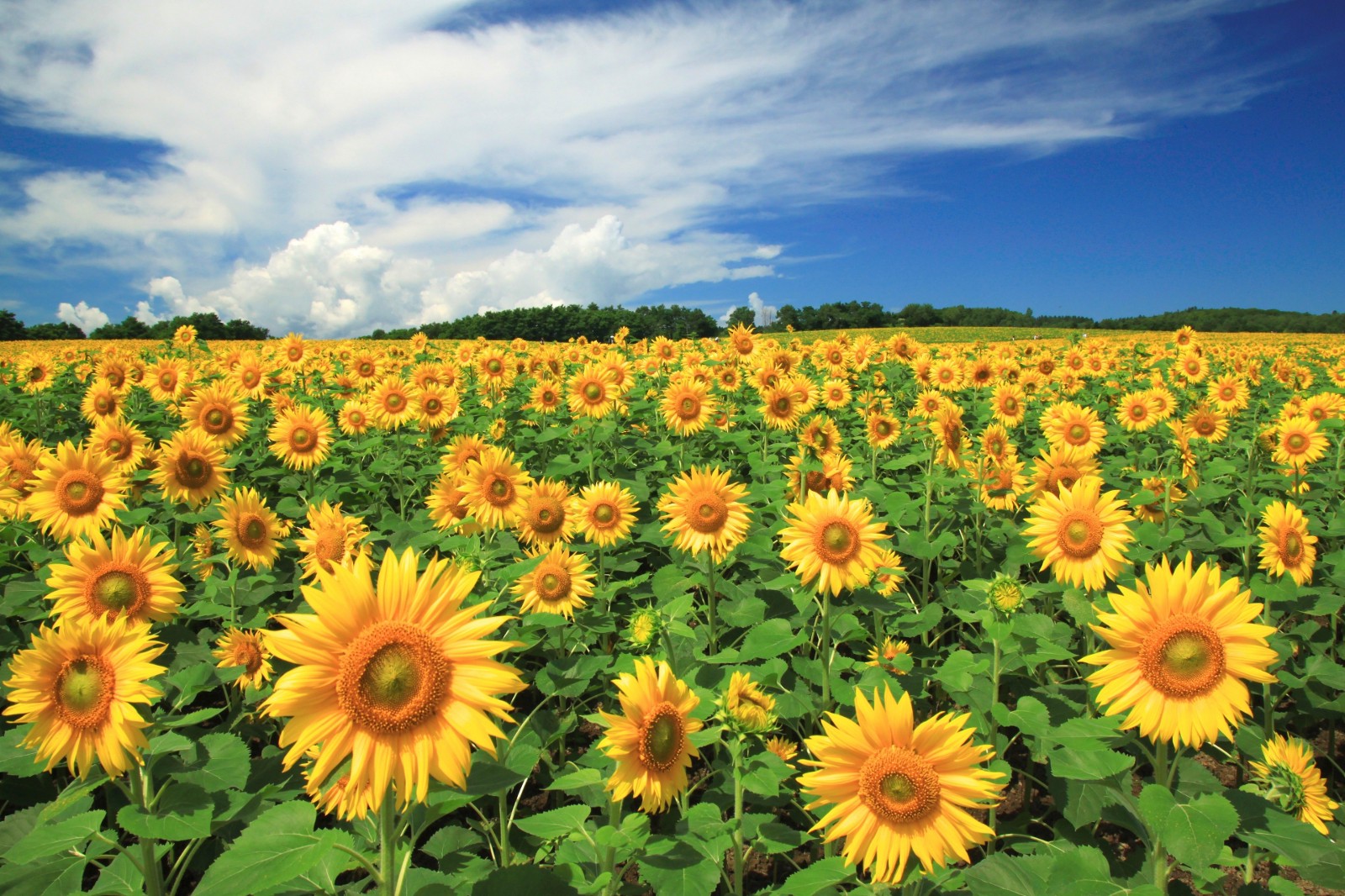 Spring and summer is the best time to enjoy colourful flowers in Japan, and various kinds of flowers flourish colourfully and display amazing scenery. Sunflower is one of the most popular flowers, and there are numbers of sunflower fields across the country along with flower festivals held during the season, usually from July to August. If you are a flower lover and want to take stunning photos of gorgeous yellow sunflowers this summer, these sunflower fields are the perfect travel destinations for you.
From Hokkaido to Tokyo, I have picked 7 most amazing sunflower fields in Japan in summer. So let's check them out 🙂
IMPORTANT NOTICE:
In order to prevent the further spread of Coronavirus (COVID-19), some of listed sunflower events are cancelled this year. Please check the latest information on their official websites before visiting.
---
1. Hokuryu Sunflower Village, Hokkaido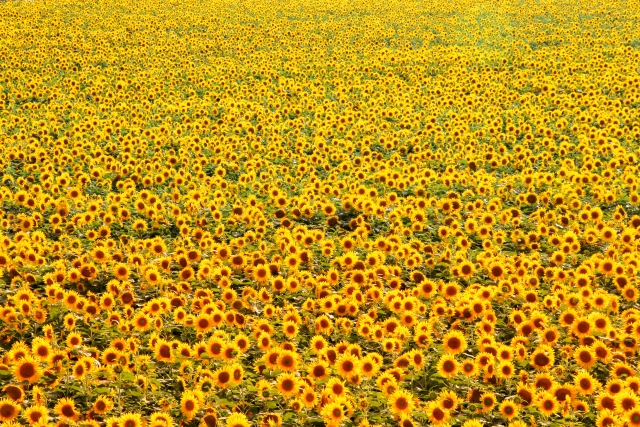 When it comes to flower fields, Hokkaido is the first place in Japan to be considered for visiting. A variety of colourful flowers flourish in this northern land and it's the main tourist attraction during spring and summer. Hokuryu Sunflower Village (北竜町ひまわりの里) is one of the most popular flower fields in Hokkaido and the biggest scale of sunflower fields in the country. Approx 1.5 million sunflowers are displayed in the vast filed of 23.1 ha. Sunflower festival is also held during the season with numbers of special events.
Access: Take a bus from JR Takigawa station or JR Fukagawa station then get off at "Himawarinosato Hokuryu Chugakko mae" bus stop
Date: mid July to mid August
Fee: Free
2. Hill of Palette, Hokkaido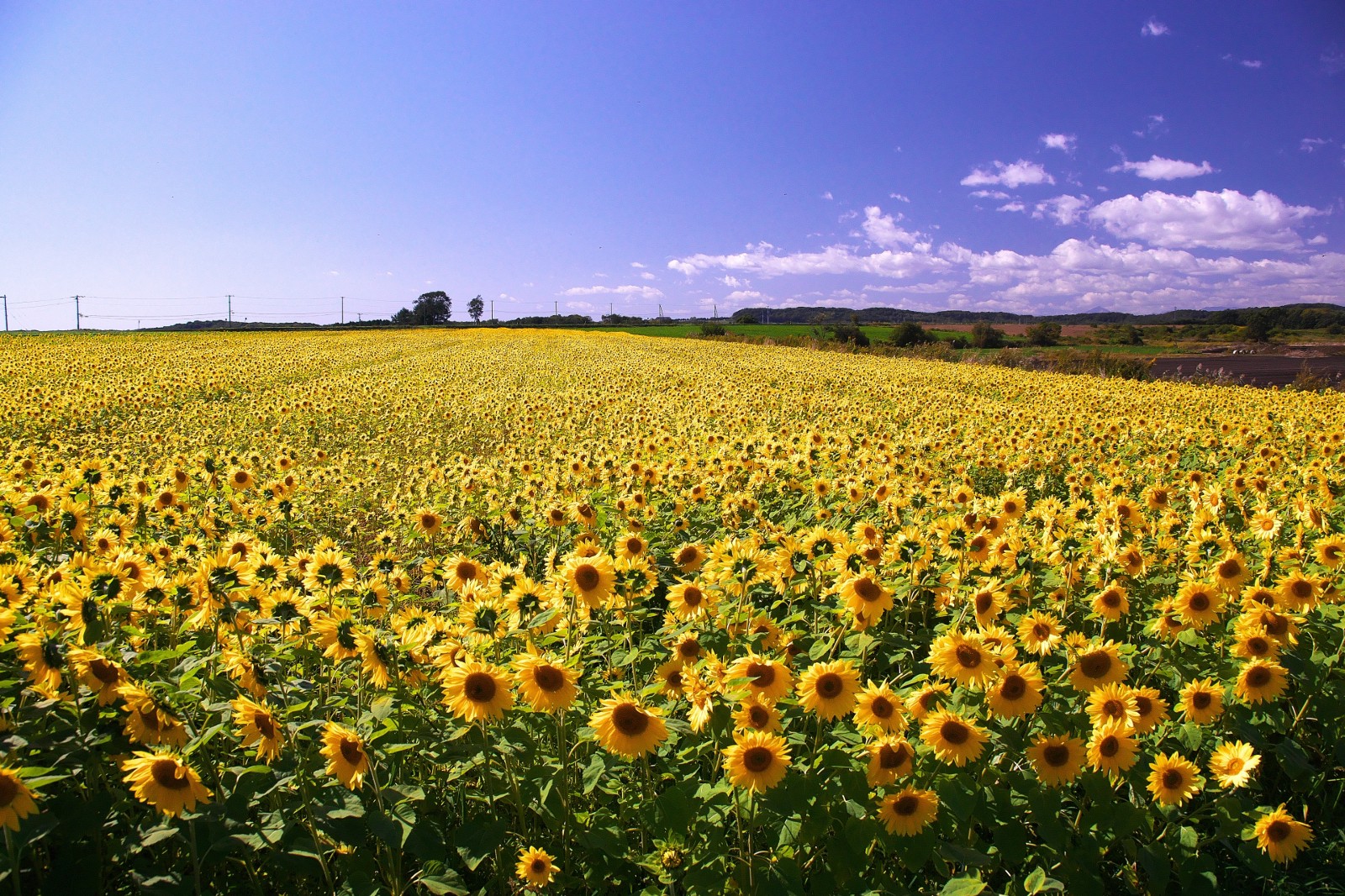 The Hill of Palette (パレットの丘) is a scenic spot offering a breathtaking landscape with the sunflower field. The hill is situated at 60–100 m above the sea level and formed with gentle slopes. The contrast between the green hill, the blue sky and yellow sunflowers are simply amazing, and it's literally the "Hill of Palette". Unlike other sunflower fields in Japan, the best viewing time of the sunflowers in the Hill of Palette is late September to mid October usually. The hill is located in Chitose City, only 20 km north of New Chitose Airport. Please note that the sunflower field is not allowed to enter, but can be enjoyed the beautiful scenery.
Access: 20 mins drive from JR Chitose Station
Best viewing time: late September to mid October
Fee: Free
3. Sakura Sunflower Garden, Chiba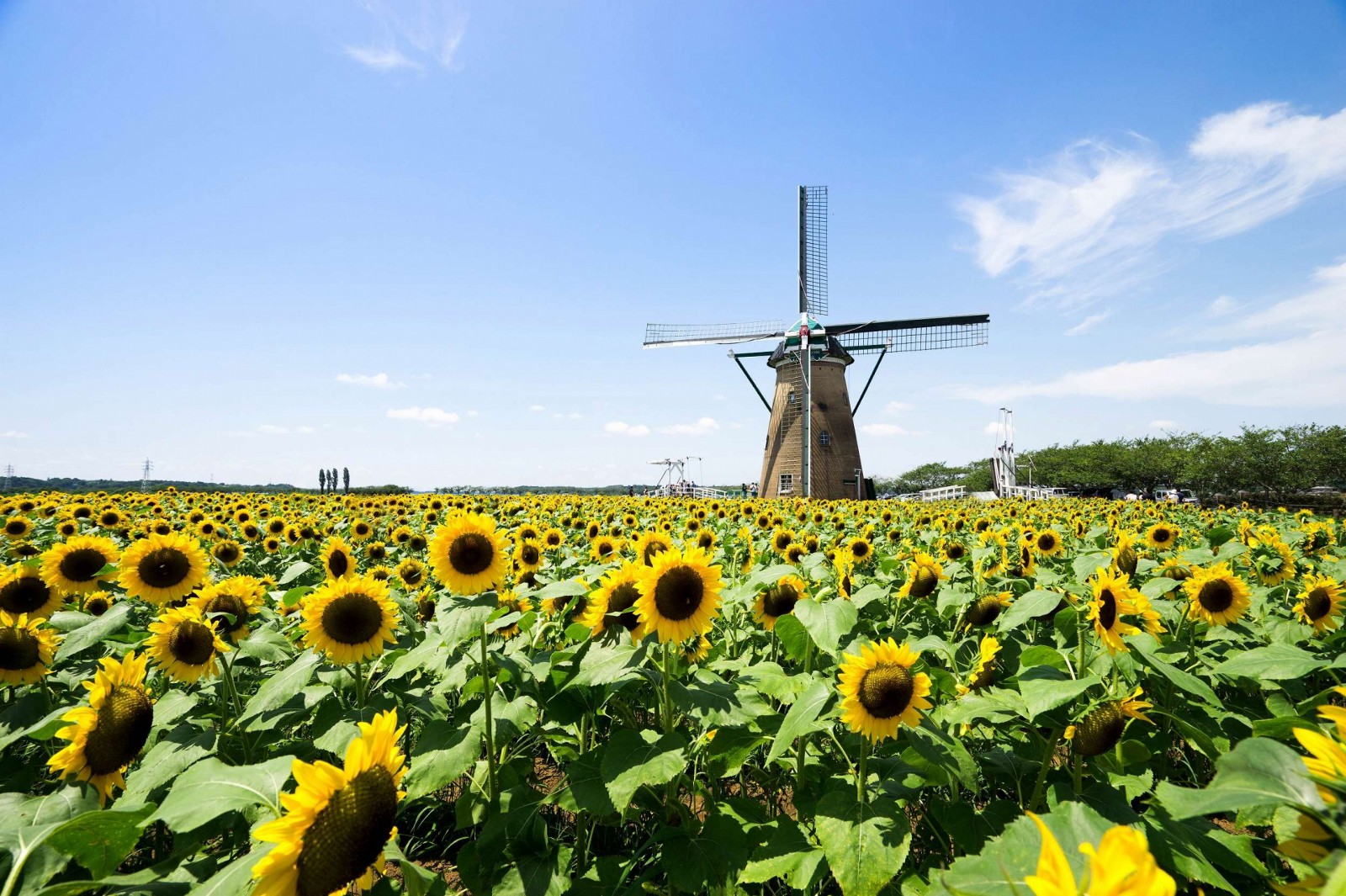 Sakura Sunflower Garden (佐倉ひまわりガーデン) is a great spot to enjoy the spectacular sunflower field around Tokyo. The garden is located at Sakura Furusato Square and features about 15,000 sunflowers displayed with the charming Dutch style windmill in July. Sakura City is located about 50km away from central Tokyo, and the nearest train station (Keisei Sakura Station) can be accessed within 1 hour. Sakura Furusato Square also holds a stunning tulip festival in March and April before the sunflower season starts. (info: Sakura Tulip Festa 2020)
Access: Community bus available from the North Exit of Keisei Sakura Station to "Furusato Hiroba" stop (200 yen) OR take a taxi for 10 mins
Date: early to mid July
Fee: free
4. Kiyose Sunflower Festival, Tokyo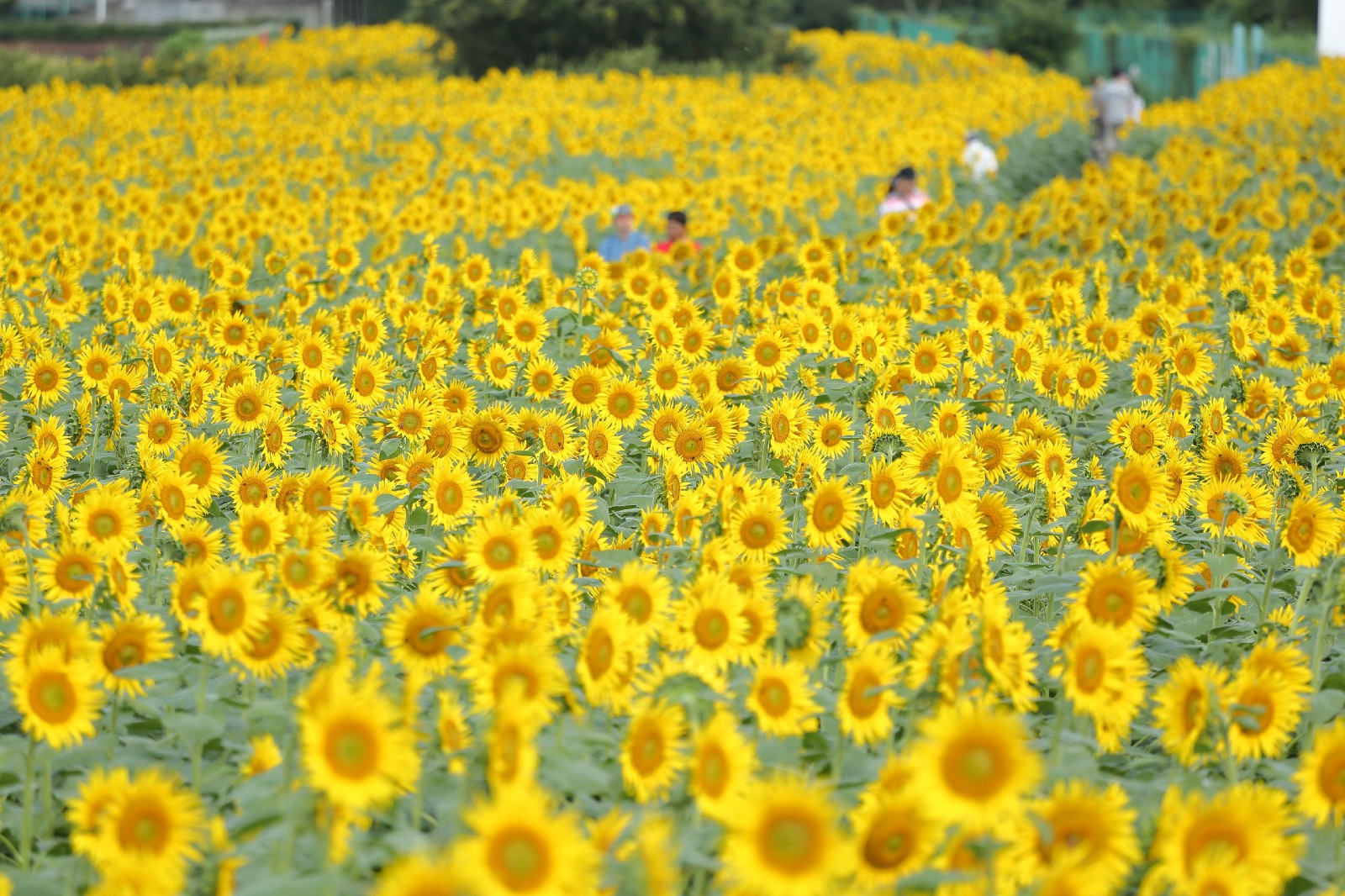 Yes, you can enjoy sunflowers in the capital city Tokyo, too! Kiyose Sunflower Festival (清瀬ひまわりフェスティバル) is an annual flower festival which takes place at Kiyose City, the suburb of Tokyo (approx 1 hour by train from Ikebukuro Station). Over 100,000 sunflowers bloom at the vast filled of approx 24,000 square meters during the season. (related article: Kiyose Sunflower Festival: Don't Miss the Largest Sunflower Field in Tokyo!)
Access: 10 mins by bus from Kiyose Station, then walk 6 mins from "Greentown Kiyodo" bus stop
Date: mid August
Fee: Free
5. Zama Sunflower Festival, Kanagawa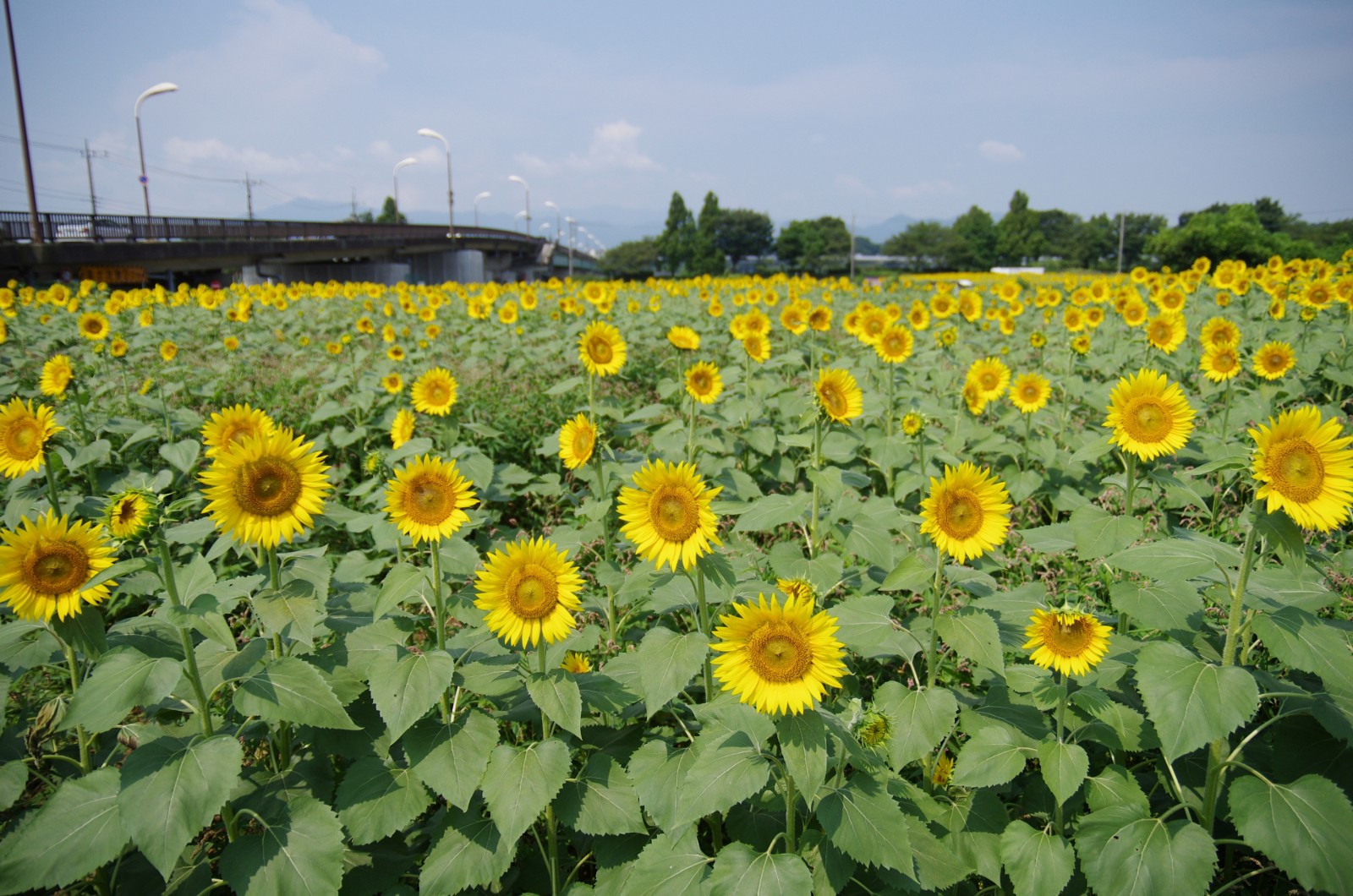 Zama Sunflower Festival (座間のひまわりまつり) is a sunflower festival held at Zama City, Kanagawa Prefecture. Zama City can be accessed by Odakyu Line directly from Shinjuku Station in about 1 hour. The festival is held in mid August, featuring approx 550,000 sunflowers as well as vendors and special events.
Access: 15 mins walk from Sobudai Mae Station or take a bus towards "Himawari Matsuri Kaijo"
Date: mid August
Fee: Free
6. Yamanakako Hanano Miyako Park, Yamanashi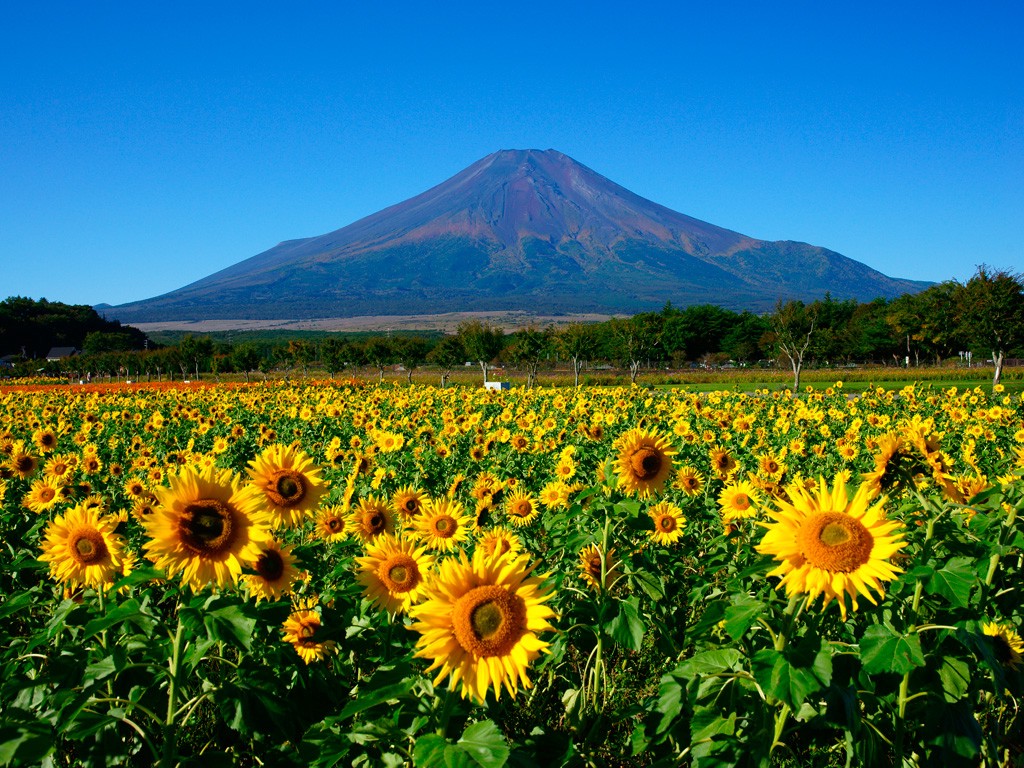 Yamanakako Hanano Miyako Park (花の都公園) is a popular flower field park located near Lake Yamanaka on the foot of Mt Fuji. Various kinds of flowers can be seen at the 300,000 square meters park through the year including sunflower, tulip, cosmos, etc with the astonishing view of Mt Fuji on the back ground. The best season to see sunflowers is mid to late August usually. (related article: Lake Yamanaka Flower Park: Colourful Flowers next Mt.Fuji)
Access: Short walk from Lake Yamanaka or Oshino Village
Best viewing time: mid to late August
Hours: 8:30~17:30
Fee: Free (admission fee required for some areas in the park)
7. Akeno Sunflower Field, Yamanashi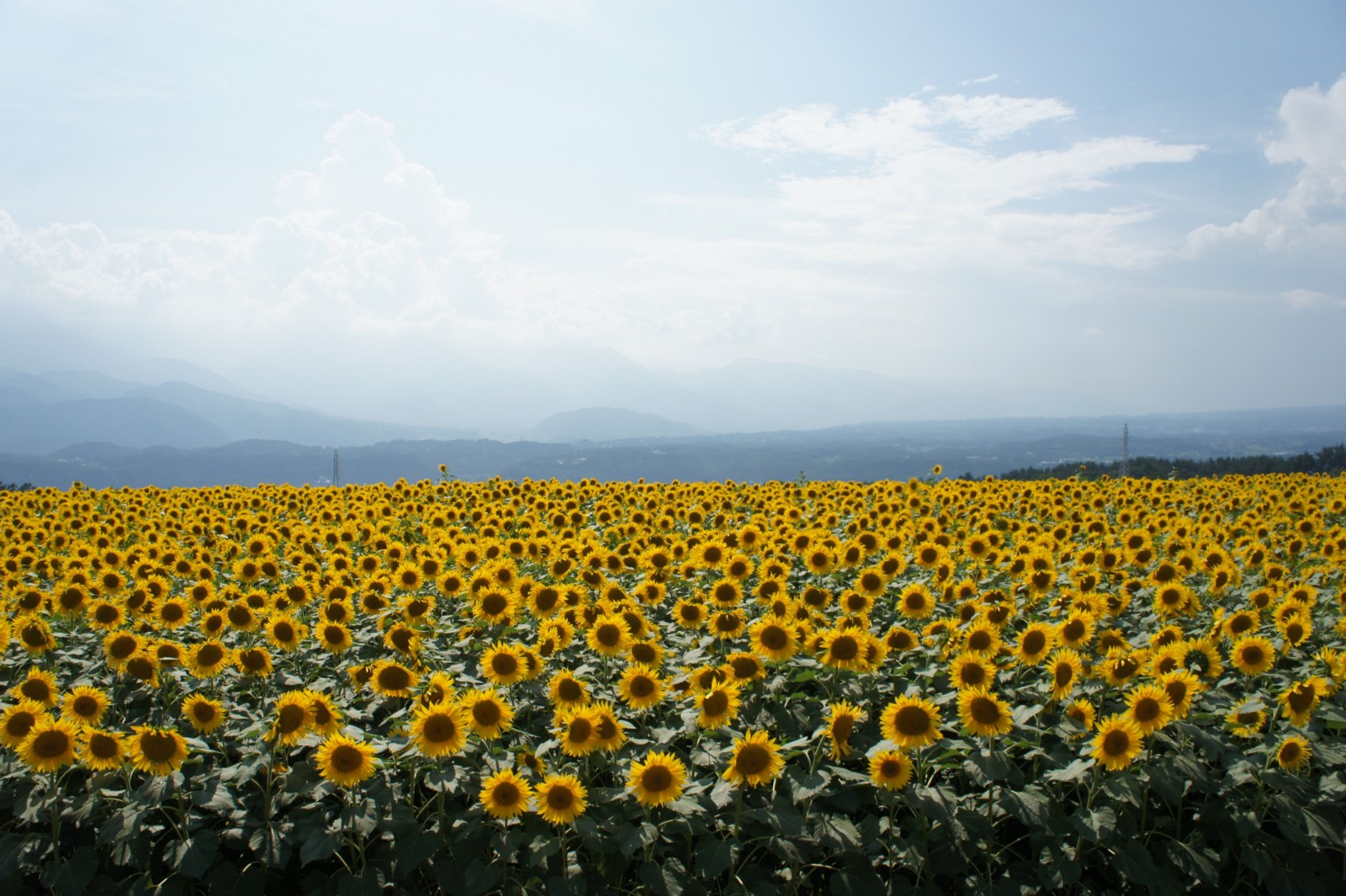 Akeno Sunflower Field (明野ひまわり畑) is located in Hokuto City, Yamanashi Prefecture and near the mountains of the Northern Alps. The astonishing view of over 600,000 sunflowers flourishing in the vast field can be enjoyed with the glorious Northern Alps mountains on its background. The sunflower festival is held annually during the season featuring special events and local food, drinks and products.
Access: Take a bus (bound for Kayagatake Mizugaki Denen) from JR Chuo line Nirasaki station and get off at Haiji no mura kurarakan (approx. 25 mins) or take a taxi (approx. 20 mins)
Date: mid July to mid August
Fee: Free
---
How did you enjoy the list?? Sunflower fields are one of the best places to visit in Japan during summer! For more amazing travel destinations in Japan in summer time, here are some more articles for you to check out 🙂
▽Related Articles▽
▼Editor's Picks▼
---