6 Best Wagyu Beef Restaurants in Shinjuku Tokyo
Best places to eat delicious Wagyu in Shinjuku area, Tokyo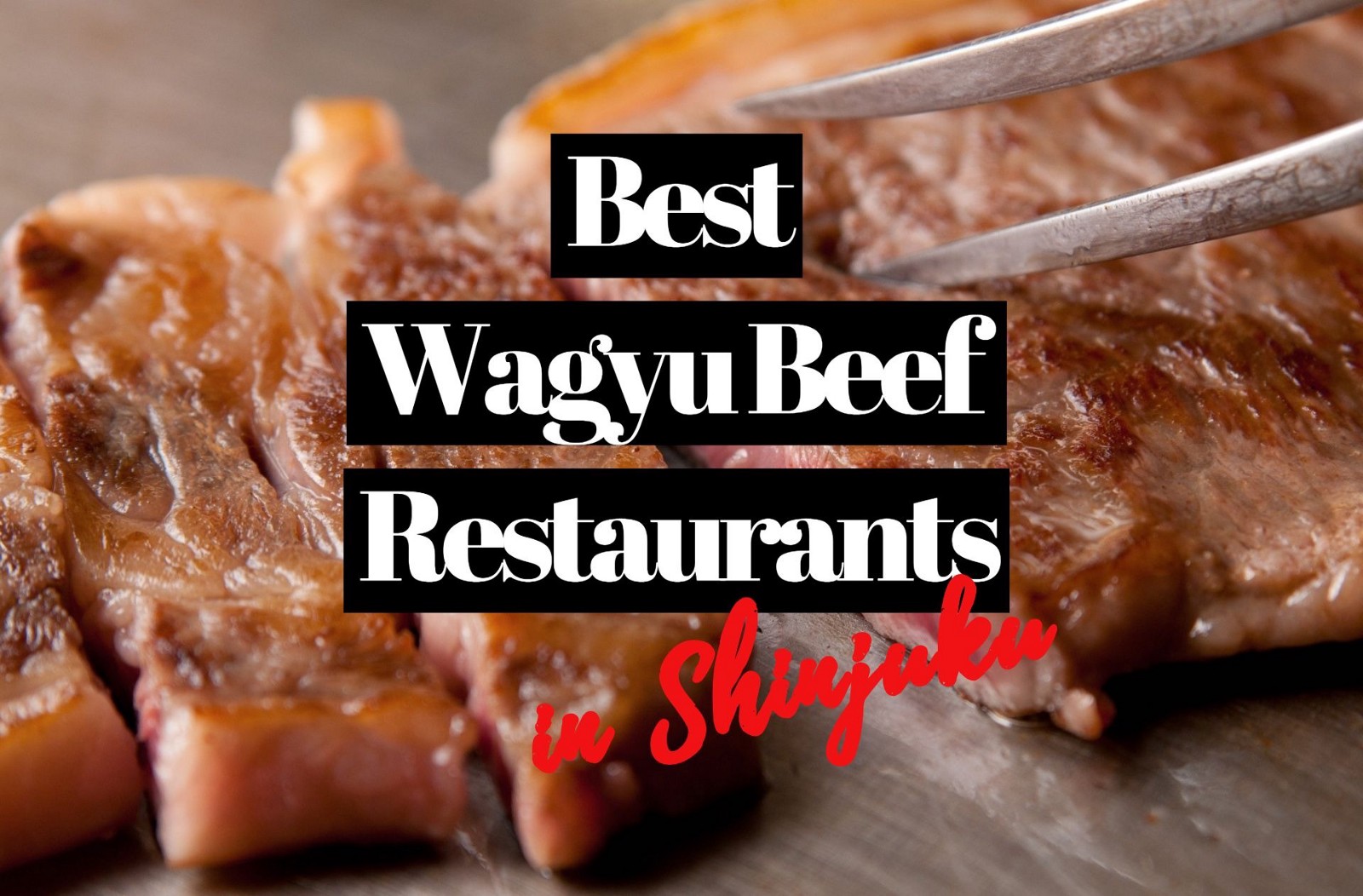 Shinjuku area is one of the most popular neighbourhoods in Tokyo where thousands of shops, restaurants, bars, hotels and entertainment facilities are situated. It's a great area to hang around and explore, and also one of the best areas to dine out in Tokyo. There are hundreds of restaurants in Shinjuku area with various price ranges including affordable Ramen restaurants to top-notch fine dinings.
In this article, I'd like to introduce some of the best restaurants in Shinjuku that serve delicious Wagyu Beef. Wagyu Beef (Japanese beef) such as Kobe Beef and Matsuzaka Beef is one of the most popular Japanese food among foreign visitors. In Shinjuku area, there are several restaurants where you can savor mouthwatering high quality Wagyu Beef in various styles such as yakiniku (Japanese BBQ), shabu-shabu (hotpot dish) and steak.
Please check out my list of the best Wagyu Beef restaurants in Shinjuku area, and don't miss a chance to have the most wonderful dining experience when you visit Shinjuku area!
1. Kobe Beef Ikuta
Kobe Beef Ikuta (神戸牛炭火焼肉 いく田) is a relaxing and tranquil restaurant where you can savor charcoal-grilled Kobe Beef away from the hustle and bustle of the city. Ikuta only serves the highest grade A5-rank Kobe Beef in both meat and marbling. The restaurant offers a range of course menu that can be chosen according to your budget as well as an ala carte men. Enjoy the umami and sweetness of the fat of the premium Kobe Beef with the melt-in-your-mouth texture.
Map: https://goo.gl/maps/mto3XxHkB5ewjRQz8
Access: 2 mins walk from Yoyogi Station
Hours: Lunch 11:30~14:00 (weekday only)/Dinner 17:00~23:00
Related article: Charcoal Cuisine Kobe Beef Ikuta: Wagyu BBQ in Shinjuku, Tokyo
2. Rokkasen
Rokkasen (六歌仙) is a gem for wagyu beef lovers as they offer fine-quality Japanese Wagyu beef including Matsuzaka Beef and Kobe Beef cooked into various dishes. The mouthwatering wagyu beef can be indulged with yakuniku, shabu shabu and sukiyaki. With the extremely popular all-you-can-eat course, you can satisfy yourself with high-quality wagyu beef as much as you like. The drink menu comes with a large selection of beverage that can be paired with the delicious meals. The relaxing restaurant has various seating types including private rooms.
▶ Book your table at ROKKASEN here!
Map: https://goo.gl/maps/4BSeXZKssBn8An7N8
Access: 2 mins walk from Shinjuku Station
Hours: Lunch 11:00~16:00/Dinner 16:00~23:00
Related article: Rokkasen: the Best Wagyu Restaurant in Shinjuku Tokyo
3. Ushigoro
Ushigoro (うしごろ) is a Yakiniku franchise that currently has 6 outlets in Tokyo and its Shinjuku 3-chome store is located near Shinjuku Station. Ushigoro is one of the best places to taste wagyu beef in Tokyo as it serves only the highest quality A5 rank black-haired Wagyu beef. Various parts of wagyu meat are on the yakiniku menu including marble, red meat and tongue as well as creative side dishes. The simple and modern restaurant provides the fine quality ingredients, relaxing dining space and excellent service in the heart of Shinjuku district. They also provides course meals which include side dishes and desserts.
▶ Make a reservation at Ushigoro
Map:https://goo.gl/maps/AR9RqeRKHK9eKX666
Access: 4 mins walk from Shinjuku Station East Exit
Hours: Mon&Tue 17:00~23:30/ Wed to Fri lunch 11:30~15:00, dinner 17:00~23:30/Sat, Sun and Holiday 11:30~23:30
4. Nikutei Futago iki Shinjuku
Nikutei Futago iki Shinjuku (肉亭ふたご iki 新宿) is an upscale Yakiniku restaurant in Shinjuku area. With the finest quality ingredients, excellent service and the traditional and modern ambiance, the restaurant offers an outstanding dining experience. The meat served at Nikutei Futago is the best of high-ranked wagyu beef including Ota wagyu beef from Hyogo Prefecture and Sendai wagyu beef from Miyagi Prefecture and they can be indulged with various styles as there are over 80 items on the menu. The pot-cooked Fukubo Shoten rice which is commonly selected by michelin starred restaurants is served along with the high-quality wagyu beef. There are private and semi-private dining options or cozy table seating.
▶ Make a reservation at Nikutei Futago iki Shinjuku
Map: https://goo.gl/maps/tMb9QL1TYiiFWxwn6
Access: 5 mins walk from Shinjuku Station
Hours: 17:00~23:00
5. Teppanyaki Misono Shinjuk
Teppanyaki Misono Shinjuku (元祖 鉄板焼ステーキみその 新宿店) is a Tokyo branch of the long-established teppanyaki restaurant Misono from Kobe City, which opened in 1945 as the first teppanyaki restaurant in the world. The classic teppanyaki restaurant, Misono serves Japanese wagyu beef, seasonal vegetable and seafood including carefully selected the highest ranked Kobe Beef. Ingredients are cooked on an iron griddle in front of customers by skilful chefs. The Shinjuku branch is located on the 51st floor of the high-rise Shinjuku Sumitomo Building where you can savor delicious teppanyaki dishes with the astonishing city view.
▶ Make a reservation at Teppanyaki Misono Shinjuku
Map: https://goo.gl/maps/A83Ga82Fzj7CLx3Z8
Access: 10 mins walk from Shinjuku Station
Hours: lunch 11:30~14:30, dinner 17:00~22:00
6. New York Grill
New York Grill is situated on the 52F of Park Hyatt Tokyo, one of the most luxury and upscale 5-star hotels in Tokyo. The Western style steakhouse serves chargrilled steak with a fine selection of high-quality domestic and imported beef including wagyu beef. While savoring the creative and exquisite dishes, an astonishing view of Tokyo city can be enjoyed from the restaurant. New York Grill restaurant is adjacent to New York Bar, the famous bar used for the setting of the film: Lost in Translation and is where Charlotte (Scarlett Johansson) and Bob Harris (Bill Murray) met for the first time.
Map: https://goo.gl/maps/TKiFZ9VREA6w6c49A
Access: 15 min walk from Shinjuku Station
Hours: lunch 11:30~14:30, dinner 17:30~22:00
How did you enjoy the list?? Which Wagyu restaurants in Shinjuku would you like to visit most?? For more restaurant info in Tokyo, check out these articles, too!
▽Related Articles▽
▼Editor's Picks▼
---