2018 Cherry Blossom Forecast in Japan
Check out the latest status of cherry blossom forecast 2018!! (Updated on 11 April 2018)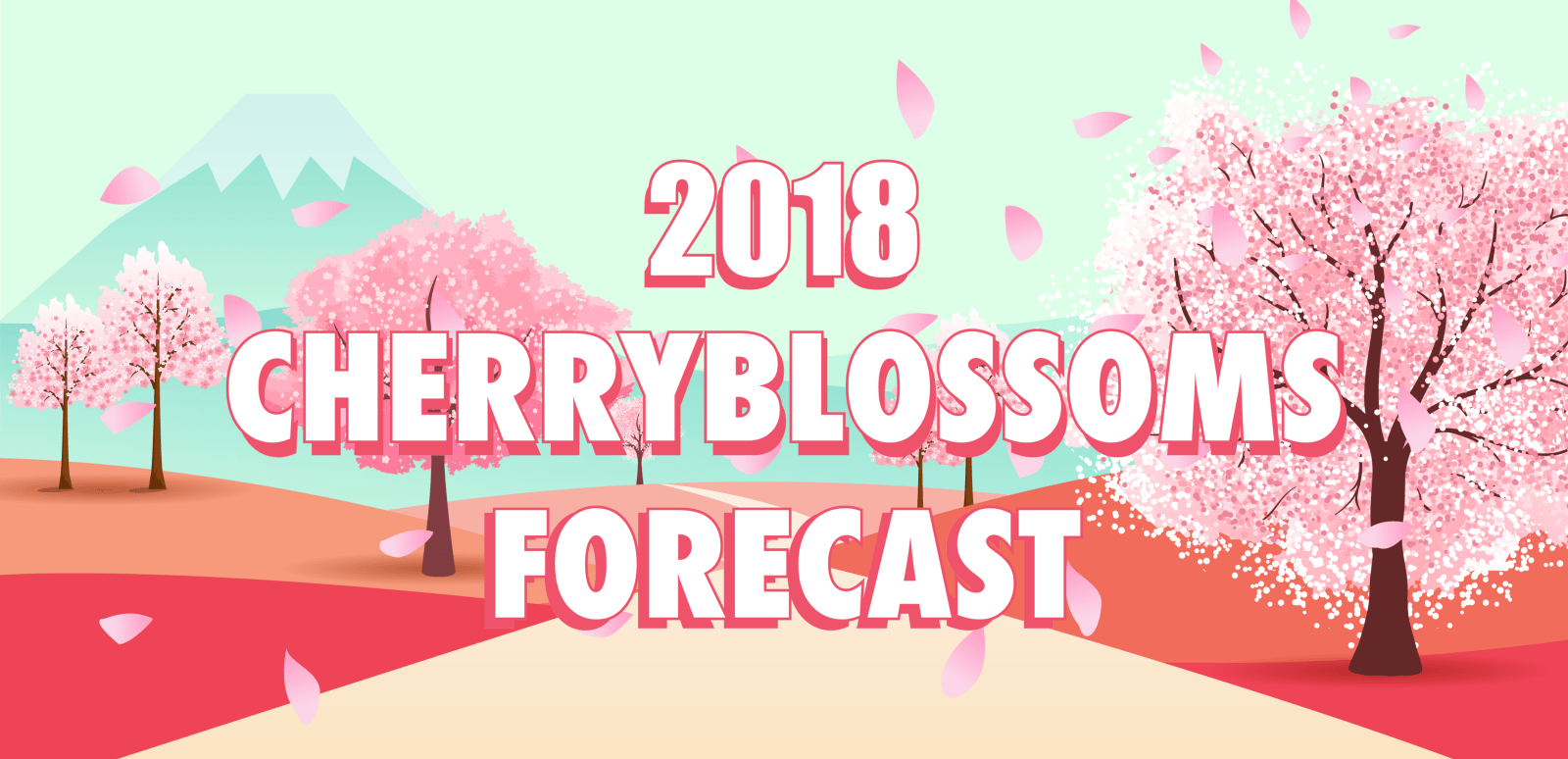 The forecast for cherry blossoms in Japan for 2018 spring is finally out! Plan your perfect spring trip to Japan with our SAKURA forecast to catch the best moment of cherry blossom viewing!
▼ Check the latest Japan Cherry Blossom Forecast 2020!! ▼
2018 Cherry Blossoms in Japan
Check out our cherry blossom forecast 2018 to plan your Sakura viewings this spring! The information will be updated every week till the cherry blossom season ends. (source: http://sakura.weathermap.jp)
The cherry blossom season this year has arrived in Japan much earlier than the average schedule of the year. On 17th March, the first bloom of cherry blossoms has been spotted in Tokyo, and followed by several other locations in Japan. Japan's weather agency has officially declared the start of the cherry blossom season of 2018 in Tokyo on that day which is about a week earlier than the average.
At many locations in Tokyo, cherry blossoms has reached full bloom on 24th March, and the best season lasted till the very beginning of April as well as most of cities in western Japan such as Kyoto, Osaka and Hiroshima. As of 11th April, the cherry blossom season has ended in most parts of Japan, and been moving forward to north.
In case you are missing the best viewing time of cherry blossoms in mainland of Japan, we highly recommend you to head north as their best viewing time is 2–4 weeks later than Tokyo or Kyoto. Hokkaido welcomes cherry blossoms in May.
Hope you are enjoying the most beautiful moment in Japan 😉
Estimated First Bloom and Current Status in 2018
The estimated first bloom schedule (updated on 11 April 2018) and the current status (in brackets) of popular tourist destinations in Japan is as below:
Sapporo 30 April (not open yet)
Aomori 18 April (not open yet)
Fukushima 29 March (FULL BLOOM)
Tokyo 17 March (season ended)
Yokohama 19 March (season ended)
Nagano 2 April (FULL BLOOM)
Kanazawa 29 March (season ended)
Kyoto 23 March (season ended)
Osaka 20 March (season ended)
Hiroshima 22 March (season ended)
Fukuoka 19 March (season ended)
Cherry Blossoms Forecast Map 2018
The map below indicates the best viewing time of cherry blossoms this year. The best viewing time is about 5–7 days after their first bloom then lasts about a week depending on weather conditions.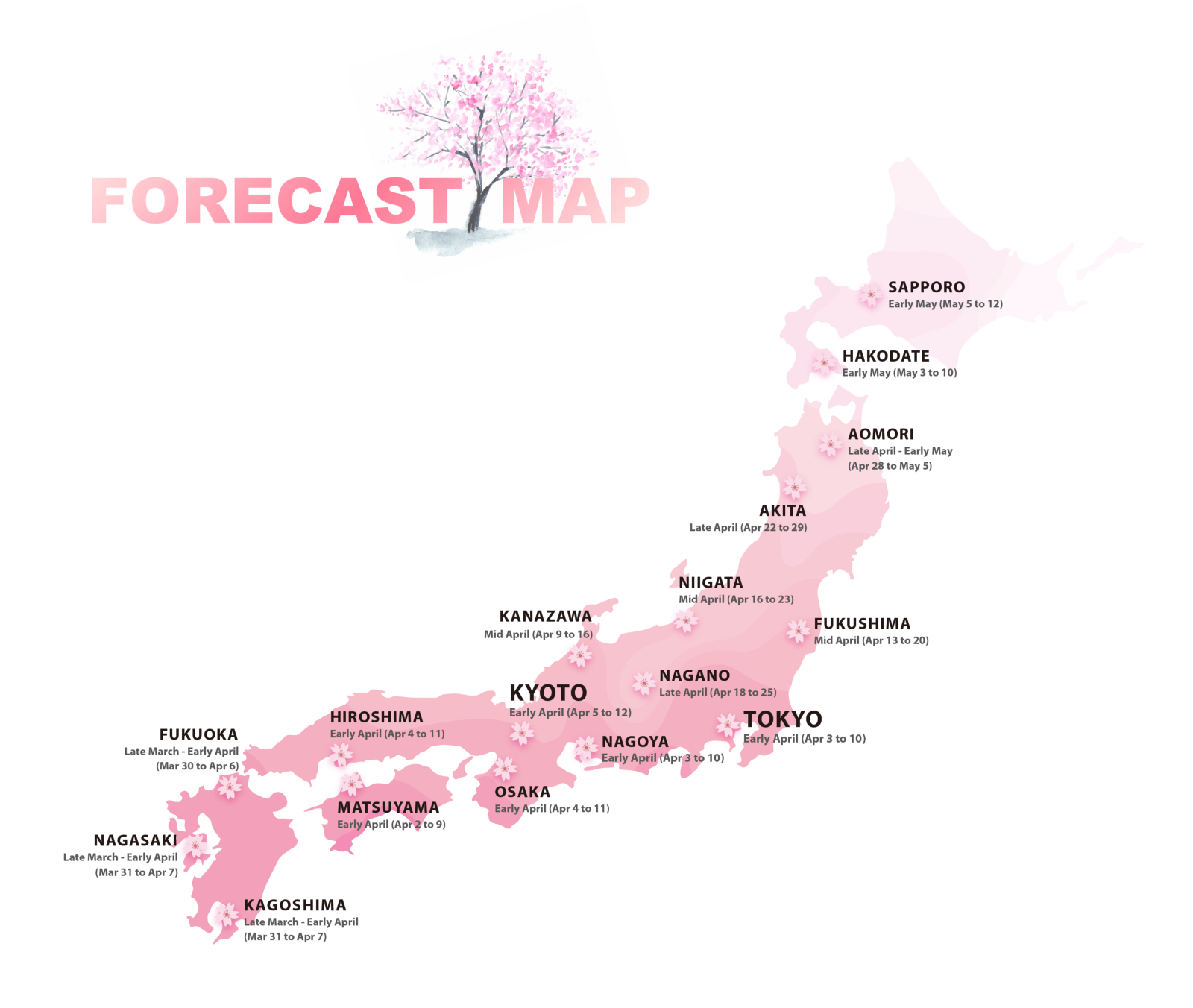 ***NOTE***
The forecast is subject to change due to unexpected temperature changes, rain and wind, which may effect on the cherry trees to quicken or delay their blooming time.
Where to see cherry blossoms in 2018
Here are some of most recommended Sakura viewing spots in Japan!
Tokyo: Shinjuku Gyoen, Meguro River, Chidorigafuchi, Ueno Park, Sumida River, Top 12 in Tokyo, Cherry Blossoms Night Viewing Spots, Cherry Blossom Festivals in Tokyo, Cherry Blossom Viewing Restaurants
Kyoto: Philosopher's Walk, Maruyama Park, Daigoji Temple, Ninnaji Temple, Heian Shrine, Top 10 in Kyoto
Kanto Area: Odawara Castle, Saitama, Kamakura, Yokohama, Mt.Akagi, Top 10 near Tokyo
Mt. Fuji: Fuji 5 Lakes, Oshino Hakkai, Fuji Shibazakura Festival
Kansai: Osaka (Osaka Castle, Osaka Mint Bureau, Expo'70 Commemorative Park), Nara (Yoshinoyama, Tanzan Shrine)
Shikoku: Mt.Shiude
Tohoku: Hirosaki Castle, Kitakami Tenshochi, Shiroishi River, Takada Castle
Hokkaido: Hakodate, Sapporo
Others: Onsen with cherry blossom views, Top night viewing spots, Late blooming cherry blossoms,
Recommended Cherry Blossom Tours&Activities
Tokyo
Japan
For more information about travelling in Japan in spring, please check out these articles listed below!
▽ Related Articles ▽
▼ Editor's Picks ▼
---