Cherry Blossom of Autumn: Enjoy Golden Cosmos Flower next to Mt Fuji!
Yamanakako Hanano Miyako Koen: Picturesque Cosmos Field on the Foot of Mt Fuji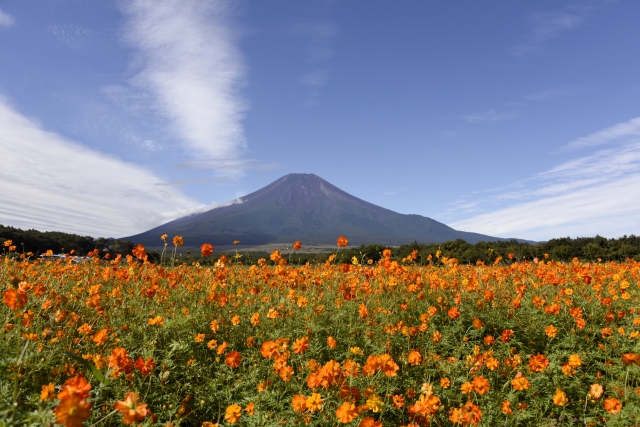 Did you know the place you can enjoy viewing the Mt.Fuji in a beautiful flower field?? The massive 300,000 m2 flower field with colourful blooms is right by the famous lake near Mt.Fuji! It's a perfect place to take photos and relax with the spectacular view and surprisingly it's not hugely famous yet! Visit this wonderful flower field if you are planning to visit Japan this autumn!
Yamanakako Hanano Miyako Kouen (Lake Yamanaka Flower City Park) is a flower field at Lake Yamanaka next to the glorious Mt.Fuji and where you can enjoy a filed of different flowers all year around. Lake Yamanaka is one of the Fuji 5 lakes.
I bet you Japan is not only about cherry blossoms in Spring time. The season for cosmos flower a.k.a."the cherry blossom of Autumn" is about to come. The best time to see the yellow magic of the cosmos flower is September to mid October.
What's amazing about this place is that the flower field is free to enter. The park has some parts which you will need to pay for the entrance fee but this flower field is absolutely free!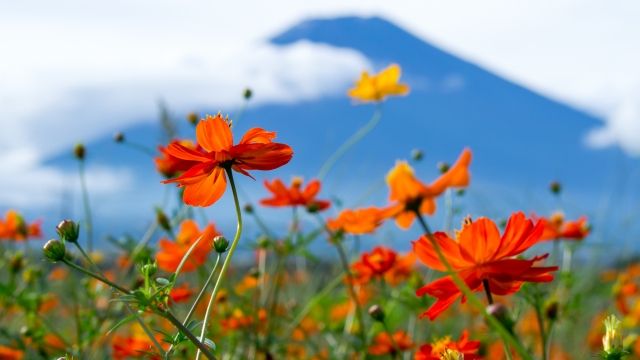 In case you can't make it in this autumn, don't worry, there are other different flowers blooming in this flower field on each season (from March to October).
Tulip: Mid-April to Mid-May
Annual Baby's-breath: Mid-June to Mid-July
Poppy: Early to Mid-July
Sunflower: Mid to End-August
Cosmos flower: September to mid October
Yamanakako Hanano Miyako Kouen (Lake Yamanaka Flower City Park)
Address: 1650 Yamanaka, Yamanakako-mura, Minamitsuru-gun,Yamanashi
How to access: About 30 min from Fujisan Station on the Fuji Kyuko Line via Fujikko bus (Lake Yamanaka's sightseeing buses) and get off at "Hana-no-Miyako Koen" bus stop.
Search this word "Lake Yamanaka Flower Park"on Google Map
Hours: 08:30 to 18:00
Fee: FREE! (some areas require an admission fee)
↓↓↓ Check more articles about Japan! ↓↓↓
▽Related Articles▽
▼Editor's Picks▼
---