TWICE | No.1 Asian Girl Group in the world!
Twice Ultimate guide for Twice beginners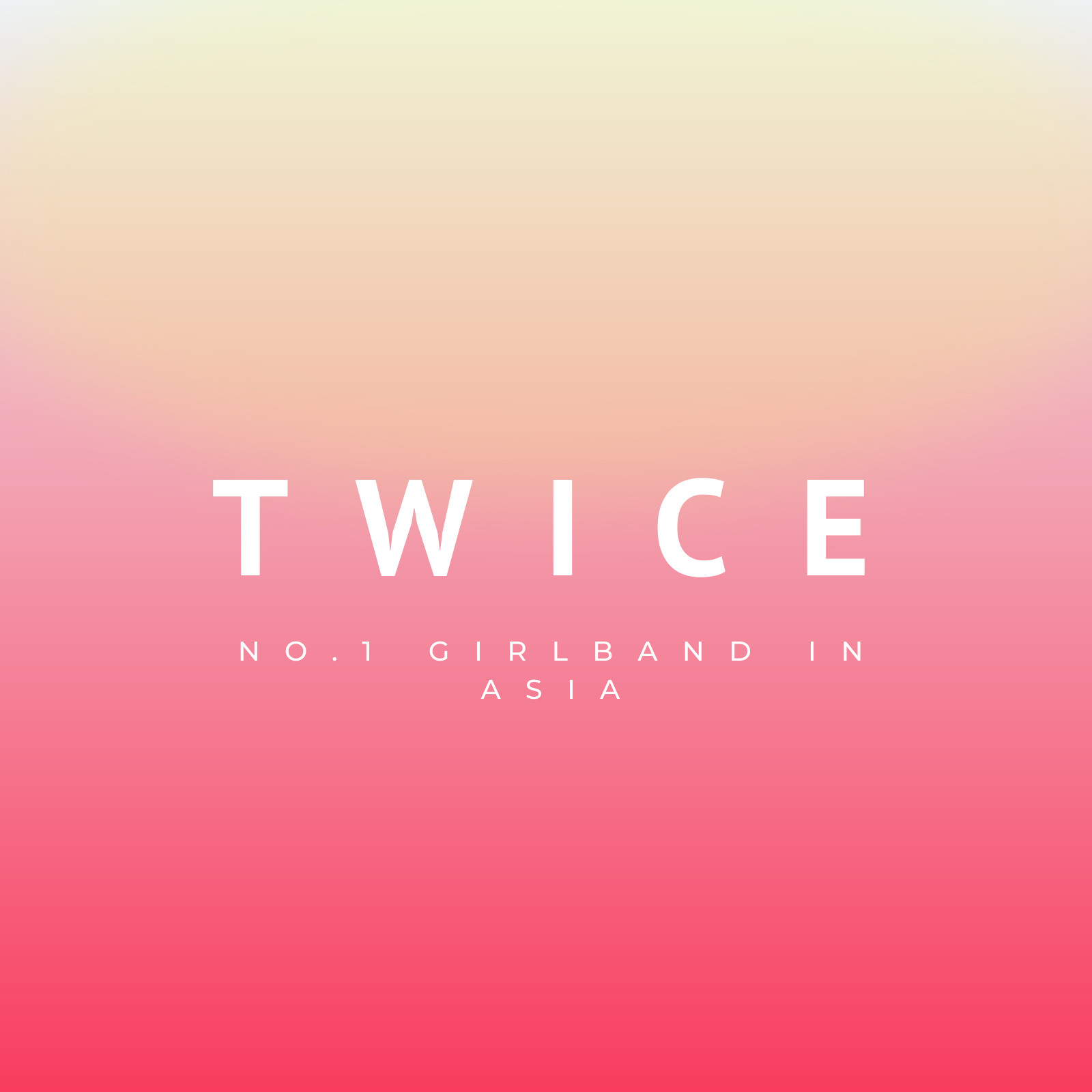 Who is Twice?
Twice Background Information
Origin: Seoul, South Korea
Music Genres: K-pop/ Dance-pop/ Bubblegum-pop/ J-pop/ EDM
Years Active: 2015~Present
Labels: JYP/ Warner Japan/ Republic
Associated Acts: JYP Nation
Youtube Subscribers: 7.67M Subscribers
Instagram: @twicetagram
Twice is composed of nine members; Nayeon, Jeongyeon, Momo, Sana, Juhyo, Mina, Dahyun, Chaeyoung and Tzuyu. Those members were chosen by A television program "Sixteen", which is a reality show designated to select the members of Twice. The group name of "Twice" is meant to be "Once with good music and twice with great performances".
What are the Members of Twice?
-Born: September 22, 1995
-Origin: Seoul, South Korea
-Occupation: Singer
-Language: Korean
Nayeon is the oldest member of Twice and has been voted as one of the most popular idols in Gallap Korea's annual music poll.
She entered a child modeling contest when she was a child and recruited by JYP Entertainment, but her mother stopped letting her start training for a career in show business. However, when she was 14 years old, Nayeon joined an audition of JPY again without telling her parents and won second place with them. Her mother tried to stop her again, however, she convinced her mother showing how much she wanted to be an idol/
-Born: November 1, 1996
-Origin: Suwon, Gyeonggi Province, South Korea
-Occupation: Singer
-Language: Korean
Jeongyeon is the lead singer and lyricist and regarded as a mother of Twice.
Jeongyeon started to take aerobics classes at a young age and love music and dance. Her grandmother supported her dream to be a singer, however, she failed to pass an audition with JYP Entertainment as a child. She never gave up her dream to be a singer and eventually joined the JYPafter passing an open audition.
-Born: November 9, 1996
-Origin: Kyotanabe, Kyoto, Japan
-Occupation: Singer/ Dancer
-Language: Japanese/ Korean
Momo has been described before as being Twice's best dancer, and her nickname is "Dance Machine" as her physical fitness and body movements.
Momo and her older sister uploaded their dancing video to Youtube and JYP Entertainment scouts found it and Momo and her sister were asked to join JPY audition. After the audition, only Momo could pass the audition and moved to South Korea in April 2012.
-Born: December 29, 1996
-Origin: Tennoji-ku, Osaka, Japan
-Occupation: Singer
-Language: Japanese/ Korean
Sana is the lead dancer in Twice, and can be seen everywhere fronting products in ads for Lotte Duty Free, Pocari Sweat, Y!mobile, which is a mobile brand in Japan, South Korea shoe and cosmetics brands.
Sana was a trainee in EXPG, which Japanese dance school operated by one of the most popular boy band in Japan. Originally, she wanted to be a singer in Japan rather than South Korea. However, later, Sana was scouted by a JYP employee at a shopping mall and invited to participate in the JYP Japan audition. After passing the audition, she joined the JYP Entertainment trainee program in South Korea in 2012.
-Born: February 1, 1997
-Origin: Guri, Gyeonggi, South Korea
-Occupation: Singer
-Language: Korean/ English
Jihyo is the leader of Twice by anonymous voting by her bandmates.
Jihyo was scouted in a contest on Junior Naver, and then joined JYP Entertainment as a trainee at eight years old. She is the oldest JYP member in Twice. Before a member competition to Twice, she legally changed her name Park Ji-soo to Park Jihyo.
-Born: March 24, 1997
-Origin: San Antonio, Texas, U.S
-Occupation: Singer/ Dancer
-Language: Japanese/ Korean/ English
Mina is a lead dancer and singer in Twice. In 2019, she took a break from the entertainment industry by a mental health issue, but in February 2020, she was back to the group.
Mina was born in the U.S and move to Kobe at an early age. She trained in ballet for over 10 years. Shipping with her mother in Osaka, Mina was scouted and offered an audition by a JYP Entertainment recruiter, and later she went to South Korea in 2014 to become a K-pop idol by becoming a trainee under JYP Entertainment.
-Born: May 28, 1998
-Origin: Seongnam, Gyeonggi, South Korea
-Occupation: Singer/ Rapper
-Language: Korean
Dahyun is a lead rapper and the main vocalist in Twice and her nickname is "Heung Dubu" which means "Excited Tofu".
She started singing as a Christian church choir. And she played a dance in an elementary school at church that is still posted on Youtube. JYP Entertainment talent scout saw her performance at a dance festival and Dahyun was recruited to become a trainee for the agent.
-Born: April 23, 1999
-Origin: Seoul, South Korea
-Occupation: Rapper/ Singer/ Songwriter
-Language: Korean
Cheaeyoung is the main rapper of Twice. She also has written lyrics for many tracks.
She took an interest in performing arts from a young age and started as a model for a children's magazine, and later she took dance lessons for a year to become a singer. After passing two rounds of the audition, Chaeyoung joined JYP Entertainment at 14 years old. She started off as a singer but also started to train as a rapper
-Born: June 14, 1999
-Origin: East District, Taiwan
-Occupation: Singer
-Language: Korean/ Taiwanese
Tzuyu is the youngest member and regarded as one of the group's most attractive members of Twice.
She enrolled in a dance academy and she larned ballet for seven years and practiced street dancing.
In the second year of middle school, JYP Entertainment talents scouts ask her to go to South Korea for auditions. Tzuyu was originally not chosen in Twice's final line-up, however, thanks to the votes of the live audience, Tzuyu was selected as a member of Twice.
Twice Youtube Videos Play Count Ranking
10 Dance The Night Away/ 232,993,857 views (6/21/2020)
9 SIGNAL/ 245,151,541 views (6/21/2020)
8 YES or YES/ 249,911,555 views (6/21/2020)
7 KNOCK KNOCK/ 256,125,202 views (6/21/2020)
6 FANCY/ 311,929,198 views (6/21/2020)
5 Like OOH-AHH(OOH-AHH하게)/ 361,315,329 views (6/21/2020)
4 CHEER UP/ 392,169,993 views (6/21/2020)
3 What is Love?/ 398,013,790 views (6/21/2020)
2 LIKEY/ 456,297,302 views (6/21/2020)
1 TT/ 525,615,318 views (6/21/2020)
Spotify
Apple Music
Interviews
Documentary
TWICE: Seize the Light Series
Might like these articles
---