Kyoto Okochi Sanso: Beautiful Traditional Japanese Villa
Okochi Sanso Villa: Traditional Japanese Villa in Kyoto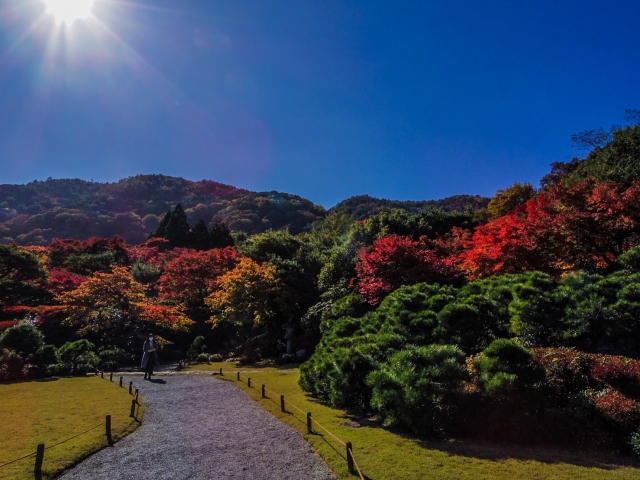 Okochi Sanso Villa is the most beautiful traditional Japanese villa in Kyoto. Enjoy four seasons at the villa with bamboo, cherry, maple and pine trees!
Okochi Sanso Villa (大河内山荘) is located in a hill top in Arashiyama area in Kyoto City. It's the former home and garden of the Japanese movie actor Denjiro Okochi, who dedicated 30 years of his latest life to the creation of this villa. He specially designed the garden to highlight all four seasons by cherry blossoms, azaleas, Japanese maple trees, and many pines.
The villa is open to the public and known for its gardens and views of the Kyoto area. Several of the buildings are recorded as cultural properties by the national government.
The villa and the garden is approx 20,000 m2 including several interesting sites such as Japanese gardens, main house, tea house and gates. There is also an open-air museum dedicated to Denjiro Okochi and an observation platform. Matcha tea and a small sweet are included in the price of admission and are available at the main tea house.
The well maintained villa offers great scenery all year around but the best time to visit is in autumn, when the leaves are turning into red. The villa tends to get really crowded during the autumn season so it's highly recommended to visit in the morning.
The villa is located within a short walk from Tenryuji Temple and can be accessed through the famous path in the bamboo grove.
MAP:
Address: 8 Tabushiyama-cho, Saga Ogurayama,Ukyo-ward, Kyoto-city
Fee: 1,000 yen
Hours: 9:00~17:00
How did you like the villa? Which season do you think is the best to visit?? If you are looking for more beautiful spots in Kyoto, you may wanna check out these links below, introducing spectacular places nearby 😉
▽ Related Articles ▽
▼Editor's Picks▼
---