Temari Sushi Cooking Class in Tokyo!
Sharing my wonderful Sushi making experience by LocalBites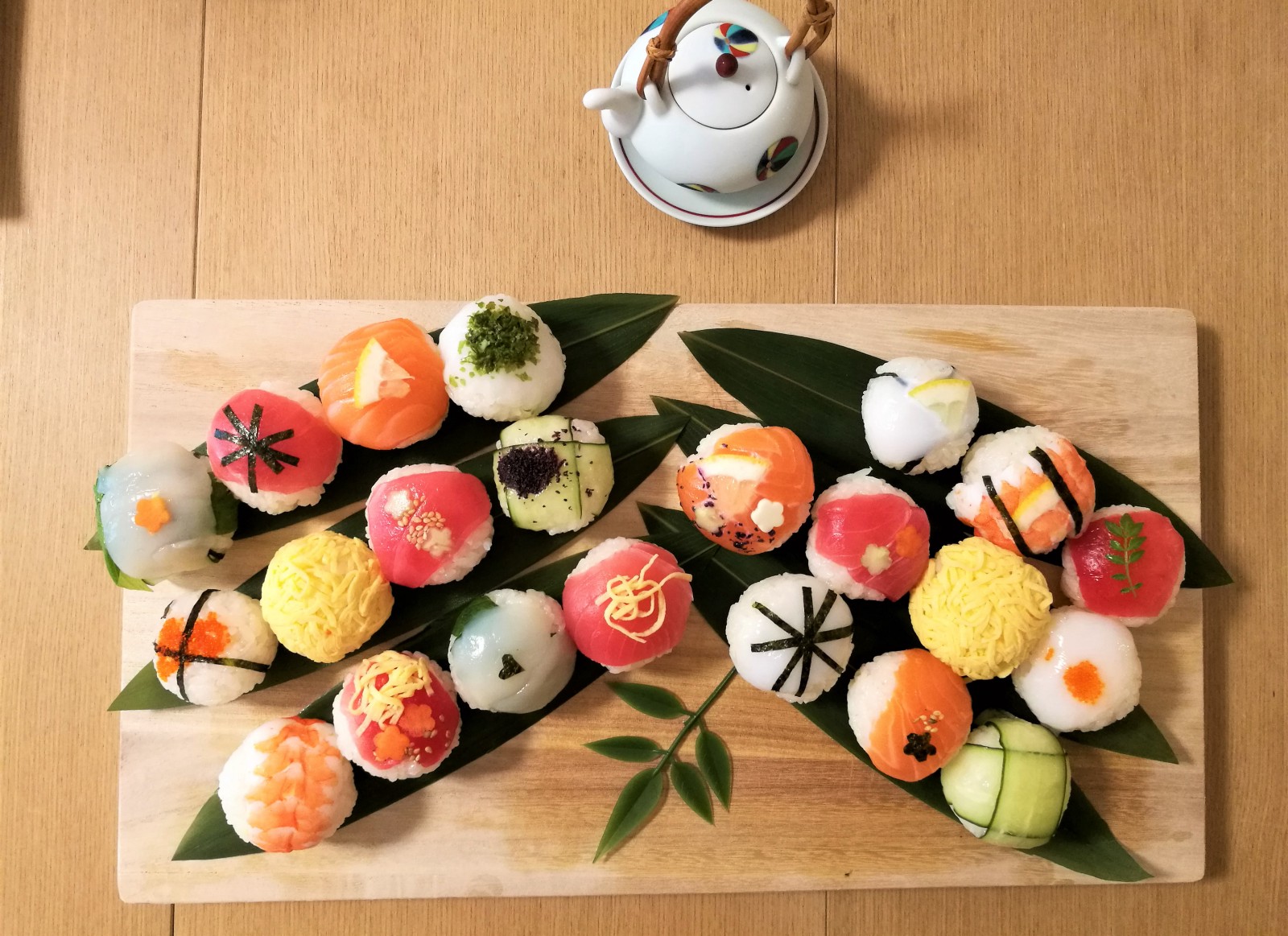 Food is one of the most attracting things about Japan, and Sushi is the most significant Japanese food which most of you know, I believe.
I imagine many foreign travellers to Japan come a long way from home.. and from very different culture. For those who are seeking for once in lifetime special experience in Japan on their trip, how about joining one of cultural activities in Japan??
Numbers of cultural traditional activities are available today in Japan, and if you are wondering which one to join, I would highly recommend authentic Japanese cooking classes.
Japanese food is one of main attractions of the country for foreign visitors in Japan, and in fact Japanese food is very popular worldwide. Many travellers to Japan may have their own food list and plan ahead what and where to eat during their trip.
But how about learning how to make some Japanese dishes yourself, enjoy the food and bring back the skill back home rather than just eating them at restaurants?? I can assure you cooking classes can take your experiences in Japan to another level.
I have recently joined a Sushi making class in Tokyo for the first time, and I'd love to share my experience with everyone today.
The class was hosted by LocalBites, who offers various cooking classes across Japan. I have picked "Temari Sushi" making because I love Sushi and though this was the type of Sushi which could be suitable for home party or picnic.
<< Use promo code "GRDA-2RHM" and get discount for your booking at LocalBites!! >>
Temari Sushi Cooking Class
The meeting point was Meguro Station in Tokyo, which is only 2 stops away from Shibuya Station (after Ebisu) or 3 stops from Shinagawa Station both by JR Yamanote Line.
When I got to Meguro Station, teachers were waiting for me in front of the exit at the station with the sign "Sushi Lover". After briefly introducing ourselves, we headed to the class site where the class was held which was less than 5 mins walk from the station.
The classes are held at an apartment which was modern, clean, cozy and have very welcoming atmosphere with some beautiful Japanese interior. After while I found out one of teachers does Japanese calligraphy and some of her works were on room decoration!
The class I booked was hosted by Japan Cross Bridge run by Japanese twin sisters (Shihomi and Ayumi) who are both professional Japanese chefs (details are below) . Before starting cooking, they handed me a traditional Japanese apron called "Samue".
First of all, they show me how to make authentic Miso soup from scratch. Nowadays, a lot of easy and ready-made Miso soup are sold at super markets in Japan, and you can make a decent Miso soup just by pouring hot water. However, making "real" Miso soup is much easier and less hustle than I imagined!
And all the ingredients you need is a piece of Kelp (Kombu), Bonito Flakes (Katsuobushi), Miso Paste, and toppings (spring onions, seaweed, tofu, etc).
While showing me how to make Miso soup step by step, the teacher also gave me some useful and important advice, such as to stop heating the water right before it reaches to boil, otherwise it loses the key flavour.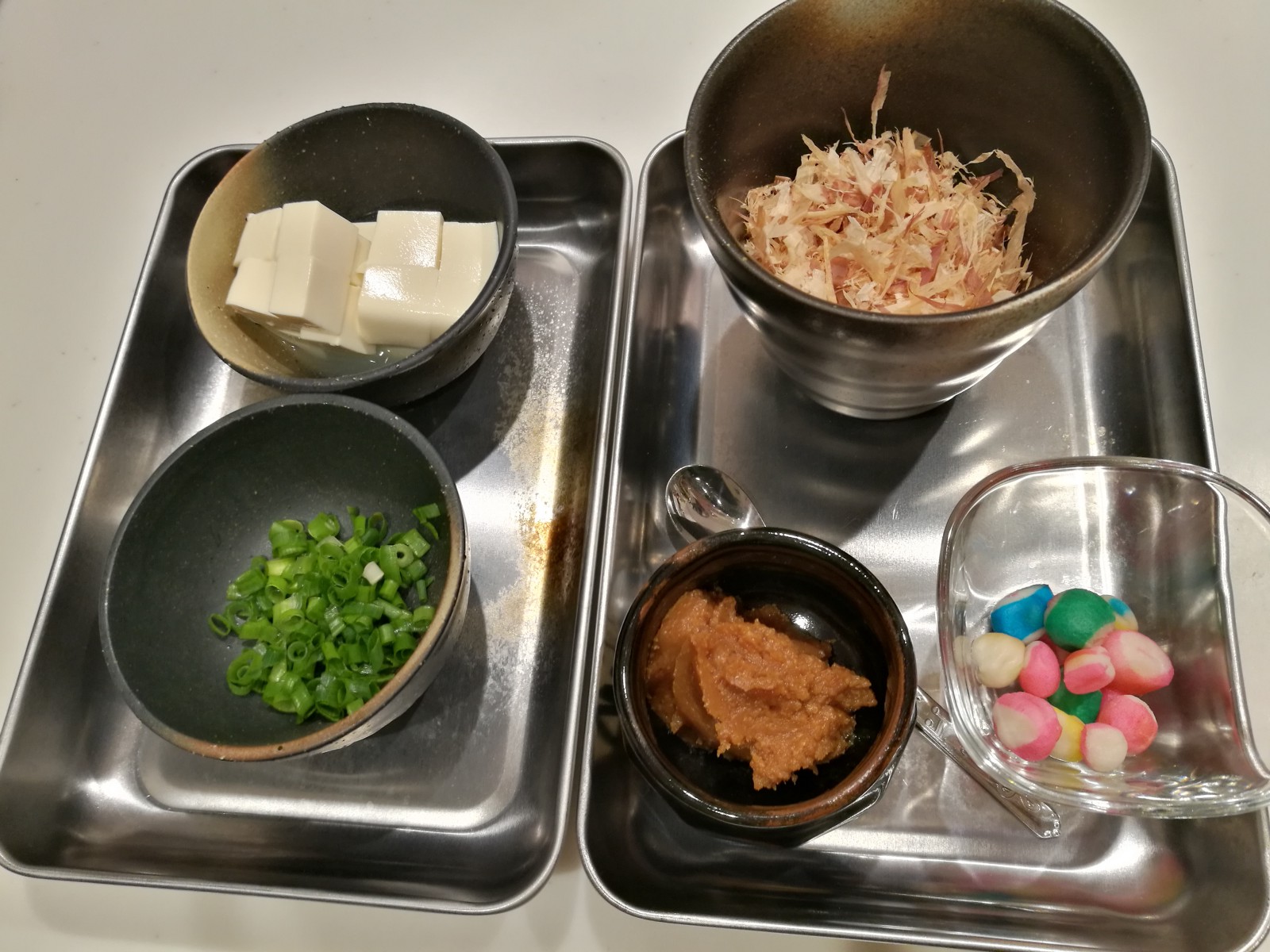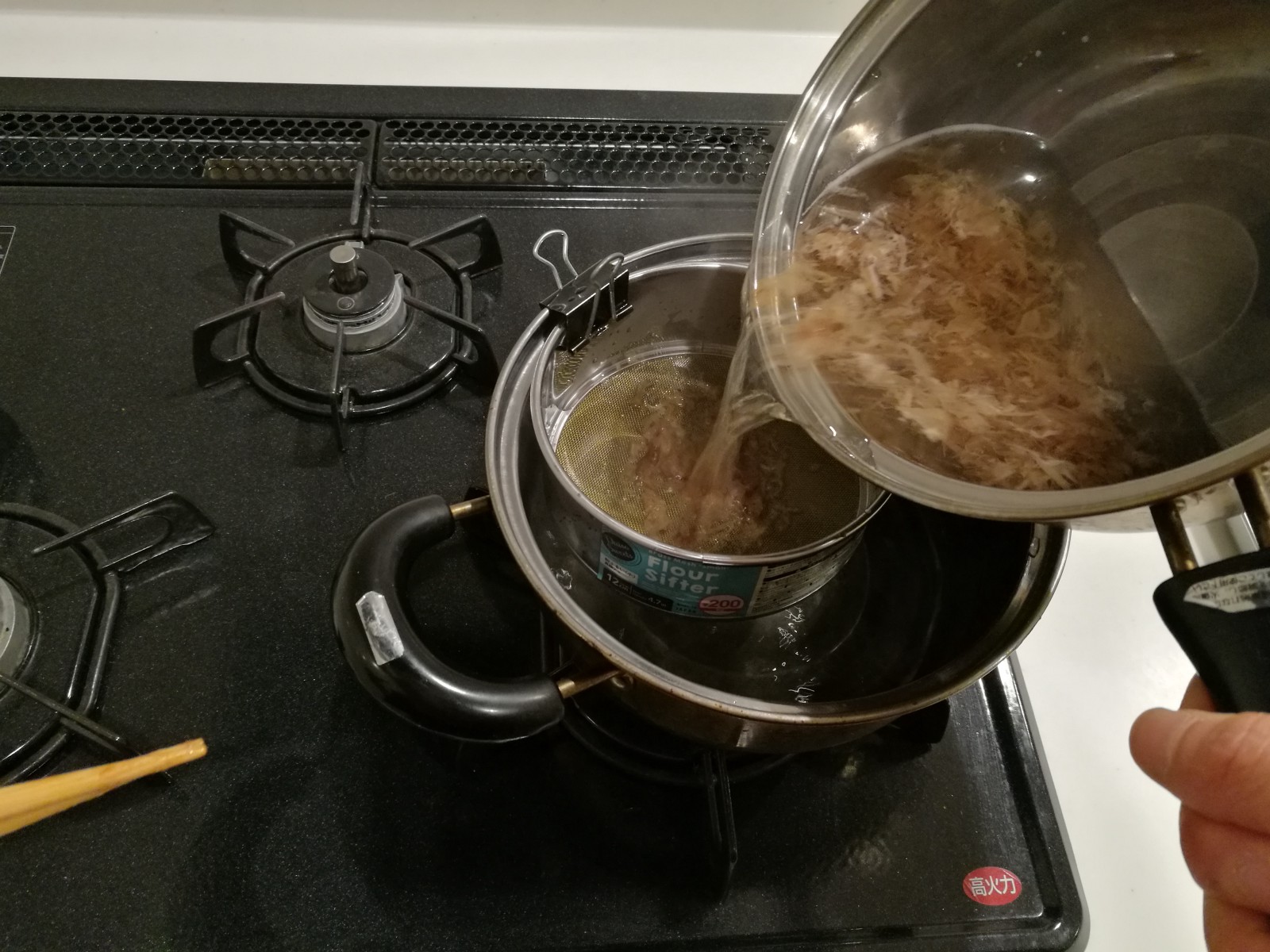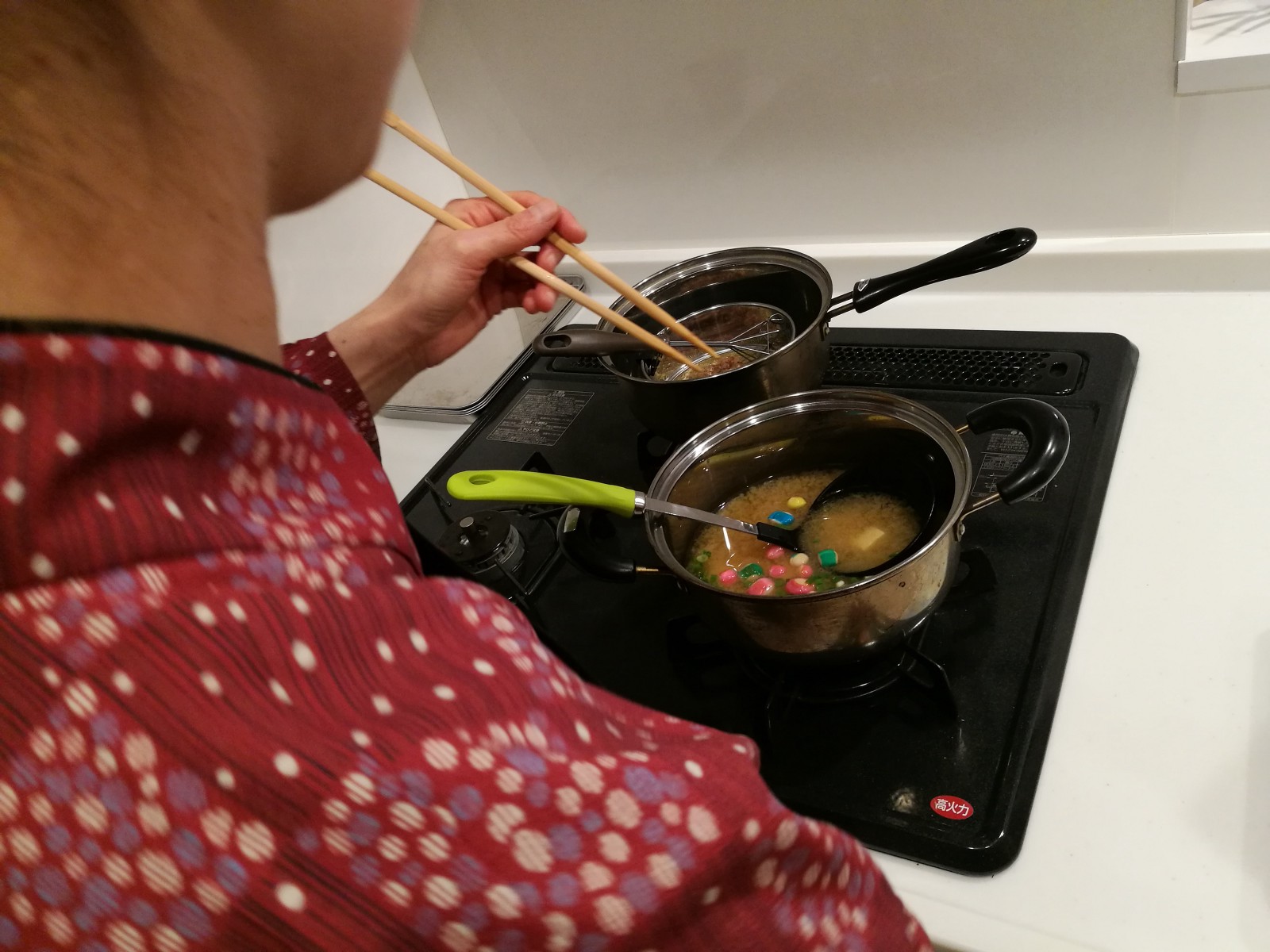 Now let's start the Temari Sushi making!
First of all, have you heard of Temari Sushi?? Temari Sushi is a type of Sushi: traditional Japanese ball-shaped sushi. I guess Temari Sushi is much easier to make than ordinary Sushi (Nigiri Sushi) , but for sure it's more fun!
They prepared for us numbers of ingredients including raw seafood (Tuna, Salmon, Boiled Shrimp, Squid and Scallop) and various toppings (sesame, seaweed, egg, shiso leaves, cucumber, etc) and vinegared Sushi rice.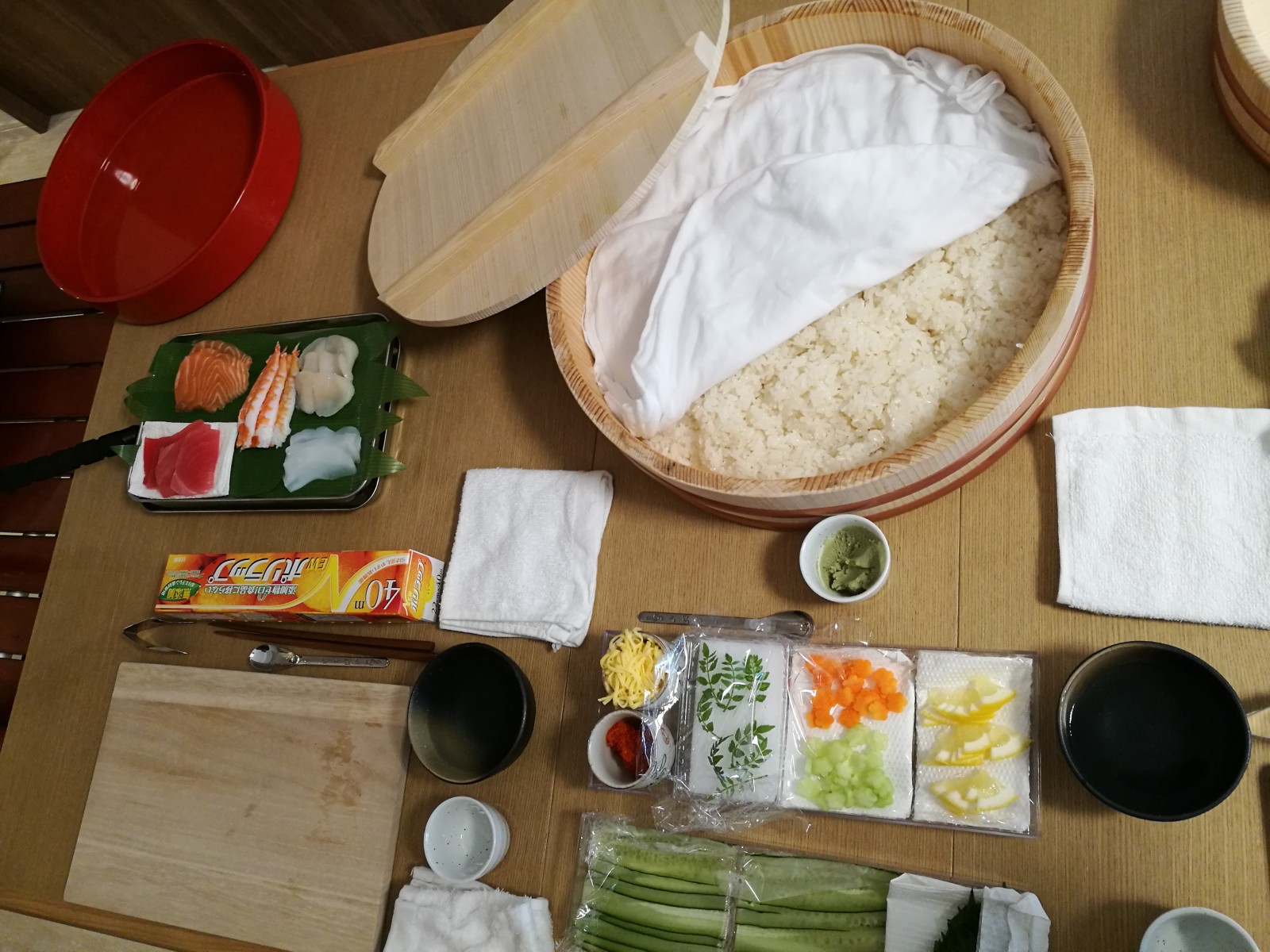 After teachers showed us how to make it, I started making Temari Sushi balls by myself. It seemed easy at first, but I had to be sure the size of balls are equal. After while, I started to create more artistic Sushi ball using variety of ingredients! During the class, I have noticed that making Temari Sushi is not an ordinary cooking I have known, but it's more like creating your own art.
You can use your imagination and make your own design on each piece of Temari Sushi by combining a several ingredients. How fun!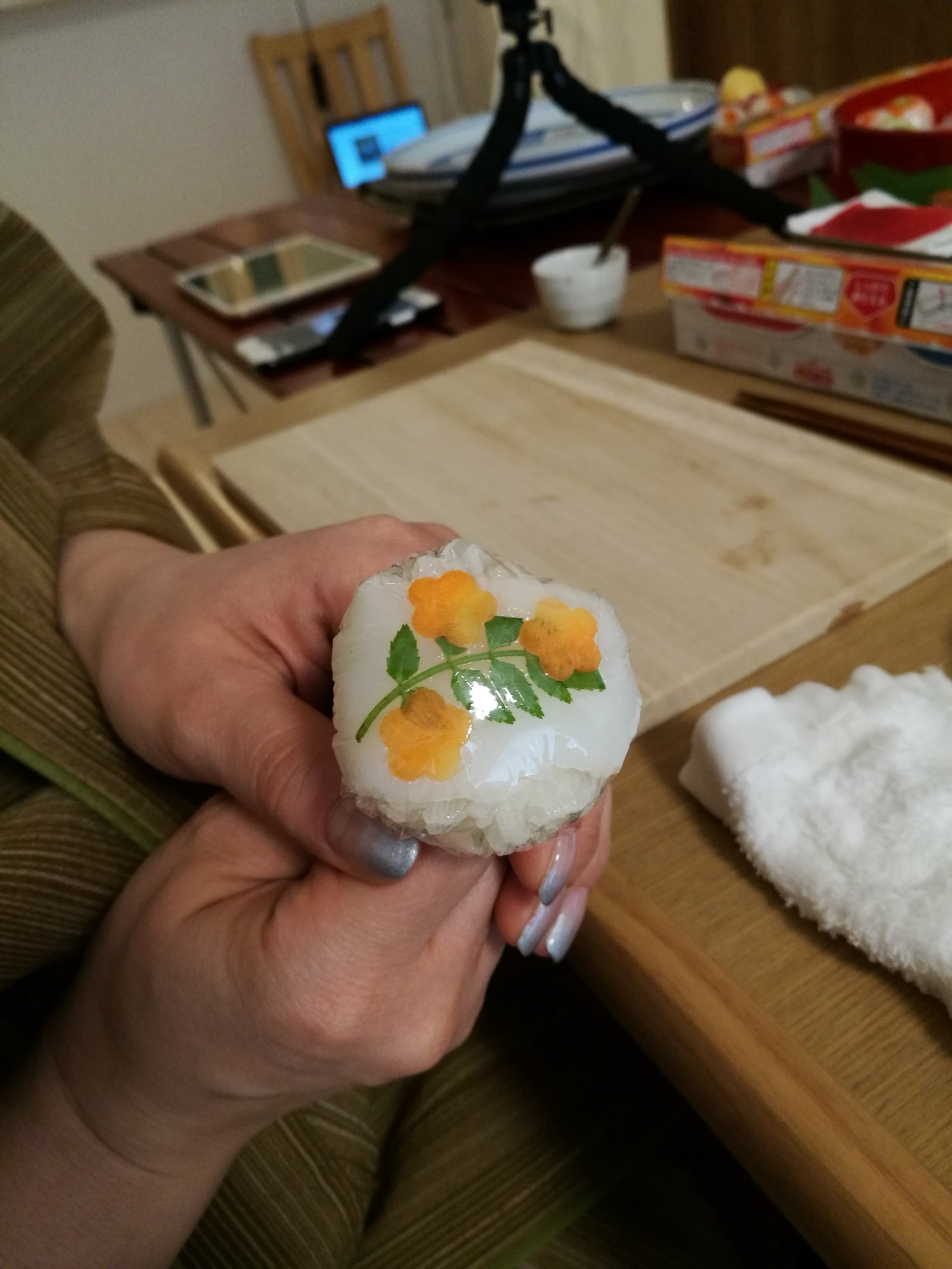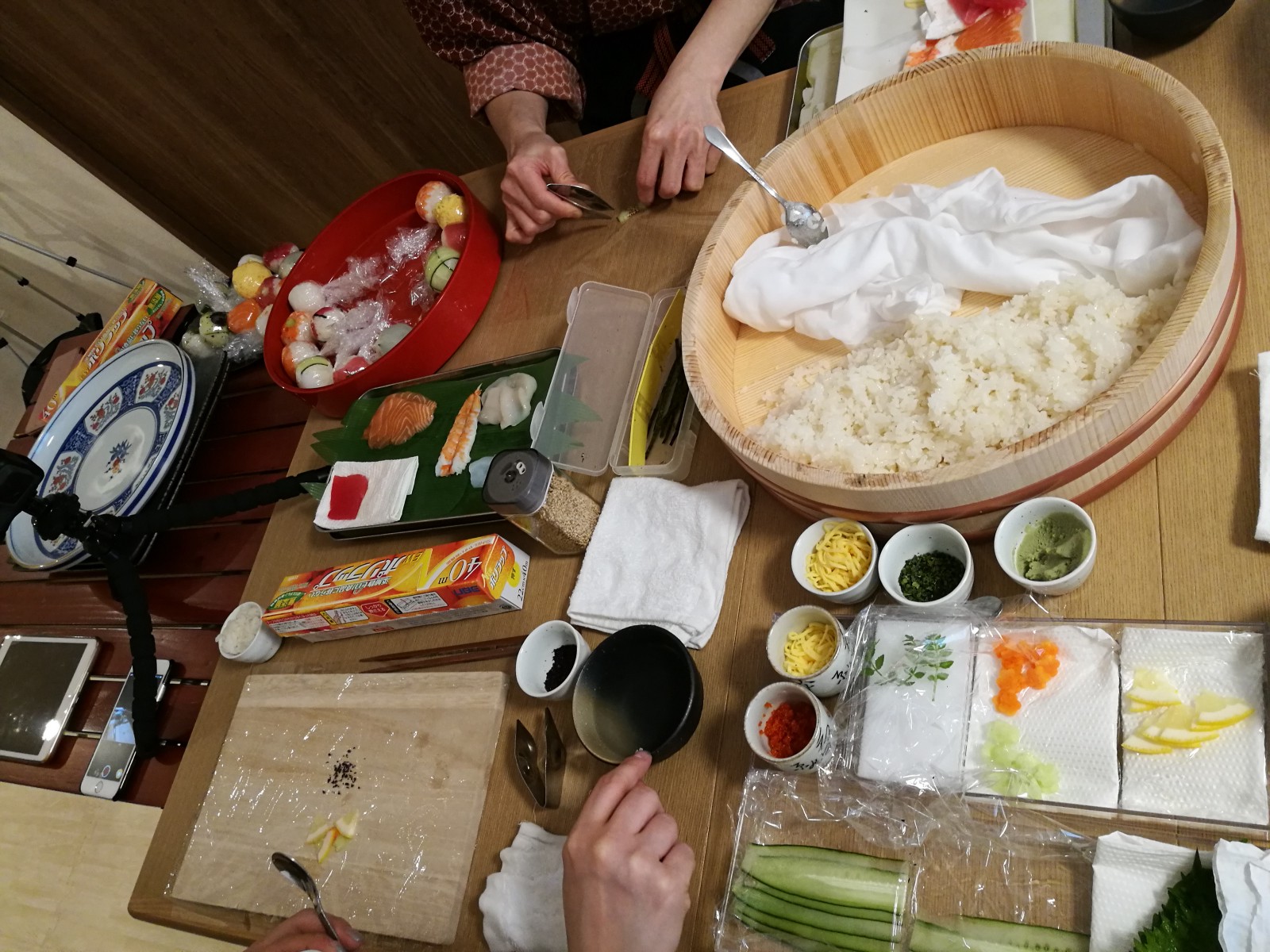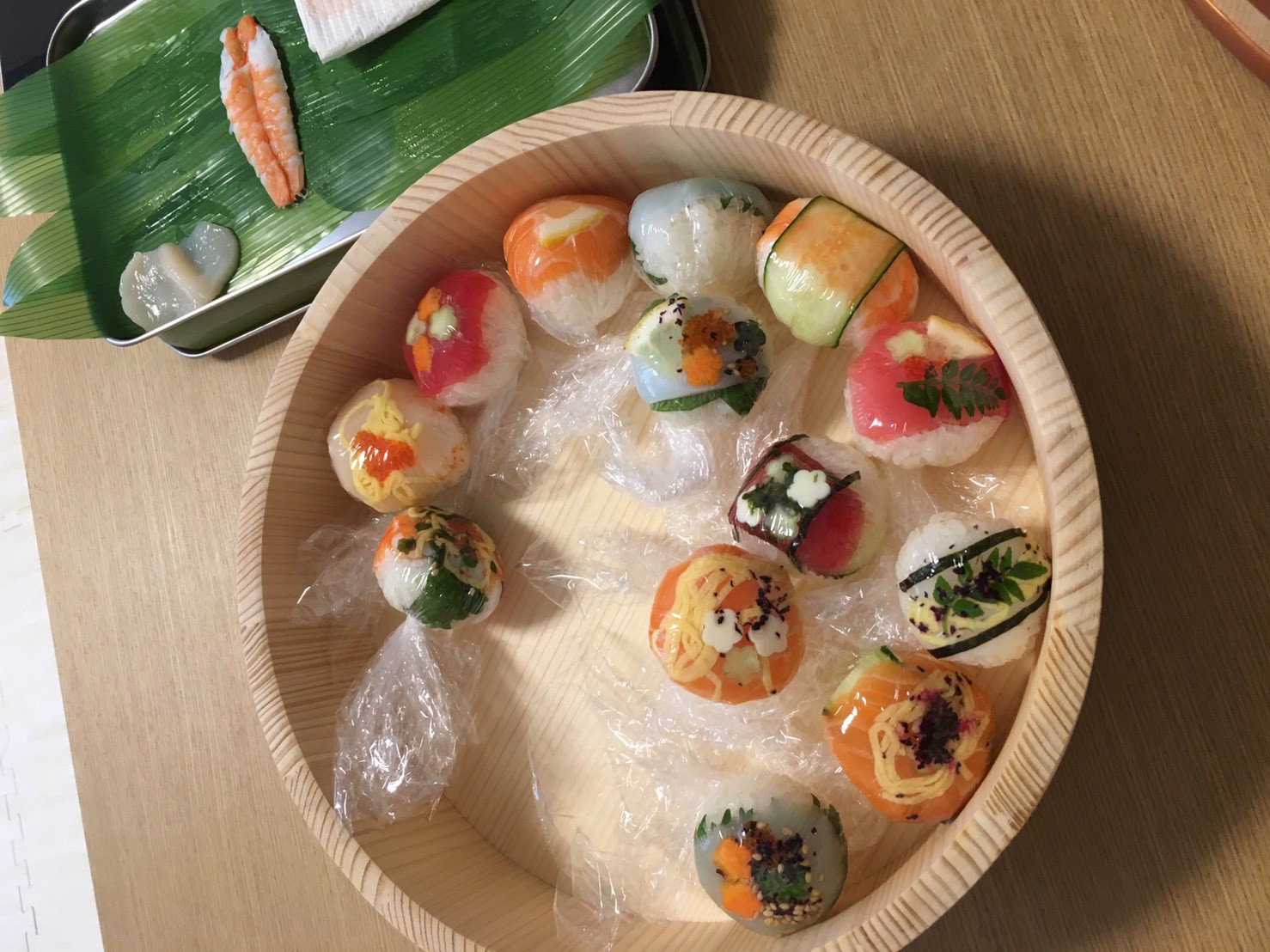 After making numbers of colourful Temari Sushi balls, teachers handed me a plate with bamboo leaves and let me decorate my own Sushi plate! I was pretty impressed with some of arty Temari Sushi I made 🙂 Colourful sushi balls are absolutely great to look at, and I could not stop taking pictures! Opening up the wrapped Sushi balls were one of the best parts of the cooking session.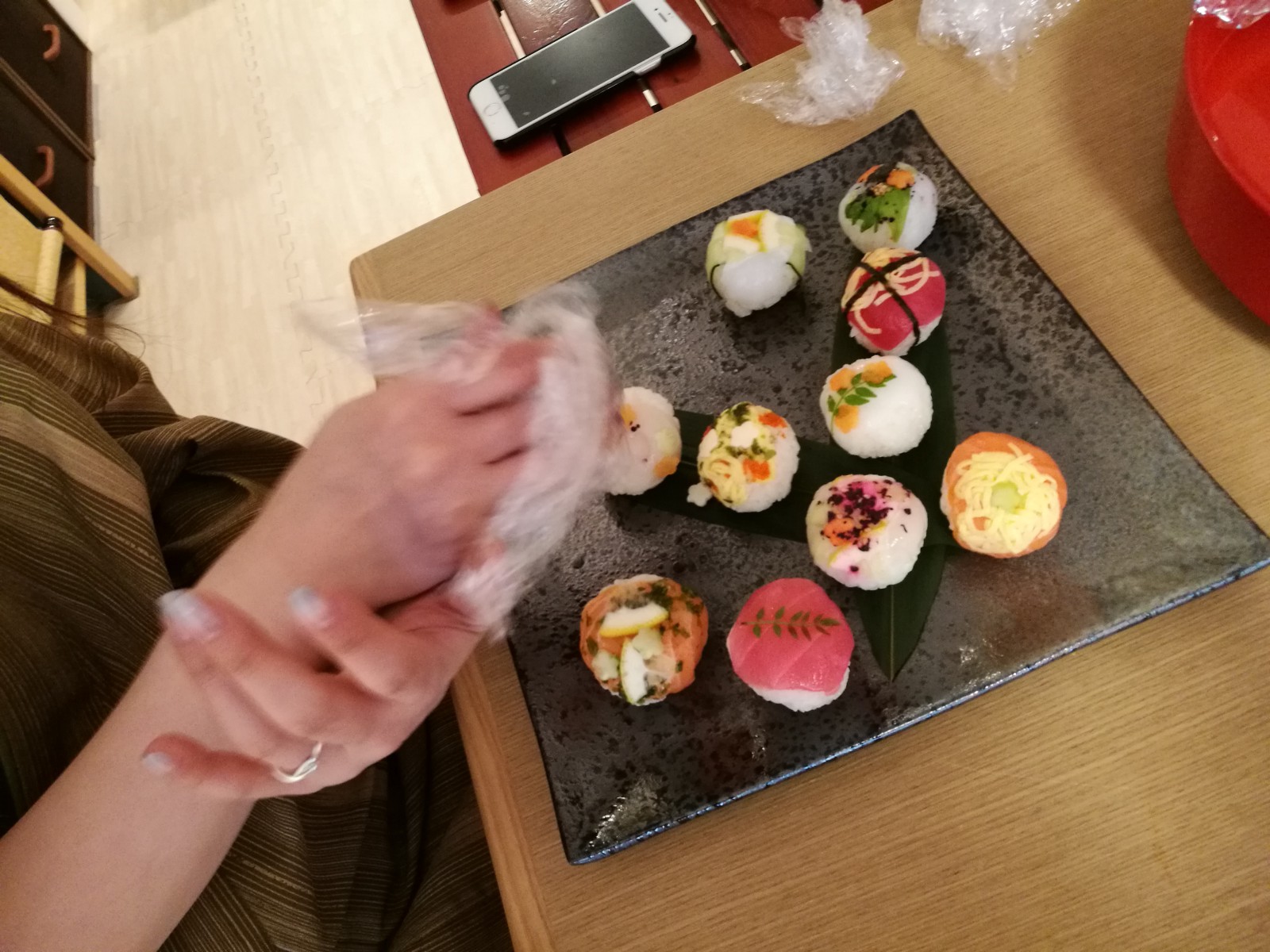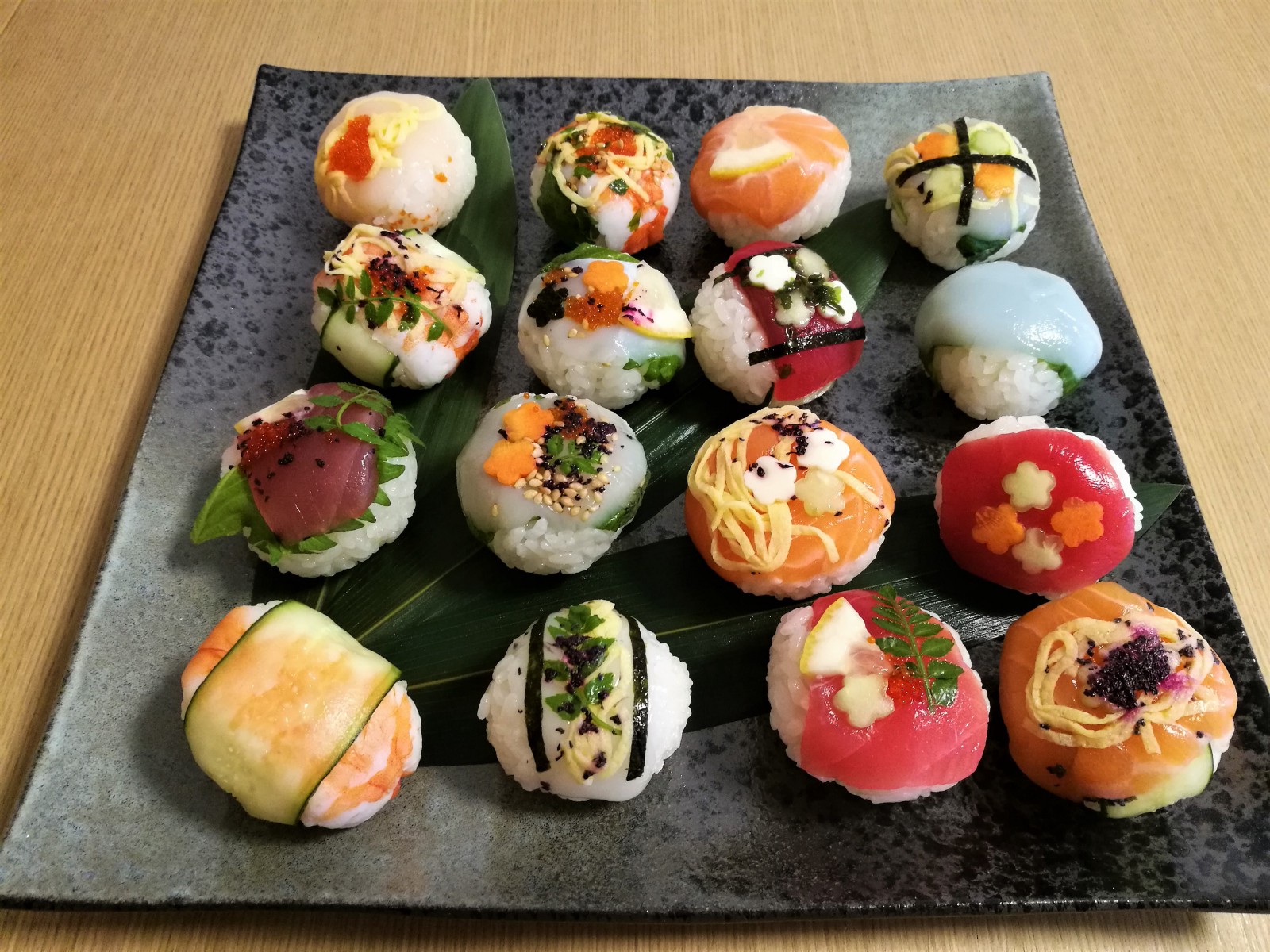 They set the table for me with miso soup which we made earlier, some condiments and tea, and finally it's time to eat 😉 As much as I enjoyed making it, the taste was sooooo good! (and of course, food tastes better when you cook by yourself!)
While eating, they also play a video presenting interesting facts and history about Sushi, which I realised Sushi was much more deeper as a dish than I thought.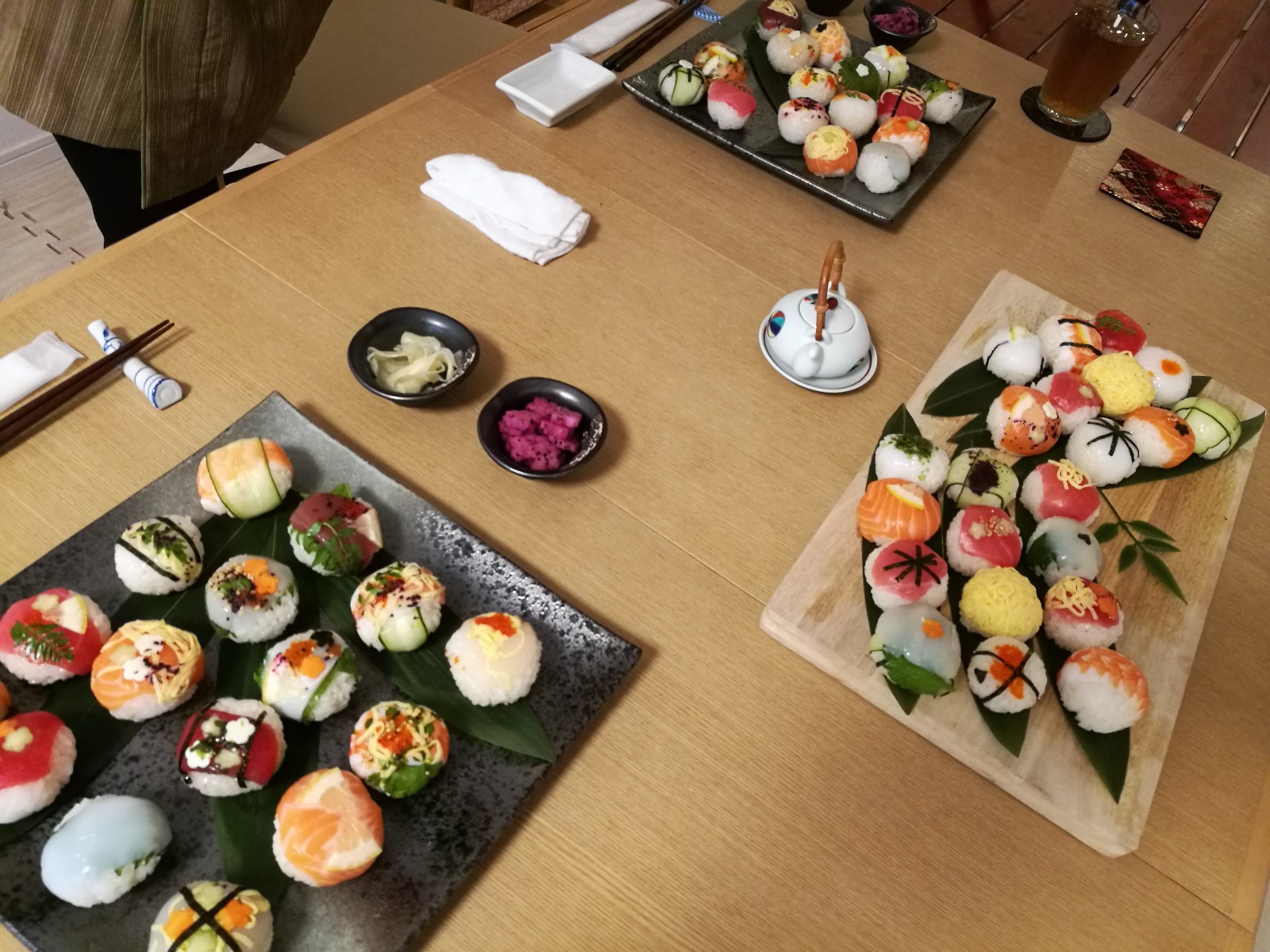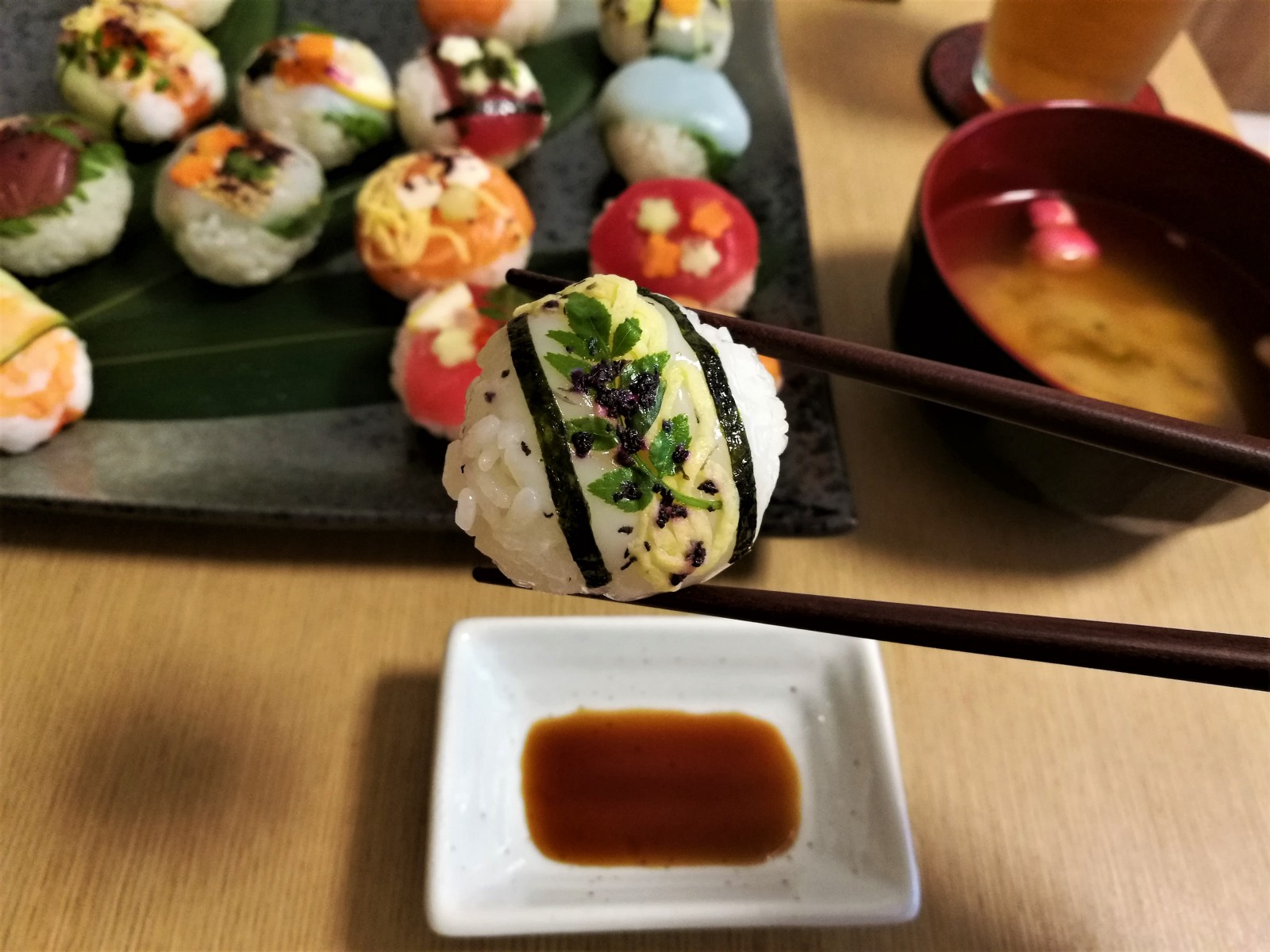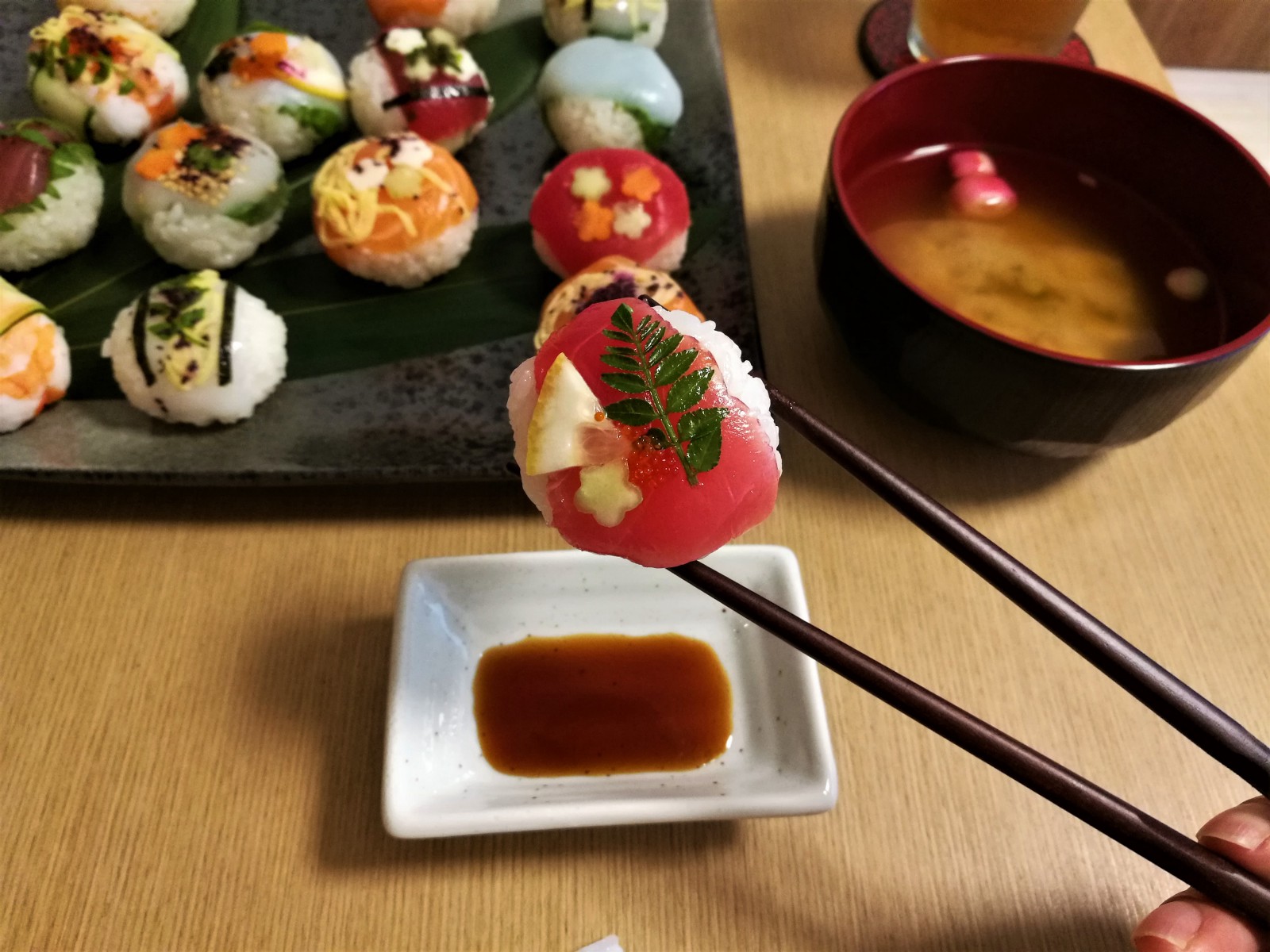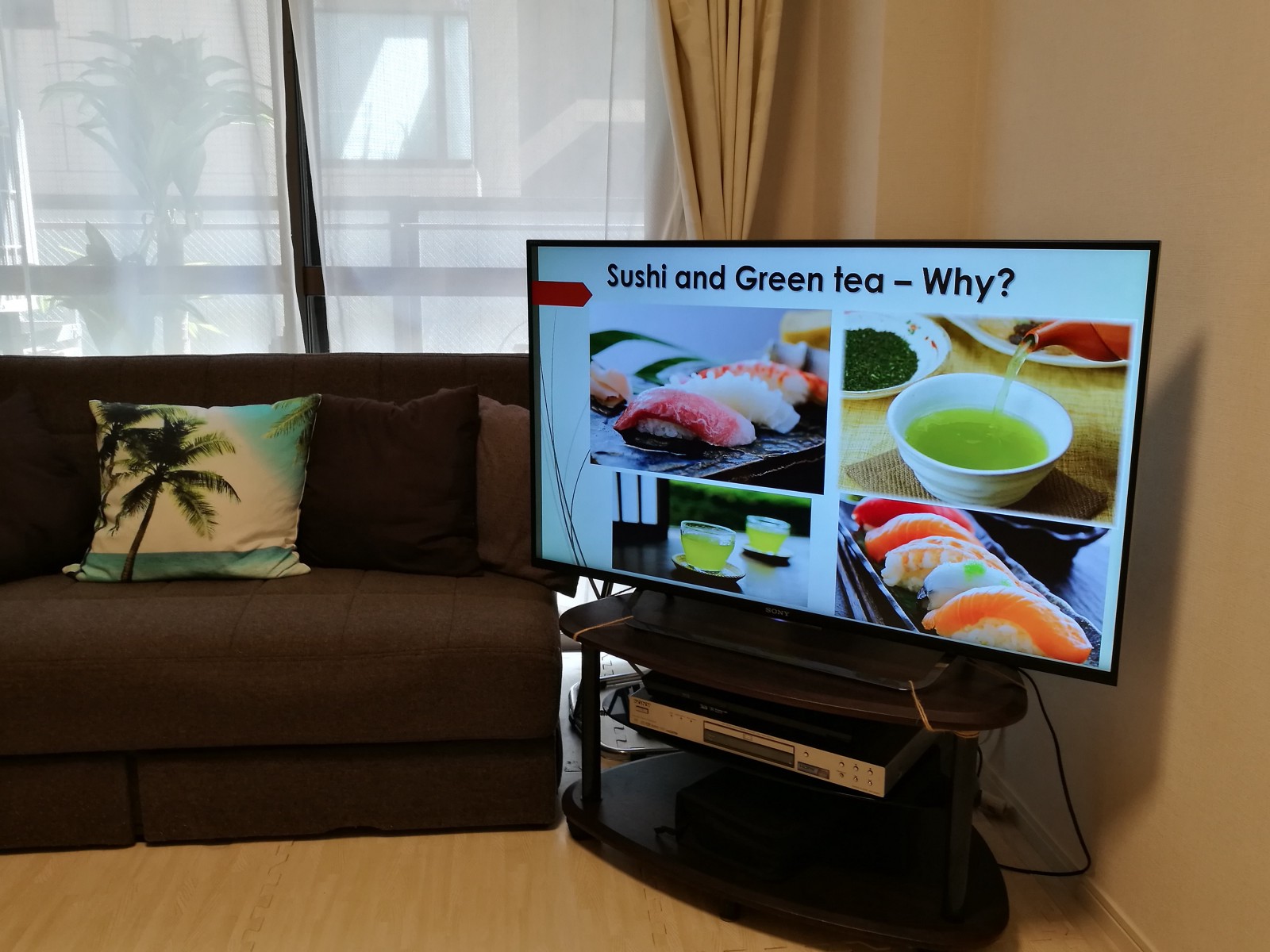 Tea Time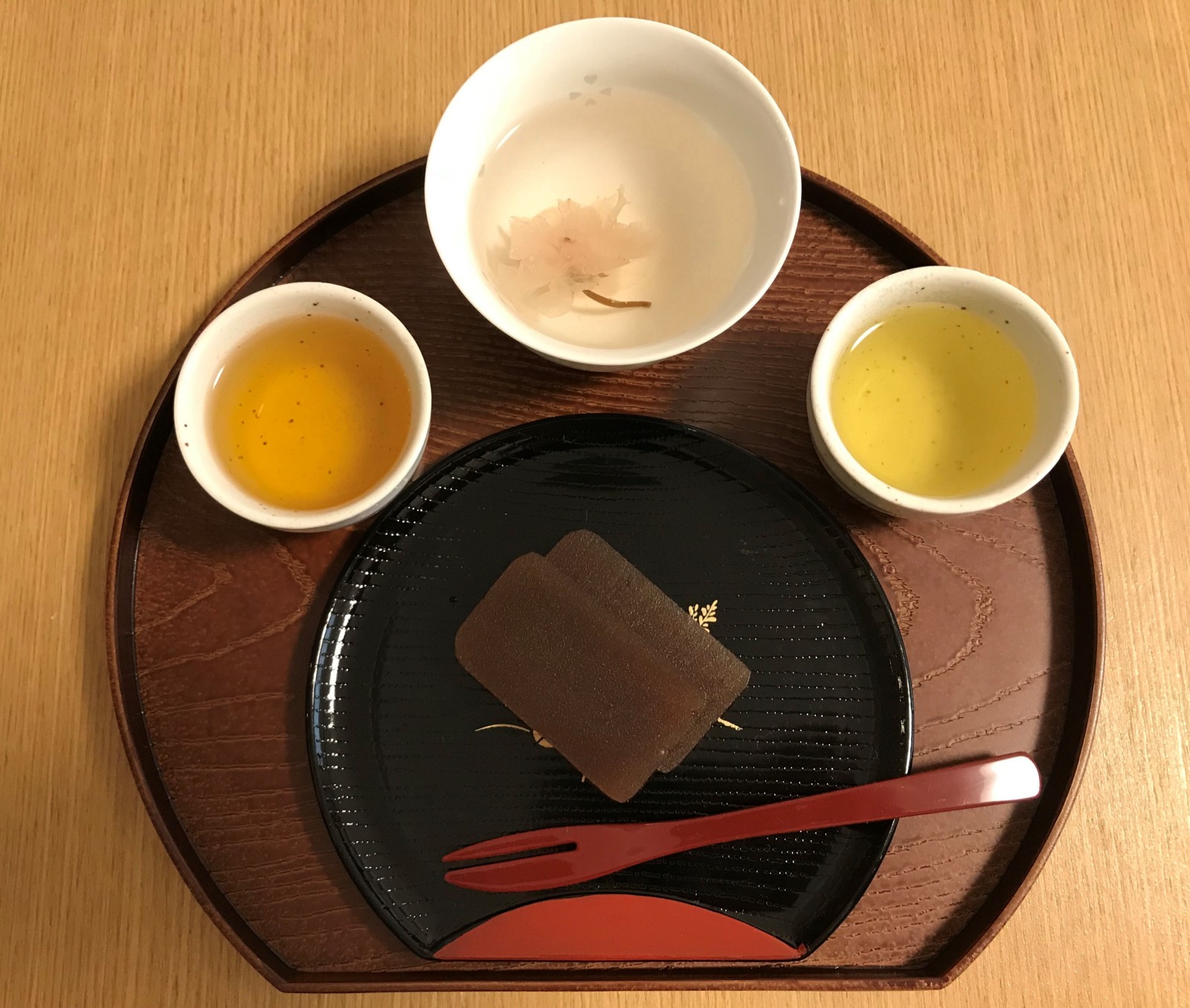 After Temari Sushi, we had a little tea session. I was pretty stuffed after the generous portion of Temari Sushi, yet I could always make an extra space for desserts!
Three kinds of tea were served for tasting : Burdock (Gobou Cha) , Cherry Blossom (Sakura Cha) and Buckwheat (Soba Cha) with traditional Japanese sweets (Yokan: Sweet red bean paste jelly).
Lucky enough to be there during cherry blossom season so that I could taste cherry blossom tea (with real petals in it!), and moreover after the class I continue my day out by walking along Meguro River, the famous cherry blossom viewing spot, which is only a few steps away from the cooking class site.
After the class, they printed a picture of myself and the Temari Sushi I made, and also gave me an original certificate with recipes of Temari Sushi (including how to make vinegared rice) and Miso Soup, and a little guidance of Sushi history. So don't worry if you don't remember the cooking process after the class, you can always check their recipes back home and cook for your loved ones 🙂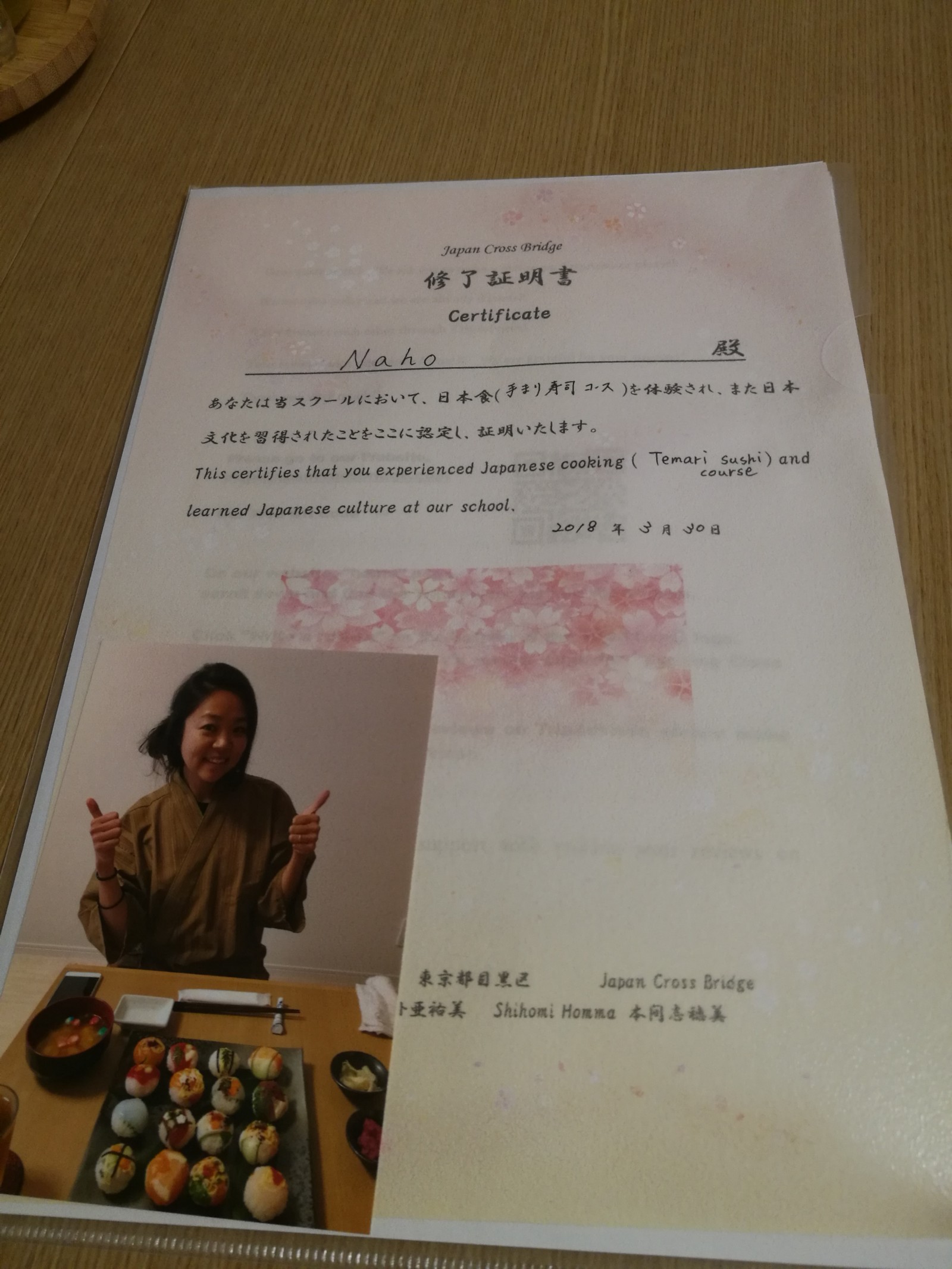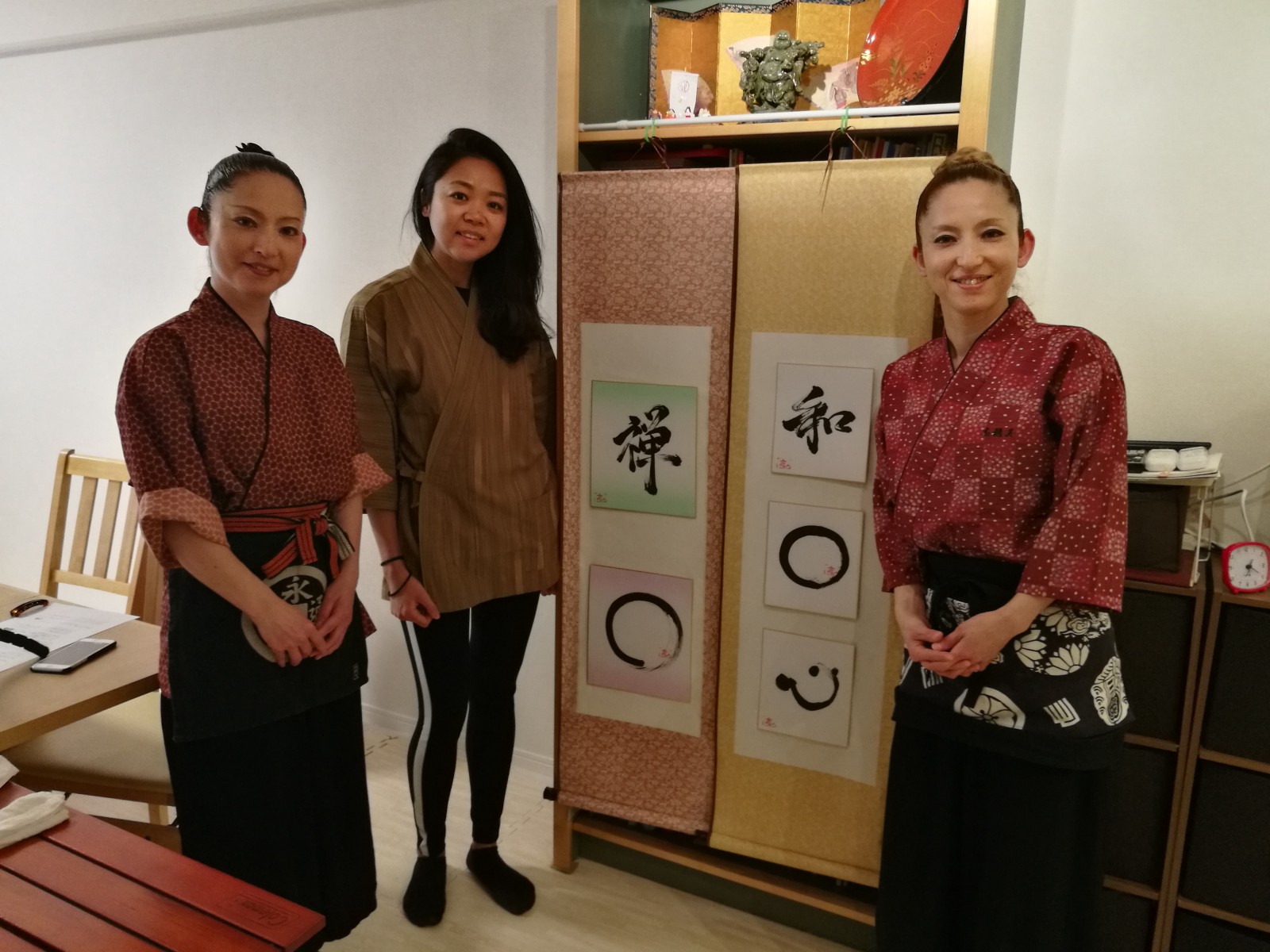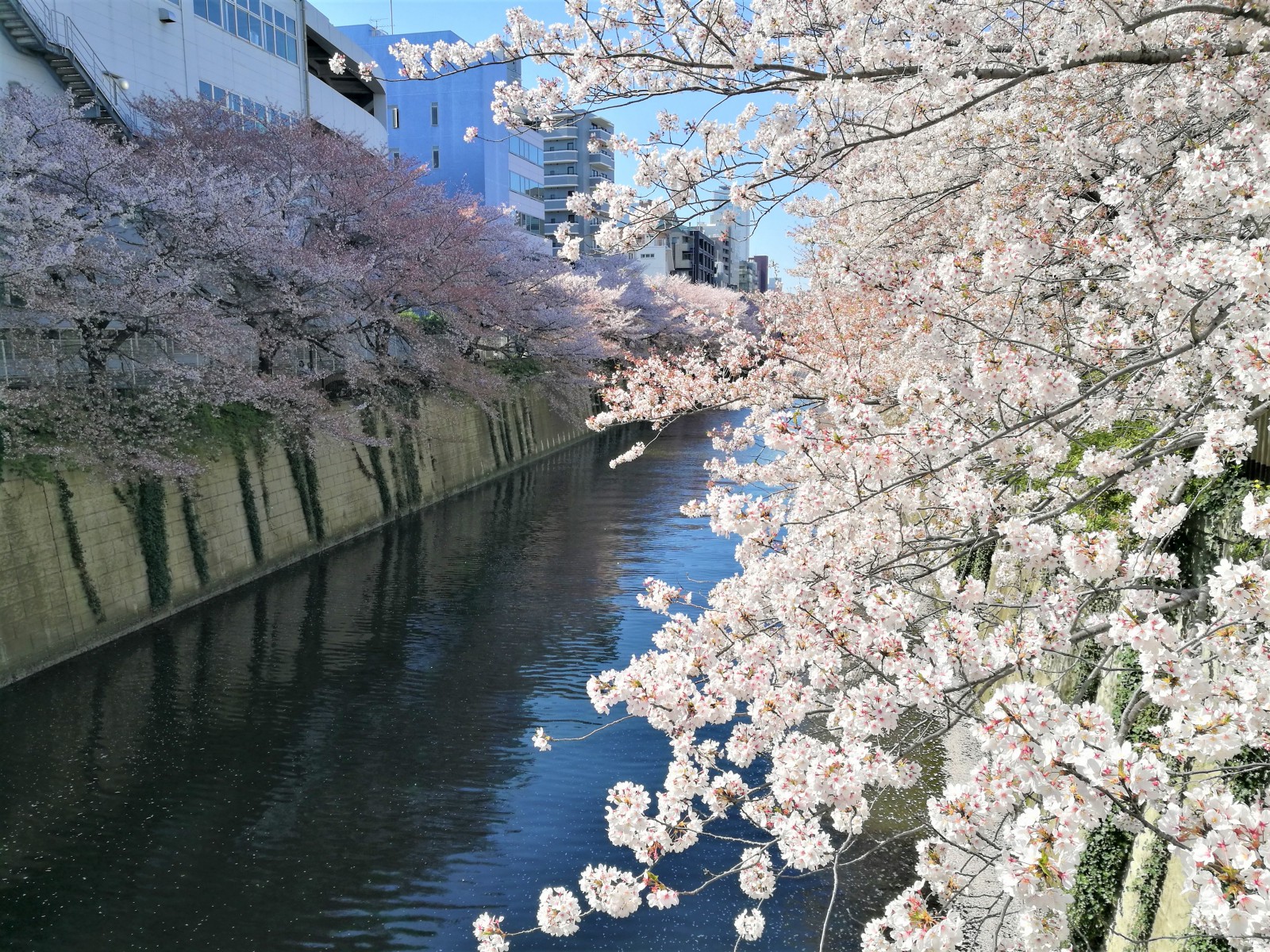 Overall
Temari Sushi making is totally recommended for everyone: friends, couples families, and it must be a lot of fun for kids, too! If you are travelling with family and want your kids to have unique cultural experience, this is one of the greatest things to do in Japan!
Sushi is one of the most popular Japanese dishes which most of travellers would try at least once in Japan, but this activity could teach a lot more than just the taste of Sushi, but interesting Japanese food culture and history, which you may not have chance to learn at restaurants.
It was an entertaining, educational and delicious cooking experience. I'd love to recommend for everyone who visit Tokyo, especially the class with these lovely twin sisters as I has wonderful time with them, and their hospitality was absolutely spotless 😉 If you want to have a wonderful experience in Tokyo like I had, why not to join the Temari Sushi making class!
Teachers
The class was hosted by Japan Cross Bridge (http://japancrossbridge.com) : Japanese twin sisters (Shihomi and Ayumi) who are both certificated Japanese chefs and have huge knowledges about traditional Japanese culture. They both have a long experience in working as a chef in abroad, therefore they speak fluent English and also have great understanding of foreign cultures, too.
So don't be shy if you are not familiar at all with Japanese food culture including cooking, table manner, and so on, I'm sure they would be happy to give you a lecture. And if you are not a fan of raw fish, you can also request for a non-raw fish option as well as Halal, Vegan and Vegetarian options.
They are both super friendly and offer guests amazing "Omotenashi" (Japanese hospitality) with relaxing and welcoming atmosphere. The Temari Sushi class lasted for about 3 hours, but the time flew so quickly as I enjoyed so much spending time with them just like being at friends' home.
You can book their cooking classes through the links below!
Temari Sushi Course:
https://localbites.jp/en/menu/64
Healthy rice sushi of Tuna and Salmon making course: https://localbites.jp/en/menu/65
<< Use promo code "GRDA-2RHM" and get discount for your booking at LocalBites!! >>
Localbites Japan
I have booked my activity through the website Localbites Japan who introduces numbers of cooking classes across Japan (Tokyo, Osaka and Fukuoka) for both foreigners and Japanese.
If Sushi is not for you, take a look at their website (https://localbites.jp/) as you can find many other Japanese cooking class! From Japanese home cooking to Kawaii bento box making, pick your choice!
Dining at an ordinary Sushi restaurant in Japan is a great activity, but how about taking your experience to one step further by joining the Sushi making activity? Trust me, it's a wonderful and unforgettable experience!!
Localbites Japan: https://localbites.jp/
Medium: https://medium.com/@localbitesjp
Facebook: https://www.facebook.com/localbites.co
Instagram: https://www.instagram.com/localbitesjp/
For Japanese reader, please check out my friend's article
▶ Japan Cross Bridgeの"手まり寿司コース"を体験して来ました!
---
I hope you've enjoyed reading my cooking experience in Tokyo! For more unique and fun things to do/see in the city, please check out my other articles listed below!
▽Related Articles▽
▼Editor's Picks▼
---