Strawberry Dessert Buffet in Tokyo 2019: ANA InterContinental Tokyo
Strawberry Buffet Review 2019: ANA InterContinental Tokyo: Sweethearts Strawberry and Ruby Dessert Buffet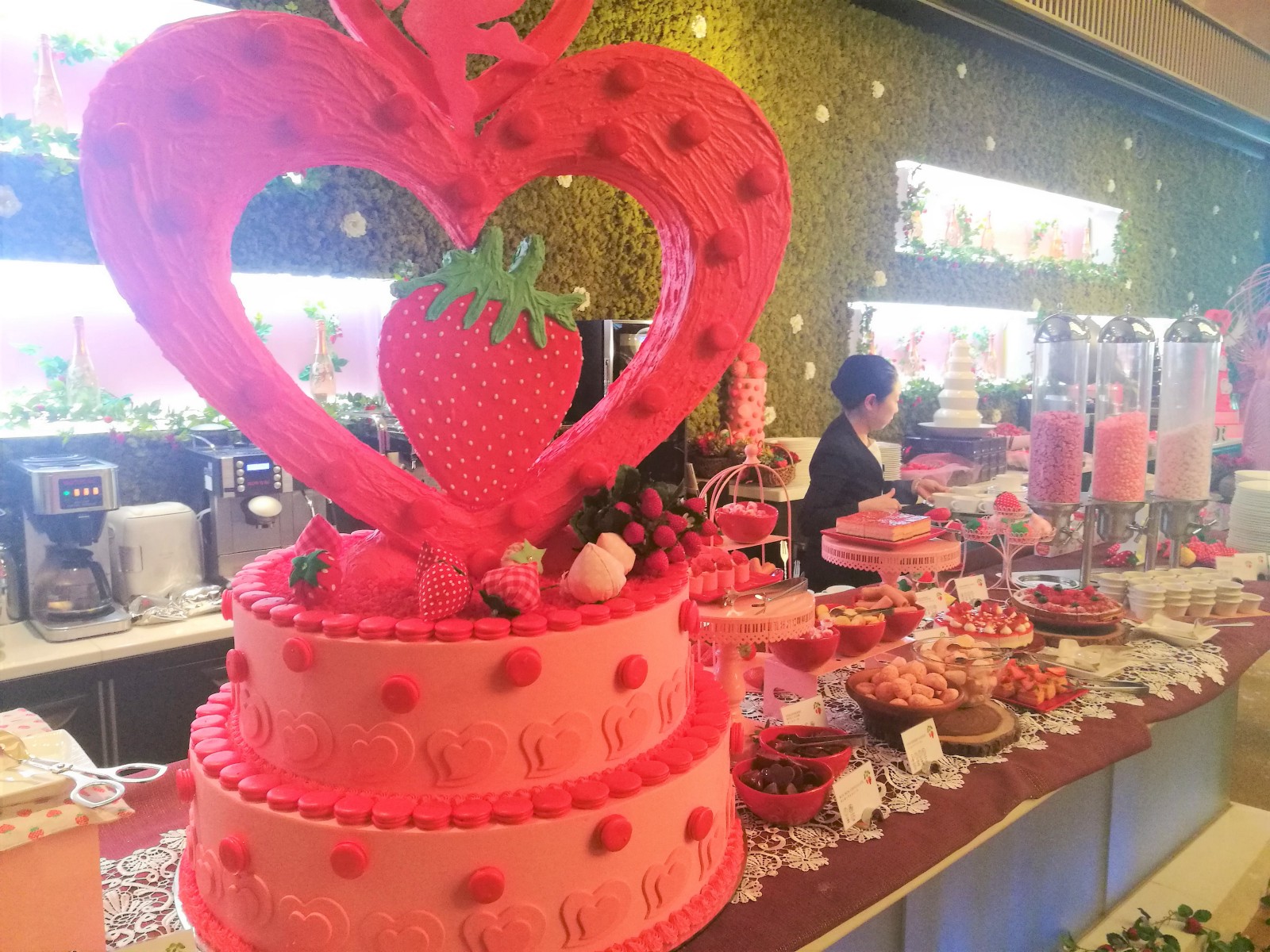 ▼ANA InterContinental Tokyo Matcha Collection ▼
Have you tried Japanese strawberries?? Japan produces several kinds of premium branded strawberries such as Amaou (from Fukuoka) and Tochi Otome (from Tochigi), and they are now popular worldwide. These top branded Japanese strawberries might be slightly pricey, yet they taste sooooo good and 100 worth the price.
The strawberry season in Japan is usually from January to April, and as the season of strawberry arrives, there are a lot of strawberry desserts available in Japan. If you love strawberries or sweets, it's the most exciting time of the year!
The best way to enjoy delicious Japanese strawberries is definitely dessert buffet which are held at numbers of hotels in Tokyo, and visitors can enjoy premium Japanese strawberries in various styles. Dessert buffets are generally very popular in Japan, and various kinds of dessert buffets are available through the year with the seasonal ingredients and themes. But strawberry buffet is definitely the one most people anticipate.
ANA InterContinental Tokyo is one of the most prestigious hotels in Tokyo who offers delicious premium strawberry buffet annually. The "Sweethearts Strawberry and Ruby Dessert Buffet" is currently being held at the Champagne Bar at 3F of the hotel. I have recently visited their strawberry dessert buffet for the first time, and I'd like to share my delightful experience with their creative strawberry delicacies this spring.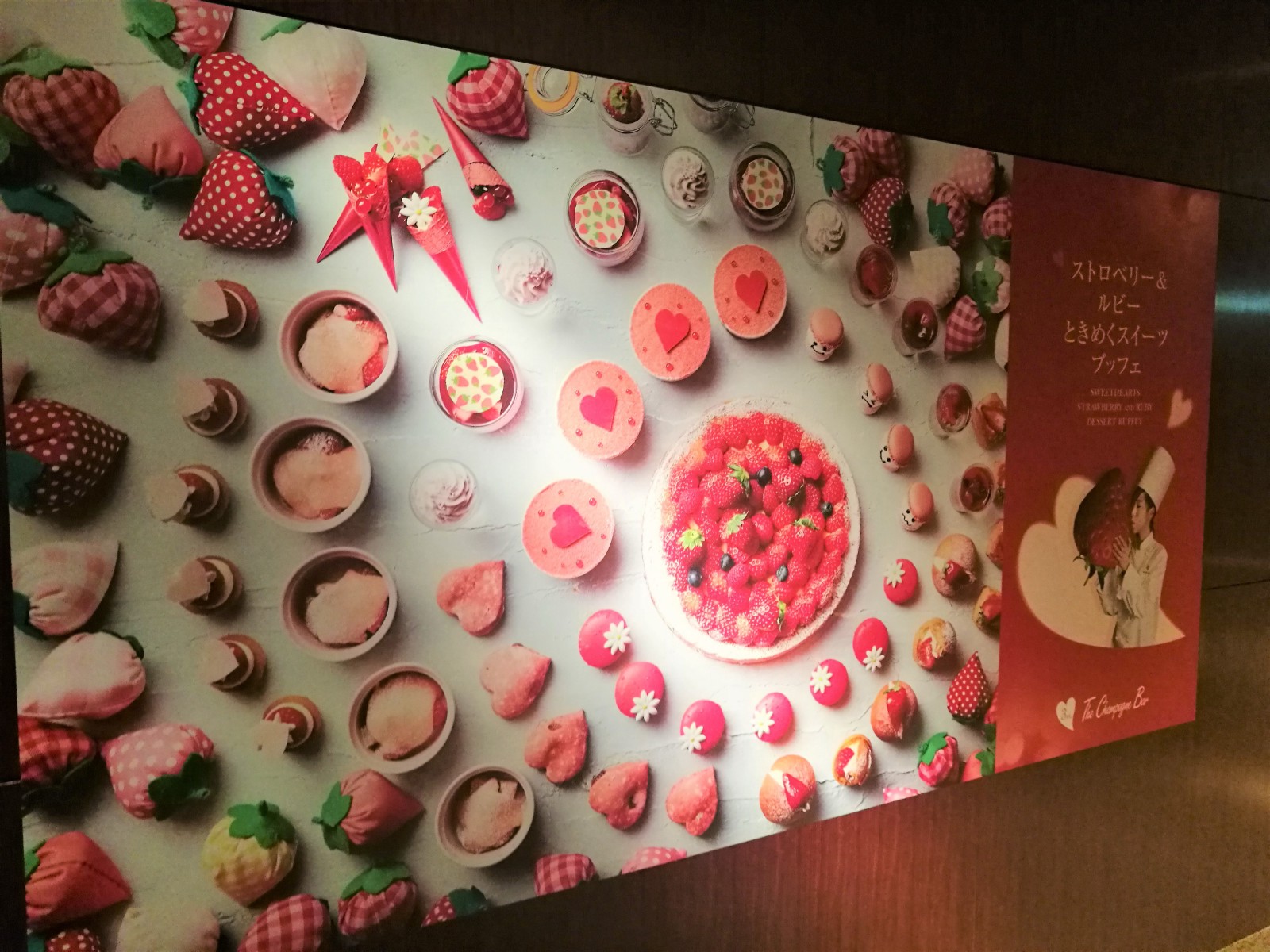 -Strawberry Buffet Review
This year, the strawberry buffet at ANA InterContinental Tokyo also features not only Japanese branded strawberries, but also ruby chocolate desserts. Ruby chocolate is the a new type of chocolate introduced to the world in 2017 by Belgian chocolate company. It has cute pink colour with unique fruity flavour. The buffet offers guests an exclusive access to various kinds of desserts with the ruby chocolate, moreover, in all-you-can-eat style.
The buffet venue is roughly divided into 5 sections: Strawberry Dessert, Ruby Chocolate, Chocolate Fountain with Strawberry Tasting, Chilled Desserts and Savory Snack.
Over 20 kinds of creative desserts are displayed at beautifully at the counter with cute decorations. Tart, Mousse, Shortcake, DIY Parfait, Macaroon and more, all desserts are made with premium Japanese strawberries. On the next counter, there are 11 kinds of desserts made with Ruby Chocolate such as Lemington, Mt Blanc and Cream Puff. I personally liked the Ruby Chocolate desserts how they look so cute in pink and in creative shape!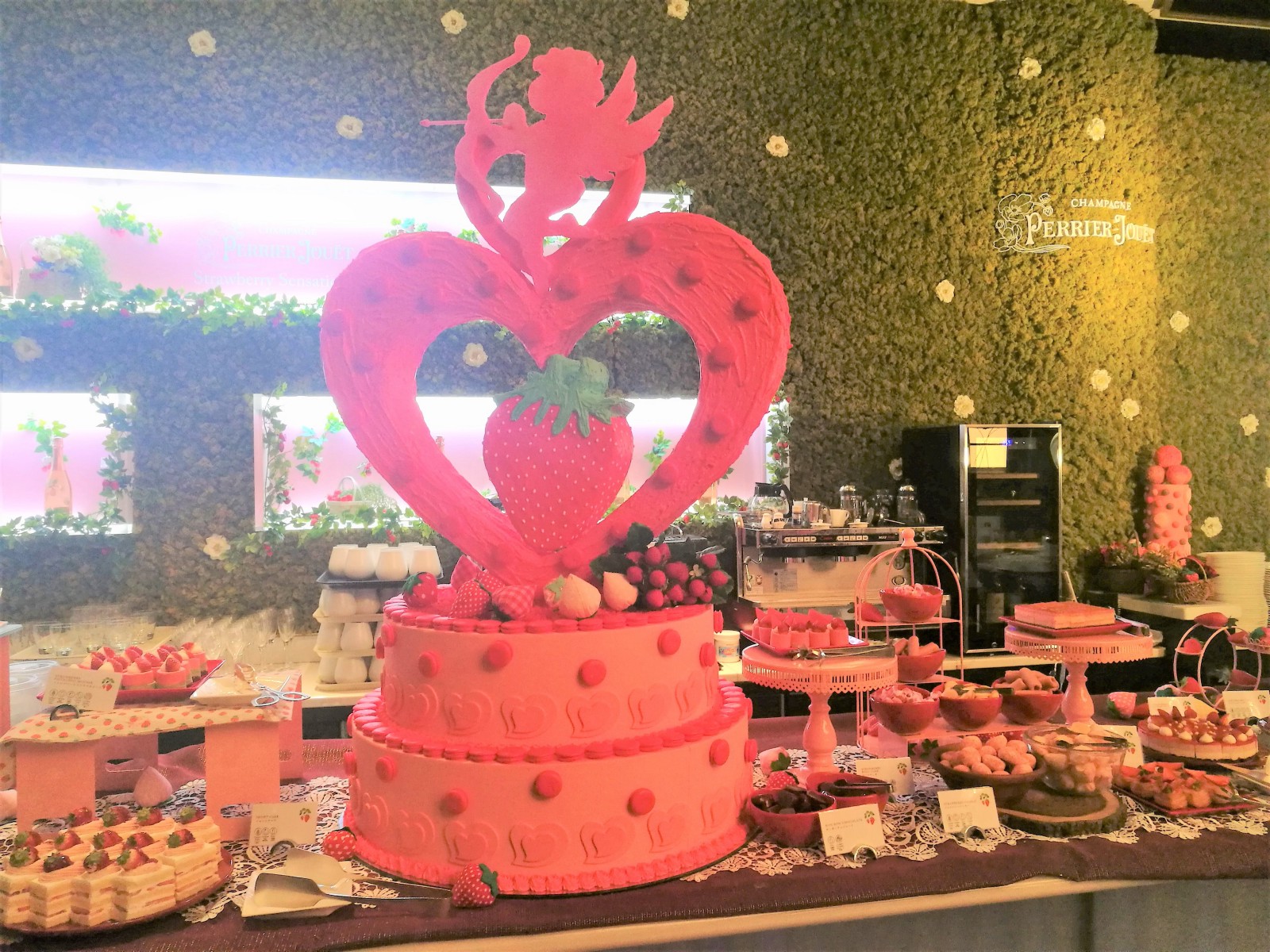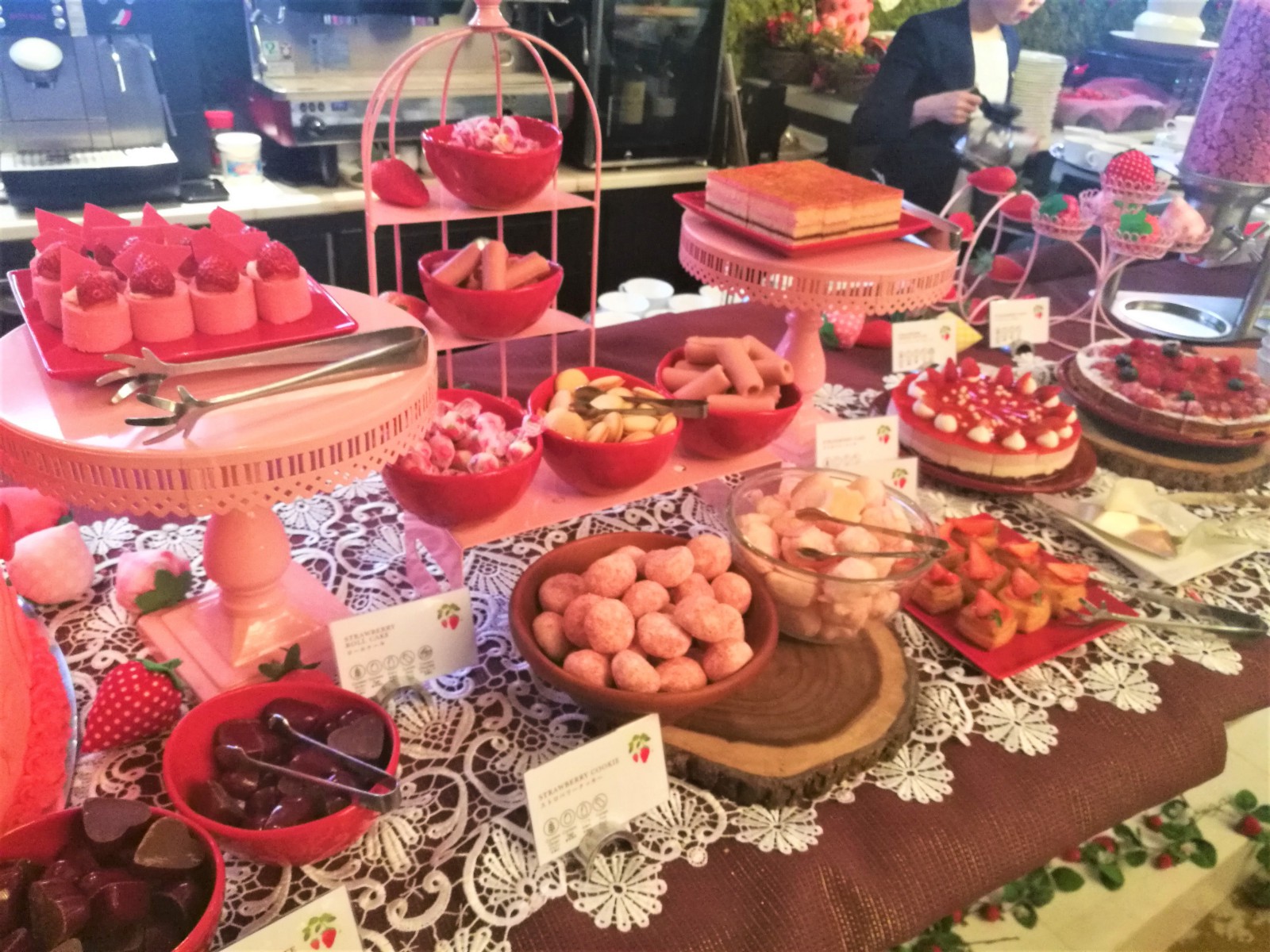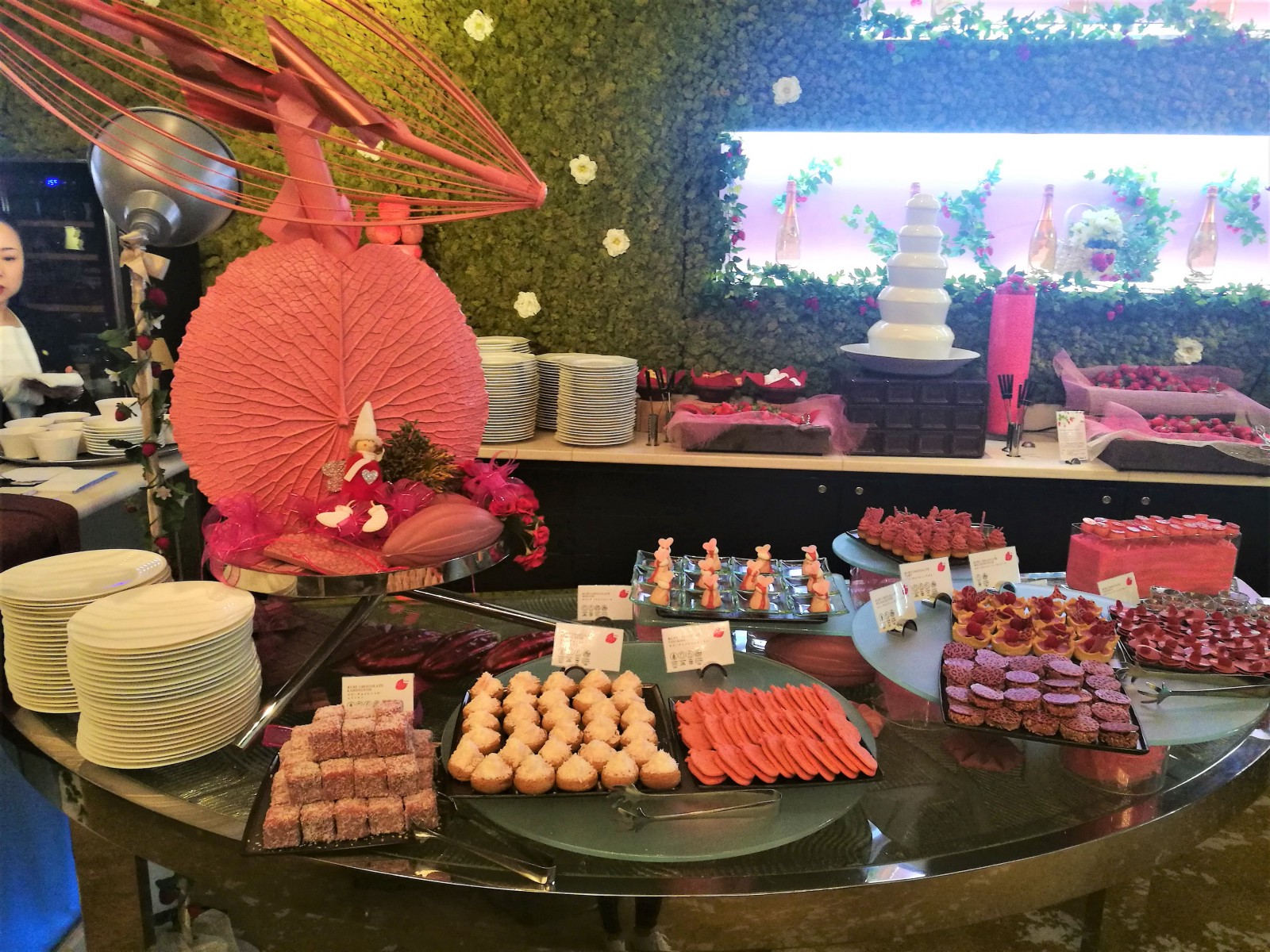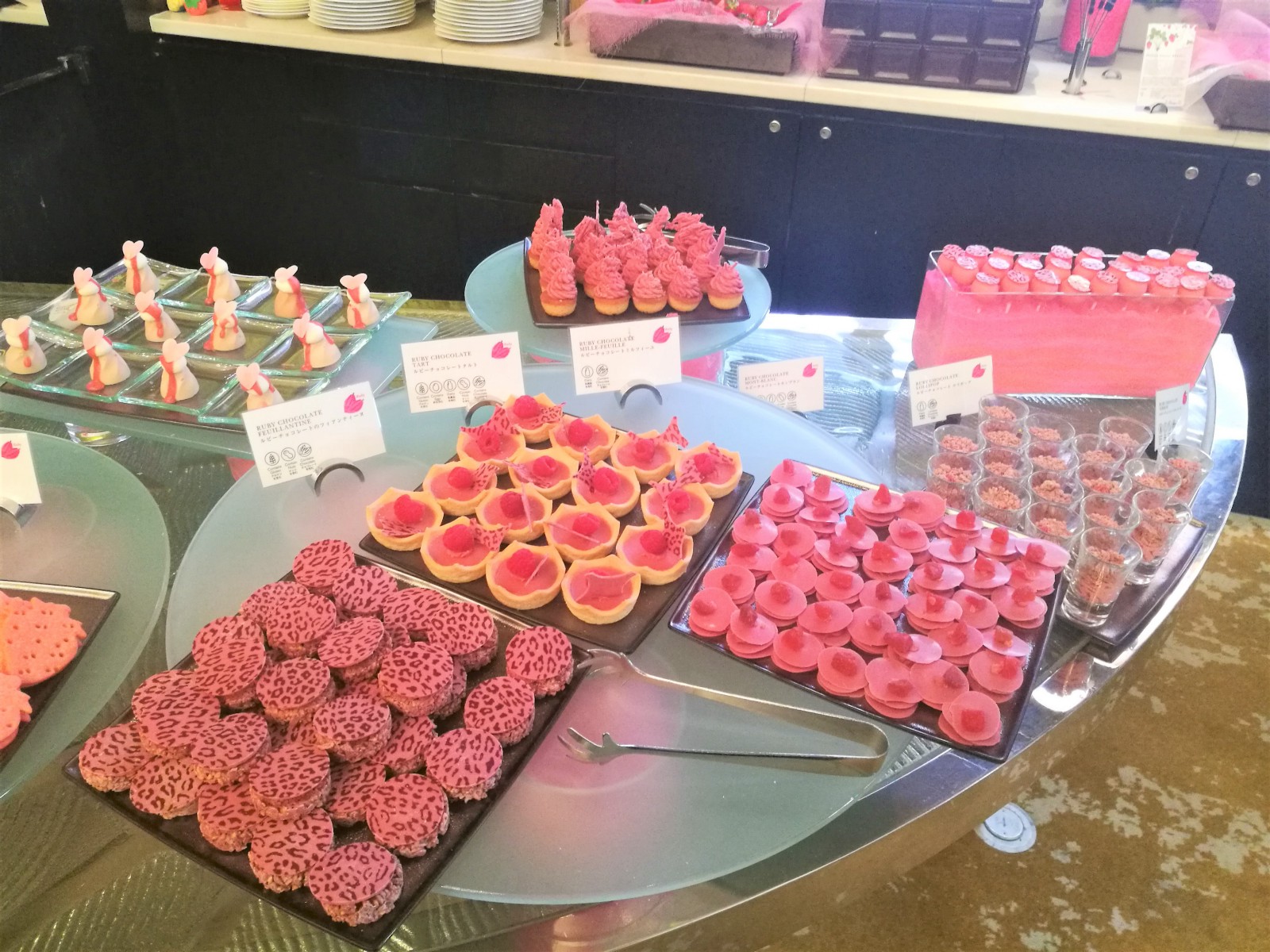 Since the dessert buffet look so good and 100% photo-worthy, make sure to arrive there on time and take photos of the dessert counter before the buffet begin!
At the chocolate fountain area, there are three kinds of chocolate: regular, ruby and milk as well as several kinds of Japanese strawberries such Amaou, Tochi Otome and Saga Honoka. You can taste various kinds of Japanese strawberries and enjoy the difference of each taste.
The strawberry buffet in ANA InterContinental Tokyo is not only for dessert lovers because they do offer a wide selection of savory snacks such as sandwich, Pizza, fried chicken, salad etc, which go uniquely well with strawberries.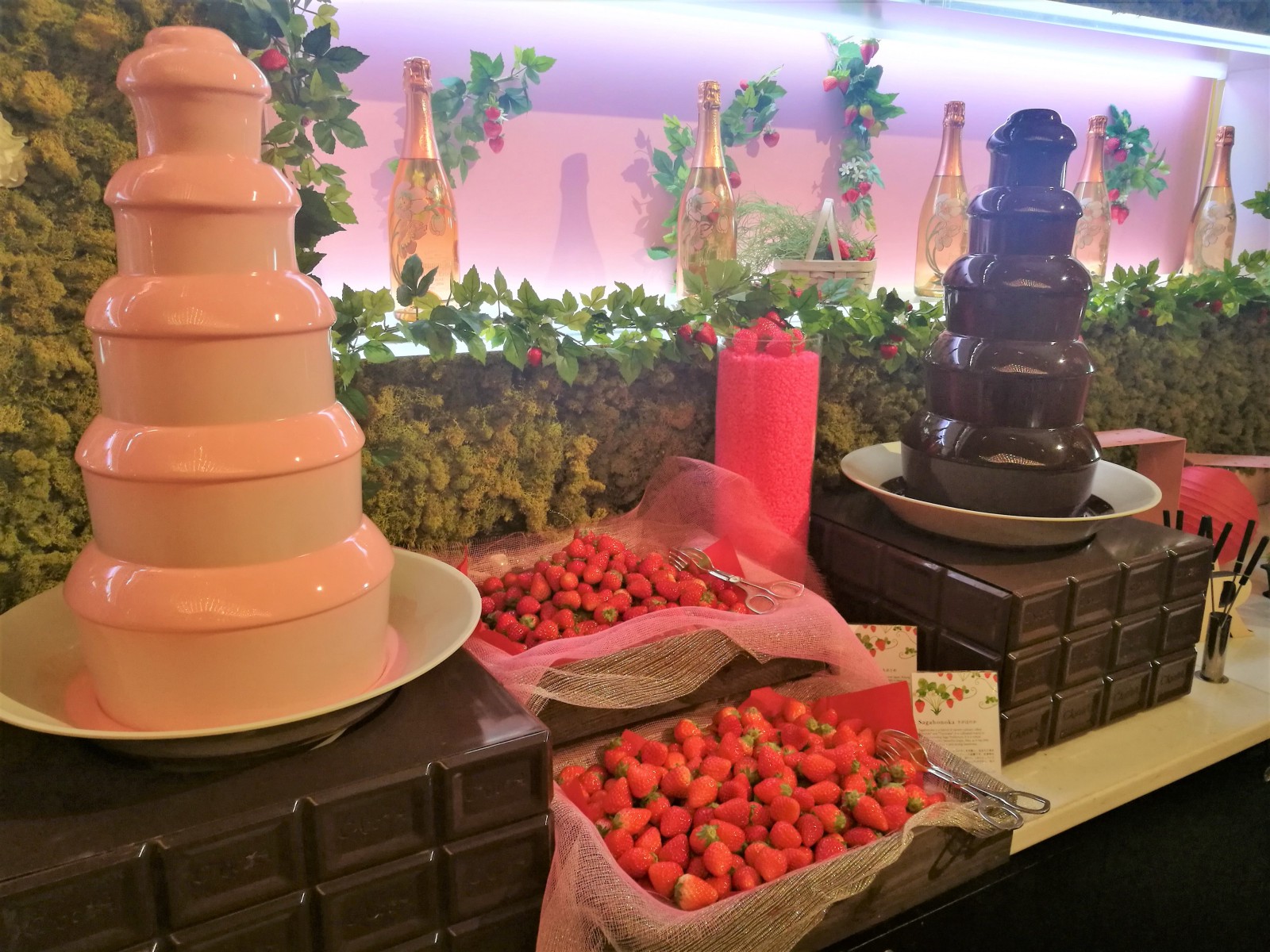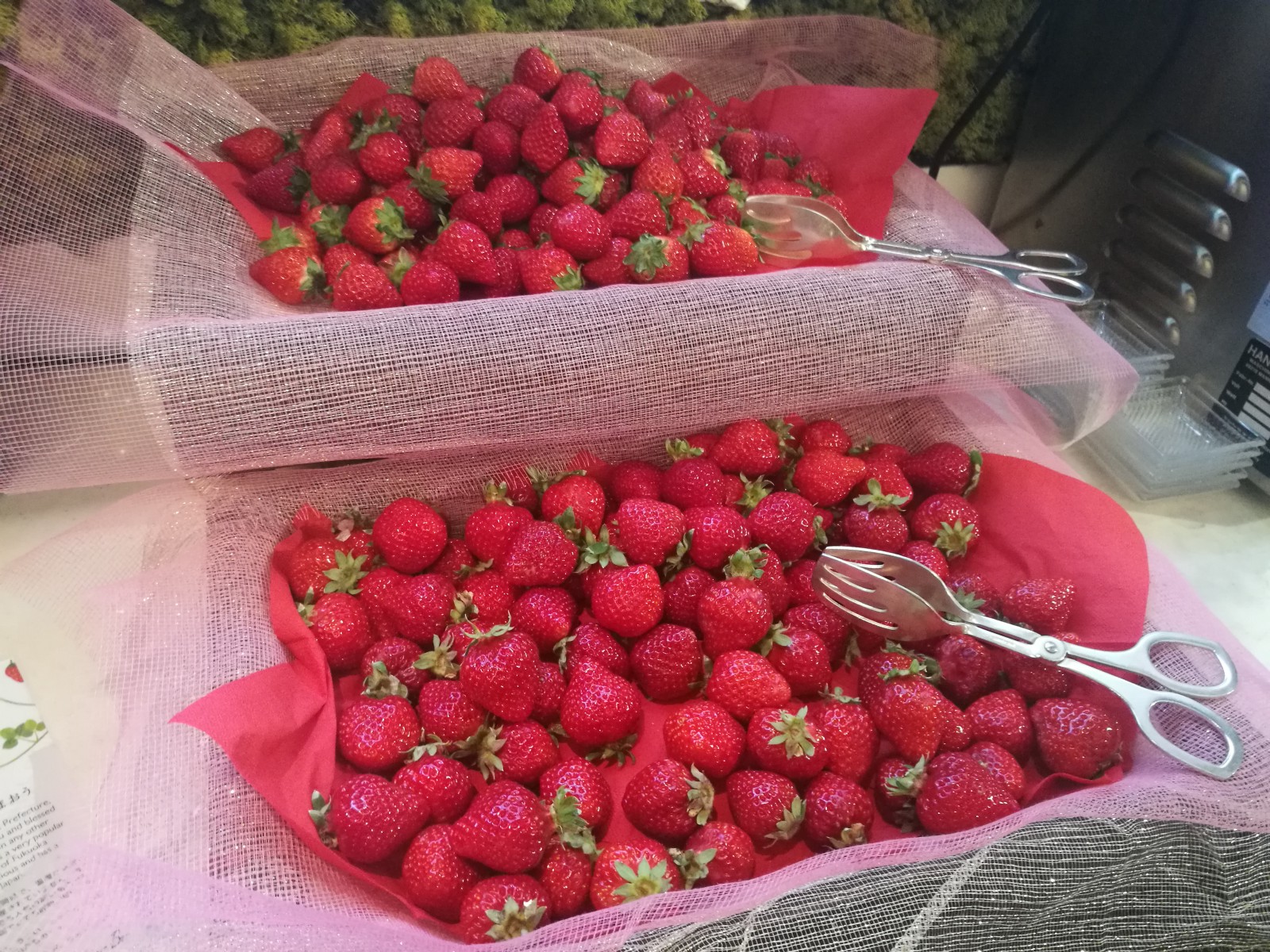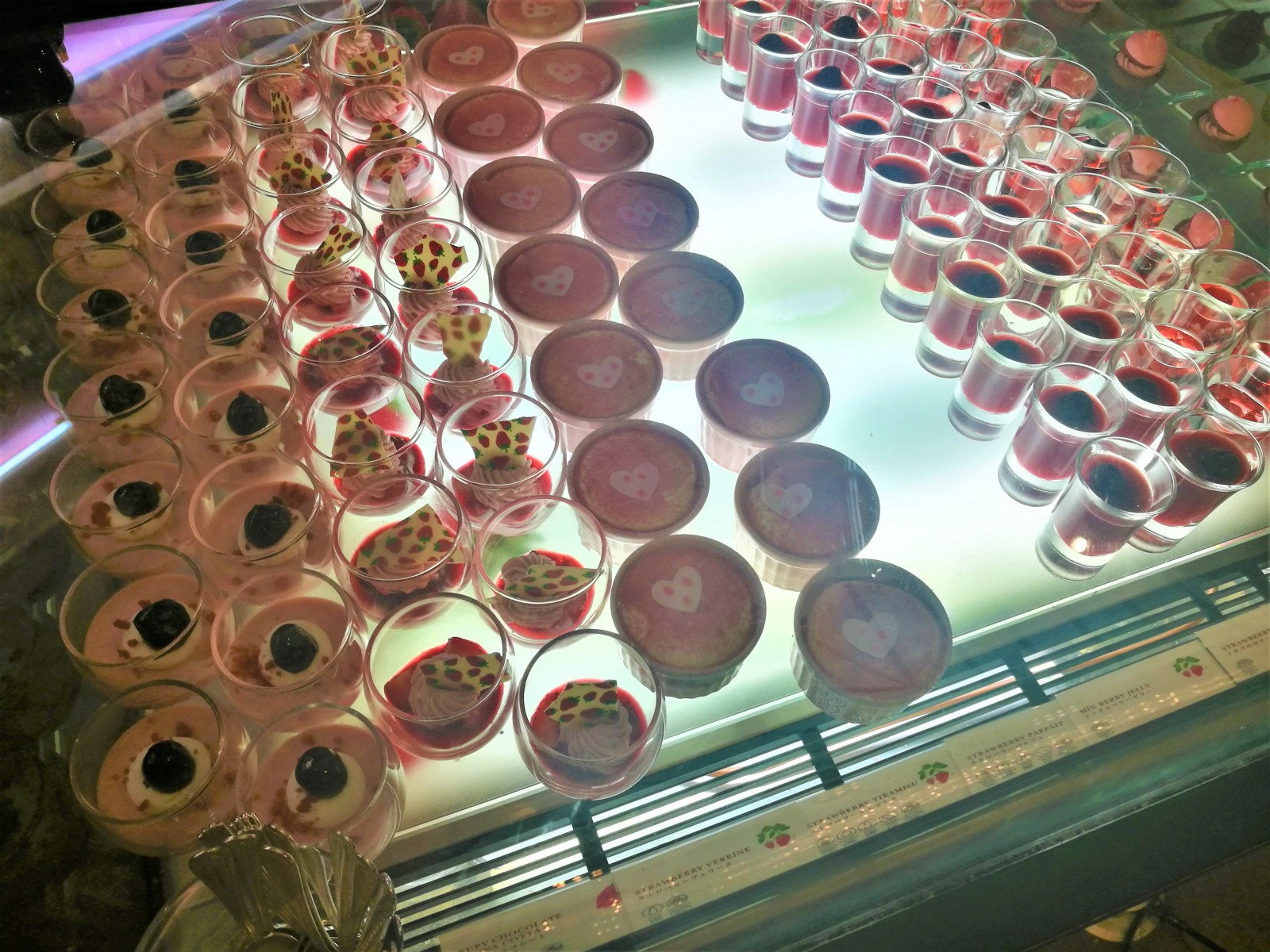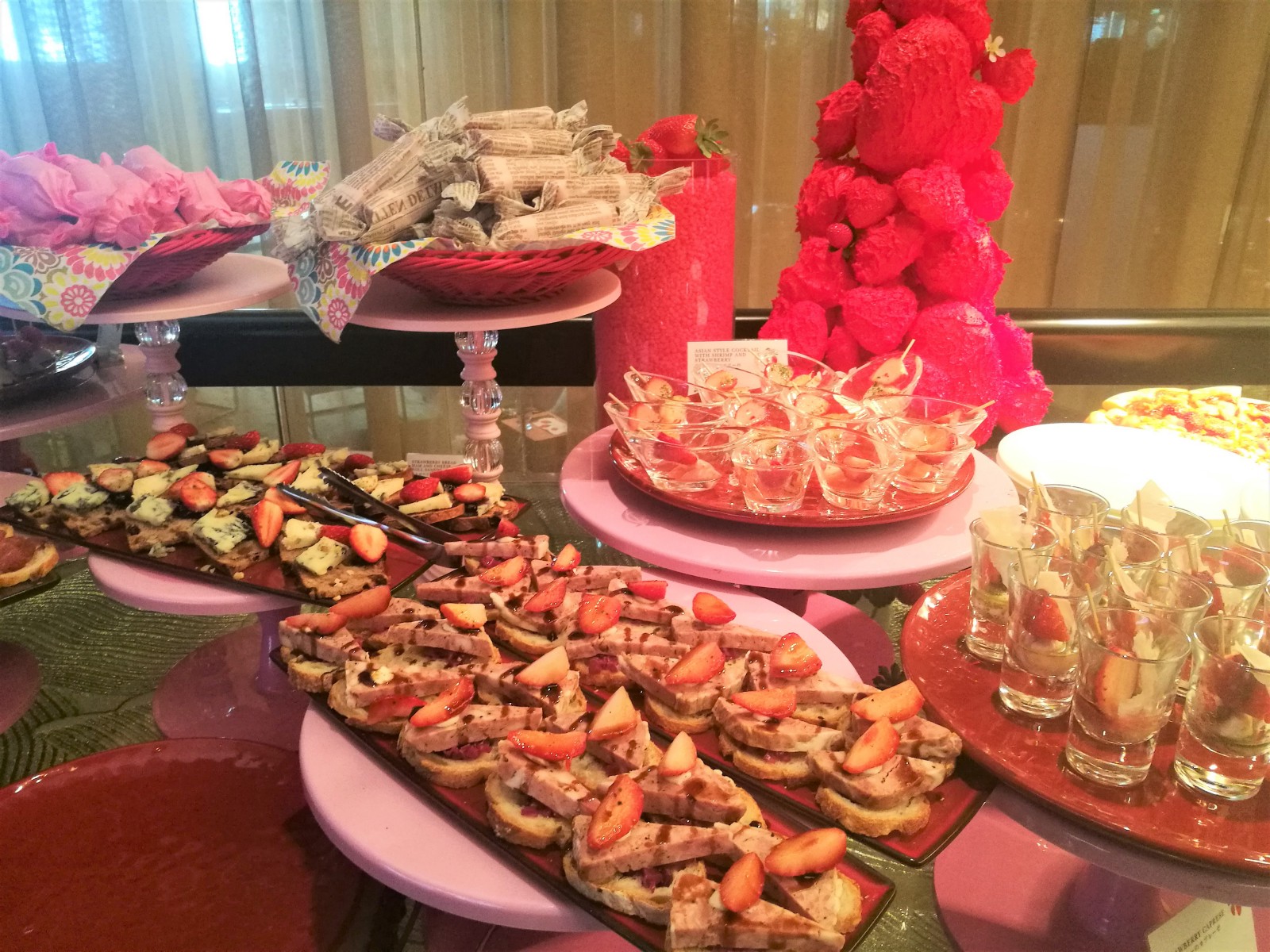 As the buffet began, it was pretty tough to choose which item to pick as they all look so tasty and beautiful, but I have first picked a few items from each section. A cup of tea is served on the table, and selection of flavour tea and coffee is available with free-flow. Along with desserts and savory dishes, I have tried several kinds of Japanese strawberries dipped in chocolate, and I must say Amaou strawberry definitely won my heart! It's sweet, plump and juicy, and the sourness of the strawberry goes perfectly well with the sweet chocolate!
At first, I was not sure how much items I could try since I don't have a particularly sweet tooth, yet the desserts at the buffet were also not overly sweet, and I ended up trying quite many items. Soon after finishing the first plate, I went for another round! I simply wished I had a bottomless stomach to taste all these delicious treats to indulge myself!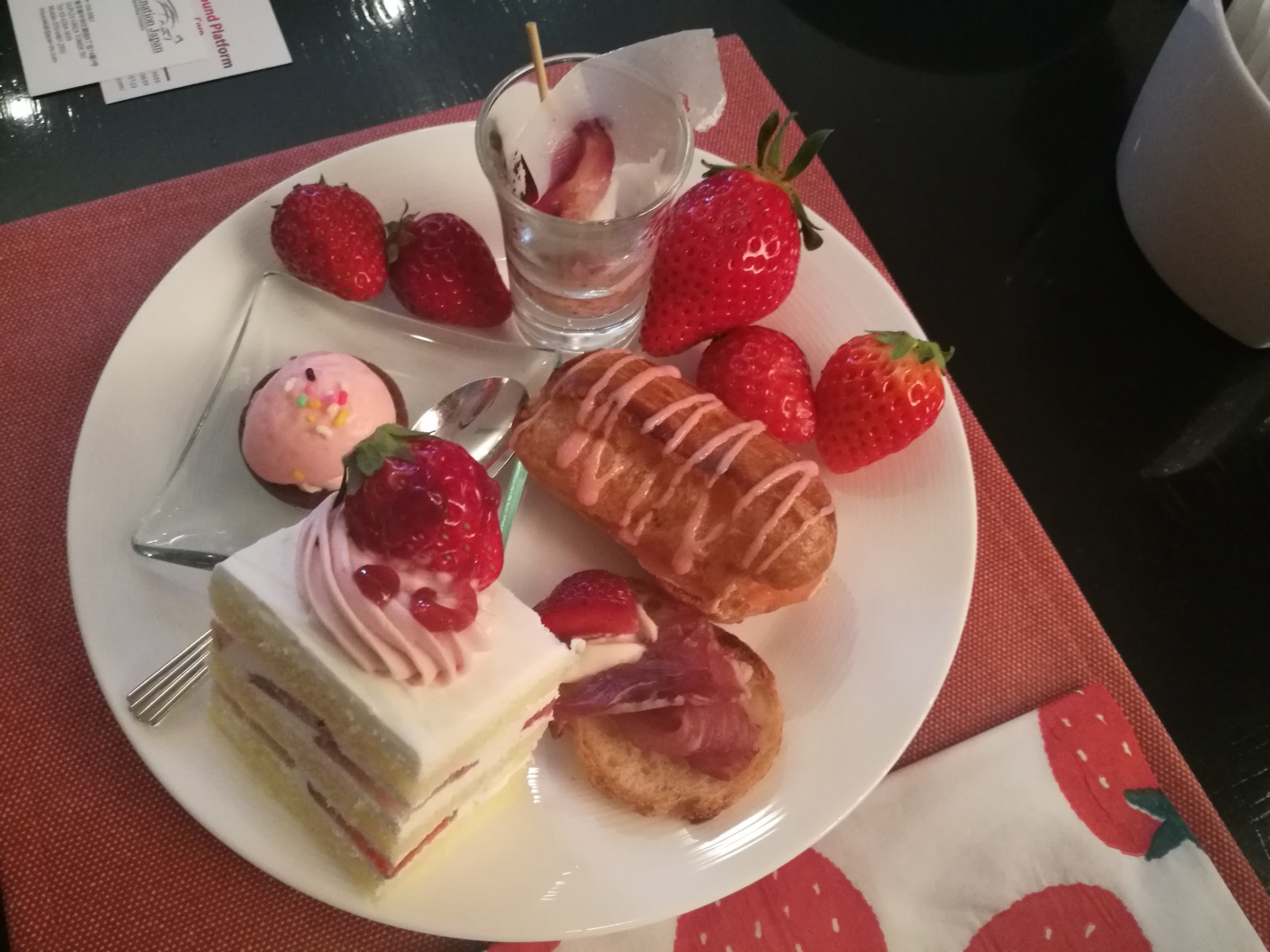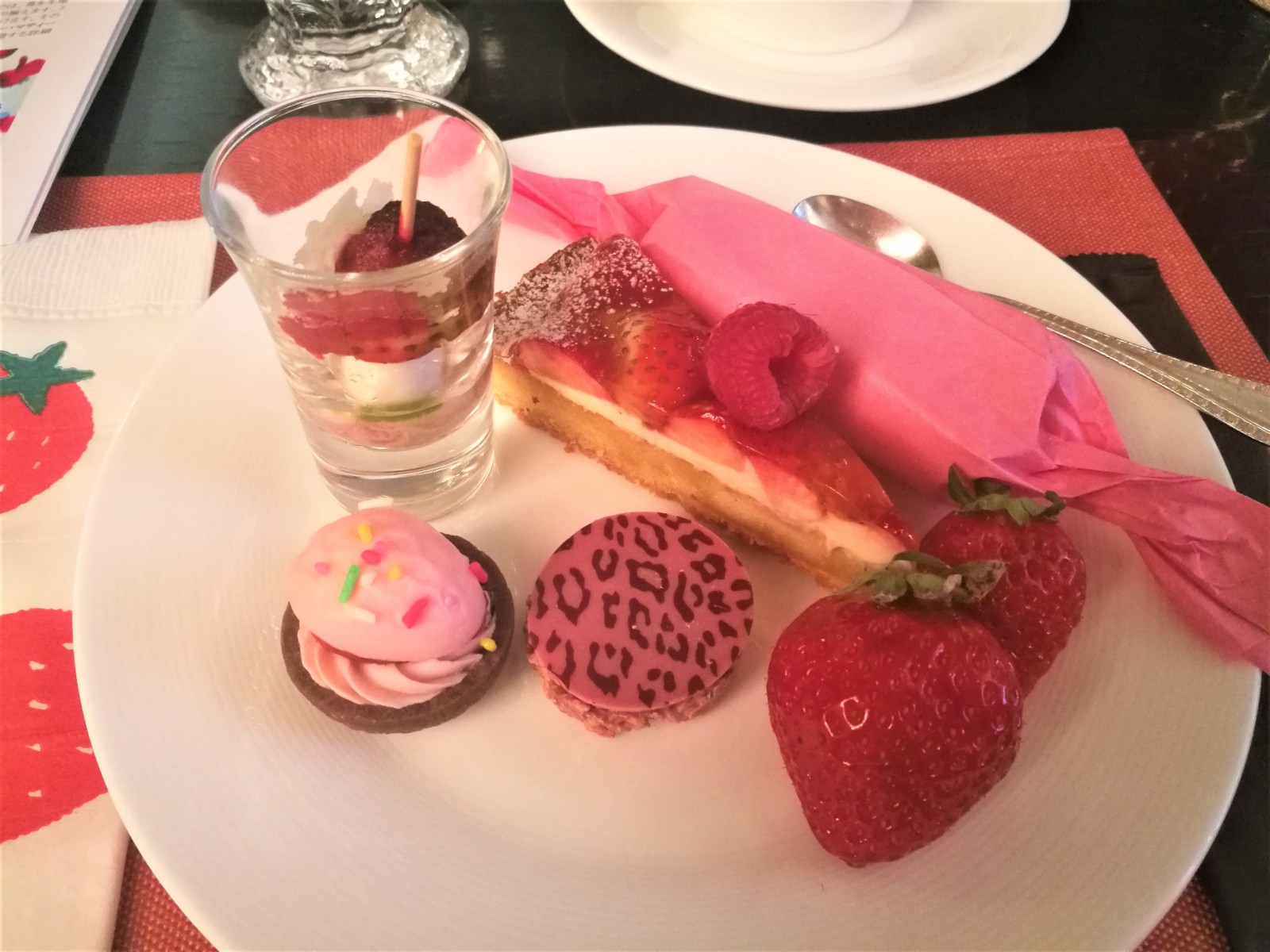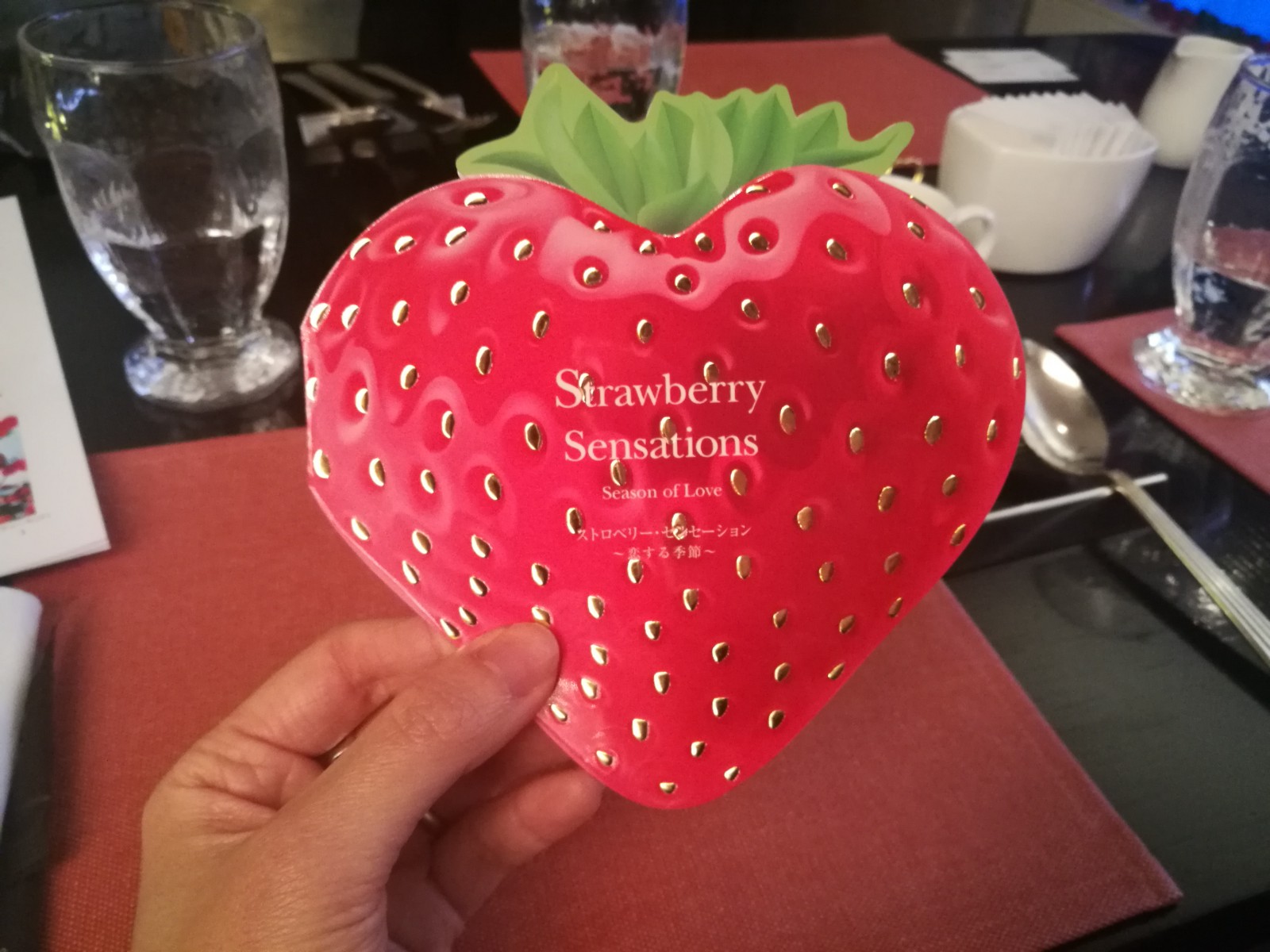 -Strawberry Sensations Season of Love
ANA InterContinental Tokyo offers various kinds of dessert buffet through the year according to seasonal ingredients. From January to March, the hotel holds an annual strawberry fair "Strawberry Sensations Season of Love" featuring several venues offering special dishes with strawberries including the Love Burger at The Steakhouse (3F) and the Strawberry Patisserie at Pierre Gagnaire Pains et Gateaux (2F). The Champagne Bar is the current venue of the strawberry dessert buffet "Sweethearts Strawberry and Ruby Dessert Buffet".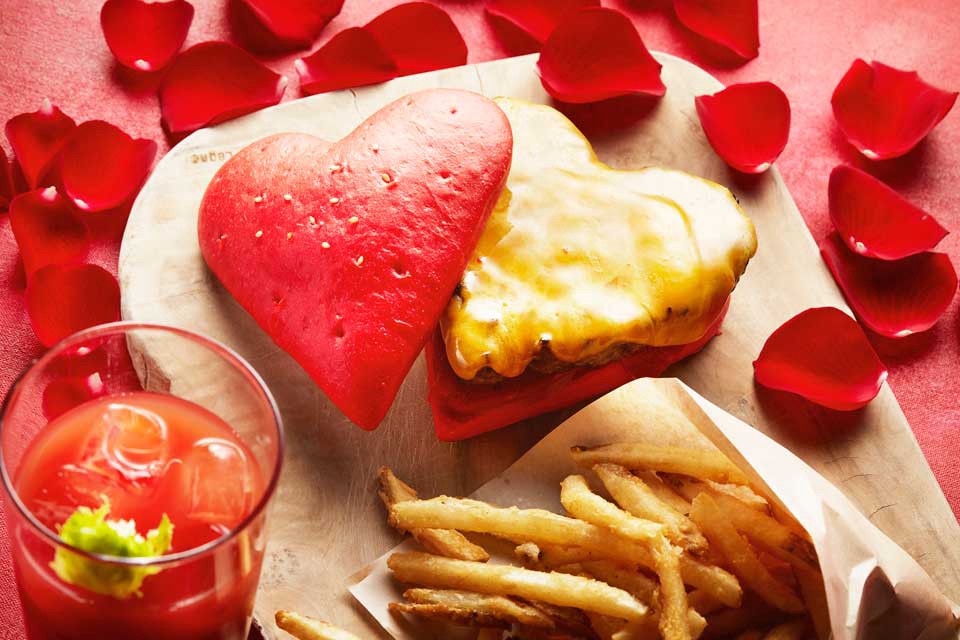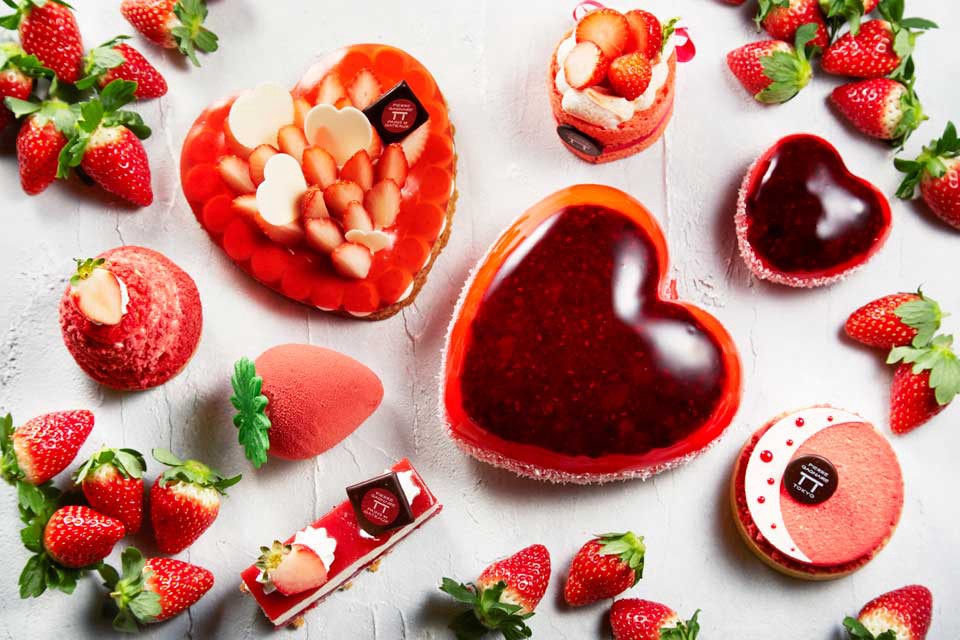 -What's more
I also heard the exciting news about the upcoming dessert buffet after this strawberry one. The next buffet after strawberry will be Matcha! Just like this strawberry buffet, there will be a various kinds of Matcha desserts that can be enjoyed with all-you-can-eat style!
The strawberry buffet at ANA InterContinental Tokyo "Sweethearts Strawberry and Ruby Dessert Buffet" is extremely popular currently and the venue tends to get full, and I'd definitely recommend you to make a reservation in advance!
The buffet is available now until 26 April 2019. Don't miss a chance to experience the delightful taste of premium Japanese strawberries, desserts and ruby chocolate with all-you-can-eat style!
ANA InterContinental Tokyo: Sweethearts Strawberry and Ruby Dessert Buffet
Access: 1 min walk from Tameike Sanno Station Exit 13 (Nanboku and Ginza Line)
Venue: The Champagne Bar (3F)
Date: 15 January to 26 April 2019
Price :
Adult (with online booking discount)
Weekday: 4,000 yen (Regular price 4,600 yen)
Weekend & Holiday: 4,800 yen (Regular price 5,600 yen)
Children(4–8)
Weekday: 2,300 yen
Weekend & Holiday: 3,300 yen
Senior Citizens(65+)
Weekday: 3,300 yen
Weekend & Holiday: 4,300 yen
*An additional 8% sales tax and 13% service charge will be added.
Hours:
11:30–13:00/13:30–15:00/15:30–17:00 / 17:30–19:00/19:30–21:00
(Until 19:00 on Sunday & 11 Feb & 21 Mar)
Website: http://bit.ly/2RZFBKq
For more information about special events in Tokyo this spring, here are some more articles for you to check out 🙂
▽Related Articles▽
▼Editor's Picks▼
---